After a whirlwind tour of Phoenix, I spent a relaxing weekend in Scottsdale.
Recharge. Unwind. Those were the words I desperately needed to breathe last weekend and Scottsdale provided the perfect atmosphere to soak them in.
I spent two days in Scottsdale (two days which involved a lot of light walking and heavy eating). Two relaxing days.
By the end of my trip, I felt good. Refreshed. Rejuvenated.
Scottsdale is a laid-back destination. It's fun, slightly kitschy (in a good way), and upbeat.
In this weekend in Scottsdale itinerary, I'll be sharing all the details of my most recent 48-hour escape (including where to eat, stay, and stroll).
P.S. If you're spending a long weekend in Scottsdale, check out some of the sights in Phoenix as well! I was pleasantly surprised by how close the two cities were to each other.
Weekend In Scottsdale Itinerary: Saturday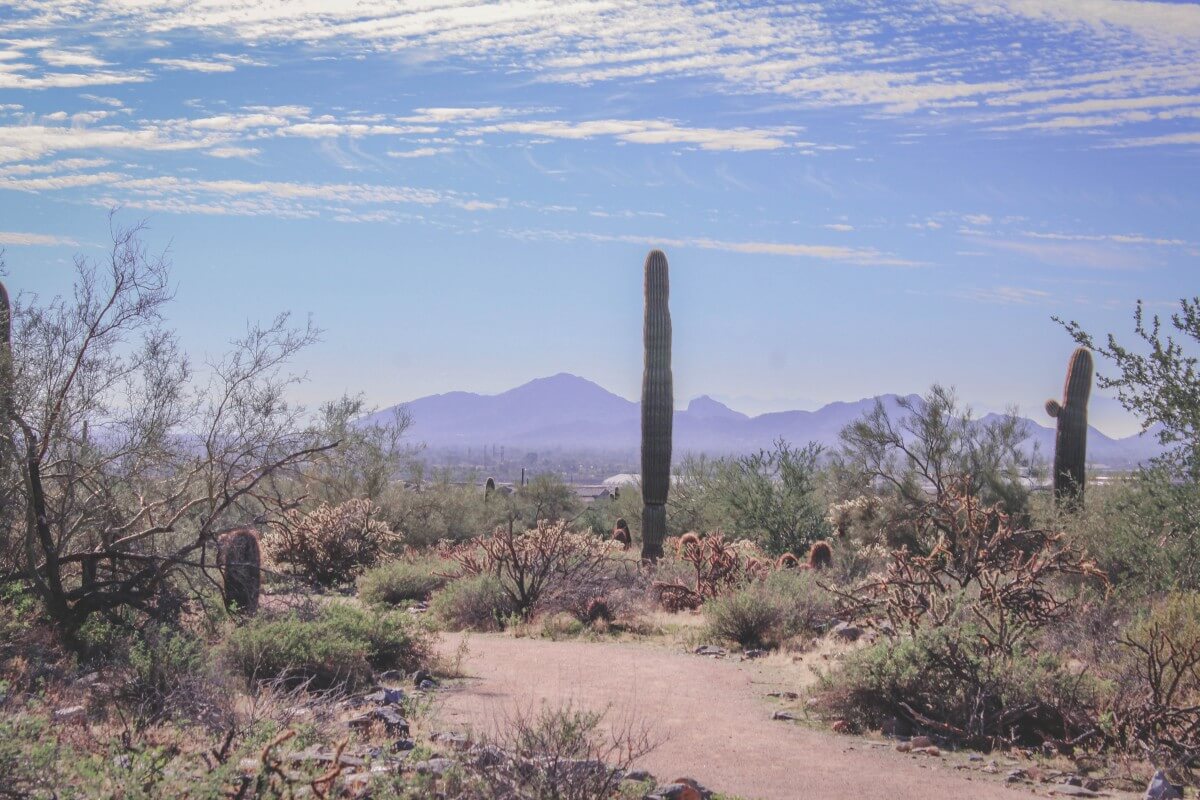 I woke up at 6 AM. The sky was still tar-dark. I flicked the lights on, rubbed my eyes, and staggered (like the zombie that I am in the mornings) around my hotel room until I was (somewhat) ready.
When the night began to pale, I slipped a few granola bars into my purse (priorities) before heading out to explore.
I wanted to start off my weekend in Scottsdale somewhere quiet. But I wasn't quite sure where that would be. So my husband and I drove around town for a bit, trying to find a vantage point (there were so many to choose from).
Saturday Morning: Watch The Sunrise Over Camelback Mountain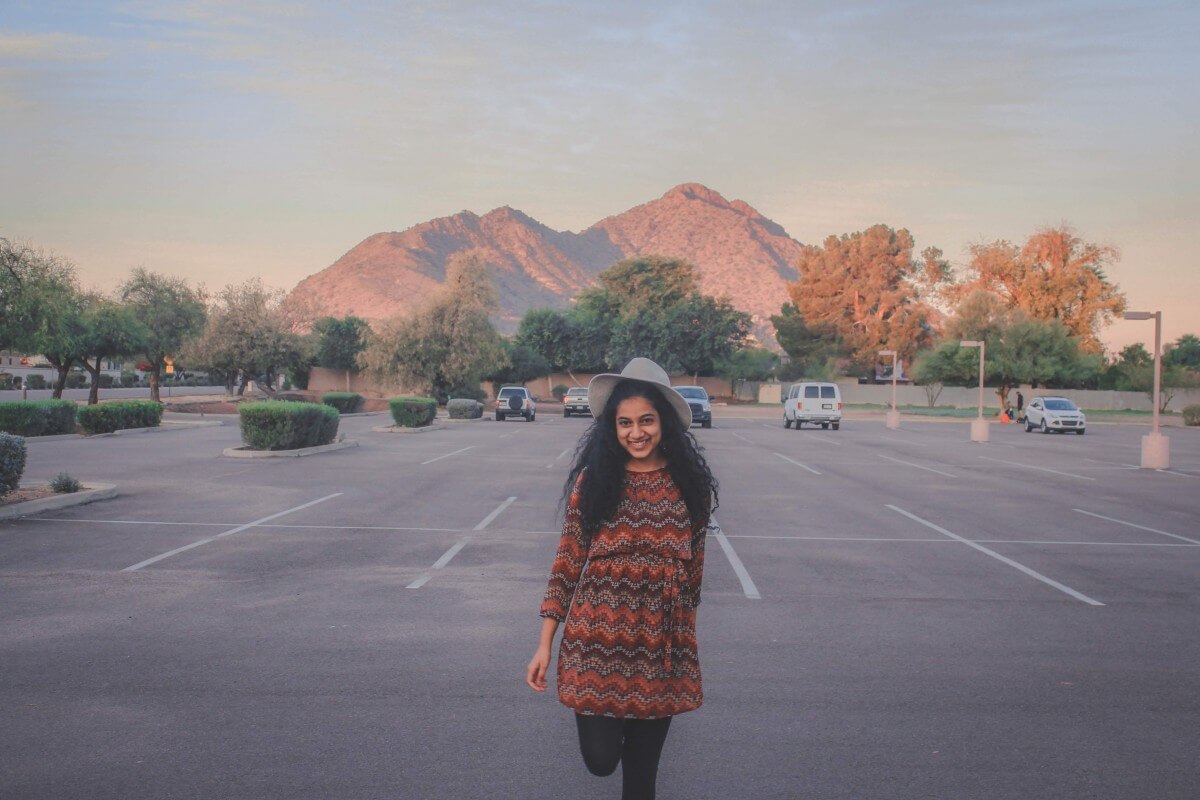 Eventually, I spotted a roomy parking lot behind Van Dyke Aesthetics that I instantly knew would be the spot. So we pulled into the area and watched the sunrise together.
The view: a clear shot of Camelback Mountain. Shades of light oranges and watermelon pinks.
As the sun rose higher and higher, the colors shifted. Tendrils of light and dark danced across the rugged landscape.
Y'all, I'm not a morning person, but I'm incredibly glad I watched the sunrise view of Camelback Mountain during my weekend in Scottsdale.
It was surreal, soft, and compelling.
Saturday Mid-Morning: Explore The Resort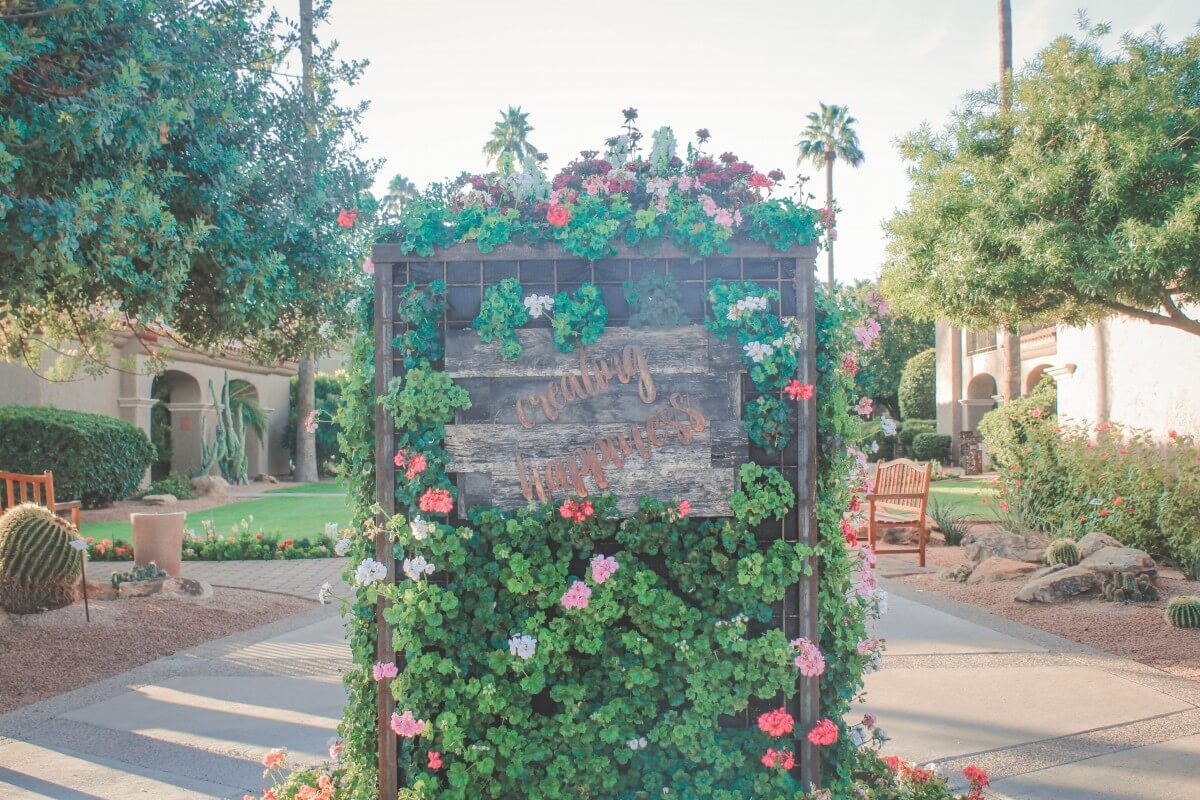 Since most of the shops, museums, and eateries were still closed, we drove back to The Scottsdale Plaza Resort.
I stayed here during my weekend in Scottsdale (the Plaza is normally around $250+ dollars per night but I found a deal for $100 – score). It's a mission-style property near McCormick-Stillman Railroad Park.
Modern touch-ups. Spots of color. Colonnades of palm trees. A spacious pool. Views of Camelback Mountain.
I was pleasantly surprised by The Scottsdale Plaza Resort. Even though I booked it because it was the cheapest available option (no shame), I would gladly stay there again!
Travel Tip: Most Scottsdale Resorts (and hotels) charge a resort fee. This won't be listed in the initial price (only in the taxes & fees portion before you pay). Make sure you know what's included in your nightly resort fee before you make a purchase!
It's a clean, minimal resort. The rooms are basic: bed, desk, bath. But the landscape set my mood for the day.
I strolled past nooks and crannies of desert flowers. It was like the hotel was hidden in a secret botanic garden. Our room was even next to a shaded courtyard thick with succulents.
We walked (and lost track of time) until early afternoon. In retrospect, I probably could have used the morning to hit up one of the spas (Scottsdale is home to some of the best spas in the world), but I'll save that activity for next time (up next, a spa weekend in Scottsdale).
Where To Stay In Scottsdale:
Saturday Lunch: Try A Sonoran Hot Dog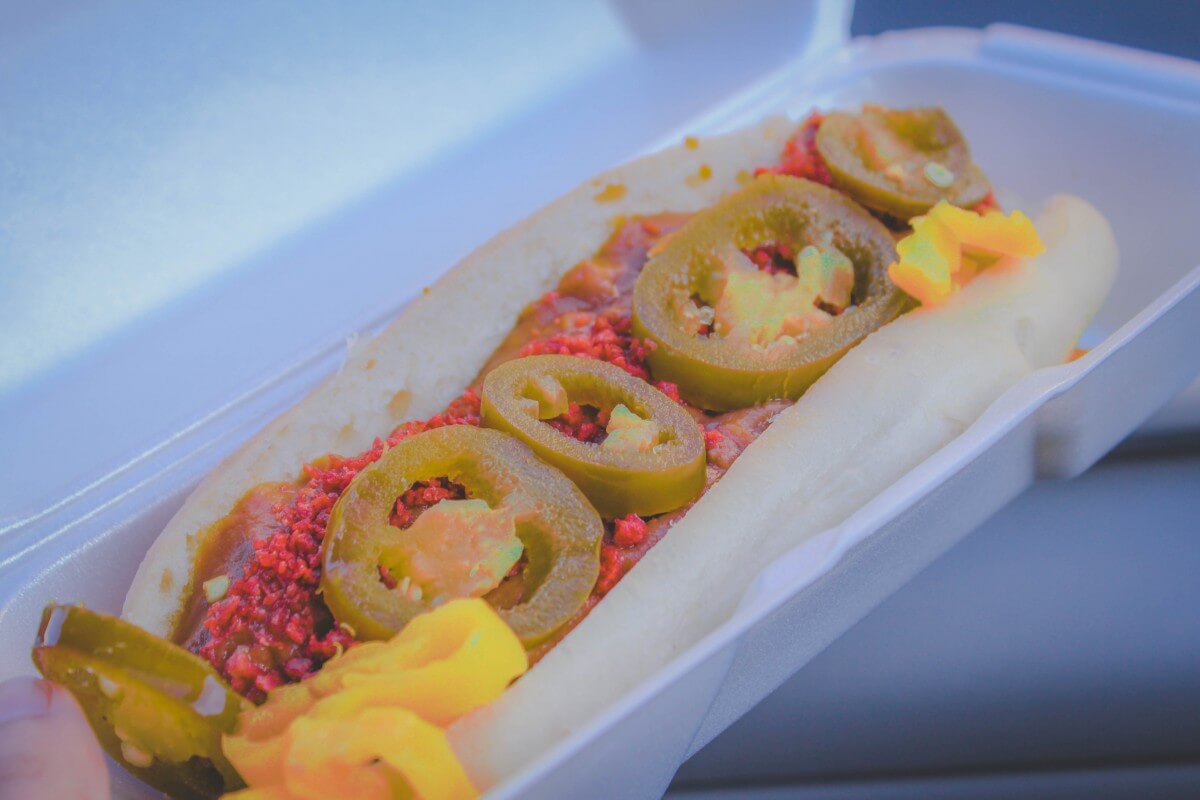 I love trying traditional food wherever I travel. So when I heard about Sonoran Hot Dogs, I knew I had to grab one.
It's a Southern Arizona specialty – bacon-wrapped slim meat topped with pinto beans, tomatoes, green salsa, jalapenos, avocado (sometimes), and zig-zag lines of cheese.
I'm not a huge fan of whole bacon (I know I'm the only person on the planet who feels this way but I do love bacon bits. Hopefully, that redeems me slightly). So I headed to Simon's Hot Dogs and ordered a Sonoran cousin.
Simon's Hot Dogs is a hole-in-the-wall, unfussy eatery. It's an unassuming Colombian joint that's all about the service and flavors.
The Cousin is Sonoran inspired. I went for a partially vegan dog (you can get the hot dog completely vegan, I just opted for California vegan sausage with meat toppings). It's flavored with deconstructed chili – refried beans, onions, jalapenos, banana peppers.
The hot dogs are delicious, but the service is what made me want to return. The staff was bubbly, kind, and out-of-their-way friendly. It made the atmosphere homey, like I just entered a Colombian family kitchen.
Saturday Afternoon: Visit The McDowell Sonoran Preserve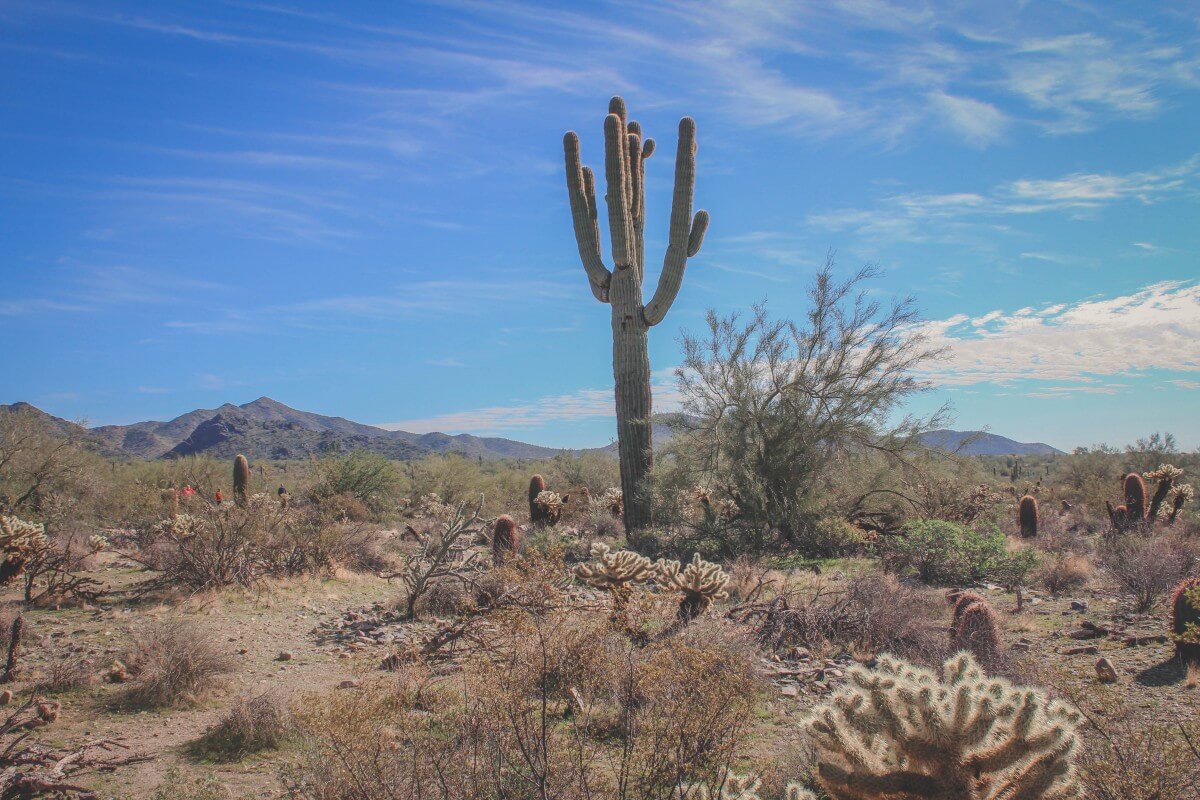 Over 30,000 acres, the McDowell Sonoran Preserve is a lush area with more than 225 miles of trails.
After walking across a low metal bridge by the Visitor Center, I made my way to the Bajada Nature Trail, a descriptive, hard-surfaced, easy-on-the-feet pathway.
We were in the shadows of the mountains. Wisps of clouds pulled towards the peaks. Tall Saguaro cactus towered thorny shrubs.
The landscape was rough, rugged, and pebbly. Rich succulents squatted between loose stones.
At the Bajada Trail, there are two loops (each .25 miles). By accident, I ended up doing both twice (well, it started off accidentally, but once I got into the groove, I thought why not?).
Saturday Evening: Chill At Anticus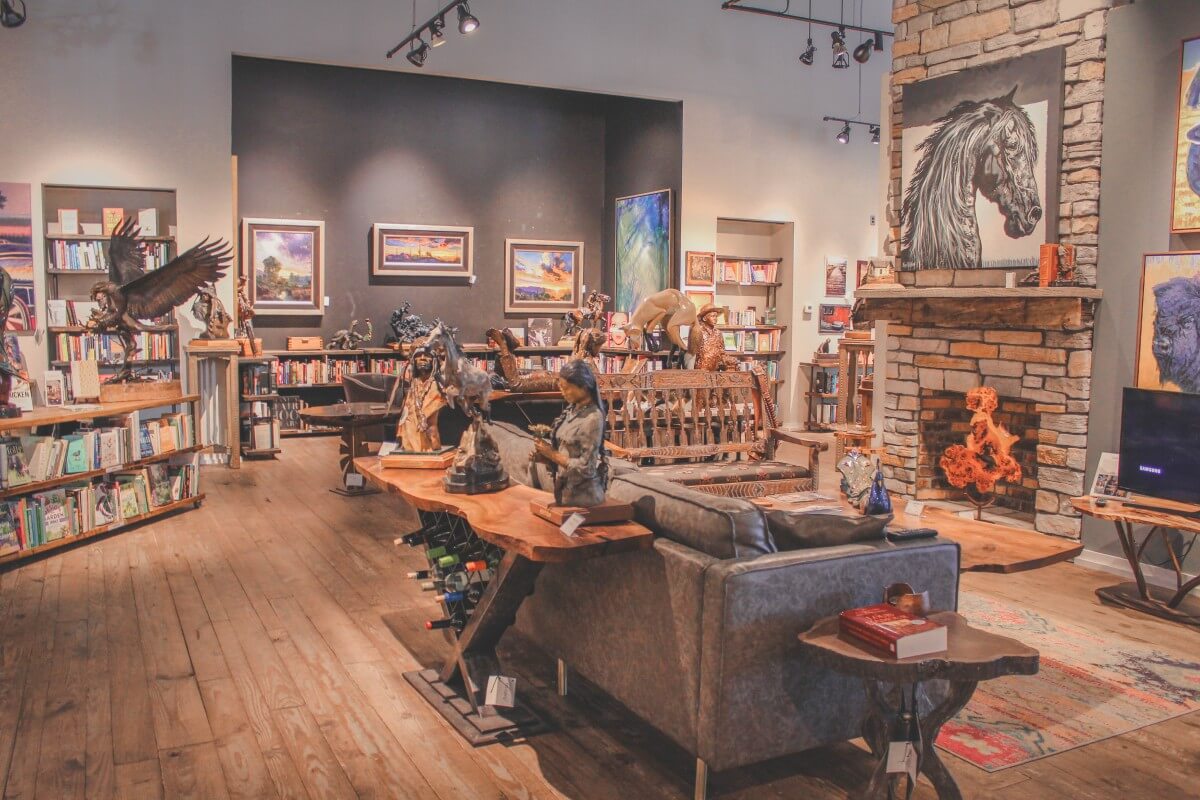 Anticus was one of my favorite finds in Arizona (I actually saw an ad for it, fell in love with the concept, and decided to visit during my very first weekend in Scottsdale – no regrets).
Located along a main road by an outdoor shopping center (Kierland Commons), a good thirty minutes from Scottsdale's major attractions, Anticus is far enough out-of-the-way to fly under the radar, but oh-my-goodness, can I please move in here?
It's a bookstore. But it's also a fine art studio and jewelry shop.
I picked up a book of Asian-American immigrant poetry (read as: I skimmed a page, fell in love with the words, and had to have it).
Anticus' walls are painted deep, bold colors. And the artwork is just as intense. The store hand-picks the artists showcased and the works and styles on display, although different, blend together via the design and layout of the space.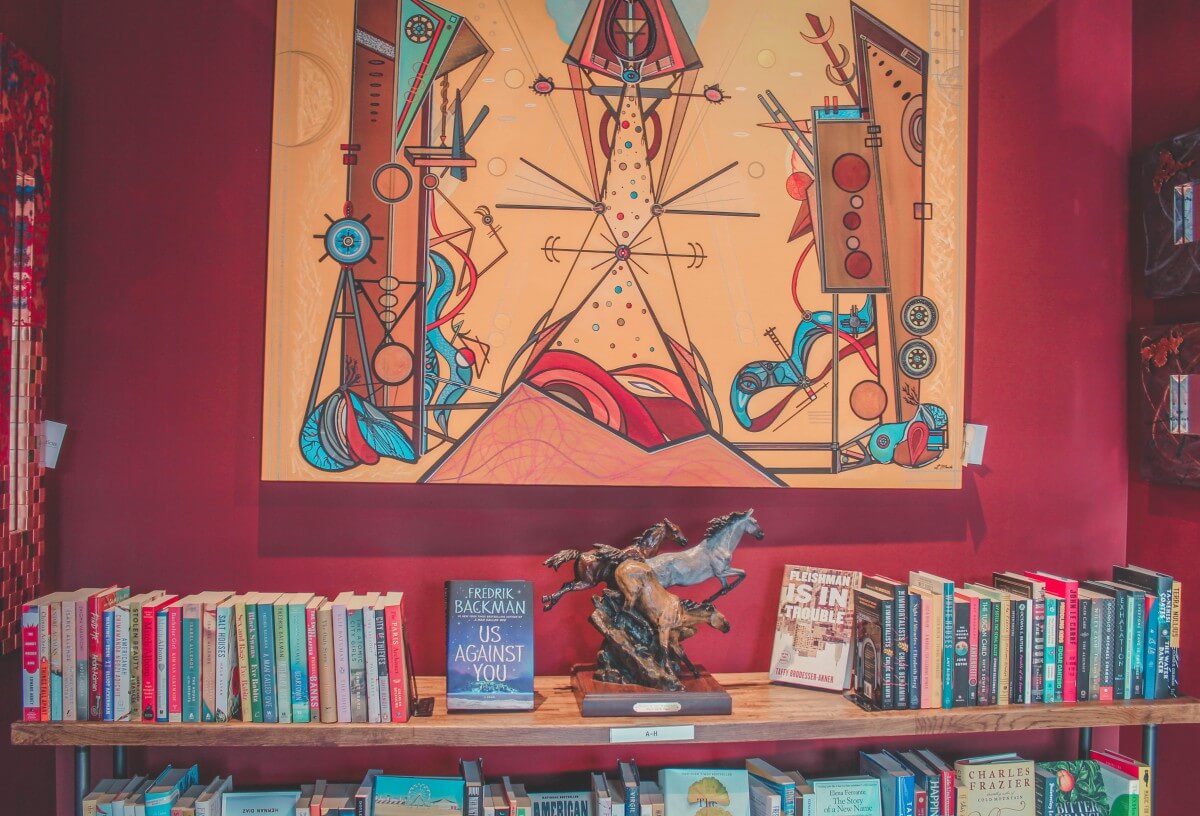 It's a lounge of sorts. And there's a resident dog. Enough said.
His name is Chewy (short for Chewbacca) and he's a ten-on-ten fluffy, adorable, friendly little furball.
When he saw me, he plopped on his back for a belly rub. SO. CUTE.
So…can I please move in?
Saturday Night: Eat. Sleep. Sleep. Sort Of.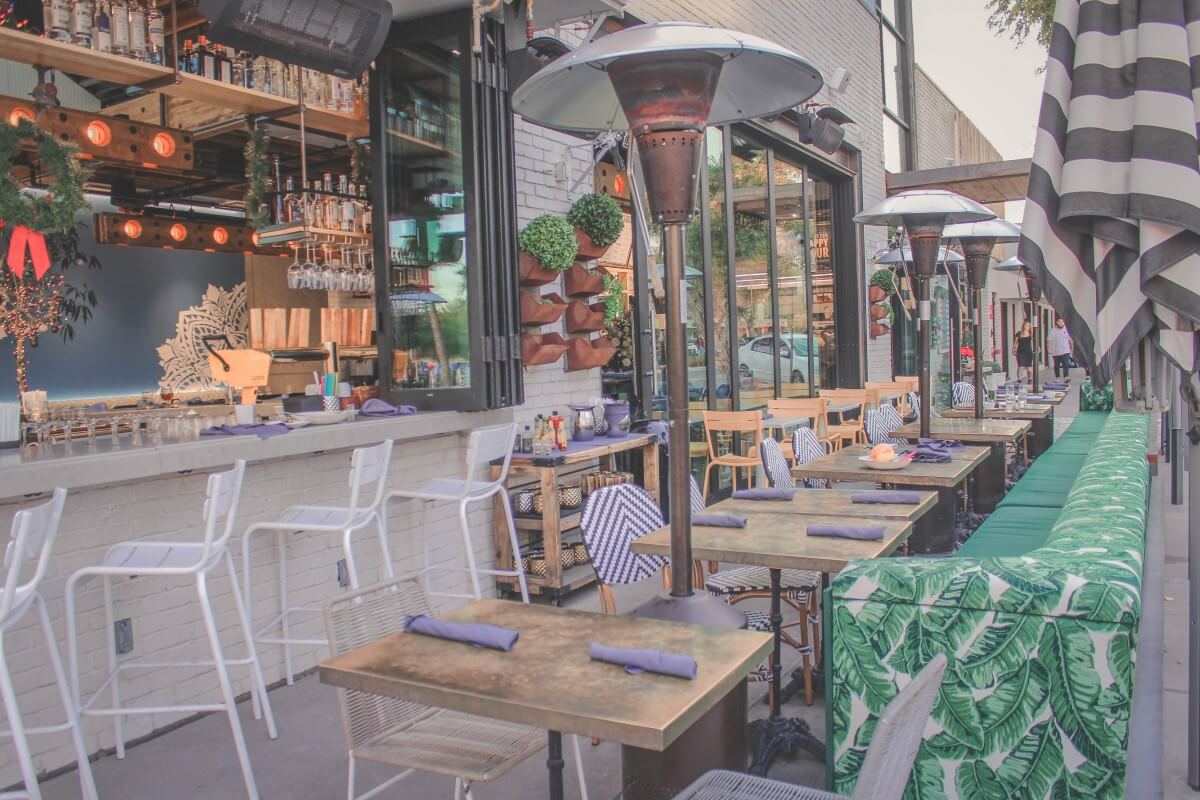 After grabbing dinner at Citizen Public House, an upscale gastropub dishing out New American fare (the house chopped salad is a meal unto itself and enough for two), and dessert at Sweet Republic, a local ice-creamery, I headed back to the resort.
I wanted to get (just a little bit) of work done but somehow that didn't end up happening….y'all, I tried. I really did.
I told myself I'd read only one chapter of Serpent & Dove by Shelby Mahurin, but because I have zero restraint, I devoured a quarter of the title in one sitting (and started counting down the days till Blood & Honey in the process).
Before I knew it, it was 2 AM. From the warmth of my bed, I could hear the clicks of car doors shutting under the night sky and infectious laughter dying down as parties slowed to a halt.
Scottsdale is a town that lives on till the early hours of the morning.
Alternative Dinner Spots:
P.S. I have a full list of places to eat in Old Town Scottsdale here.
Weekend In Scottsdale Itinerary: Sunday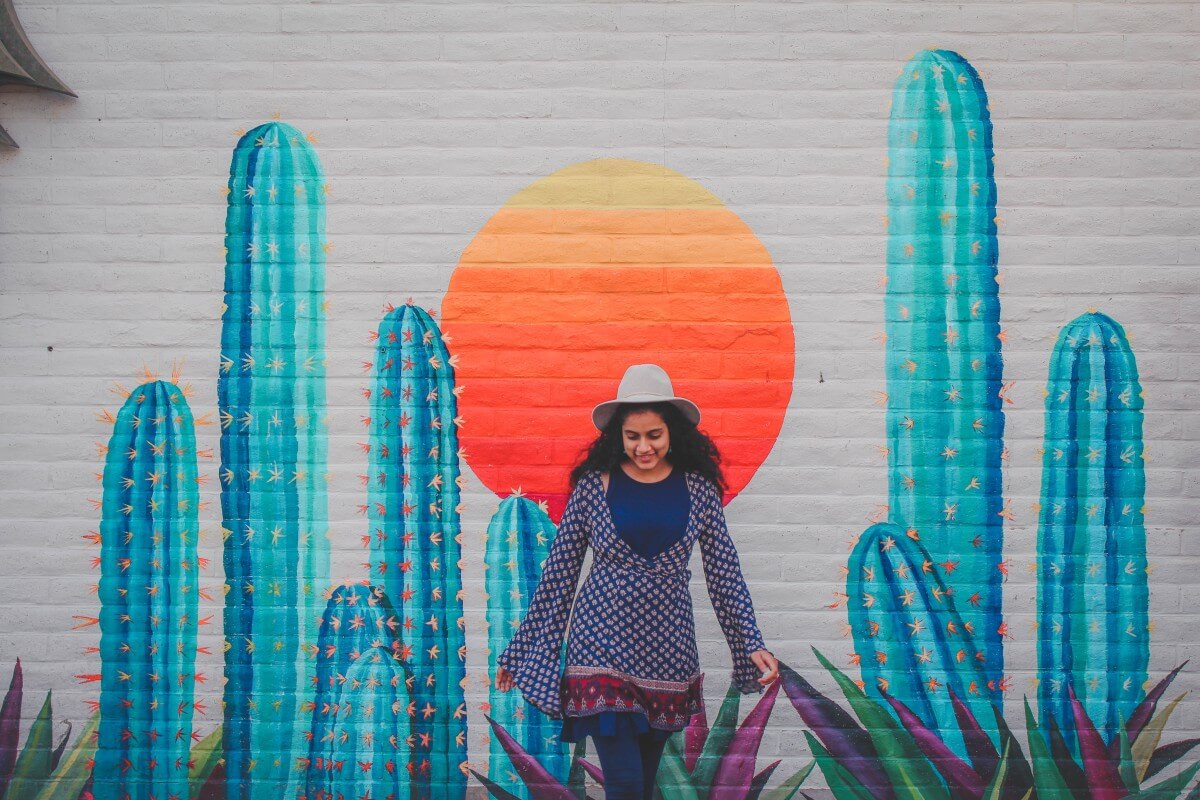 The second day of my weekend in Scottsdale started with a mid-morning alarm.
My next flight wasn't until 2 AM (Monday) so I made the most of sleeping in. When I woke up, I knew I needed a coffee (scratch that: two coffees).
Sunday Morning: Grab A Morning Bite At Berdena's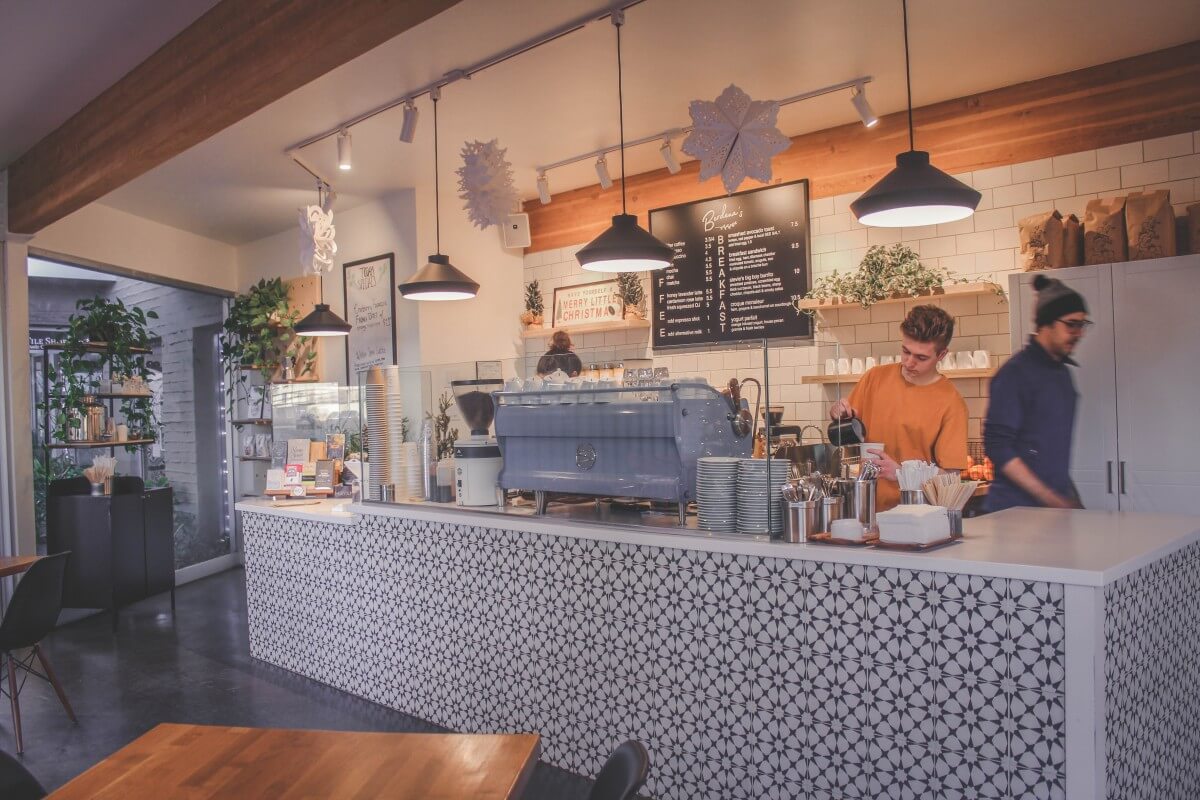 Berdena's is one of the prettiest cafes in Scottsdale. Flooded by natural light (that bounces off a soft pastel color scheme), Berdena's is a chic morning stop.
The food is good too (especially the avocado toast – please don't judge me.).
I picked up a blueberry scone for the road and it had such an addictive, gritty texture that I secretly wanted to go back and grab another.
Berdena's is a coffee shop at heart (so coffee is a must). Go for the honey lavender latte. And if you're ordering a basic cup of joe, don't be afraid to change up the milks (they have oat milk and macadamia milk on the menu as well).
Sunday Late-Morning: Take A Stroll Around Chaparral Park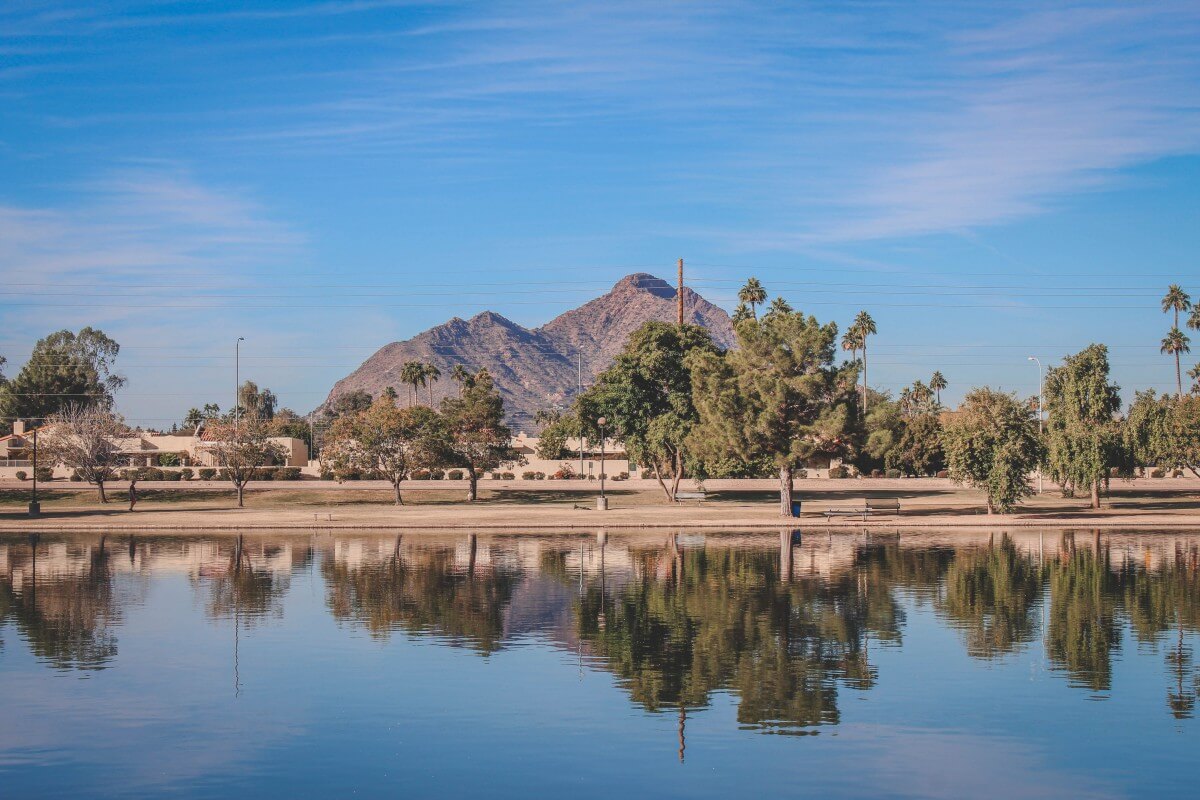 While researching (deep within the depths of Reddit) for my weekend in Scottsdale, I stumbled upon a mention of a popular fishing spot – Chaparral Park.
I didn't expect too much – just a nice walking area and a large lake to loop around. But I was completely blown away.
As we walked along the trail, we were surrounded by a chorus of hellos, good mornings, and how are yous.
It's a local spot (when we visited, we were the only tourists in the area) with a feel-at-home vibe. There were a few joggers, father-son duos by water, and families setting up for a picnic lunch.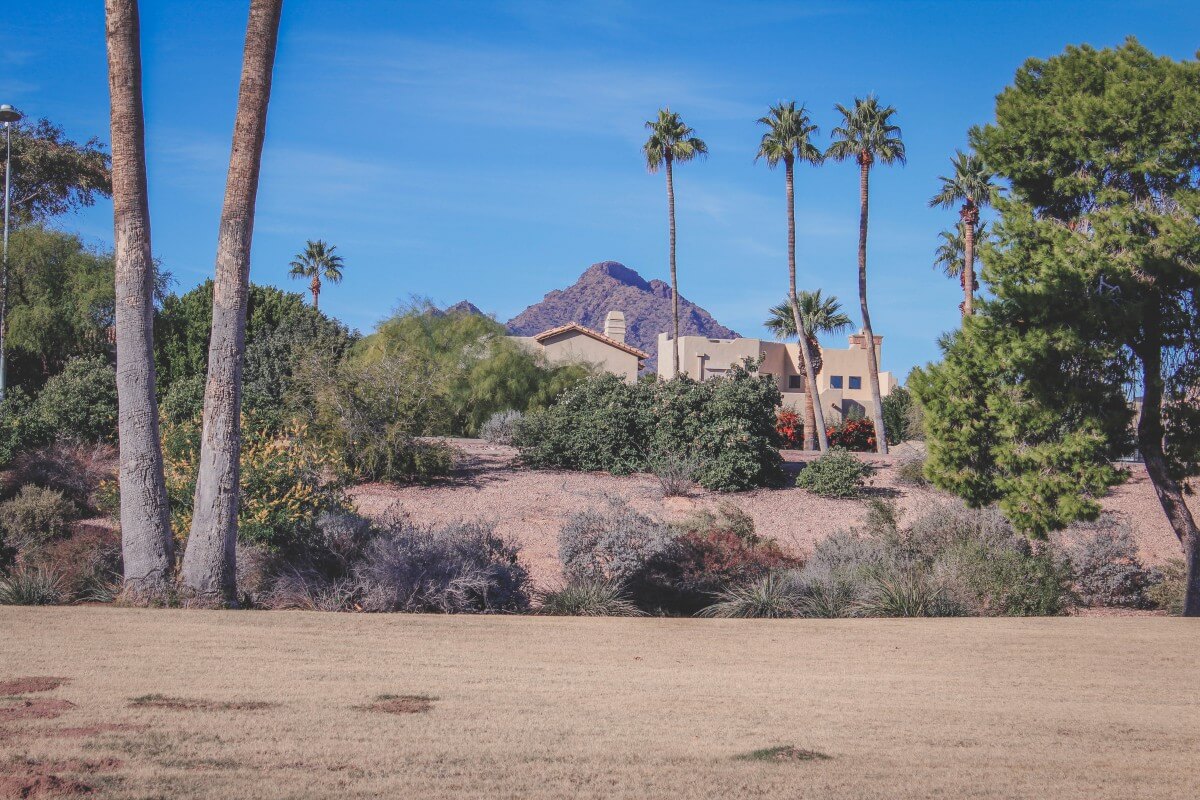 I fell in love with the views (and the cute snow geese in and around the area). Chaparral Lake is a quasi-mirror lake. Camelback Mountain is reflected in the water. A rugged backdrop behind a thick of trees blurs on the blue.
Across the street was another park – the small neighborhood kind. But my jaw still gaped open (my excitement in Scottsdale didn't dissipate for even a moment) as I stood under tall palm trees and long swaths of grass facing Camelback Mountain.
Sunday Lunch: The Mission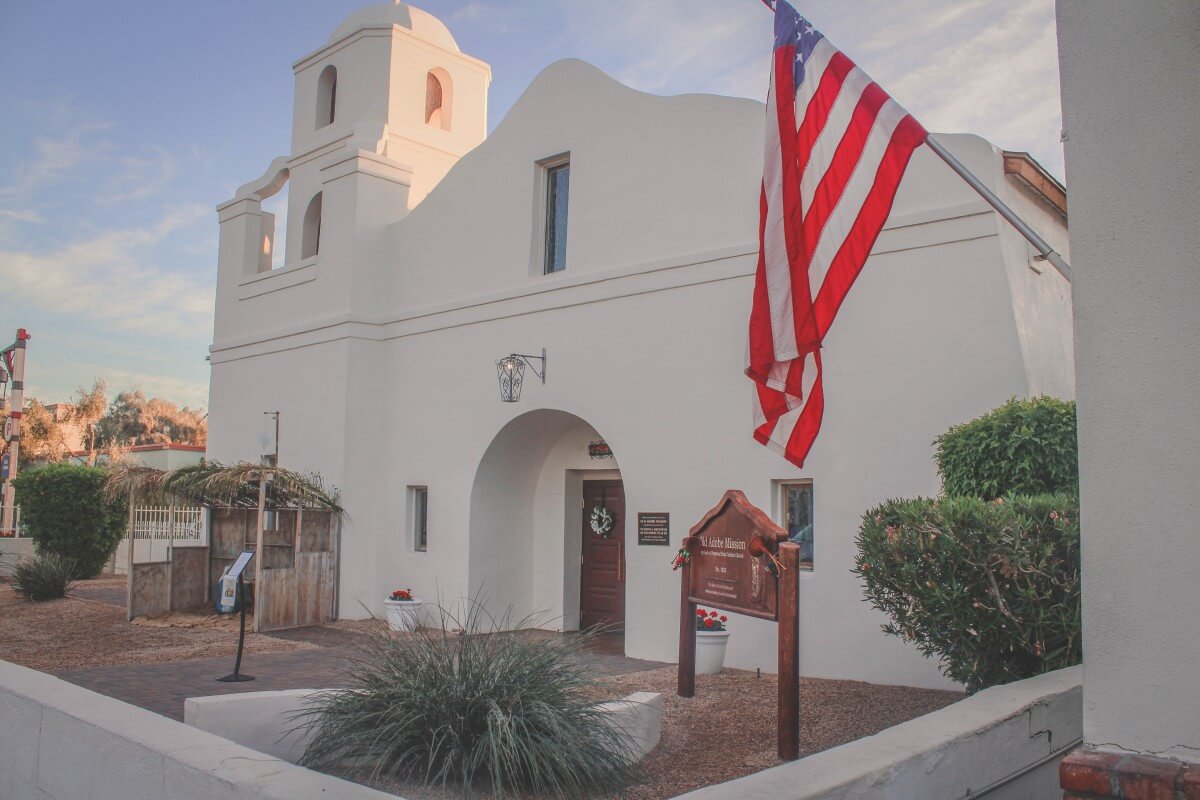 For the rest of my weekend in Scottsdale, I knew I wanted to explore Old Town.
A walkable urban center filled with indie shops, art galleries, and restaurants, Old Town is the most popular attraction in Scottsdale.
Old Town is always dressed head-to-toe in people. It's a tourist district, but I wanted to spend a few hours there nonetheless (I can't resist a good tourist stop).
The Mission is a low-lit, upscale, intimate romantic hotspot dishing out small-portioned Latin American eats. It's a loud eatery, but one of the most iconic restaurants in the Phoenix-Scottsdale area.
Order the tableside guac. Then take your pick from the menu. The dishes are spicy (my spice tolerance is out-of-the-water high so I really enjoyed it) and good.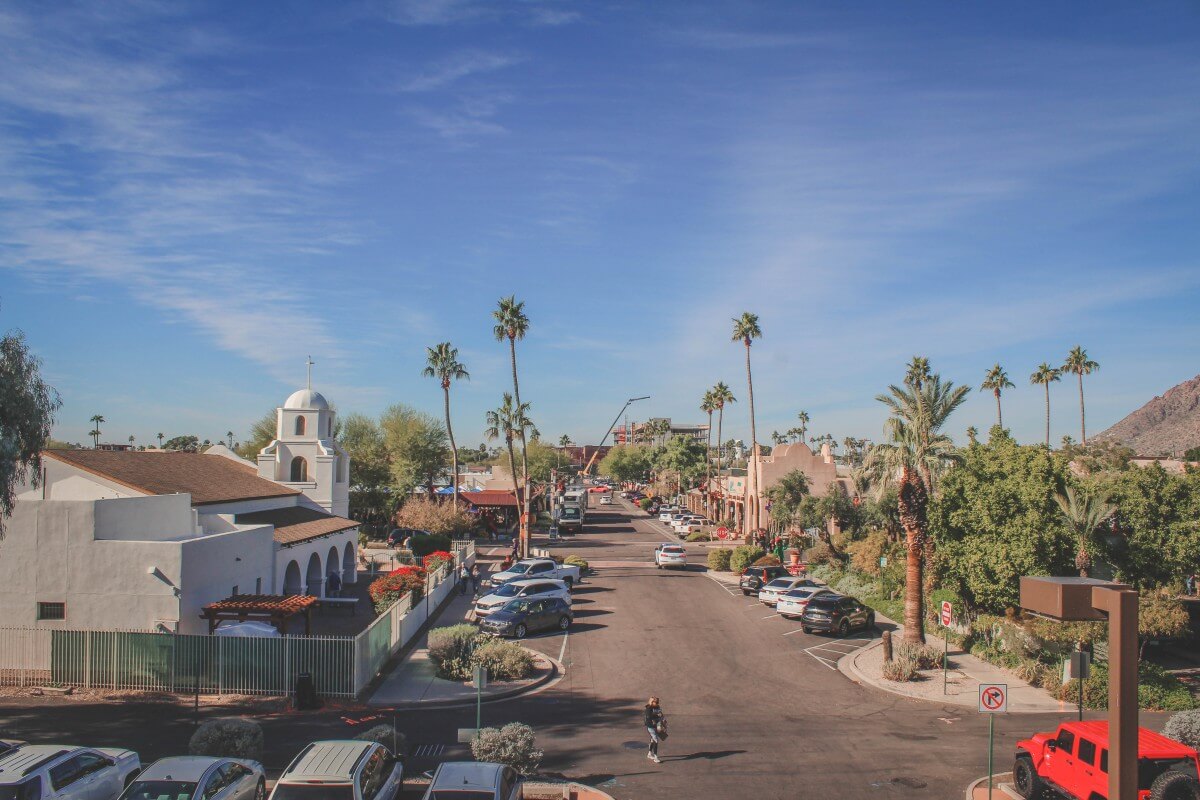 I loved the art galleries within Old Town the most (no surprise). Each gallery was draped in paintings and sculptures – some wall-sized.
I probably could have spent the entire afternoon exploring the galleries (they were all so pretty), but there were a couple of museums in-and-around Old Town that I wanted to check out (just in case I don't make it back to Scottsdale anytime soon. But I'm sincerely hoping that's not the case).
Sunday Evening: Visit The Poisoned Pen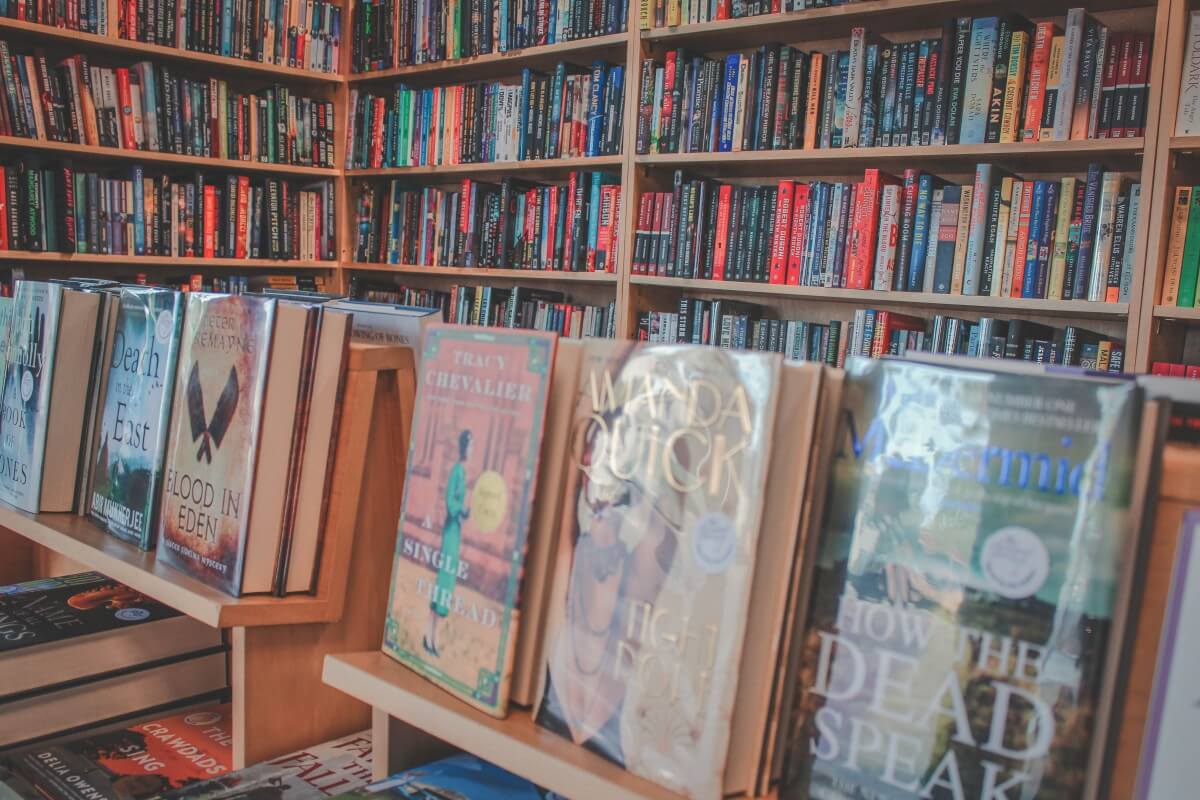 My favorite part of visiting a new city is exploring the local bookstore scene (y'all, if professional bookstore chaser was a job, I'd do that in a heartbeat).
So towards the end of my weekend in Scottsdale, I stopped by The Poisoned Pen, a cozy indie bookshop with mostly mystery titles in stock.
It's a dream if you love a good thriller or suspense novel (I'm a fantasy girl all the way). And if you're a Diana Gabaldon fan (as this is her home bookstore and she frequents it every month or so), there is a whole section dedicated to Outlanders (merch included).
I ended up grabbing Footsteps, a travel anthology curated by the New York Times (based on the popular NYT column of the same name). Although the title carries the weight of a novel, Footsteps is more of a travel coffee table book.
Sunday Night: Dine At Diego Pops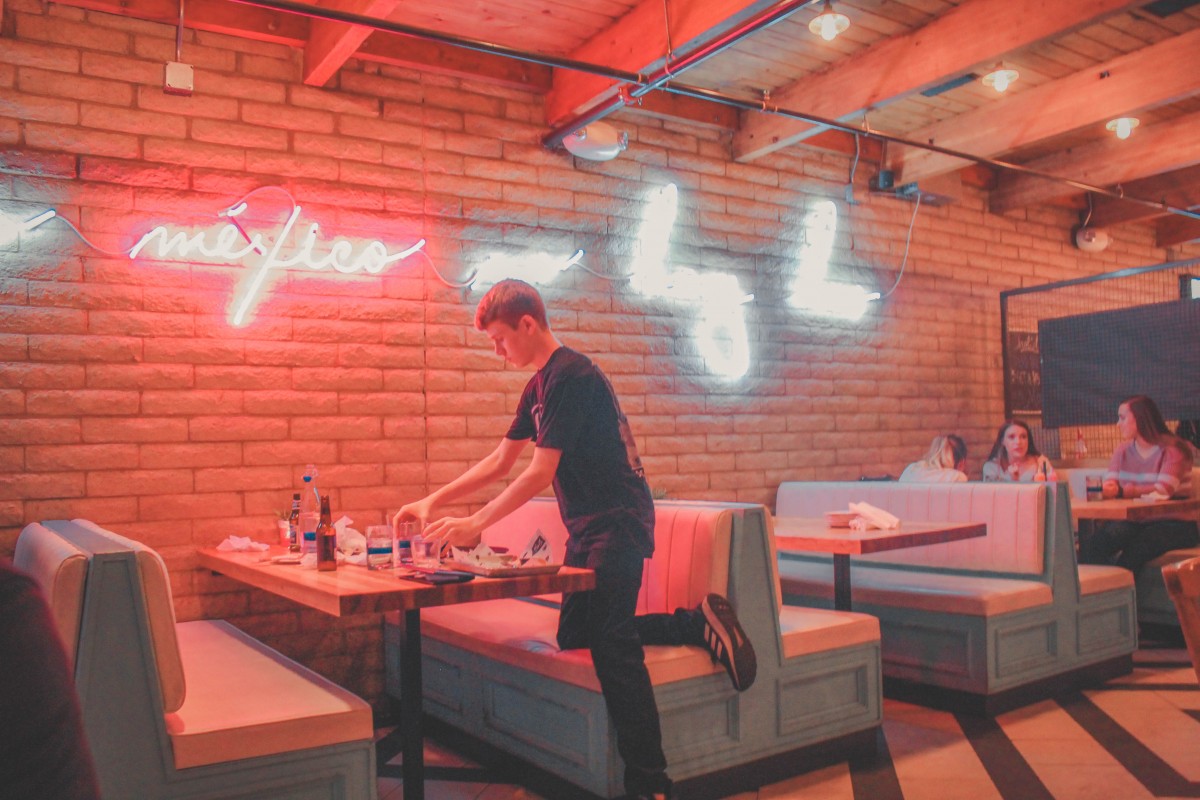 With pops of pink (pink booths, pink art, and pink walls) and a slightly gritty edge, Diego Pops has a funky feminine styling.
If you're spending a girls' weekend in Scottsdale, I can't recommend this restaurant enough! It's a fun, upbeat, vibrant Mexican-inspired eatery right in Old Town.
I ordered the legendary Brussel Sprout Nachos and my husband ordered street corn (dusted in Cheetos).
Our waitress came by with chips & salsa to start off (the salsa had a certain tangy heat that made it so delicious). Living in Texas, I'm used to chips & salsa coming with the meal. But we were charged $2 for the appetizer (which isn't much, but I never ordered it so I'm not sure what happened).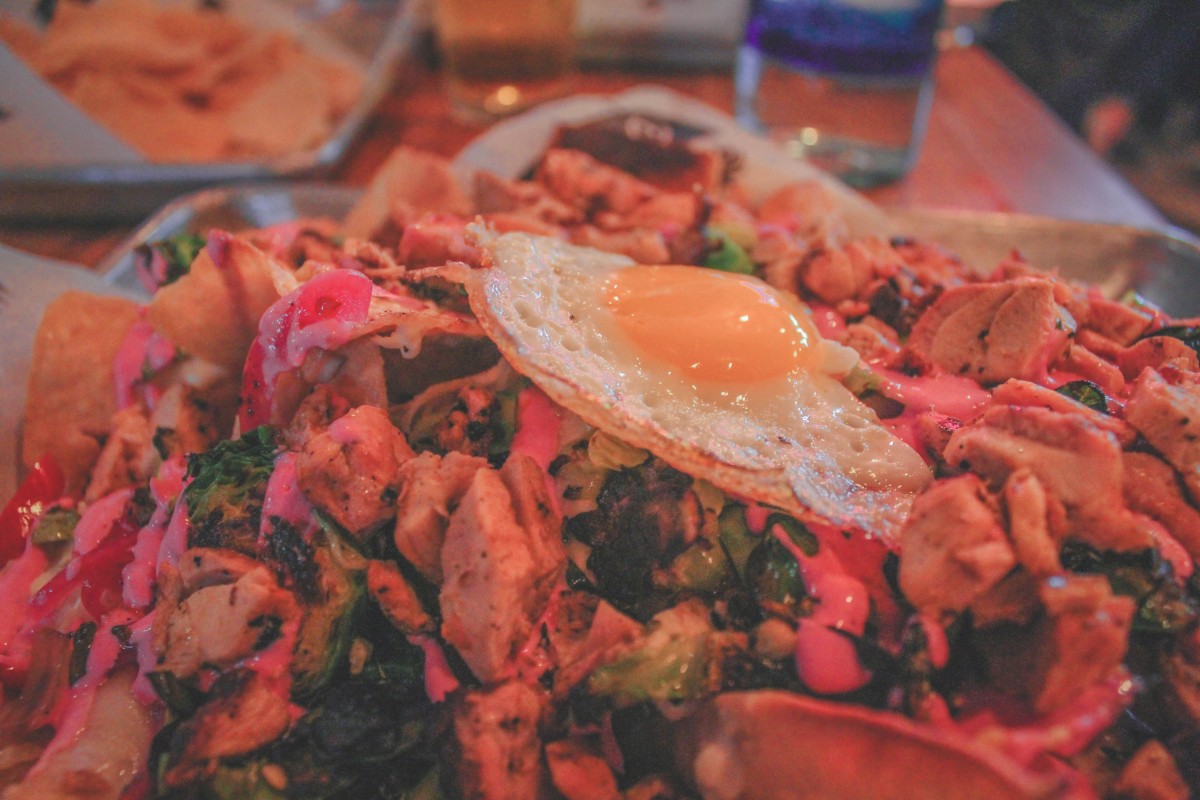 When the Brussel Sprout Nachos arrived, my jaw actually fell to the ground.
I was not expecting the dish to be HUGE (I think it's meant to be split amongst a big party, but that beast is a meal for two unto itself). We ended packing most for later (because we just couldn't finish it).
The nachos lived up to the hype. They were crisp, slathered in warm melted cheese, and embellished with easy-on-the-tongue Brussel Sprouts (the kinds that are soft, juicy, and savory). A light pink drizzle (in tune with the restaurant styling) skated between strips of onion, complementing the chicken (which was slightly dry but under the helm of the beetroot sauce, perfect).
These were hands-down the best nachos I've ever had!
During my next weekend in Scottsdale, I'm definitely coming back to Diego Pops. So g-o-o-d.
Did you enjoy this weekend in Scottsdale itinerary (or find it useful)? Have you ever spent a weekend in Scottsdale? Let me know in the comments below! As always, I love hearing from you.