travel guide to Willow Glen, San Jose
Willow Glen, a district in San Jose, was originally its own town until a vote resulted in it being annexed by San Jose in 1936. Not known to most non-Bay Area residents, when someone familiar with it asks where I grew up, and I answer Willow Glen, I usually get a "oohhh" response with a familiar nod or eyebrow raised, like I said something exotic or remote like the North Pole.
I lived in the same modest house through adulthood, and while much has changed over the years, a lot has stayed unchanged. It remains one of the most expensive San Jose neighborhoods to live in (as well as businesses to lease in). The center of Willow Glen continues to revolve around its charming downtown area featuring Lincoln Ave., the main thoroughfare. Locals love to frequent numerous events throughout the year, including wine walks and farmers' markets, as well as locally-owned businesses from salons and barber shops, eclectic vintage and consignment stores, and children's bookstore Hicklebee's. And, of course, the food scene, a flourishing sea of independent, family-friendly sidewalk café-style restaurants with umbrellas lined up from one end of the street to the other, unique with diverse menus and cuisines, lots of lit-up signs, and plenty of outdoor seating, some that have been around for decades, others are fresh newer concepts.
Here's your guide to Willow Glen, San Jose.
Willow Glen, San Jose Travel Guide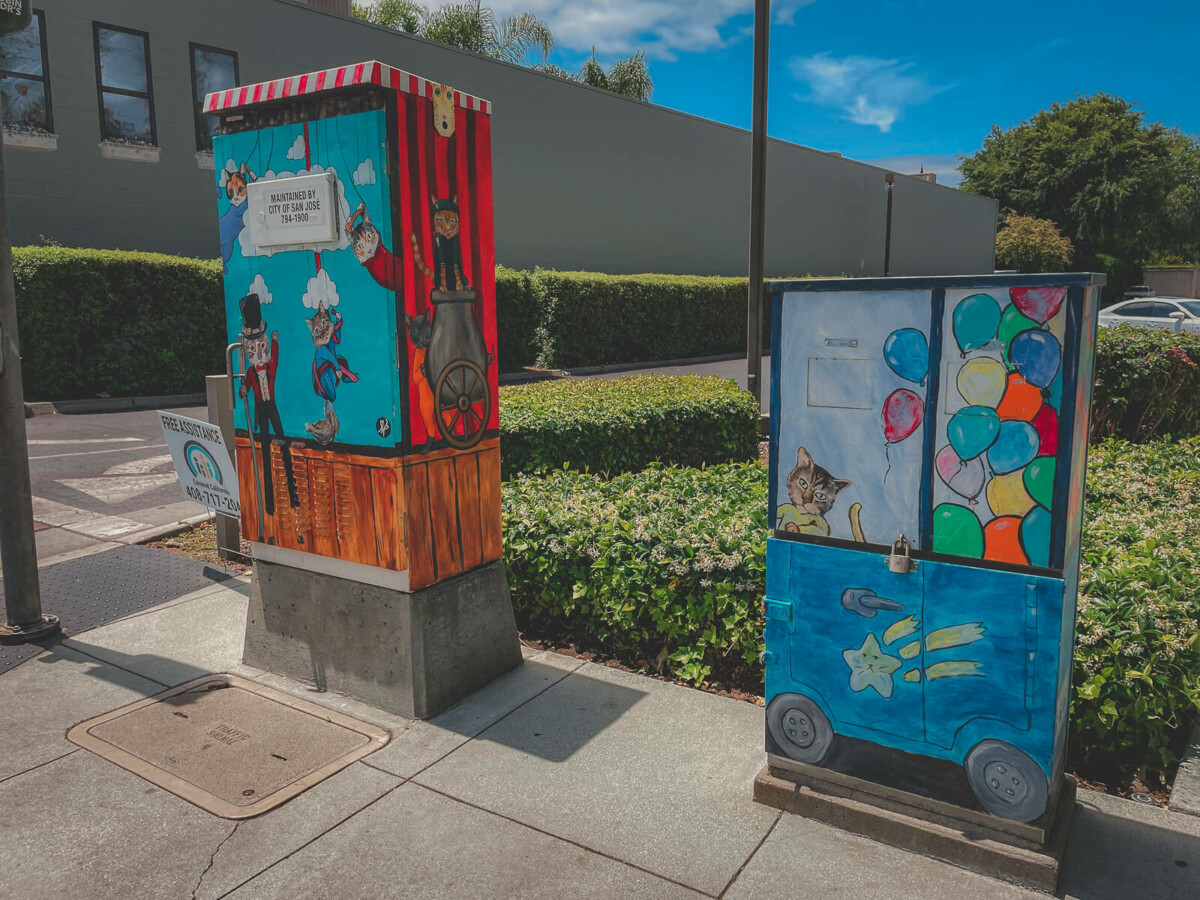 Stepping away from the bustling downtown area, and looking closer at Willow Glen's residential neighborhoods, not every house looks like it belongs in Disneyland's Storybook ride (a common misconception). While there is a section of town off Lincoln Ave. that features many enchanting storybook-style homes, visitors will find a variety of architecture, including cottage-style, Tudor bungalows, and mid-century modern Eichlers (also known as California Modern) that feature glass walls, lots of beams, and atriums.
Some houses are none of these styles, though, and it's become common to tear down and reconstruct older homes to feature more modern-day luxury styles. If House Beautiful is your magazine of choice, you could make a day out of driving around the many avenues here, admiring beautifully manicured front yards, A-lined trees, and the diversity of architecture.
Getting To Willow Glen
Just minutes from San Jose Airport (SJC) and about an hour from San Francisco (SFO) and Oakland (OAK), Willow Glen isn't far by car, but extra time is helpful as Bay Area traffic during commute hours is brutal. A car isn't necessary but is nice if visiting multiple areas as the district is vast. Assuming you're starting downtown, there are plenty of free two-hour parking spots on Lincoln Ave, numerous parking lots behind businesses, and parking spaces on surrounding residential streets seconds away.
Best Time To Visit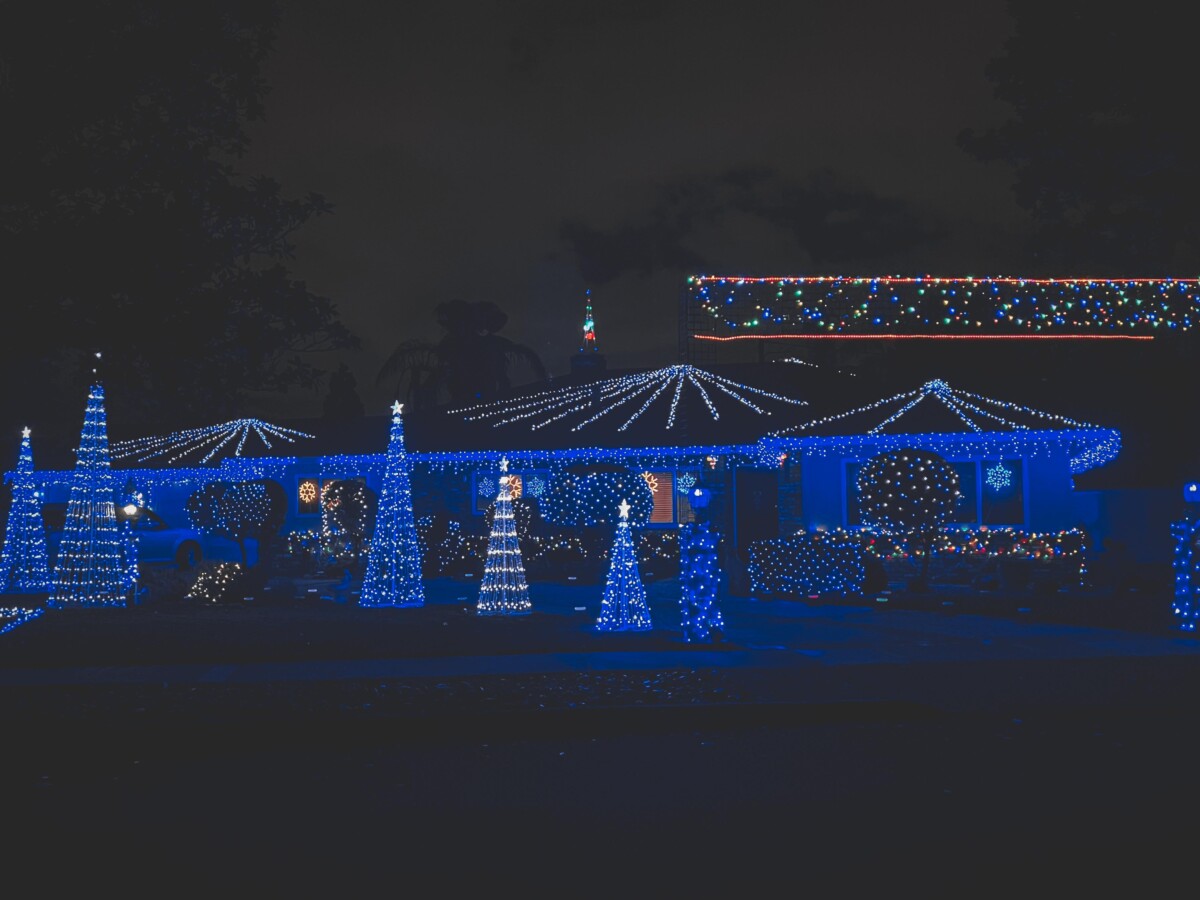 Any time is excellent to visit Willow Glen, but it's most magical during December. It's not just me who thinks so – I recently asked over fifty Willow Glen residents what they loved most about Willow Glen, and the holidays came up an overwhelming amount of times! From small, decorated Christmas trees lining the front yards of many streets to over-the-top holiday displays to large, illuminated snowflakes hanging from trees, to a large display of Santa and his reindeer with a brightly-colored sleigh showcase spanning for a few houses on one street, the holidays are not to be missed in Willow Glen! Also unique to the season is a 30-minute cable car ride around the most animated avenues and downtown's annual Holiday Bubbly Walk for an afternoon of wine and shopping.
Editor's Note: Here's Tina's guide on where to see Christmas lights in the Bay Area.
Travel Tip: Festive décor is Willow Glen, but for some of the most spectacular lights, head to Willow Street Frank Bramhall Park and follow the lights! Park and walk, especially on weekends when traffic is the most congested (but bring flashlights and reflective clothing for visibility). And, look online for possible Santa appearances – he usually makes several stops in Willow Glen, including on Lincoln. He has also been spotted hanging out at various houses throughout the neighborhood.
Things To Do In Willow Glen San Jose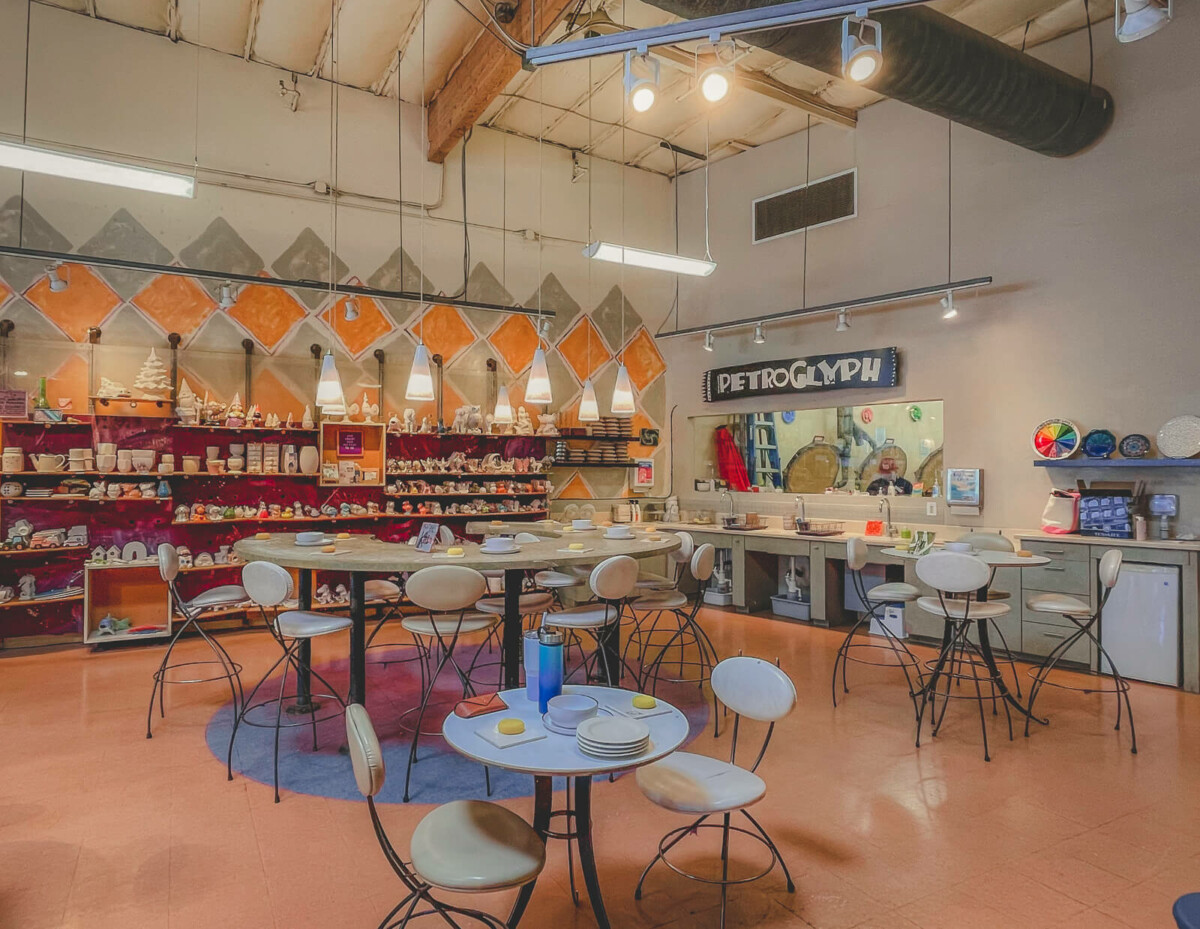 Whether you're visiting specifically for one of Willow Glen's events, or just want to check out different options for activities, there's plenty to choose from. Here's some ideas to help plan your itinerary.
Things To Do In Willow Glen, San Jose:
Love BBQ? BBQ in the Glen takes place September 30th for its sixth annual competition. It returned to sold-out crowds last year; volunteers behind it are excited to bring it to new 2023 heights.
If you've always wanted to combine wine and shopping, and you missed the Holiday Bubbly Walk, you can attend the Spring Wine Walk.
Here on a Saturday morning? Who doesn't love a farmers' market, where local small businesses sell everything from seafood and coffee to the freshest flowers, fruit and vegetables.
Feeling crafty? Head inside to Petroglyph Ceramic Lounge where you can create a gift for you or someone you love, or even a souvenir of your time spent in Willow Glen!
Glow Candle Lounge continues the DIY experience where you can absorb the most heavenly scents while indulging in candle-making.
Hicklebee's is one of the most popular children's bookstores in the state, having been around since 1979. Check out their event calendar to see what events and local authors may be there during your visit.
If you love hunting for treasures, there are many to be found at multiple antique shops, vintage boutiques and thrift stores on Lincoln. Willow Glen Collective is great for nostalgia and Thrift Box is my favorite because it benefits Lucile Packard Children's Hospital Stanford and is a volunteer-run store.
Many homeowners (on residential streets) have built charming little free libraries and placed them in front of their houses, full of books ranging from chapter series for young children, to fiction and non-fiction, self-help literature, even magazines, maps and textbooks, all free for the taking. The concept is simple – take a book, return a book. If you love to read, gather all the books you've finished, didn't like, etc. and bring them with you to disperse around town, and pick up some new ones!
Music in The Glen will be back for its 22nd annual concert series beginning July 2nd, running through August 6th 3 to 5 PM at Willow St. Frank Bramhall Park. Lawn seats and blankets are welcome.
Where To Eat In Willow Glen San Jose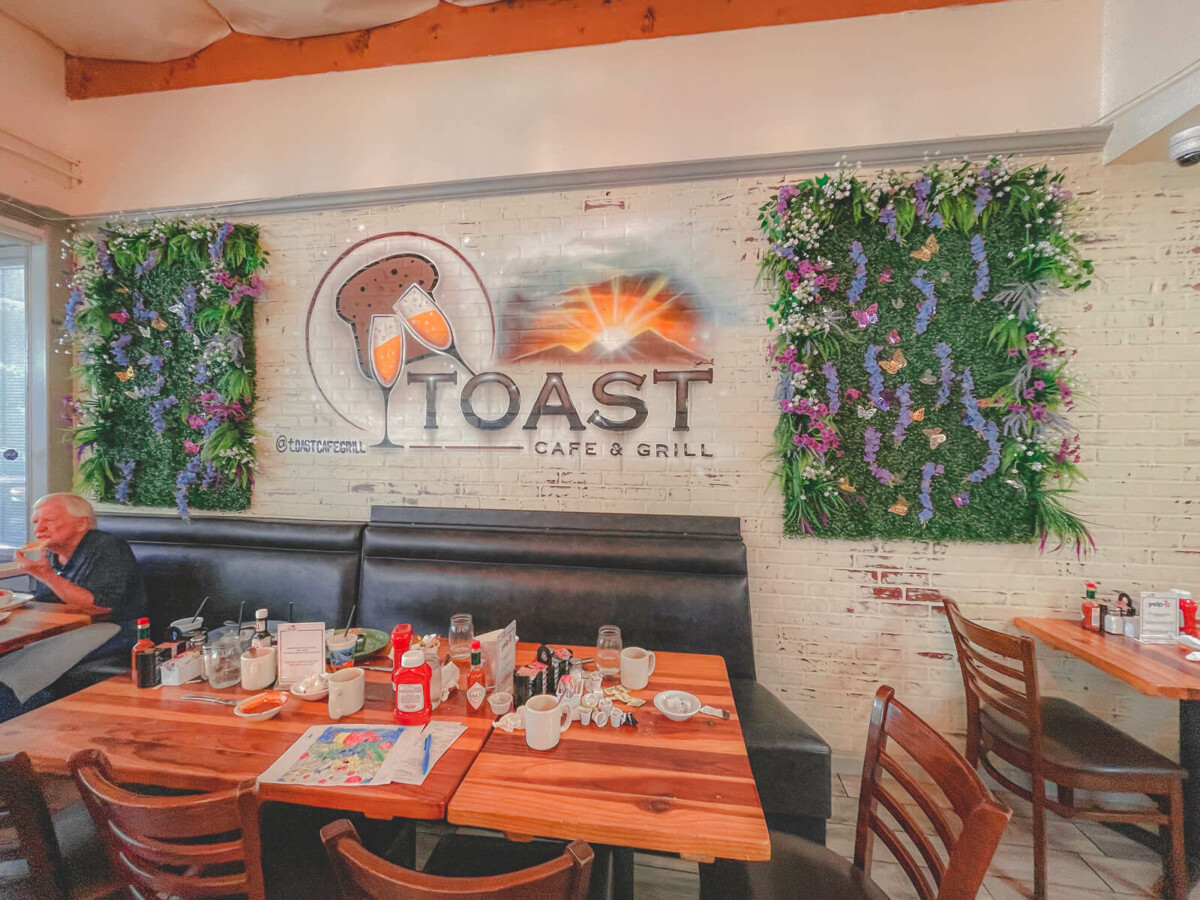 Are you hungry? You certainly will be once you start walking around downtown. Start out the day at American restaurant The Table at the (corner of Willow and Lincoln) and sit outside for people-watching (and sidewalk cafe ambiance) while enjoying coffee, mimosas and brunch options like chilaquiles. Down the street, Braise serves brunch Friday through Sunday and dinner six days a week, featuring a diverse rotating menu from a bone marrow sandwich to buttermilk fried chicken. For a swanky dining experience, head over to French bistro Black Sheep Brasserie and try brussels sprouts as a side dish and the bread pudding for dessert. Speaking of dessert, lots of options in Willow Glen: Dolce Sicilia to relive your Italian vacation while enjoying delicious gelato and coffee; 21-year old Willow Glen Creamery for their signature "St. Louis silk" frozen custard; and El Rico Pan for Mexican pastries and breads.
Where you'll spend the most time: Counter-service local chain Aqui for lunch and dinner featuring organic, fresh ingredients, fused by Californian, Mexican and Southwestern influences and their infamous Industrial Swirl margaritas (where customers are restricted to two each). Tons of inside seating and a spacious back patio, the vibe here is TGIF every day. Where you won't want to leave: Bertucelli's La Villa Gourmet where it's standing room only for ordering (but a large outdoor seating area) and expect a crowd and a line for the most amazing Italian deli in all of San Jose. Order their world-famous raviolis which you can opt to get with cheese or beef, sauce or no sauce, cooked or uncooked (if you want to take it and cook later). Don't leave Willow Glen without stopping here and grabbing something to go.
You might think everything in Willow Glen is condensed to Lincoln Ave. since it's the main downtown hub, but there are many other streets, areas and shopping centers that shouldn't be missed. One of those is Foxworthy Shopping Center, where family-owned Italian restaurant Giorgios has served customers since 1959 on their tables decorated with red and white checkered tablecloths, offering diners many Italian favorites including pizza, pasta and calzone. Mexico Lindo, known for authentic, delicious Mexican dishes, has also been a staple in the community for more than 35 years. Popularity for the restaurants has soared (resulting in both expanding to other Bay Area locations), but their Willow Glen spots remain iconic. Another shopping center, heading back toward downtown a few blocks away is Willow Glen Village, where you'll find Toast Café & Grill, a fairly new spot locals love to hit up for breakfast. I just went for the first time and tried the carnitas skillet, a hearty portion of carnitas and country-style potatoes underneath two eggs of your choice and covered with cheese and salsa and served with…toast of course! I had no room for donuts afterwards, but Manley Donuts, with several locations including one in this shopping plaza, is also consistently a favorite among residents.
Where To Stay In Willow Glen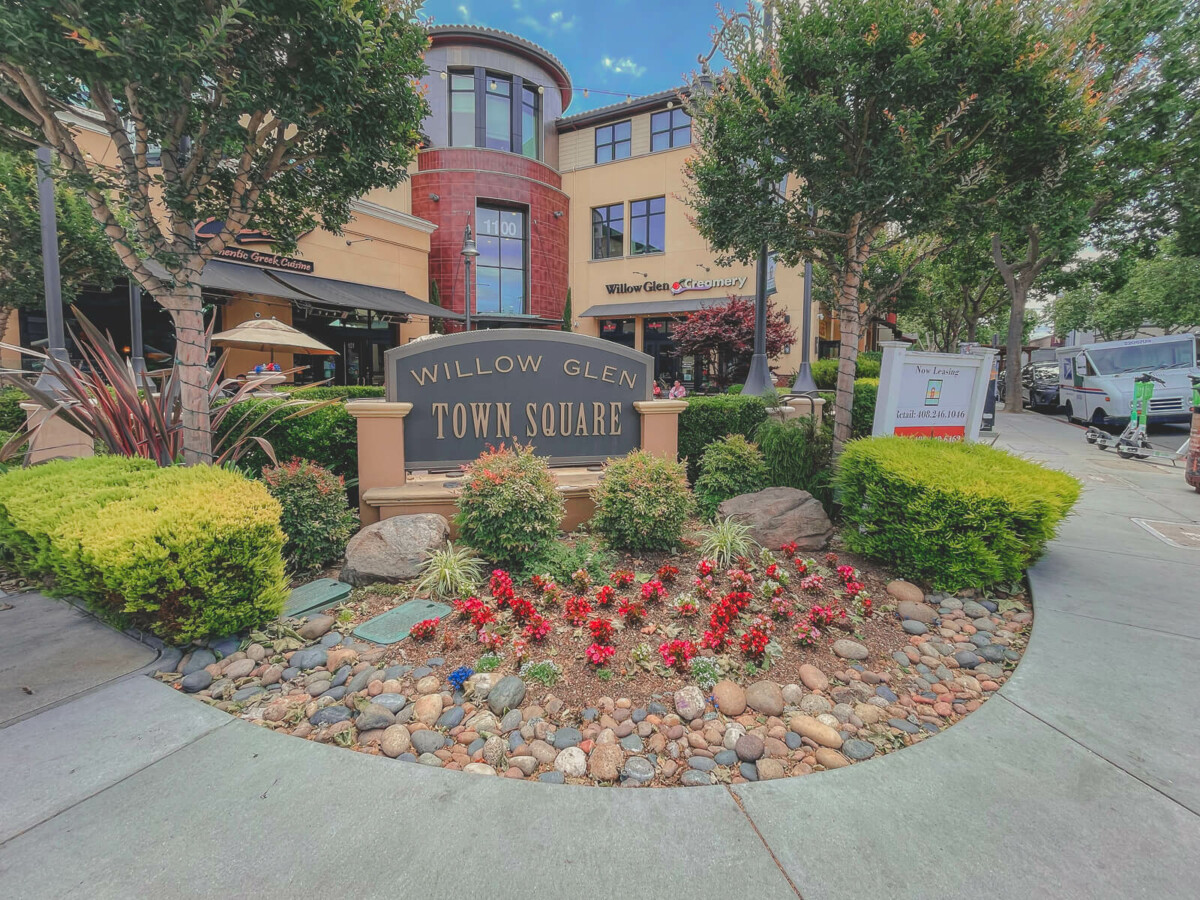 There are no hotels in Willow Glen, but who needs them when you could stay in a short-term rental using VRBO or Airbnb (Editor's Note: this private Willow Glen guesthouse, this charming Willow Glen home, and this stylish San Jose cottage are Passport To Eden's top picks for accommodations near Willow Glen).
In terms of what area to stay, it really depends. If you won't have a car (or want to consume spirits during your stay), you may consider lodging closer to the downtown area for accessibility, but Uber or Lyft rides from one spot to another in Willow Glen is another option. It's a very walkable community, but because it's also spread out, not every accommodation will be close to downtown or a shopping center. No matter where you stay, you'll find many ways to fill up your itinerary no matter how long you're here for.

What are your favorite places in Willow Glen San Jose? Let us know in the comments below! We're always looking for new recs!