a San Jose local's guide to the best beaches near San Jose, California
Like many others in the Bay Area during summertime, I flee to the coast for cooler weather, welcoming breezes, and a road trip to the Pacific Ocean. Most beaches near San Jose offer this and a diverse range of amenities and activities.
So here's our guide to the best beaches near San Jose. Think nearby, family-friendly boardwalks, drives further up the coast, and longer treks for extended getaways!
Disclosure: Heads up, this post contains some affiliate links, which means Passport To Eden may get a commission if you make a purchase. Don't feel pressured to buy anything. We still love that you're here, reading our content. To find out more, you can read our full affiliate disclosure right here.
Santa Cruz Beach
Drive Time From San Jose: 45 Minutes
---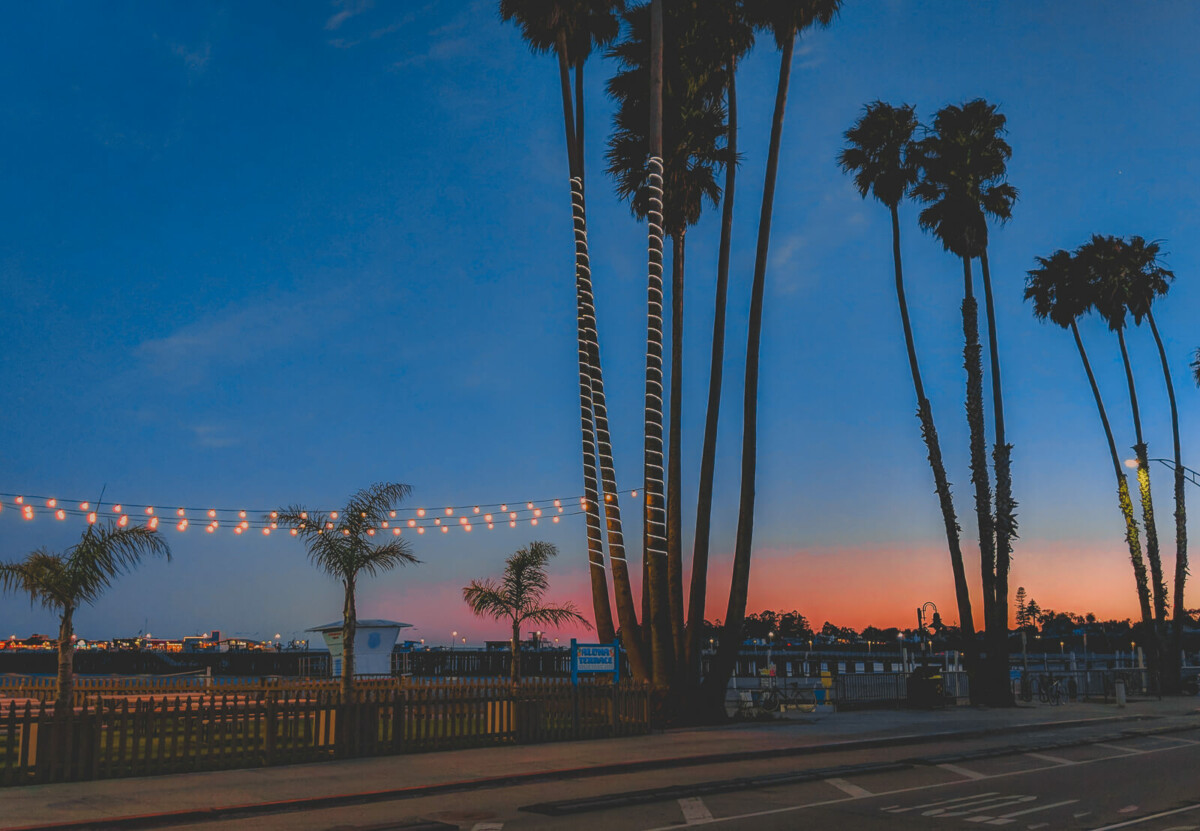 Don't lay out on the beach immediately after you reach Santa Cruz; there's a lot to do. Start on the pier to get some fishing in (no license needed). Then, grab a bite to eat at one of Santa Cruz Wharf's restaurants. Walk down to the Santa Cruz Boardwalk to check out candy shops (for delicious cinnamon candy apples and dark chocolate orange peels), the large arcade for a few rounds of Skeeball and Pac-man, Santa Cruz's famous Giant Dipper, and bumper car rides.
Parking Tip: If you plan to hit both the wharf and the boardwalk, park on the Santa Cruz Wharf. Pay hourly or opt for the maximum fee (if you plan to spend the day). Walk to the boardwalk to avoid double paying for parking (the costs increase by the boardwalk). If you park downtown, you'll pay an hourly meter fee, or you can park for free in a nearby parking garage.
Ocean Beach
Drive Time From San Jose: 50 minutes
---
I love the drive to Ocean Beach from San Jose; a sense of relief overcomes me as the view of the highway changes to crashing waves amongst white sand. With over three miles of white sand beach, crossing The Great Highway adjacent to Golden Gate Park feels indulgent and lovely. Nearby residents and out-of-towners gather for kite flying, suntanning, and beach walking. It's easy to make a San Jose day trip of this excursion. I suggest visiting nearby BlackBird Café and Bookstore (I wrote about them in my guide to best SF bookstores), downtown (to catch a cable car), or Union Square (for shopping).
Baker Beach
Drive Time From San Jose: 1 Hour
---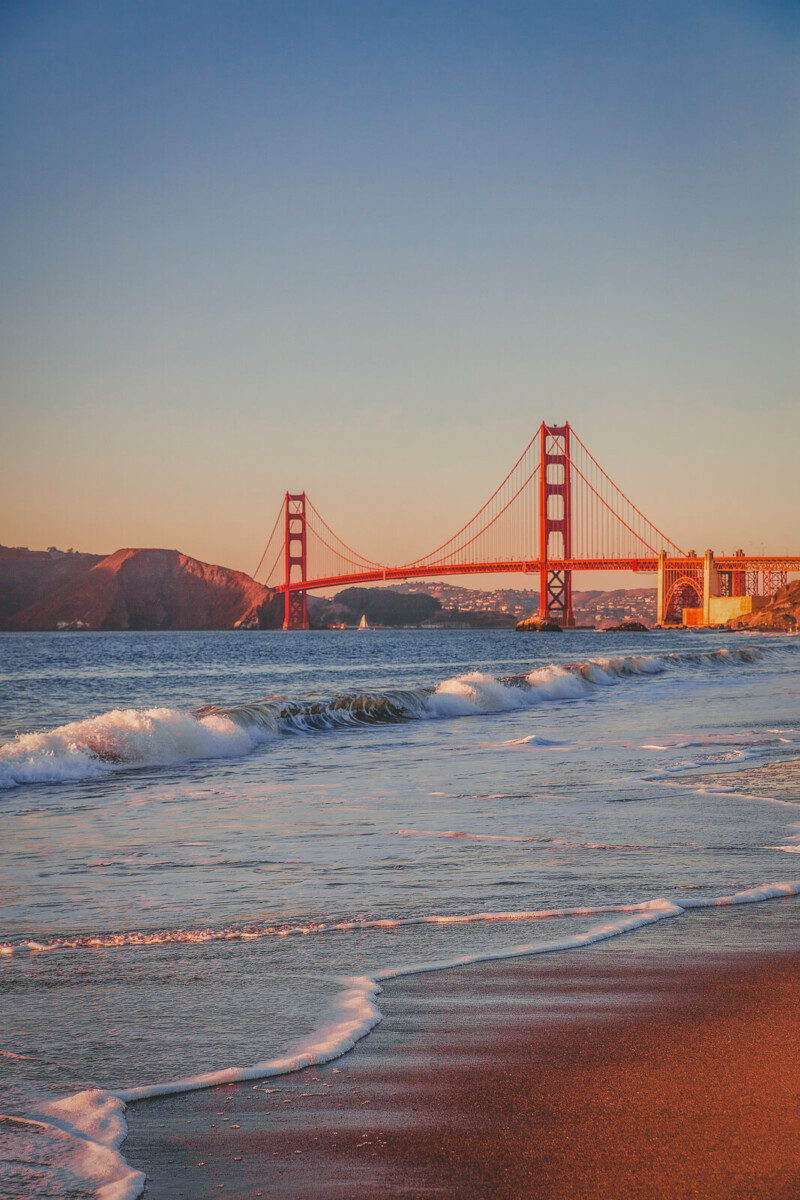 Let me just say I had no idea Baker Beach was also a partially nude beach the first time I visited. I had heard about the terrific views of the Golden Gate Bridge and wanted to see it for myself. Located in San Francisco's Presidio District, Baker Beach's scenery did not disappoint.
P.S. Don't worry if you don't want to go commando – it's an unspoken rule that only the northern section of the beach towards the bridge is clothing optional. You can still get great snapshots of the beautiful landscape if you are further inland.
No-frills Poplar Beach is one of the quietest (and least crowded) beaches near San Jose. You'll get just water, sand, sea life, and birds flying in perfect synchronization above at the end of Half Moon Bay's Poplar Street, which leads to a small parking lot with picnic tables and benches overlooking the ocean. Head right for a trail or left down steep sandy steps which lead straight to the water.
Parking Tip: Drive through Highway 1 in Half Moon Bay, then head down a residential neighborhood to a parking lot overlooking the water. Parking is paid through meters. It's usually $10 for the day, and the lot closes at midnight.
Pacifica State Beach
Drive Time From San Jose: 1 Hour
---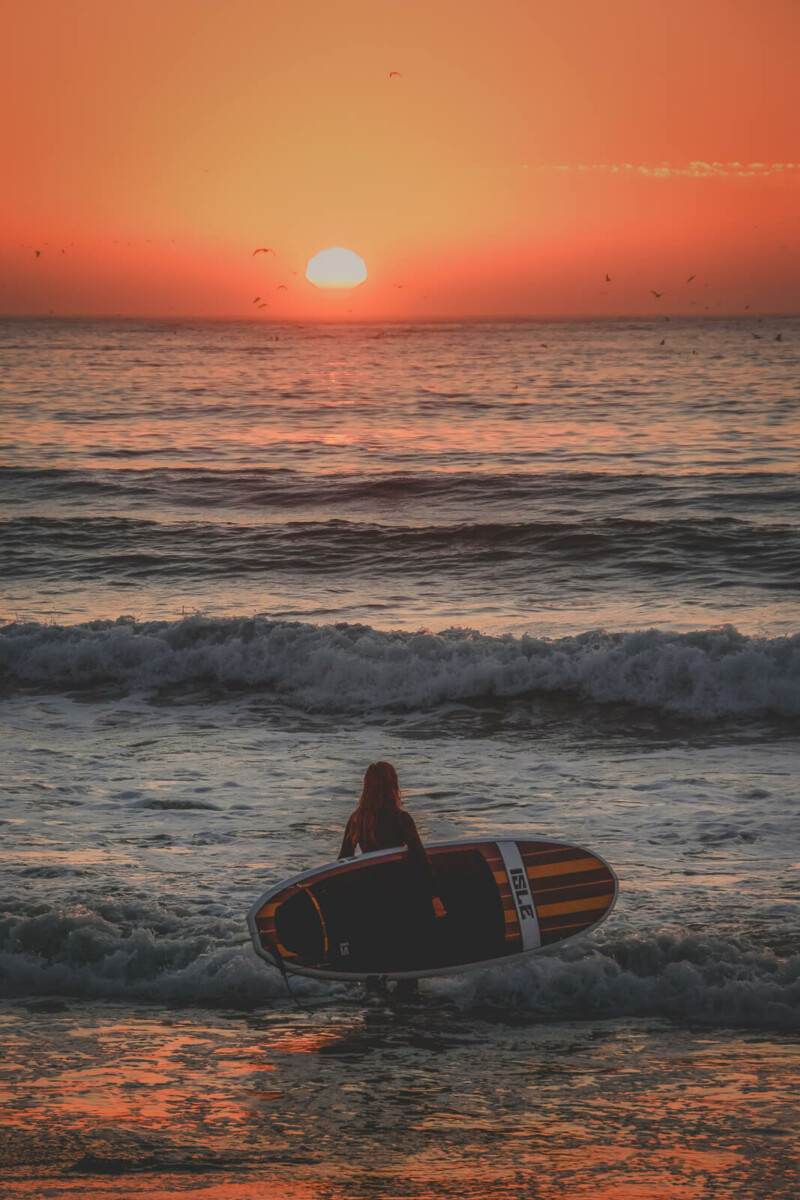 Due to an abundance of rocks, you're more likely to see people sitting in camping chairs than laying out on beach towels at Pacifica State Beach. You'll see surfers too, riding the waves.
Locals and tourists alike hang out the iconic Taco Bell Cantina (one of the few locations to sell libations), situated mere steps from the ocean. I come here several times a year just to enjoy the beautiful indoor view or (if it's not too windy) beachside deck.
Travel Tip: If you plan to stay at this beach for a considerable amount of time, you may want to bring camping chairs and a blanket or warm jacket. Even when it's 100 degree weather in the Bay Area, Pacific State Beach is usually a much cooler spot!
Alisomar Beach
Drive Time From San Jose: 1.25 Hours
---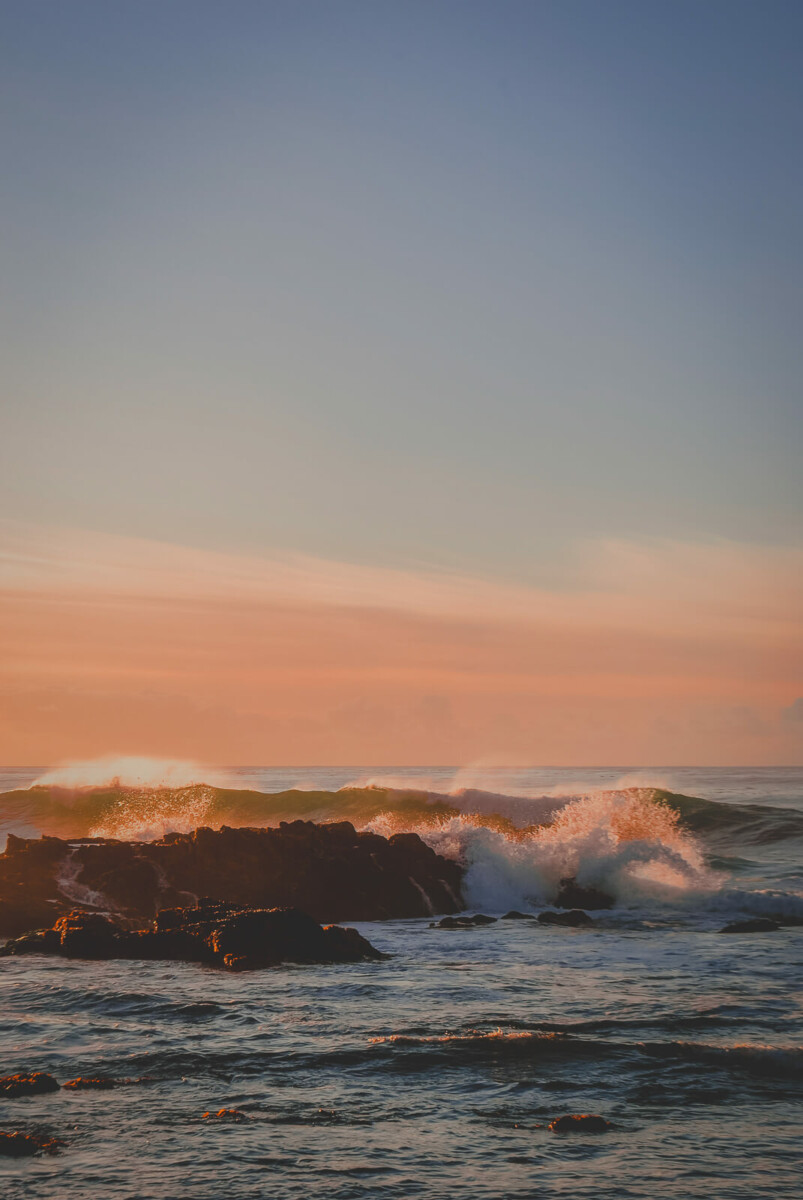 Asilomar State Beach is only one mile long, but its views and romantic vibe attract visitors looking for a leisure stroll or slower paced hike. Take the coastal trail or walk the boardwalk to the sandy dunes until you reach the famed conference grounds and Phoebe's Cafe.
Travel Tip: Fishing is not allowed as the waters here are a protected Marine sanctuary. Swimming and wading are not advised due to dangerous currents. Alcohol is prohibited on the premises.
P.S. Although Pacific Grove is close enough to be a day trip from San Jose, I highly recommend staying a night if you have the time! I came for a one-night stay with my fiancé for our anniversary. We stayed at the Centrella Inn, a Victorian property built in 1889. Centrella Inn is not far from the beach or downtown, features a breathtaking garden area, and offers breakfast of fruit and scones. I'm pretty sure I fell in love again and left my heart behind.
Carmel Beach
Drive Time From San Jose: 1.5 Hours
---
Located in one of Northern California's most charming cottagecore towns is Carmel Beach. The walk from artsy, adorable Carmel-By-The-Sea to gorgeous Carmel Beach is deceptively short in appearance, but it's steep (even worse if you are carrying loads of beach gear). So don't say I didn't warn you if you reach the sands gasping for breath.
Parking Tip: Arrive earlier to get one of few spots in the beach parking lot or downtown area, where spots fill up quickly.
It's a splurge to stay in Carmel, but I've loved staying there in the past, at the Normandy Inn, a super cute property with teal and white buildings (they also have cottages one block over). Some rooms have fireplaces; there's tons of greenery, including trees and flowers, and the beach is just a couple blocks away.
Stinson Beach
Drive Time From San Jose: 1.5 Hours
---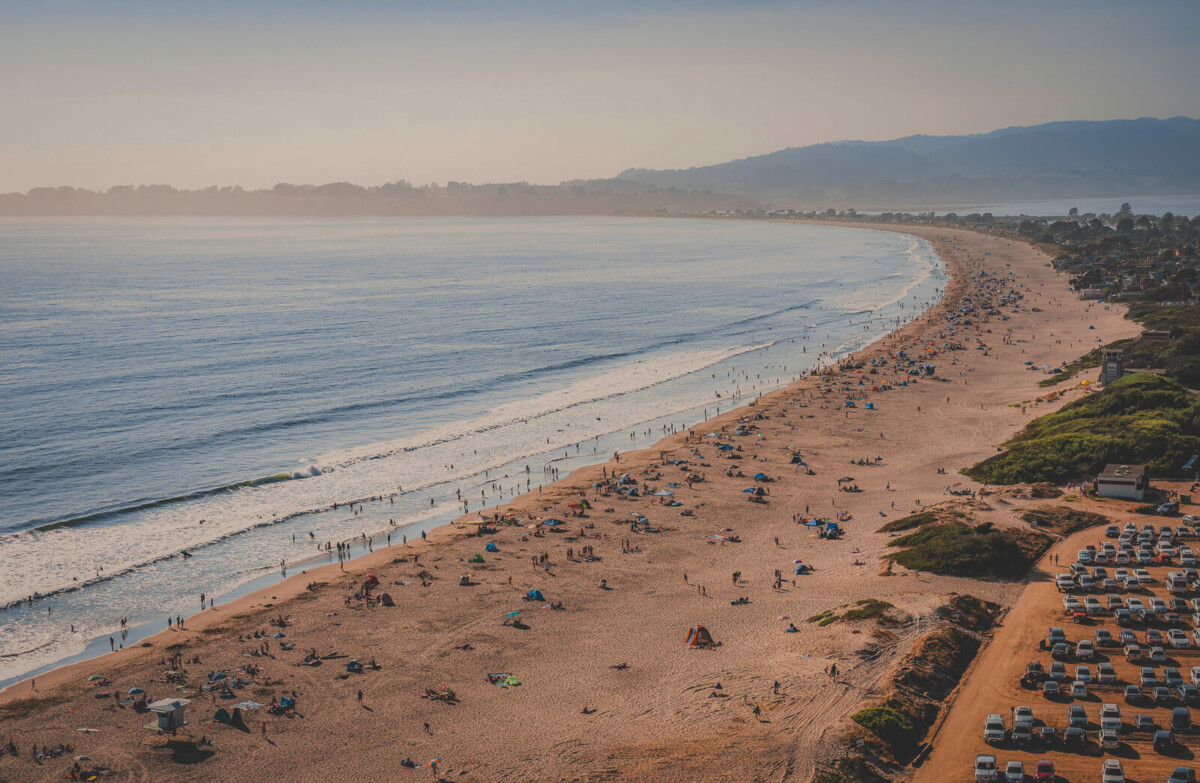 A 30-minute drive from the Golden Gate Bridge, Stinson Beach is one of the most popular beaches near San Jose due to many available activities – hiking, fishing (license required), volleyball playing, surfing, and picnicking. Beachgoers rave about clean sands and have long enjoyed visiting Stinson since the 1800s when it was part of a much-visited resort area.
Parking Tip: Parking is free but extremely limited, especially on weekends. So plan to arrive early to snag a spot. Nervous drivers (and those who get car sick easily), beware, the road here is very steep and winding.
Pismo Beach
Drive Time From San Jose: 3 Hours
---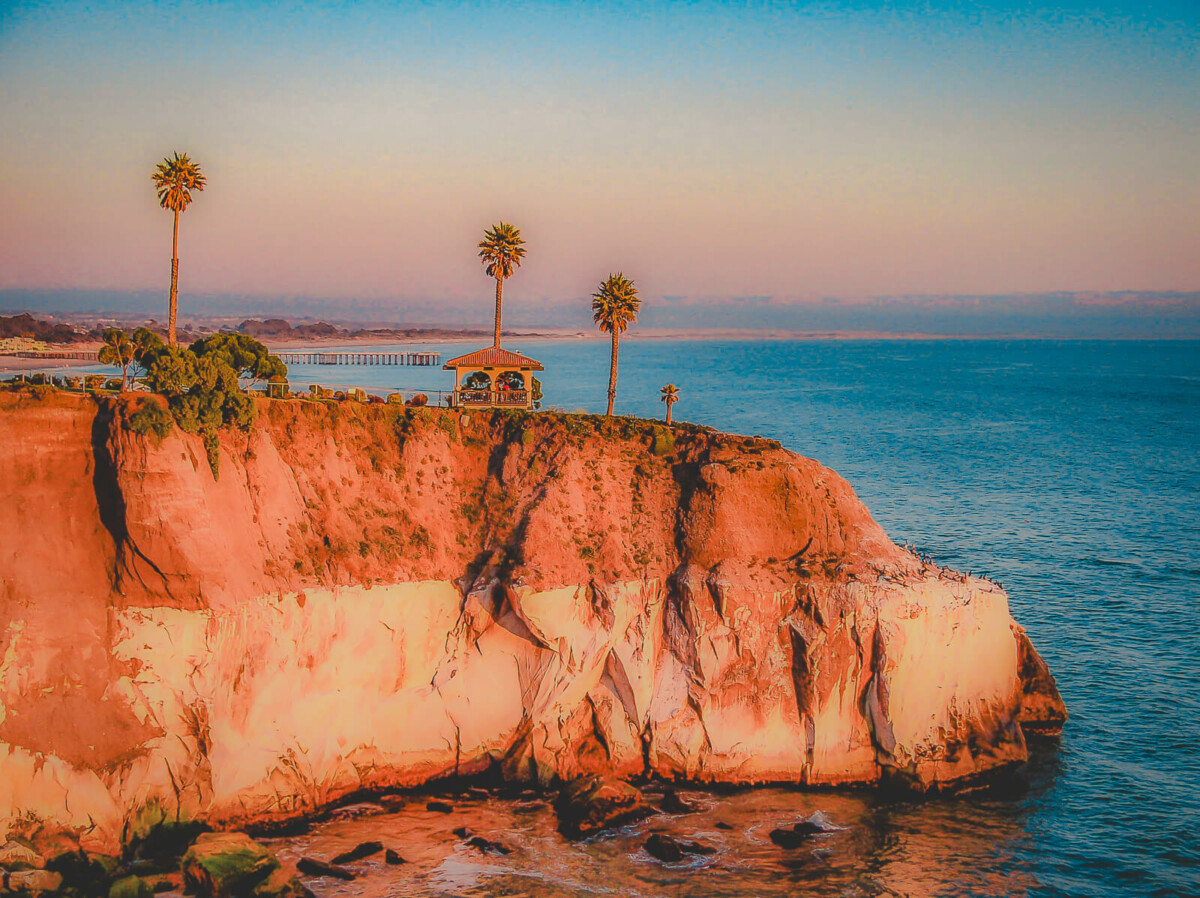 If you're looking for one of the best beaches from San Jose to stay overnight, my favorite spot is Pismo Beach. Just knowing I am heading to Pismo puts me in vacation mode and takes me off the grid. With six miles of beach, a pier, and a boardwalk, there are plenty of outdoor activities like fishing, surfing, hiking, and horseback riding. Alternatively, relax on the sand and catch some sun rays, then hit downtown for window shopping and restaurant dining. I recommend Ada's Fish House for some of the best fish and chips and Beachin' Biscuits for a comforting American-style breakfast.
Since Pismo Beach is far from San Jose, you'll want to arrange accommodations. Sandcastle Hotel is footsteps from the water and just a couple minutes walking distance from the Pismo Beach Pier. Featuring several floors, a shared balcony area (for fresh air and views), rooms with private patios, and sprawl of firepits, Sandcastle Hotel offers a bit to enjoy (they'll even provide smores' kits so you can roast marshmallows).
Glass Beach
Drive Time From San Jose: 4 Hours
---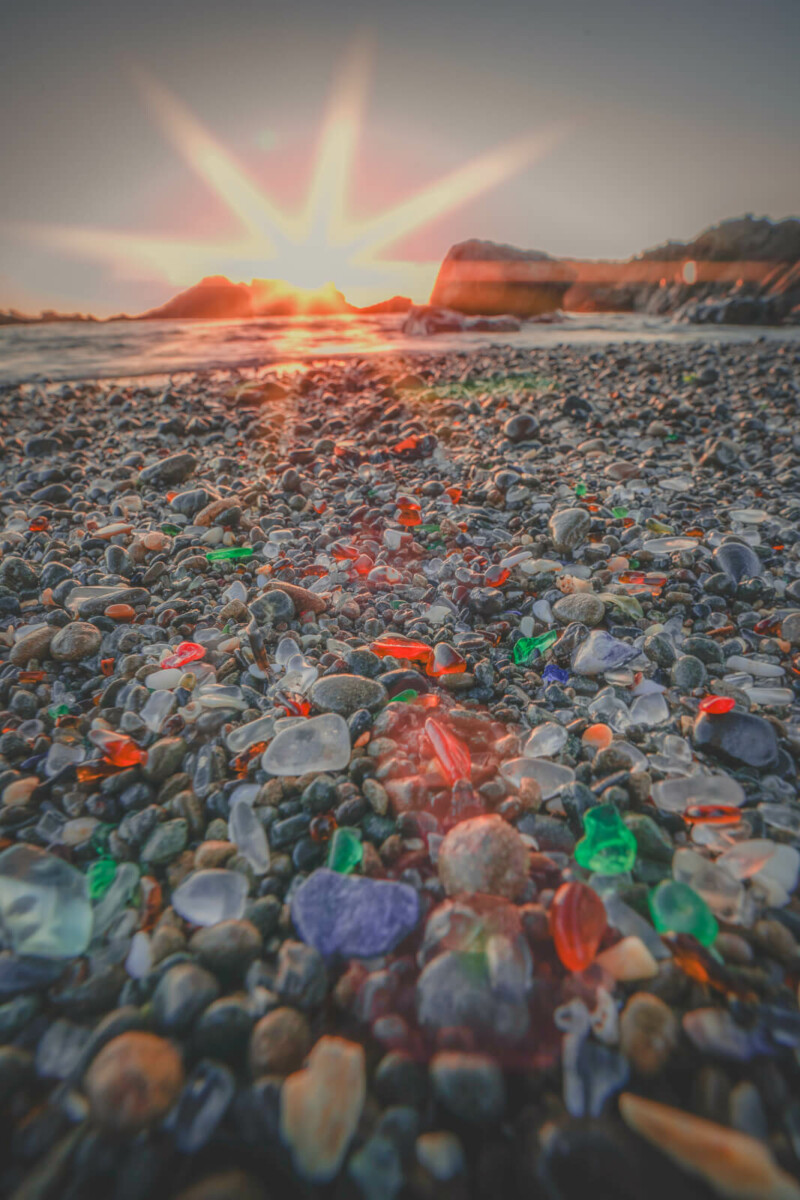 A four-hour drive from San Jose, Fort Bragg's Glass Beach is located along the Pacific Coast in Mendocino County. It's best incorporated into a larger Napa wine country (or NorCal) trip.
Travel Tip: Please note that it is illegal to collect and remove glass from Glass Beach.
Glass Beach's name is coined from sea glass found after years of garbage disposal in a nearby coastline area. The sea glass is now an integral part of the beach and its history, as years of crashing waves have polished the glass, transforming it into sparkling pieces tourists travel to see each year.

Did you find this post on the best beaches near San Jose useful? What are your favorite beaches near San Jose? Let us know in the comments below! As always, we love hearing from you.