by Tina Casalino and Anshula Varma
California bookstores celebrate being human; they are matchmakers, giving readers, writers, poets, and lit lovers narratives that resonate, that intrigue, that capture life's beauties and hardships, joys and pains, simplicities and nuances. California bookstores have a fiery passion for stories. They proudly pursue perspectives; they chase titles that challenge perceptions.
So naturally, bookstores in California are some of our favorites in the United States. Here are twelve shops to bookmark, from reader-recommended mainstays in Southern California to a Bay Area writer's top picks for Northern California.
Bart's Books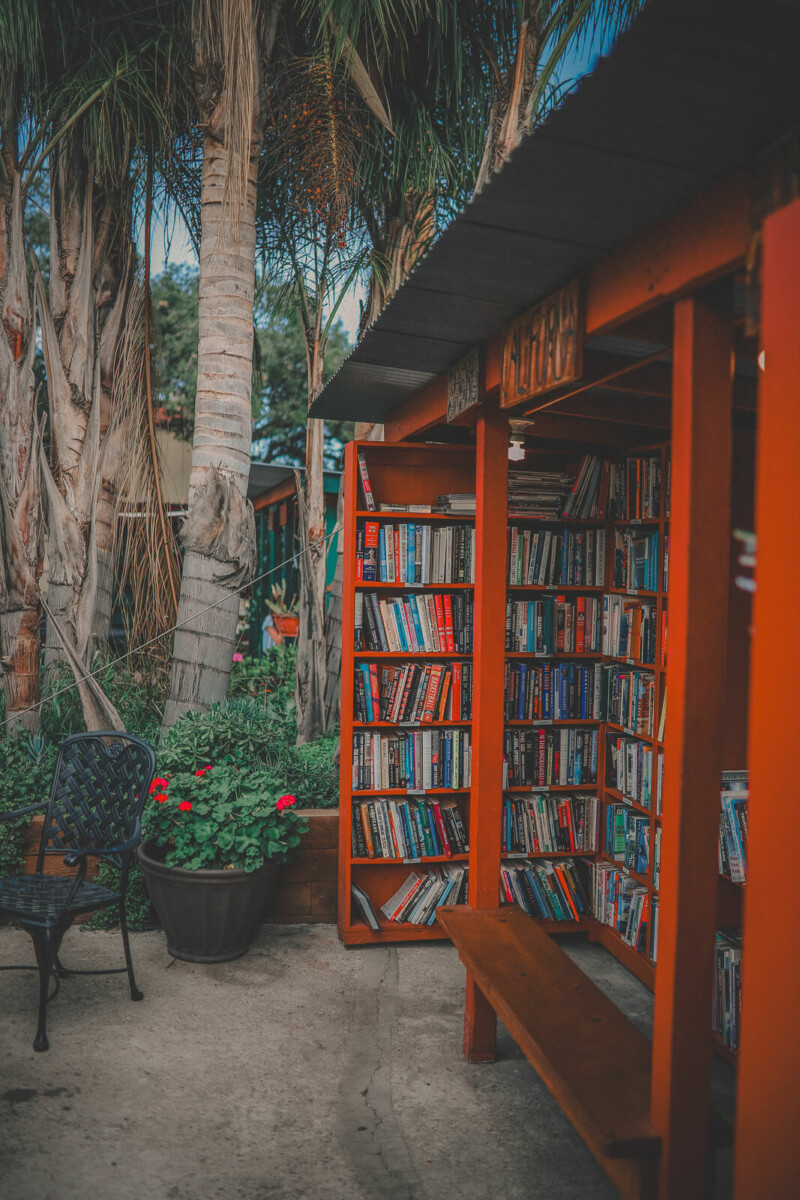 Bart's Books began as a seed of inspiration plucked from the banks of the Seine River. Bouquinistes lined La Seine with Parisian book stalls, and one day, far away, Richard Bartinsdale planted that feeling of being outdoors, surrounding yourself with books, gently perusing under the sun, in his home in Ojai. That was in 1964. Since then, Bart's Books has grown, filling the insides of a former residence. Books have piled up over the years, consuming the space. But traces of that structure are still there: kitchen tiles behind cookbooks, long hallways crammed with titles, face-front covers neatly arranged on a fireplace mantel. Shaded outdoor shelves (where books sell for a few cents) add a labyrinthine touch to the lawn, and the interior paves the way for more publications (art lovers, be warned, Bart's Books has an expansive art section titled "The Gallery").
Bell's Books
Located in the heart of downtown Palo Alto, family-owned Bell's Books is as rare of a find as some of the titles you'll encounter in this independent bookstore. Large and spanning two stories, this popular California bookshop has been around for nearly 90 years, opening in 1935 on University Ave. when Herbert Bell, 24 at the time, drove from Los Angeles with a car full of books to start a bookstore with his employer (who was a book dealer). The shop later moved to its current location on Emerson Street. Over time, three generations of Bells have worked for the business. Customers love the diverse selection of new and secondhand reads, including more than 500 categories ranging from children's classics and vintage technical books to gardening, religion, and practically any other genre you could think of. The aisles are narrow, the bookshelves tall, and you might lose track of time as you browse Bell's Books' overwhelming inventory.
Bel Canto Books
When Jhoanna Belfer brought her extensive sales experience to Bel Canto Books, she became Long Beach's lit-loving champion for AAPI-reads. You'll find Belfer's curation in a chic section of The Hangout, the city's charming urban artist center, where books, plants, clothes, and vintage goods mingle in an ultra-hip shopping space. But that's only the start. You can pick up Bel Canto's book club picks (from their light-hearted graphic novel book club to their discourse-heavy Burning Issues book club) at Steel Cup Cafe, a long-time favorite Long Beach cafe and scratch kitchen, or hit up their newest location at Kubo LB, where Bel Canto continues to find strength in a collective at an encouraging, creative haven.
Black Bird Bookstore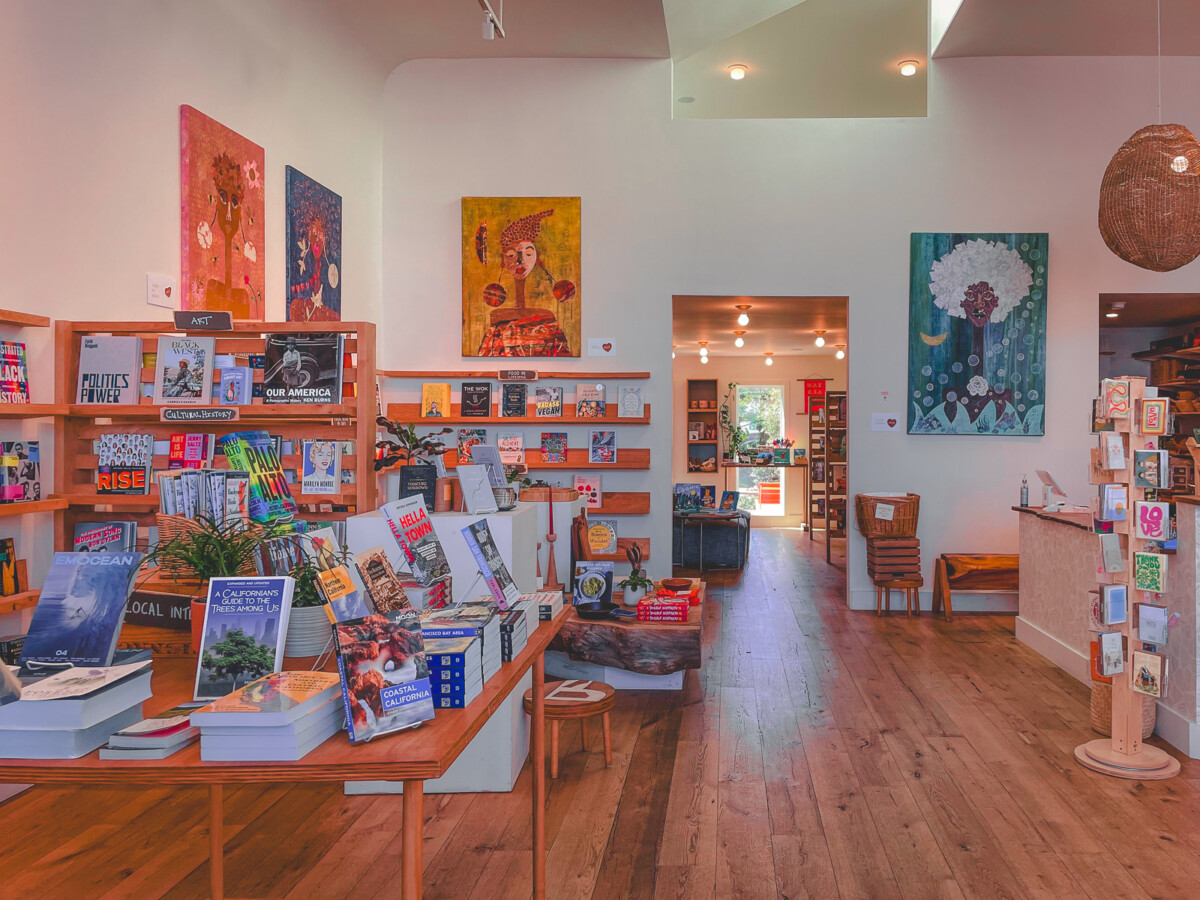 One of the most aesthetically beautiful and multi-purpose bookstores in California, Black Bird Bookstore is designed with an artistic eye. The layout lends to the perfect art gallery vibe. Large windows provide natural sunlight. More light beams down from hanging fixtures. Wide-open space and tall ceilings seamlessly accommodate local artists' vibrant pictures, prominently displayed over locally-handcrafted bookshelves. A table features local authors and Bay Area literature. Brown wooden signs categorize genres. A full-service café fronts Black Bird; a quiet patio and garden are tucked away toward the back. This California bookstore welcomes all ages, but if you are bringing little ones, you may have a difficult time getting them to leave (they won't want to).
City Lights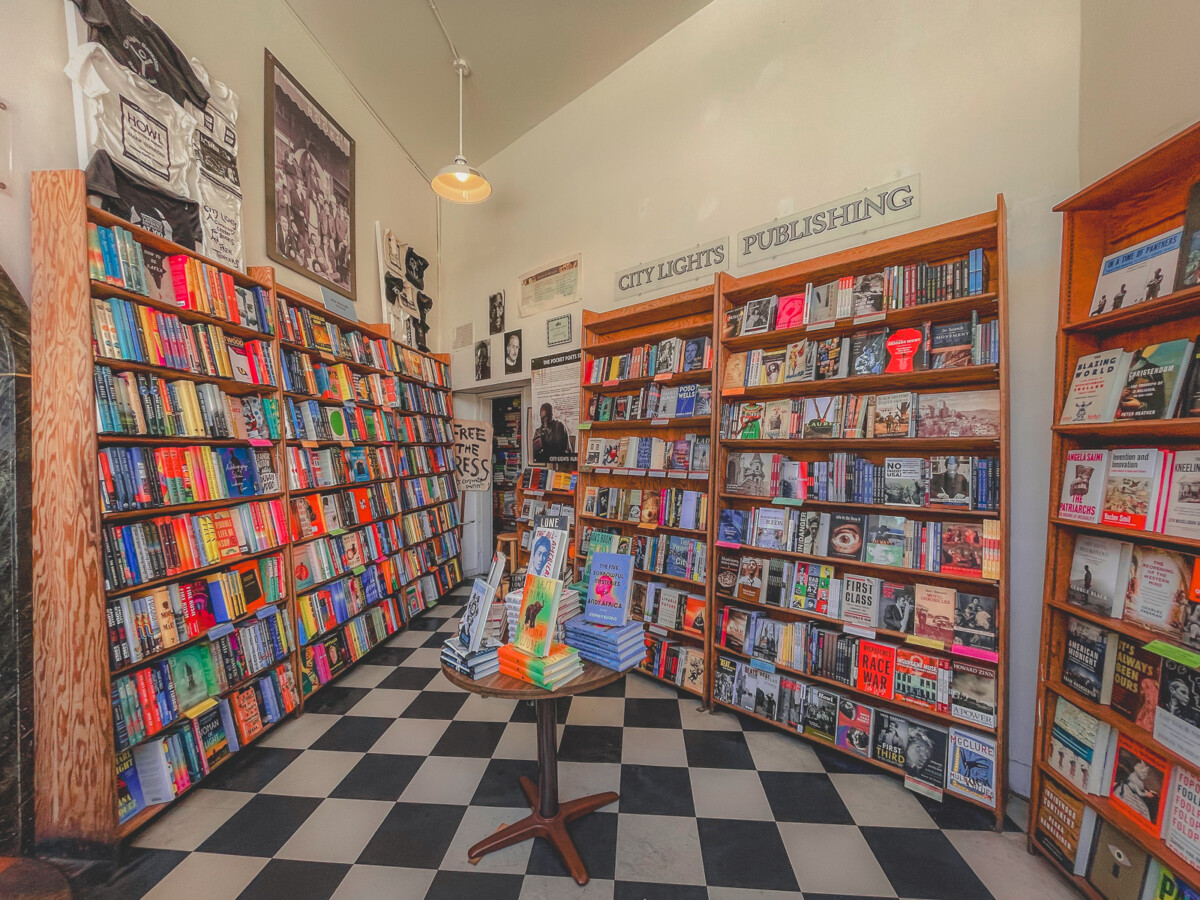 Large by San Francisco standards, City Lights is one of the most iconic bookstores in California. Titles are spread out across different rooms; genres range from travel and sports writing to philosophy and mythology. Hand-written staff picks and bestsellers fill an entire section in one of over seven rooms inside City Lights. My favorite area is located later, up a narrow staircase, where a tucked-away poetry room is complete with a poetry chair. Another favorite (also mentioned in this guide to SF bookstores) is a triangular Alice In Wonderlandesque room where bookshelves appear to tilt, and whimsical, modern, and retro vibes meet atop checkerboard floors.
Hicklebee's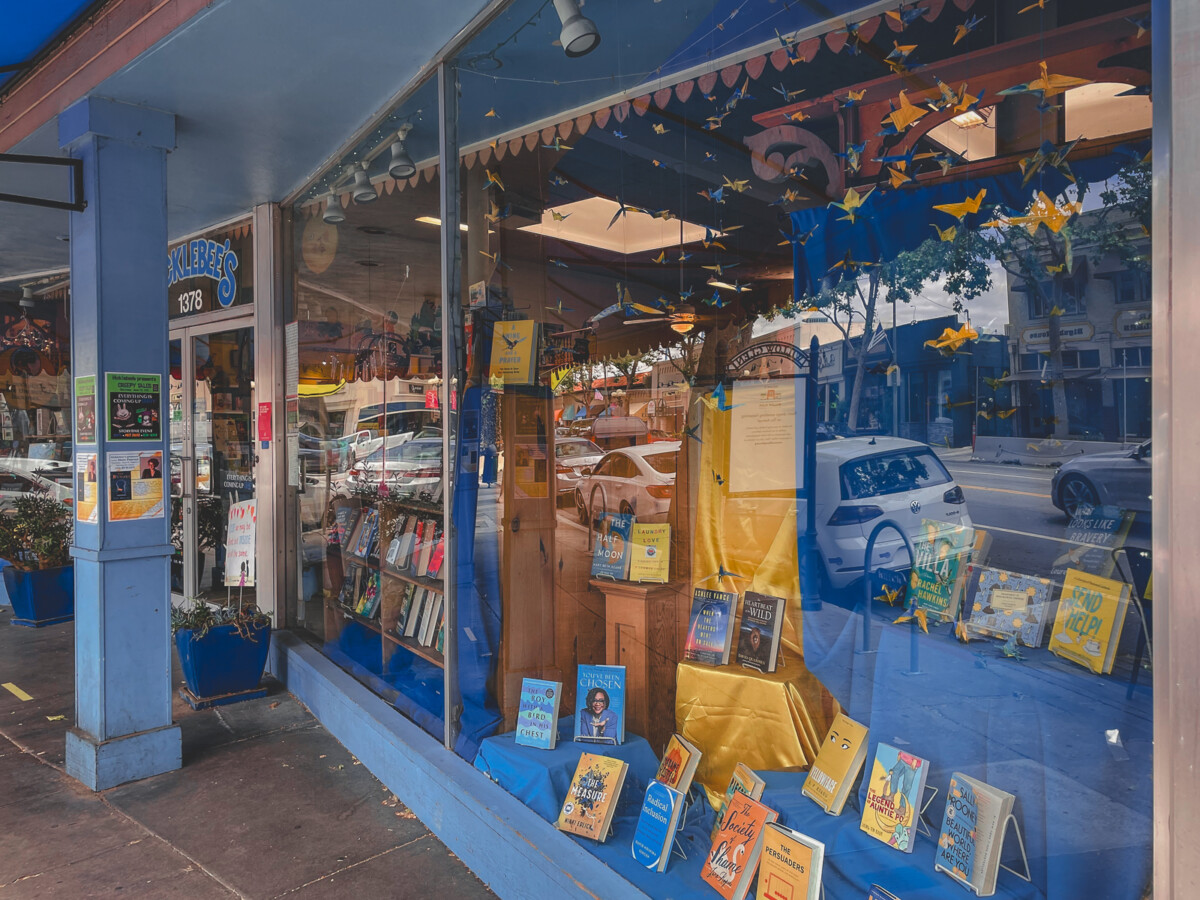 Now run by two sisters, Hicklebee's is a beloved Willow Glen neighborhood staple originally started in 1979 by four friends. Hickleebee's is one of the most popular and charming children's bookstores in California. Locals rave about the friendly and helpful staff. The shop is easy to browse, too; most of the literature is organized by genre and age. Staff picks can be found in-store and online (note: check Hicklebee's online calendar for free local author events). And if you're a parent in the area, let Hicklebee's know what school your child attends, so they can credit the school through their Book Bonus Program (you help accumulate points and coupon credits for the school library).
Libélula
It's hard not to fall in love with the intentionality of Libélula, Barrio Logan's community-forward bookstore. Libélula is small but makes good use of its space. Aluminum shelves are packed, and so are tabletop displays. Every title is cherry-picked to match Libélula's welcoming atmosphere, where queer narratives are rainbow-crossed with Black, Indigenous, and Chicanx stories. The events – empowering presentations on self-publishing, discourse-heavy platicas, and inclusive speed dating opportunities – reflect Libélula's values too. And it's those values and Libélula's effort to give back to Barrio Logan with all its heart and soul that make this San Diego bookstore one of the best in California.
Omnivore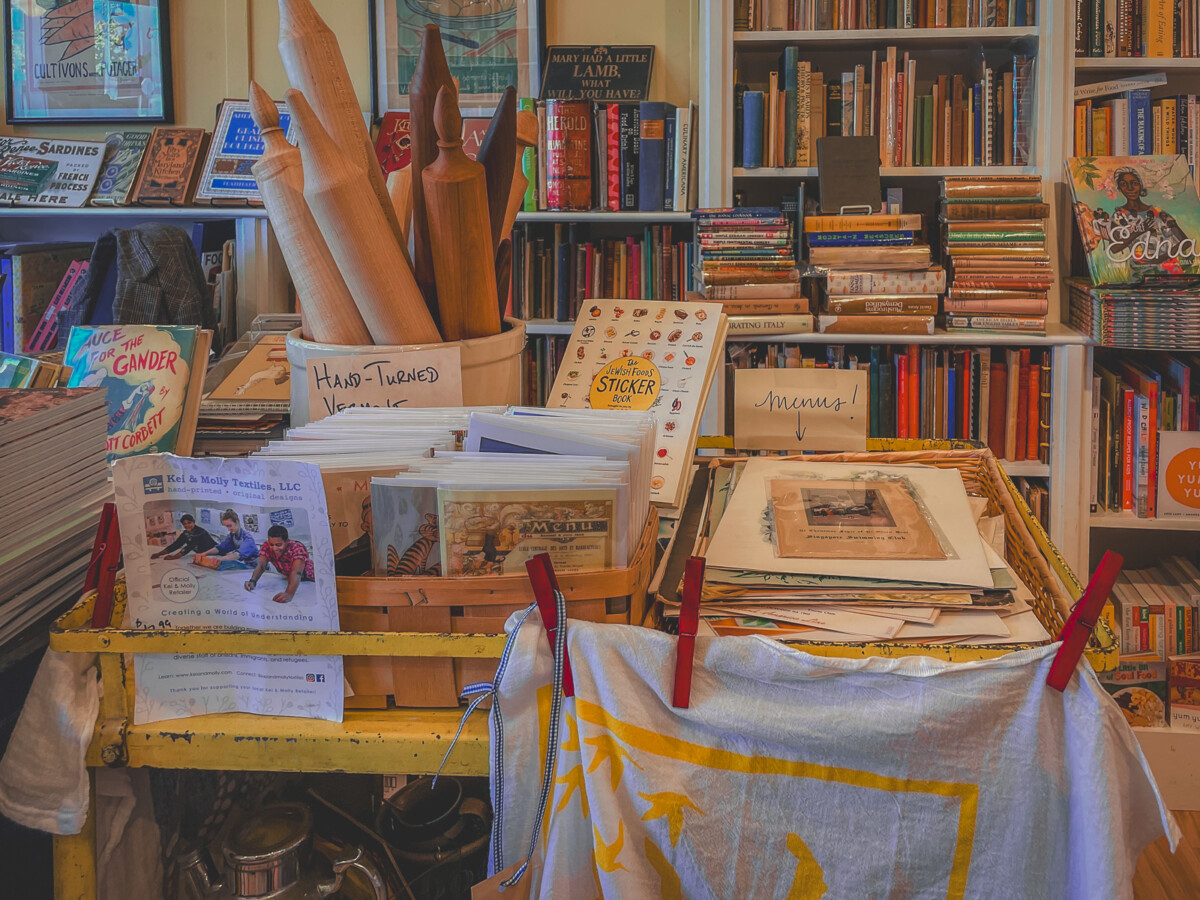 Omnivore's large mural painted on their side wall featuring chefs of all ages, animals, a variety of food, and kitchen appliances narrates a story in pictures depicting what you're about to find inside. Could it be? A bookstore 100% dedicated to food? Indeed, and while it's niche, Omnivore is a must-visit spot in my book. If you're a foodie, chef, or love to cook, you'll salivate over this homey, little California bookshop. You'll find new, used, and vintage titles here. Due to the small area, there's no signage, but it's unnecessary – it's easy to see how Omnivore is categorized. Split across techniques like grilling or baking, beverages such as wine or coffee, and cuisines like Indian and Italian, I guarantee you'll want to spend hours looking at every category and book here. Just don't come on an empty stomach.
Pilgrim's Way Community Bookstore & Secret Garden
Self-described as the last remaining bookshop in Carmel, Pilgrim's Way Community Bookstore has been a husband-and-wife-run mainstay since 1969. The shop offers readers a quiet place to enjoy diverse literary treasures, from classics to local author selections. There's also a section for children's literature and plenty of fiction and non-fiction for young adults. Customers are encouraged to stroll next door to The Secret Garden to enjoy a serene experience, from fountains trickling water to wind chimes clanging from the breeze; a variety of home décor (statues, plants, and candles) invokes a sense of peace and tranquility within.
The Book Loft
Visiting The Hans Christian Andersen Museum has long been known as one of Solvang's best things to do. The museum is a concise, text-heavy documentation of the life and works of Denmark's acclaimed author. And The Book Loft is the charming California bookshop that leads into the exhibit. Popular titles and locally-authored works fill the first floor. As you walk up the stairs, the shop's scent shifts. Bright, woody notes of crisp, new pages disappear, replaced by the decadent and earthy perfume of pre-loved tomes. Here, you'll find antiquarian books. And beyond, in the loft, you'll see Nordic names and works in Scandinavian languages, an homage to Solvang's Danish roots.
The Last Bookstore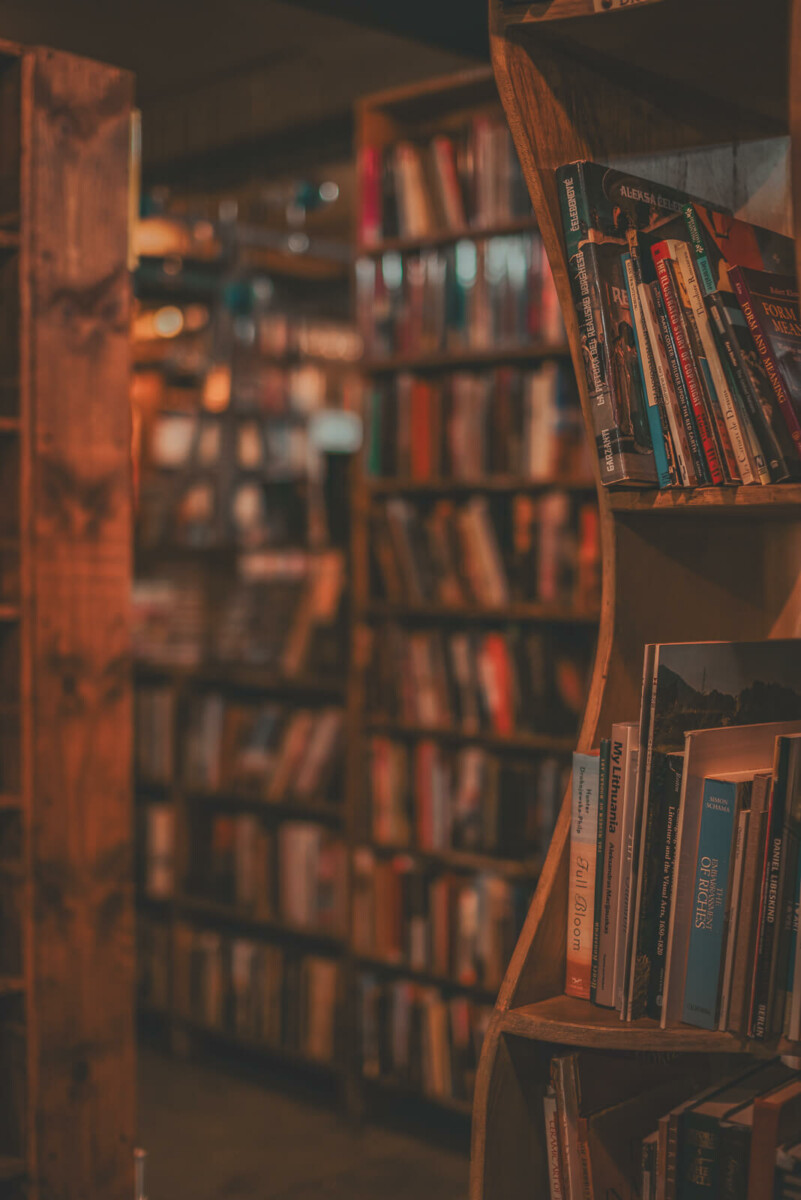 Situated in an old bank building, The Last Bookstore is one of California's largest new and used bookstores. The atrium is spread out beneath a high-vaulted ceiling raised by white marble pillars. Books are everywhere, on shelves far beyond the shop's Instagram-famous book tunnel. You'll only ever see one or two artsy angles of The Last Bookstore on social media, but the rest of this shop is just as magical, dreamy, and otherworldly as photos suggest.
Underground Books
Underground Books has been a staple in Oak Park's bookish community for a decade. It's a cozy, friendly space with a wide, open layout big enough for author talks and signings. Georgia West (Mother Rose) helms Underground Books, and if you ask anyone who has visited, they speak of her kindness, heart, and compassion the most. There's more to cherish about this Sacramento bookshop: a wide variety of African-American lit and biographies, frequent free events that engage young readers (fondly known as Let's Read Oak Park), and pop-up vendors.
What are your favorite bookshops in California? What California bookstores do you enjoy supporting? Let us know in the comments below! As always, we love hearing from you.