a Bay Area local's guide to the best bookstores in San Francisco
San Francisco is one of the most diverse cities in the world, making it an ultimate travel destination, and the same holds true for the city's bookstores. San Francisco bookstores specialize in different genres. Their shelves tend to be well-maintained and organized. It's often easy to find what you're searching for with signage and index cards at nearly every location summarizing staff's best picks.
Almost always, you can immerse yourself and lose track of time in San Francisco's bookstore scene. You'll check out each shop's specialities, explore all its offerings, and (perhaps even) find a literary treasure.
Read on to see our top picks for the best bookstores in San Francisco, California.
One of the most famous bookstores in San Francisco, City Lights Booksellers (celebrating seventy years) is impressive for many reasons, including its expansive selection of titles, vast variety of genres, and dimensional layout. Head straight up City Lights' steep flight of stairs (watch your step) for more than thirty types of genres, from crime fiction to theater to world history. Or make a sharp right through a small room housing staff picks, bestsellers, and hardcover biographies. Keep walking, and you'll stumble upon an Alice In Wonderlandesque triangular-shaped room with old-fashioned white and black tiled floors. If you like rhythm and verse, swing left and head up a narrow flight of stairs to a poetry room complete with a poetry chair.
City Lights recognizes its place as a travelers hub and community spot. So on your way out, leave a post-it note (there's a small corkboard of them) letting the iconic San Francisco bookshop know what prompted your visit!
Travel Tip: Parking is difficult due congested traffic in this area. Uber if possible or park further away and walk (you'll have access to multiple areas this way).
The Booksmith
Offering literary fiction, narrative nonfiction, and an assortment of children's books, The Booksmith is one of the best bookstores in San Francisco. Handwritten notes contain helpful recommendations and details from staff. A Bay Area portion highlights local authors. For an added touch, a little section near the register features mystery dates with a book. You just may lose track of time in this Haight neighborhood gem.
Note: The Booksmith also hosts various author readings and events. Check their events calendar here.
Green Apple Books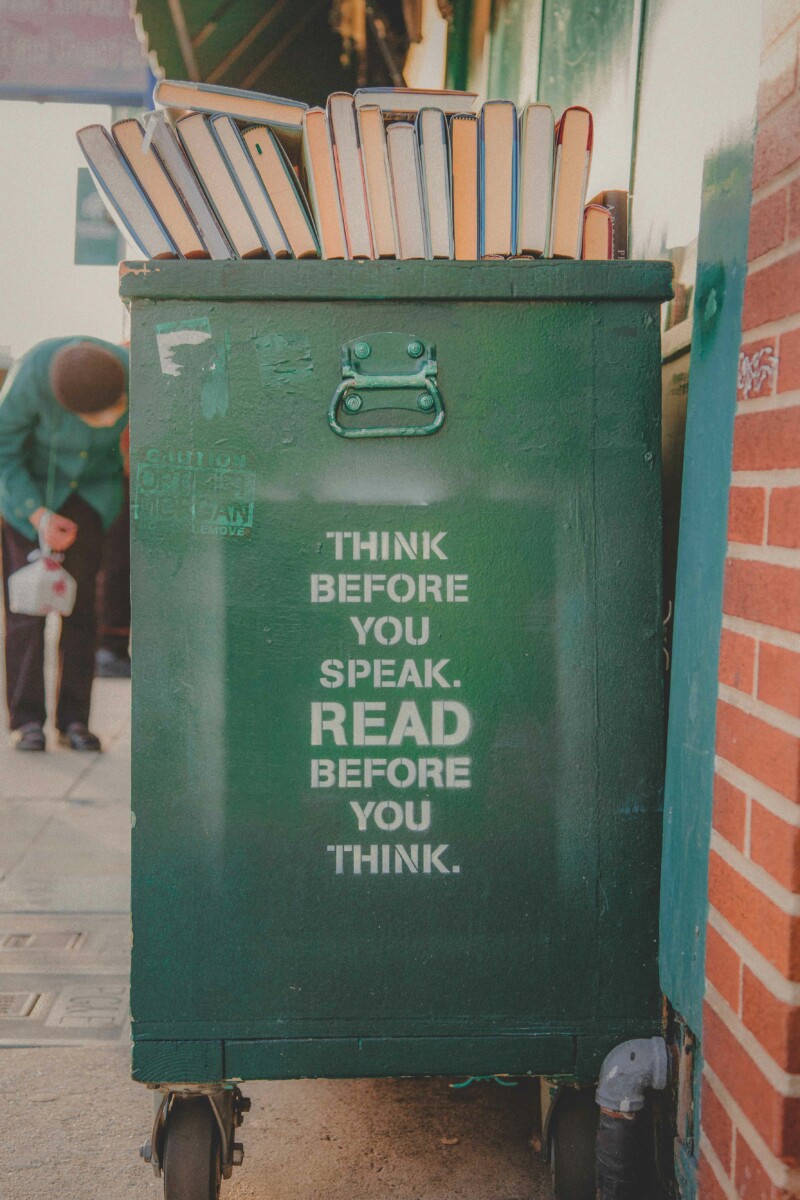 Established in 1967 in the Inner Richmond area, Green Apple Books expanded to a second location in the outer section of Sunset in 2014 to offer a greater selection of more than 60,000 new and 100,000 used titles (between both locales). I visited the newer spot close to Golden Gate Park, where they carry a large variety of genres: history books, Bay Area literature, a large children's collection, comics, manga, and so much more. Near Green Apple Book's entrance, a robust display of staff picks with descriptive writing on index cards highlights top recommendations. Whichever location you choose, it'll be tough to walk away empty-handed.
Black Bird Bookstore & Cafe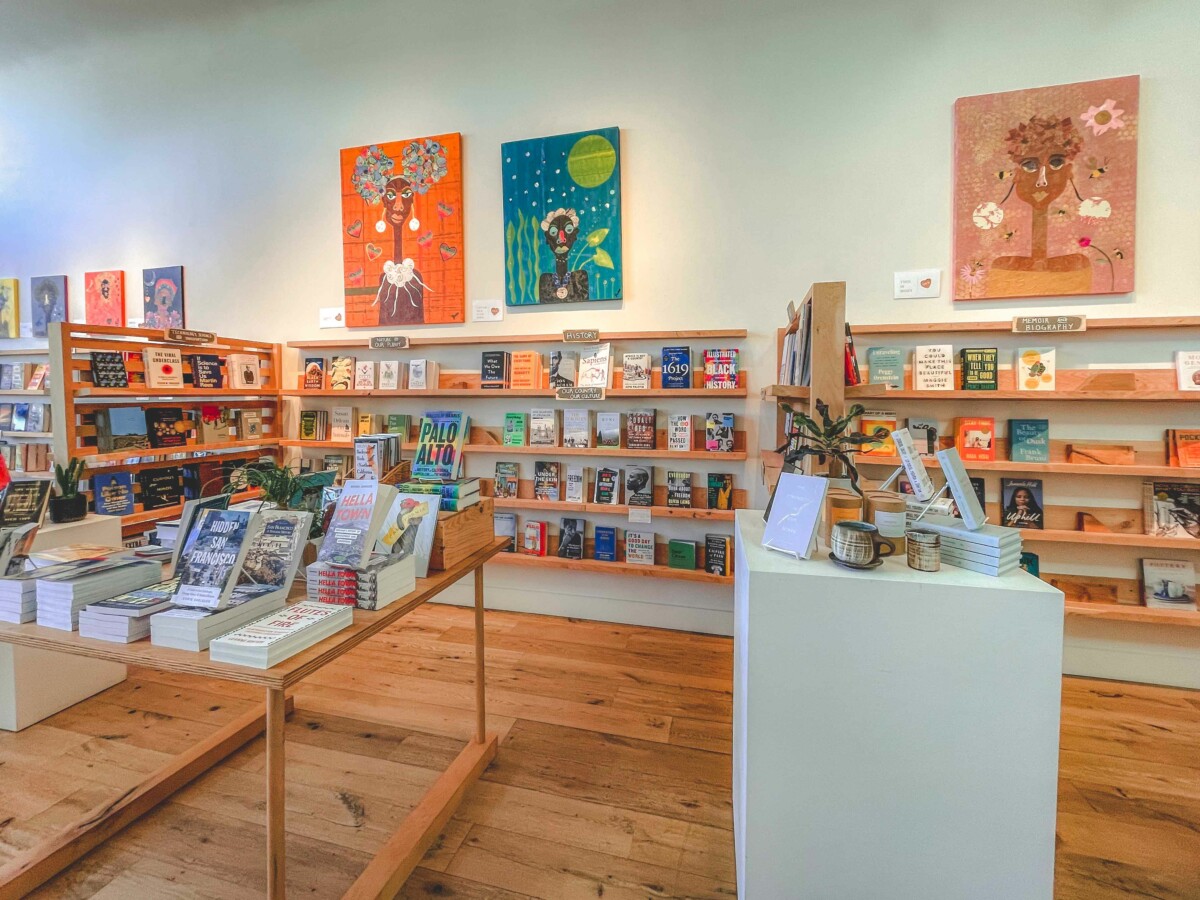 A rush of excitement took over upon stepping into Black Bird. I felt like I had entered an art gallery for books. I took in details, noticing the locally handcrafted shelves, how each book seemed artistically displayed facing outward so each cover could be admired (quality over quantity here), the well-lit rooms combined with tons of windows with sun rays beaming in, the many beautiful large pictures (by a local artist) hanging above the books. A small section of items created by locals is carefully curated and close to the front of the storefront, near a full-service café. So much to see here and so welcoming, Black Bird is one of the most exquisite bookshops in San Francisco!
Travel Tip: When exploring Black Bird, walk all the way through so you don't miss the beautiful and peaceful outdoor space, perfect for a quiet day of reading. And on your way to check out the back patio, check out the adorable loft area for kids (it overlooks the store and offers a magnificent view).
Omnivore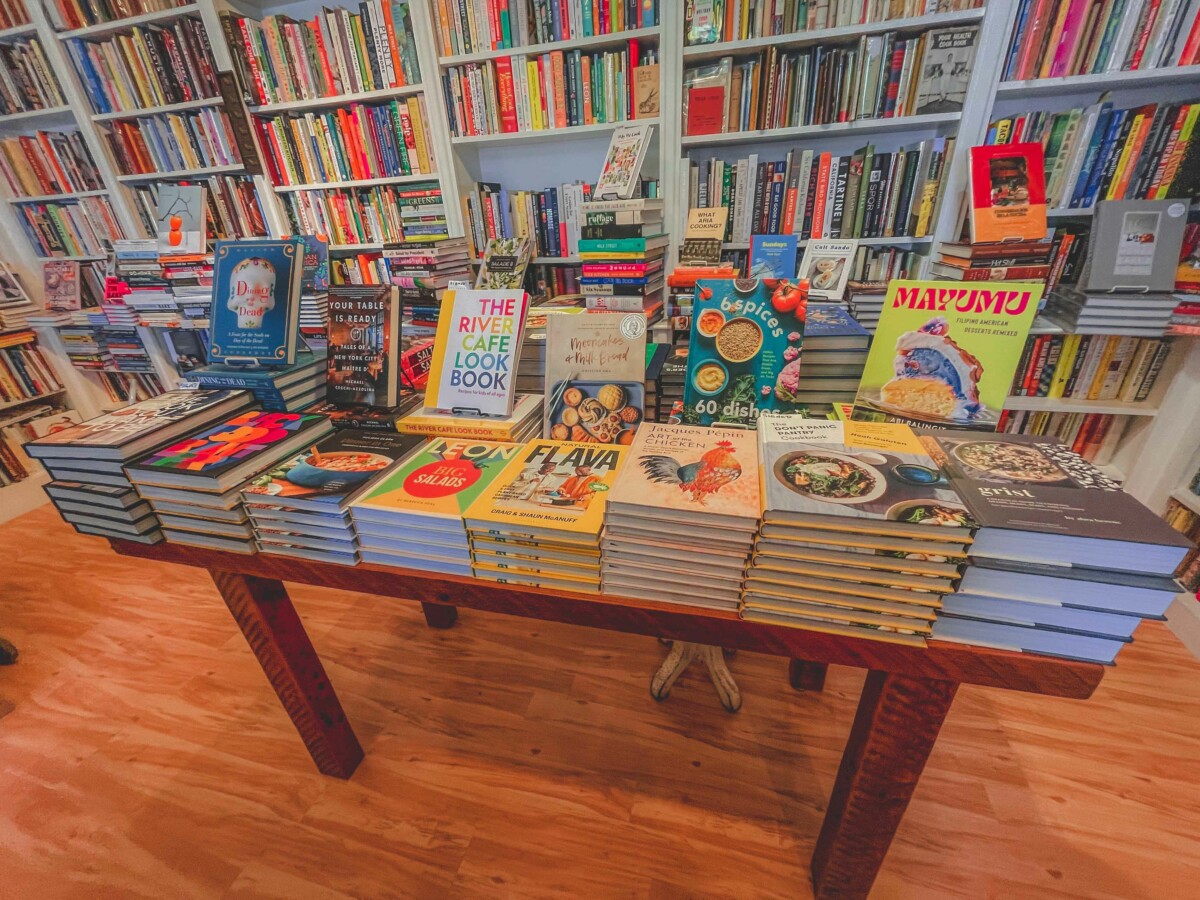 Omnivore is a must-see bookstore in San Francisco for anyone who's a foodie, chef, or simply loves to cook (or just eat). It was amazing how aesthetic-pleasing the shop looked given its cozy space limitations. More astounding, there was no signage pointing customers to categories (baking, cheese, cocktails, coffee, spices, Italian, Ethiopian, Jewish, and everything in between), but instead of becoming more confusing, Omnivore feels more charming and welcoming, like being in someone's home library. You'll want to browse through every new, used and vintage title – I found myself salivating, wishing I had the entire day to spend here.
Travel Tip: Omnivore sells an array of vintage menus from the 19th and 20th centuries. From meals held in San Francisco during the gold rush to a 1963 menu from Venice from the Cunard Sylvania Cruise Line, make sure to check out this eclectic section near the register (also available for purchase online)! Also, walk the exterior of their side wall (outside) to check out the beautiful mural which sums up their store in pictures.
Sour Cherry Comics
Sour Cherry is the kind of place you'll stumble into and not even realize you needed your purchase. Comics are just the surface of what you'll unearth at this LGBTQIAP+ comic shop. From manga and novels to plushies and toys, you'll find it all and then some here, where the clientele ranges from youth to adults. Sour Cherry occasionally hosts events (their next one is Sour Cherry Con 2023 May 6th and 7th for free comics, raffles, mystery bags, along with an artist alley featuring local artists in their shop).
Folio Books
A popular blue and yellow neighborhood bookstore serving the Noe Valley community for ten years, Folio carries a wide variety of genres, including an extensive selection of kids and young adult books. The main section of the shop houses fiction titles and shelf talkers showcasing staff favorites. A smaller room toward the back features young adult books spanning genres like mystery and romance.
Like their store, Folio Books' webshop is polished and organized. From suggested reading lists for children and young adults to grown-ups (broken out by category and genre) to a list of staff picks from each employee, it's evident Folio's team has put together a lot of thought for their customers. There's even a section where readers can order signed copies of their favorite author's books (limited selection). Author readings and events occur often.
P.S. On May 6th and 7th, Folio is participating in the Bay Area Book Festival (check event details here).
Travel Tip: It can be tough to find metered street parking depending on the time of day due to lots of small businesses and restaurants in the area, so allow for time to circle and check for parking. Also, masks are required for ages four and up.
Borderlands Books
If you're in the market for science fiction, mystery, or horror books, plan your schedule accordingly before visiting Borderlands Books – you'll likely spend more time (and money) than you intended. This specialty bookstore offers an assortment of new and used imports and rare editions. Borderlands experienced multiple transitions and moves since its beginning in 1997.
In 2009, Borderlands Café opened next door and brought new life to the independent business. It grew exponentially in 2012 when a large archway was created between the bookstore and café, enabling the store to accommodate practically double the amount of capacity for events. Although the cafe closed in 2019, patrons still reminisce of the beloved coffee addition. Now in their newest location in the Haight, a unique sponsorship program helps keep them thriving (see details here), and hopefully around for a long time to come.
More Bookstores In San Francisco

Did you enjoy this list of bookstores in San Francisco? What are your favorite bookstores in San Francisco? Let us know in the comments below!