best bookstores around the world
The best bookstores around the world are magic. They're wrapped in warmth and wonder at every twist and turn. They're spaces that feel homey and awe-inspiring.
These bookstores are fun and whimsical and carry diverse collections of books. And if I could afford to take them (in their entirety) home, I probably would.
Here are our top picks for the best bookstores around the world!
Disclosure: Heads up, this post contains some affiliate links, which means I may get a commission if you make a purchase. Don't feel pressured to buy anything. I still love that you're here, reading my content (side note: I'd probably suggest getting a coffee or tea first though because my blog posts tend to be long). To find out more, you can read our full affiliate disclosure right here.
Livraria Lello, Portugal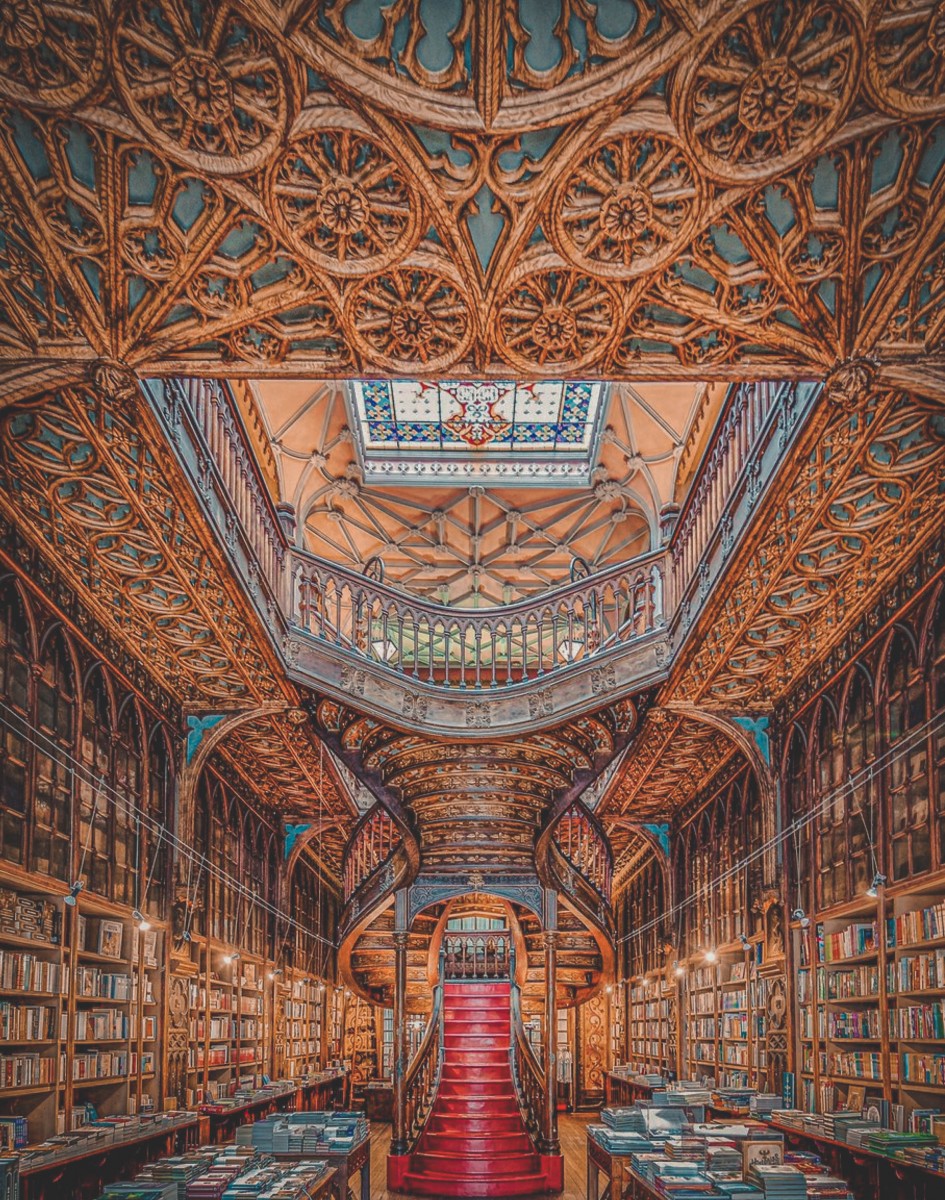 It's easy to see how the rumor that Livraria Lello inspired Harry Potter got started. Even though J.K. Rowling herself has never been to this Porto bookstore (her exact words, "I never visited this bookshop in Oporto. Never even knew of its existence! It's beautiful and I wish I *had* visited it, but it has nothing to do with Hogwarts!"), I can imagine Harry and Ron and Hermione right here in this little Portuguese book shop.
The vivid red staircase, single-lit shelves of books, and intricate ceiling details inspire the same sense of wonder and excitement as any fantasy novel. So unsurprisingly, Livraria Lello is one of the most popular bookstores around the world. You'll want to reserve a ticket online in advance to enter (as admission is between five to fifteen euros).
Most of the books housed here are in Portuguese (but you'll find a few in French and Spanish as well).
Libreria Acqua Alta, Italy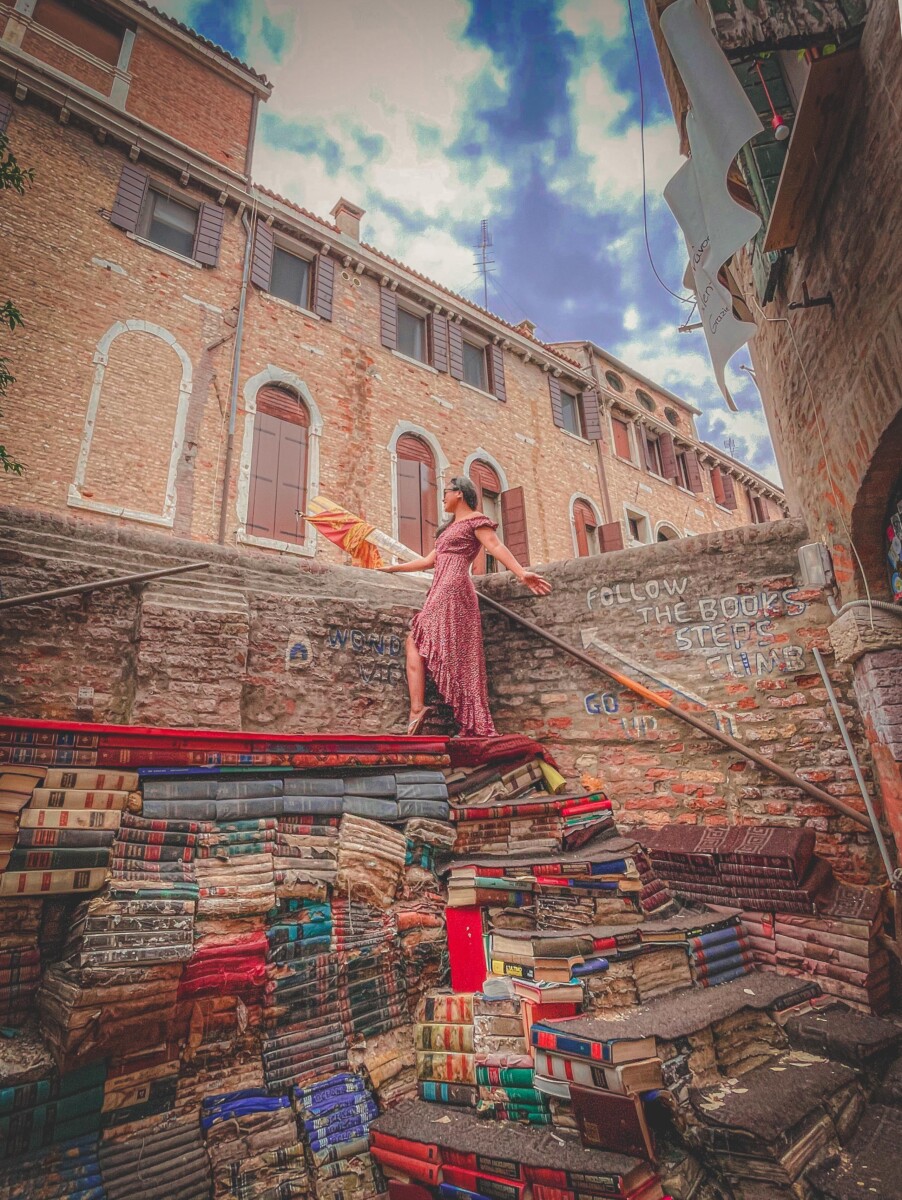 Designed to work with Venice's waterways, Libreria Acqua Alta is a stunning store where books are piled in bathtubs and a gondola and waterproof bins instead of shelves (though there are several of those too).
Out back, you'll find a stack of damaged books repurposed into a staircase. These titles, like a majority of those in the store, are in Italian.
The bookstore itself sits between a cramped space. But there's a certain peace (charm, even) to the madness. It's the notes of calm, novelty of raised books, and only-in-Venice aesthetics that makes Libreria Acqua Alta easily one of the best bookstores around the world!
Boekhandel Dominicanen, Netherlands
Welcoming over half-a-million book lovers and curious tourists each year, Boekhandel Dominicanen is one of the most popular bookstores around the world.
Situated inside a former Gothic Monastery in Maastricht, Boekhandel Dominicanen has been many things over the years – a stable, a party hall, a Dominican Church. Today, it's a modern bookstore under hallowed old-world halls. And the selection, which spans 50,000 books, takes a while to see.
You'll find titles in a variety of languages – Dutch, English, German, French, Spanish. It's easy to get lost under the tomes of words and tower of stone.
Fjærland, Norway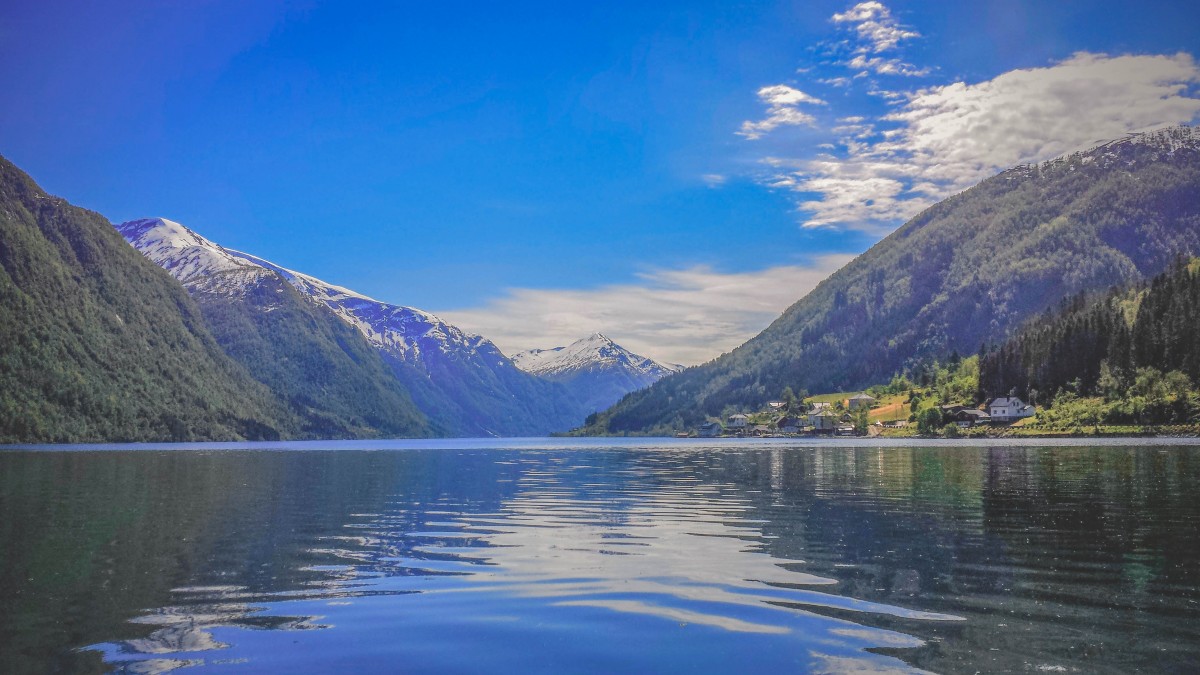 Fjærland is a bit of an exception on this list of best bookstores. It's a town in Norway but it's a book town, one of few in the world.
It's a bit hard to reach but dedicated book lovers need to add this tiny village to their travel bucket list.
Books are everywhere in Fjærland. They're in the local hotel, Hotel Mundal (which also has a book room). They're also in old cow sheds and stables and ferry waiting rooms. Books build character atop Fjærland's abandoned (and active) buildings.
Daunt Books, England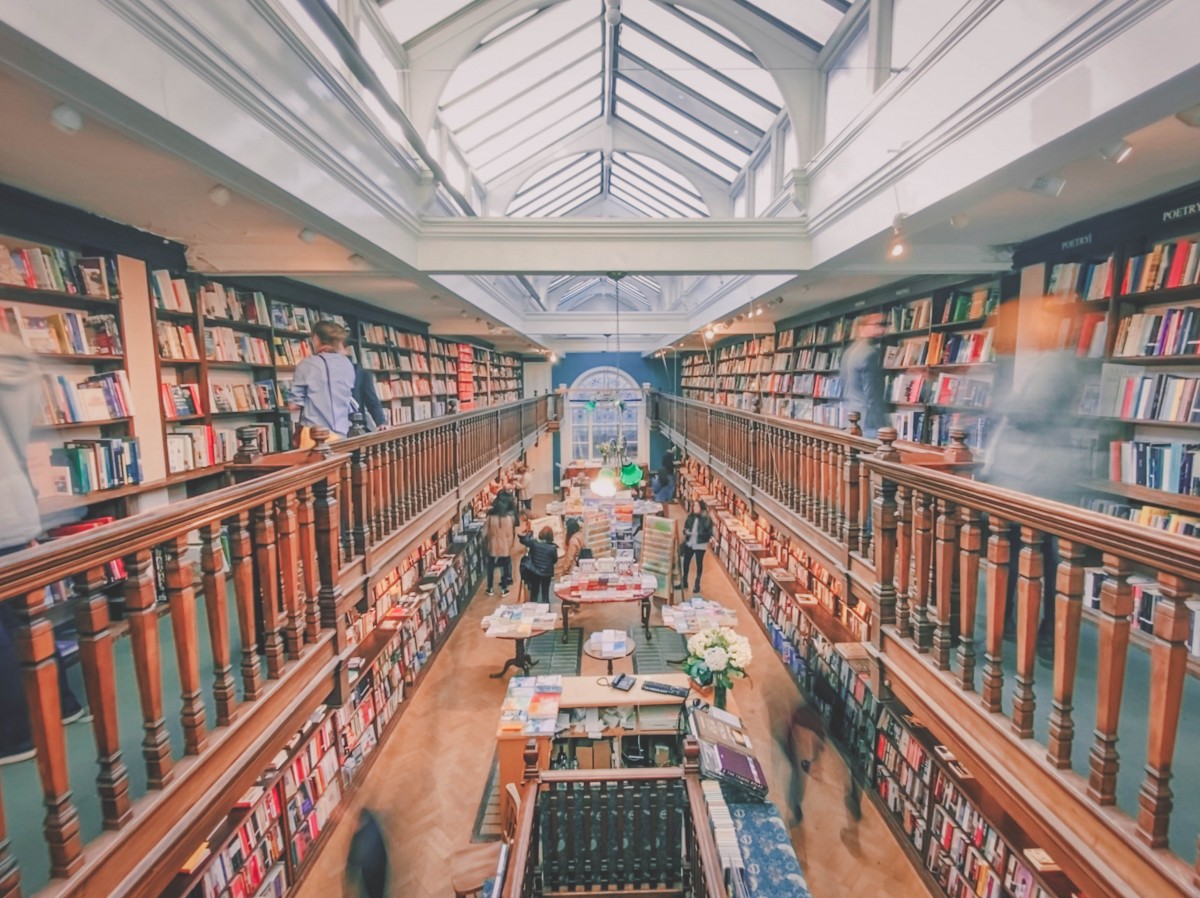 Few bookstores are as well-loved as Daunt Books. It's a London chain that specializes in travel books (honestly, their travel book collection is so incredible, we want it all).
The Marylebone branch draws the biggest crowds and for good reason. It's one of the oldest bookshops, Edwardian in style. The skylight, which seeps natural light onto the mezzanine, brightens up the space. Daunt Books is equal parts chic and old-world. It's the kind of place you can linger in for long hours.
Daunt hosts books from many countries. It also carries guidebooks and travel memoirs. It's a bookstore for travel lovers and book lovers. And that niche alone makes it one of the best bookstores around the world (in our unabashedly biased opinion).
Shakespeare And Company, France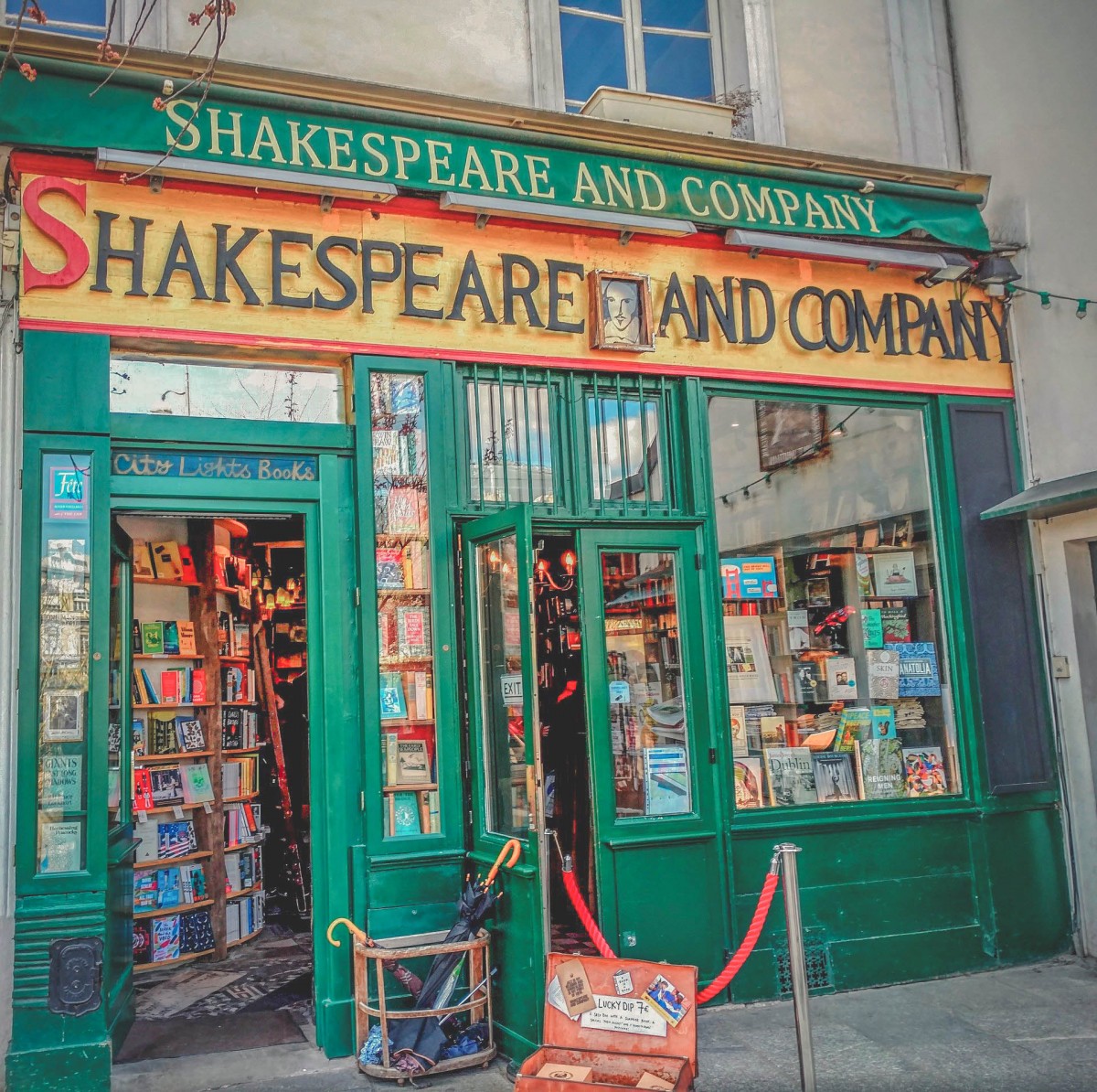 Shakespeare And Company's long-winded past makes it one of the most interesting bookstores around the world. I mean, there are entire books dedicated to the history of Shakespeare And Company and even more dedicated to the feelings this bookstore evokes.
Walk past the shabby chic entrance and you'll be met with a maze of English-language books. It's touristy but worth a visit as so many literary giants have graced this space (Richard Wright, James Baldwin, Julio Cortázar).
When in Paris, Shakespeare And Company is a must for any book lover.
Cărturești Carusel, Romania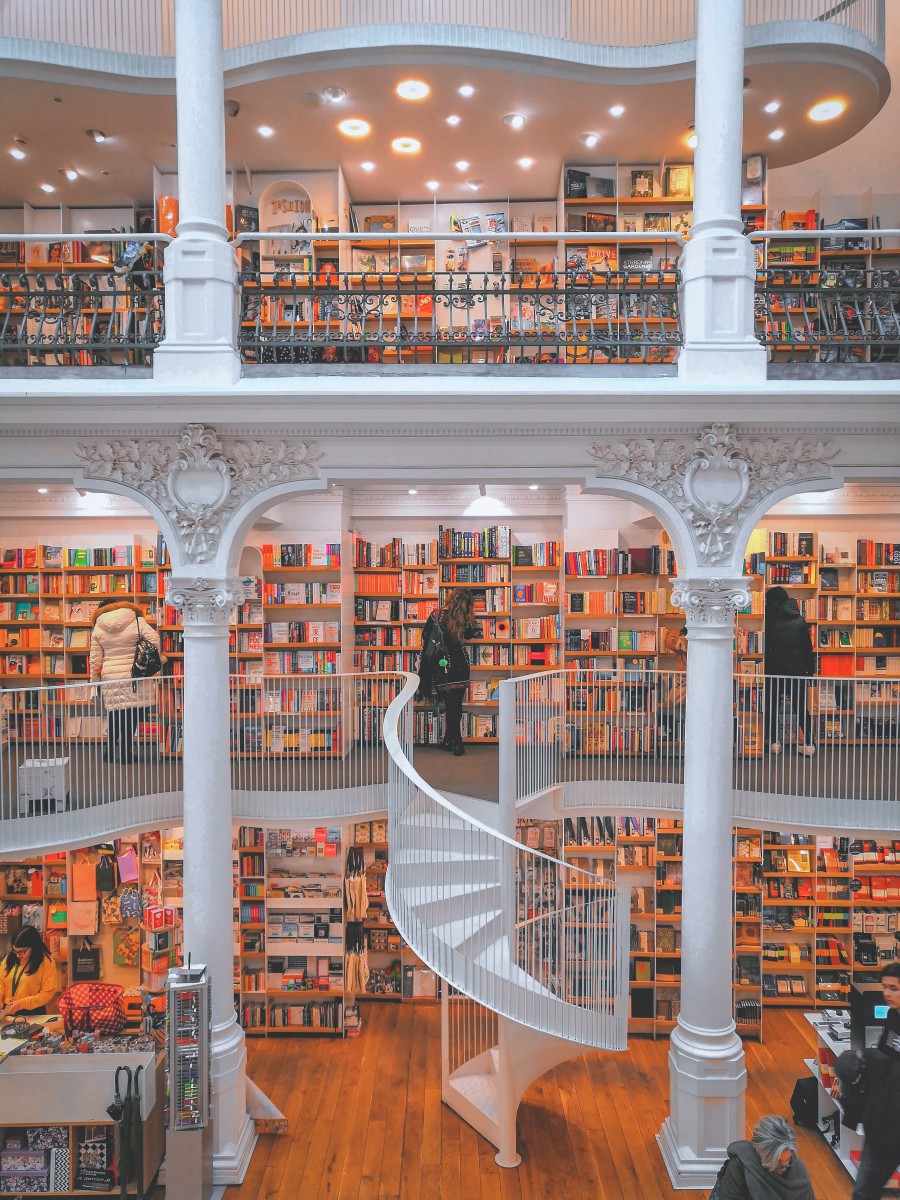 Cărturești Carusel started out as a bank in the 19th century. But it's hard to imagine that it's been anything but a local Bucharest bookshop.
Cărturești Carusel is stunning – multiple floors high, open and airy with tall white columns and swirling staircases. I'm convinced heaven occasionally goes by this name – Carousel Of Light.
The bookstore itself is washed in a mix of natural and ambient ceiling lights. It's filled with Romanian stories (though there are a few books in English too) and has the kind of architectural magic every book lover dreams of.
Open House Central Embassy, Thailand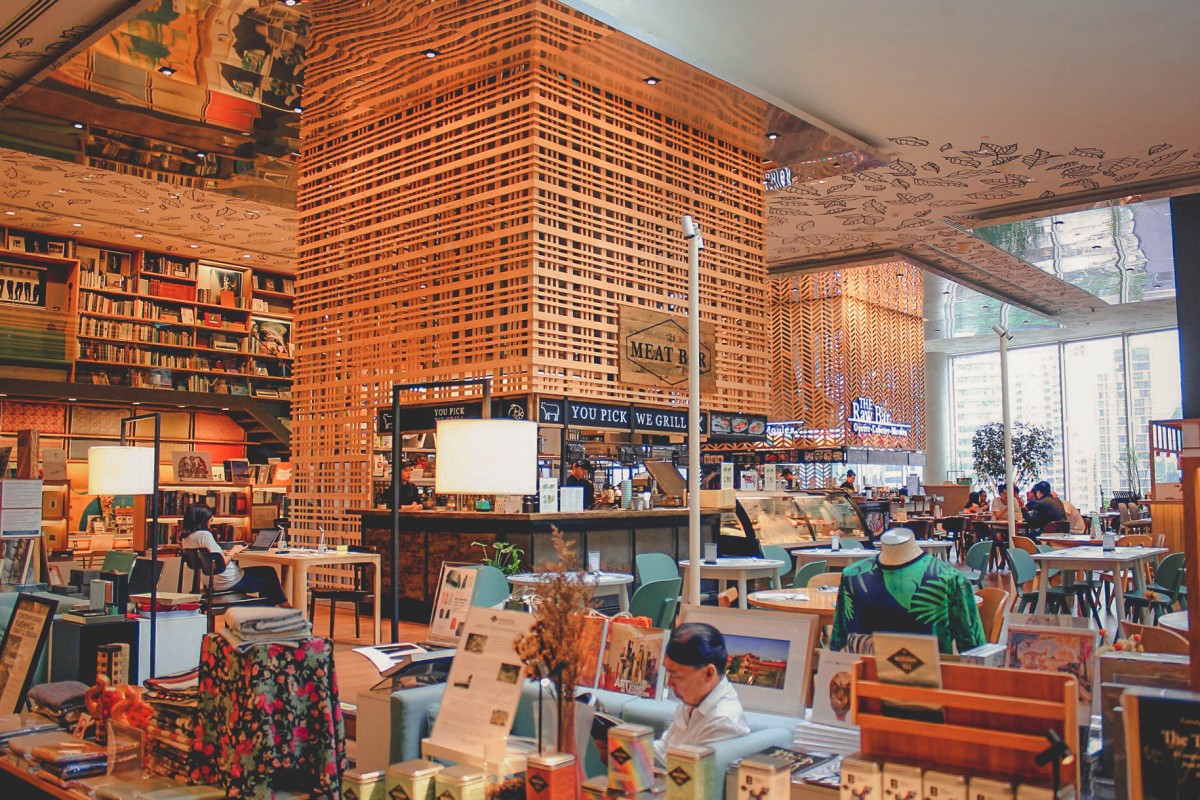 Open House is luxurious. It's a modern Thai bookstore that seamlessly flits between this-and-that – restaurants, bars, a co-working space. Open House is a meld of practicality and entertainment, lined with books throughout.
The layout is a floodgate for light. And the bookstore itself cubbies an oasis, perched 50 meters above Bangkok. You could easily spend a whole day here on a loop – work, eat, browse, read, repeat.
BookXcess, Malaysia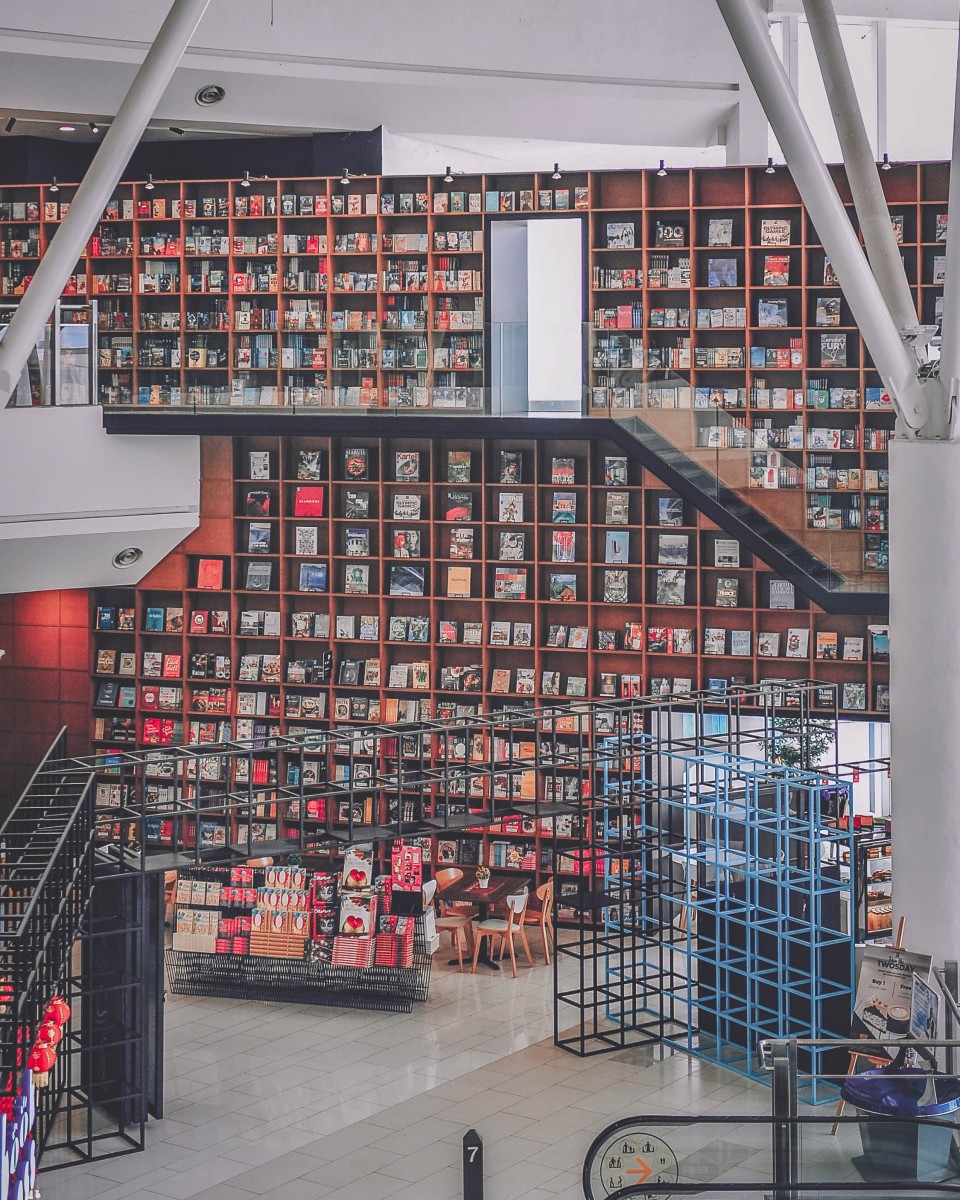 With wide and tall swaths of face-out book covers, BookXcess is a feast for the eyes. It's a sensory overwhelm of pages and titles and colors.
The variety of children's books alone makes it worth a visit. And the aesthetics? An added bonus.
Here are the locations to note: Sunway Big Box Retail Park, Sunsuria Forum, Tropicana Gardens Mall.
Bart's Books, USA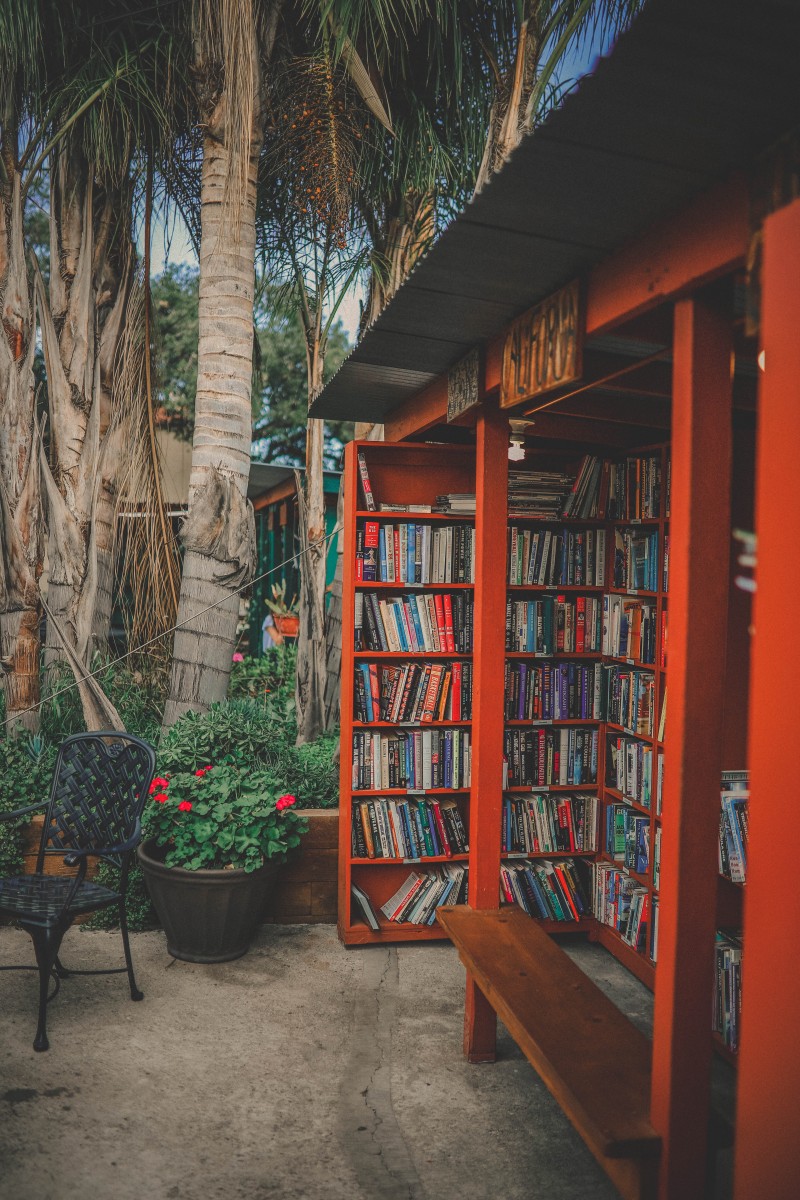 Bart's Books is hands-down one of the best bookstores in the US. It's a California gem, mostly outdoors (so you can still browse books after hours and pay via a slot in the door).
Honestly, I wish I could drive to California just to see Bart's Books. The red bookshelves are staggered beneath tall palms and (mostly) sunny Ojai days. They contain over 100,000 titles (ranging from penny paperbacks to antiquarian finds), making Bart's the largest outdoor bookstore in the world.
Anticus, USA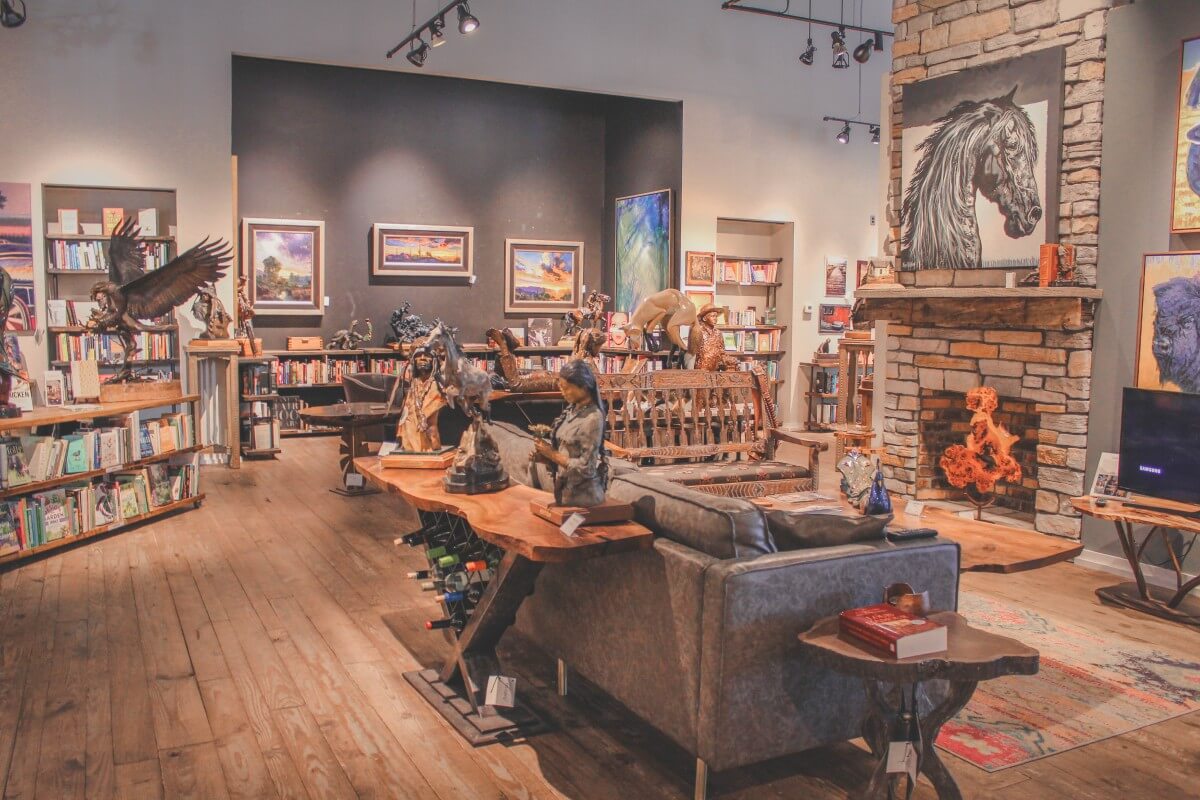 With rooms of bronze sculpture displays, hung-up oil paintings, and waist-height shelves of books, Anticus has made its mark as one of the best bookstores around the world. It's for artists and travelers and book lovers alike.
When I first visited Anticus, it was a little away from Arizona's top tourist spots (in Kierland Commons). Now, it's in Old Town Scottsdale (so there's no excuse not to visit whilst here).
The staff is lovely. And the art is museum-level. For the most part, Anticus' style is richly Southwestern. But I love the Seussian illustrations as well.
Lemuria, USA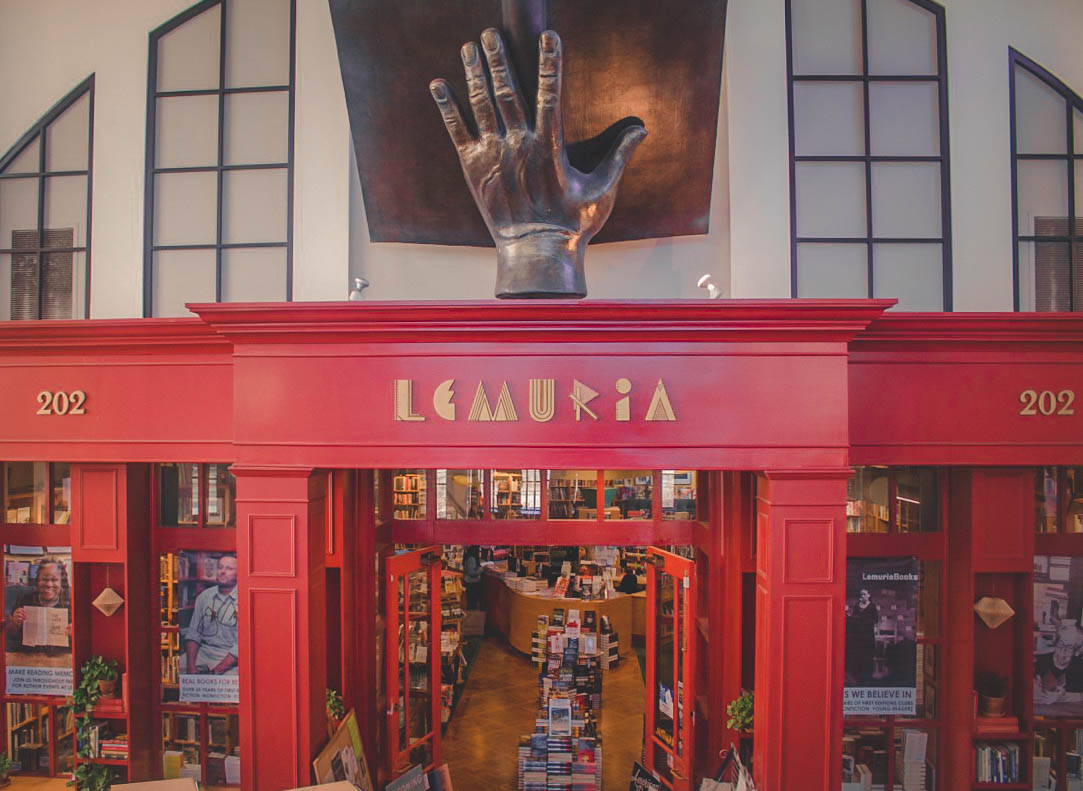 Lemuria is one of the coziest bookstores I've ever visited. And considering how much I've raved about this Mississippi shop on the blog (here and here and here), it's no surprise that Lemuria is on this list of best bookstores in the world.
If you're traveling through the Deep South, stop by. Lemuria is situated inside a multi-story building that doesn't seem like much from the outside but trust me, this bookstore is pure magic. It's the kind of place that makes you feel instantly at home. There are books aplenty, old and new. And there's a diverse collection of works by local authors to boot.
Lemuria is everything an independent bookstore should be.

Did you enjoy this post on the best bookstores in the world? What are your favorite bookstores around the world? I'm always looking for new inspiration (and bookstores to add to my bucket list) so please share your favorites down below!