twelve best restaurants in Las Cruces, New Mexico
It's hard not to be charmed by Las Cruces' food scene. It's burgeoning and curious. In a state where New Mexican, American, and Mexican food hold the spotlight, Las Cruces allows other regional fares up-on-stage: Greek, French, Hawaiian.
Las Cruces is hands-down one of the best places to grab a bite in New Mexico. Every time I visit, I'm overwhelmed by the service: the flurry of niceties ("let us know if you need anything else", "how's everything?", "we'll take it back if anything's wrong"), the affable waiters, the carefully crafted cozy ambiance. It's easy to enjoy a meal in this town.
Here are our top picks for the best restaurants in Las Cruces!
Best Coffee Shops In Las Cruces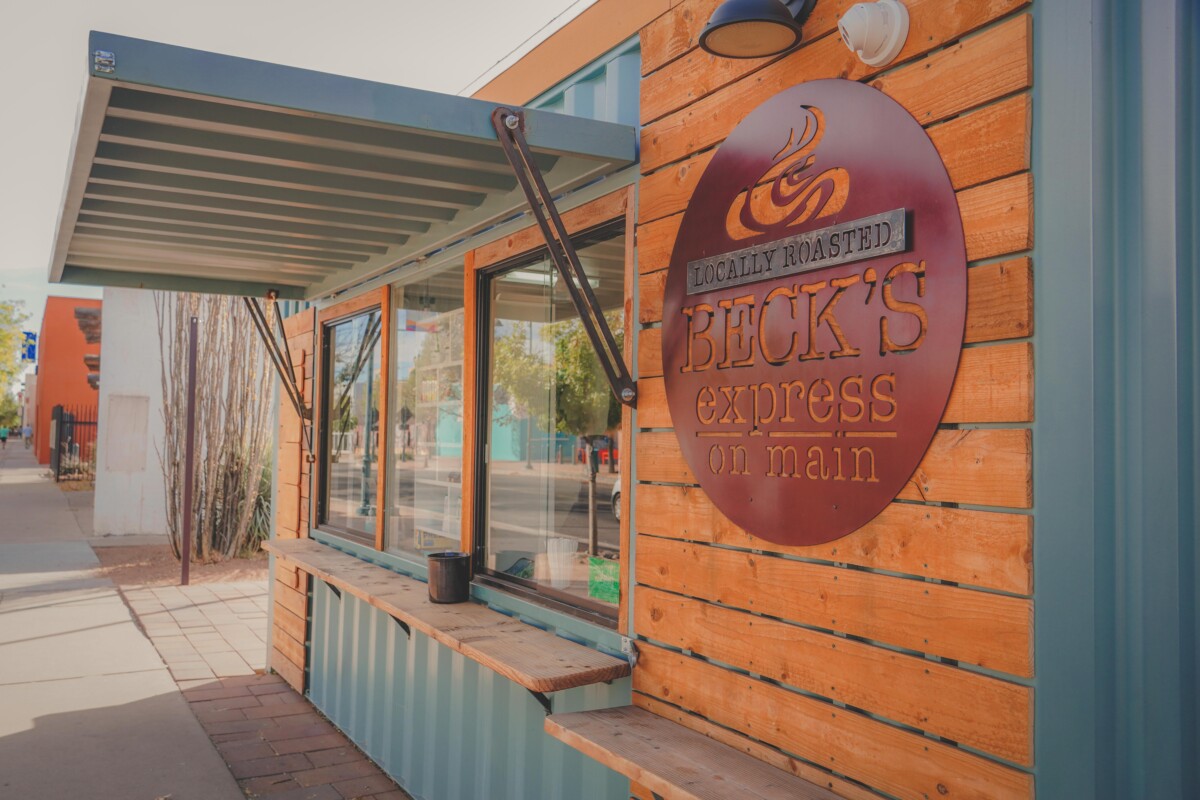 Beck's Roasting House & Creamery
Beck's Coffee was born over a decade ago as Rebecca "Beck" Rosnick's labor of love, a roasting and delivery service that's since grown up and changed hands. But the name stuck and so did the quality of the coffee. Expect drinks that are strong and sweet.
The Main Street outpost, Beck's Express, is a little different from the official Roasting House & Creamery. The menu is smaller, more limited. Here's what to get: the Honey Lavender Matcha Latte hot with vegan milk (aka the best matcha latte I've ever had. I'm forever indebted to Beck's barista for this recommendation).
Downtown Blues Coffee
Downtown Blues Coffee looks a bit like a musician's bedroom. And in a way, it is. The owner of Downtown Blues, Frank Jaurequi is a music-lover through-and-through. And his passion for music comes across in Downtown Blues' design. With a hip, vintage vibe and records-upon-records, this Las Cruces coffee house is all about the atmosphere. It's the kind of place you visit mid-day on a Saturday to relax, unwind, and listen to live music. And if you're craving Chicory Coffee, this is the place to go. It's hard to find Louisiana-style coffee out-of-the-south and in-the-west but Downtown Blues offers just that. Cafe Du Monde lovers, take note.
Picacho Coffee Roasters
Picacho Coffee Roasters toys with pure coffee – the specialty-grade, arabica kind. One sip in and you can tell this Las Cruces coffee house has high standards for their drinks. Go dairy-free for their lattes (ask for pistachio milk. You can thank us later) or pick up a no-nonsense cortado. There's bread on the menu too. Served straight, it's fresh-baked and can be enjoyed on its own.
Best Restaurants In Las Cruces For Breakfast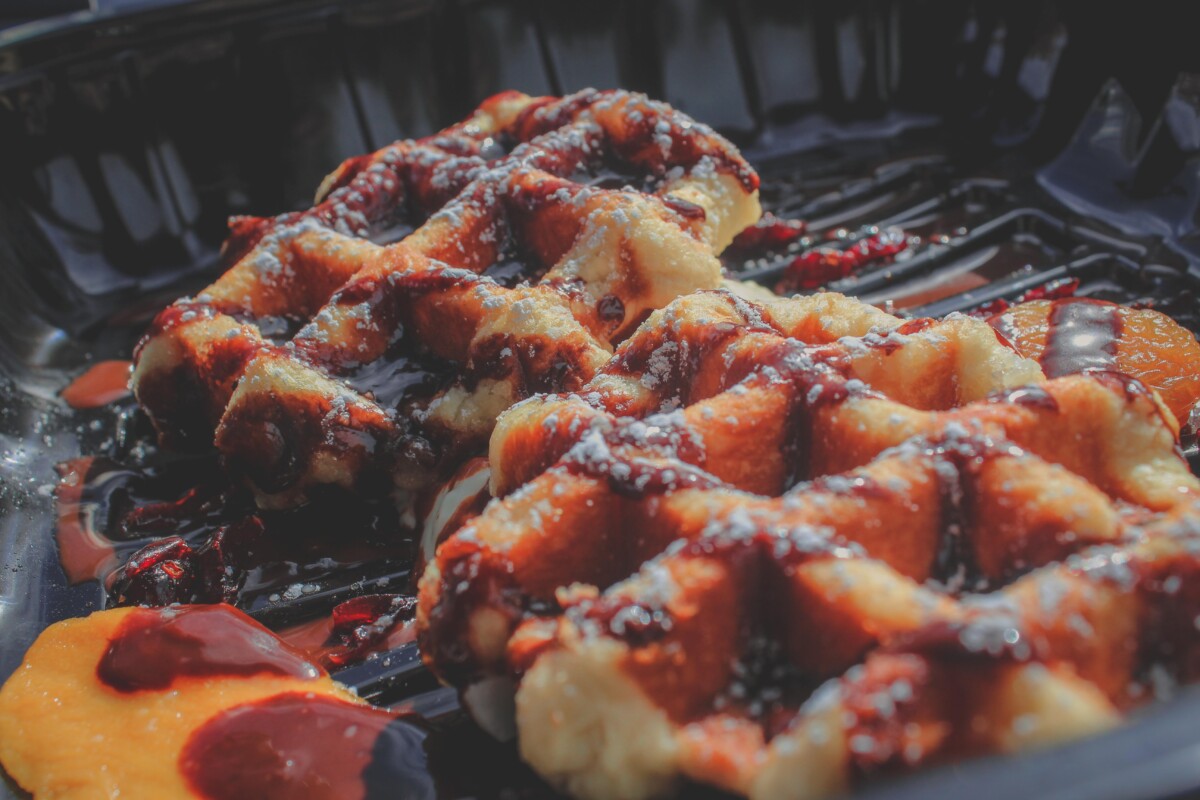 A Bite Of Belgium
A Bite Of Belgium is our favorite Sunday breakfast restaurant in Las Cruces. We loved it so much that we hauled some of their waffles back home for my mum. Her verdict? "These are the best waffles I've ever had."
Get the Three Cream Lemon Mousse Waffles. They're delightfully indulgent – two beet-sugar waffles paired with lemon curd, chocolate ganache, and caramelized almonds. To top it off, you'll find hints of dried mangoes, apricots, and cranberries (yes, please).
Bite Of Belgium's waffles are Liège Waffles, an Eastern Belgium specialty. Liège is a small city, a long drive (by European standards) away from most backpackers' go-to Belgium trifecta: Ghent, Antwerp, Brussels. Liège marches to a different beat. It's known for its rich, dense, sweet, and chewy waffles (and that's just what A Bite Of Belgium brings to Las Cruces).
The Shed
One of the best restaurants in Las Cruces for a traditional Southwestern breakfast is The Shed, an unfussy, age-old establishment in Mesilla Valley that has stood the test of time. The Shed serves authentic New Mexican food (and by that, I mean, most of the menu is dressed in green chile). Here's what to get: the creamy green chile alfredo (add grilled chicken) or the green chile eggs benedict with green chile hollandaise (if there's one thing New Mexico has taught me, it's this: there is no such thing as too much chile).
Side Note: Before you leave, be sure to try one of The Shed's homemade breads. Our recommendation? The Green Chile Cheddar.
Le Rendez-vous Café
A sunny yellow eatery and bakery, Le Rendez-vous Café taps into French cuisine. The pastries served here would ace Patisserie Week on the Great British Baking Show (they're all about style and substance). And for something more savory, opt for the French Onion Soup.
Best Restaurants In Las Cruces For Lunch
Tiffany's Pizza And Greek Cuisine
Tiffany's Pizza And Greek Cuisine, another decades-old restaurant in Las Cruces, took us by surprise. It's out-of-the-way, uphill, and harder to spot than most Las Cruces eateries. That being said, I think everyone in Las Cruces knows about this restaurant so expect a crazy lunch rush.
Tiffany's Pizza And Greek Cuisine is the kind of place you can come back to again and again. If you're a salad lover, get the Greek Salad, a base of fresh lettuce topped with diced tomatoes, feta crumbles, and black olives. It's HUGE. And if you're looking for a meatier option, go for the Chicken Gyro with roasted potatoes (I love the portion size of this one).
Poki Poké
One of the best places to grab a quick lunch, Poki Poké food truck knows how to serve good food quickly. Here's what makes Poki Poké unique: you can get your meat cooked. So if you love Poké as much as we do and have a hesitant friend in need of a conservation trip, take them here.
Walk up to the counter, tick off your options (there are lots of options to choose from), hand it over, and wait. Know this: the bowls at Poki Poké come absolutely packed. There is no breathing room for the vegetables or the sauce or the meat. Here's what we recommend: one large Poké Bowl with half sushi rice and half salad, tofu (you get three options for meat, but we recommend one tripled up because the flavor can be a bit overwhelming otherwise), cucumber, seaweed salad, jalapeño, pineapple, Poki Poké sauce, avocado, crab salad, and your choice of crunch.
Side Note: Poki Poké also sells smoothies so if you're craving a refreshing drink, this is one of the best places to stop by whilst in Las Cruces!
Salud!
Salud's (stylized Salud!) lively energy is what makes this low-lit locale one of the best restaurants in Las Cruces. If you're a fan of tapas-style dishes, Salud offers them up three-ways: Mexican, American, and Spanish. The food is soulful and comforting.
We recommend sticking to the tapas menu. It's what Salud makes best. Our top picks? The Pescado Tacos (beer-battered cod and pickled veggies set in a hard shell, all drenched in serrano aioli) and the Mushroom Asado Tacos (meaty Oyster mushrooms topped with pico).
Best Restaurants In Las Cruces For Dinner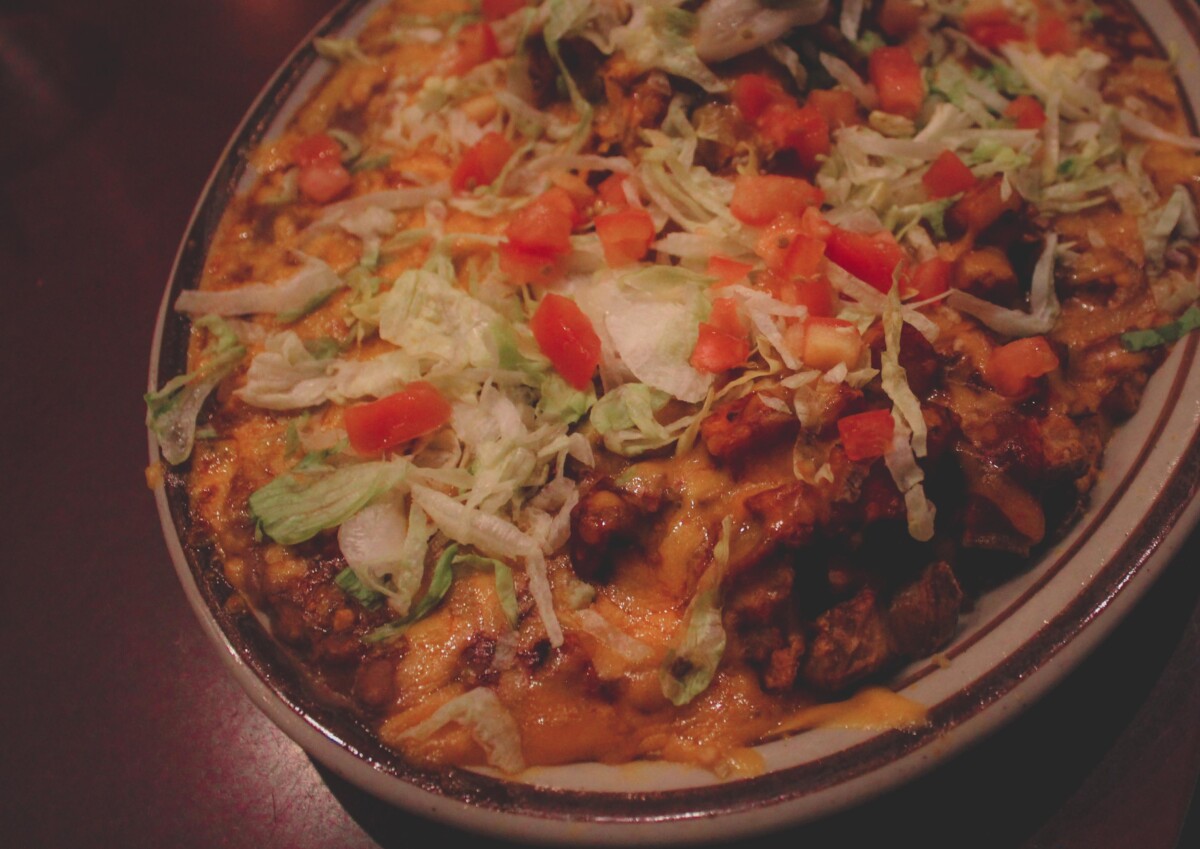 Andele's Dog House
Andele's Dog House has a bit of everything: good food, good beer. There's a mini dog-friendly patio (if you want to bring your pooch) and a drive-thru as well.
Officially, Andele is both a Mexican and American restaurant in Las Cruces but honestly, it's a Gringo eatery (seriously, the Schneider family behind Andele also owns the Ol' Gringo Chile Company) and it's good. Get the queso fries and green chile enchiladas. Expect heat that pinches instead of bites.
Chala's Wood Fire Grill
Another one of the best restaurants in Las Cruces is Chala's Wood Fire Grill. Fair warning, this is not a date night spot. Chala's is loud and unfussy. But what it lacks in ambiance, it makes up for in flavor. Try the gorditas. Enough said.
Thai Delight
Thai Delight is one of the best restaurants in Las Cruces to visit on a budget. It's decent for the price and has a loyal following. The food is Americanized (very much so) but it does the job of satisfying an Asian food craving.
Thai Delight offers the kind of carb-heavy meals you start hankering for after a day at Picacho Peak or Mesilla Valley Bosque State Park. Get the Pad Thai (rice noodles, eggs, scallions) or Drunken Noodles (a classic). And if you want gluten-free and veg-friendly options, they have those too.
Side Note: As a spice lover, let me just say, the food here can get very spicy. If you're not big on tongue-numbing heat, stick with the milder options on the menu.

Did you find these recommendations for restaurants in Las Cruces helpful? Let me know your favorite restaurants in Las Cruces! As always, I love hearing (and trying) your recommendations.