twelve best restaurants in Ruidoso, New Mexico
The best restaurants in Ruidoso are feather-stitched along three lanes: Sudderth Drive, Mechem Drive, U.S. Route 70. You'll find a handful of options split between two cuisines – old-school American and New Mexican.
You'll see lines (long ones) trailing outside a few roadside shops. Lines that big and patient and unfussy can only mean one thing: crazy good food.
From breakfast to dinner (to mid-day snacks), here are our top picks for the best restaurants in Ruidoso!
Best Breakfast In Ruidoso
Cornerstone Bakery Cafe
If you can only eat one meal in Ruidoso, make it breakfast at Cornerstone Bakery Cafe. Cornerstone Bakery Cafe is a dreamland of a restaurant: on-point customer service, huge portion sizes, addictive food. Here's what to get for two: orange juice (sweet and freshly squeezed), Piñon coffee, Sierra Blanca French Toast (made-from-scratch bread cut into thick slices and dusted with powdered sugar and choice syrup. pick blueberry), Crepes or Biscuits And Gravy, and a side of loaded potatoes.
Tina's Cafe
Tina's Cafe is true to New Mexico. If you're looking for traditional New Mexican food (plus patio seating), this is the place to find it.
Any menu item with green chile in the title is a hit. Get the Breakfast Burrito or the Eggs Benedict. Both are smothered in homemade green chile sauce. The cafe also serves Green Chili Apple Pie. Enough said.
Zocca Coffee And Tea
Zocca Coffee And Tea has a chic and classy indie vibe. Give your drink preferences at the counter and the staff will know what to do. Whether you're craving something sweet or strong (maybe both), Zocca can provide that. Our recommendation? Turn to the latte menu.
Best Restaurants In Ruidoso For Lunch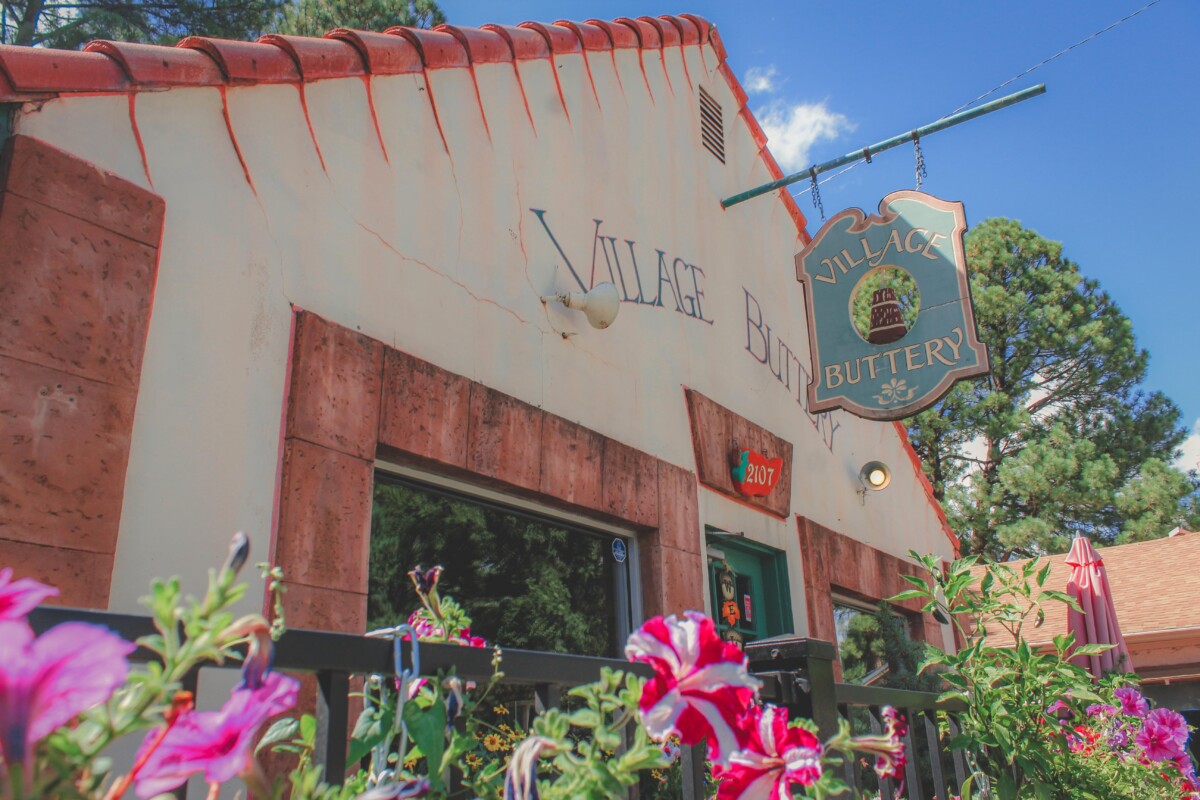 Hall Of Flame Burgers
Hall Of Flame Burgers is a tourist favorite. The burgers are heavy on the grease. Think medium-sized slabs of meat sandwiched between two thin buns. It's a quick-service restaurant in Ruidoso. Order the Green Chile Angus Beef Burger (with all the trimmings) or the Santa Fe Chicken Sandwich. Then couple your meal with Hall Of Flame Burgers' standout onion rings (aka the stars of the menu).
The Village Buttery
The Village Buttery's facade looks like it's been plucked from a German fairytale town. Don't be fooled by the European exterior. This Ruidoso restaurant serves a mix of standard American and New Mexican fare. Get the crab salad sandwich and a posole soup if available (the soup menu rotates daily).
Tip: Save room for a slice of Key Lime Pie. The Village Buttery makes some of the best pies in Ruidoso (we're convinced dessert is the real reason their brunch lines are so long).
Rio Grande Grill & Tap Room
Wood-walled. Dimly lit. Rio Grande Grill & Tap Room serves standard upscale American fare in an intimate and rustic environment. Rio Grande Grill & Tap Room is the kind of restaurant in Ruidoso that's constantly changing, but the core – good drinks and good food – is still the same. Start with the Peppered Ahi Tuna and the Bacon Wrapped Dates. And for beer options, try the Pecan Amber or the Green Chile Cerveza.
Best Restaurants In Ruidoso For Snacks & Dessert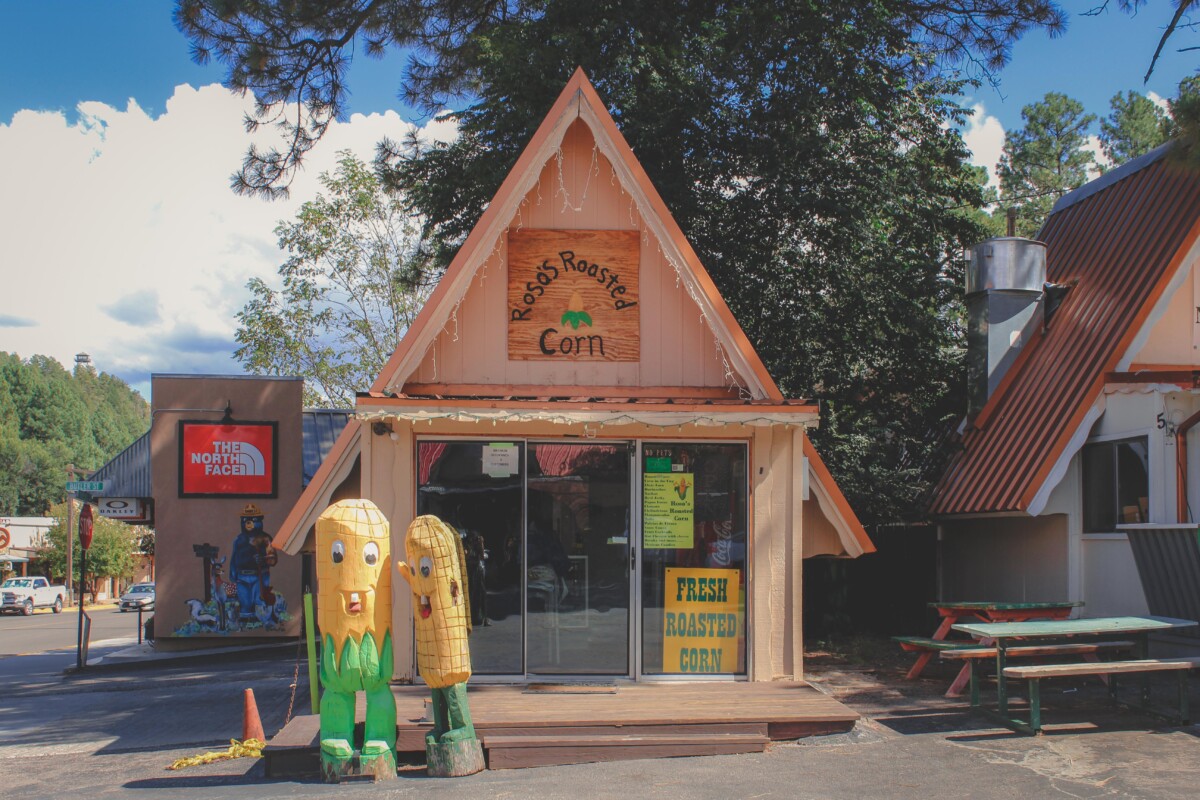 Chill Out
Chill Out's dolled-up interior is cute beyond words. It reminds us of an old-world beauty salon: pink-on-pink, big signage, funky pastel splashes. Chill Out's specialty? Typical froyo (lighter than ice cream, sugary enough to satisfy any sweet craving, self-serve).
Midtown Take-And-Go
Right before the intersection of Sudderth Drive and Butler Circle is a small lot of one-room huts. Rosa's Roasted Corn. Island Noodles. A blink-and-you'll-miss-it coffee shop. This little area in Midtown hosts a hub of quick-service eateries with minimalist menus (think two to three options at most). The food served here is without a doubt expensive and overpriced but it's convenient and packed in a way where you can continue your Midtown stroll uninterrupted.
The Snack Shack
The Snack Shack is one of the most aptly named grab-and-go spots in Ruidoso. There's a mishmash of freshly-made and pre-packaged items on the menu. Think popcorn and Swiss Miss and Chili-coated Gummies. Here are our top three picks: Mangonadas, Agua De Mazapan, Churro Bites (you can thank us later).
Best Restaurants In Ruidoso For Dinner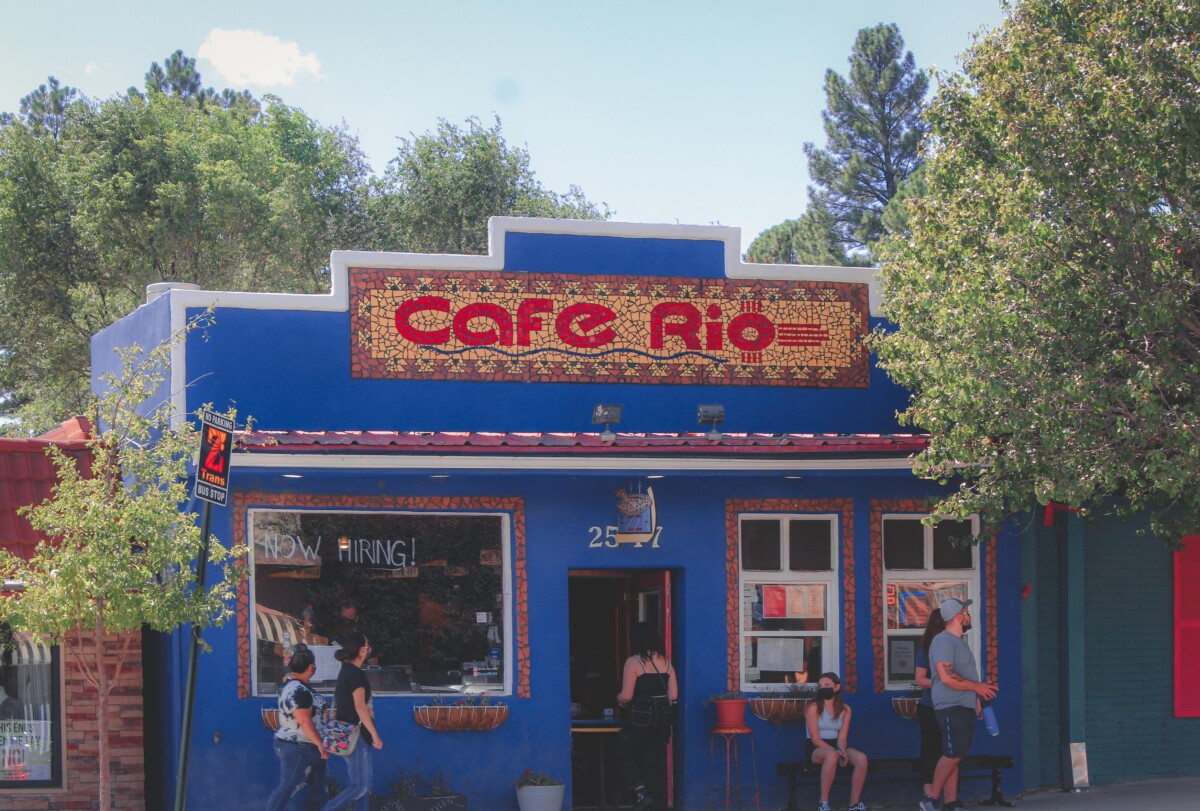 Cafe Rio
Few restaurants in Ruidoso are as hyped as pizzeria Cafe Rio. Cafe Rio's pizzas are heavy on crust but also pack a punch of flavor. You'll find all-inclusive delights like The Kitchen Sink (which features every topping you could possibly imagine) and sweeter meals to split (like the Carolina-Style BBQ Chicken or The Connoisseur). Jumbo portions are big enough for a family.
Garcia's Cafe
One of the best Mexican restaurants in Ruidoso takes the shape of Garcia's Cafe, a homey, unassuming spot on Sudderth Drive. Expect spicy salsa and sharp-on-the-tongue chips that will leave you craving seconds, a hefty portion of beans dusted with cheese, and south-of-the-border breakfast served all day.
Ruidoso Sushi
Good Asian food is a tough find in Ruidoso. Enter Ruidoso Sushi, a New Mexican restaurant serving up artisan plates with a Japanese-inspired twist. From their Futomaki Roll to the Plum & Cucumber Roll, Ruidoso Sushi's maki menu is inclusive of a vegan and vegetarian clientele (side note for all the meat lovers: get the Ruidoso roll. Your welcome).

What are your favorite restaurants in Ruidoso? Let me know in the comments below! This is by no means a comprehensive list and I love hearing about your experiences.