Welcome to Blue Spring, Arkansas.
Let me tell you something straight off. This is not a story of mysticism and magic (though there is some of that). This is not a story where every word forms a Disney-perfect fairytale (though there is some of that too).
This is a different kind of story.
Blue Spring is pretty. Beautiful. Entrancing.
And the turquoise lagoon is a fantasy-style daydream, like a scene from Avatar or Tinker Bell. It doesn't just look unreal – it feels surreal. If you told me there were river mermaids with tails just as bright as the water, I might believe you.
But behind Blue Spring is a long and fascinating (and sometimes, dark) history that stretches past the 33-acre Heritage Center of the same name. It's a tale that runs against the trout-filled backbone of White River – a story that spans centuries.
Know The Address Of Blue Spring Arkansas And Cost Per Person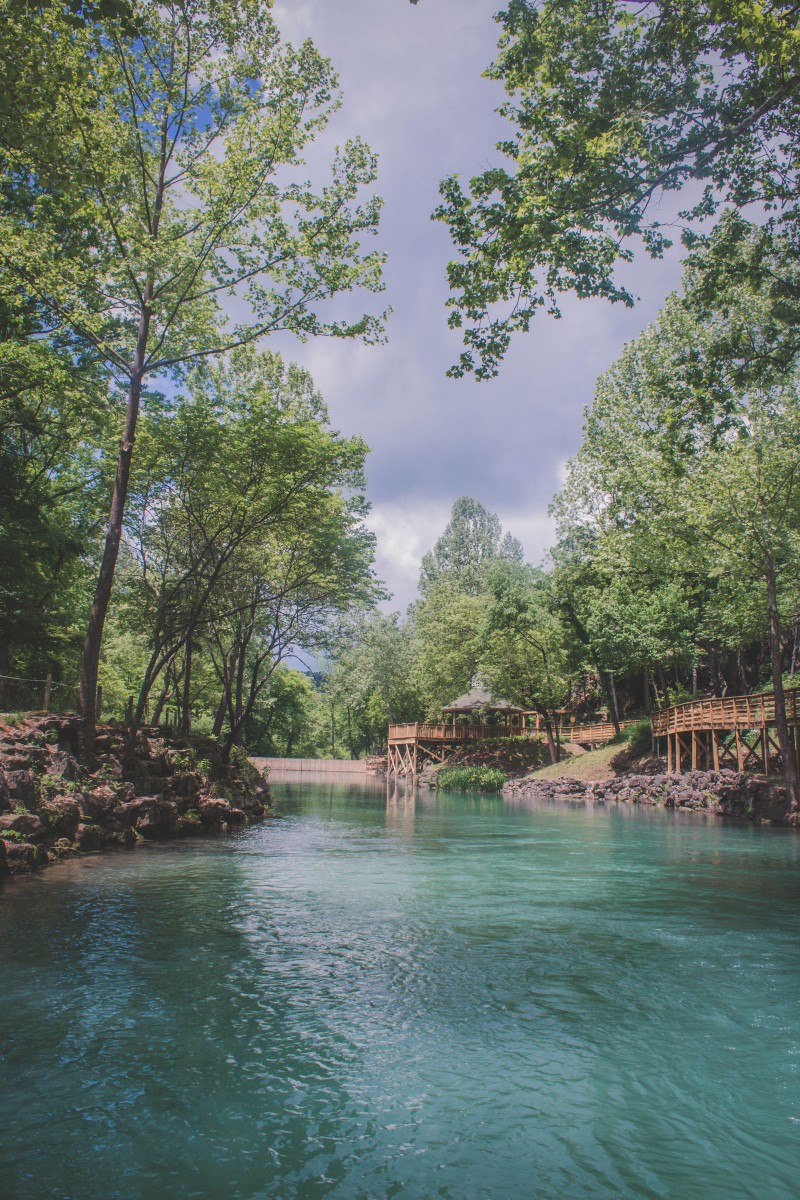 Located twenty minutes from historic downtown Eureka Springs, Blue Spring is a popular attraction in Northwest Arkansas.
The spring has been a tourist destination since the 1940s. In 1993, Blue Spring took on the title of Eureka Springs Garden. Then, in 2003, under new ownership, it became the Blue Spring Heritage Center.
I enter through the Trading Post, a museum-style gift shop by the parking lot. It's a small space, crammed, head-to-toe, with locally-made crafts and pots.
From Teram bone feather jewelry to strong-scented Nuwati herbal tea blends, the Trading Post carries jigsaw pieces of local culture.
You can also pay for admission here. The spring costs $9.75 (per adult) to visit.
Address: 1537 Co Rd 210, Eureka Springs, AR 72632
Know The Best Time To Visit Blue Spring Heritage Center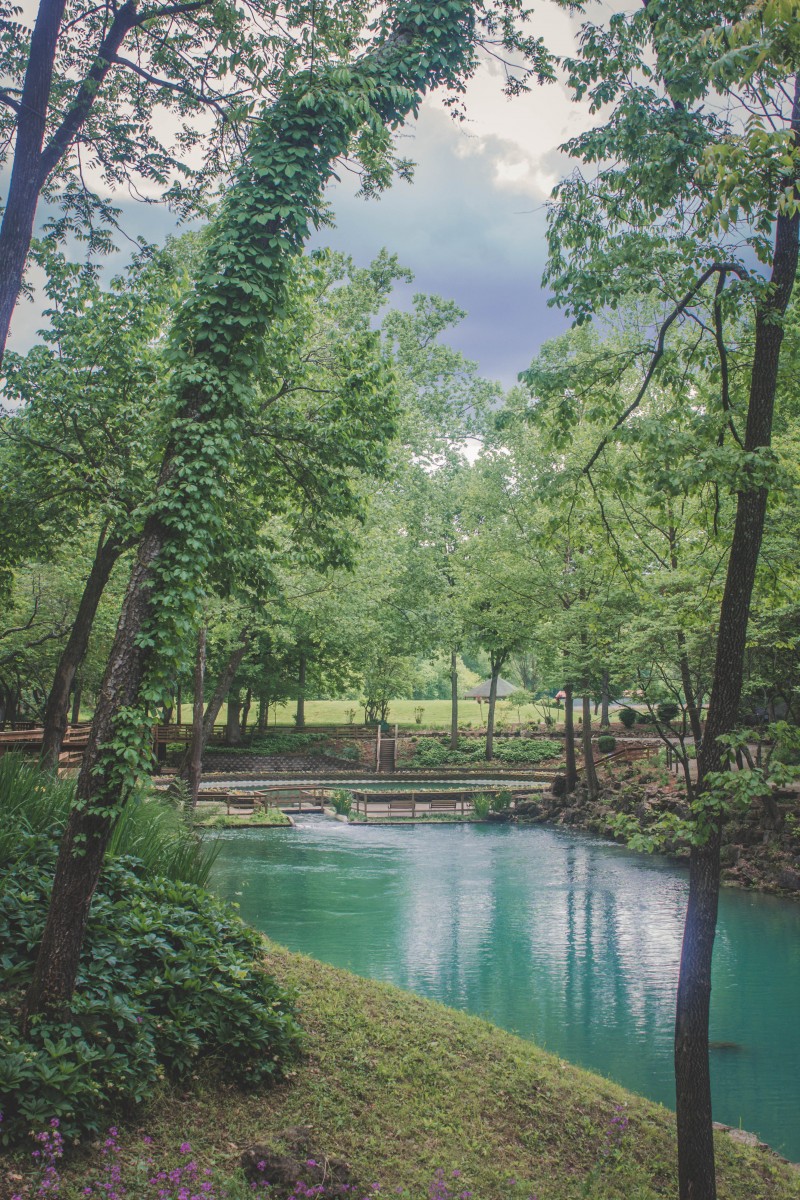 Between spring and fall, Blue Spring Heritage Center is open daily from 9 AM to 6 PM.
In the summer months, the water is a sharp, piercing blue.
And although the lagoon frequently shifts its hue, this place is the king of consistency.
Blue Spring pumps out 38 million gallons of pure water (always a cool 54-degrees) every day.
The water spills into the Trout-Filled Lagoon (as stylized by the information center), a small pool that slithers into White River.
Rinse. Repeat.
Know That Blue Spring Arkansas Is Wheelchair Accessible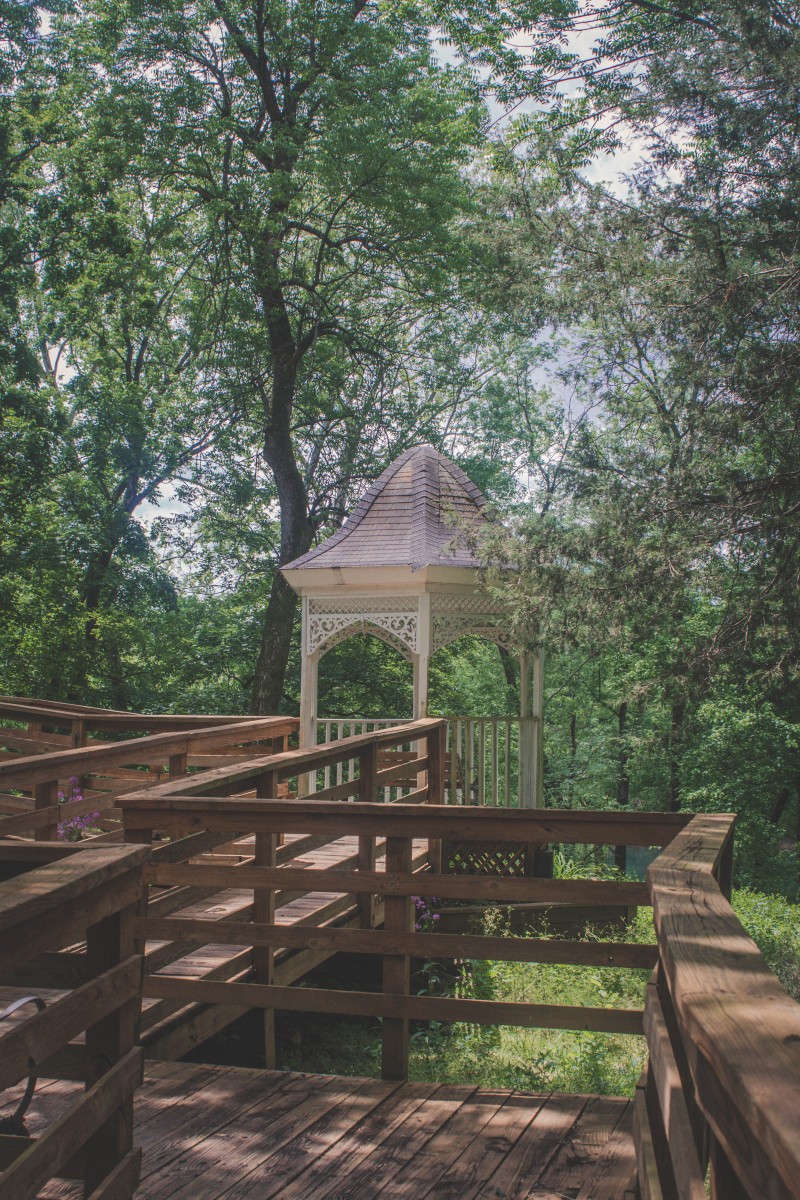 Most of Blue Spring Heritage Center is wheelchair accessible.
The exception? One small staircase cutting through Azalea Terrace. Broad planks of wood spiral down (Alice in Wonderland-style) to the banks of the lagoon. Tips of blue mask pulls of green.
The second route is long, flat, and scenic. This (wheelchair friendly) path zig-zags out from the Plaza and trails past the Woodland Garden, Historic Indian Bluff Shelter, and Pavilion.
Know The Best Place To See The Lagoon In Blue Spring Arkansas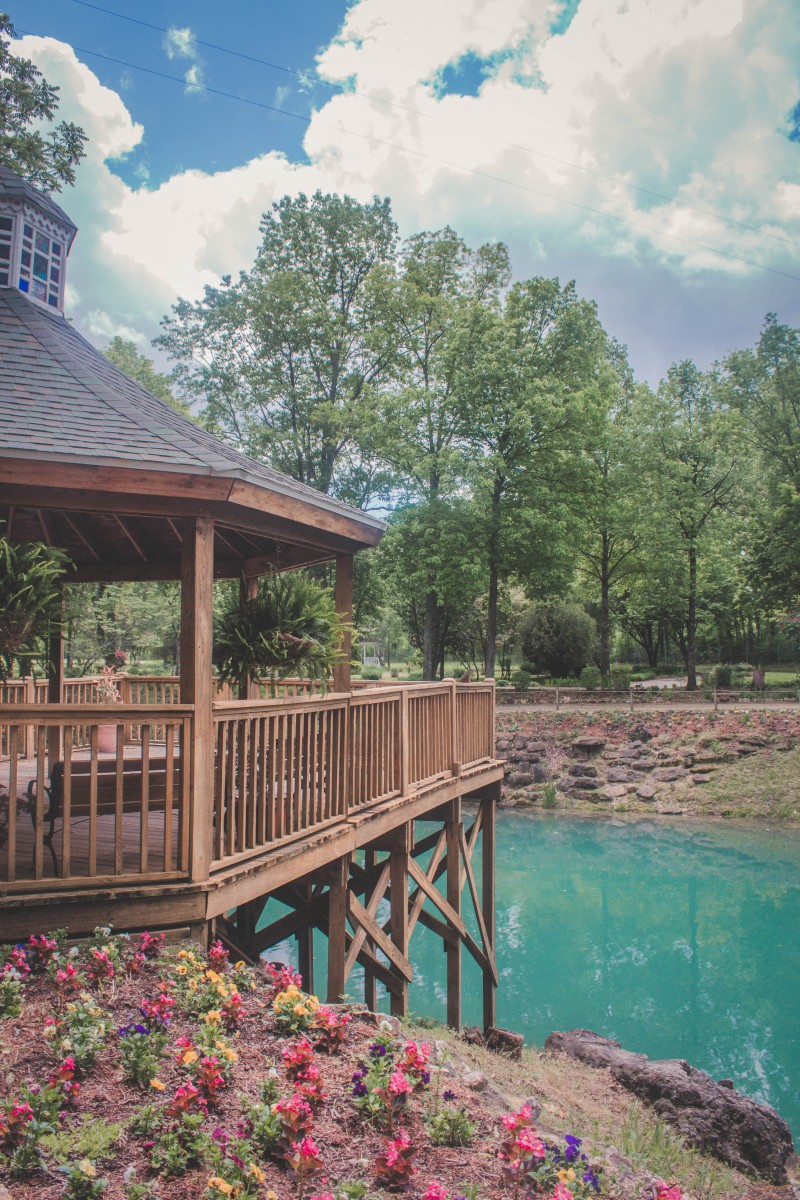 The lagoon at Blue Spring is an attraction by itself.
Cozy up at the Woodland Garden deck. As you amble along the footpath, you'll notice a small nook, shaded by a canopy of branches, overlooking a teal stretch of water. This is one of the many designated wedding sites at Blue Spring, but it's also a gentle, postcard-perfect spot in Eureka Springs.
Travel Tip: The most popular vantage point is the Pavilion On The Water, a gazebo peeking above the lagoon.
Know That There Are Gardens In Blue Spring Arkansas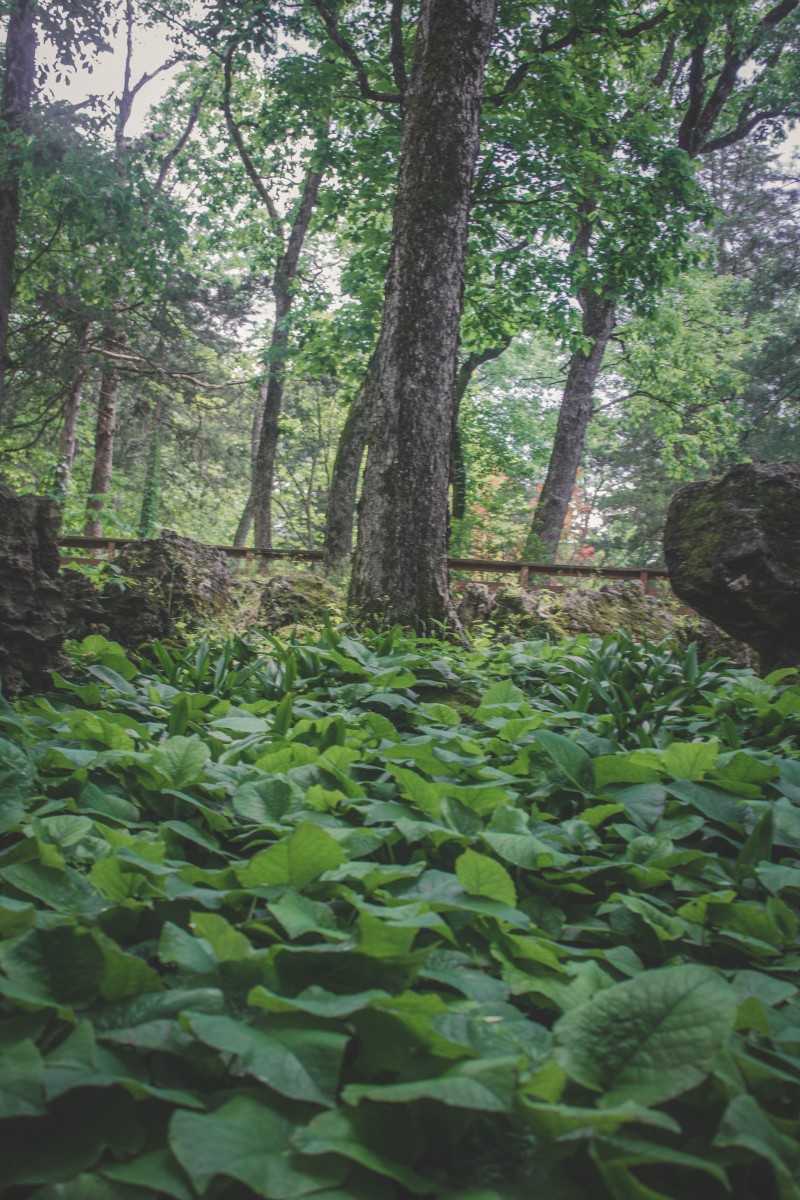 As I stroll through Blue Spring Heritage Center, I fall in love with manicured sheets of shrubs and flowers.
The gardens closest to Blue Spring – Meadow Garden and Medicine Wheel Garden – are small loops built along traces of The Trail of Tears.
In the early 1830s, over 15000 Cherokee Indians began a 1200 mile-trek to Oklahoma, forcibly evicted from their Eastern homelands.
Roughly 20% died from disease, starvation, and exhaustion.
In 1839, the tribe stopped at Blue Springs.
Native American nations, from Osage to Quapaw, have on-and-off lived near Blue Spring since 8000 B.C. It's an age-old site, known today, as a place of peace.
Healing built over suffering.
The larger gardens are past the Old Mill (the remains of a 1903 saw, grist, and flour mill) and the Bluff Shelter (a small site where artifacts dating back 10,000 years were found).
The biggest garden is the Woodland Garden, a deep-threaded blanket of trees. With verdant tinges and shadows of plate-sized leaves, the Woodland Garden, hot and humid, feels like a Jurassic Park backdrop.
Know That The Source Of The Water Is Unknown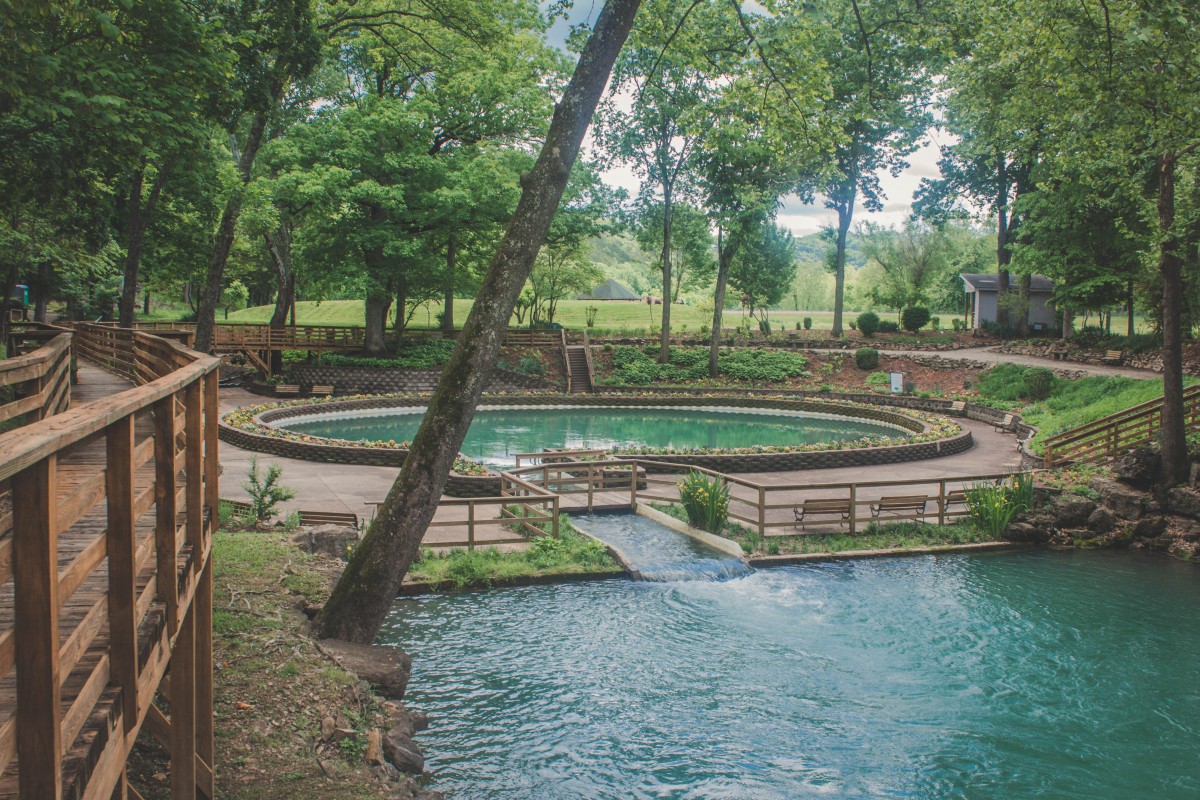 Blue Spring's source is still unknown.
In the summer of 2004, divers swam down a cave system, discovering species of crayfish, parts of a frying pan (strange, I know), and hints of aquatic plant life.
The cave is long and deep and no one knows quite where it leads.
It's a mystery that makes Blue Spring all the more seductive.
Know That Blue Spring Arkansas Is Worth A Visit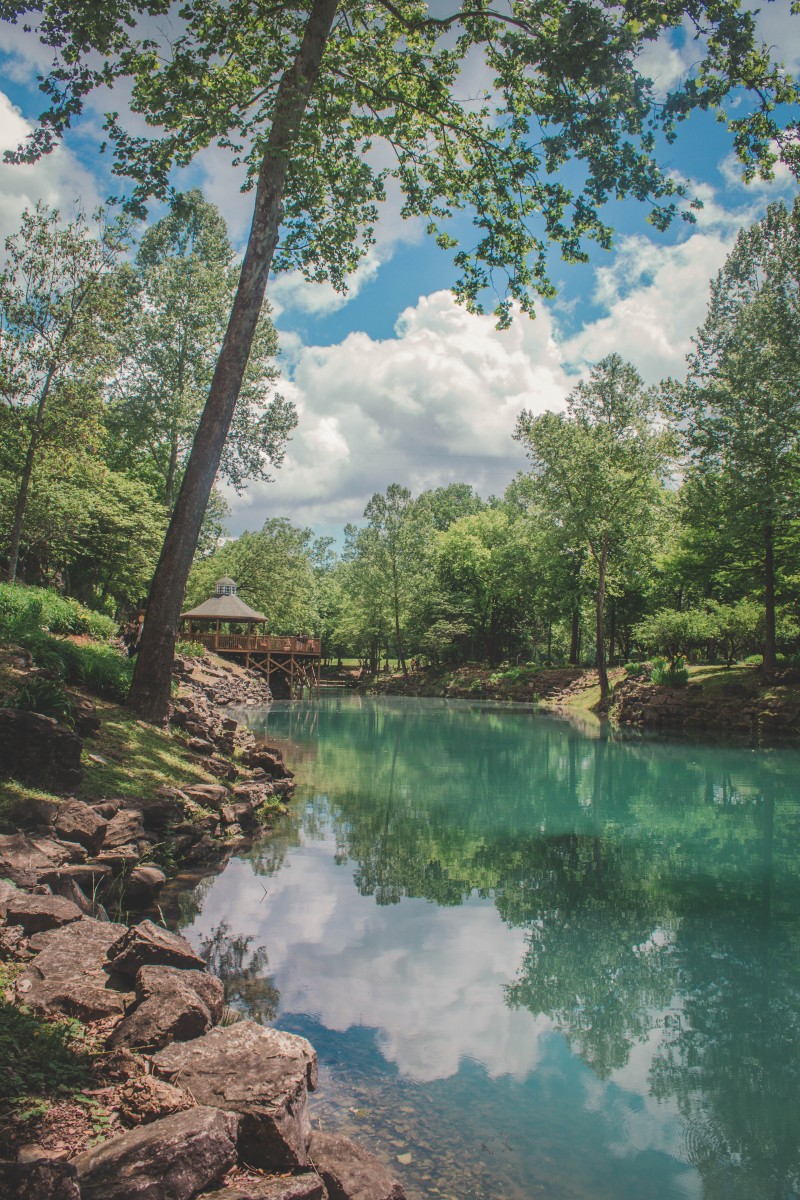 Blue Spring Heritage Center deserves a couple of hours (at the very least).
I'll admit, for the longest time, I had my doubts. Admission (at roughly $10) was expensive. The parking lot was (near) empty.
But when I discovered the gardens, the history, and the stories that surrounded Blue Spring, my tone shifted to waxed lyrical praise.
And it's stayed there ever since.

Did you enjoy this travel guide to Blue Spring Arkansas? Have you ever visited? Let me know in the comments below!