Top 5 bookstores in Oklahoma City.
I recently went on a crazy bookstore-filled romp through OKC. After visiting Commonplace a year ago, I knew I needed to make a return trip to see the rest of the bookstores in Oklahoma City.
So I did.
So here we are, at the start of our jaunt, by a window-facing strip right outside Commonplace Books, the exact place where my OKC book obsession started.
OKC has such an incredible curation of independent bookstores. The metropolis focuses on fine-tuned collections. Each of the bookstores in Oklahoma City has a unique color palette and flaunts a distinct style. But there's something comfy about all of them regardless.
Homey even.
So without further ado, here are the top five indie bookstores in Oklahoma City.
Full Circle Bookstore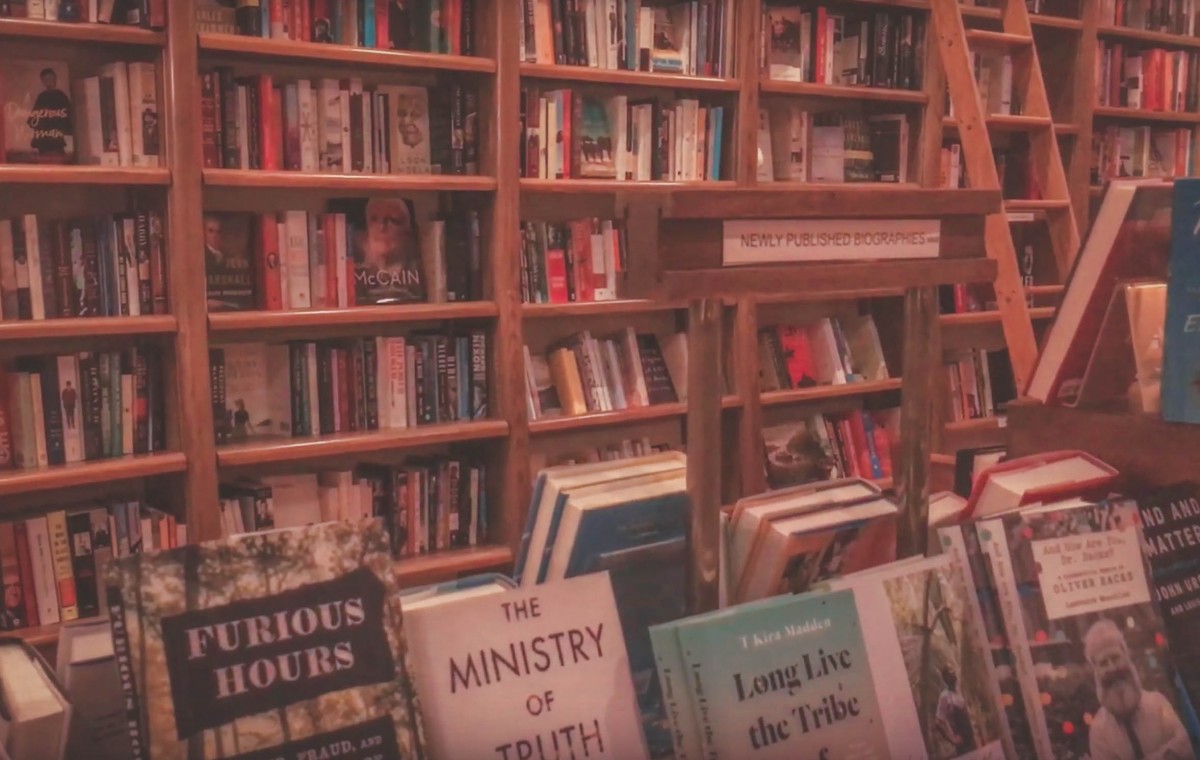 Full Circle Bookstore is hands-down one of favorite bookstores in Oklahoma City.
If I had to rank all the bookstores in OKC, Full Circle would easily slip into the number one spot.
Think floor-to-ceiling, deep-hued, thick oak shelves, lined head-to-toe in books. The collection (especially the classics) is exquisite.
They had a whole bookcase dedicated to P.G. Wodehouse (insert a swoon, sigh, and faint right here)! Needless to say, I went a little credit card happy (whoops).
At Full Circle, you'll find Penguin deluxe editions (this is the one I picked up) without batting an eye. In other words, this shop is dangerous for people like me (if you're a booklover, say goodbye to your wallet before you enter).
Full Circle is a traditional bookstore. It's stocked up on new releases, bestsellers, old-favorites, new-favorites. They have a whole room dedicated to travel books (at this point, I was ready to get down on one knee and pop out a ring). There's even a cute cafe on-site as well (and free coffee on-the-house in the left-wing).
I spent 99% of my last trip to Oklahoma City here (I initially visited because I wanted to write another OKC neighborhood guide, but then I took a detour to Full Circle and the rest is history).
Commonplace Books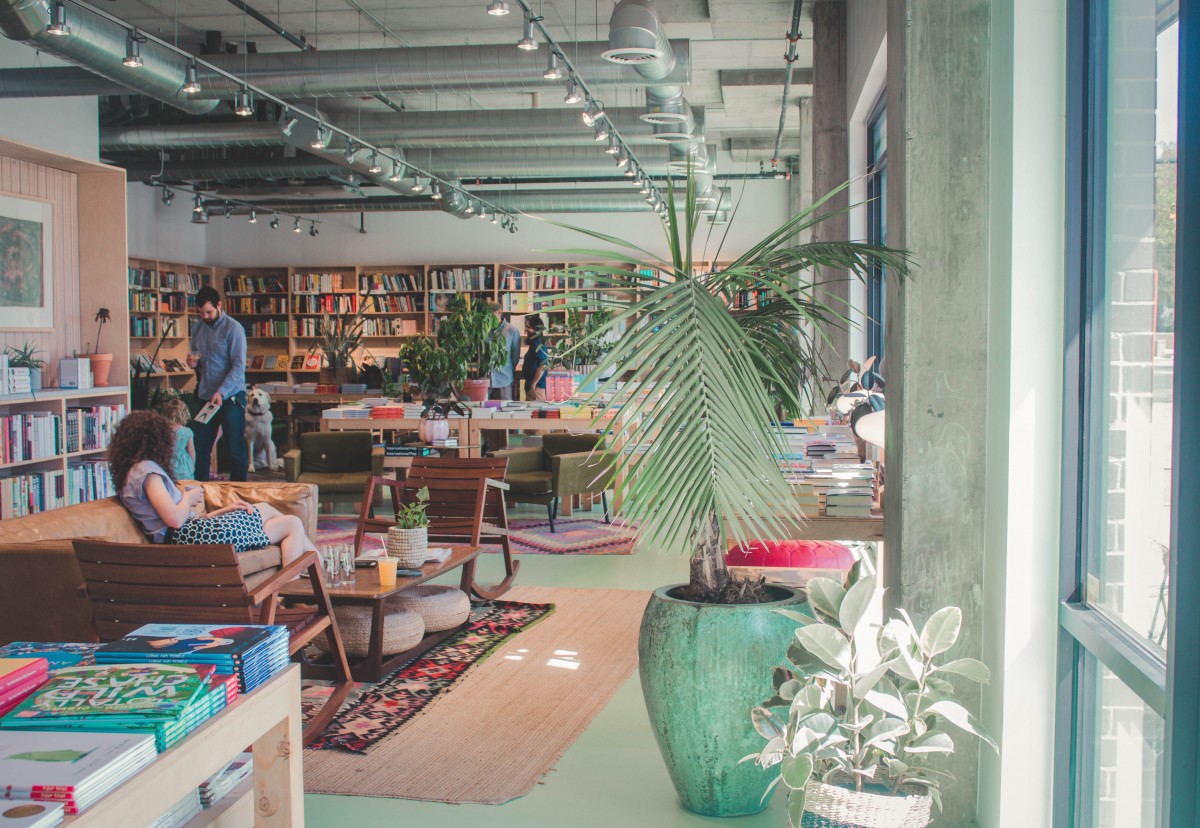 Commonplace Books is a date-night stop. It's a place to lounge and read and relax. The entire bookstore is washed in a soft, easy-on-the-eyes teal.
Commonplace throws out traditional categories. Forget sifting through long sections of fantasy, contemporary, or horror. Here, you'll find books sorted by interests.
Commonplace lets you choose your own bookish adventure.
Naturally, the nature of Commonplace's design lends itself to a selection that's mostly non-fiction (think gorgeous coffee table books by the dozen). But you'll also find a few fiction titles scattered throughout as well.
And one of the best parts of Commonplace is the neighboring restaurant meets bar meets cafe. It's a way to socialize and grab a pick-me-up (both literally and figuratively) along the way.
Barnes & Noble Kitchen, take notes. This is how you run a restaurant and bookstore combo.
Literati Press Bookshop
Located in Paseo Arts District, Literati Press is an aesthetic indie bookstore.
It's a subculture publishing house, but the main draw is the wide girth of titles. Think comics, memoirs, and philosophy texts.
P.S. Literati is right next to Holey Rollers, one of my favorite donut shops in Oklahoma City. So grab a bite there before you stop by here.
New World Comics
There are plenty of comic bookstores in Oklahoma City (Atomik Pop!, Amazing Action Comics) but New World is a popular choice amongst locals and travelers alike.
It's a messy shop (there are books everywhere). But this is one of the most family-friendly comic bookstores in Oklahoma City.
If you're looking for a warm, welcoming environment to spend a nerdy afternoon, look no further than New World Comics!
Ronald J. Norick Downtown
Although the Ronald J. Norick Downtown Library is technically part of the OKC branch system, I had to include it on this list of bookstores in Oklahoma City.
It's a multi-floor library sandwiched between a maze of buildings in downtown.
Four floors. A dark-tinted room dedicated to local historic titles (aptly named the Oklahoma Room). Artwork propped up throughout.
And as strange as this may seem, I loved the fact that there was zero room for me to sit inside (the library was so packed, I had to go to my car to read). It wasn't because there weren't enough seats (trust me, there were plenty). But on that bright sunny morning, it seemed like everyone in Oklahoma City was in Ronald J. Norick Downtown.
Because in Oklahoma City, books are woven deep into the city's tapestry.
Did you enjoy this list of bookstores in Oklahoma City? What are your favorite bookstores in Oklahoma City? Let me know in the comments below!