Everything you need to know about Chimayó, New Mexico.
Despite being only 30 minutes apart, Chimayó and Santa Fe are out of sync. Santa Fe is an old city. But Chimayó feels ancient, like a centuries-old tapestry hung up – aged but not forgotten.
There's only one formal restaurant in town and another big attraction – El Santuario De Chimayó, a legend-wrapped site that draws over a quarter million visitors, year-after-year, to a town with a hundredth of the population.
Like most visitors, I came to Chimayó in search of El Santuario. It's hard not to be drawn to the area. The stories. The myths. The history.
Things To Do In Chimayó, New Mexico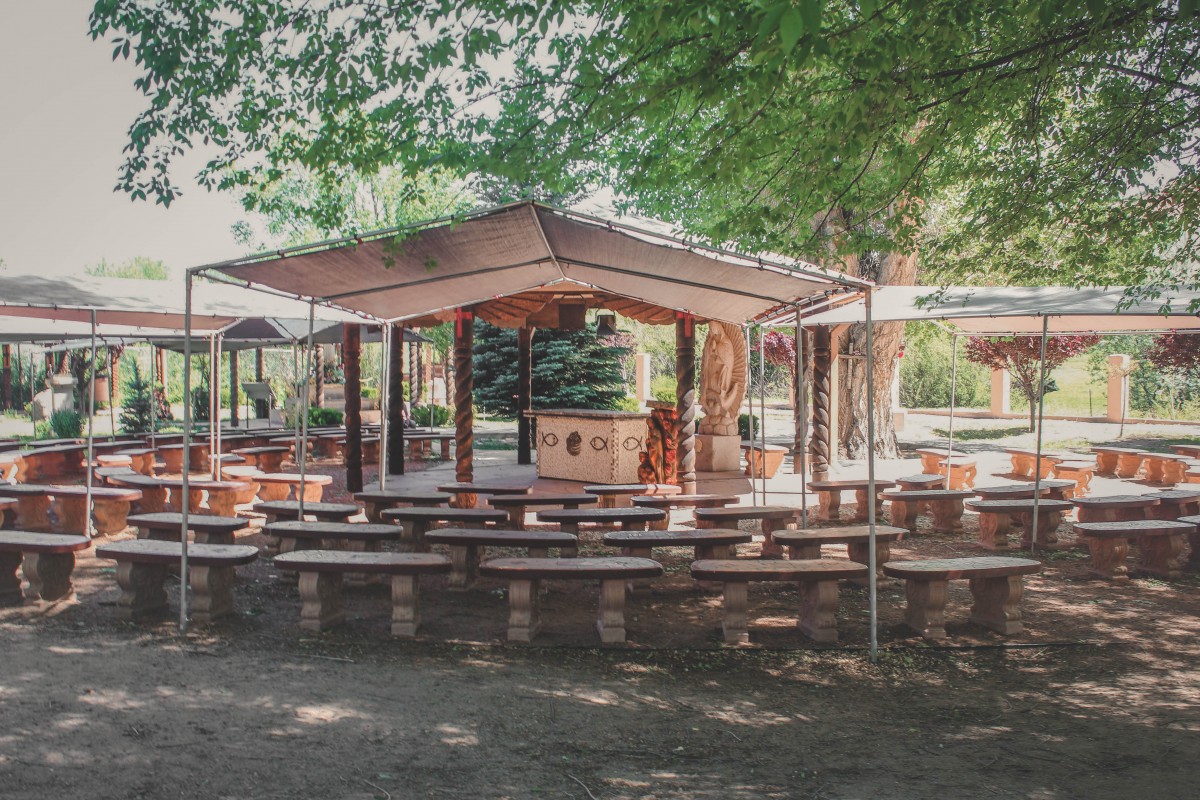 The Chimayó Museum
Kick-off your day trip at the Chimayó Museum, a labor of love that took a quarter of a century to grow and evolve into its current state. The museum, on the way to El Santuario, is hard to miss.
It's situated in Plaza Del Cerro, a time-lagged site crushed under the hot hand of the sun. Chimayó might be a small town but it has a big history.
Travel Tip: I couldn't get cell reception in Chimayó so I recommend downloading an offline map before visiting.
And this story is threaded by Chimayosos (as the locals are called) so it starts with the village's prehistoric roots. It looms over Spanish colonization and spins into Chimayó's decade-spanning tradition of weaving. It's a singular timeline, on occasion blurred but authentic in its presentation.
Santa Cruz River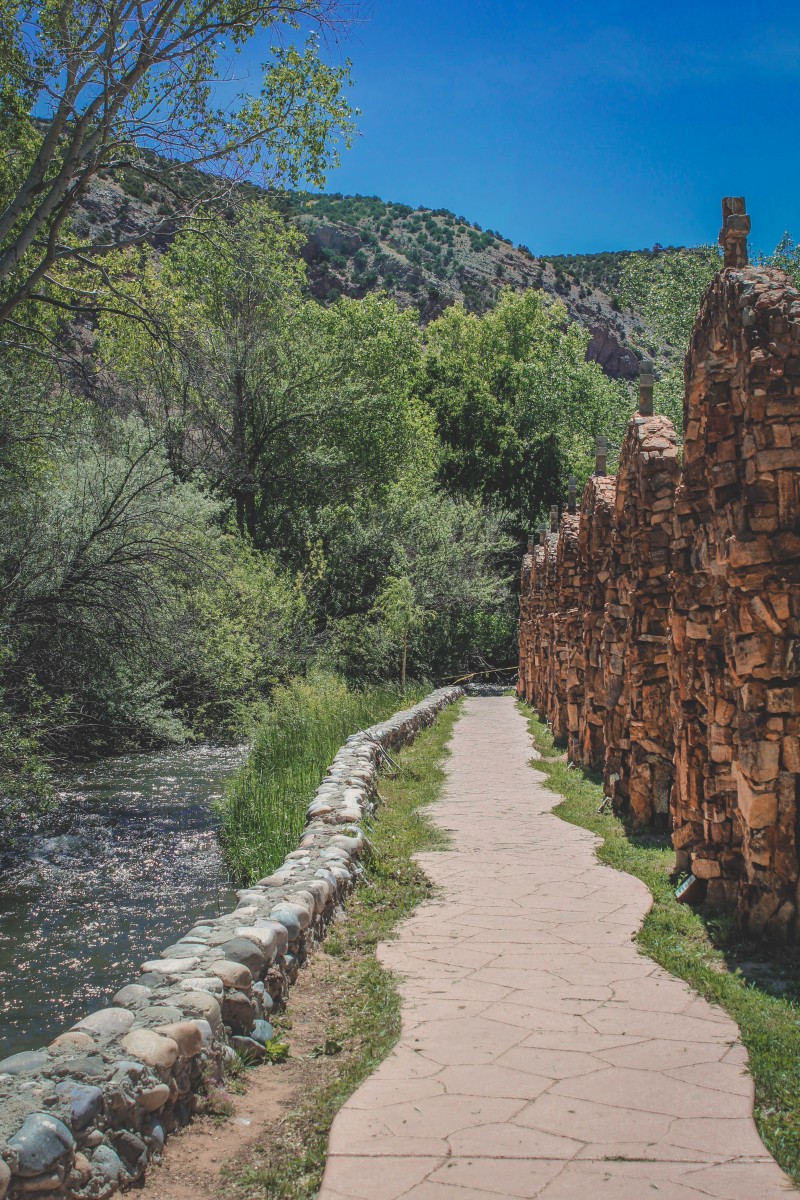 From the parking lot of El Santuario De Chimayó, you can see traces of a river blocked off by a path and a colonnade of stones.
This is the Santa Cruz River. Whilst the path is short, it's worth a walk. And if you're searching for a bigger body of water, there's a lake (well, dam) nestled under a mountainscape, on a Bureau Of Land Management site, just a fifteen-minute drive away. Santa Cruz Lake Recreation Area costs $5 per vehicle. Once inside, you can fish, birdwatch, or hike.
Three Cultures Monument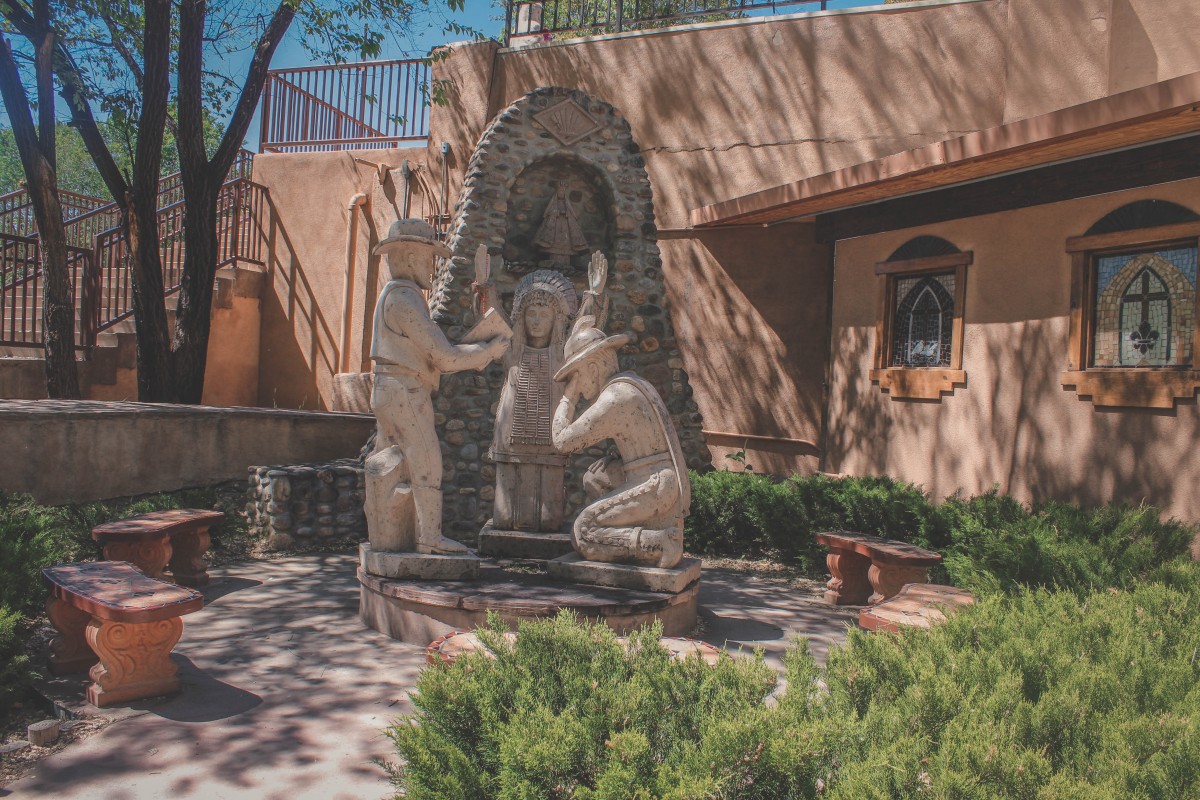 At first glance, the Three Cultures Monument seems a bit odd. An Anglo settler. A Native American. A Hispano vaquero. They all stand (well, one sits) under the watchful eye of Virgin Mary.
It's a representation of New Mexico's tri-cultural environment. And long before El Santuario De Chimayó was established, Natives recognized the land as holy for its healing hot springs. Today, Catholics recognize the land as holy for its healing dirt.
Santo Niño Chapel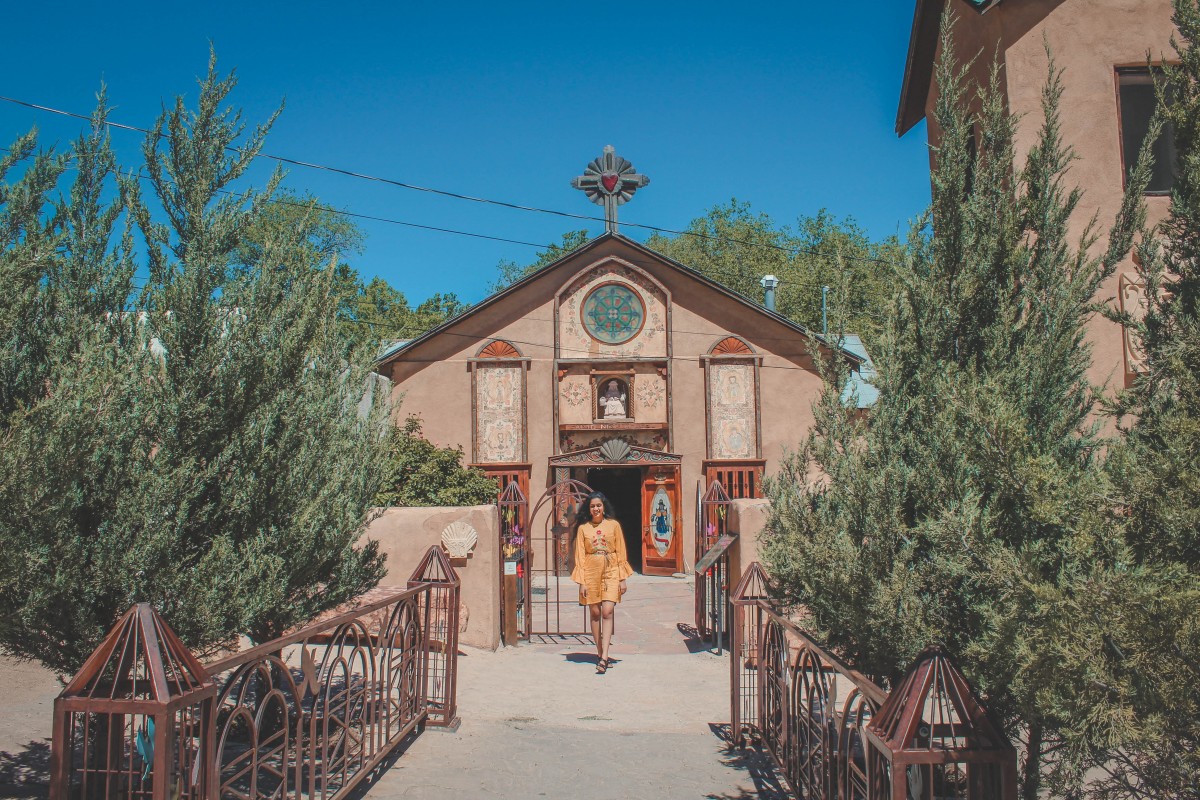 Santo Niño Chapel is only a few steps away from El Santuario's main church. But even so, it's quieter, less frequented, and more meditative.
It's a children's church so expect bright colors. The exterior artwork (the only area that can be photographed) takes time to admire. Every panel and carving plays into the details.
The chapel's title is derived from Santo Niño de Atocha, who is rumored to wander around Santuario de Chimayó at night.
Inside you'll find rows of tiny shoes (children's shoes) – gifts for the Catholic manifestation of baby Jesus.
El Santuario De Chimayó Church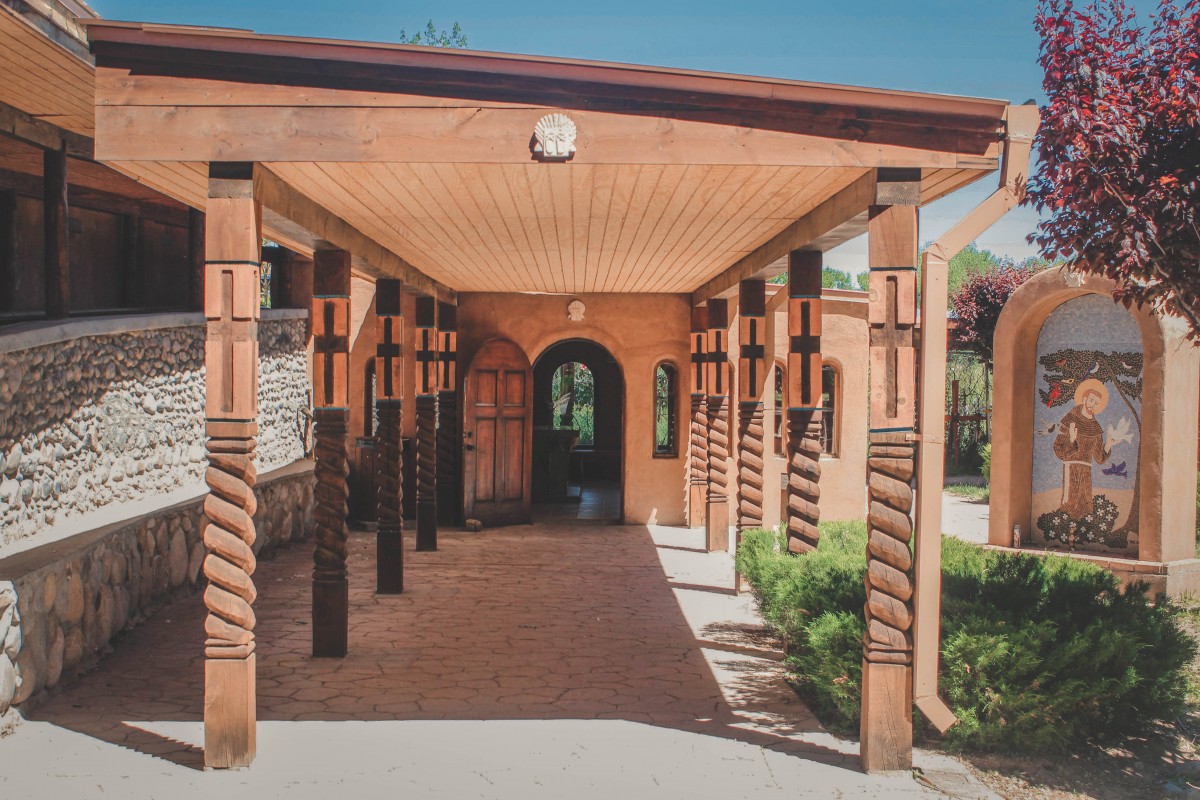 El Santuario De Chimayó, the area, is a bit like a religious Disneyland. There are giant amusement park-style maps and gift shops.
But El Santuario De Chimayó, the church, on its own, is undeniably beautiful. I'm not Catholic but it's no secret that I love visiting historic churches. And El Santuario De Chimayó Church is undoubtedly one of the prettiest churches I've ever seen.
The wood hemmed by adobe looks photo-worthy throughout the seasons, during flower-twined spring and snow-touched winter.
Chimayó, New Mexico Restaurants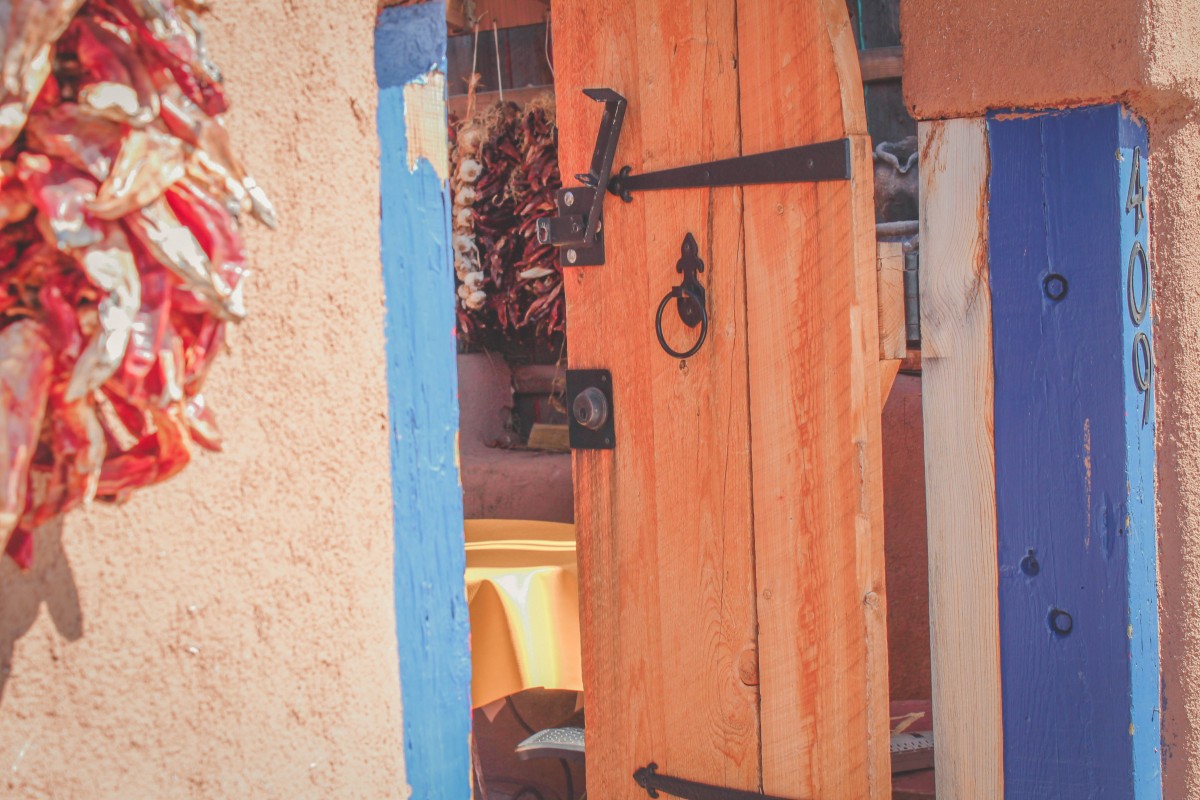 Rancho De Chimayó
Rancho De Chimayó serves upgraded at-home cooking. The cuisine is traditional New Mexican, and the restaurant's long-standing dedication to crafting regionally-influenced meals has earned it a James Beard Award (amongst many other accolades).
It's one of the few restaurants along New Mexico's High Road. So if you're driving from Santa Fe to Taos, you'll want to stop here (or pack a picnic lunch). Reservations recommended.
Casa Chimayo Restaurante
Casa Chimayo is a slow-service restaurant in Santa Fe. The recipes here are hand-me-downs, but they're all Northern New Mexican.
Casa Chimayo was once featured on Diners, Drive-Ins, and Dives, and although it's been ages since my last visit, I remember loving it.
Note for any Texans reading this: they charge for chips and guac (I understand this is a mortal sin for us but it's okay. It's worth it).
Chimayó, New Mexico Shops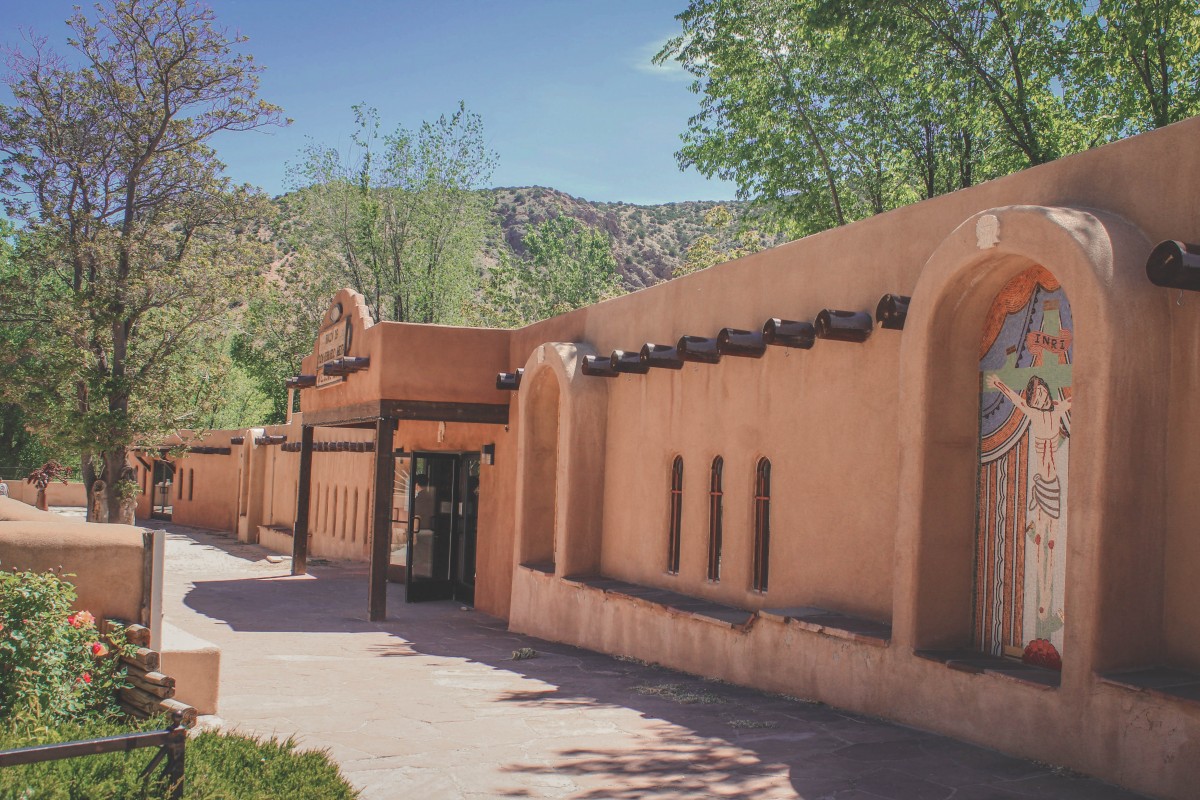 Ortega's Weaving Gallery
Gabriel Ortega has a legacy. In the 1700s, he arrived in New Mexico and took up the role of a weaver. Today, Ortega's Weaving Gallery carries his old-world style of traditional weaving forward. So when you walk in, expect rugs so beautiful you'll need to catch your breath.
Potrero Trading Post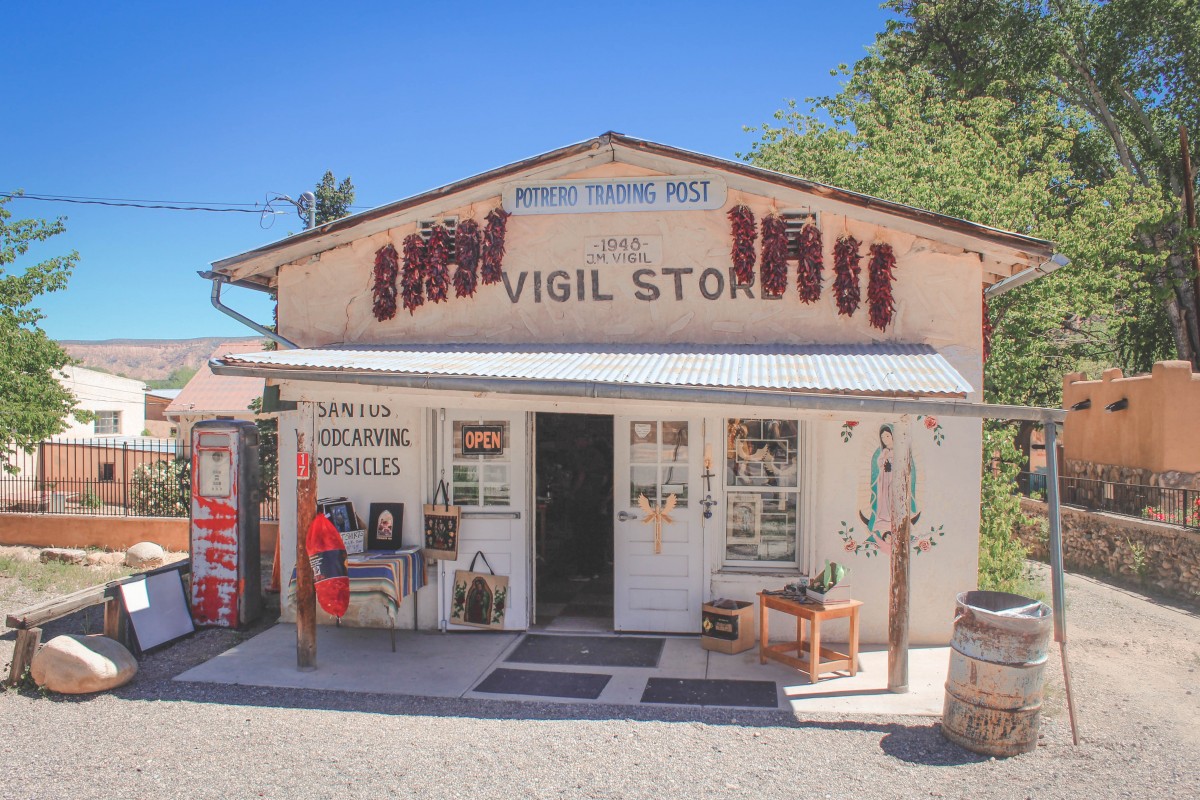 The Vigil Store, in El Santuario De Chimayó, carries a hodgepodge of spices (amongst other goods). Dried chile mixes. Jewelry. Folk Art. Popsicles. Like most of the shops surrounding the church and chapel, the century-old family-run store sells a bit of everything.
It's hard to believe the original clientele was small. Potrero Trading Post had humble origins as a casual kitchen open to weary pilgrims (tired from a long journey to El Santuario). Today, as the number of annual tourists shoots up, it's become more of a room-sized spice rack. But the essence is the same.
Centinela Traditional Arts
Centinela is another small weaving shop in Chimayó. Ortega's is bigger but Centinela is still worth a visit.
Centinela employs a variety of artists, each with her own creative spin on traditional Rio Arriba weaving patterns. The color combinations here are stunning – dark and light boldly contrasted side-by-side.
The weavings – colorful, bright, unique – summarize Chimayó.

Did you enjoy this guide to Chimayó, New Mexico? What are some of your favorite spots in Chimayó? Let me know in the comments below! As always, I love hearing from you.