how to visit Cholla Cactus Garden
The drive to Cholla Cactus Garden is long and quiet. I sit in the passenger seat, legs outstretched. This time of day, we're the only ones on the road. So I laze back and watch rocky silhouettes slowly crumble into flatlands. Yuccas and Joshua Trees fade out view. The Mojave Desert blurs into The Colorado.
At the Cholla Cactus Garden parking lot, we wait. We wait for a small penny of the sun to be held up against the sky, for the cholla's tips to be gloved in orange, for the trail to be streaked in gold. Right now, the cholla still look asleep – eyes shut, thorns curled against the wash.
But when it's time, when they seem to wake, we'll hit the path because sunrise is the best time to see Cholla Cactus Garden in Joshua Tree.
Disclosure: Heads up, this post contains some affiliate links, which means I may get a commission if you make a purchase. Don't feel pressured to buy anything. I still love that you're here, reading my content (side note: I'd probably suggest getting a coffee or tea first though because my blog posts tend to be long). To find out more, you can read our full affiliate disclosure right here.
About
Situated in a transitional zone (between the Mojave and Colorado Desert), Cholla Cactus Garden looks unlike any other stretch of Joshua Tree National Park. Fields of cholla cacti, arranged in neat lines and rows like a large desert nursery, fill up a small swatch of the Pinto Basin.
Cholla are sharp cacti. Their nickname, teddybear cholla, suggests otherwise, but each balayage stem is barbed and brutal. Thorns fall onto the flat, dirt Joshua Tree National Park trail in clumps, so you'll want to look down as you walk (and occasionally, shimmy to the side) to avoid their pinprick graze.
Best Time To Visit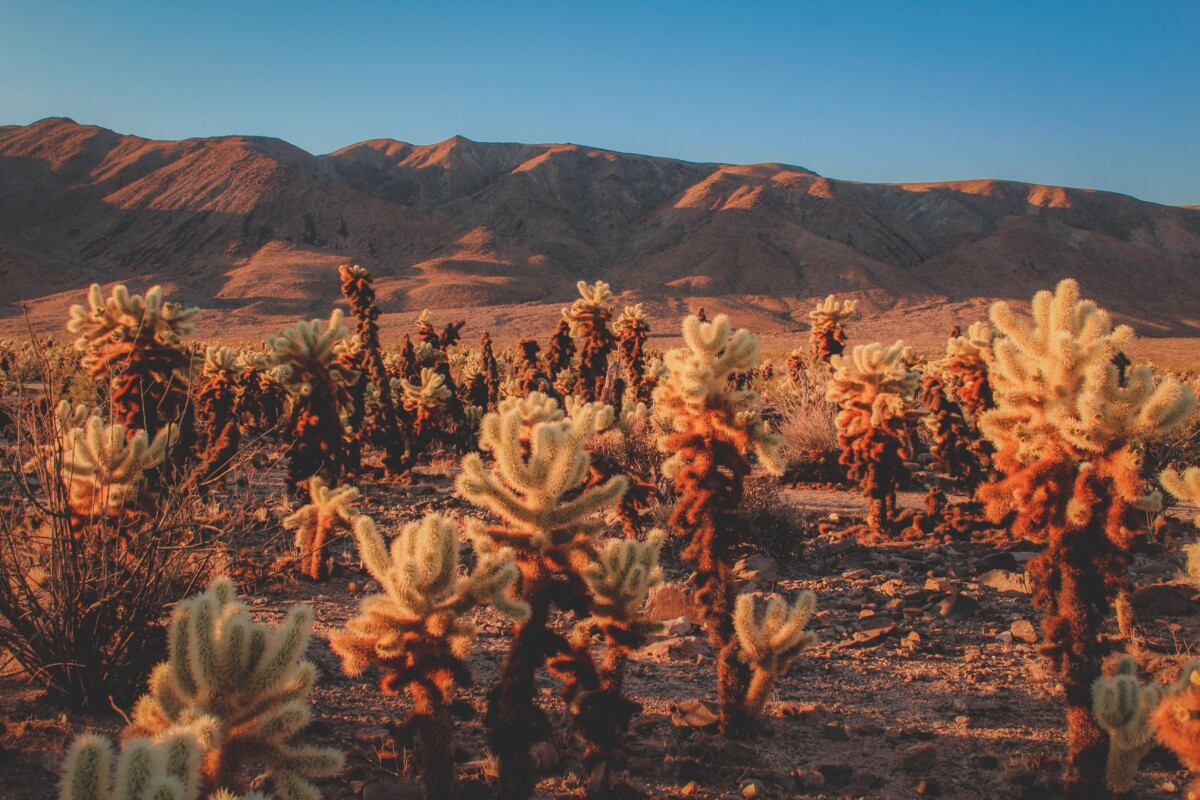 The best time to visit Cholla Cactus Garden is between March to May and October to November. During these months, Joshua Tree National Park's temperatures relax. But Cholla Cactus Garden's path is so short, so unobstructive, you could realistically visit this scenic turn-in late spring too, under the cool of pre-dawn.
Cholla Cactus Garden Sunrise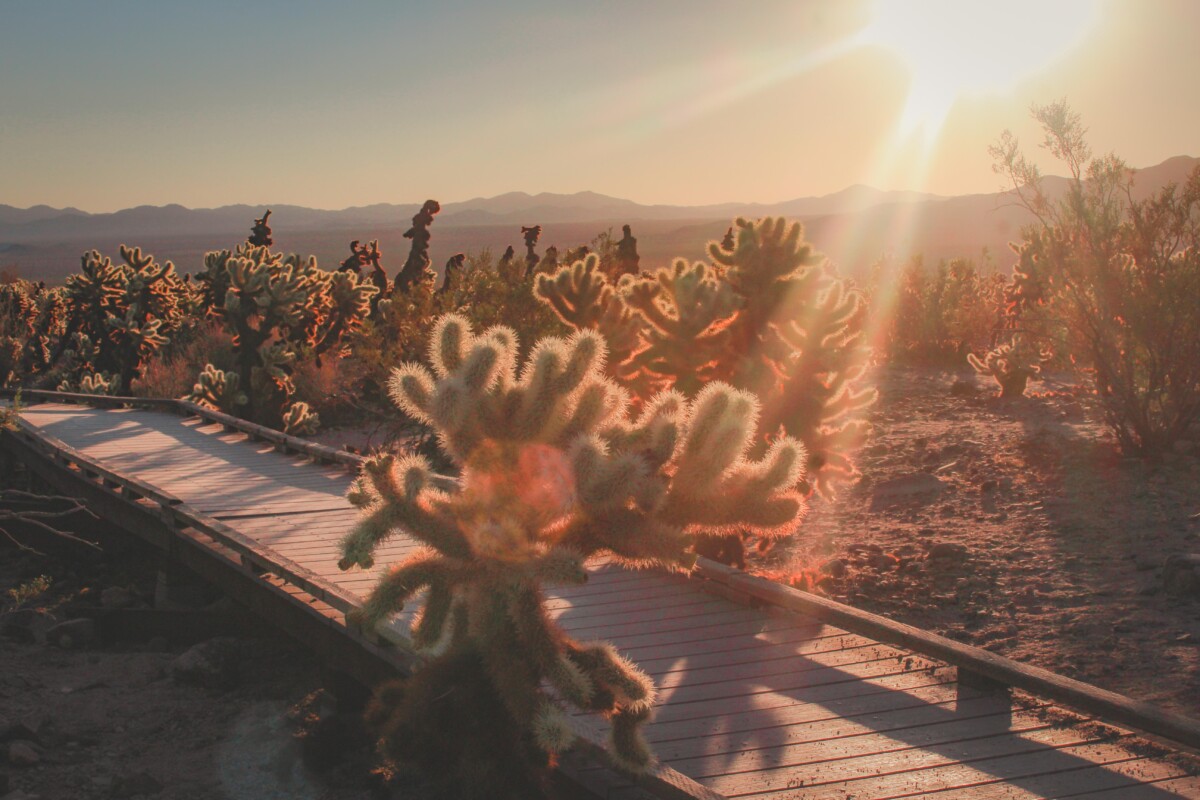 The sun is slow to rise. It takes its time, a full half hour to balloon past a backdrop of slopes. Only a few vestiges of dawn remain: a cool blue sky, a hazy wash of orange, harsh red light baked into the dirt. It's in this moment the cholla start to glow, their wayward tubes incandescent under the softness of sunrise.
I feel like I'm walking through a desert-rendition of Sting's "Fields Of Gold." My eyes, once droopy from the early morning rise, are now concentrated on the cholla and their yellow-outlined tendrils.
Cholla Cactus Garden Trail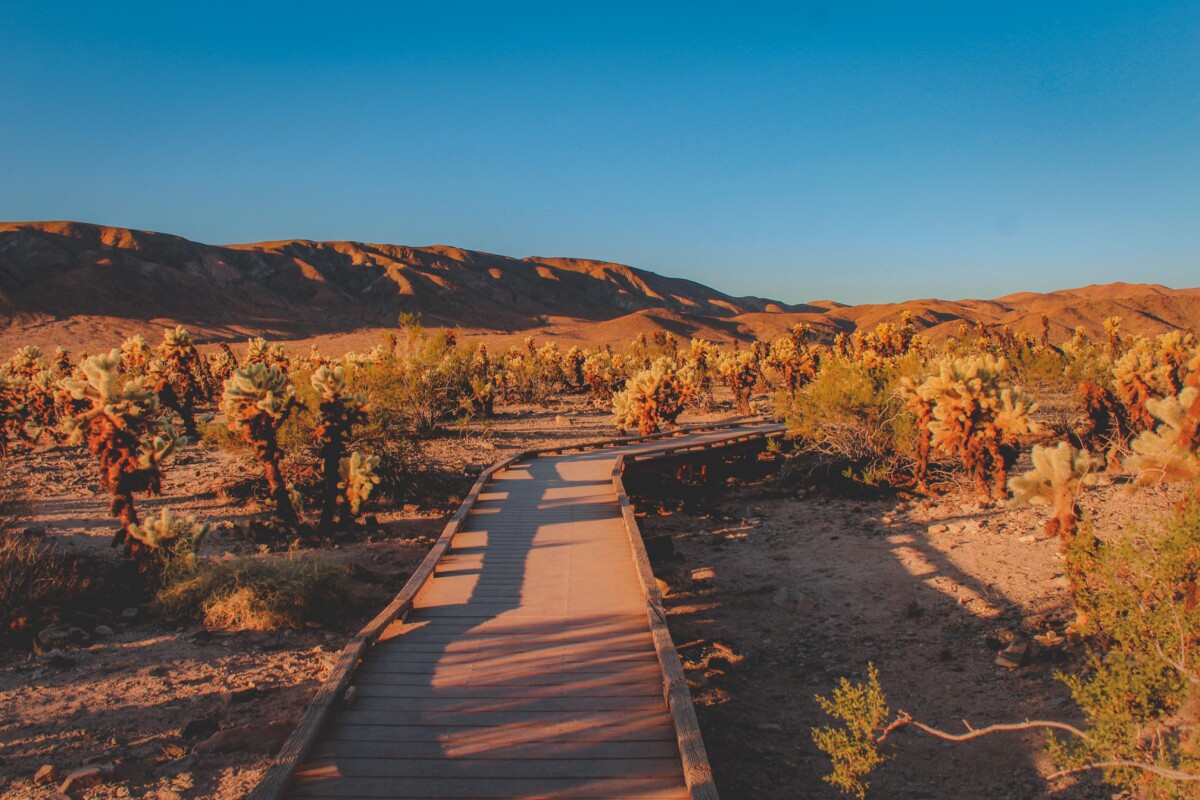 The Cholla Cactus Garden trail is a short and flat loop, mostly dirt (though there is a little boardwalk area). The quarter-mile hike (it's really more of a leisurely stroll) curls past dense thickets of cholla. In the distance, you'll see the cholla taper off and disappear into a creosote-brushed landscape.
Cholla Cactus Garden Travel Tips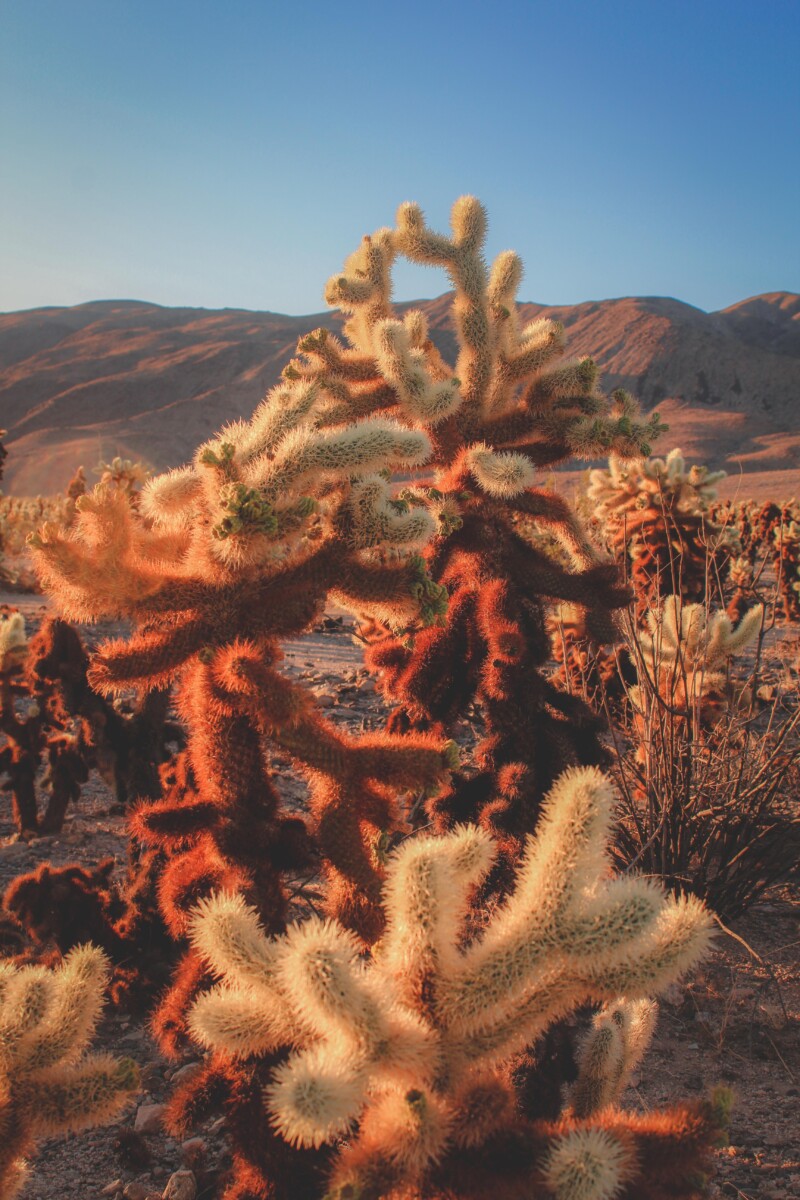 Cholla Cactus Garden is roughly twenty to forty minutes away from each entrance (I recommend entering through The West Entrance if you're visiting in the morning and The Oasis Of Mara entrance if you're visiting mid-day). Fill up on gas before you enter the park, and drive slowly en-route (as it's pitch dark).
Print out a map of Joshua Tree National Park before you leave (this is the one I used). You can also use Google Maps and type in Cholla Cactus Garden (just be sure to go to Settings -> Offline Map -> Download). I didn't have any signal in Joshua Tree National Park so these maps were a lifesaver!
Bring a water bottle. The hike is short and easy, but the air is still crisp and dry (you'll be craving water). You'll want to leave your water bottle in the car though as there are bees here, and they tend to be attracted to moisture.
On that note, watch out for bees. Although I didn't see any while hiking, I have heard that they live in the area and can be quite aggressive.
Cholla are clingy too. If you accidentally step on a cluster (or brush past one), they'll clutch and pierce your shoes and clothes. Be careful when you walk (I can not stress this enough), and make sure your car's first aid kit is stocked with tweezers.
Keep your eyes peeled for cactus wren! These sweet little birds sometimes perch atop the Cholla Cacti.
If you're looking for more things to do in the area, here are forty of our top picks for things to do in Joshua Tree!

Have you ever visited Cholla Cactus Garden at sunrise? What was your experience like? Let me know in the comments below!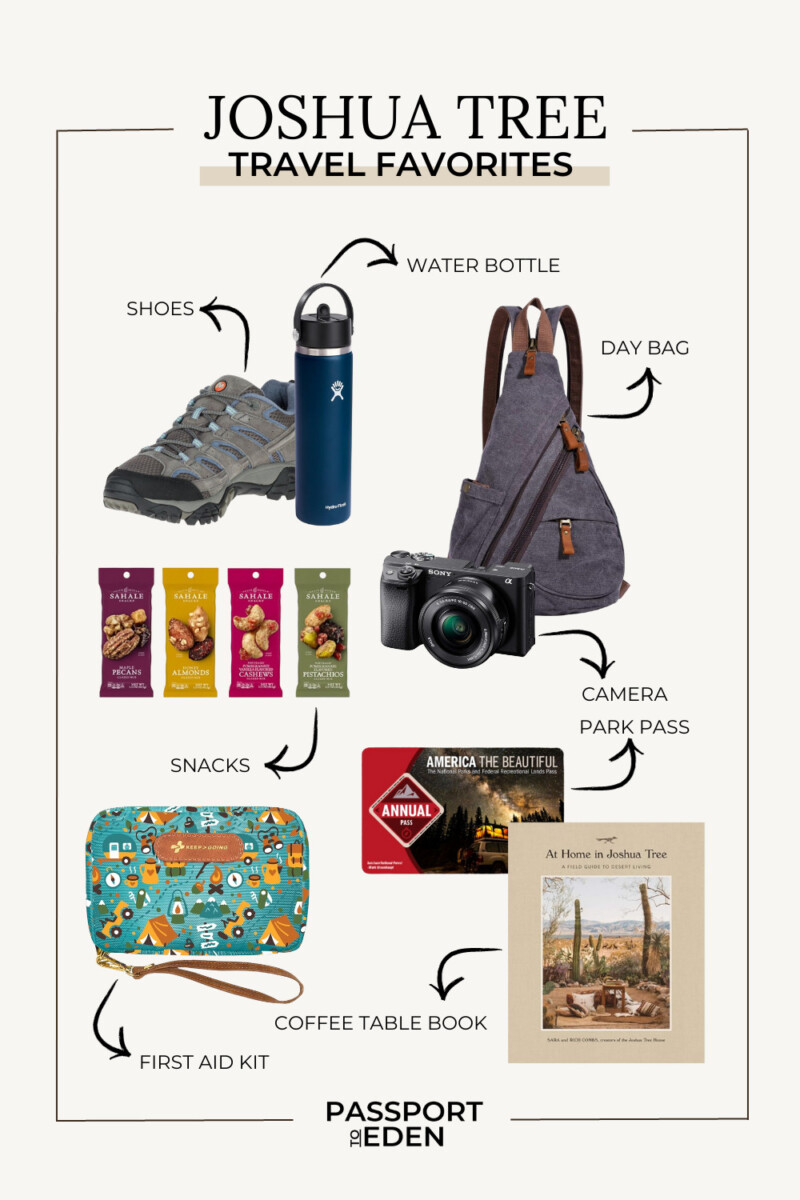 TRIP RESOURCES
---
🥾 Merrell Moab 2: these shoes got me through 50 hours of hiking at Joshua Tree National Park (I love the grip)
💧 Hydroflask: my favorite stainless steel water bottle (the water stays refreshingly cold even on hot days)
🥜 Sahale: a salty glazed nut mix perfect for day hikes (their pomegranate vanilla cashews have my heart and soul 😋)
🩹 KeepGoing: lightweight kid-friendly first aid kit (made by a family for families)
🎒 Sling Backpack: this comfy little crossbody canvas rucksack is my go-to day hiking bag
🎟️ America The Beautiful: annual pass that covers the entrance to over 2000 federally-managed recreation areas
📷 Sony Alpha a6400: the mirrorless camera I use to take blog photos (I like that this one has a flip-out screen)
📚 At Home In Joshua Tree: a beautiful gift for those who love the Mojave Desert