Here are the eleven best coffee shops in Omaha, from neighborhood coffee chains like Hardy's to house favorites like Archetype.
Coffee and Omaha go hand-in-hand. The city is home to over 20,000 students (from the University of Nebraska, nicknamed UNO, alone) so most of the caffeine spots are study-friendly with large tables, lots of light, and late-night hours.
Omaha is also a city big on giving back. So naturally, the best coffee shops in Omaha are marked by a purpose or mission that makes them so well-loved.
Over the past weekend in Omaha, I had more cups of coffee than humanly possible (all in the name of research, of course). And after chatting with several locals and baristas (all while a little jittery), I finally settled on a few favorites.
Here are the best tried-and-tested coffee shops in Omaha, Nebraska.
The Bike Union Coffeehouse
On a small lot across from St. Mary's Church is Bike Union, one of the most underrated coffee shops in Omaha.
At heart, Bike Union is a mentoring project. The program is targeted at youth who are aging out of Nebraska's foster care system. It's job training – how to fix bikes, how to make good coffee.
I went in one morning and ordered a hot Turtle. The staff was friendly and inviting.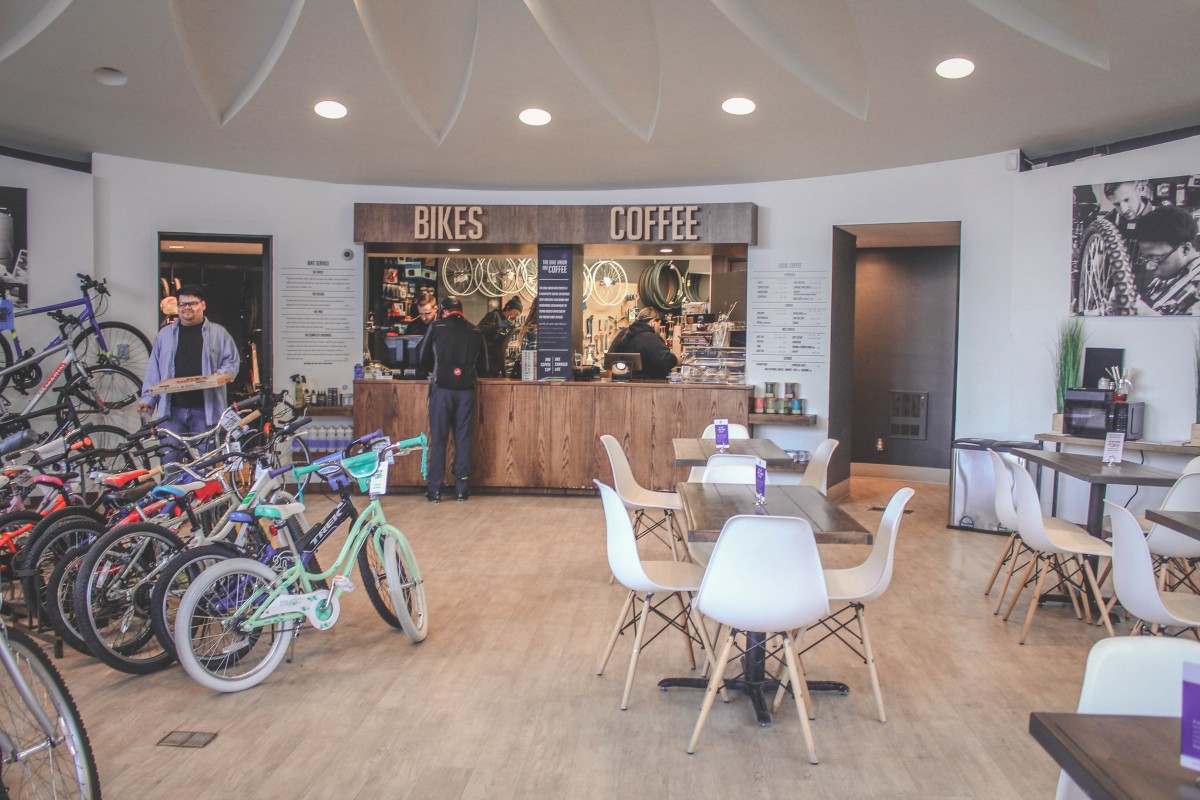 While waiting, I took a look at a table nearby. Scattered across the wooden surface was a series of cards and pamphlets listing other ways for locals to give back to the community.
Bike Union's Turtle was one of the best lattes I had in Omaha. It was smooth and sweet with a kick of hazelnut. It was so good, I wanted to hold onto it for as long as I could, taking small sips here and there. But that didn't quite happen. By mid-morning, my cup was empty. But the memory had stayed.
13th Street Coffee
Situated in the midst of the Old Market District, 13th Street Coffee is one of the oldest coffee shops in Omaha.
It's clean and unfussy and surprisingly large (based on the exterior, I was led to believe this was a small hole-in-the-wall stop). The popular Omaha coffee shop is split amongst two levels.
The drinks served are standard, but the convenient location is what brings 13th Street Coffee onto this list with a bang.
Sozo Coffeehouse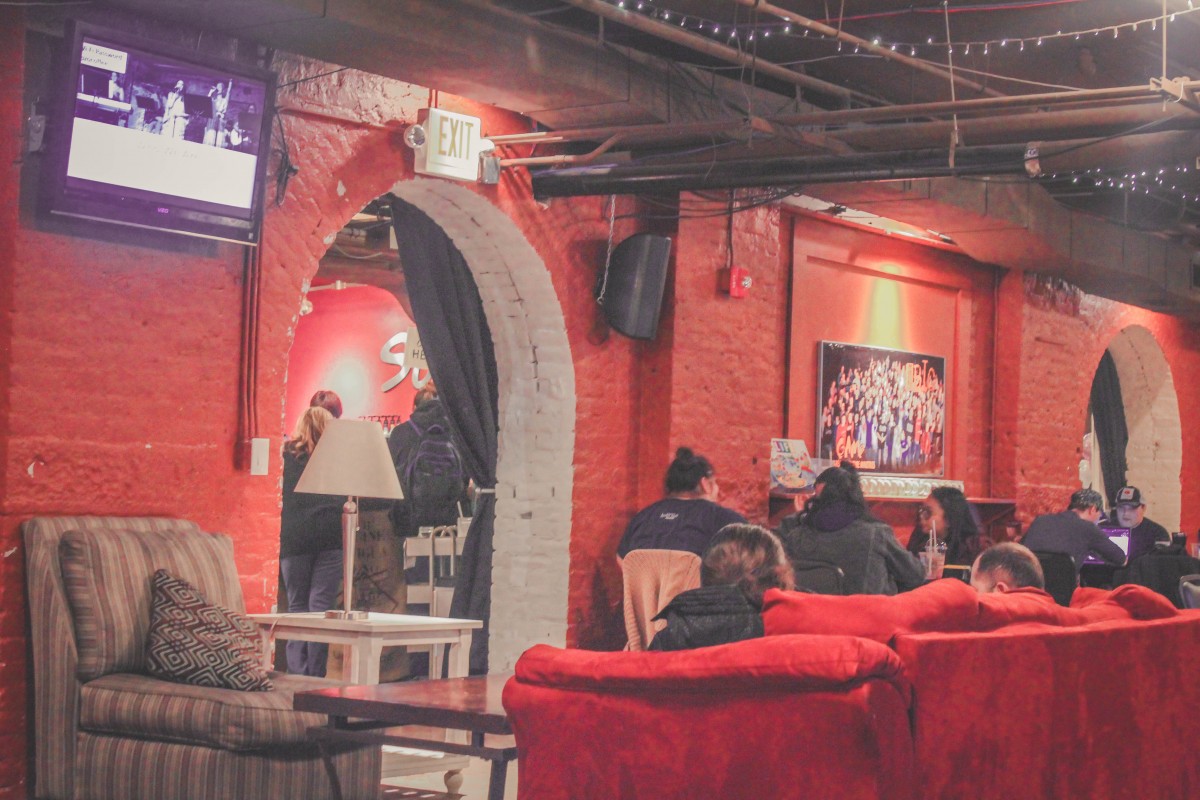 Of all the coffee shops in Omaha, Sozo Coffeehouse was hands down my favorite. I visited this cafe twice whilst visiting Omaha.
Sozo feels more like a co-working space than a standard coffee shop. It has lots of tables, cozy corners for reading and researching, and study rooms that you can book for $2 an hour (currently in study room #4 while typing this).
The coffee shop is open until midnight. And it's located underground.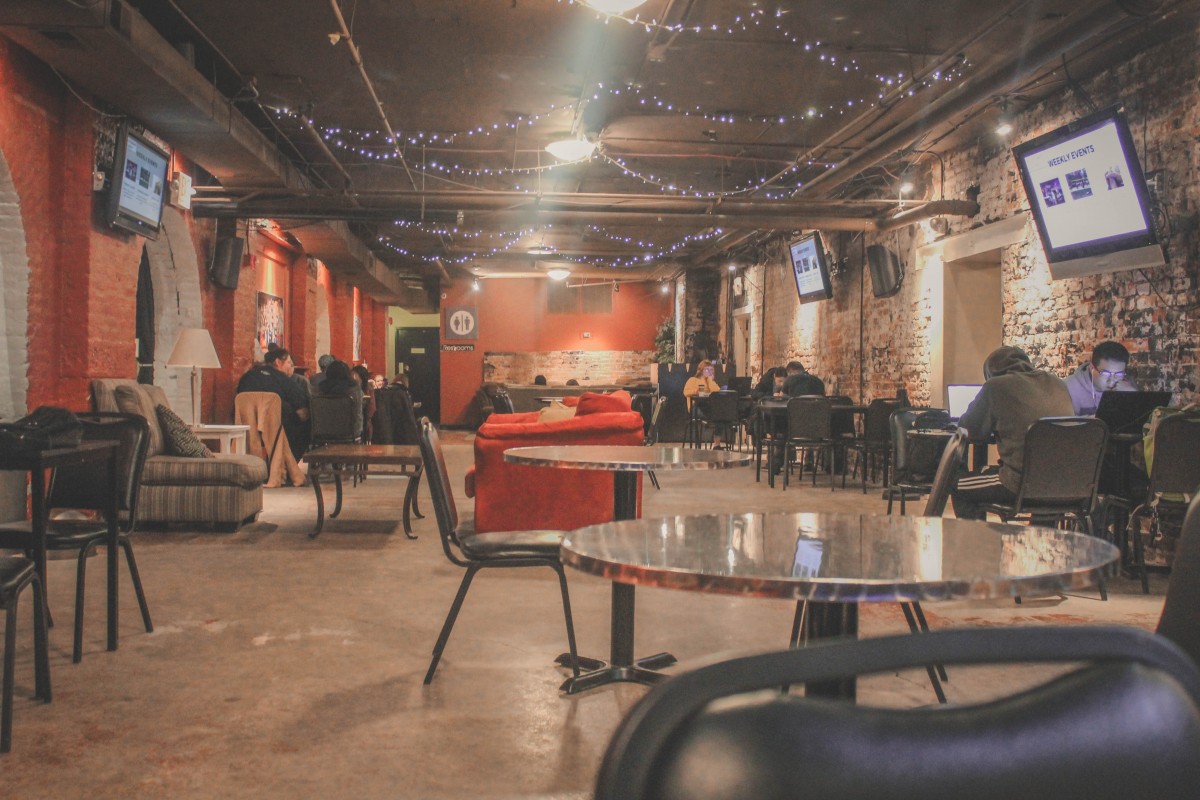 To enter Sozo, you have to follow a slick of steps down, past a large color-battered mural, into a room that widens out more and more each move you make. If you're planning a date night, there are pool tables and games and foosball stands in-house.
But even with the light chatter that fills the gaps of Sozo, it's easy to get a grip on work here.
The Omaha coffee shop was founded by Great Adventures Ministry. On Tuesdays, there are Bible studies. Other days, there's worship.
Sozo's known for its funky flavors. There's even a Hello Kitty latte. But my favorite was the Sonshine, a banana bread inspired drink (I liked it so much, I ended up ordering a second round).
Urban Abbey
Urban Abbey is another Christian-affiliated open-to-all coffee shop in Omaha. It's located in the Old Market District, right next to a giant parking lot.
Urban Abbey is part fair trade coffee shop, part bookstore, and part church.
Archetype Coffee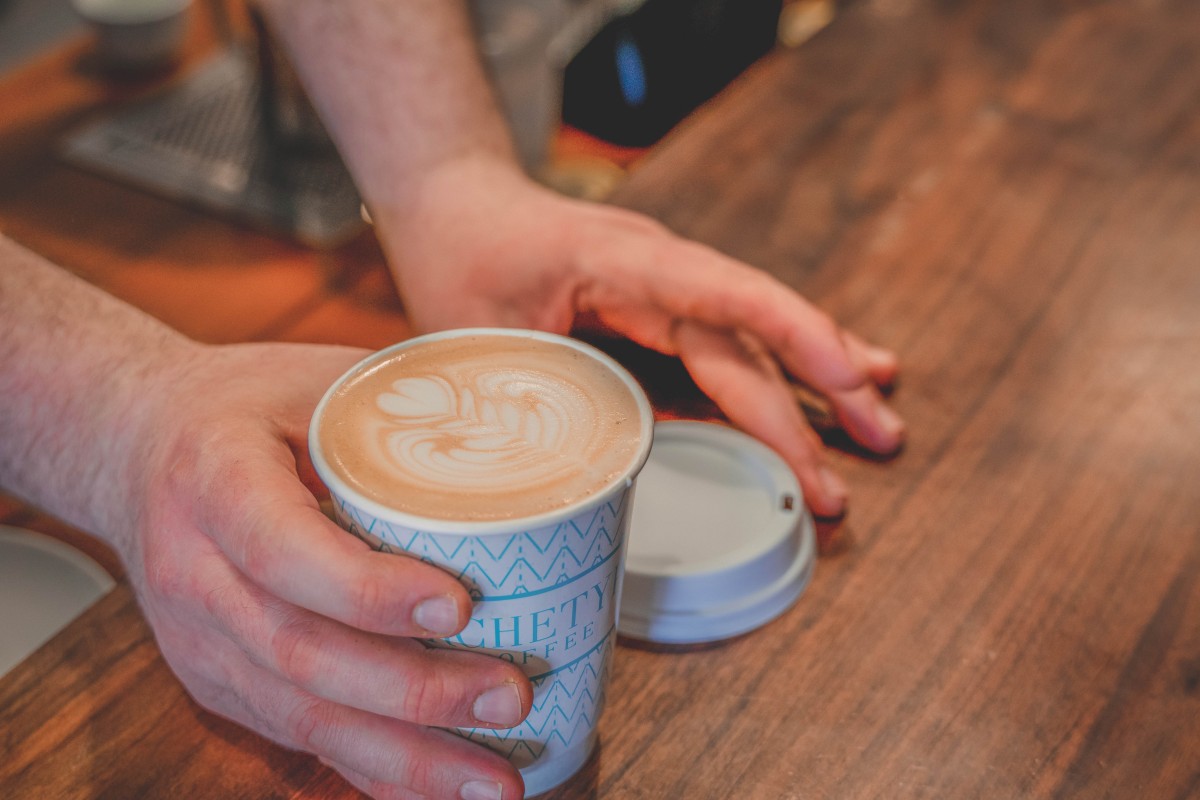 One of the most popular coffee shops in Omaha, Archetype Coffee has evolved from a former dive bar into a household name.
Located in Blackstone (my favorite district), a revitalized quarter of local businesses, Archetype, an industrial-chic cafe, knows how to make good drinks.
It lives by its mission, which conveniently is set in its name – archetype, the original pattern or model.
So if you're a coffee purist looking for an old-school cup-of-joe, Archetype is the place.
Howlin' Hounds Coffee
Howlin' Hounds Coffee is one of the few experience-focused coffee shops in Omaha (but the coffee is also good – really good).
It's one of those spots in town that's an instant pick-me-up. And I'm not just talking about the coffee.
The owner, Greg, is affable. His easy-going personality, behind the coffee bar, is what adds a little shot of kindness to the drinks.
Greg named the coffee shop after his two pups. And for a while (before city ordinances fell into place), Howlin' Hounds was one of the most dog-friendly coffee shops in Omaha.
Today, it maintains its charm and friendly, inviting nature.
Myrtle & Cypress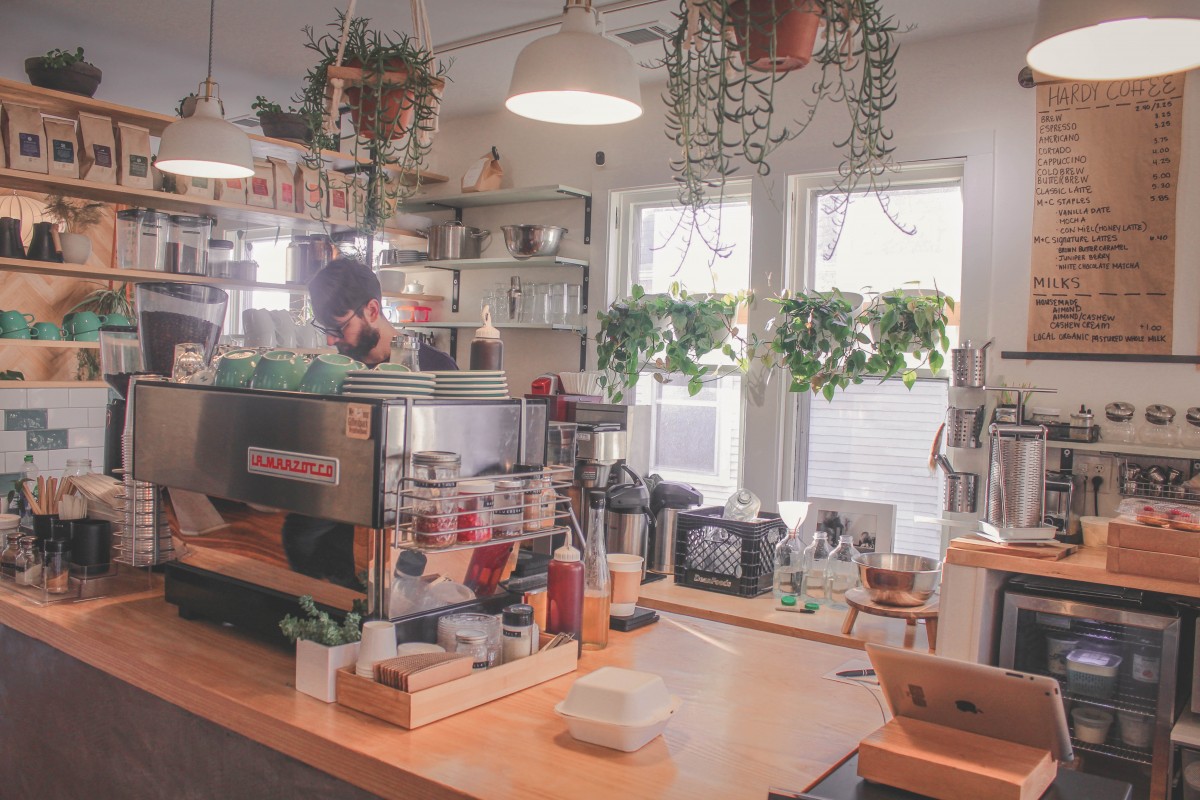 Myrtle & Cypress is one of the most aesthetic coffee shops in Omaha.
It's a photogenic paradise of potted plants hanging from the ceilings, plants against the walls, plants dripping from the windowsills.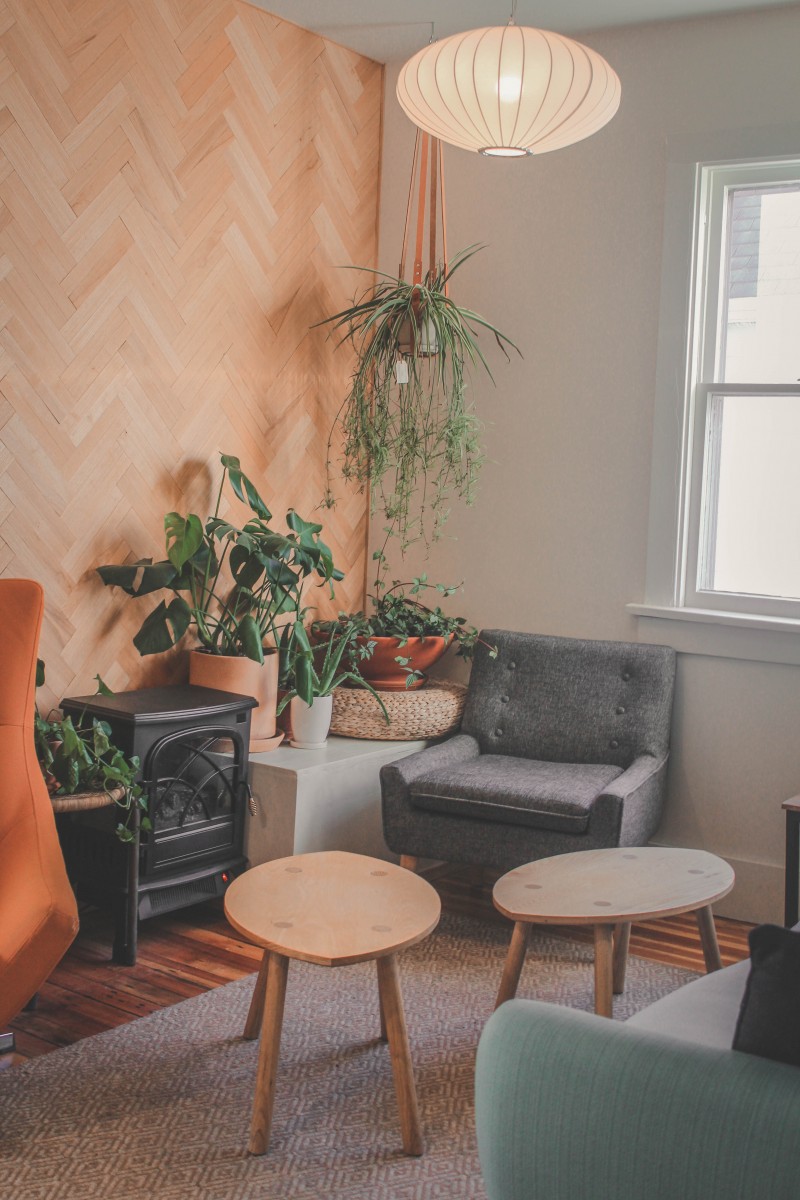 The inside looks a bit like a sleek, modern jungle. All the colors, from the couches to the book covers to the coffee mugs, complement each other. They hit just the right note.
It's a soft palette that, in some ways, subdues the strong coffee. The space inside Myrtle & Cypress is a little too intimate for work, but it's the perfect place to scoop up a bag of books and read on a rainy day.
Village Grinder
Village Grinder is one of those fan-favorite coffee shops in Omaha that has a hardcore loyal following.
It's cute-as-a-button – a mom and pop locale serving up good coffee and good service. The interior resembles a gift shop but despite the shelves of wares, it's a cafe at heart.
Mug Life Cafe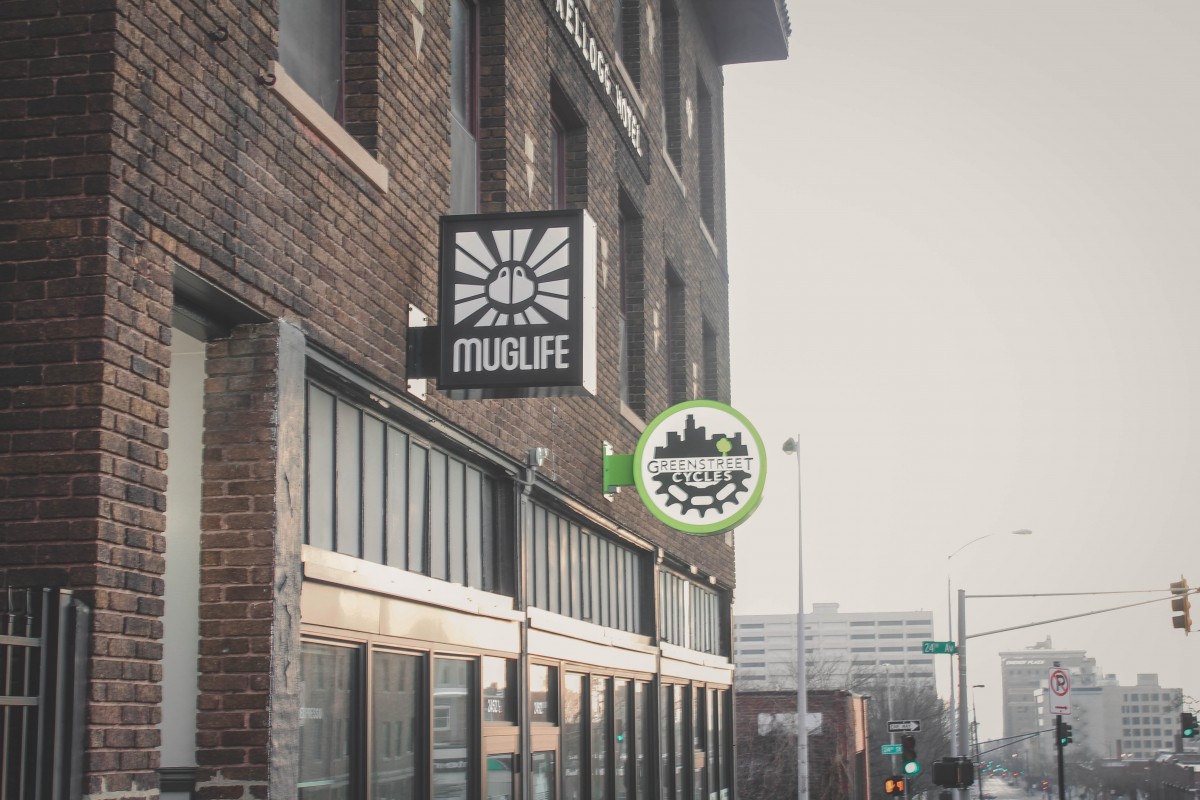 Mug Life Cafe is an earthy-toned Omaha coffee shop on Harney Street. The coffee is sourced from Bodhi Leaf Coffee Traders, a boutique company based in Southern California.
Although coffee is the main show at Mug Life, the cafe deviates into the territory of tea as well – Masala Chai, Wild Thai Green, and Turmeric Ginger.
Amateur Coffee
Amateur is one of the highest-rated coffee shops in Omaha for good reason. If you like sweet, milky (but not real milk) coffee, you'll love Amateur.
It's an exclusively vegan cafe on the rise (they serve the best oat milk lattes in town. no questions asked). Even if you're not vegan, go here (you won't regret it).
P.S. If you're trying to DIY your own oat lattes, Amateur uses a Swedish brand called Oatly, which is one of the best non-dairy milk substitutes I've ever tried!
Hardy's Coffee Co.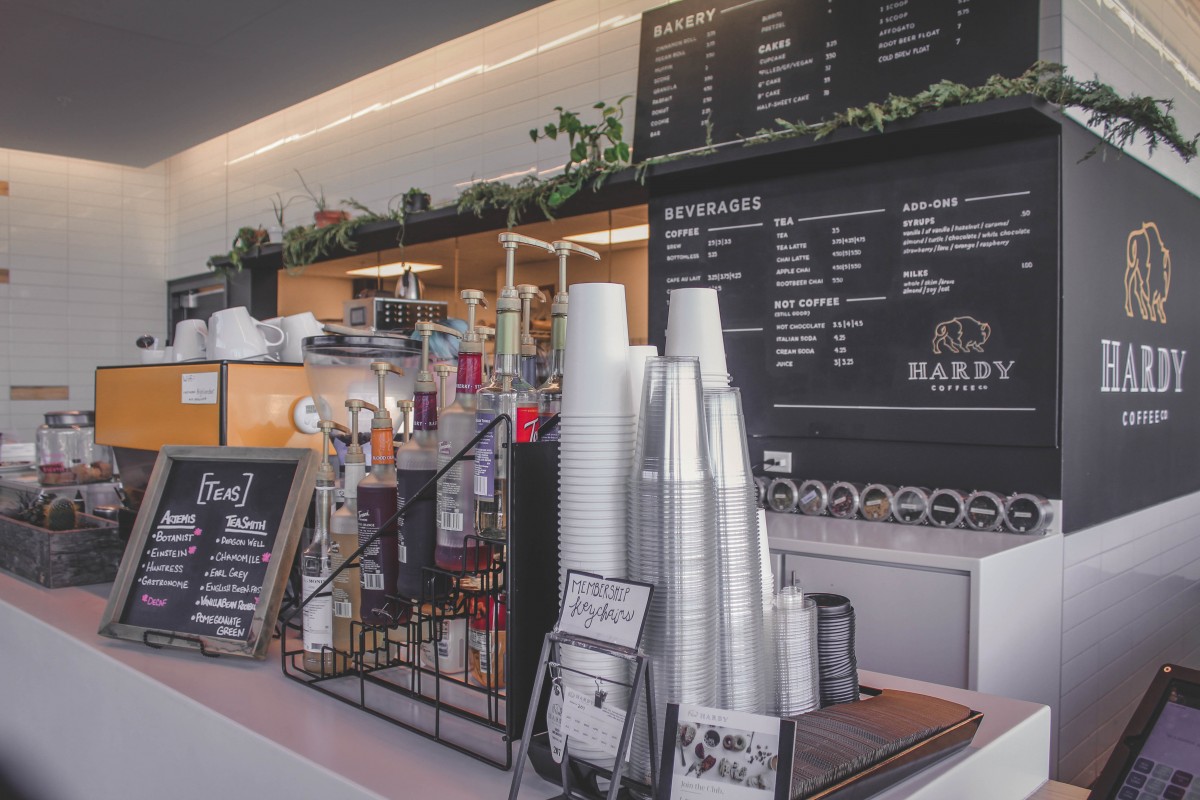 Hardy's Coffee Co., a rapidly-growing third-wave stop with a punchy black-and-white scheme, is a specialty coffee shop in Omaha.
The original Omaha cafe has since expanded to two other locations. The open high-light interior and office style tables craft a professional meeting space (with a hint of small-town charm).
Like most coffee shops in Omaha, it's a place to relax, catch up on work, grab a cup of joe, rinse, repeat.
Did you find this list of coffee shops in Omaha useful? What's your favorite coffee shop in Omaha? This list is by no means comprehensive! I'm always looking for new recs.