these are the best coffee shops in Palm Springs
The best coffee shops in Palm Springs can be summed up in one word: energetic. I fell in love with the upbeat charm of Palm Springs' coffee scene. It's hip and vibrant and trendy (I'm looking at you, Cafe La Jefa).
Here are our top picks for the best coffee shops in Palm Springs (featuring tried-and-tested favorites).
Koffi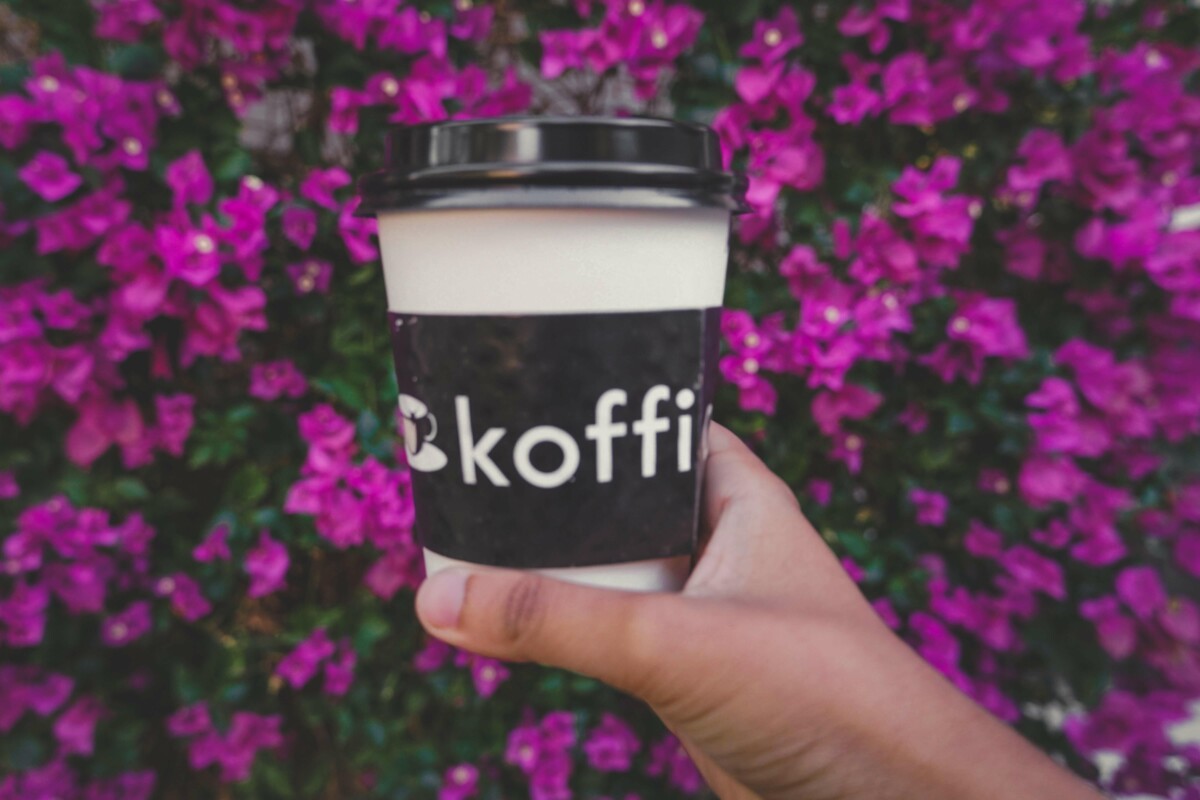 Koffi is a name you'll see over and over again as you drive through the California Desert. It's a well-known coffee chain in Greater Palm Springs with locations sliding all the way down and across to Rancho Mirage. Head to the original North Palm Springs site, situated right on Palm Canyon Drive. Hidden behind this cafe's minimalist interior is a resplendent oasis: a large and lush flower-framed patio with covered seating.
I recommend the Organic Hot Coffee (mild). It's the best value option and addictive. Koffi's Organic Hot Coffee is a simple, solid morning fuel-up (if I lived in Palm Springs, this would be my go-to pre-work drink).
4 Paws Coffee Co.
It's hard not to fall in love with 4 Paws, a dog-friendly coffee shop in Palm Springs. 4 Paws is a casual, friendly community space that gives back to local animal shelters.
If you're looking to start your day with a smile, go here. Get the Tiramisu Latte. Explore the bookshelf while you wait for your drink (did you expect me to recommend anything else?). And if you're a pet owner, know that they give pup cups (cream and a treat – yes, please).
Ernest Coffee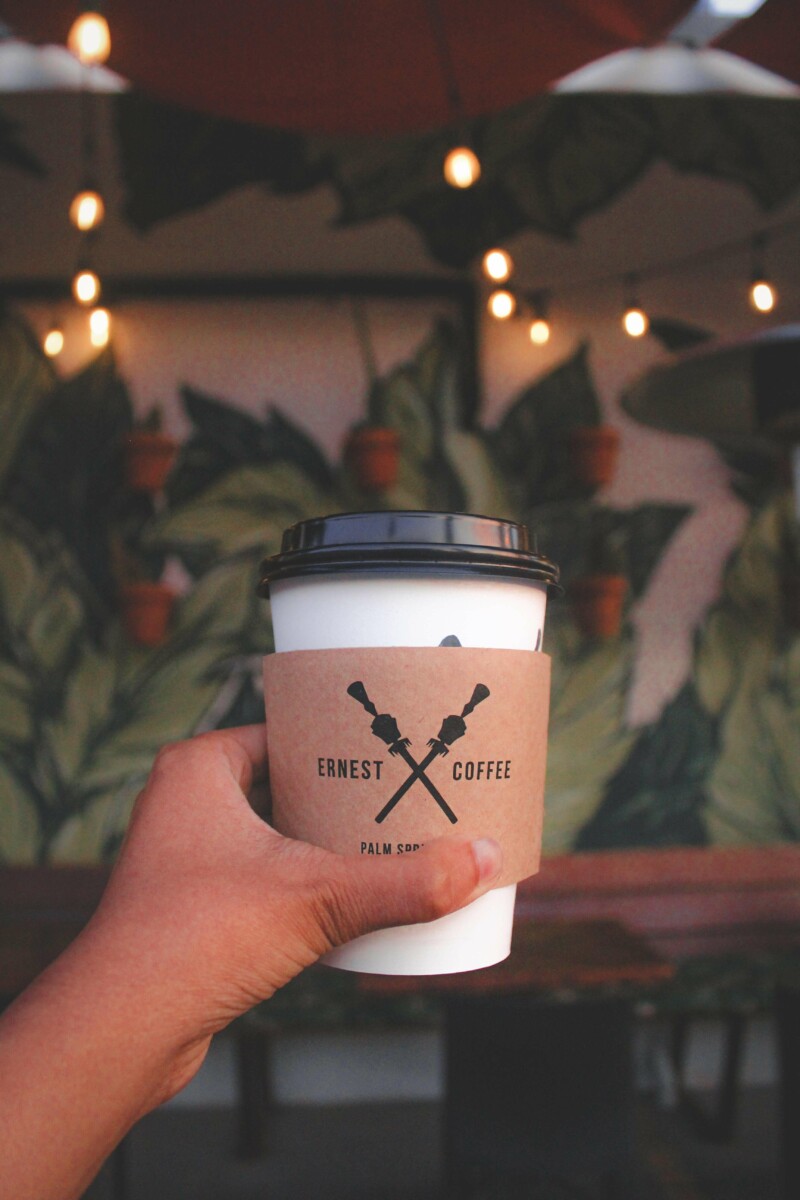 Ernest makes good coffee. The drinks are creative and distinct (albeit overpriced and sometimes weak). They're also Stumptown, which I'm all for.
Inside, sturdy seats press against bookshelf wallpaper. Soft lights hang from the ceiling like drooping spiderwebs. In many ways, Ernest is a writer's dream workspace. It's a grungy, hipster cafe open long hours.
Here's what to order:
Lavender Almondmilk Latte (Iced)
Pistachio Rose Oatmilk Latte (Hot not Iced)
Horchata Chai Latte
Travel Tip: Love Stumptown? King's Highway And Amigo Room, a diner in the Ace Hotel, also uses Stumpton Coffee Roasters for their coffee menu!
Gré Coffee House & Art Gallery
Gré Coffee House And Art Gallery is the kind of place where you don't have to ask if there are open mic nights or live music jams. You just know that's on the table when you walk in. There's more on display too: records to buy, books to read, color prints to see.
It's hard to categorize this Palm Springs cafe. Gré is many things. The space (packed with colors, textures, and aromas) is a lot to absorb. In many ways, it's overwhelming. From the tiles to the walls, nothing is left bare.
Here's what I do know: coffee is a sideline at Gré. So go for the atmosphere and stay for the records.
P.S. If you're looking for new bands to listen to on the way there, check out this list compiled by Gré Coffee House!
Starbucks Reserve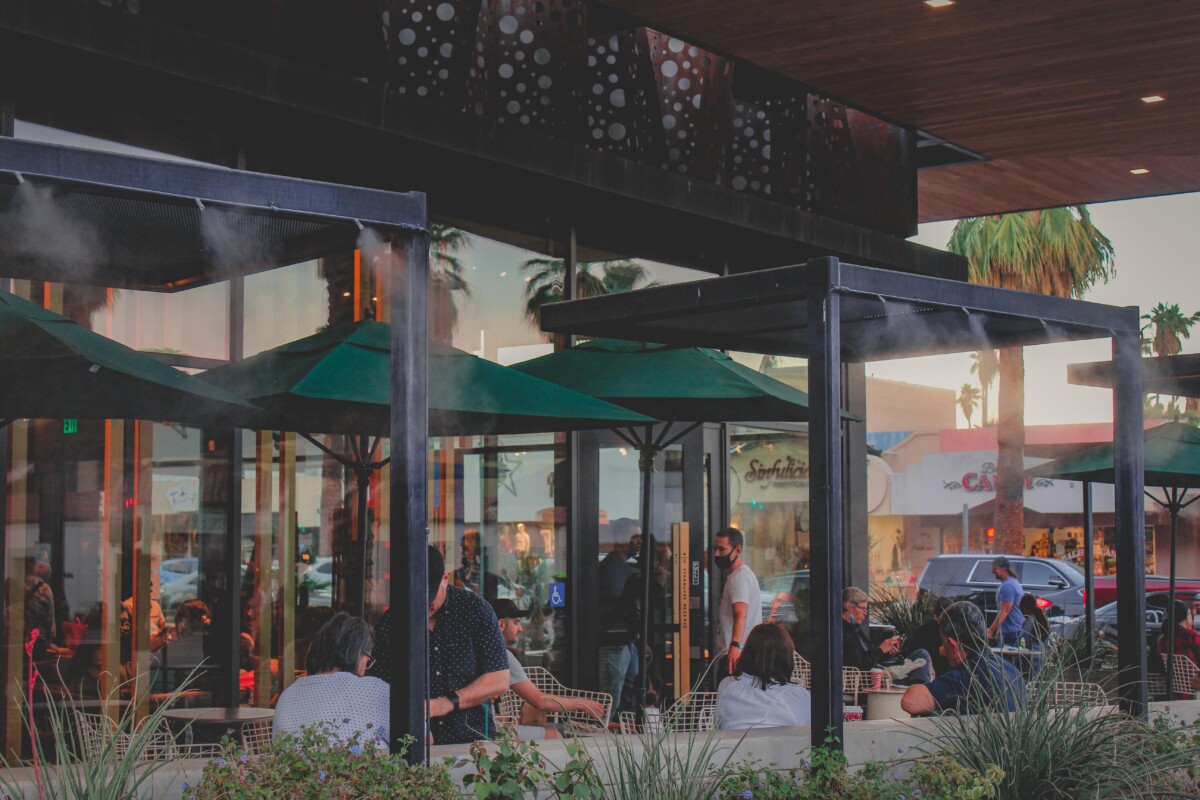 Summer-in-a-cup is executed best at the Starbucks Reserve in Palm Springs. Whether it's Tropic Like It's Hot or Beachy Skies Spritz, you'll find a series of caffeinated fruity refreshers.
There's more too that you won't find at a standard Starbucks drive-through: house affogatos, nitro cold brew floats, a coffee flight. The Starbucks Reserve in Palm Springs, like many reserve locations, is more intimate. Think date-night bar instead of mid-day study space (side note: if you are planning a coffee date, stop by on a Thursday night during VillageFest. You can thank me later).
Cafe La Jefa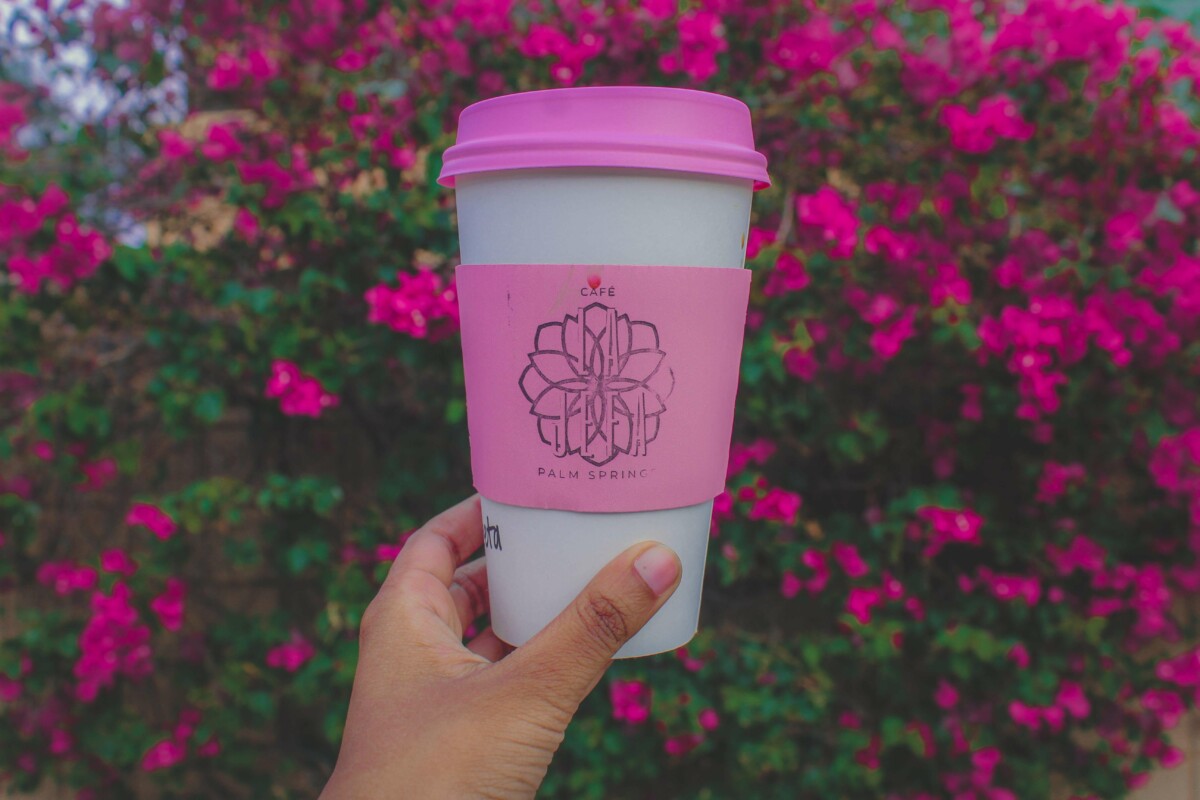 When you think of trendy coffee shops in Palm Springs, Cafe La Jefa is probably what springs to mind (if not, think again). Cafe La Jefa is aesthetic, of-the-moment, and Instagram-ready at every angle. The ambiance is hard to forget. It's a Holi-fest of colors. Papel picado drapes the patio. Teal umbrellas shade diversiform seats. You'll see pink signs, pink chairs, and wrapped-in-pink cups.
Cafe La Jefa is the kind of Palm Springs coffee shop that's well-suited for long, laboring-away-on-a-laptop days (which isn't surprising considering it is located inside The Flannery Exchange, a partial coworking space). Although drinks can come watery and vary in consistency, there's enough punch in Cafe La Jefa's coffee (get the Coconut Chaichata) to fuel a remote working sprint.
Cartel Roasting Company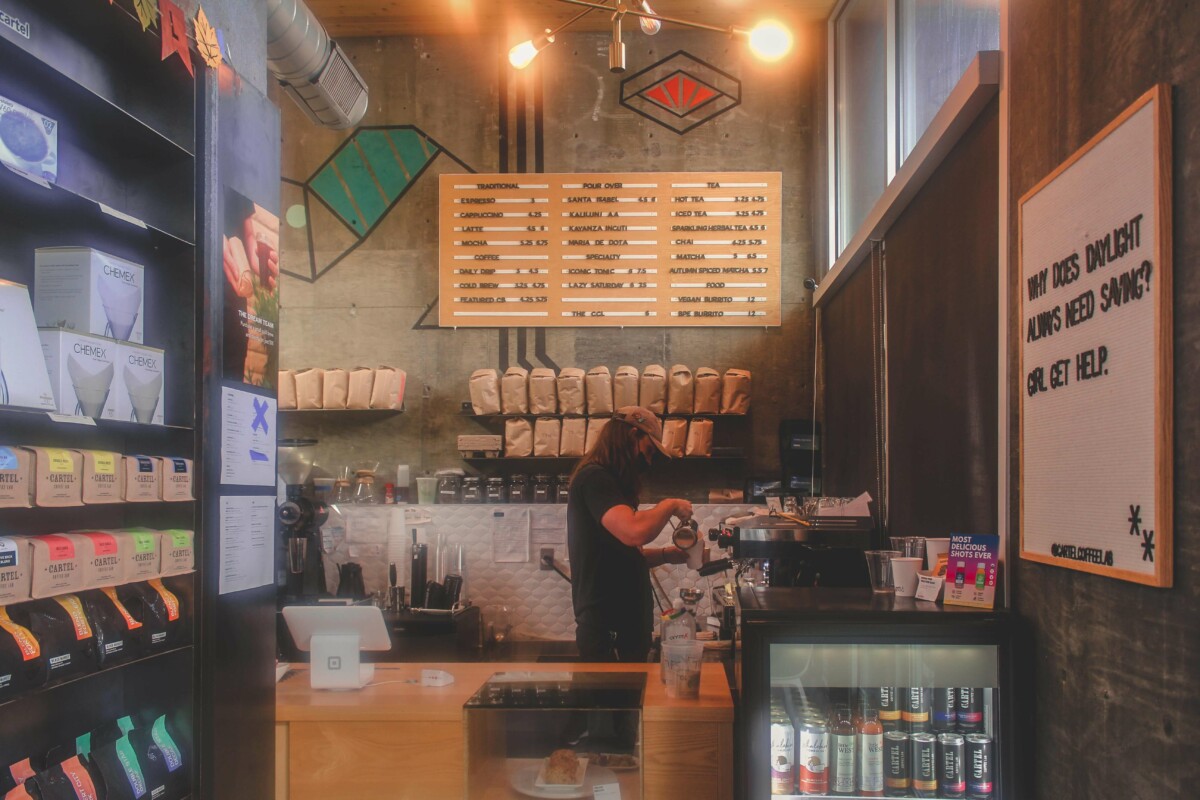 If caffeine is your drug of choice, know that Arizona-based Cartel Roasting Company deals some of the best drinks in The California Desert. When Cartel arrived (pun intended. the cafe is located on the ARRIVE resort campus) in Palm Springs, it was already known for its strong, full-bodied drinks.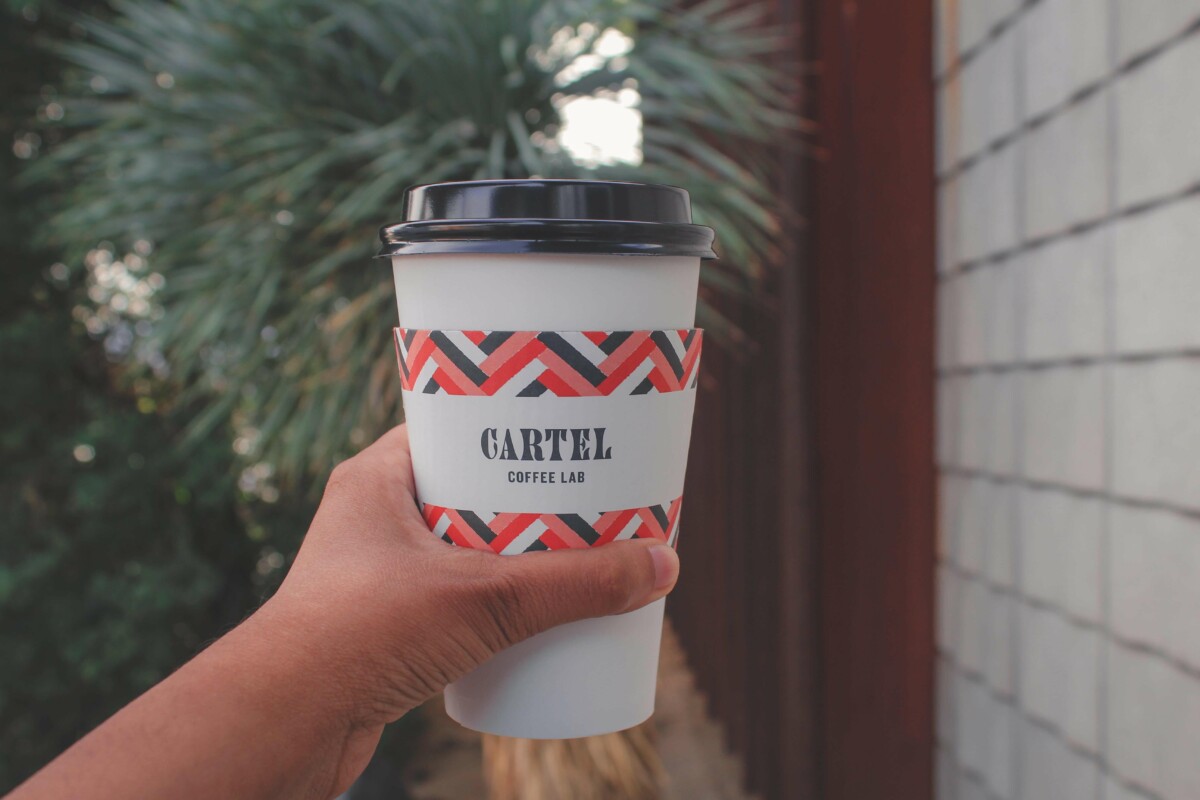 It's a place frequented by coffee purists. The menu is small yet includes everything from traditional coffee house staples (espresso, cappuccino, mocha) to please-sip-this-poolside favorites like The Lazy Saturday (cold brew, seltzer, orange tonic) and The CCL (short for Coconut Caramel Latte – need I say more?).

Did you find this post about coffee shops in Palm Springs helpful? What are your favorite coffee shops in Palm Springs? I'm constantly looking for new places to try. As always, I love hearing your thoughts and recommendations!