these are the best coffee shops in San Jose, California
Over the course of the past few weeks, I've been on the hunt for the best coffee shops in San Jose. During this time, I was introduced to new flavors and variations, encountered new favorites, and found that there is such a thing as a coffee flight!
San Jose coffee shops share two things: a passion for customer service and a vast selection of menu offerings. So whether you're checking out San Jose's coffee scene because you truly have a java craving, you need a quiet place to study or work, or you're looking for an artistically inspiring place to hang out with friends on a lazy Sunday afternoon, you'll find the perfect place to grab a cup of joe.
Here's Passport To Eden's guide to the best coffee shops in San Jose.
Spectra Coffee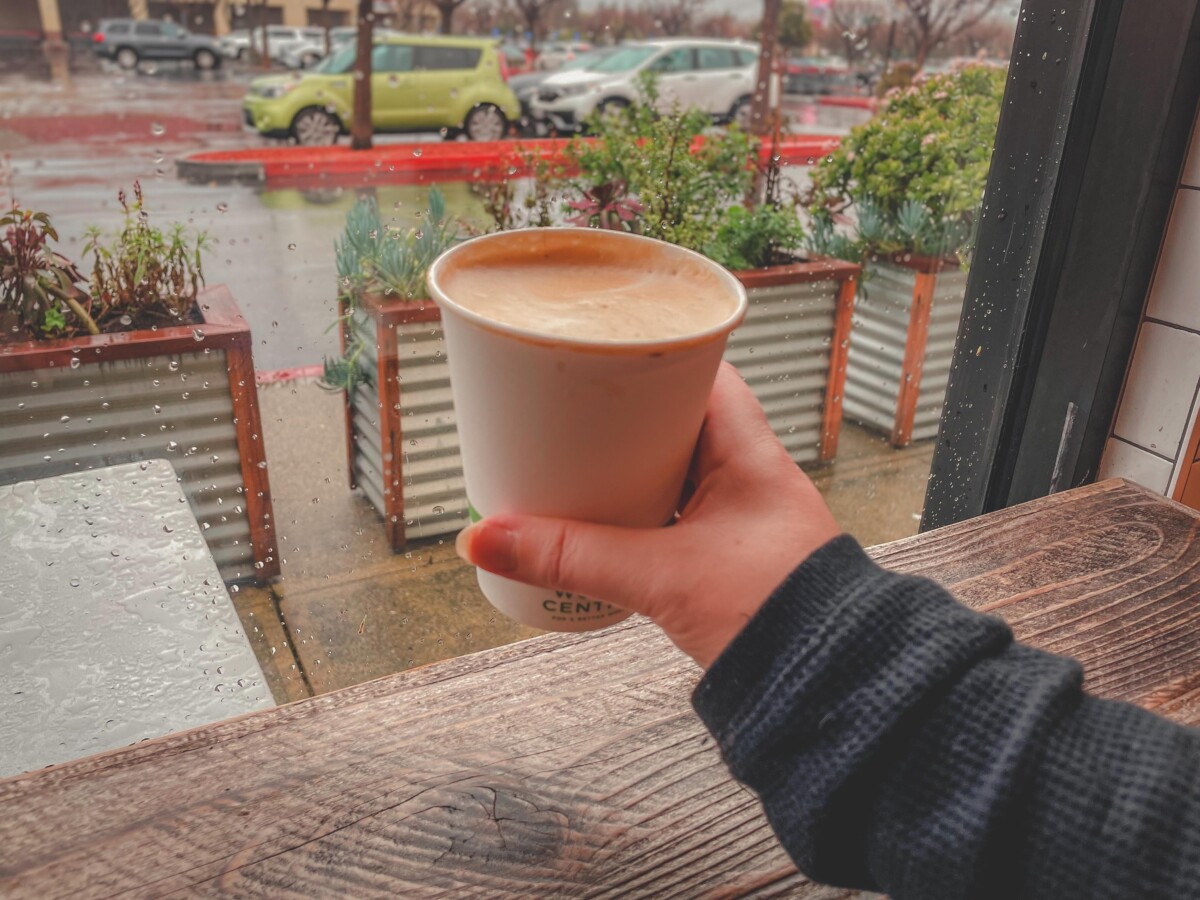 Spectra (formerly a Starbucks) has been on my radar ever since it opened. Situated in the middle of a very busy south San Jose shopping center, this San Jose coffeehouse was already standing room only when I arrived on a Friday morning just after 8 A.M. Plain outside, it's what's inside Spectra that'll impress.
Spectra uses Sightglass coffee beans. I ordered a hot vanilla bean latte, and my fiancé had a Creamy Mint (only available iced). I was pleasantly surprised to see remnants of vanilla beans in mine as I drank it. It was sweet without being too sugary. My fiancé's drink had mint leaves at the bottom and the mint flavor was very subdued (I appreciated the use of natural ingredients). Seasonal drinks include the Banana Crème Latte and Orange Blossom Latte (can't wait for the latter on my next visit).
Travel Tip: If you're in a hurry, you can place your order online too.
MoonBean's Coffee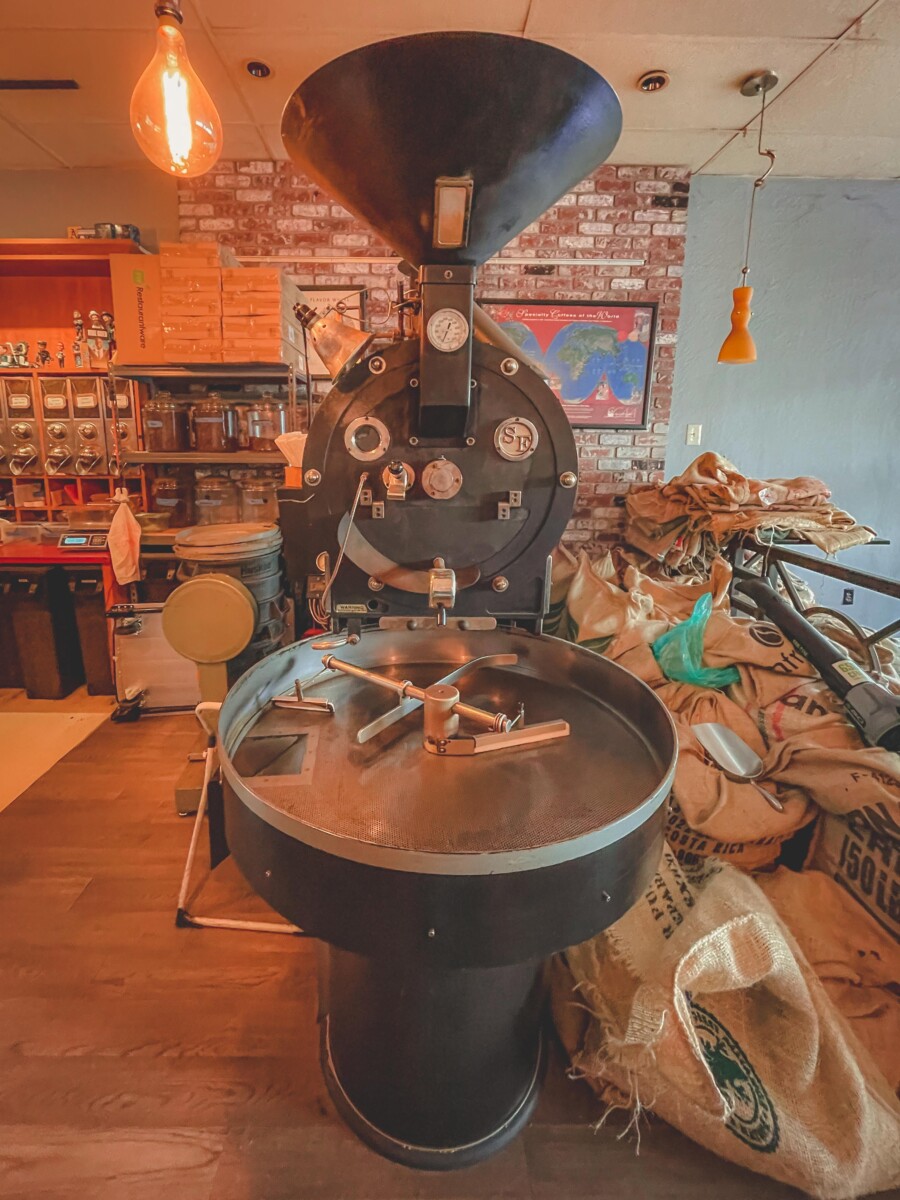 MoonBean's, where have you been my whole life? Upon walking into this San Jose coffee shop, there's no mistake you've entered a café as the aromatic scent of coffee greets you, along with large canvas sacks full of beans (the kind you might have jumped in to participate in elementary school relay races). MoonBean's menu signs reminded me of an old-fashioned ice cream shop, black with white writing.
And they had my favorite caffeinated beverage, a raspberry latte, on the menu. Named Mocha Amore, it is located on their specialty menu and described as Ghirardelli white chocolate with raspberry syrup. It was delicious and perfectly sweet sans whipped cream.
Chromatic Coffee
Chromatic Coffee's Lincoln Ave location is quite industrial. One of the most unique coffee shops in San Jose, Chromatic Coffee features an open concept design inside a warehouse. There's no inside seating and little outside seating.
For those who just want to pick up a bag of espresso beans, Chromatic offers many different kinds, from Indo-Pacific to Latin American. Their blends range from standard types such as house to dark, but also include more uncommon varieties like the El Placer Wine Barrel Aged Yeast Experiment, a Cabernet blend which features berry and pastry flavors.
P.S. Dark Coconut Mocha and Dulce De Leche Latte are some of their most popular drinks.
Nirvana Soul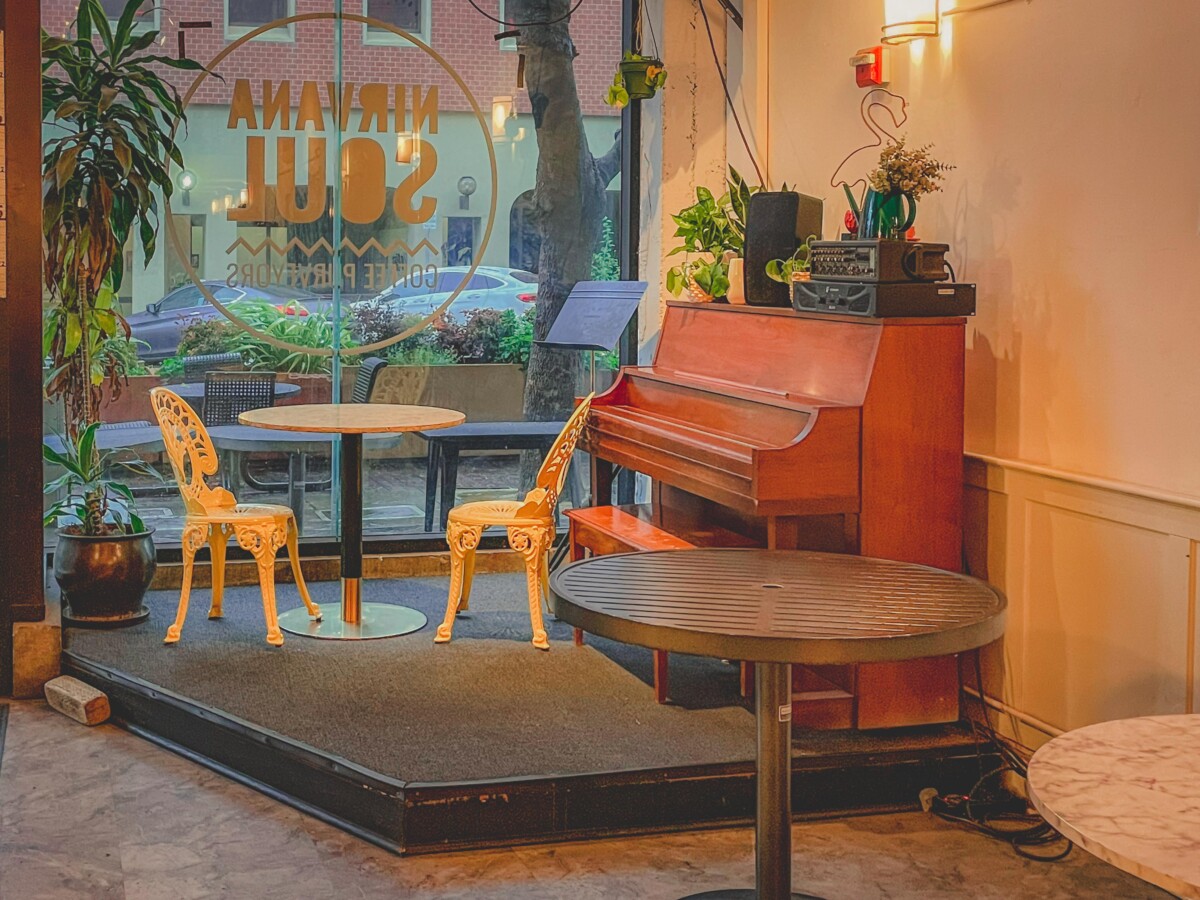 Nirvana Soul made me nostalgic for my college days. I used to hang out at some of the clubs and coffee shops back in the day in the exact area where Nirvana Soul is located, several blocks from San Jose State University. Although it's new for me, it seems to be the second home for many college students these days, and has a really cool, artsy vibe. Large vibrant pictures cover many of the walls. It's the kind of San Jose coffee shop you might go to with friends, and hang out for hours, not wanting to leave. If you want a less crowded spot, head upstairs.
Much like the atmosphere, Nirvana's coffee menu is also creative and unique, with fun names for drinks such as Dirty Diana (chai, espresso, milk and beet (I know, what!?)), The Golden Child (chai, espresso, milk and turmeric), and a Celebration Latte (espresso, milk and cake batter syrup).
P.S. If you can, try special-to-Nirvana-Soul Macadamia Milk with your drink.
Travel Tip: Parking can be tough unless you are lucky to snag one of very few metered parking spots, or pull into a nearby parking lot or garage, but I suspect many arrive by foot. By foot or car, this is one of the best coffee shops in San Jose and not one to miss!
A.M. Craft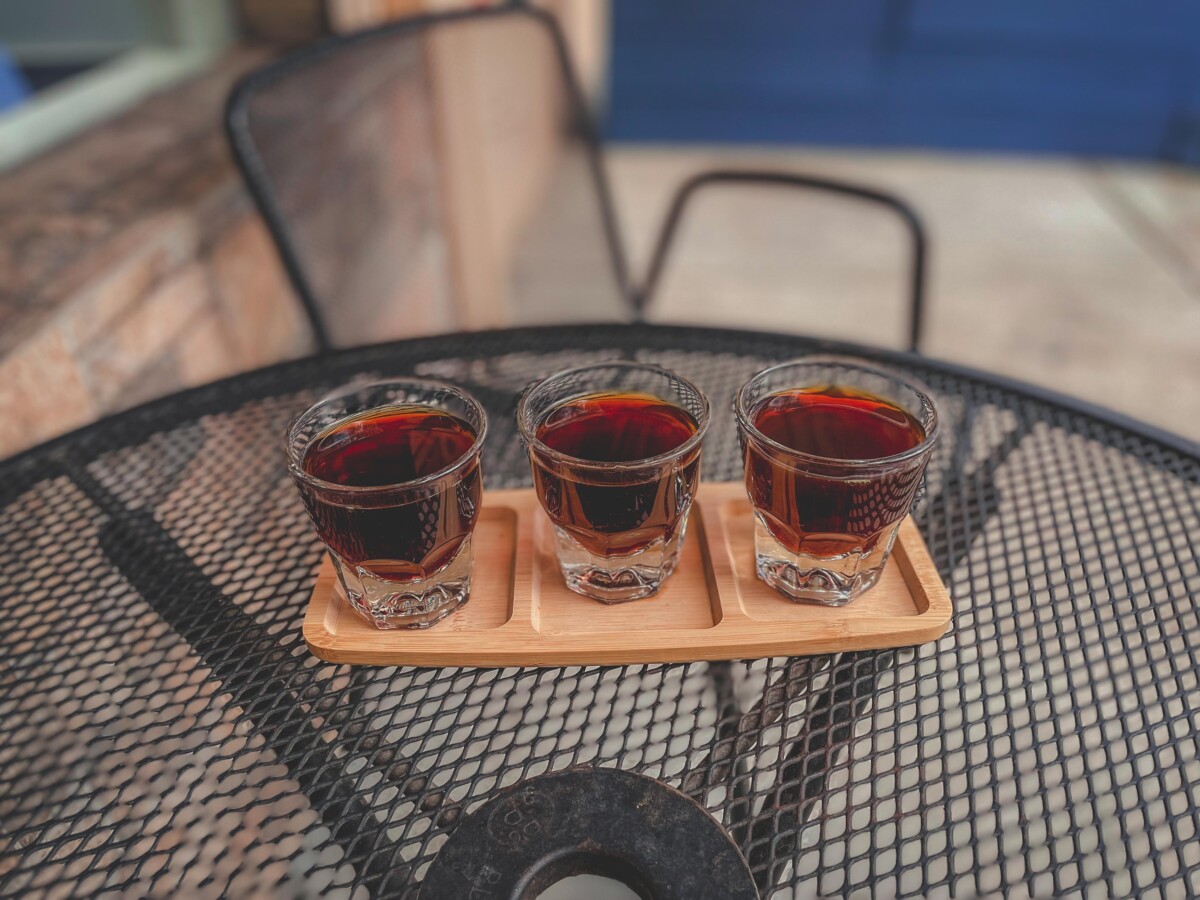 One of the unique aspects to A.M. Craft is their offering of coffee flights, the Red Eye (drip, espresso, and cortado) and the Drip (various drip coffee samples). On the day I visited, I tried the Black & White (El Salvador), Dune (Honduras), and The Barn (Brazil). The Black & White was the lightest; I tasted a faint fruity flavor, not bitter. Dune was surprising because it was very tea-like, and The Barn was the darkest of the three with a smoky tone. For something sweeter, try A.M.'s toasted marshmallow latte.
Coffee & Water Lab
One of the newest coffee shops in San Jose, Coffee & Water Lab has been in business just under a year. In that amount of time, they've managed to attract a large following, packed on a Saturday afternoon, every indoor and outdoor table taken. It was surreal to see a line of eight-to-ten small two-person white tables, laptops on each. For a second, I wondered if I had somehow stepped into a college library or a co-working space.
All of Coffee & Water Lab's coffee beans are single-origin. When I asked the barista for her recommendation, she suggested the Madagascar Latte, Coffee & Water Lab's most-ordered drink. The syrup is made in-house with Madagascar vanilla beans. I customized it with oat milk, and it was a smooth balance of flavors. If you live close by or just want to check out the coffee scene in San Jose, this is a great spot, but I'd advise arriving in earlier in the day or you may not find a place to sit.
T-Square Coffee & Tea
Go inside T-Square Coffee & Tea and you'll see a thumbs up icon signaling their most popular drinks. There's a bit to choose from, but after some debate, I decided on the Iced Velvet Oat Espresso (one of the designated thumbs up drinks), consisting of an extra espresso shot with 'mellow hazelnut and oats' – and let me tell you, the hazelnut was VERY mellow. I didn't know when I ordered that hazelnut was involved (I strongly dislike the flavor) and was shocked. I never would have guessed it was in the drink, which was refreshing.
The owners were friendly, and I'd say the customer service experience here was one of the best ones I had out of all of the San Jose coffee shops I visited!
Voyageur Coffee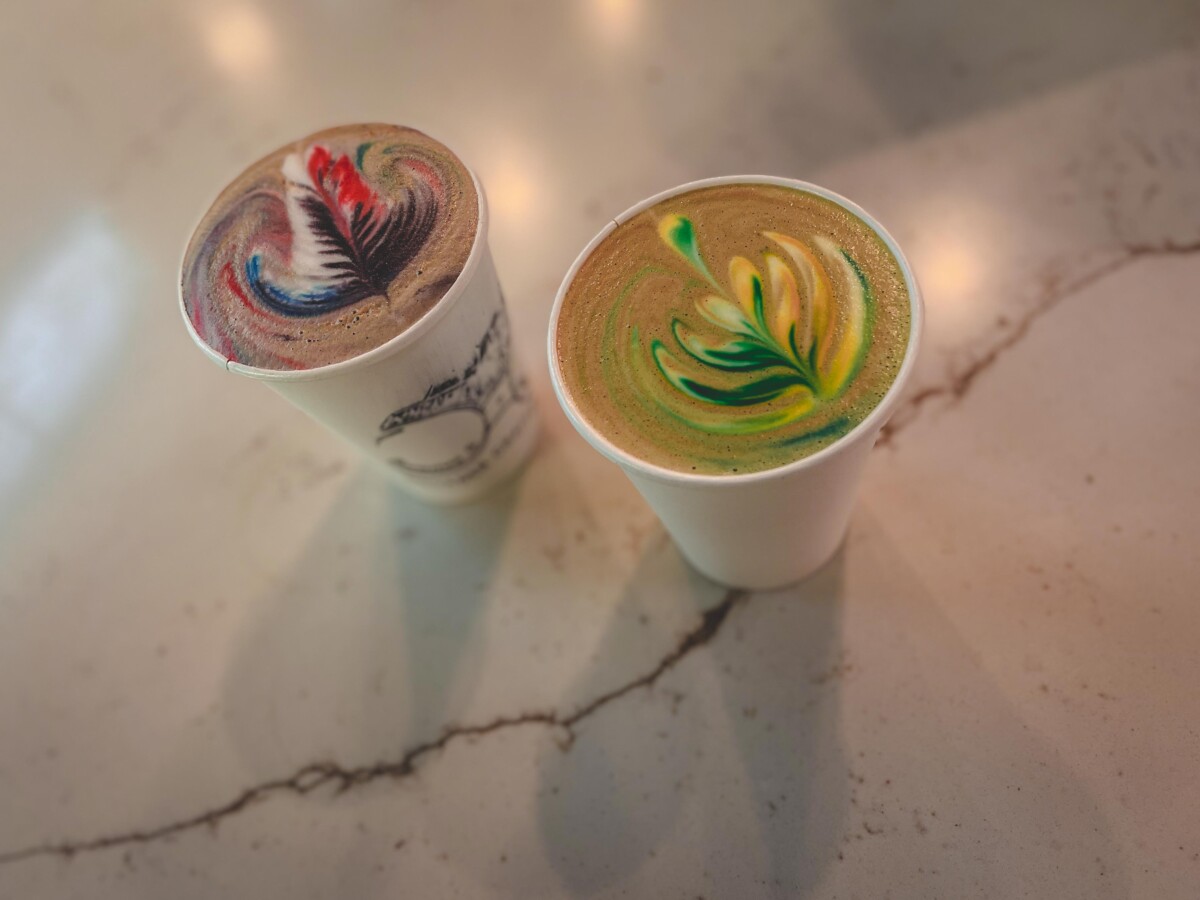 If you are thinking that Voyageur sounds familiar, I previously wrote about it for my San Pedro Square Market guide. Those who have the travel bug will love their concept of Destination Lattes, including their Santiago, Valencia, Bali, Lexington, and Tokyo (espresso, choice of milk, house-made vanilla, cherry blossom water, brown sugar). Heavily populated by students or workers stepping out for a cup of java, you may not actually be leaving the country, but you'll feel like you have for a little bit.
Editor's Note: Another popular coffee shop in San Jose to try is Academic, which is known for its oat milk cortado and oat milk cappuccino.
K Cafe Patisserie & Tea House
Self-described as an Asian-French fusion café, K Café Patisserie & Tea House is a bit different from most other coffee shops in San Jose. It's very picturesque – you may come for coffee but you'll want to stay for everything else. Black and white striped covers partially hang over the windows. Lots of bright lighting, soft-toned colors, and plenty of pastel-colored flowers will really make you think you are inside a patisserie in France, having un café au lait. Note: there can be quite a wait, especially on the weekend, and they do not take reservations.
K Café Patisserie & Tea House receive rave reviews for their Iced Flan Coffee (coffee jelly and house flan) as well as their Vietnamese Coffee, but if neither of those tickle your fancy, don't worry. They have over twenty signature drinks and flavored lattes you can try.
Dr.ink Coffee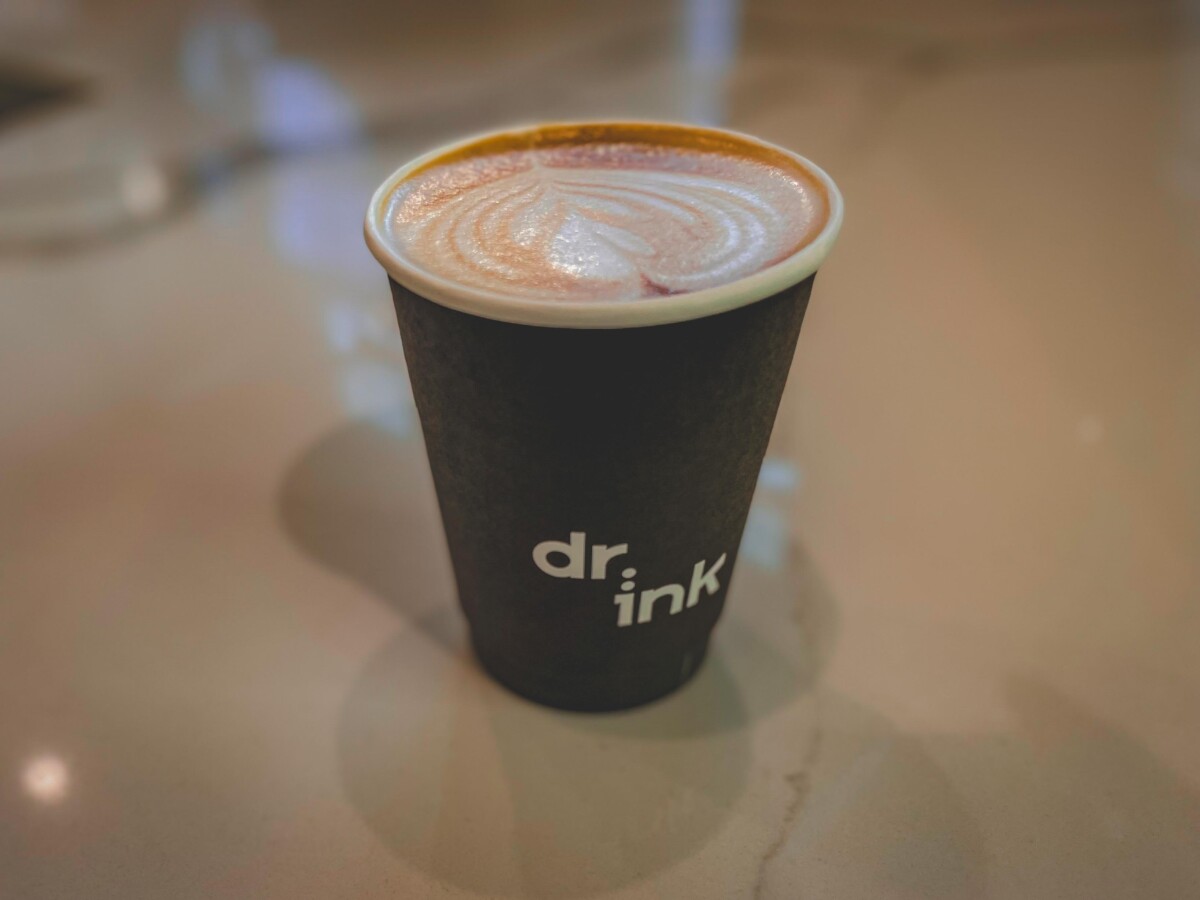 Dr.ink's crafted items include a Butterscotch Latte and a Black Sesame Latte (black sesame cream top, double shot expresso, milk), but my eyes were mesmerized on their seasonal menu (the seasonal menu changes often) which included a Chocolate Strawberry Iced Latte consisting of a double shot expresso, strawberry puree and chocolate. Say no more. This drink is like a rich, strawberry milkshake, and it was one of the tastiest coffees I've ever had.
Dr.ink has a busy grab-and-go vibe. Be aware of parking fees at the meters with street parking. On the weekend, you may have to circle or park a couple blocks away, but weekdays should be easier to find a spot!

Did you find this post about coffee shops in San Jose helpful? What are your favorite coffee shops in San Jose? We're constantly looking for new places to try and love hearing your thoughts and recommendations!