Although Ohori's Coffee Roasters is arguably one of the best coffee shops in Santa Fe, here are nine other Santa Fe coffee shops worth checking out.
I've always thought of Santa Fe as a tea stop. New Mexico. Tea. The two words just fit together like cinnamon and cocoa. But over the years of passing in-and-out of Santa Fe, I've learned that Santa Fe is home to some of the best coffee in New Mexico.
The best coffee shops in Santa Fe are unfussy third-wave stops. If you're looking for artisan coffee (or even a regular cup of joe to keep you up on the road), you're in the right place.
35 Degree North Coffee
With ample seating, both indoors and outdoors (take your pick of comfy booths, long co-working tables, or picnic-style chairs), 35 Degree North Coffee has the most quintessential cafe feel out of all the coffee shops in Santa Fe.
It's a morning stop. The cafe sells out of pastries (especially their beignets – yum) quickly so come early (I usually don't stop by past breakfast because they are always out of everything – coffee included).
But I think, in a way, that's a testament to how good 35 Degree North Coffee is.
Sky Coffee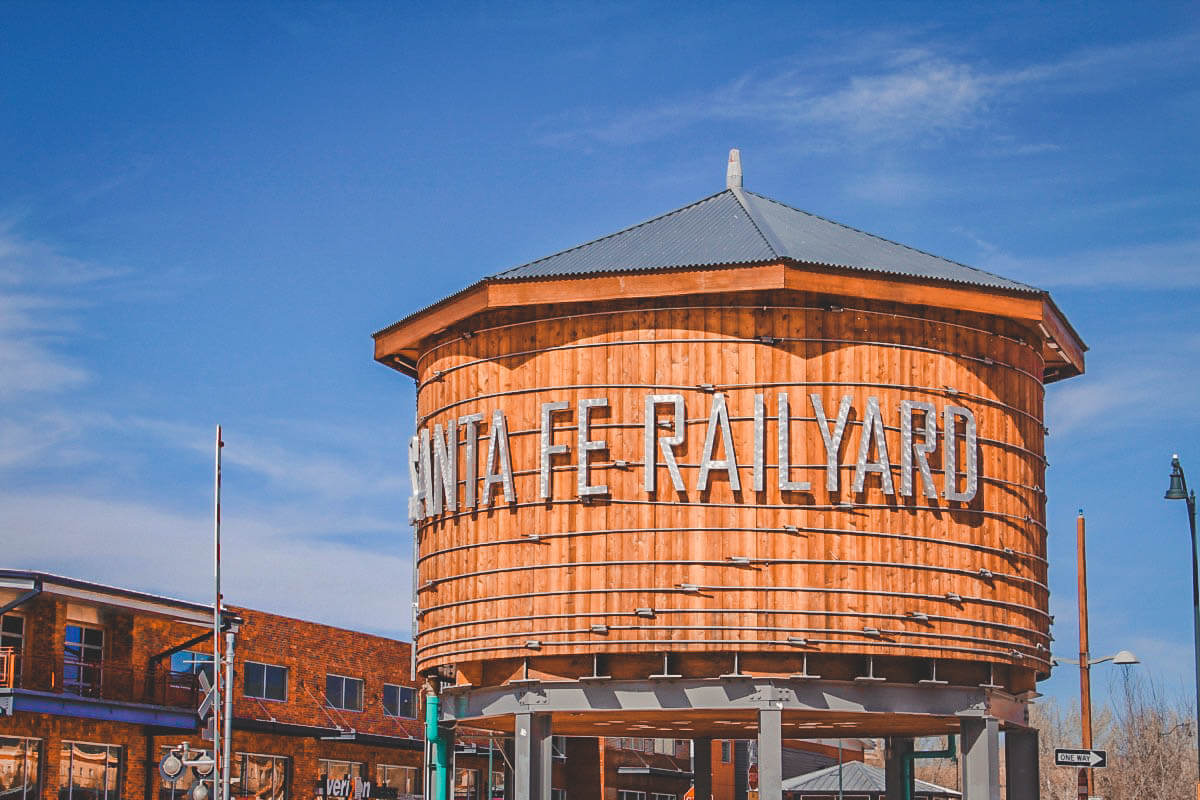 Sky Coffee is all about the views. So grab a drink and sit outside.
Located in the Railyard District, Sky Coffee touches up a dusty railroad landscape modern with an industrial-chic interior. Soft lights. Hard seats (the kind good for buckling down and getting some work done). A black and white color scheme.
The coffee is decent, but the patio (overlooking the tracks) is what makes this one of the best coffee shops in Santa Fe.
Cafe Atalaya
Cafe Atalaya offers full-service breakfast. Come for the crepes (lemon sugar crepe for the win). You won't regret it.
It's the coffee and crepe combo that makes Cafe Atalaya one of my favorite coffee houses in Santa Fe (the meal pairing is magic).
Collected Works Bookstore & Coffeehouse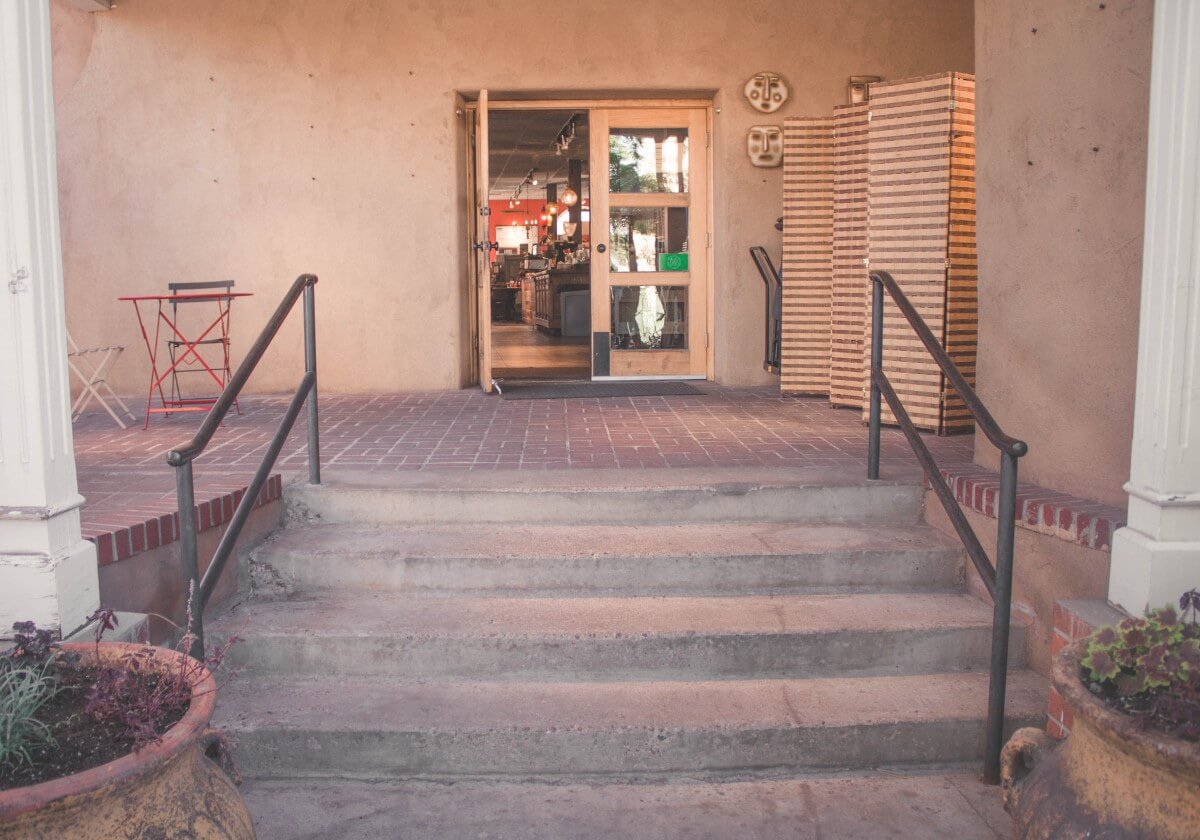 I discovered Collected Works whilst driving from Santa Fe to Taos last year. At heart, Collected Works is a commercial bookstore (it sells popular titles, Southwestern travel guides, indie comics, new releases).
But it's also a coffee house serving up Iconik Roasters. Iconik has its own location (1600 Lena St Ste A2, Santa Fe, NM 87505) in a hip, loft-style space.
But if you're a booklover, a trip to Collected Works is non-negotiable (bonus: they sell chipotle with red chile and bacon bagels. Hands-down the best items on the menu).
Holy Spirit Espresso
One of the funkiest coffee shops in Santa Fe, Holy Spirit Espresso has made a name for itself as a tiny (think Harry Potter's closet under the stairs tiny) counter serve.
It's one of those places that you have to stop by for the experience alone (the coffee is okay. Nothing special).
But what it lacks in taste, it makes up for in character.
The barista is a twenty-on-ten in terms of energy (plan on leaving with a smile on your face). And the decor is an eclectic mix of vintage and wacky.
Downtown Subscription
Just off Canyon Road (next to Garcia Street Books) is Downtown Subscription, one of the best-located coffee shops in Santa Fe.
A coffeehouse meets newsstand, Downtown Subscription is the place (amongst tourists and locals alike) to pick up the latest periodical and sip on a latte.
Tucked behind the building is an easy-to-miss garden. Take your drink outside. Stir. Sip. Read.
Counter Culture
With health-conscious eats set in a casual atmosphere, this cash-only stop is so much more than an artsy hipster hangout.
The coffee is Aroma Coffee, a Portland fair trade roaster that came down South several decades ago. It's been a Santa Fe mainstay every since.
Counter Culture is definitely off the beaten path (a little far from Santa Fe's popular tourist attractions). For the most part, it's a locals-only secret.
But I have to spill the beans (pun intended). This is one of Santa Fe's top hidden gems.
The Teahouse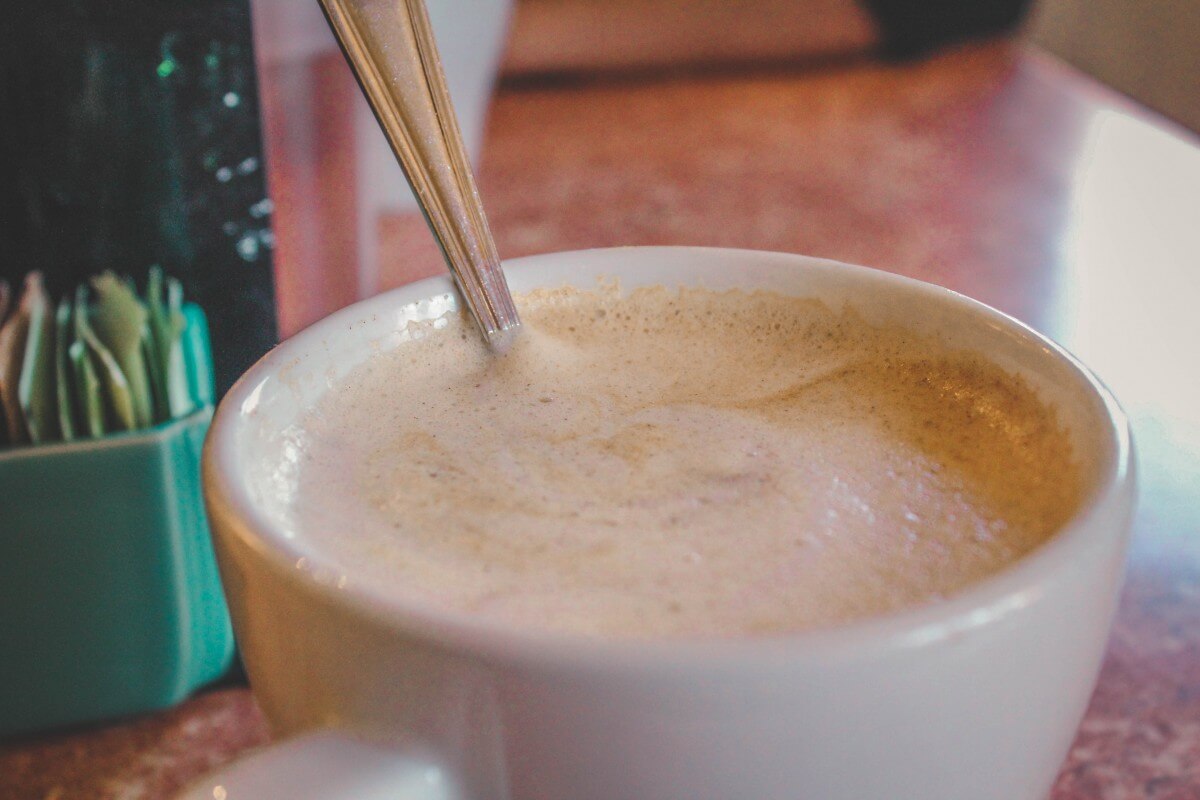 Although The Teahouse is not technically a coffee shop, it still warrants a mention.
The Teahouse has one of the most extensive menus in Santa Fe. Think page upon page of tea selections.
The tea blends are derived from all over the world (especially Asia). And most of the spices used are imported from their original countries.
P.S. The mugs are huge so plan to stay awhile.
Dulce Bakery & Coffee
Don't hold back at Dulce Bakery and Coffee.
From the twice-baked orange-tinged almond croissants to the offered on Fridays-only Monkey Bread, you'll want to try everything at this small-batch, everything-made-from-scratch cafe.
Dulce is a shout-it-from-the-rooftops treasure in Santa Fe.
When choosing from the drinks menu, go for The Birdie, a sweet latte with house-made caramel, or the hot chocolate (so good).
Ohori's Coffee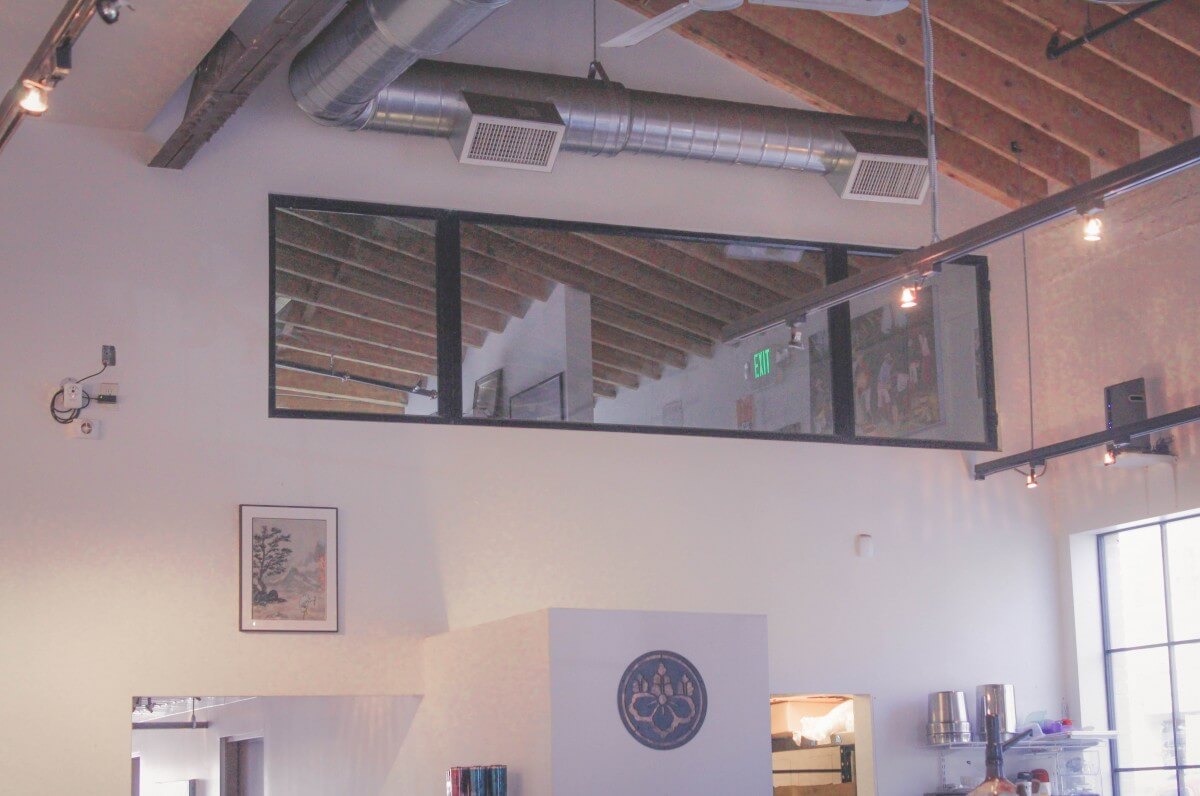 No list of coffee shops in Santa Fe is complete without mentioning voted-favorite Ohori's.
One of Santa Fe's original coffee stops, Ohori's is a local chain (for convenience, I usually end up visiting the Luna Location).
Ohori's definitely takes a coffee-first approach. And although the Luna Location is light-filled and open, the drinks are best-enjoyed to-go (so you can casually stroll around the nearby Railyard District).
Ohori's is known for its stellar brews. If you like smooth dark roast coffee, pause at Ohori's during your next Santa Fe getaway.
Did you enjoy this post on the best coffee shops in Santa Fe? What are your favorite coffee shops in Santa Fe? Let me know in the comments below! As always, I love hearing from you.