here's where to find the best coffee shops in St. Augustine
On a hot Florida day, nothing feels better than an iced drink from one of the best coffee shops in St. Augustine. And if you look around, you'll notice that they aren't too hard to find.
From the handful of cute cafes tucked into St. George Street to the smattering of coffee houses in the surrounding areas, St. Augustine's coffee scene took us by surprise.
For a centuries-old city (officially, it's the oldest continuously inhabited European-established city in the United States), St.Augustine has some modern coffee shops. And it's the dichotomy of old-houses and new trimmings that makes coffee culture here so compelling.
Here are our top picks for coffee shops in St. Augustine, Florida.
City Perks Coffee Co.
The underbelly of City Perks Coffee is a cleaned-up, chic-and-styled man cave. It's got a brick-backed wall – menu hung overtop a long row of syrups. The ceiling is detailed (patterned and swirled) but it's dark and casts a moody shadow over otherwise light wooden decor. City Perks Coffee has all the organs of a tavern so it's unsurprising that it breathes life into good nitro cold brews (coffee lovers, you'll want to order this).
Crucial Coffee Café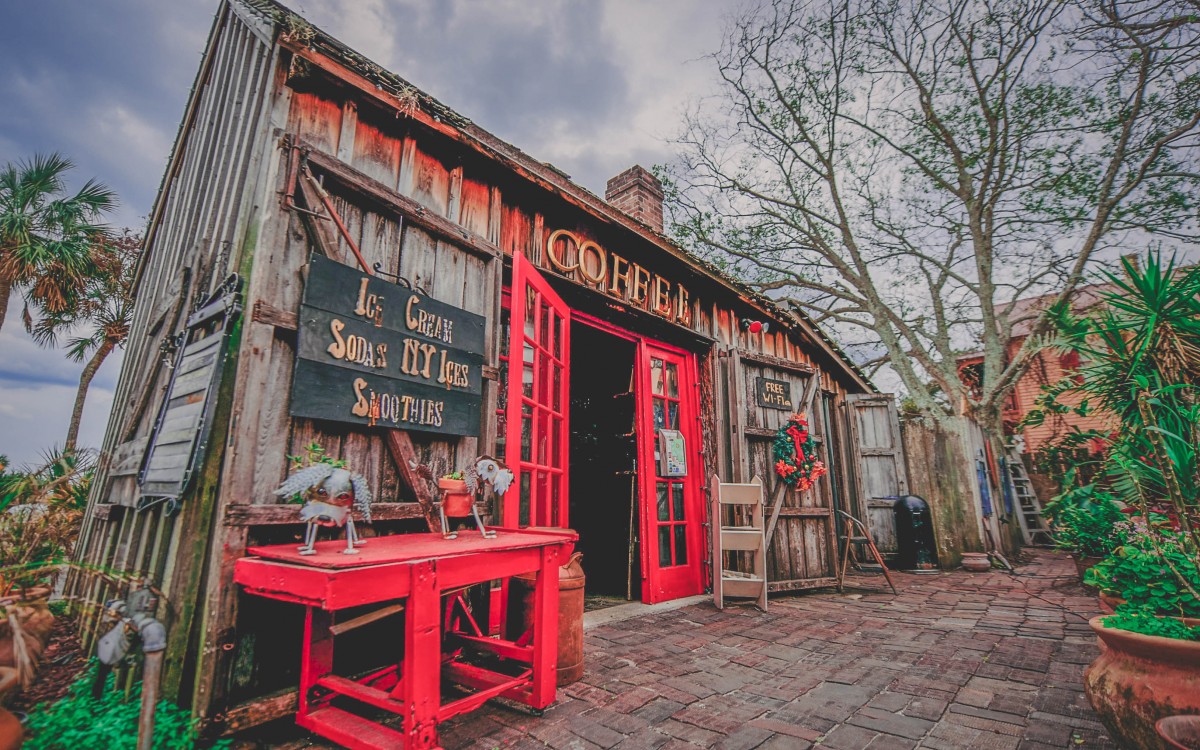 Crucial Coffee Café might just be located in the most photogenic coffee shop in St. Augustine. The all-wood sides and lipstick-red doors pass off as a museum (partially because it's an old blacksmith shop dating back to the 18th century). But one look at the sign – coffee in all-caps – and you know what Crucial today is all about.
The interior – rustic to the core – is just as cute as the exterior, making this one of the best coffee shops in St. Augustine for the ambiance alone.
P.S. The specialty coffee options are the best drinks on the menu and they're definitely on the sweet side with subtle flavoring but wow, oh wow, is their key lime pie good (I mean, you really can't go wrong with key lime pie in Florida).
DOS Coffee & Wine
DOS is where St. Augustine locals go for coffee. Most coffee shops in St. Augustine sit in the customer hotbed of St. George Street. But DOS is a bit further out (just a five-minute drive away and yes, it's worth it).
It's your stereotypical chill coffee shop (the kind I'm secretly obsessed with) situated in a former auto repair shop. What it lacks in outlets (highly recommend charging up your electronics before you go) DOS makes up for in solid cups of nice, strong coffee.
Dream Boat Coffee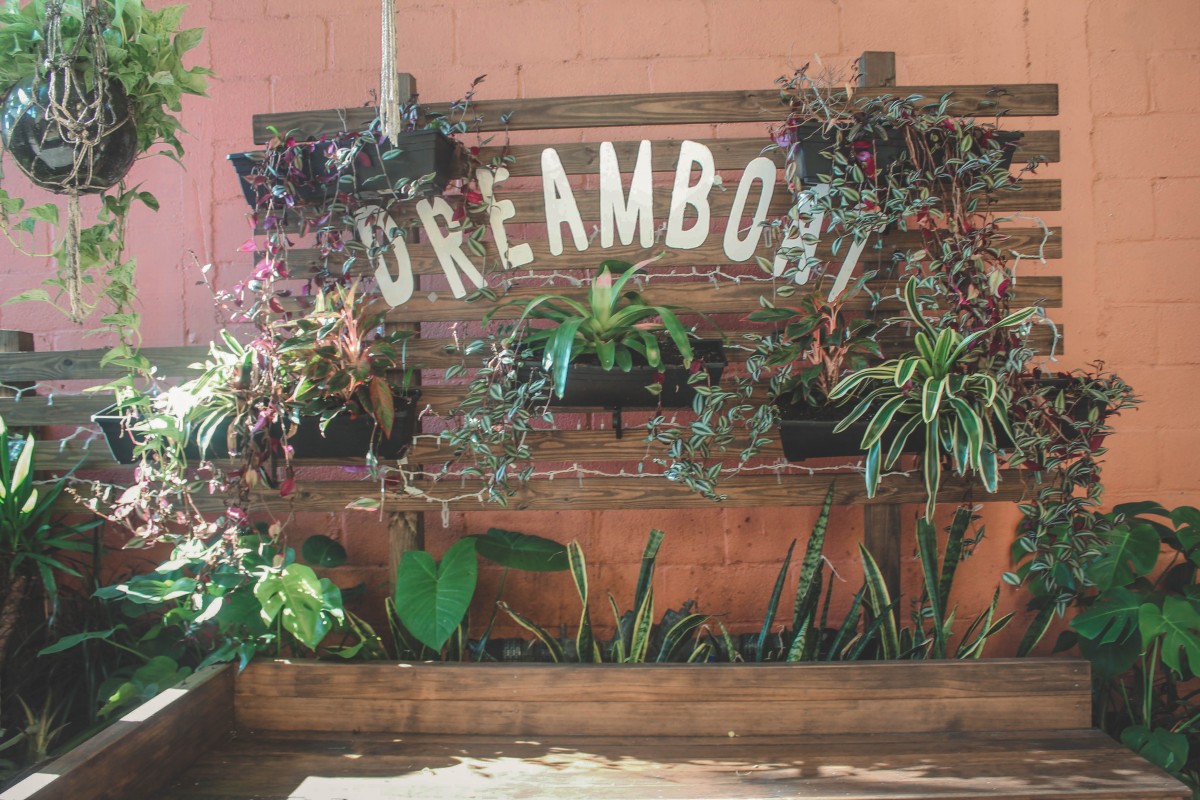 Dream Boat Coffee gets points for location. The outdoor area, light-bulb strung and flower-box accentuated, is cute. And like Crucial, it's an in-then-out stand – slightly more convenient and harder-to-miss. If you know one coffee shop after your walk through St. George Street, it's probably Dream Boat.
Take your drink (specifically the Sweet Cream Cold Brew) to-go. And if you're looking for a quick bite as well, they've recently emerged as Dream House Snack Shack – now serving hot dogs, pretzels, and fries to boot.
Growers Alliance Cafe & Gift Shop
Growers Alliance, on Anastasia Island, sells kind coffee. It's pesticide-free, fairly traded, and low in acidity. You can get a cup to drink on-site but we recommend buying a bag to take home as a treat-your-self gift.
Their Kenyan coffee is rich in flavor. And let's be honest, Growers is not just one of the most unique coffee shops in St. Augustine but in all of Florida (a bold claim but we'll stand by it). It's a family-run business owned by Martin and Purity, who grew up on coffee farms in Kenya.
And their passion for coffee comes through in the drinks.
Relámpago Coffee Lab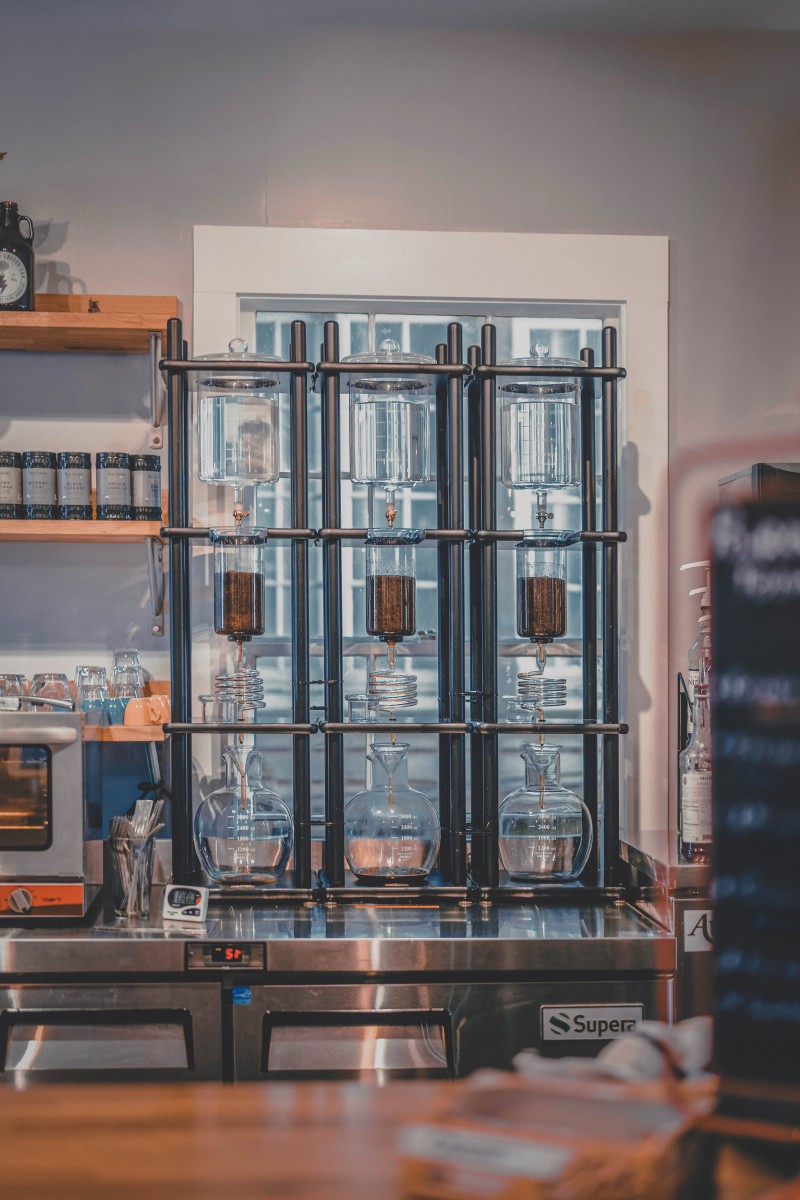 Relámpago is for coffee purists. The baristas here are equipped with serious coffee chops. So while this St. Augustine coffee shop specializes in pour-overs, you can't really go wrong with anything on the menu: macchiato, mocha, cold brew (which, at this point, seems to be a town specialty).
There are two locations, one inside Dos Coffee & Wine (I'm reconsidering – is it fair to give Dos its own mention? I'll save that discussion for another day) and another in downtown.
I mean, good coffee shops in St. Augustine aren't hard to come by but great coffee shops (the third-wave kinds that get coffee just right), that's a tough deal given the pull of St. Augustine's tourist district. But Relámpago really gets coffee. It's a science here and they have a winning formula.
Sweetwater Coffee Bar & Gallery
Sweetwater Coffee Bar, a triple threat, has good food and good coffee and good art.
It's easy to see why Sweetwater is one of the most loved St. Augustine coffee shops. The quality is consistent (and service is sweet). You can expect smooth coffee. You can expect flavor-packed bagels. You can expect colorful oil paintings.
Just a few steps off the tourist path, Sweetwater is without-a-doubt one of the best coffee shops in St. Augustine. I'm saving their butterbeer lattes for my return trip bucket list. Just saying.
St. Augustine Coffee House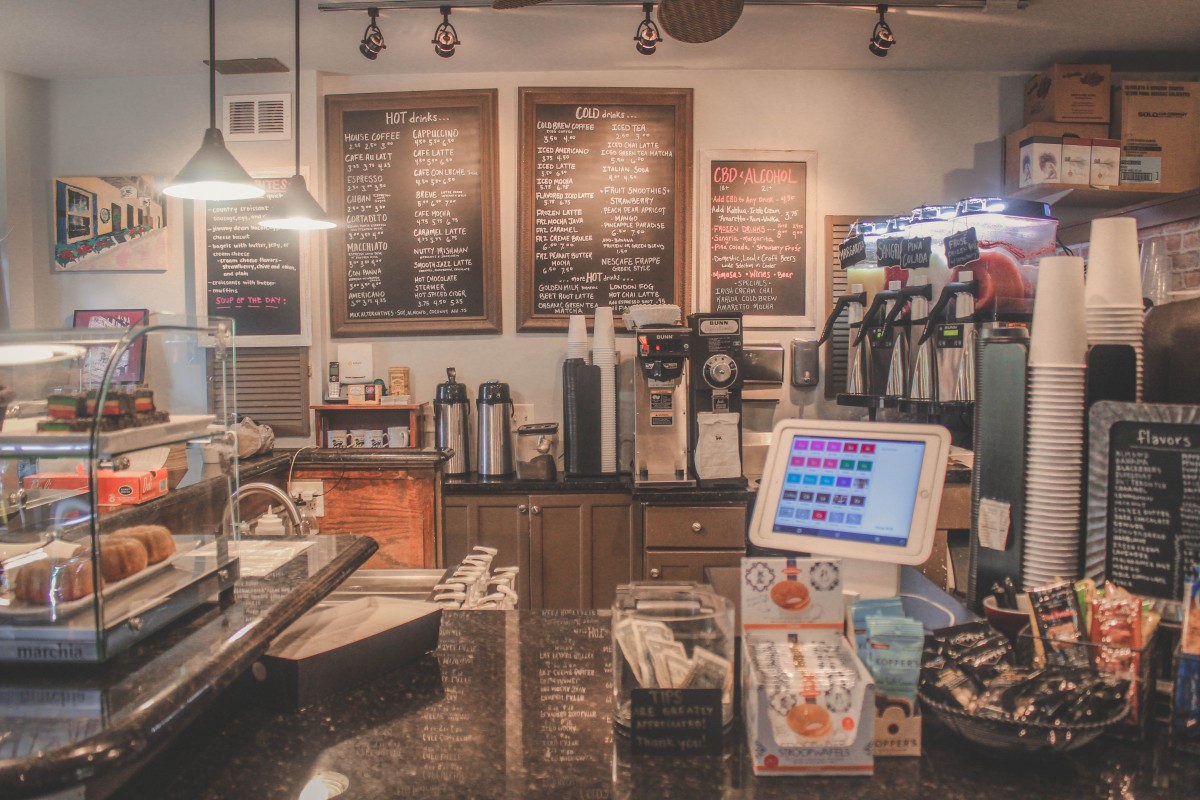 The location of St. Augustine Coffee House, right in the historic district, makes it one of the most accessible coffee shops in St. Augustine.
St. Augustine Coffee House uses beans from Martin Coffee Company, a specialty brand rooted in Jacksonville, Florida. The standard coffee menu allows for vegan milk substitutions – almond, coconut, oat. Service is quick and curt.
The Kookaburra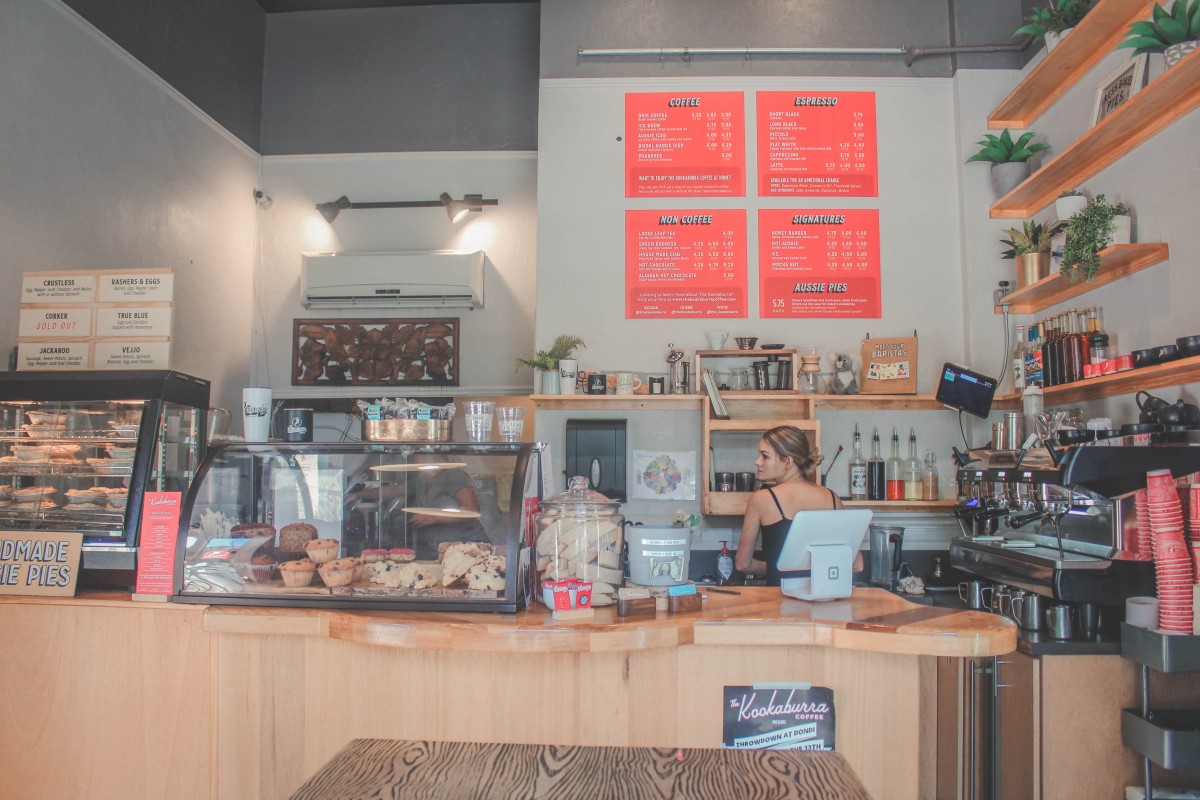 The Kookaburra is hands-down one of my favorite coffee shops in St. Augustine. The location. The coffee. The ambiance. It's all Goldilocks-good.
It's an Australian-American coffee shop (enough said) that's ballooned into a local chain. I visited the original downtown espresso bar, which is squat next to the Cathedral Basilica Of St. Augustine.
And oh my goodness, I'm seriously obsessed (and I can say this confidently after sampling both my partner's and my mum's selections) with their cold drinks. Here's what to get: Honey Badger Iced (honey, cinnamon, and vanilla latte), an Aussie Meat Pie (I'm not convinced they're authentic but they sure are tempting enough), a second round of Honey Badger.
P.S. I enjoyed the lunch meat pie options miles more than the brekkie options!

Did you find this post on the best coffee shops in St. Augustine useful? What are your favorite coffee shops in St. Augustine? Let me know in the comments below! As always, I love growing my coffee bucket list.