where to find the best date shakes near Palm Springs
I didn't know how much I needed date shakes in California but I did. The thick, milkshake-like drinks – priced for two, sized for two – led to many late-night drives with my partner. We talked about our plans, our hopes, our dreams, our goals, our future while waiting for a cup, holding the cold styrofoam in our hands as we walked down busy streets, taking turns sipping out the straws. We'd get into our car and drive until the shake was over and scraps of unsifted date chunks lay at the bottom of the container.
Dates shakes are quintessentially California. Even though the United States isn't the largest producer of dates in the world (according to the Food and Agriculture Organization, that title goes to Egypt), it still exports tons of dates (literally, tons. The US exports 39.6 million pounds of fresh dates a year). And most of America's date production happens right here in The Golden State.
California grows over 90% of all dates in the United States. Come down to Coachella Valley and that statistic isn't hard to believe.
Behind clusters of build-out cities (and sometimes, in between), you'll see swaths of fat-trunked palms, emerald plumes fanning out like feather dusters. Mature trees are weighed down by sacks of fruit, fruit that eventually weathers into dates.
Without further ado, here are the best date shakes near and in Palm Springs for a taste of California!
Hadley Fruit Orchards
After a long weekend drive from LA to Palm Springs, Hadley Fruit Orchards is a requisite stop to rest, relax, and grab a refreshing sip. Don't let the minimalist interior fool you, Hadley's has a long-running history. The shop is located up in Cabazon, an unincorporated, tourist-friendly town twenty minutes out from downtown Palm Springs.
Here's what to get: the original date shake or the banana date shake (there are mix-ins available too. save them for a later visit). Made with subtly sweet Noor dates, Hadley Fruit Orchards' classic date shakes hit a Goldilocks-approved consistency: not too thin, not too thick.
Windmill Market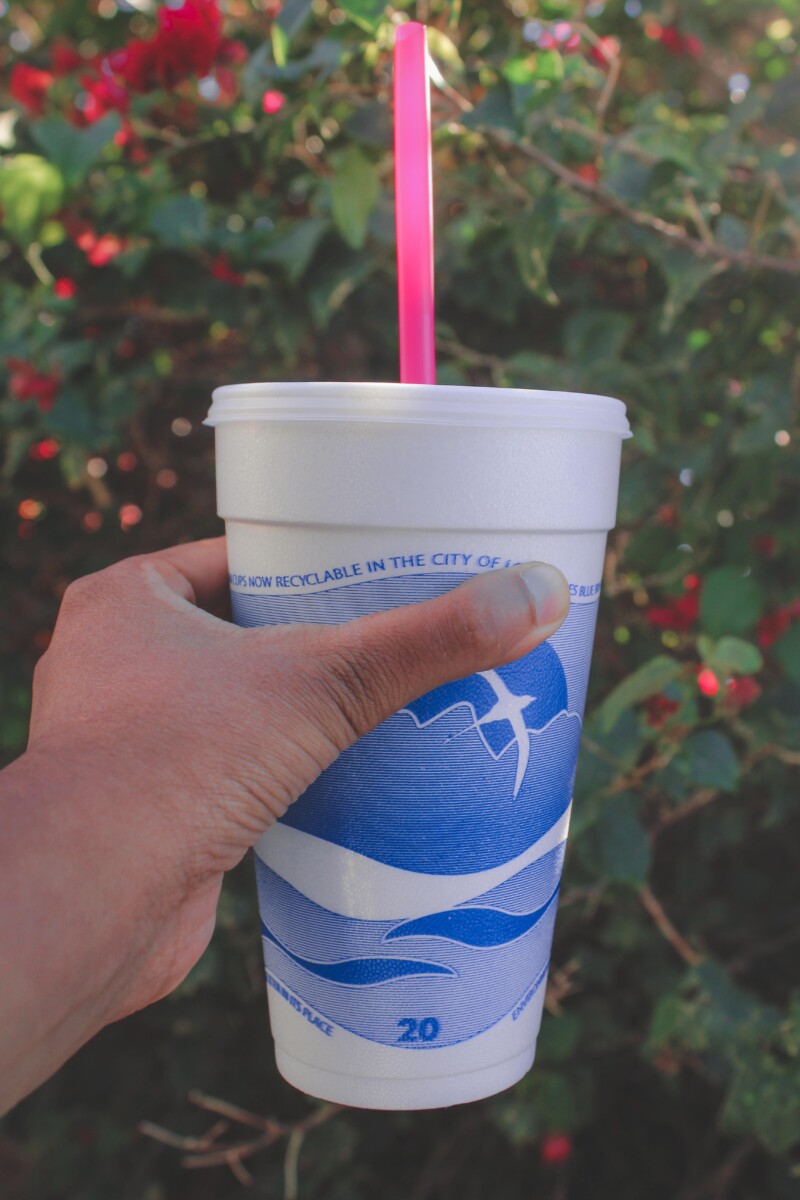 Windmill Market is my personal favorite place to grab a date shake near Palm Springs. You'll see this hole-in-the-wall, in-then-out stop as you're driving up to Joshua Tree.
Home of "the best date shake in the desert" (their words not mine, but I agree), Windmill Market's date shakes are the most date-y (is that a word?) of the date shakes we tried near Palm Springs. You can taste the rich, caramelly essence of Medjool dates upon each sip. Windmill Market's date shakes aren't just sweetened by dates, they're date-flavored (which I love).
MidMod Cafe
A clean and austere white-walled establishment with trendy patio seating, MidMod Cafe is a lunch spot through and through. Visit at noon when you're craving a leafy-green-loaded meal. Ask for their vegan date shake (a light blend of almond milk, banana, vanilla extract, and dates) on the side. MidMod Cafe serves some of the best vegan date shakes in Coachella Valley (just saying).
Lappert's Ultra-Premium Ice Cream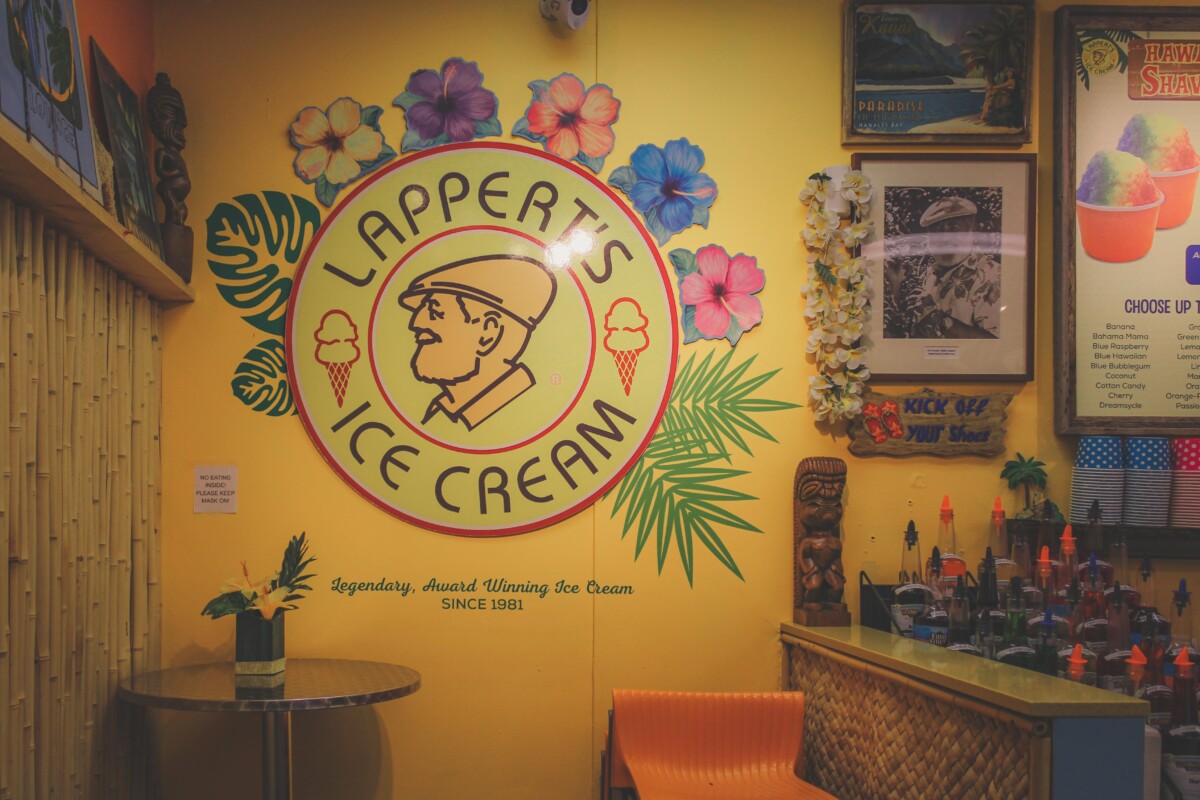 I've mentioned Lappert's once before on the blog. Although Lappert's is known for its pineapple dole whip, this bright, beaming yellow ice creamery makes memorable date shakes as well. Lappert's date shakes are chilled and sweet. And scraped onto the sides of each cup is a strong, umber date paste. Stir it all together and surprisingly enough, Lappert's date shakes still taste a bit mild. Just wait. These thick drinks hit home when you bite into one of the chewy little date chunks suspended throughout the cup.
Great Shakes
If you're looking for the best date shakes near Palm Springs, chances are Great Shakes is already on your radar. With a retro theme and menu of malts and floats, Great Shakes cleverly captures the feeling of nostalgia in a few looks and a few bites.
Inside, you'll see a neon Great Shakes sign and a black-and-white poster of Lucille Ball and Desi Arnaz hung up over a sea of blue walls. Great Shakes is a small shop with big lines. Once it's your turn to order, get the Date Walnut Shake. It's a dense vanilla milkshake (a spoon is a necessity) topped with a glaze-dripped donut (although I wasn't a fan of the donut itself, I did think it was a sweet gesture that upped the Instagrammability of this drink).
Palm Springs Fudge & Chocolates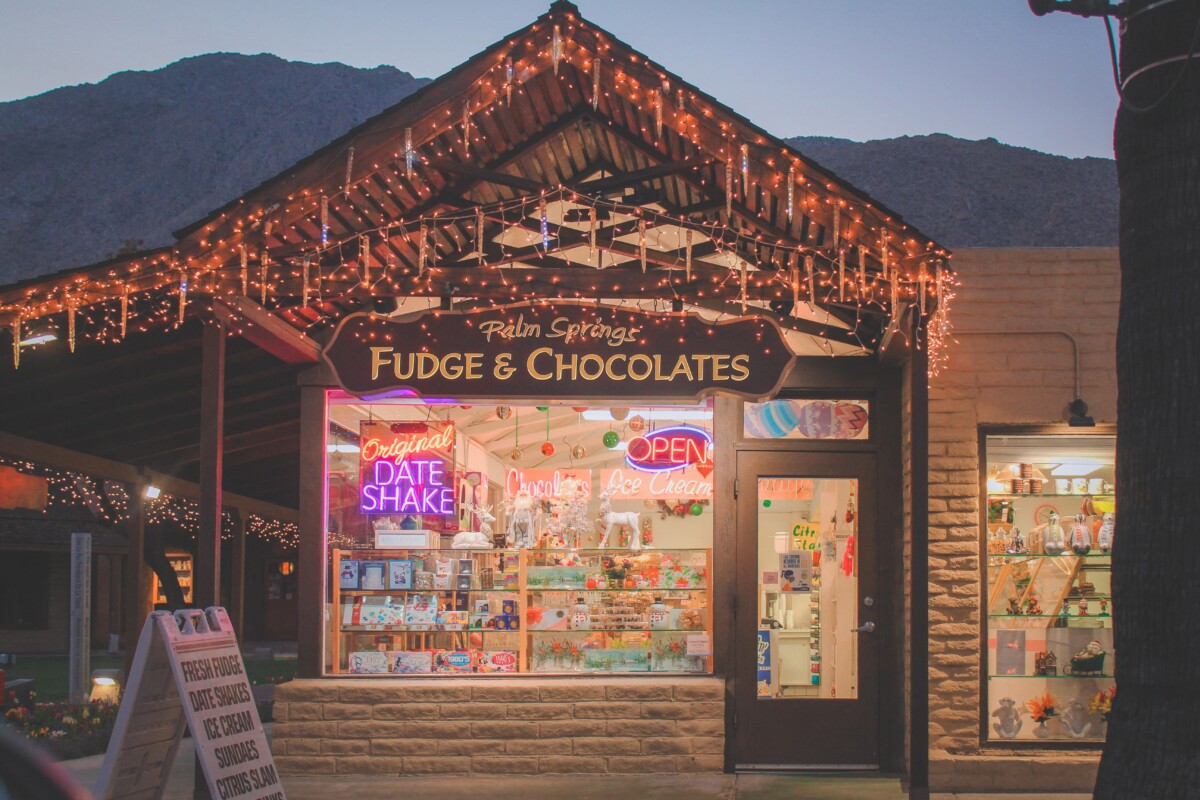 With a cottage-style roof and drippage of lights, Palm Springs Fudge And Chocolates is one of the cutest little shops in downtown Palm Springs. It's not known for its service, but it does sell a decent date shake. You'll find light, frothy, and refreshing drinks in-store.
King's Highway
Within the Ace Hotel, you'll find a hidden date shake spot that's kindly released their date shake recipe online (thank you). Date shakes at King's Highway are slushy. They don't feel like a milkshake at all, but rather a fresh, fun icy drink. The texture is unique. It's a love-it-or-hate-it type of drink (I'm camp love-it).
Nature's Health Food And Cafe
Forget everything I assumed about California before visiting, vegan date shakes near Palm Springs are surprisingly hard to come by. But Nature's Health Food And Cafe, an adobe-colored store marked by hippiedom, changes that. It's a place where you can easily find a range of vegan and vegetarian fare, including Coachella Valley's well-loved date shake.
Nature's Health Food And Cafe's date shakes are sweetened by date crystals and oh-so-good. They're creamy, indulgent, and decadent. Even if you're not vegan, you'll want to try this date shake. You can get it with espresso for a next-level, hard-to-compete-with drink.
Monster Shakes
Monster Shakes' drinks are what dreams are made of. They're dangerously delicious and food-coma-inducing (for self-preservation reasons, you'll want to split any drink off the menu between two).
And although this Palm Springs dessert shop is known for its outrageously lidded and – dare I say it? – monstrously large shakes, Monster Shakes' date shake is smaller and slimmer than expected. It's simply topped with a single mini-donut circling the rim. If you like Lappert's and Great Shakes, you'll love Monster Shakes too.
Shields Date Garden
Last but certainly not least is Shields Date Garden, a cafe-meets-gift-shop serving some of the most iconic date shakes near Palm Springs. Shields is situated in the nearby city of Indio. And yes, it's worth the drive out. From watching The Sex Lives Of Dates (which, I assure you, is a much more innocent film than the title suggests) to strolling through the sprawling, palm-studded grounds, there's more to do at Shields than just grab a date shake. Shield's is a complete experience. Sugared up with date crystals, Shield's date shake is a straight shot of vanilla. It was my husband's favorite date shake near Palm Springs. For me, Windmill Market was an instant winner but I'll save that argument for our next drive through Coachella Valley.

Did you enjoy this list of date shakes in Palm Springs? What are your favorite date shake spots near you? Let me know in the comments below!