Top 10 day trips from Albuquerque, New Mexico.
The week I visited Albuquerque, I knew the city was a vortex. It could suck my time and I'd be none the wiser (not that I minded). There was so much to see and do in ABQ that on the third (or fourth) day, I forced myself to visit the surrounding area.
The area around Albuquerque's city center, dots of cacti-stubbed towns and long roads that trace past sharp cliffs and rough mountains, is intense. It's a palette of contrasting colors and mediums.
You don't have to go far to see a change of scene. In fact, most of these day trips from Albuquerque are less than a few hours from the city center (and some can be done in under a tank of gas).
So without further ado, here are ten incredible day trips from Albuquerque!
Disclosure: Heads up, this post contains some affiliate links, which means I may get a commission if you make a purchase. Don't feel pressured to buy anything. I still love that you're here, reading my content (side note: I'd probably suggest getting a coffee or tea first though because my blog posts tend to be long). To find out more, you can read our full affiliate disclosure right here.
The Railyard
Drive Time From Albuquerque: 1 Hour
---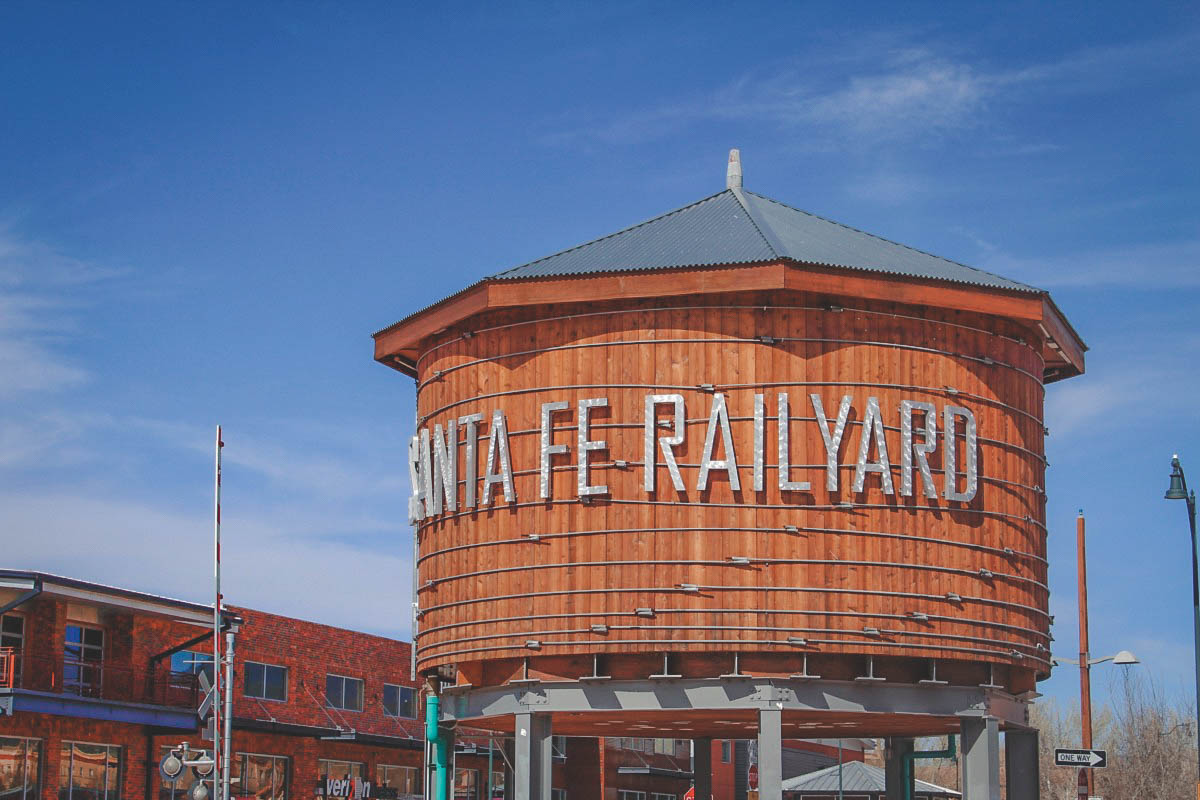 One of the most popular day trips from Albuquerque is Santa Fe, a city bursting with history and culture. In a lot of ways, Santa Fe feels like a small town.
But it's also New Mexico's capital so it takes more than a few days to see.
For a sip of Santa Fe proper, head to The Railyard, a walkable district stretched wide. Bookending the main path are shops and boutiques. Walk further along and you'll see splatters of art and murals.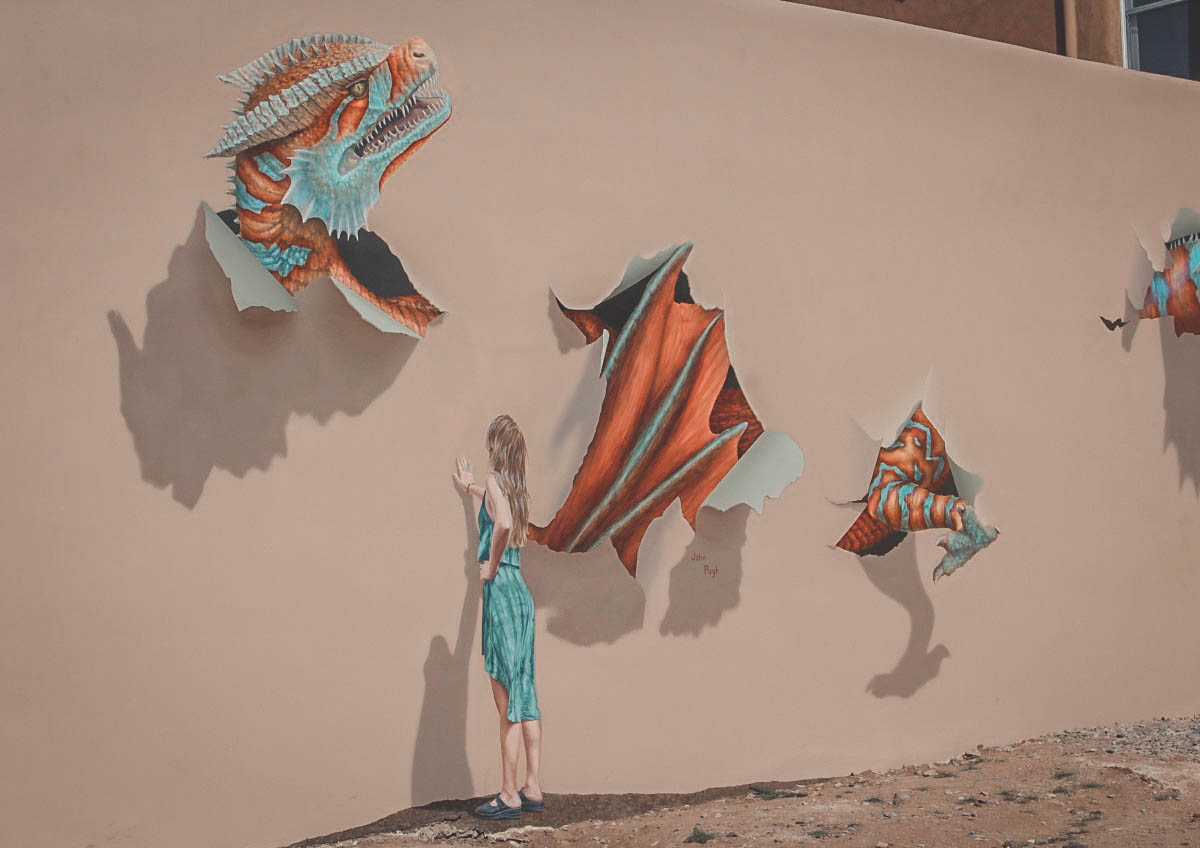 The Railyard District is also home to some of the best coffee shops in Santa Fe (not just Ohori's but also, we love Ohori's). It's the site of a weekly Saturday Farmer's market and the location of Hotel Santa Fe Hacienda & Spa.
Bosque Del Apache National Wildlife Refuge
Drive Time From Albuquerque: 1.5 Hours
---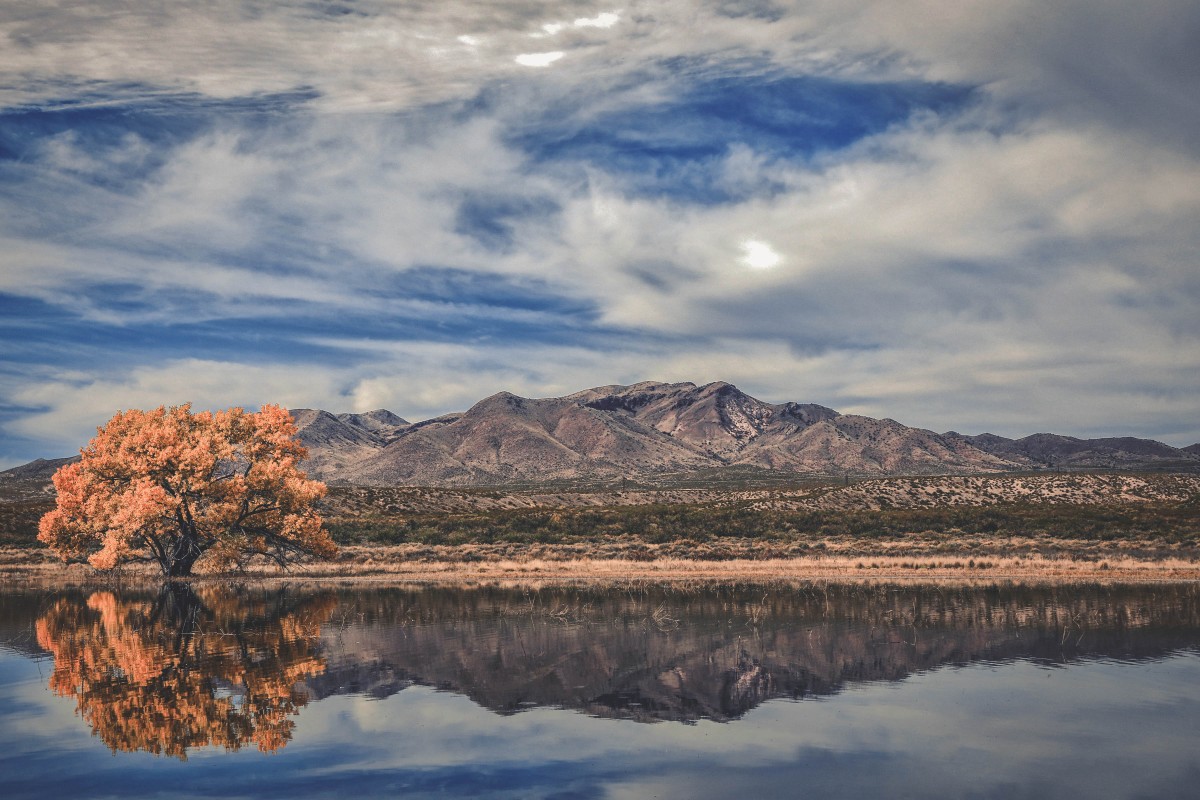 In between Albuquerque and Elephant Butte State Park is Bosque Del Apache National Wildlife Refuge.
You'll want to bring a pair of binoculars when you visit. Bosque Del Apache is a bird-watching spot.
In the wintertime, you'll see sandhill cranes and snow geese. The landscape is dry and marshy and caught in a figure-eight between a 12-mile self-drive auto loop. Along the route are snips of trails that pull past wetlands and brush.
Side note: This is my favorite beginner camera lens for wildlife photography. It's a little heavy but I still love it.
Carlsbad Caverns National Park
Drive Time From Albuquerque: 4.5 Hours
---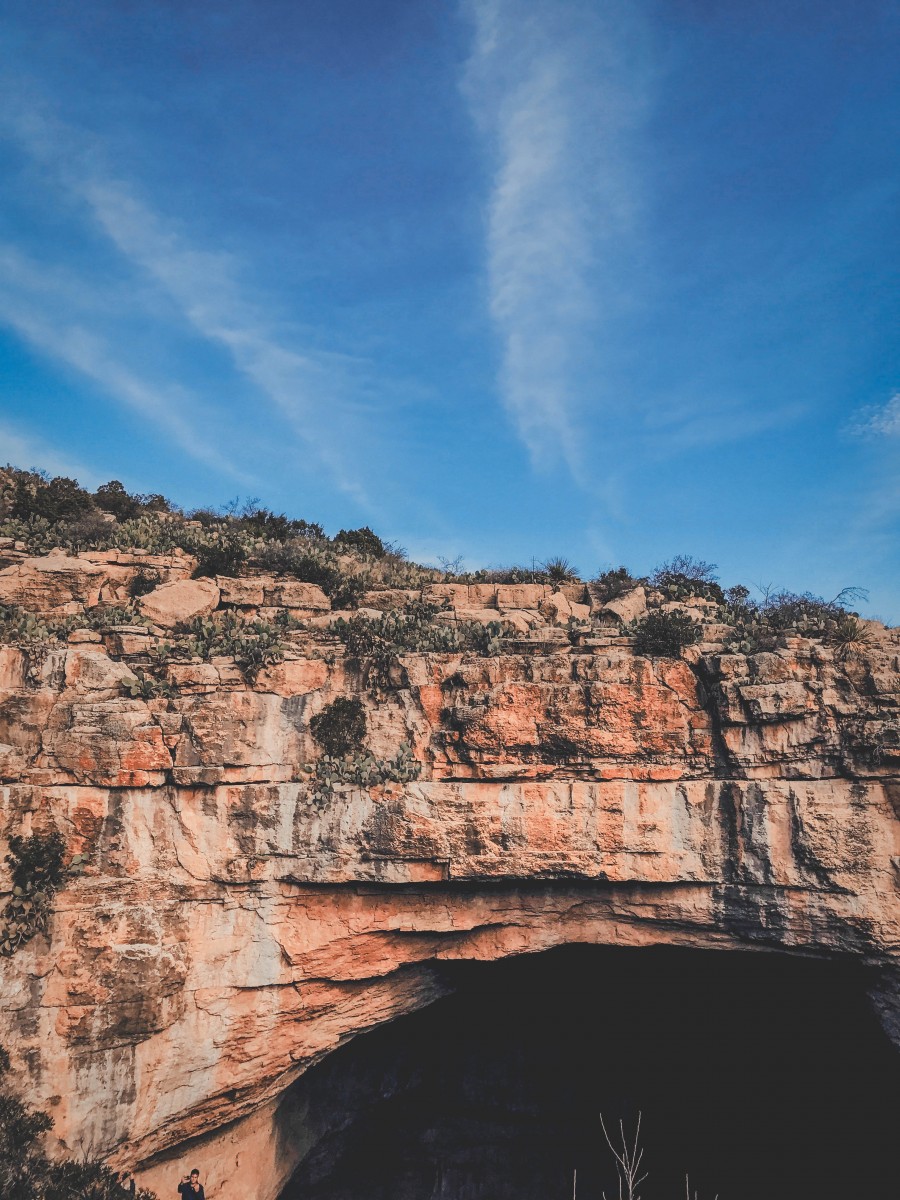 On the southernmost edge of New Mexico is Carlsbad Caverns National Park. The mouth of Carlsbad Caverns is big and the area inside is smooth and well-paved. It takes around 2 hours to walk through the cool of the caverns (especially if you're stopping to snap photos).
The trail is perfect for beginners. It's already lit up (so you don't need to bring a flashlight) and for the most part, it's wheelchair accessible.
As you walk through, you'll see stalagmites and stalactites shape into all sorts of strange and wonderful formations. It's one of the most unique experiences you can step into in New Mexico.
Side Note: There's also a gift shop inside the caverns, which is oddly commercial but also really interesting. The gift shop used to be an underground lunchroom in the 20th century but after the scent of fresh food attracted new animals, the ecological habitat of Carlsbad Caverns started to shift. So today, it's less of a food court and more of a gift shop.
P.S. There aren't many gas stations nearby so you'll want to make sure you fill up around half-way between Albuquerque and Carlsbad.
White Sands National Monument
Drive Time From Albuquerque: 3.5 Hours
---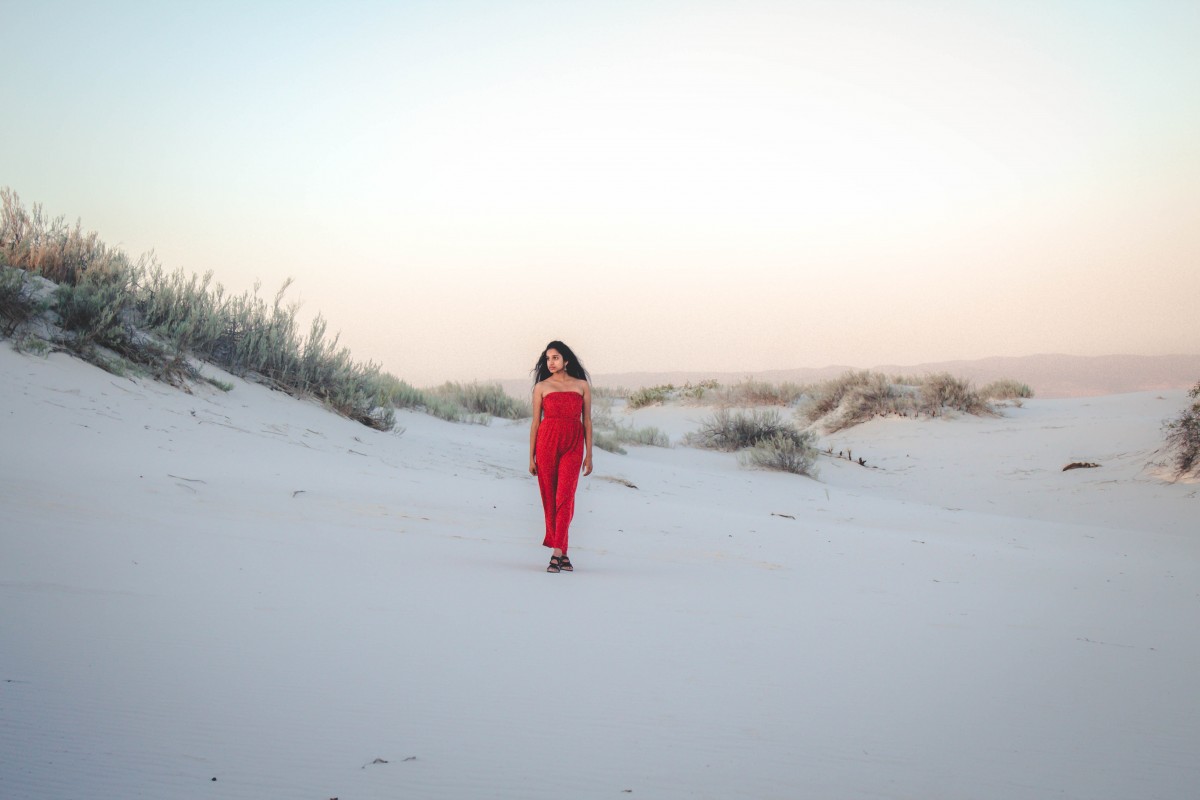 White Sands National Monument Lookbook
White Sands National Monument is alluring. It's a thick sheet of gypsum that looks deceptively like snow. The sand, closest to Dunes Drive, a scenic 16-mile loop, is packed hard. But once you step out of the car and walk a few steps into the park, you get caught in the rhythm of the faded skies and paled-out grounds.
There are a few trails in-and-around White Sands. My favorite is the interdune boardwalk. It's an easy ramp walk but you can still see wildlife, like bleached earless lizards (who've evolved to be the color of the sands) and jackrabbits.
P.S. I have a full guide to White Sands National Monument (filled with tips and advice I wish I knew before visiting) right here.
Ah-Shi-Sle-Pah Wilderness Study Area
Drive Time From Albuquerque: 4 Hours
---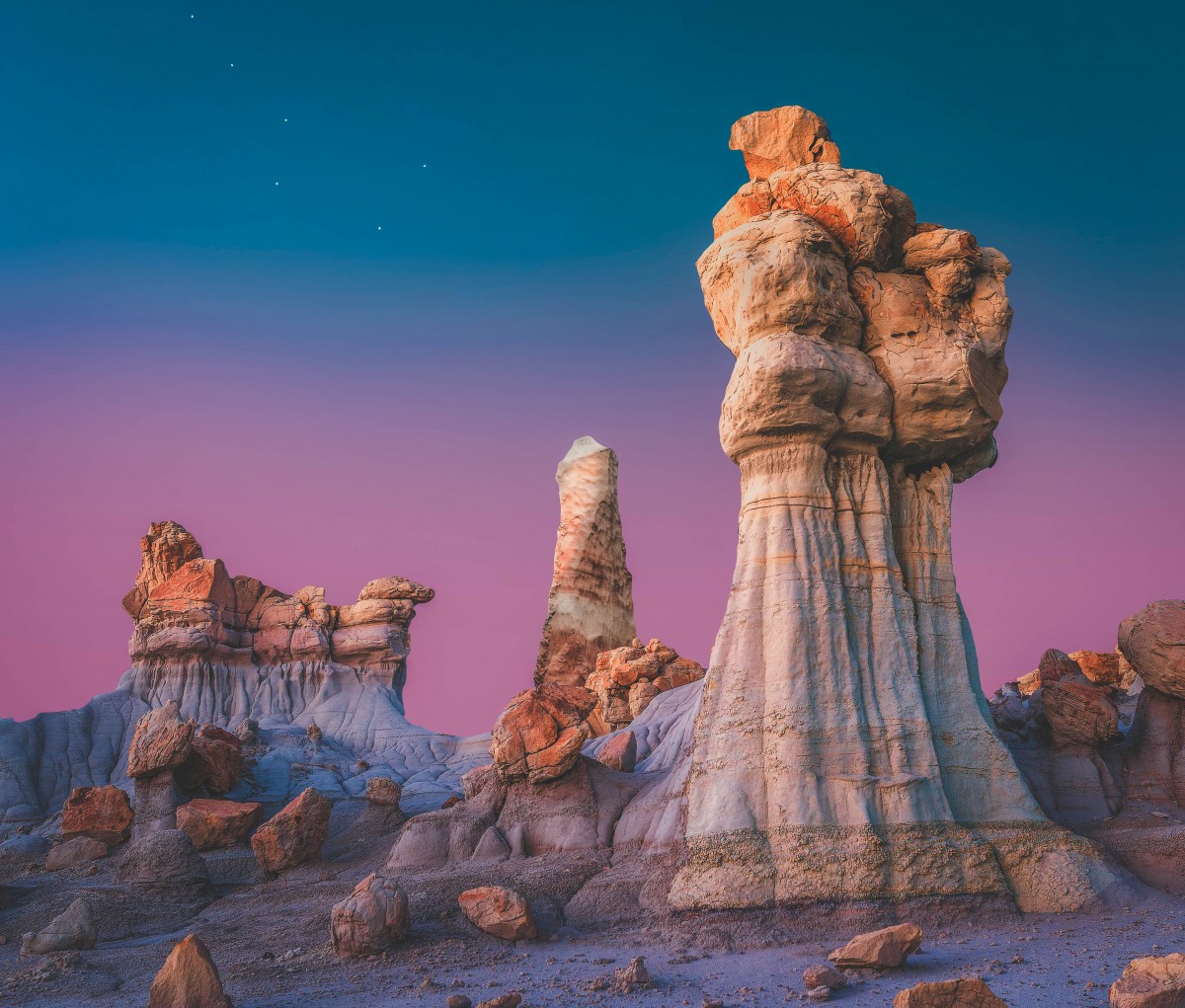 While Roswell is known for its alien kitsch, there is a place far more unreal on the other side of New Mexico. Ah-Shi-Sle-Pah Wilderness Study Area, a not-so-easy day trip from Albuquerque, is a slice of badlands and hoodoos piped with fossils.
This is one of the most remote areas of New Mexico that's still publicly accessible (I recommend a 4 wheel drive for this day trip). It's unlikely you'll encounter many people here (so you'll want to download an offline map as well and bring a compass and GPS). Bring a spare tank of gas too.
The trail is unmarked. And it's very easy to get lost (trust me, your emotions will sit somewhere in between frightened and awestruck). I'll link some more information about the hike here, here, and here.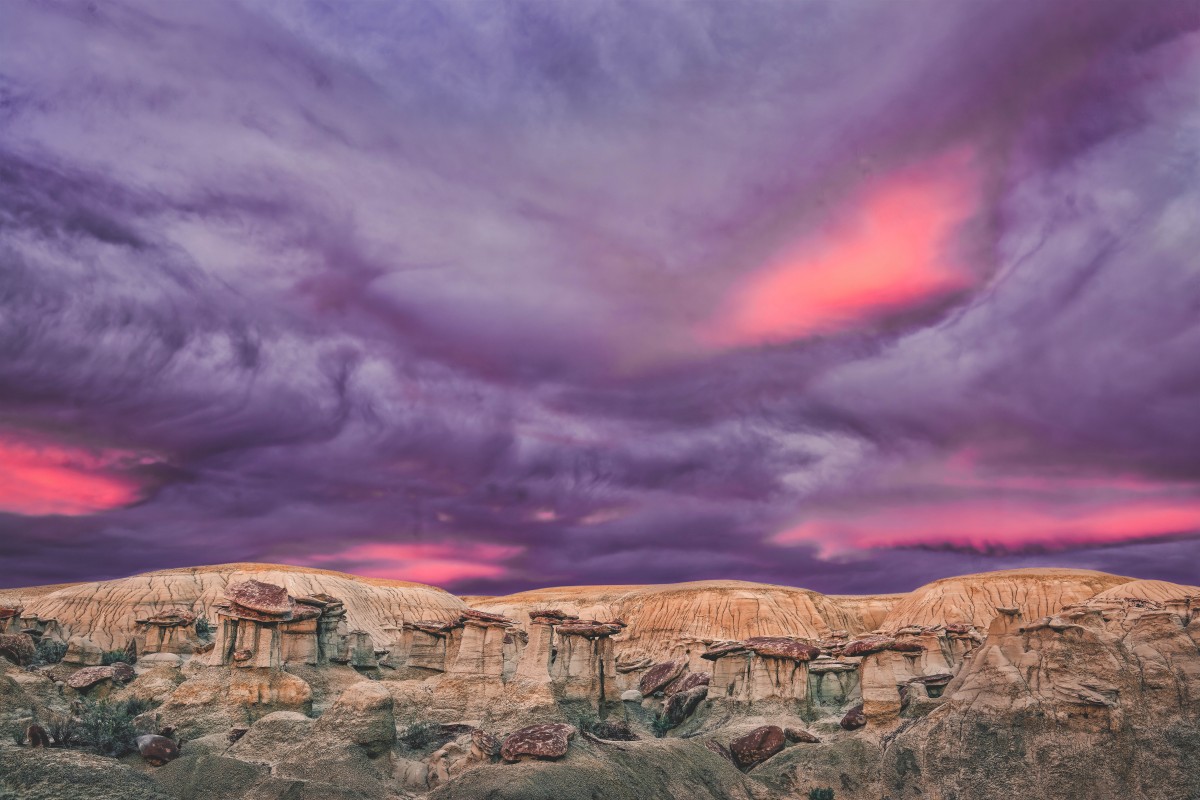 This Albuquerque day trip definitely needs a bit of preparation and planning beforehand. I would not suggest going into it blind because there are zero facilities in the area (and you won't have reception).
But that being said, this is, hands-down, one of the most unique places in New Mexico. So if you're a hiking enthusiast and you have the right gear, it's worth a drive out in spring or fall.
P.S. Ah-Shi-Sle-Pah is technically only a 3-hour day trip from Albuquerque, but it might take an extra hour to find it so allot 4. I'd suggest driving from ABQ to Bloomfield and then following resources for directions from there (side note: try to fill up gas in either Farmington or Bloomfield).
Los Poblanos Historic Inn And Organic Farm
Drive Time From Albuquerque: 15 Minutes
---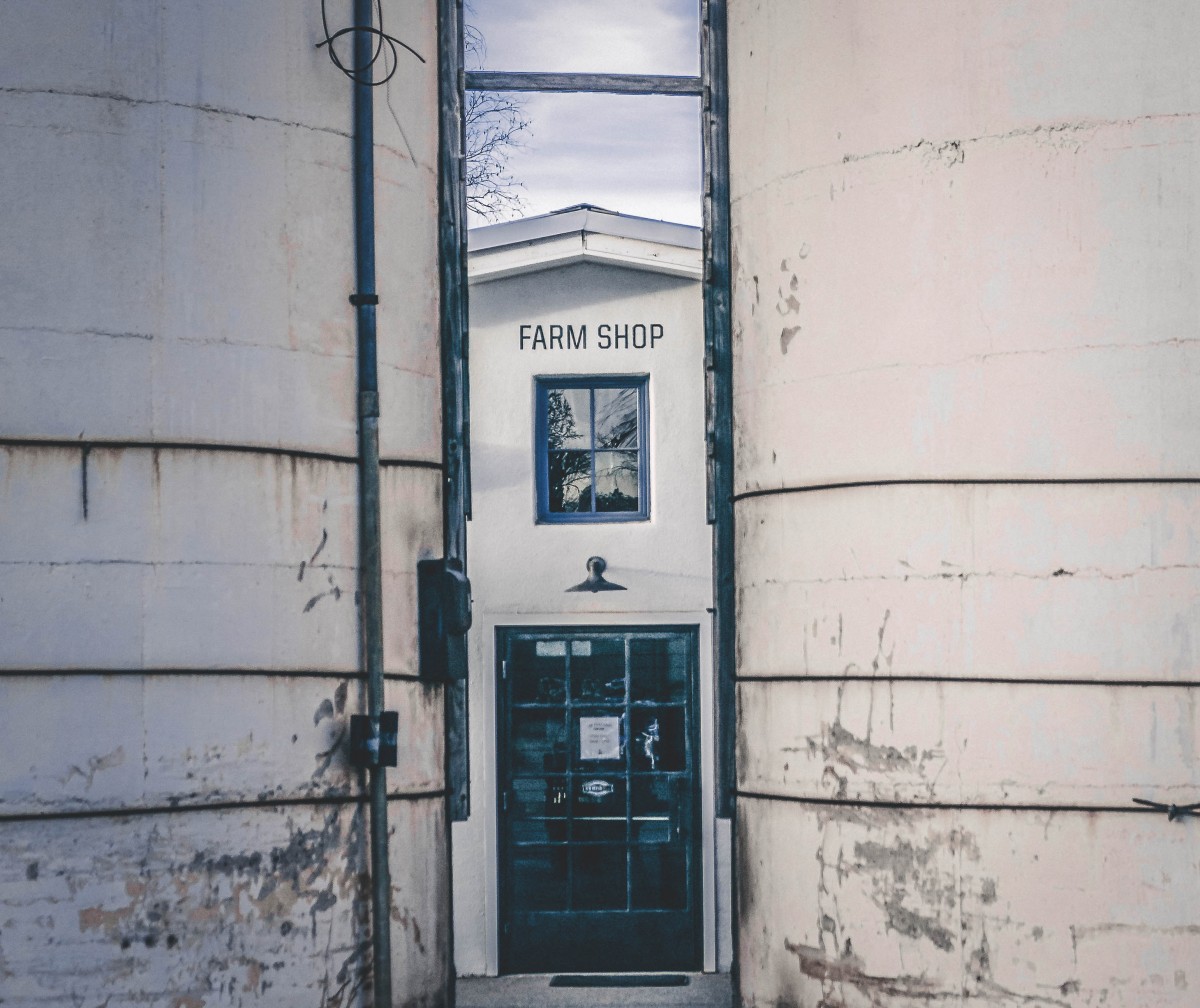 Los Poblanos Historic Inn And Organic Farm sits in a little village just north of Albuquerque. It's a stunning property, dating back to the early 20th century, that's part boutique hotel, part lavender farm, and part farm shop.
Each room is southwest-styled, softly-lit, and unique (if you're looking for an Albuquerque staycation, head here). The food served on-site is delicious and well-loved (you'll want to make reservations in advance, even if you're staying the night). Everything is made fresh so the flavors come across ten-fold.
And like all good hotels, it's the little details that make a stay at Los Poblanos stand out. Housemade lavender products set in the bath area. Field-to-fork dining. A complimentary cocktail upon arrival. Cheers.
Williams Lake
Drive Time From Albuquerque: 3 Hours
---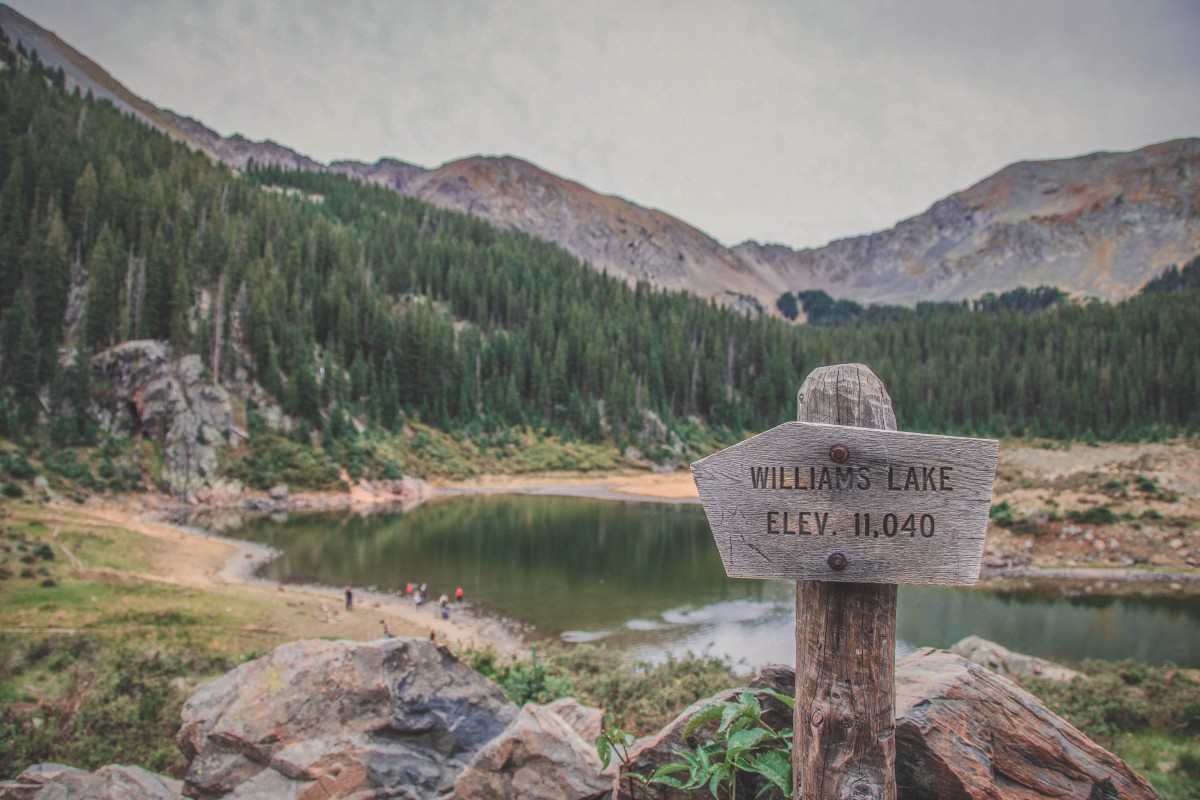 Williams Lake is a gorgeous body of water near Taos Ski Valley. The trail, a little over 2 miles, is, for the most part, shaded.
It's a heavily-trafficked hike, especially in the summertime. But the views, the whole way, are worth it. You'll pass alpine sweeps and see the peaks of the Sangre De Cristo mountain range. The lake, up top, is a deep green from the reflection of trees.
Amarillo
Drive Time From Albuquerque: 3 Hours
---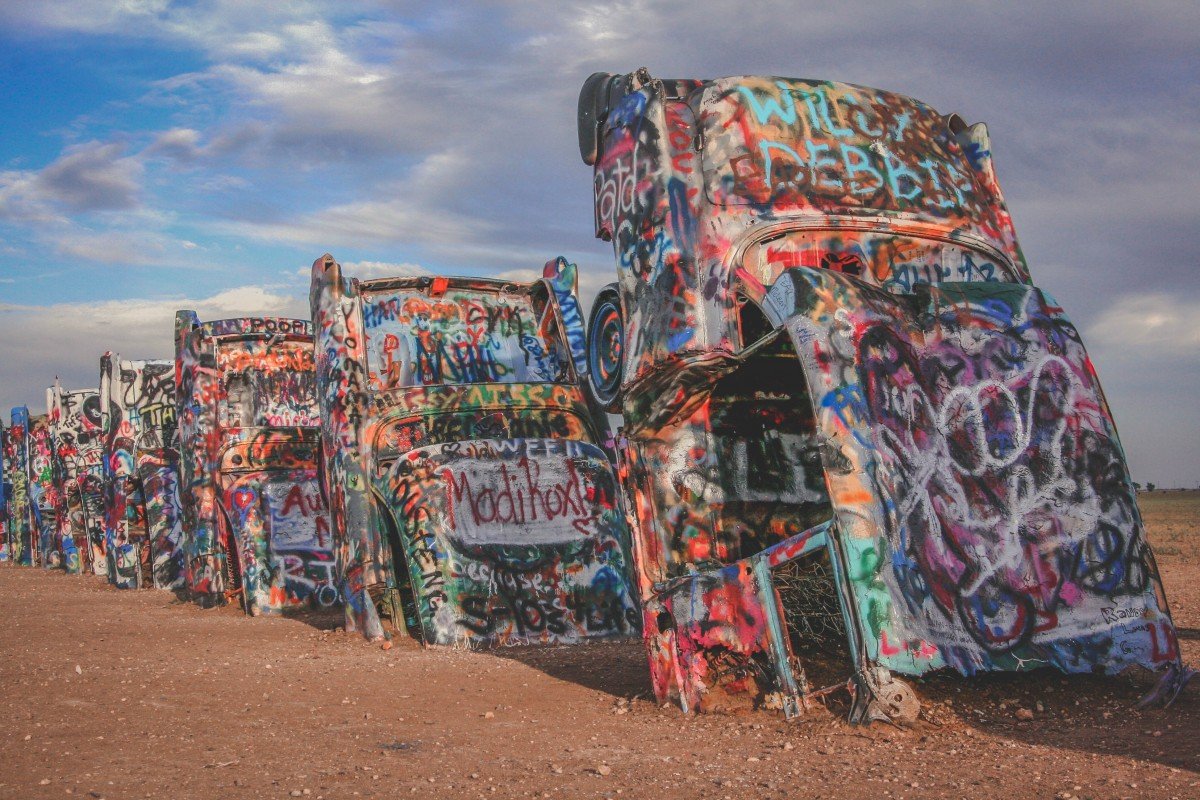 Situated in the panhandle, Amarillo is classic Texas. It's a vibrant and colorful city.
If you're looking for things to do in this day trip from Albuquerque, think big.
Big cadillacs half-sunk into the ground. Big RVs at home in a museum. Big slabs of 72 oz steak that you get for free if you can eat it by yourself in under an hour.
Everything is bigger in Texas. No joke.
Santa Rosa
Drive Time From Albuquerque: 2 Hours
---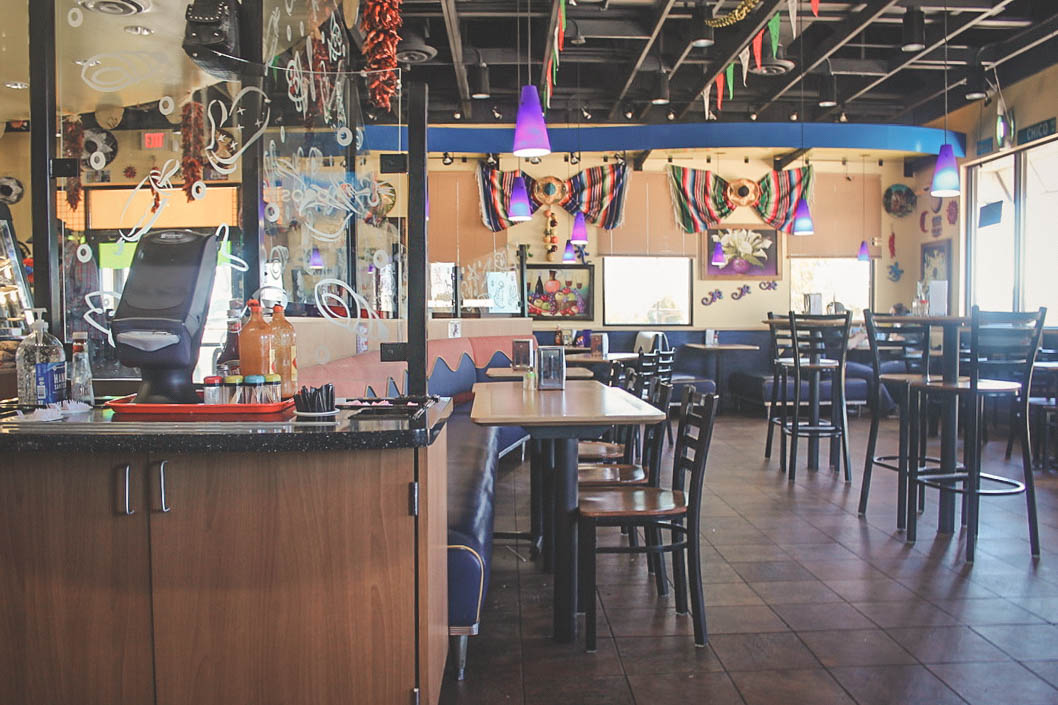 When I first visited Santa Rosa, I treated it as a drive-by stop, a place to fill up gas and stretch my legs whilst on-route to ABQ.
But after spending a day in Santa Rosa, I truly believe this is one of the best day trips from Albuquerque. Santa Rosa is situated along the iconic Route 66. And it's known for its popular deep-visibility diving spot.
New Mexico's famed Blue Hole is a crisp blue, the kind that feels unreal. You can get into the water but fair warning, it's chilly, even on the hottest of summer days!
Around town, you'll also find an auto museum and a few lakes.
The Low Road
Drive Time From Albuquerque: 2 Hours
---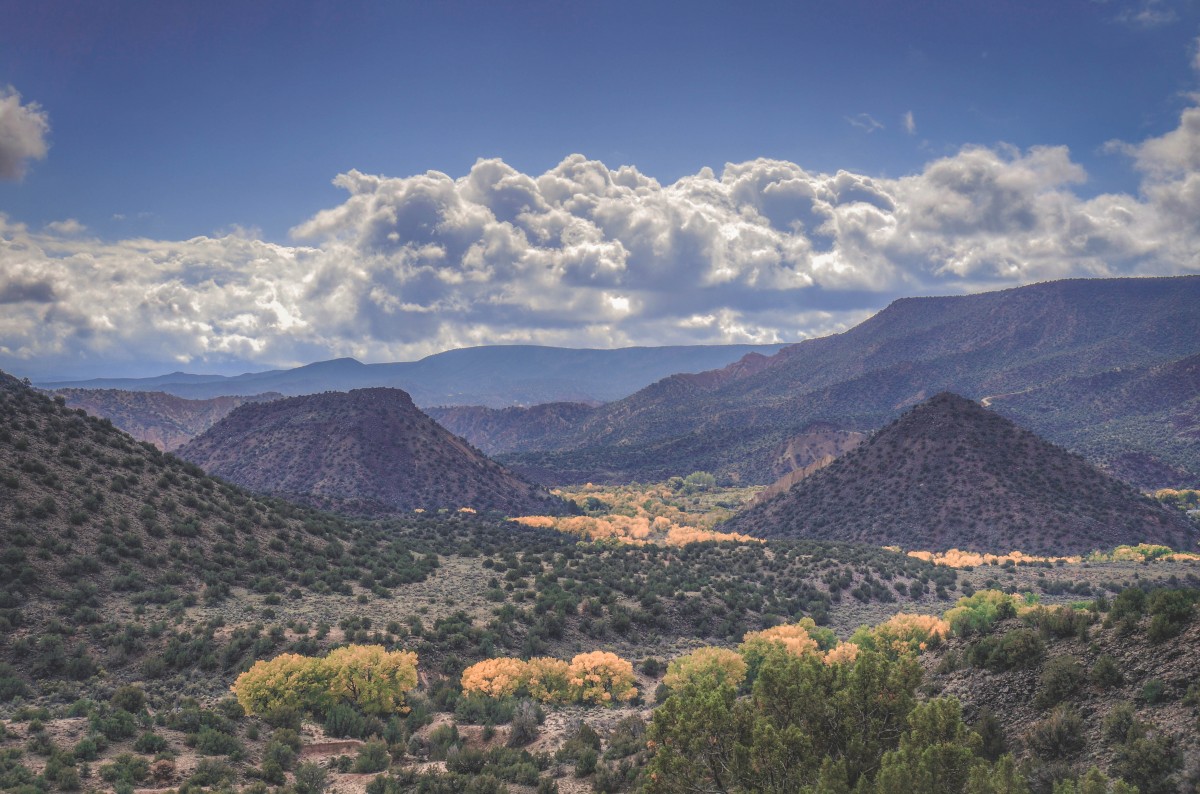 The Low Road from Taos to Santa Fe is a window of views so pretty, you'll never want to close the drapes.
The lonely state highway, which snakes past the Rio Grande River, passes bighorn sheep, stunning wineries, and packed campgrounds.
It's one of the most stunning day trips from Albuquerque (and takes roughly an hour to complete). On the way back, drive into Santa Fe.
And if you get a chance, walk around The Railyard (*wink*).

Did you enjoy this list of day trips from Albuquerque? What are your favorite day trips from Albuquerque? Let me know in the comments below! As always, I love hearing from you.