ten incredible day trips from Dallas, Texas
Dallas is a packed city. It's big and vibrant and bustling. It's a city that is always on, always moving, always going. There's so much to see and do and taste in Dallas. The Big-D lures you in with fine art museums and big shopping centers and globally-inspired restaurants, but it doesn't leave you feeling trapped. As you drive on the highway out of Dallas, you'll see destination distance signs for Waco and Austin. Dallas is a city that encourages you to take a break, to leave, to just get away for a while.
I started taking day trips from Dallas the moment I moved to DFW. Day trips from Dallas felt like more than just a change of pace and a change of scene; they were ways for me to simultaneously withdraw and explore. They were escapes that led to 70-foot tall waterfalls and quartets of gardens and sweeping lake views.
Over the years, I've found a handful of places that I keep returning to time after time. These are the places I continually make my way out of Dallas to explore.
From bewitching town squares to tree-lined scenic byways, here are ten incredible day trips from Dallas, Texas!
One of my favorite quick day trips from Dallas is McKinney, a leafy suburb home to thousands of blushing Crape Myrtles, meandering hikes, duck-filled lakes, and quaint shops. Historic Downtown McKinney, a grid of charming brick facades and awning-shaded patios, is the main tourist draw. Grab a latte from Filtered, a homey, industrial-chic coffeehouse. Then spend your afternoon exploring all the cute boutiques on and along the square (Fair And Square Imports is a personal favorite). If you're looking to get off-the-beaten-path, head to Adriatica (a tucked-away lakeside neighborhood inspired by a coastal Croatian village), snap some photos, and enjoy a Texas sunset.
Carrollton
Drive Time From Dallas: 30 Minutes
---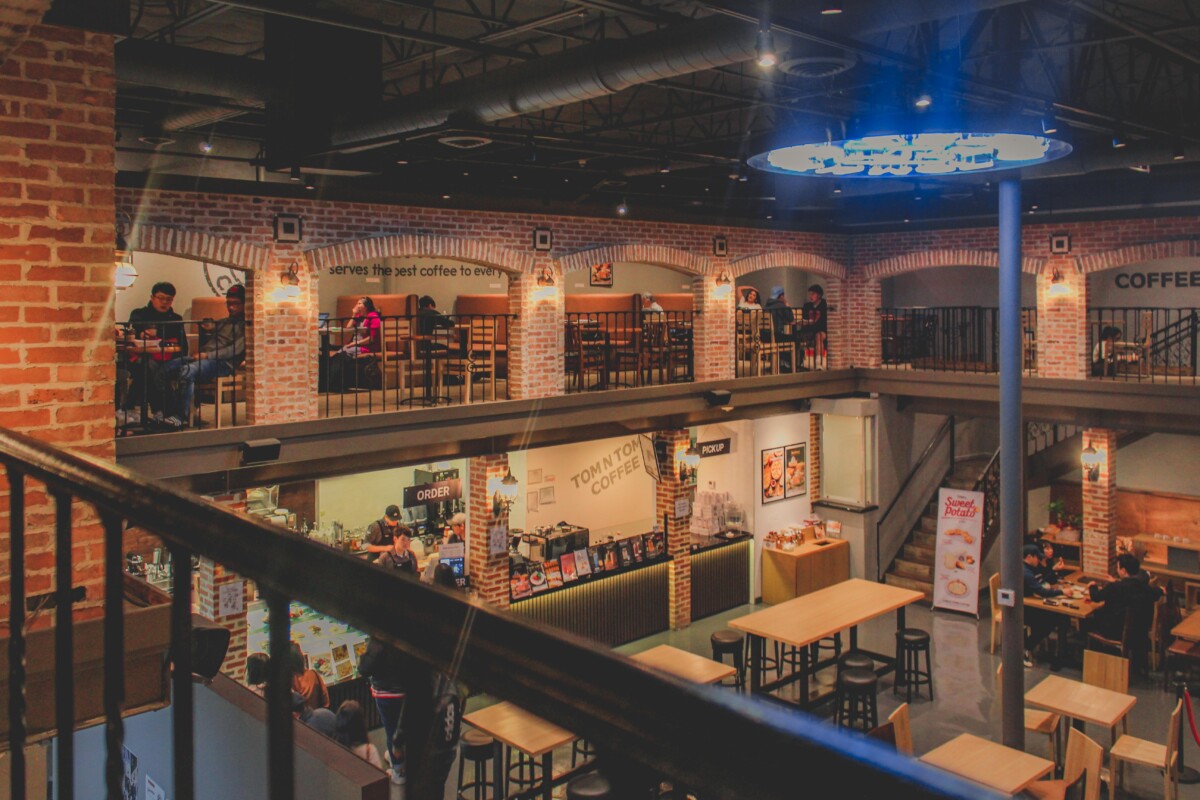 Although Koreans immigrated to areas all over Texas, there's one historic Lone Star suburb that has become synonymous with South Korean culture: Carrollton. Carrollton is one of the best day trips from Dallas for lovers of Asian food. You'll want to embark on your own DIY food tour (stretchy pants are mandatory). Sample some Korean BBQ at Gen's or Yoon; bite into scallion-filled Korean pancakes at Zzizim; and wind down at a Korean coffee shop like Tom N Toms.
Side Note: If you're a fan of Crash Landing On You, run (don't walk) towards bb.q Chicken, a Seoul-inspired Korean fried chicken spot.
Plano
Drive Time From Dallas: 30 Minutes
---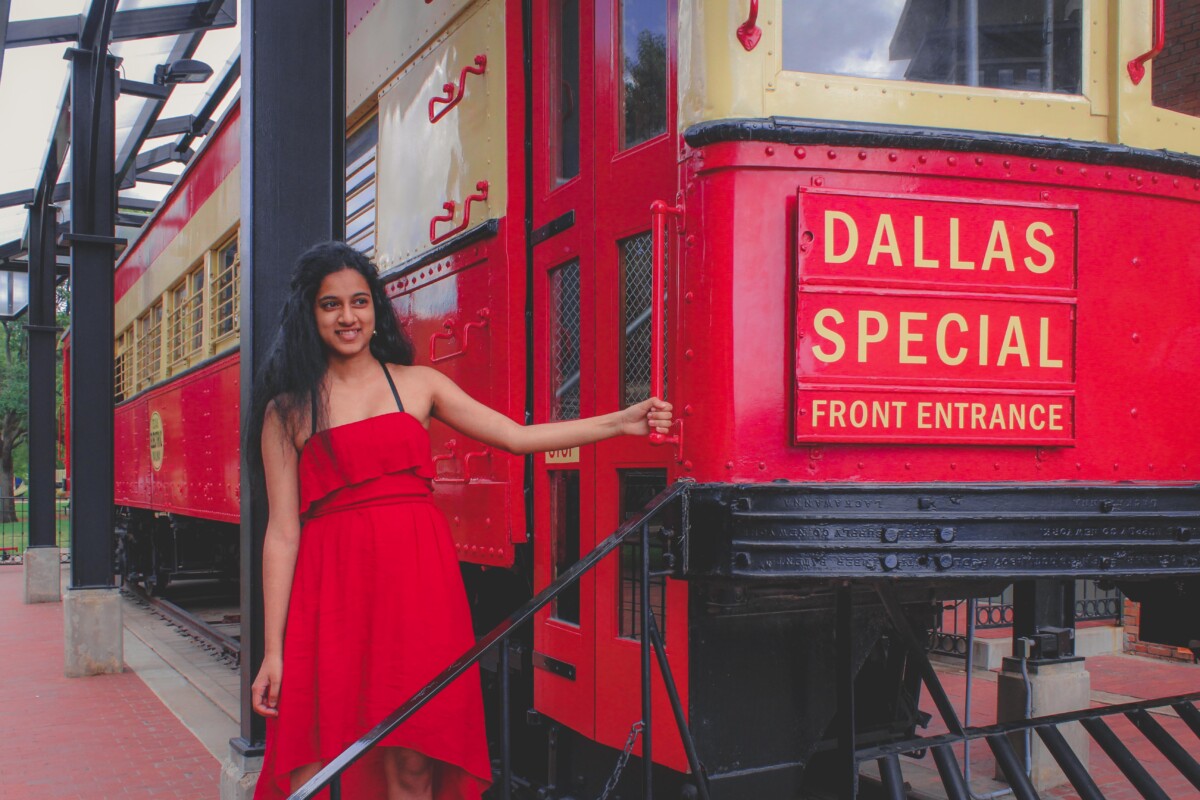 Plano's attractions don't hide in plain sight. They're easy to miss, often tucked away near strip malls and suburban sprawl. But if you're looking for one of the most unique day trips from Dallas (that's still laid-back and casual), make your way out to Plano. Drive through 151 Coffee and order a smooth and creamy cup of Irish Sin. Ramble through Arbor Hills Nature Preserve under the soft glow of morning light. Stop by the free-to-visit Interurban Railway Museum. Wind down your day at The Boardwalk At Granite Park.
Travel Tip: If you love trying new, unique dishes at casual, hole-in-the-wall restaurants, check out Everest Himalayan Restaurant for Indo-Nepali cuisine (get the Momos. enough said).
Waco
Drive Time From Dallas: 1.5 Hours
---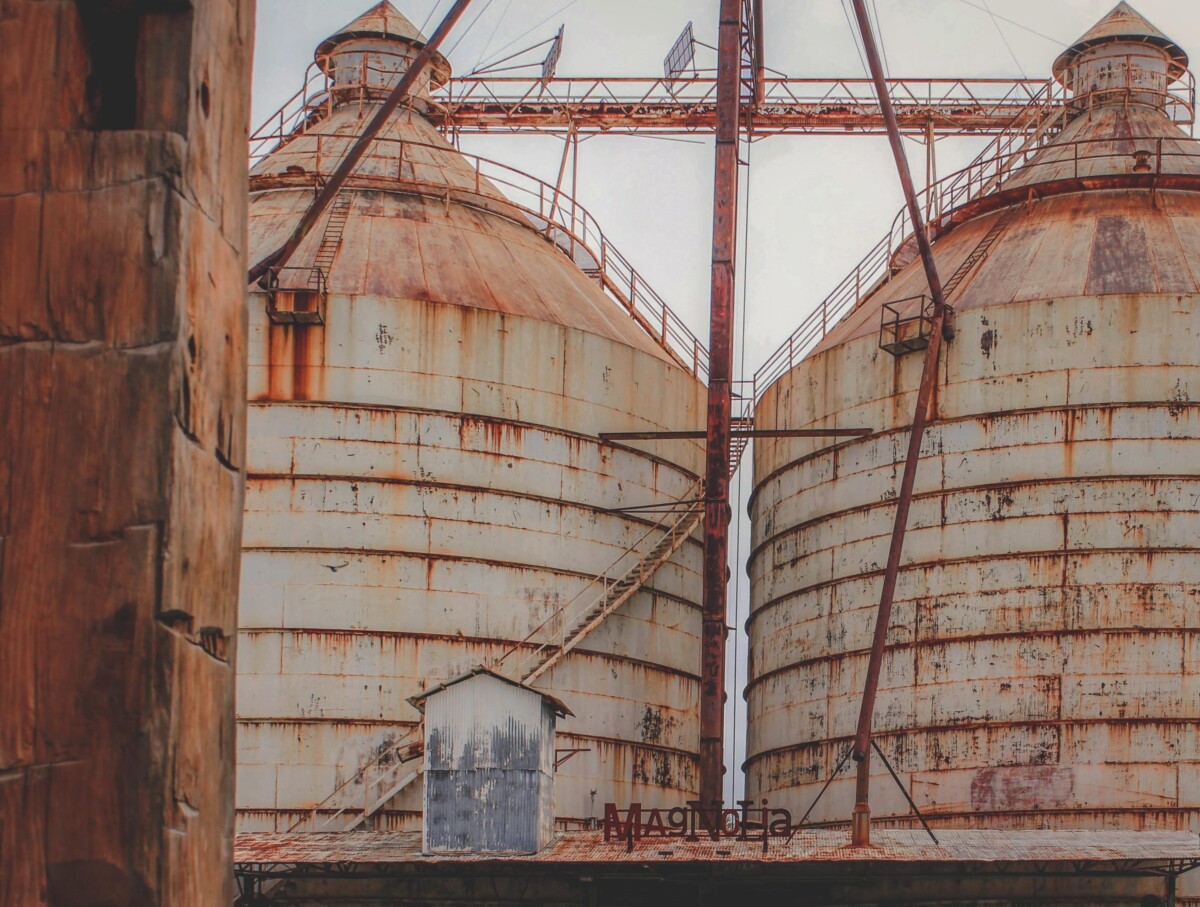 Waco has become one of the most well-known destinations in the United States thanks to HGTV's hit show Fixer Upper. Most tourists concentrate their efforts on Magnolia Market, a silo-stamped mecca for fans of Chip and Joanna Gaines. If you're a lover of all things Magnolia, I recommend visiting at least once (go early, the crowds are wild, and yes, the cupcakes are worth standing in line for). But know that there's more to see and do in Waco. Make Waco a day trip from Dallas for its grand, foyered dark academia library, its innovative coffee shops, and its stunning, snaking views of the Brazos River (best seen from Cameron Park).
Tyler
Drive Time From Dallas: 1.5 Hours
---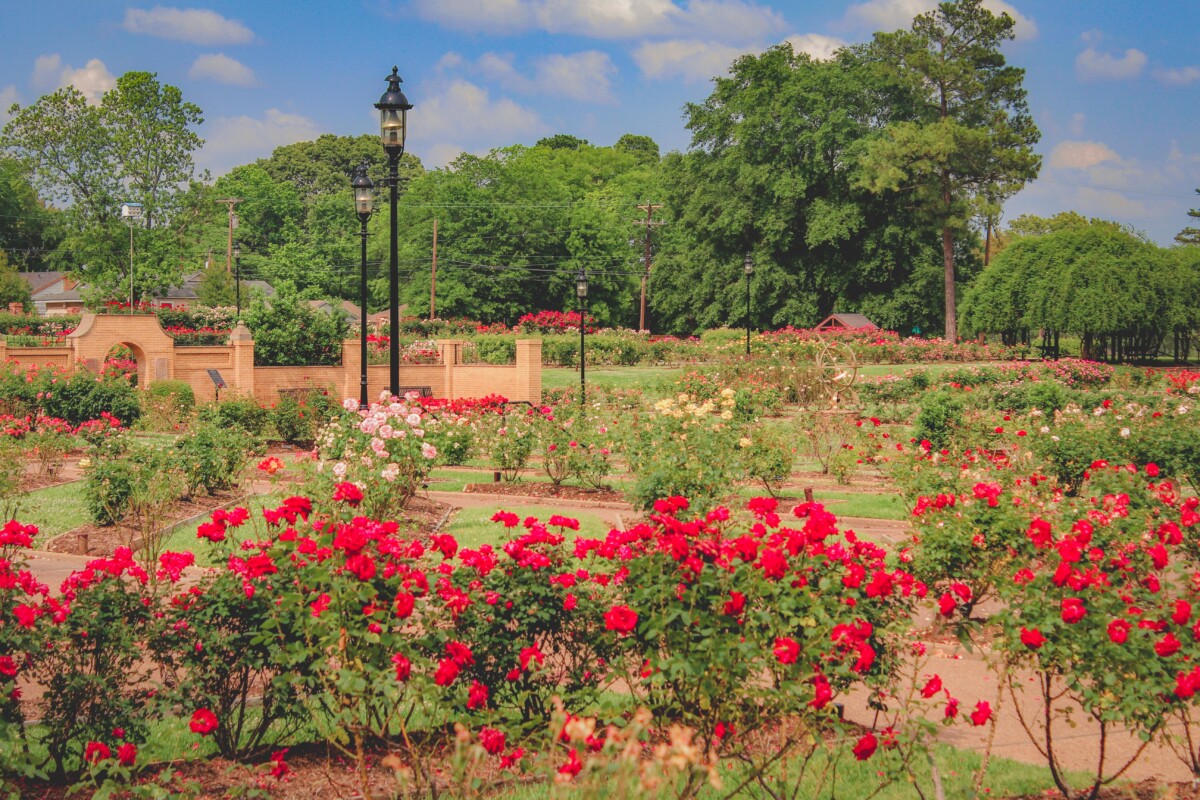 One of my favorite day trips from Dallas (that I will never tire of) is Tyler, a big East Texas city with a lot of springtime charm. Tyler in bloom is beautiful. Azaleas wreath Cotswolds-esque homes. Pink buds perfume Tyler Municipal Rose Garden's lush, fourteen-acre plot. Even the waters encased within Tyler State Park seem more expressive; they take on a deeper, more striking hue of blue.
Delight in Tyler's pockets of charm slowly. Give yourself plenty of time to make detours (here are a few of my favorite ones) and enjoy the gently rolling landscape en-route.
Fort Worth
Drive Time From Dallas: 30 Minutes
---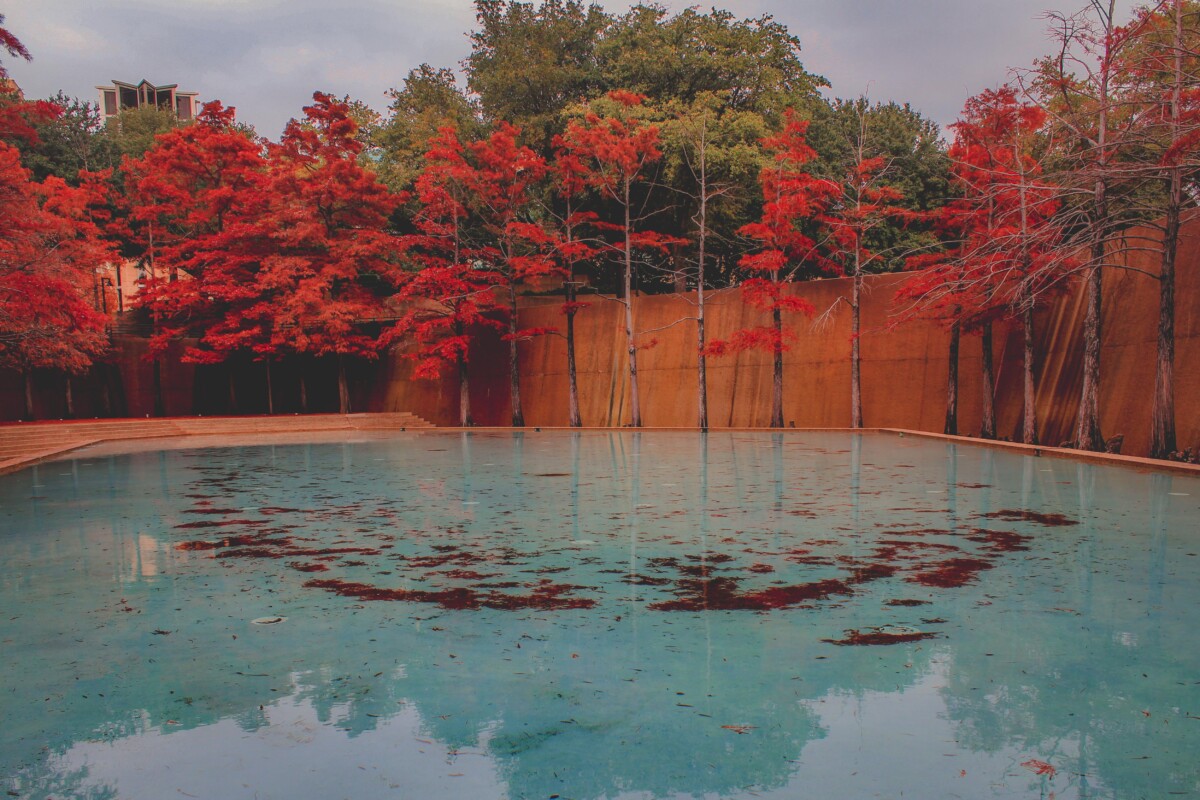 Fort Worth is Dallas' cool, fun sister. Dallas is buttoned-up, formally dressed in suit and tie; Fort Worth is loose and laid-back (think t-shirt and jeans). Dallas is a place of new, new, new; it is a city that is constantly changing. Fort Worth is confident and historic; there are parts of Fort Worth that feel like snapshots of the past, places where time seems to stand still.
It's crazy to think that Dallas and Fort Worth are part of the same metroplex. I can understand why many first-time DFW visitors try to squeeze both cities into a same day itinerary (travel tip: do not do this). Fort Worth is one of the best dedicated day trips from Dallas. It's a place with its own museum district, its own attractions, its own shopping streets, and its own restaurant scene. See The Stockyards and Fort Worth Water Gardens. Block out a few hours for the Kimbell Art Museum. Dine in at fiery Oni Ramen, and cool down at MELT, one of DFW's trendiest, bumble-bee colored ice cream chains.
P.S. Check out this list for more Fort Worth restaurant recommendations.
Austin
Drive Time From Dallas: 3 Hours
---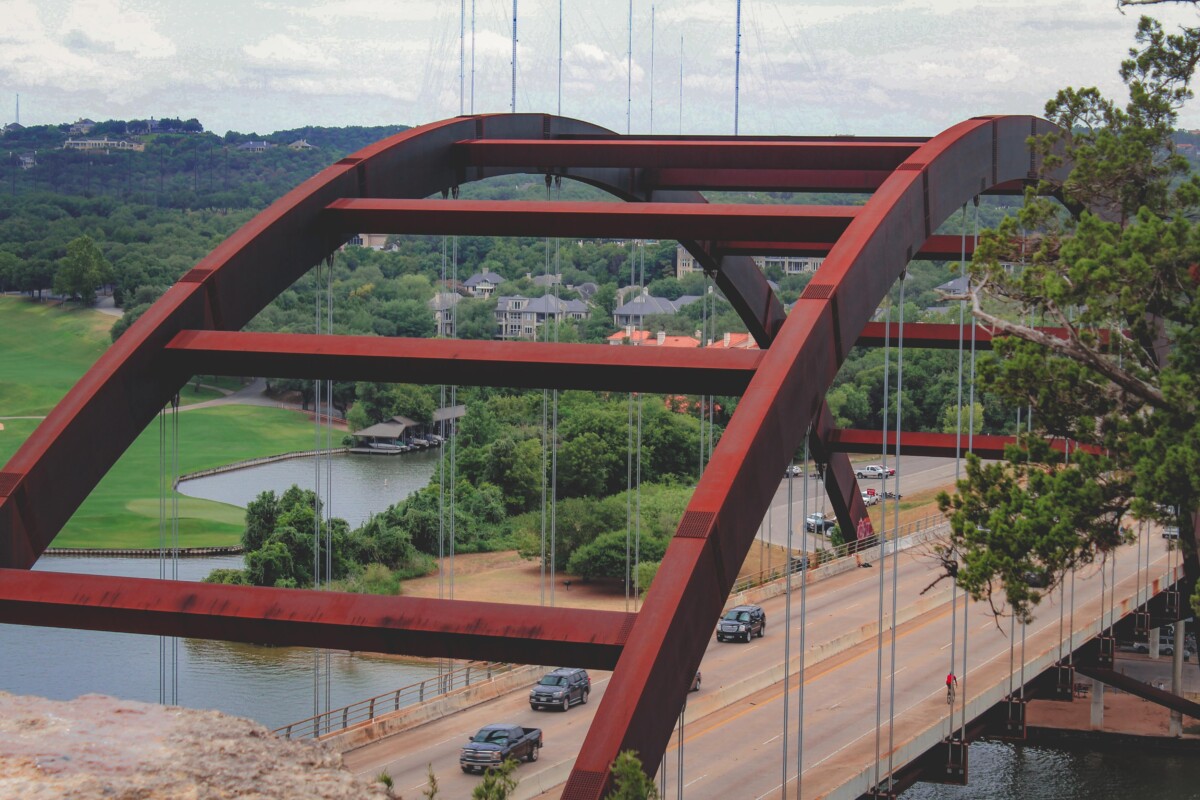 Although Austin can be done as a day trip from Dallas, this is a city worth spending a night (or two) in. With so much to do (here's a list of forty places to visit), you'll want to start planning your return trip as soon as you arrive. Austin is all things weird and offbeat. It's a college city through-and-through (UT is ever-omnipresent here), but it's also a place addicted to nature. This concrete jungle is in a love affair with spinneys of trees and lake-like masses. When in Austin, you'll want to hike, jog, and paddleboard. Hit up Barton Springs Pool on a clear, hot summer day. Wander through Umlauf Sculpture Garden. Bat watch near Congress Avenue Bridge. And if Austin's bright skies are washed away by dark clouds, duck into BookPeople, the largest independent bookstore in Texas.
Turner Falls
Drive Time From Dallas: 2 Hours
---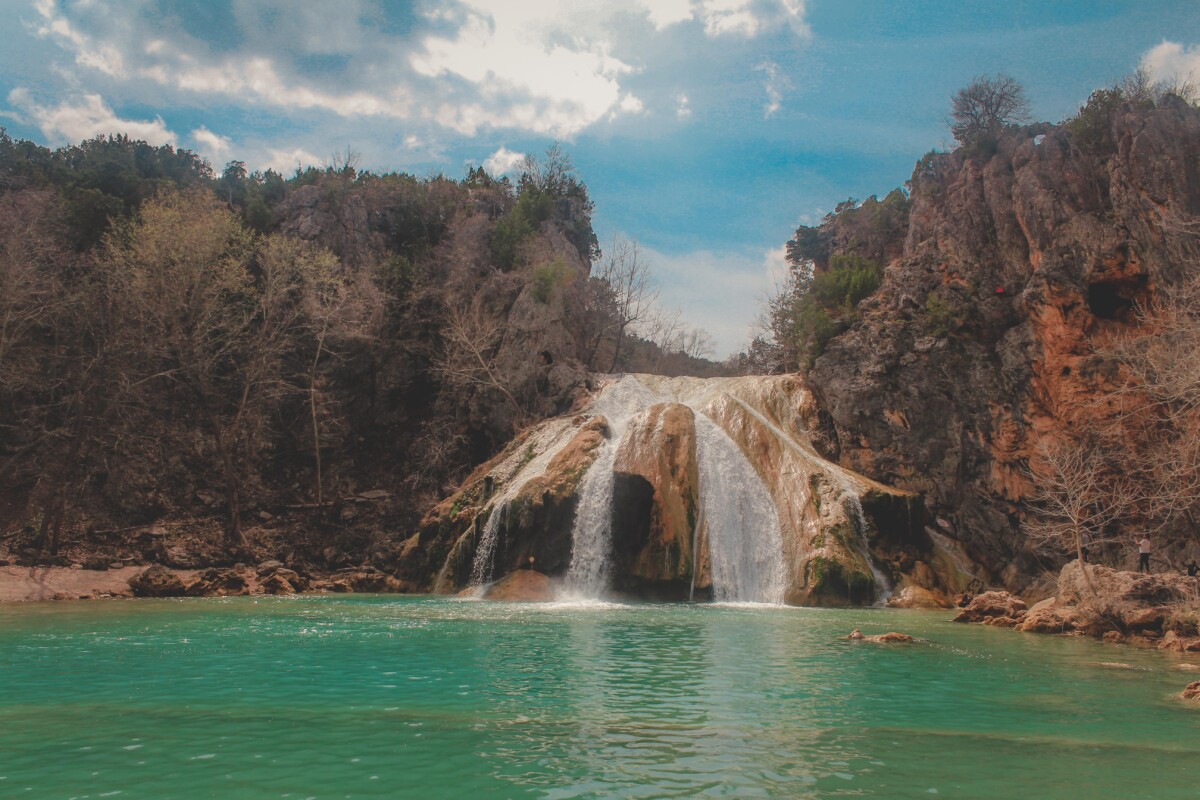 Waterfalls are a tough find near DFW, but Turner Falls is one of my favorites to visit. You'll hear the pounding of water well before you see the falls themselves. Big frothy streams slide down rounded slabs of rock and pour into a green-blue pool. The scale of Turner Falls (70-plus feet) is best enjoyed from the upper lookout (situated near 777 Zip).
That being said, Turner Falls is definitely a pricey and crowded attraction. But it is worth a trip if you're a waterfall chaser (note that the falls area is usually well-maintained and the castle area isn't). Be sure to explore Davis as well: grab fried pies from Arbuckle Mountain Fried Pies, shop for chocolates at Bedré, and stop by the Chickasaw Nation Welcome Center (to see local artwork displayed museum-style).
Broken Bow
Drive Time From Dallas: 3 Hours
---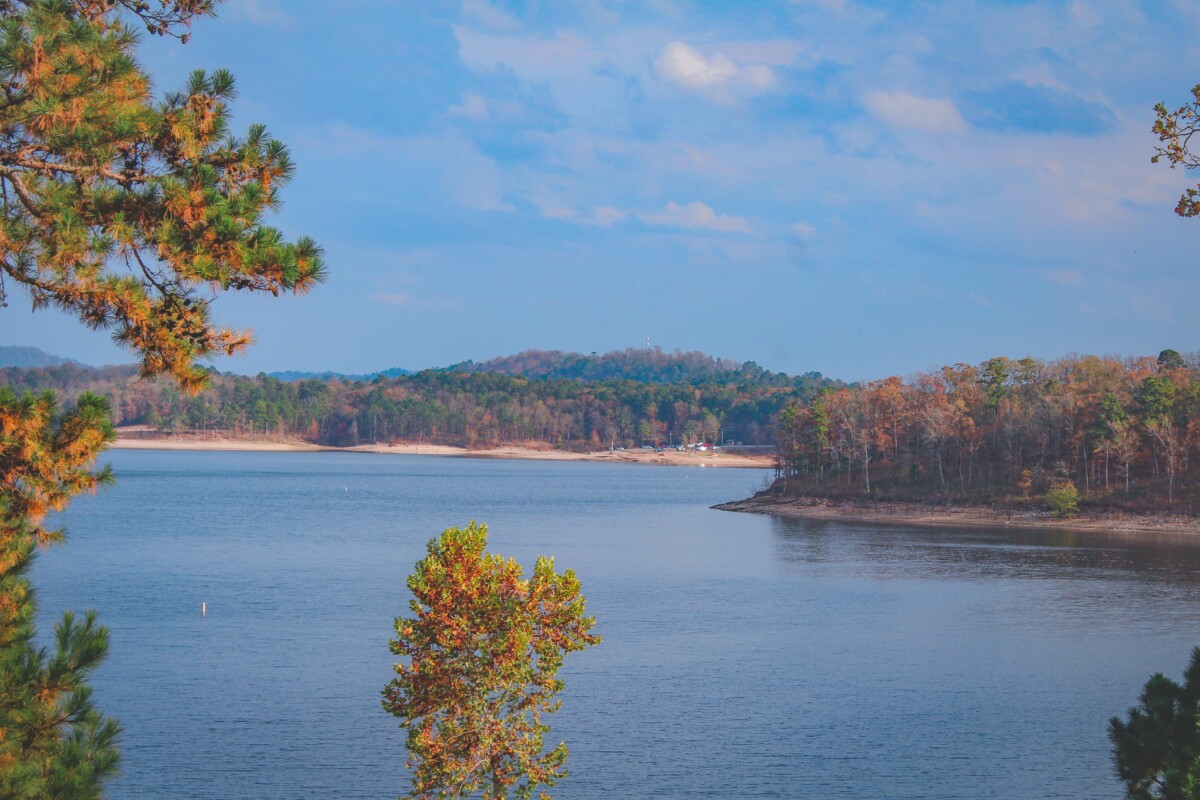 Broken Bow is picturesque. It is a place of vibrant colors: bright blues, auroral greens. Stretches of the lake are so smooth, so glassy, they perfectly reflect copses of the tall, thin woods that cup the shores. Broken Bow Lake is delightfully transparent. You can see all the way down its waters and peer at the rocks dotting the base.
Opt for a floor-to-ceiling windowed cabin (with a hot tub facing the views) if you're planning on spending the night here (there are many enclosed by Broken Bow's enchanting woodlands). And if you're making Broken Bow a simple twelve hour getaway (this is hands-down one of the most scenic day trips from Dallas), plan for a day hike and an evening of fishing.
Talimena National Scenic Byway
Drive Time From Dallas: 3.5 Hours
---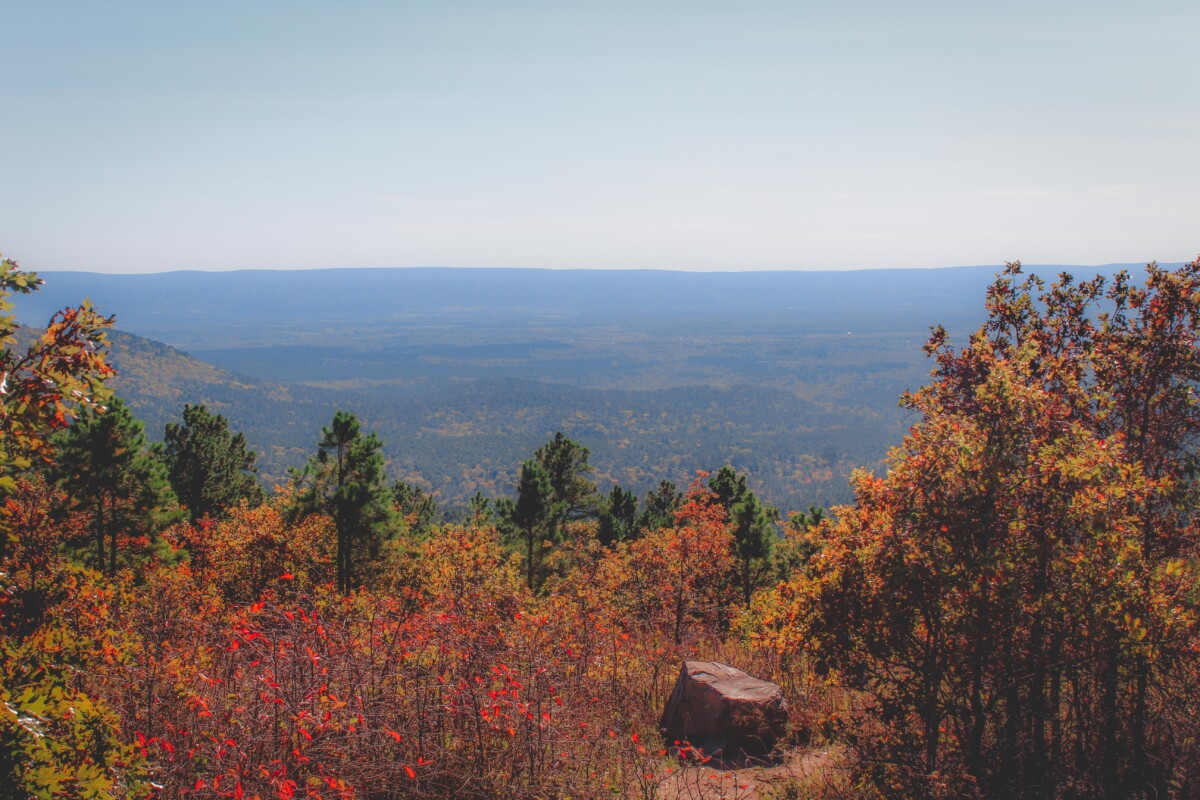 Talimena is one of my favorite drives in Oklahoma. Be warned: this Dallas day trip requires a lot of in-car-time. The road to Talimena is quite a drive. And once you arrive, you'll start twisting along Talimena Scenic Byway too (pack a solid-sized picnic lunch and download some audiobooks or podcasts in advance).
In the fall, Talimena is awash in golden light. Shards of rays hit crimson trees and yellow foliage. The main road curves and winds and shimmies past postcard views. You'll want to bring a camera and pause at every scenic stop to capture photos. The National Scenic Byway is officially a fifty-plus mile route that goes all the way to Arkansas (I usually cut it short so I can make it back to Dallas before dark).

Have you been on any of these day trips from Dallas? What are your favorite day trips from Dallas? Let me know in the comments below! As always, I love hearing from you.