Durham Museum: your gateway to seeing Union Station In Omaha.
"Let's go indoors," I say. The words between my breaths form little clouds in the air. I pull my jacket in tighter and wrap my scarf twice-over around my neck.
I stare up at a row of flagpoles creaking against the wind. Omaha stretches out beneath flaps of fabric waving in and out.
Right now, I'm too cold to think about how pretty the buildings are against the afternoon sun, about how they're all clustered together staircase-style, about how the roads are wide and open and empty and lead straight into the horizon like in the movies.
Instead, my brain is screaming: get inside get inside get inside.
The closest building is titled OMAHA UNION STATION. It looks a bit like a hotel so I rush towards the entrance, pull the doors open, and (I mean this literally) stop in my tracks.
Disclosure: Heads up, this post contains some affiliate links, which means I may get a commission if you make a purchase. Don't feel pressured to buy anything. I still love that you're here, reading my content (side note: I'd probably suggest getting a coffee or tea first though because my blog posts tend to be long). To find out more, you can read our full affiliate disclosure right here.
About The Durham Museum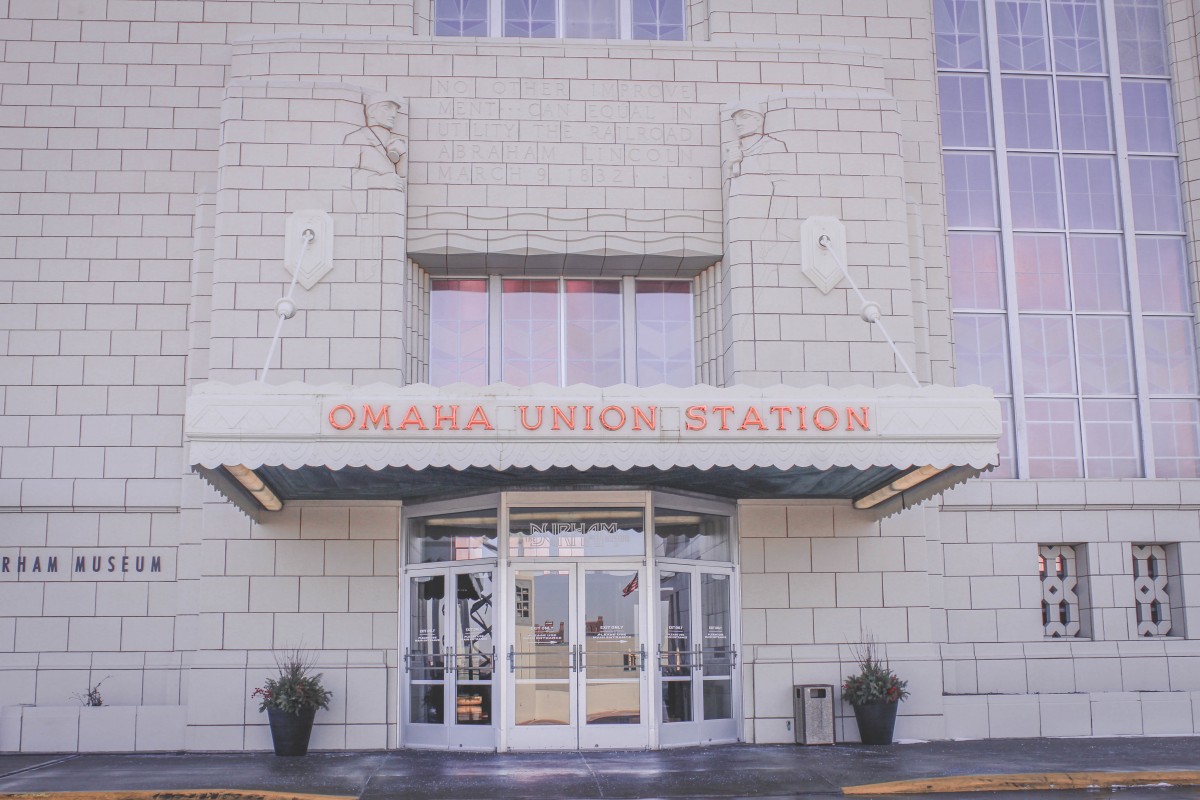 Located on South 10th Street, the Durham Museum is set in the former Union Passenger Terminal, a 20th-century station designed by Gilbert Stanley Underwood.
The station looks ridiculously opulent when you enter. But as you walk through the first exhibit, you'll learn how cheaper materials were used in place of high-quality ones to save costs and speed up construction (sculptural plaster made to look like stone, faux finish painting).
But when I push past the doors into Union Station in Omaha, I'm blissfully unaware of that. Instead, I'm immediately swept up in the magic (and not just because it's warm. very warm).
The lights fall softly on the wide Terrazzo floors. My feet cross over a black-and-white checkerboard pattern back-and-forth (once then twice). Far-far above my head are decorative ceilings and gold leaf decorations.
In this part of the Durham Museum (The Great Hall), there are statues everywhere. Statues that balance real-and-unreal. The statues (inspired by the later part of the early 1900s – Great Depression, World War II) are set up to beckon memories of the past.
There are two men, reddish-yellow casts from top to bottom, in military uniforms, casually waiting for their trains. A conversation plays between them. You can hear the chatter, the tension, the sounds of the era.
Every second of the Durham Museum fiddles with a different layer of immersion.
Grabbing A Bite At The Durham Museum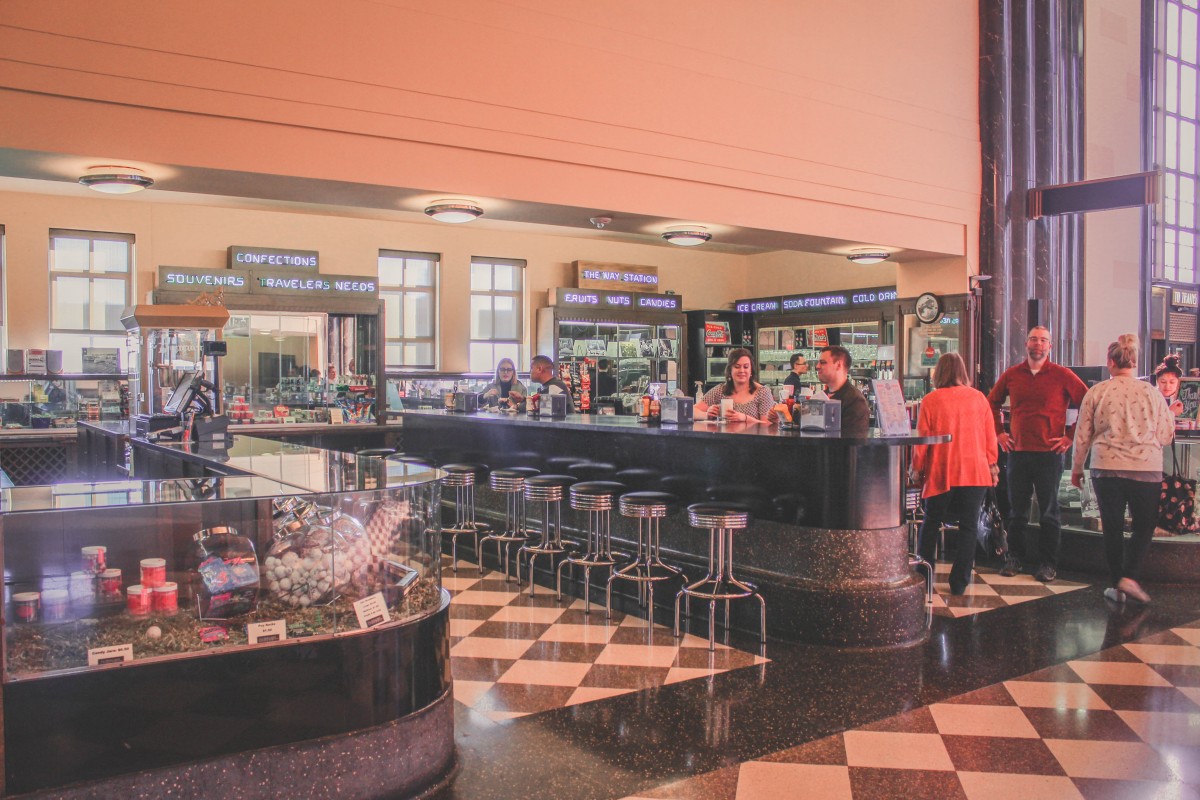 A crowd sits at the end of the Great Hall. They're clustered on stool tops, around a sleek black bar counter, in front of glowing signs that spell "Souvenirs" and "Traveler's Needs."
This soda fountain opened in Union Station in 1931. The fountain wore a lot of hats back then: a newsstand, a convenience stop, a candy store, a malt shop.
In the 1930s, sundaes and phosphate soda were served in-house. Today, you can still grab their famous root beer floats and malts!
Best Of The Durham Museum: What To See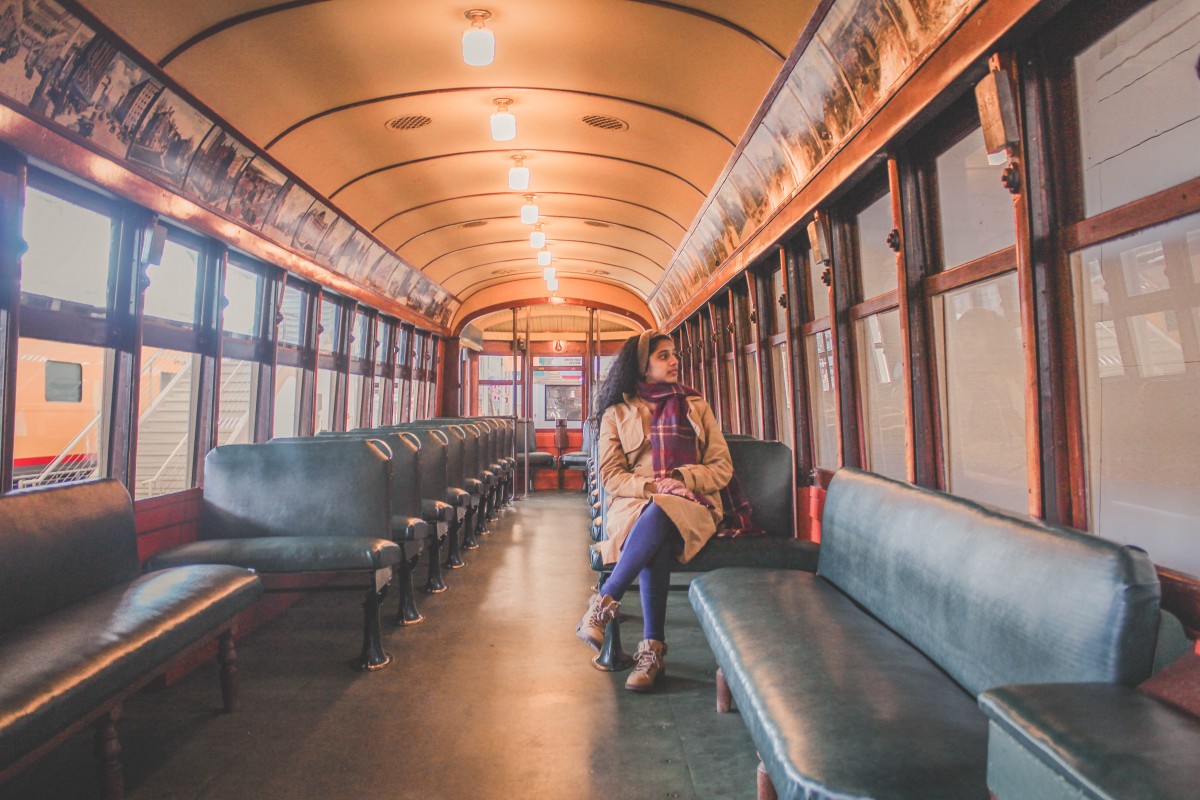 Once I see the span of the lower level of the Durham Museum, I know three hours isn't enough to cover it all (but I try my best).
Trans-Mississippi Exposition Gallery
The history of a 184-acre site, built and stripped one summer for an event, that drew over 2 million worldwide visitors.
Byron Reed Collection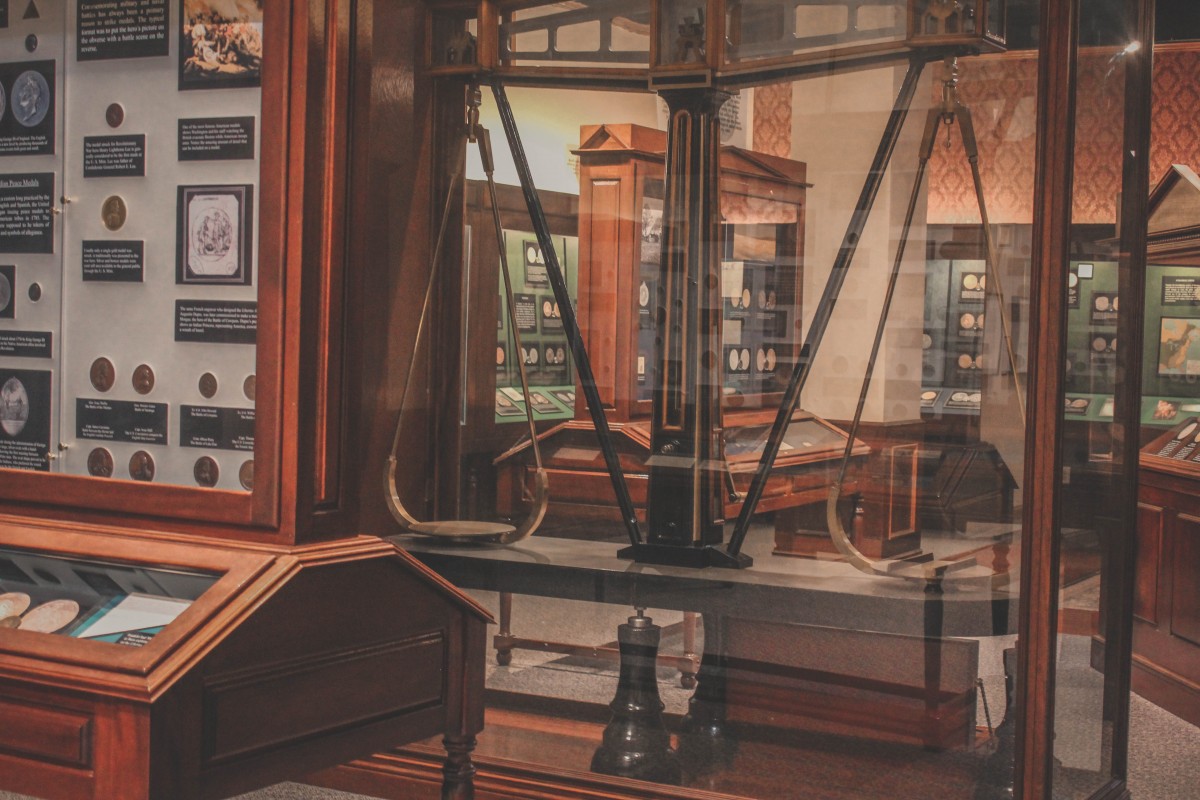 Set in a beautiful low-lit room with old coins and rare books encased in deep-colored wood, the Byron Reed Collection houses almost 10,000 artifacts, including maps and banknotes.
Most of my time is spent in the rare books sliver of the exhibit, where weighty titles are lined up and laid down.
Buffet Grocery Store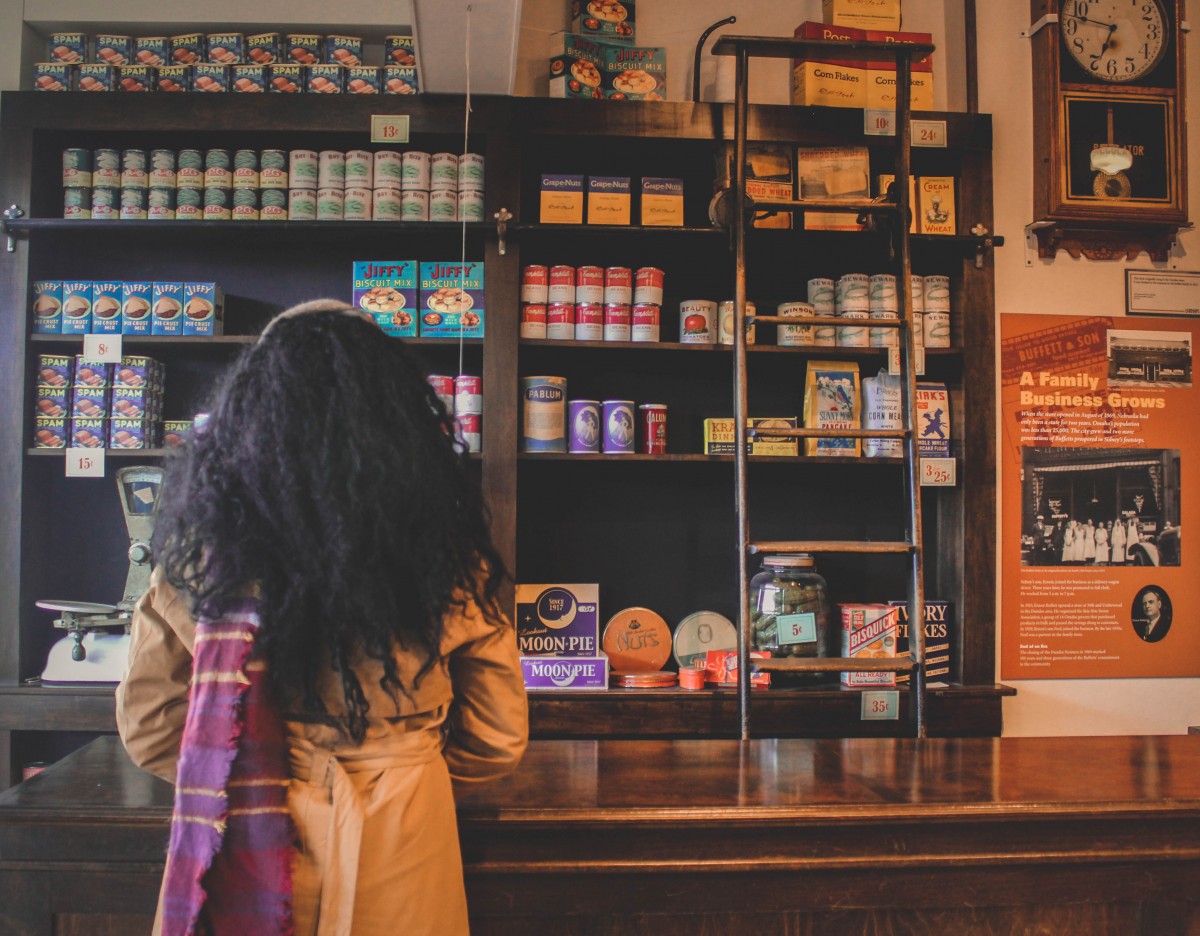 This is hands-down my favorite exhibit. It's small – one-room only.
But I loved seeing the old marketing wraps on products of today. My husband and I go through each shelf, one-at-a-time to see if we recognize any of the products (most are identifiable names but the packaging definitely throws us).
Spam stays the same. Oreo's changed in a million ways.
All The Train Cars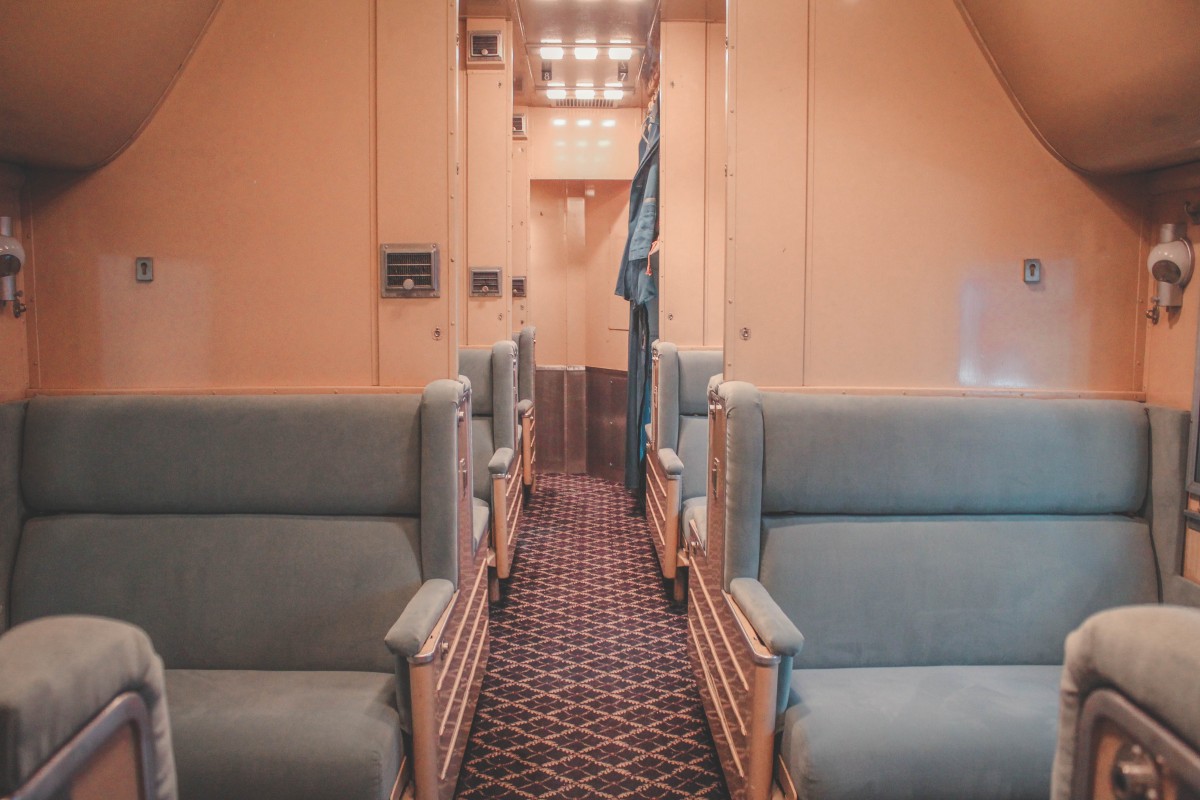 Within the Durham Museum are many old train cars you can walk through.
The cloth is worn, the floors are carpeted. I squeeze through one. Then another.
From the O-scale model train layout to former President Harry Truman's press car, the lower level of Union Station in Omaha is chock-full of transportation-related exhibits.
Tips For Visiting The Durham Museum
The museum is open 10AM – 5PM, Tuesday through Saturday. It's open 1-5PM on Sundays (closed on Mondays).
The main level exhibit focuses on the Great Hall and the Lower Level focuses on the history of Omaha. You'll want to start at the main level and work your way down.
You can purchase your tickets online in advance (but it makes no difference in the price. The museum is also never really crowded so you don't have to wait in line if you purchase tickets in person).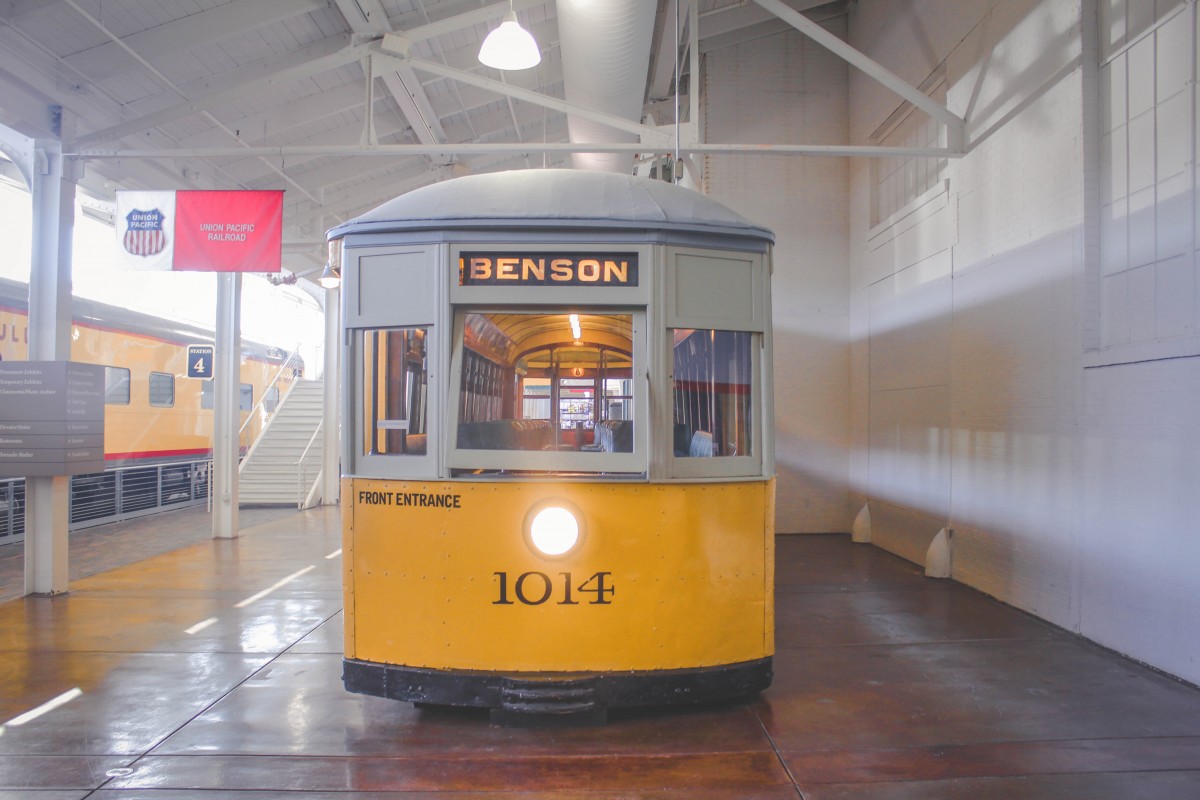 Planning a trip to Omaha? Here are our top recommended hotels :

Did you find this guide to the Durham Museum useful? Have you ever visited Union Station In Omaha? Let me know in the comments below!