I guess, it could be worse. Maybe, I need to start searching for free things to do in Waco.
I let my hands slide into my pockets, hoping to feel some loose change. Nothing. I empty out my purse, dumping a pile of business cards and empty chapstick containers onto a marbled table. Nothing. I ruffle through my bag. Electronics here. Wires there. But surprise, surprise – nothing I need.
Is it possible that I spent every last penny at Magnolia Market? I pause. The cupcakes. The food truck brunch. That gorgeous green vase…
Yes, yes it was. Strike one.
"Student discount?" I ask sheepishly.
Please be free. Please be free.
The lady glances over a sheet. "$6.00," she says.
Strike two. "So are there any free things to do in Waco?"
She smiles. And I know, I've hit the jackpot.
Disclosure: Heads up, this post contains some affiliate links, which means I may get a commission if you make a purchase. Don't feel pressured to buy anything. I still love that you're here, reading my content (side note: I'd probably suggest getting a coffee or tea first though because my blog posts tend to be long). To find out more, you can read our full affiliate disclosure right here.
Get Your Vintage Fix At Spice Village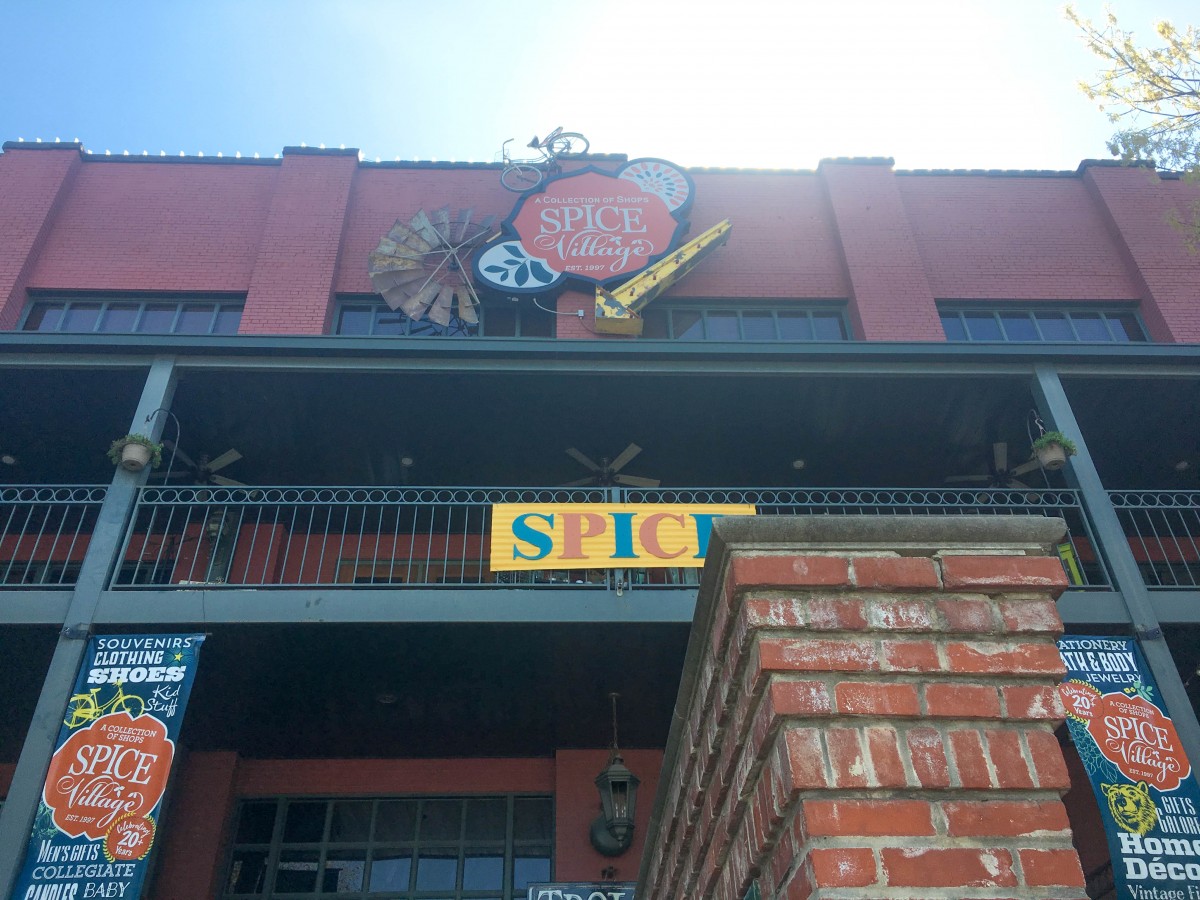 A hodgepodge of over fifty boutique stores, Spice Village is a vintage-lover's dream. From zesty home goods to country-style gifts with a bit of a unique kick, all the knick-knacks at Spice Village stir up our consumer appetite.
We stroll through the aisles, winding in and out of rows of shabby-chic items and good ol' Southern Christian merchandise. Lost in a tourist wonderland, the complex doesn't have an intimate feel. But that isn't necessarily bad news. While a community outlet is a trademark of most vintage shops, the more distant set-up of Spice Village works seamlessly, considering the size.
Seriously, Spice Village is huge. If you're a mega-shopper or bargain hunter looking for free things to do in Waco, plan to spend a few hours here minimum (and come early because the lines get long).
Spice Village: 213 Mary Ave, Waco, TX 76701, 10AM to 6PM Mon-Sat & 12PM – 5PM Sun.
Stroll Through Cameron Park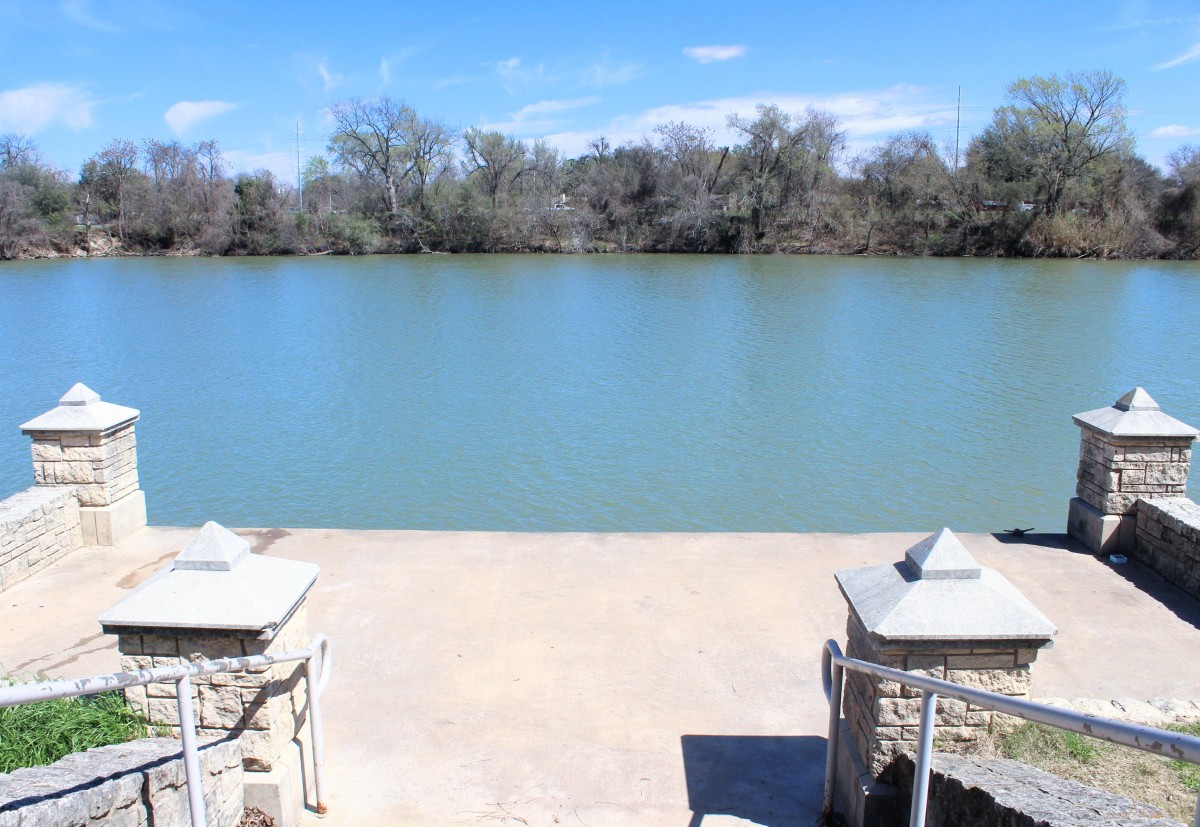 At over 400 acres, Cameron Park is a quiet local hangout unlike any another.
To be honest, Cameron Park should be a tourist attraction, sung in praise and visited in masses. Why? Most of the free things to do in Waco involving exploring all the little nooks and crannies within Cameron Park.
Jacob's Ladder: Thoughts lightning bolt through my head. Why am I doing this? Have I gone mad? I think everyone in Waco heard me scream. Okay, calm down. Maybe, this terrifying zig-zag mess of a staircase, vertically scaling from the top of a hill to the foot of the Brazos River, is only perfect for thrill-seekers. Am I a thrill seeker? Of course, not. Now, if you excuse me, I'm going to curl up in a museum.
Lover's Leap: Ahh, this is more like it – a beautiful vantage point and plenty of seats for me to (safely) take in the view.
Miss Nellie's Pretty Place: A gorgeous fountain? Wildflowers? Have all my Instagram dreams come true? Yes. Yes, they have.
Travel Tip: Check the Cameron Park Zoo web calendar. Sometimes, they host free or heavily discounted days during promotional events.
Cameron Park: 2601 N University Parks Dr, Waco, TX 76708
Strut Down The Waco Suspension Bridge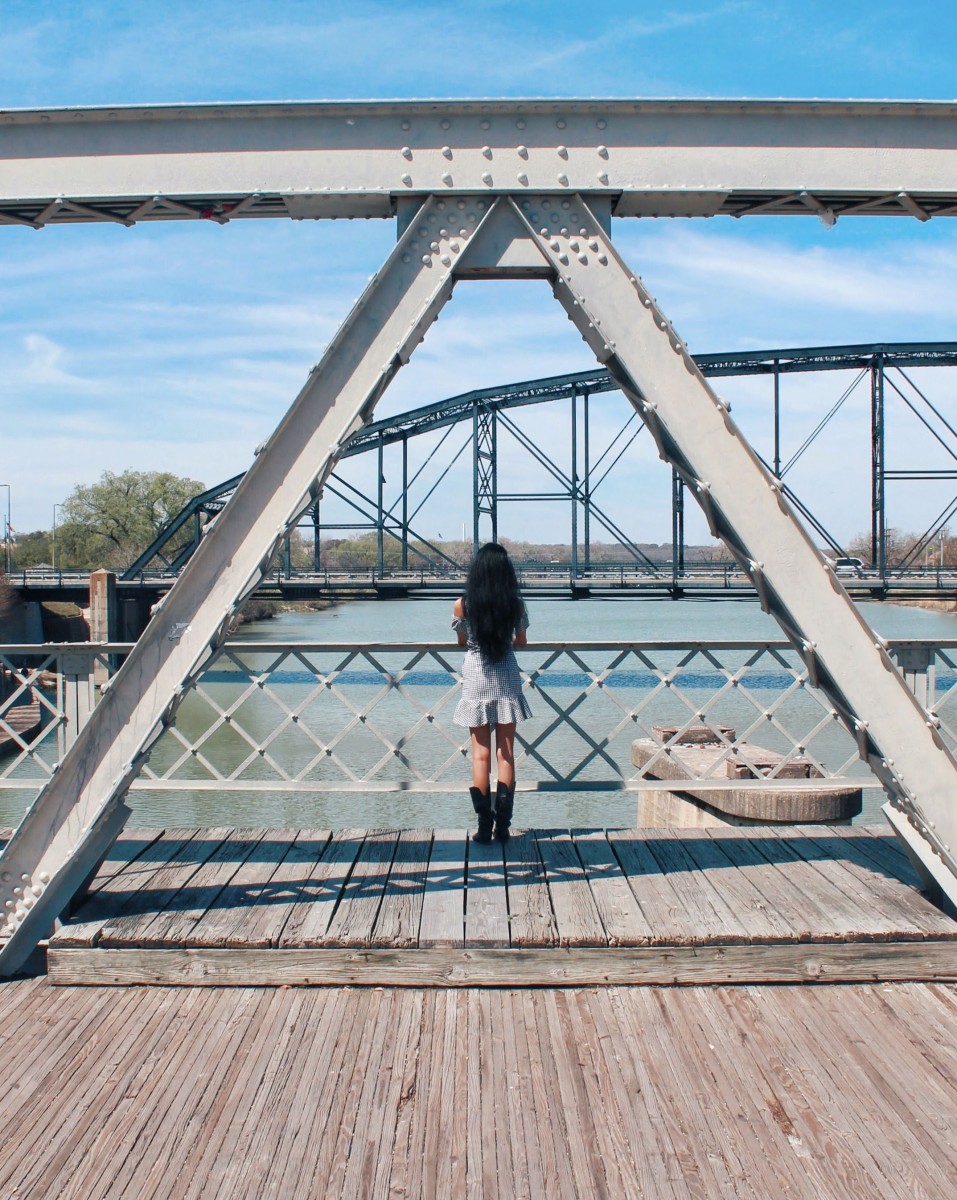 Is this what it feels like to be a runway model?
Strutting down the Waco Suspension Bridge is empowering. The former 475 foot stagecoach track, now footpath, stretches across the Brazos River. There's over 150 years of history locked within this brick and steel structure.
The Instagrammer in me wants to pose here all day. But I don't want to completely embarrass you by spending my time taking cheesy photo-ops instead of showing you a more…ahem, cultured…list of free things to do in Waco.
The suspension bridge is actually enveloped by two parks. On the east side is Martin Luther King Jr. park, a small grassy lawn with a residential play-area feel. And to the west is Indian Spring Park, which features a series of mammoth statues. Scattered throughout the plot, the figures are all part of the same story – the tale of Chisholm Trail.
Captured through fine-detail and chunky larger-than-life elements, there's something raw and heroic about the statues that makes us immediately fall head-over-heels in love with them.
Waco Suspension Bridge: 101 N University Parks Dr, Waco, TX 76701
Visit the Armstrong-Browning Library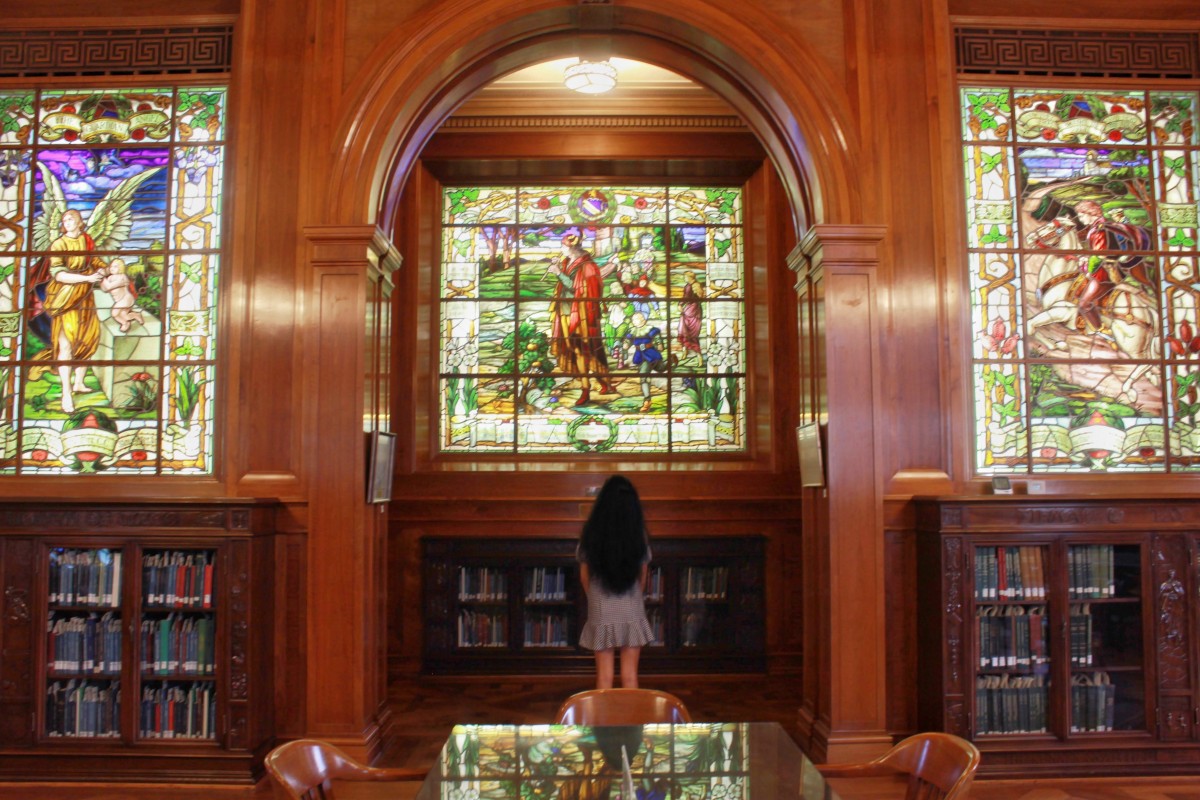 Our last stop on this shoe-string journey is the most underrated location in Waco, Texas – the Armstrong Browning Library.
Less small town library and more boutique museum, this popular study spot at Baylor University demands attention.
From walls that scale the Italian Renaissance building, a jaw-dropping balcony view, old-world European style portraits, richly-colored stained glass paintings, and of course, more books than I could ever count, the Armstrong Browning Library is, in one word, magnificent.
I'm surprised to see that it isn't mentioned in most lists of free things to do in Waco much less lists of things to do in Waco.
As we walk through the library, from wing to wing, I feel like a princess in a castle. There's something ethereal about the low-lit, wood paneled walls.
The library is multi-floored. You can enter on either of the lower levels. The first floor is home to a gift shop, pottery, and artifacts. The second floor is where the magic happens. Here, the well-known fantasy of Robert and Elizabeth Browning come to life through quotes and placards. After all, the Armstrong Browning Library contains the largest collection of works by the couple.
Somewhere, in the midst of worn spines and walls of words, I feel at home. As we roam the third floor, we find an alcove that lets us peak at the McLean Foyer of Meditation from above. Minimalist decor. Large bronze chandeliers. Detailed ironwork.
"This is it," you say.
I spin around, confused. I pull the sheet from your hand. All the labels on the list have been scratched off.
This can't be it. Our Waco adventure can't have come to an end so soon.
"This is the end of her list," you insist.
I sigh. I guess, if we have to leave, this fairytale cove of lavishness and serenity would provide the perfect happy ending.
As I look down below at the empty space, softened by light pouring through a heavily draped, long, thin window, I smile.
"Yes, this is it," I whisper.
Armstrong Browning Library: 710 Speight Ave, Waco, TX 76706
Recommended Waco Tours
Did you enjoy this list of free things to do in Waco? Do you know of any more free things to do in Waco, Texas that I missed out on? Let me know in the comments below! I love hearing from you!