I didn't intend to write a list of funny travel quotes today.
You see, I was looking up Robin Williams on travel and Google Images gave me the best results I could ask for: giant Mrs. Doubtfire sipping cups available for sale.
The Internet is a strange and wonderful thing.
For some reason, I started to remember the comedy gold of Robin Williams and proceeded to laugh like no one was watching.
Mostly because no one was watching.
I didn't want the laughter to stop so I spent the better part of my morning compiling this list of funny travel quotes. Let's take a look at them, shall we?
Update: Thanks to a reader, I recently found this Etsy travel shop that sells stunning printables of most of these cheeky travel quotes. I'm definitely buying several of these digital prints (they're so chic) and adding them to my home office desk for a pop of sass. I'll link the shop here if you're interested!
Disclosure: Heads up, this post contains some affiliate links, which means I may get a commission if you make a purchase. Don't feel pressured to buy anything. I still love that you're here, reading my content (side note: I'd probably suggest getting a coffee or tea first though because my blog posts tend to be long). To find out more, you can read our full affiliate disclosure right here.
25 Funny Travel Quotes That Will Make You Smile
"I love my job, only when I'm on vacation." – Anonymous
"I've been to almost as many places as my luggage." – Bobe Hope
"Sometimes the road less traveled is less traveled for a reason." – Jerry Seinfeld (reminds me of the time I took a wrong turn in Houston….)
"I wish travel therapy was covered by my health insurance." – Anonymous
"Plane tickets are the answer. Who cares what the question is?" – Anonymous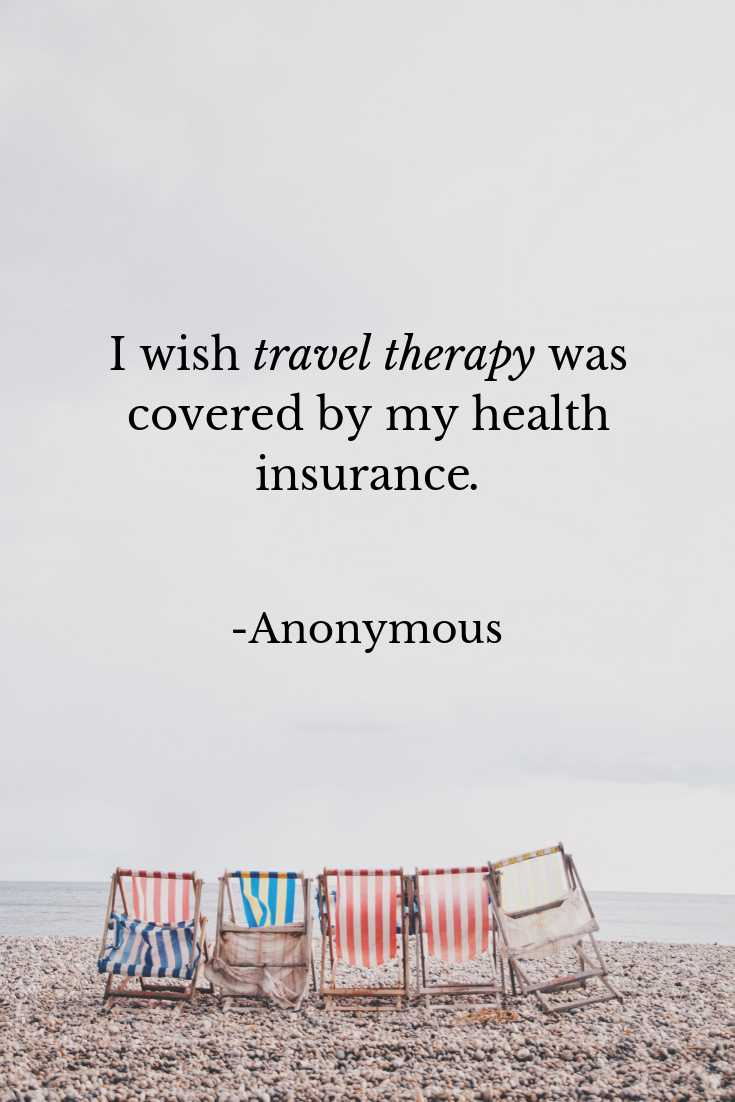 "Traveling is like flirting with life. It's saying 'I would stay and love you but I have to go, this is my station.'" – Lisa St. Aubin de Teran
"A hotel room all to myself is my idea of a good time." – Chelsea Handler
"Airline travel is hours of boredom interrupted by stark moments of terror." – Al Boliska
"I crossed a time zone and I feel younger already. If I keep traveling west, I can become immortal." – Jarod Kintz
"Another well-known Paris landmark is the Arc de Triomphe, a moving monument to the many brave women and men who have died trying to visit it." – Dave Barry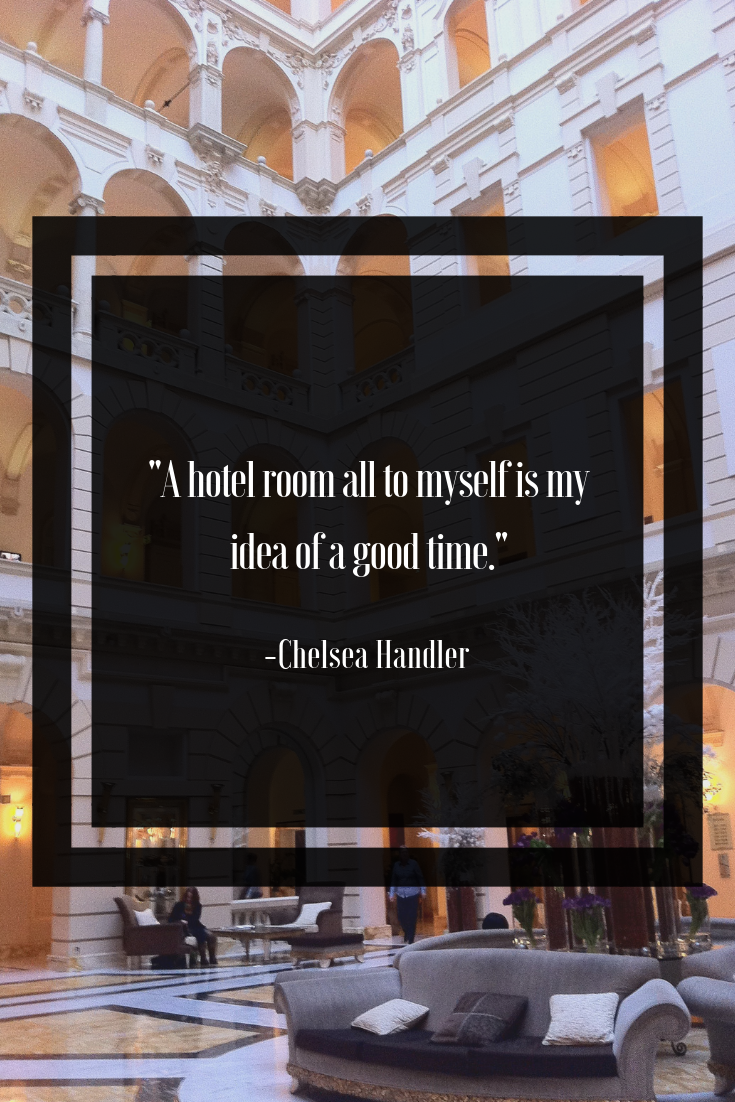 "What's the use of a great city having temptations if fellows don't yield to them?"

–

P.G. Wodehouse
"The worst thing about being a tourist is having other tourists recognize you as a tourist." – Russel Baker
"Say yes, and you'll figure it out afterwards." – Tina Fey
"Adventure without risk is Disneyland." – Douglas Coupland
"Backpacking is the art of knowing what not to take." – Sheridan Anderson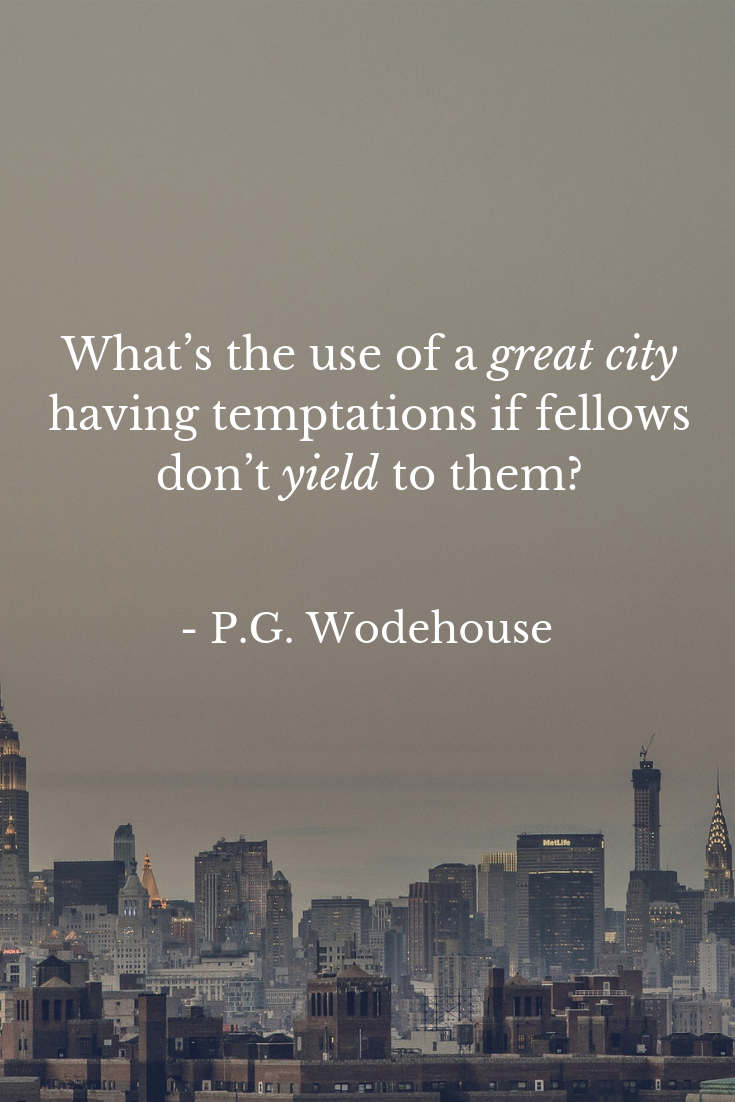 "I travel light but not at the same speed." – Jarod Kintz
"The devil himself had probably redesigned hell in the light of information he had gained from observing airport layouts." – Anthony Price
"There are only two emotions in a plane: boredom and terror." – Orson Welles
"I need a six month vacation, twice a year." – Anonymous
"If life is a journey, the beach is my destination." – Anonymous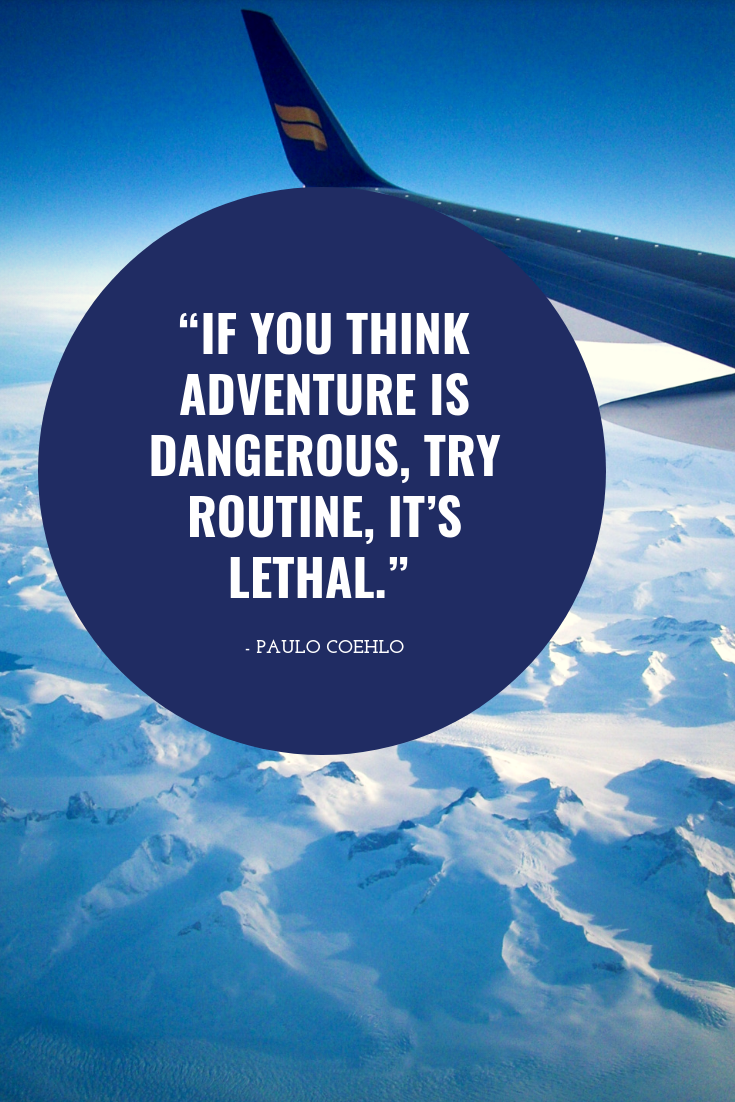 "I'm a travel addict on the road to recovery. Just kidding, I'm on the road to the airport." – Anonymous
"One day if I go to heaven, I'll look around and say 'it ain't bad but it ain't San Francisco.'" – Herb Caen
"There are no foreign lands. It is the traveler only who is foreign." – Robert Louis Stevenson
"The city is not a concrete jungle, it is a human zoo." – Desmond Morris
"If you think adventure is dangerous, try routine, it's lethal." – Paulo Coehlo
10 Funny Travel Quotes With A Sprinkle Of Sarcasm
If you're like me and enjoy a little dry humor, you'll love these funny travel quotes. This list is all sass and attitude with a sprinkle of sarcasm thrown in.
Also, try reading these in a Chandler Bing voice.
"I get pretty much all the exercise I need walking down airport concourses carrying bags." – Guy Clark
"I feel like most of my problems could be solved with a trip to…well, anywhere." – Anonymous
"Never underestimate the therapeutic power of driving and listening to very loud music." – Anonymous
"I get emotionally attached to the cars ahead of me on road trips." – Anonymous (I'm so happy I found this quote, by the way. I thought I was the only one.)
"It's bad manners to keep a vacation waiting." – Anonymous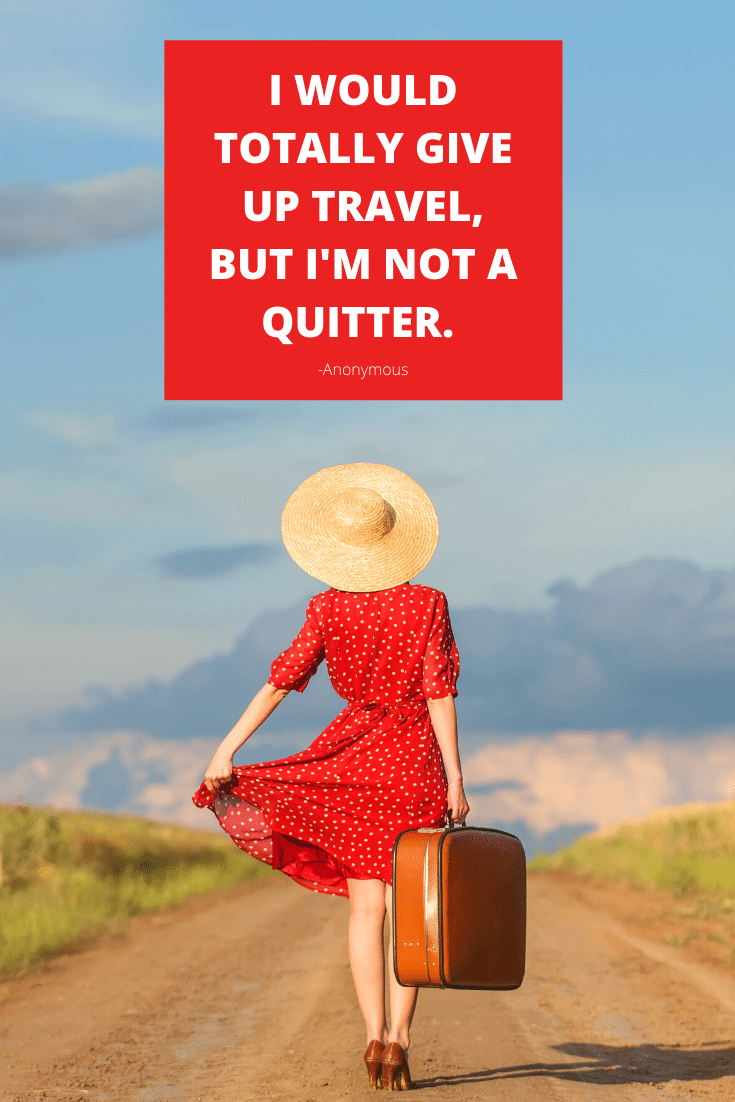 "If anyone is Christmas shopping for me, I'm a size window seat in plane tickets." – Anonymous (hun, if you're reading this….)
"There is nothing safer than flying – it's crashing that is dangerous." – Theo Cowan
"I wish I was a postcard. For under a dollar, I could travel to any location in the world." – Anonymous
"I would totally give up travel, but I'm not a quitter." – Anonymous
"The gentle reader will never, never know what a consummate ass he can become until he goes abroad. I speak now, of course, in the supposition that the gentle reader has not been abroad, and therefore is not already a consummate ass." – Mark Twain
10 Funny Travel Quotes That Are Hilariously True
These funny travel quotes are in part practical and in part motivational.
And they're all hilariously true.
"Don't worry about the world ending today, it's already tomorrow in Australia." – Charles M. Schulz
"Road trips require a couple of things: a well-balanced diet of caffeine, salt and sugar and an excellent selection of tunes – oh, and directions." – Jenn McKinlay
"When preparing to travel, lay out all your clothes and all your money. Then take half the clothes and twice the money." – Susan Heller
"Spain travel tip: If bathroom genders are indicated by flamingos, the boy flamingo is the one with a hat. I learned this the hard way." – Dave Barry
"I have found out that there ain't no surer way to find out whether you like people or hate them than to travel with them". – Mark Twain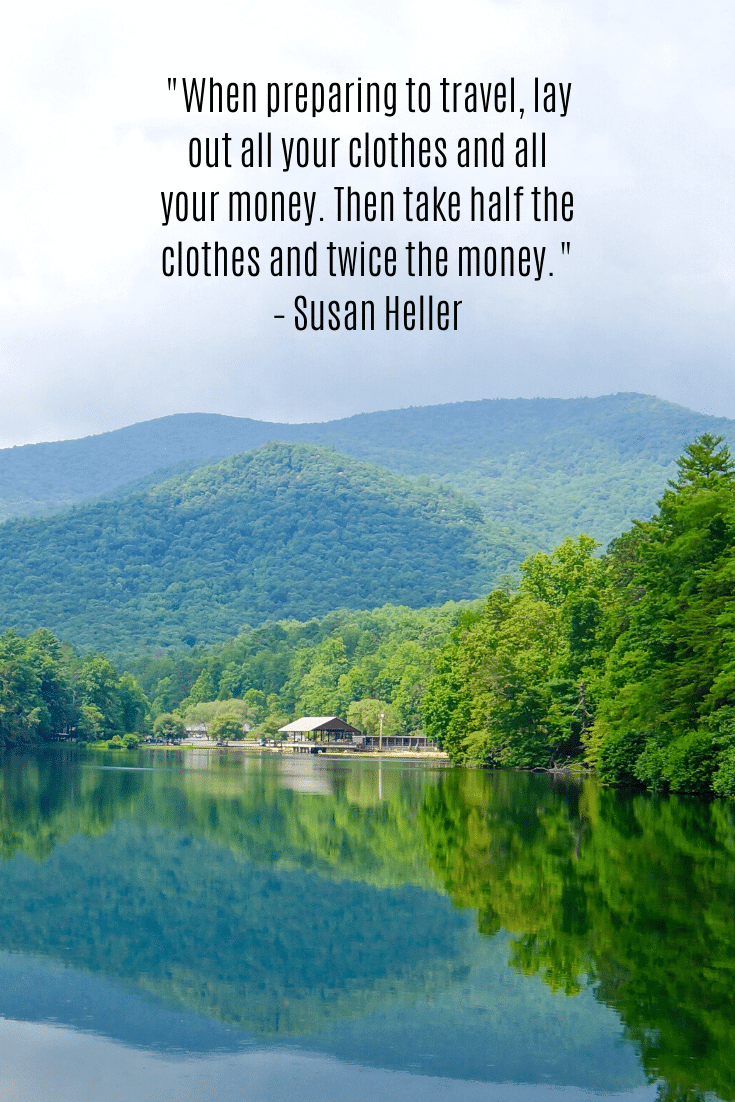 "You define a good flight by negatives: you didn't get hijacked, you didn't crash, you didn't throw up, you weren't late, you weren't nauseated by the food. So you are grateful." – Paul Theroux
"The best way to know a city is to eat it." – Scott Westerfeld
"Travel like Gandhi, with simple clothes, open eyes, and an uncluttered mind." – Rick Steve
"My fear of flying starts as soon as I buckle myself in and then the guy up front mumbles a few unintelligible words then before I know it I'm thrust into the back of my seat by acceleration that seems way too fast and the rest of the trip is an endless nightmare of turbulence, of near misses. And then the cabbie drops me off at the airport." – Dennis Miller
"Once in a while it really hits people that they don't have to experience the world in the way they have been told." – Alan Keightley
Did you enjoy this list of funny travel quotes? Did you find them relatable? Let me know in the comments below, what are your favorite funny travel quotes?
Disclaimer: I tried to find the author of these funny travel quotes wherever I could (but some are from the depths of Reddit, Tumblr, Quora, and Pinterest so it was a struggle). If you know who the author of any of these quotes are, please leave a comment let me know so I can update the post and credit!