Here are the top hidden gems in Dallas, Texas.
"That's why Dallas is so big, it's full of secrets," I laugh. I'm standing on a slim sidewalk along Moody Street. From here, all I see is a scramble of tall buildings locked in cement, slitted by windows. Cranes are the tallest, easiest-to-glimpse sights for searching eyes. They seem to challenge the concrete jungle, promising to make it larger, longer, loftier. But I'm here for a different promise: a tucked-away collection of samurai armor and helmets and masks.
It was a place I didn't know existed for years. I mean, this spot is only a mile away from Dallas' main hub of art museums, how could I not know? But then again, how could I know? Dallas is one of the largest cities in the United States, spread out over 380 square miles. A city this size can easily be the keeper of secrets. And it is.
Here are 12 hidden gems in Dallas, Texas. From lesser-known eateries to secret gardens, this is a side of Dallas you won't want to miss out on!
The Ann & Gabriel Barbier-Mueller Museum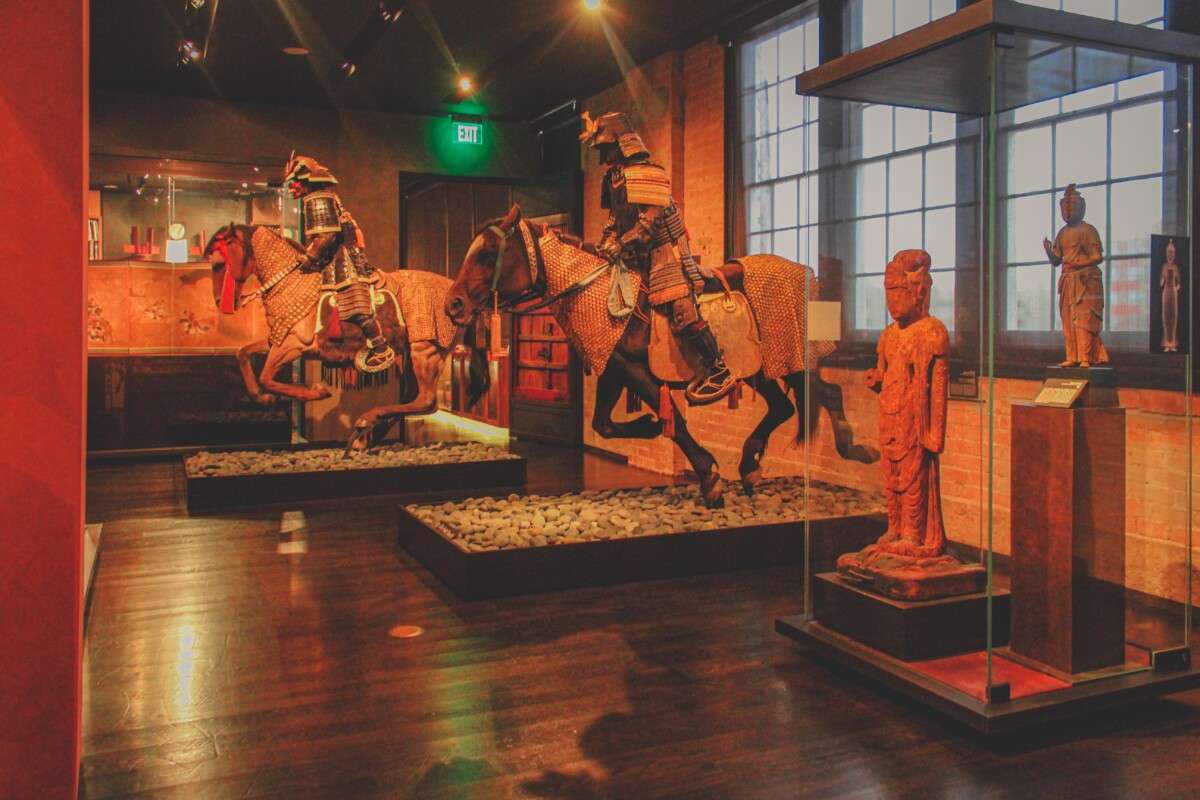 Saint Ann is a beautiful, intimate restaurant. White clothed tables fill a wood-framed space. Curved glasses sit atop each counter waiting for a pour of wine. Drinks flow. Small talk loosens the atmosphere. Patrons relax. They're dressed in cinched tops, pleated skirts, button-down shirts. Their arms lean against their chins.
"How many?" the waiter asks, turning to me.
"Sorry, I thought this was a museum," I say, my face reddening. I feel out-of-place in my baggy dress and messy top-knot. I start to pull out my phone – how could I get the directions so very wrong?
"The Ann and Gabriel Barbier-Mueller Museum? That's upstairs," the waiter smiles. "It's free so just go on up."
Oh.
The Ann & Gabriel Barbier-Mueller Museum is situated above Saint Ann. It's a small hideaway, a cozy corner of samurai artifacts. For the longest time, this was the only museum outside of Japan dedicated to samurai (in 2022, another Samurai Museum opened in Berlin in the Mitte Borough). It's a special place with slender, glass displays washed in orange light. Some cases are filled by full suits, comprised of warm, metal kabuto, drapes of haidate, and fitted dō. Others carry quivers and intricate helmets. Big placards share the history, the nuances, the details of the artifacts. A small library wing adds more info. Plan to spend an hour here. The Ann & Gabriel Barbier-Mueller Museum is one of the best-kept secrets in Dallas.
Chocolate Secrets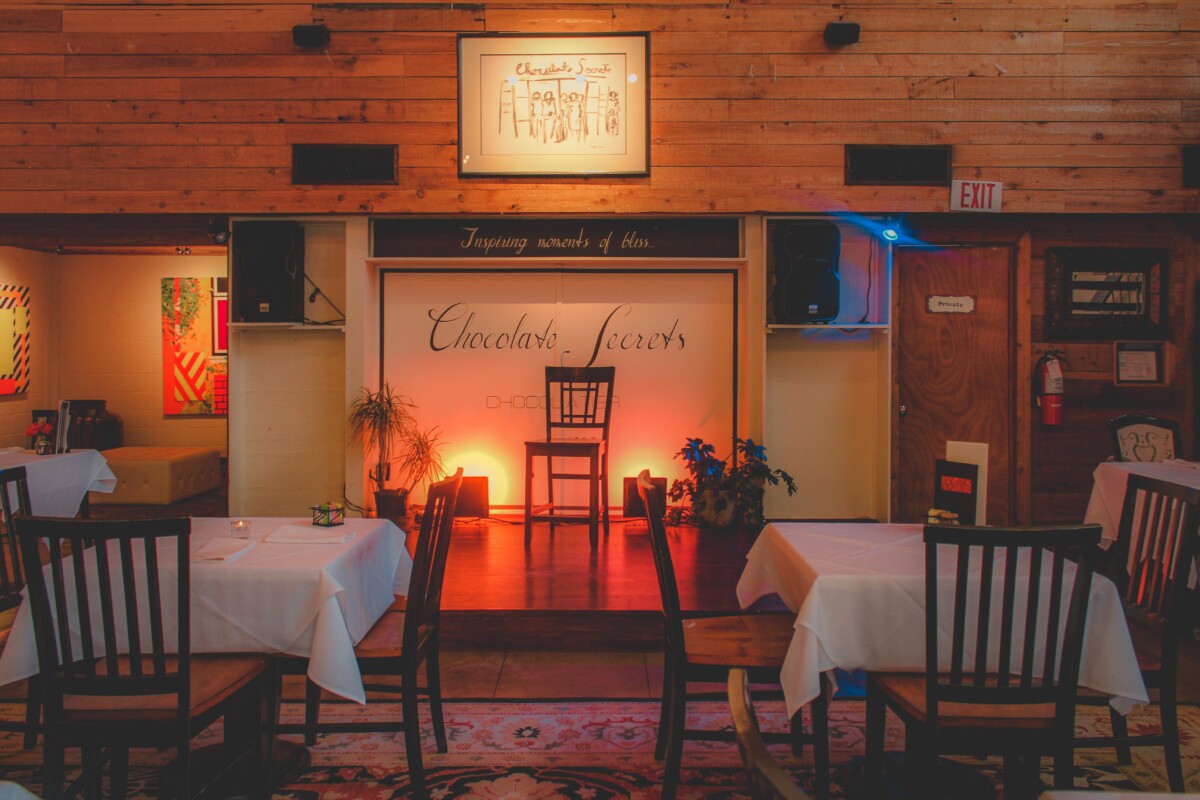 It's hard to imagine how a place with secrets in the name has stayed a secret for so long, but Chocolate Secrets is still one of the most underrated spots in Dallas. It's a sweeping chocolate lounge, spread out across multiple rooms. On Friday and Saturday nights, candlelit tables and live music soften the ambience. Chocolate Secrets zips up its cloak and enters low-key date night mode. Mondays are open-mic (don't hesitate. just go), sealing off a long weekend atmosphere that's fun and passionate.
During the day, Chocolate Secrets is still a calm place to relax, unwind, read a book, and sip some hot cocoa (this spot makes the best hot cocoa and chocolate truffle coffee in Dallas. No ifs, buts, or debate about it).
Abandoned Bus At Davis Street Espresso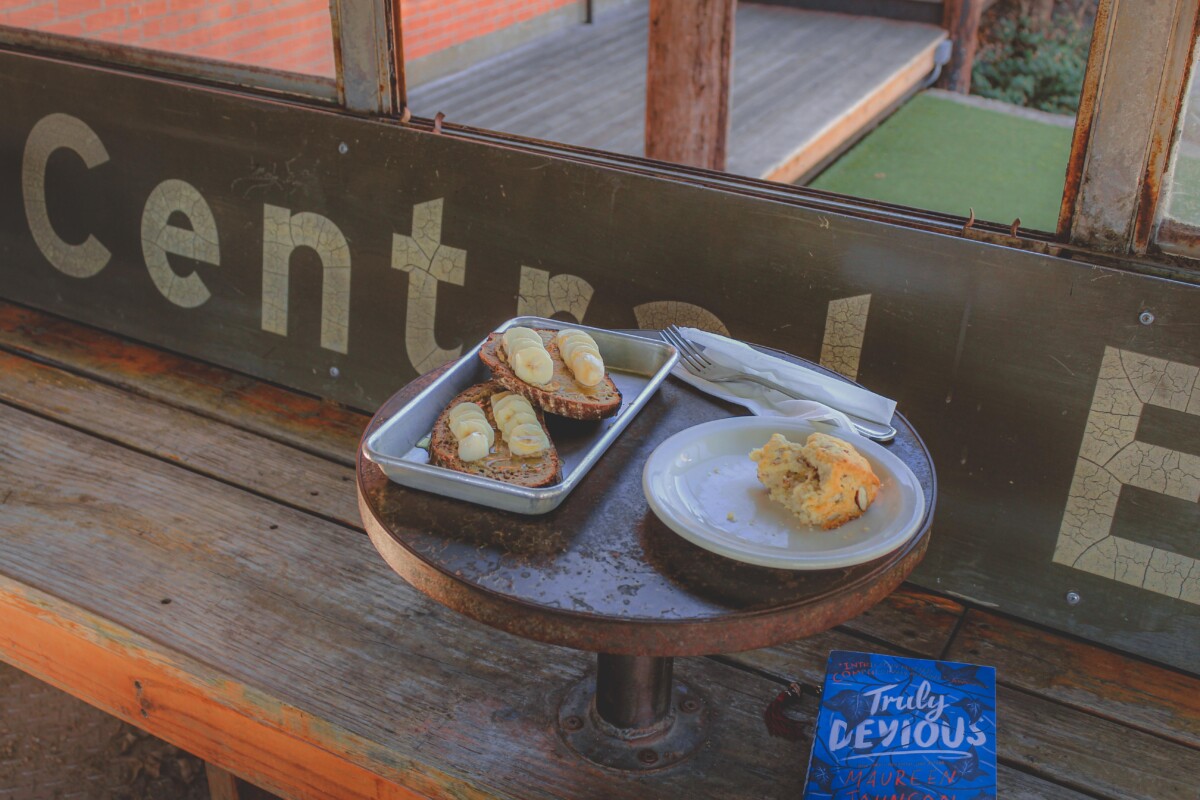 Davis Street Espresso is known for being a coffee purist spot. They make good, dark coffee. But here's the deal: nothing is offered to-go. So you'll want to block out time to sip your order slowly. Bring a book to read (they don't offer WiFi). Take your time. Don't rush.
And while I love a good coffee shop, here's the real reason Davis Street Espresso has sneaked its way onto my list of hidden gems in Dallas: the abandoned bus that sits out back. The interior has been emptied; vehicle seats have been ripped out; tables have been screwed in. It's definitely one of the coolest, weirdest, most unique places to sip coffee in Dallas.
P.S. My biggest gripe with Davis Street Espresso is that they don't offer any milk alternatives (so I can't recommend this coffeehouse to anyone who is lactose intolerant or has a milk allergy).
P.P.S. Their cold brews are served in giant Topo Chico bottles.
Teddy Bear Park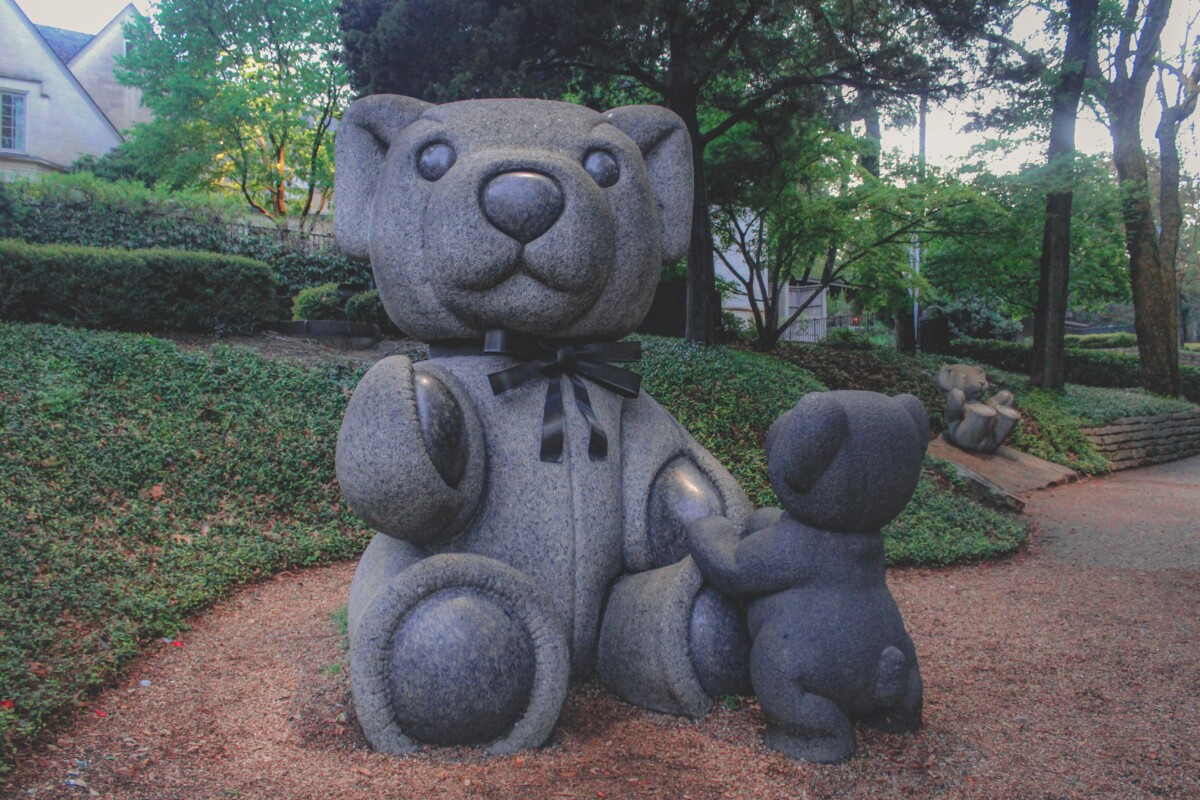 I've mentioned Teddy Bear Park on the blog before, so I'll keep this recommendation brief. Imagine a fairytale cove dotted with giant, whimsical teddy bear statues, backed by large mansions and a gorgeous green curl of a lake. That's Teddy Bear Park, a Dallas hidden gem tucked-away in a magical, thicketed stretch of Turtle Creek.
Not-So-Famous Color Walls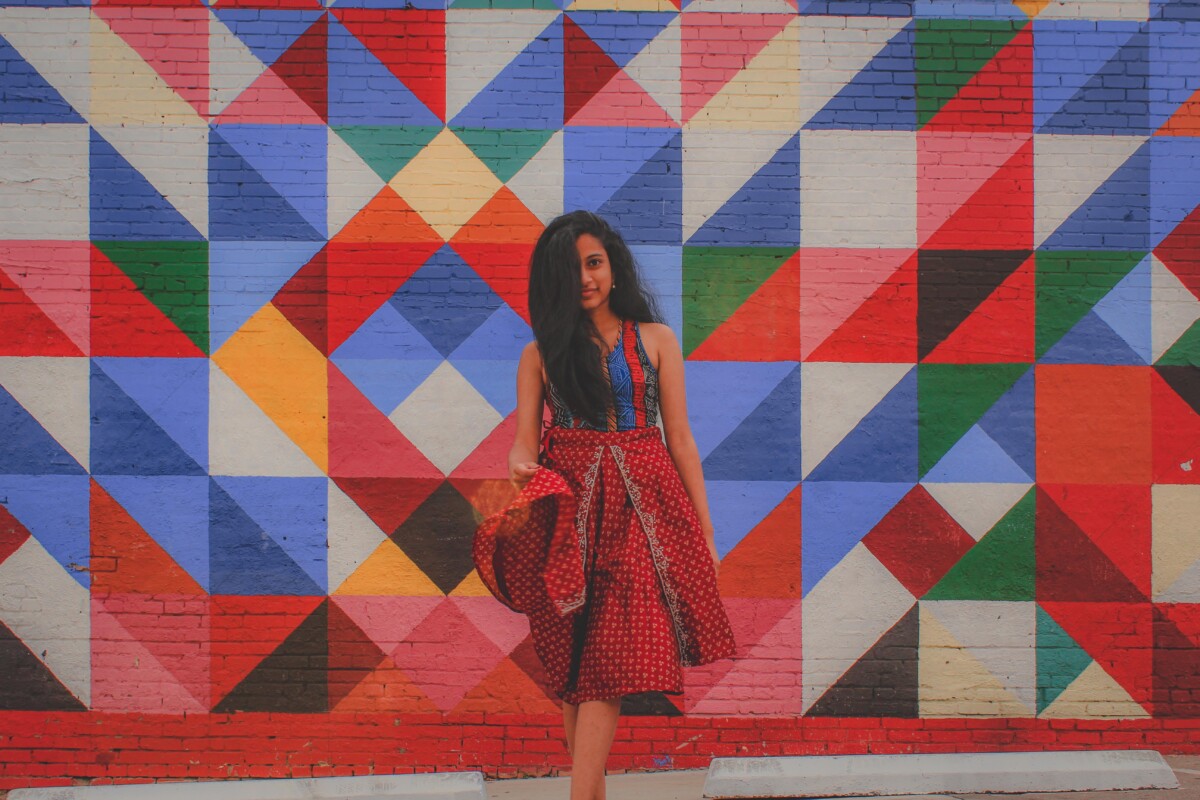 One of the brightest hidden gems in Dallas is its street art scene. Dallas isn't known as a street art hub (that title always goes to Austin) so travelers will be pleasantly surprised by the plethora of murals in the Big-D.
Deep Ellum is Dallas's color factory. Biting reds. Electric greens. Bold blues. A swish of paint. A frantic frenzy of lines and curves. The hip vibe of Deep Ellum is much like Austin. It's a strange section of the DFW-metroplex, home to gothic speakeasies, antique malls, and more local shops than chains. But street art here is quite unlike the Texas capital. The murals are more intricate, complex, constant yet ever-changing. Deep Ellum focuses less on abstraction and more on large-scale political cartoons, celebrity satires, distorted animal forms, and caricature human figures. Deep Ellum roasts Texas through its works yet somehow, simultaneously celebrates the state. It's one of my favorite spots to see street art in Dallas.
Some of my other favorite street art spots are Uptown and Oak Cliff,.
Katy Trail Beer & Taproom
If you're not looking for Katy Trail Beer, chances are you won't find it. Go on a warm day for a cool glass of Texas beer. This small, cozy, canteen-like taproom (with a light amount of seating) has a rotating set of almost three dozen taps. The atmosphere is very much hole-in-the-wall, locals-only, dive bar-esque. Flights are available too.
Half Price Books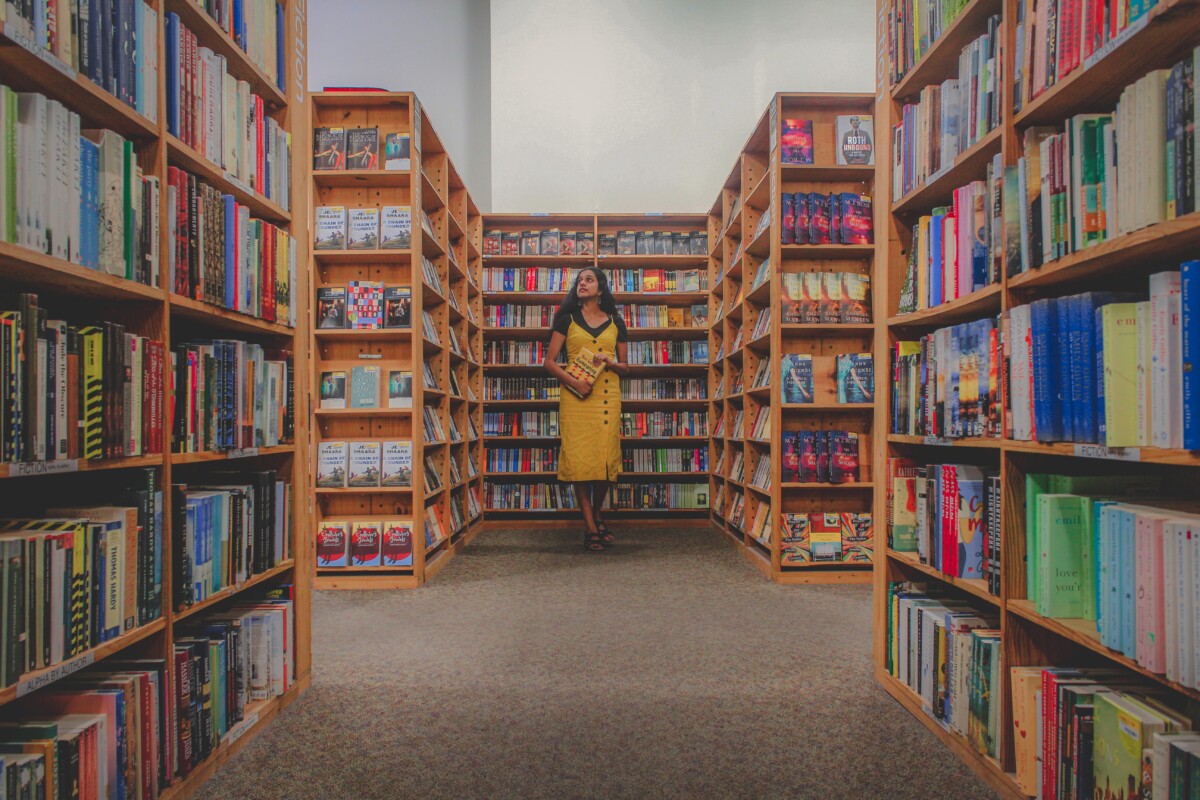 Every time I gush about hidden gems in Dallas, I feel the need to mention Half Price (it's a compulsion really). Half Price is one of my favorite bookstore chains in the United States, but the Dallas location is especially noteworthy. It's home to the flagship shop. Better said: the 5803 E NW Hwy bookstore is unimaginably huge, a whopping 54,000 square feet (almost twice the size of a Barnes & Noble). It's a giant, labyrinthine used book warehouse that carries everything from contemporary fiction to art history coffee table books to manga.
P.S. There's also a cafe next door. Grab one of their flavored lattes before browsing the store.
Dottea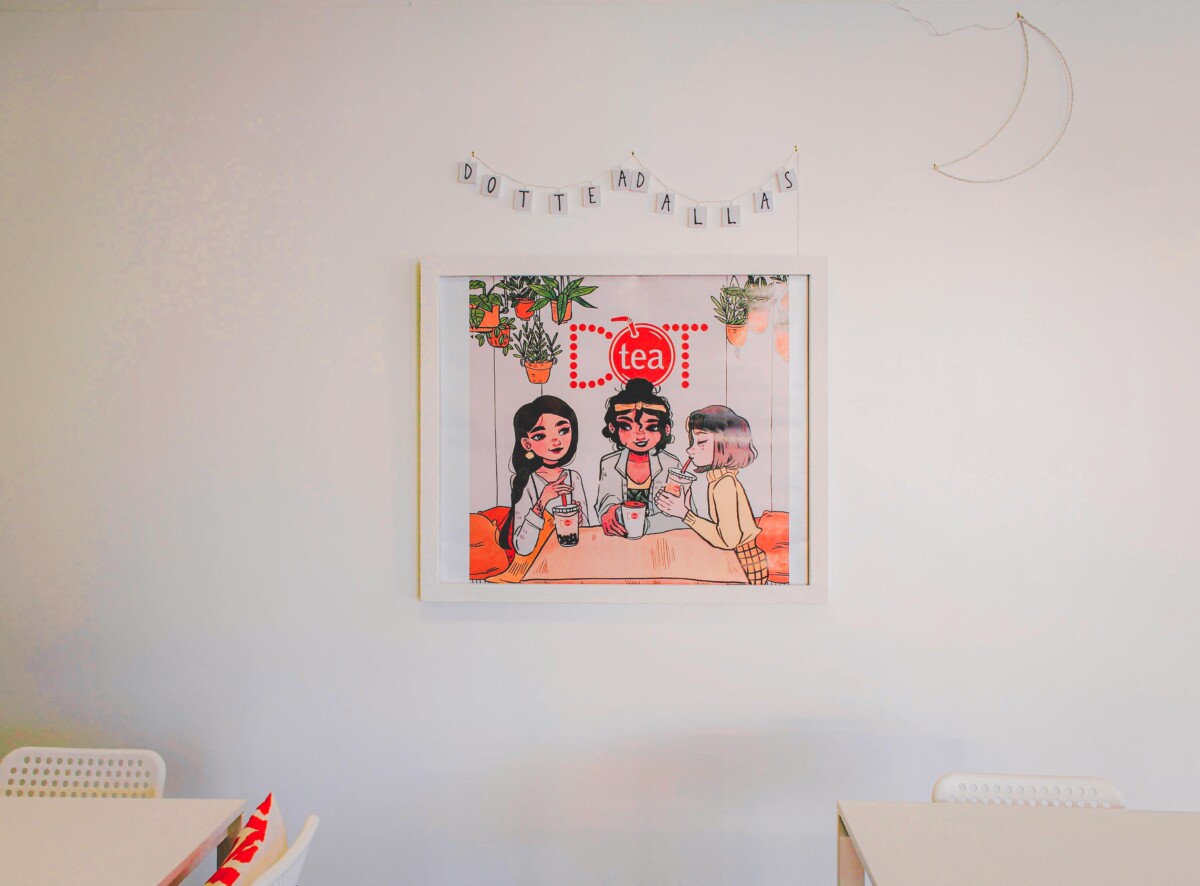 University seems like a different era nowadays, but back in college, there was one bubble tea shop I was addicted to: Dottea. Dottea is on the fringes of Dallas. The interior is clean, minimalistic with a youthful, boho touch. Staff is friendly (genuinely so – warm, kind, hospitable), and they know their menu inside-and-out, so if you have any questions, ask away. The boba has the right amount of chew, and the drinks come sweet (but not saccharinely so). Try the Wintermelon Seafoam or Honeydew Milk Tea.
Fountain Place
My partner has lived near Dallas longer than I have, so when I asked him what came to mind for hidden gems in Dallas, his answer was immediate: Fountain Place. Fountain Place is a five and a half acre urban oasis, panning from the base of a large, angled skyscraper. It's a terrace of fountains, a calm, cool meditative stretch of waterfalls and pools shrouded by the crowns of bald cypress trees. It's the perfect place to stretch your legs for a few minutes (away from crowds), amongst the sounds of rushing water.
The Plant Bar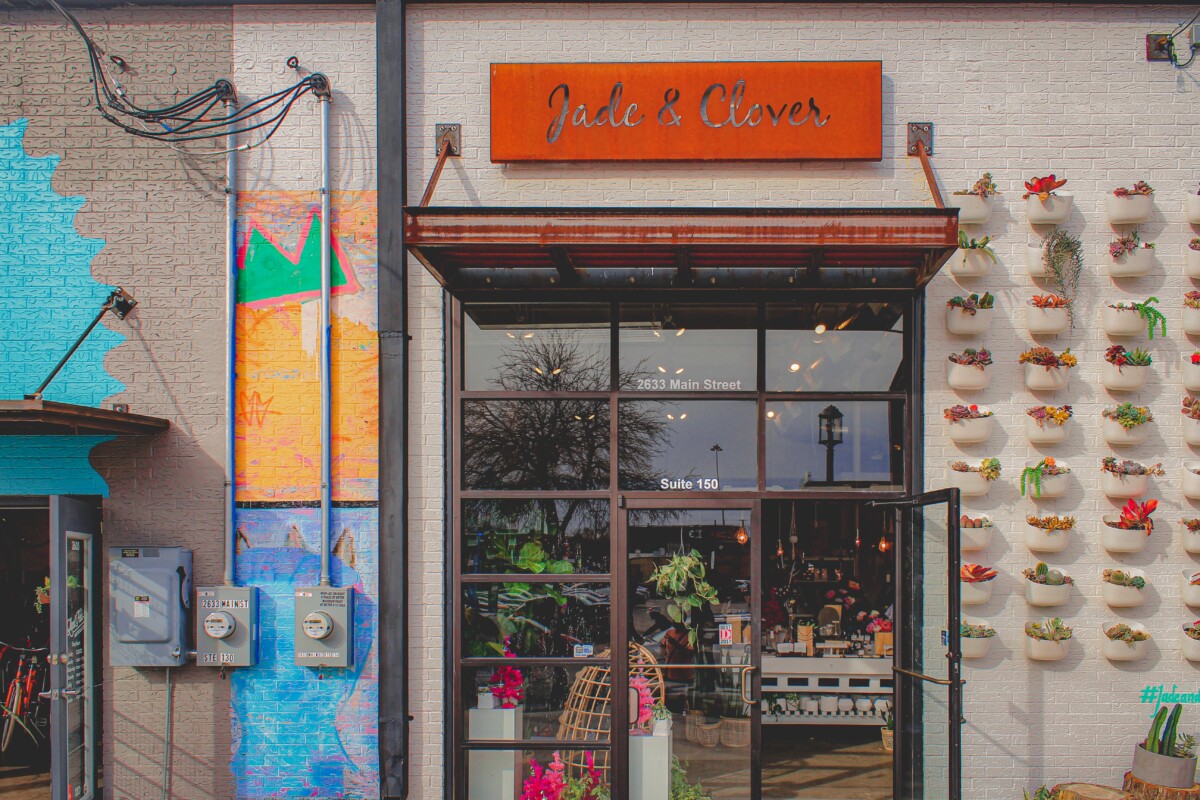 Jade & Clover's plant bar doesn't get the buzz it deserves. It's a make-your-own terrarium service. You choose your own mix of succulents or house plants, add on some sand or gravel, and top off your terrarium with cute baubles and trimmings. The build-your-own-potted-masterpiece concept is a creative, only-in-Dallas take (side note: they've recently expanded to Phoenix) on a typical ice-cream bar.
The Hill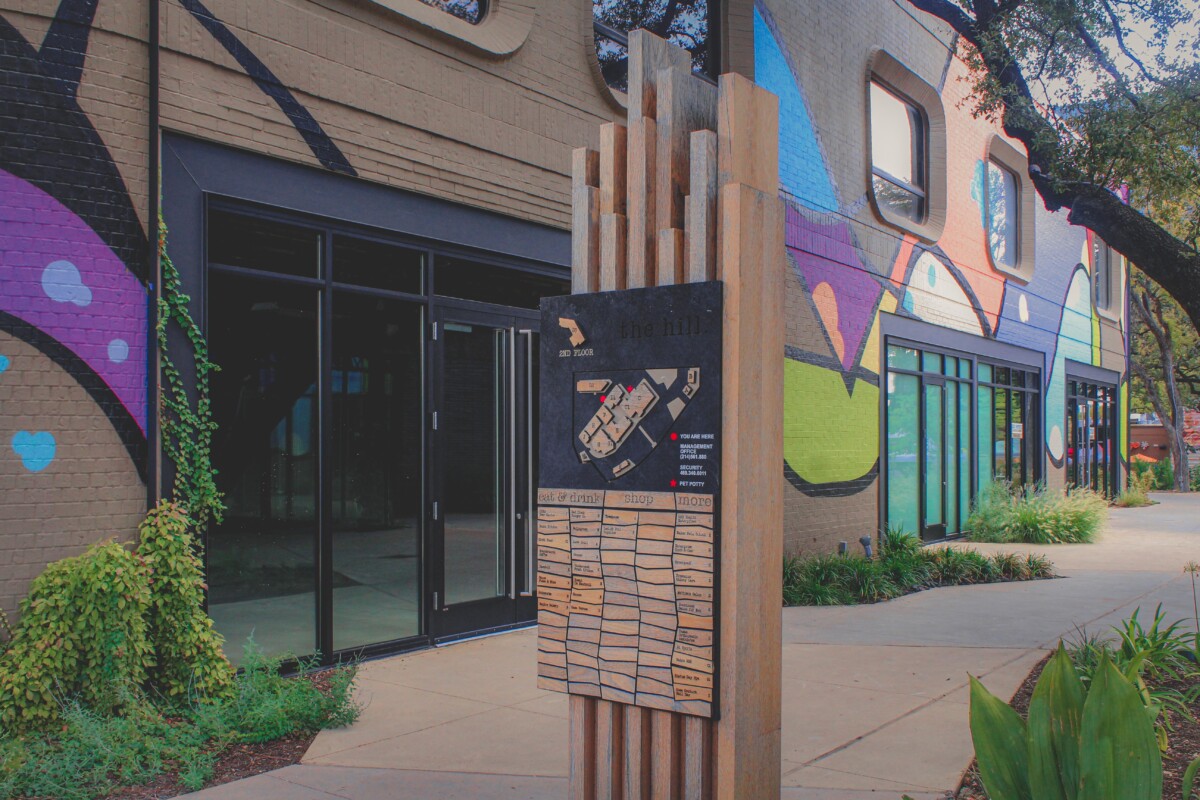 From the exterior, The Hill looks like many other shopping complexes in Dallas. There's a range of eateries (Snooze for breakfast, Bellagreen for lunch, Luna Grill for healthy bites) and a few boutiques. But the clincher (AKA the reason this particular spot is one of the best hidden gems in Dallas) is The Hill's vibrant green, grassy courtyard decked with blocks of color and walls of murals. Occasionally (on select Saturdays), Boho Market (a Dallas-based artisan pop-up) sets fort here too.
P.S. This is a great area to remote work out of (we recommend slipping your laptop into your bag and heading straight to Civil Pour for coffee).
African American Museum Of Dallas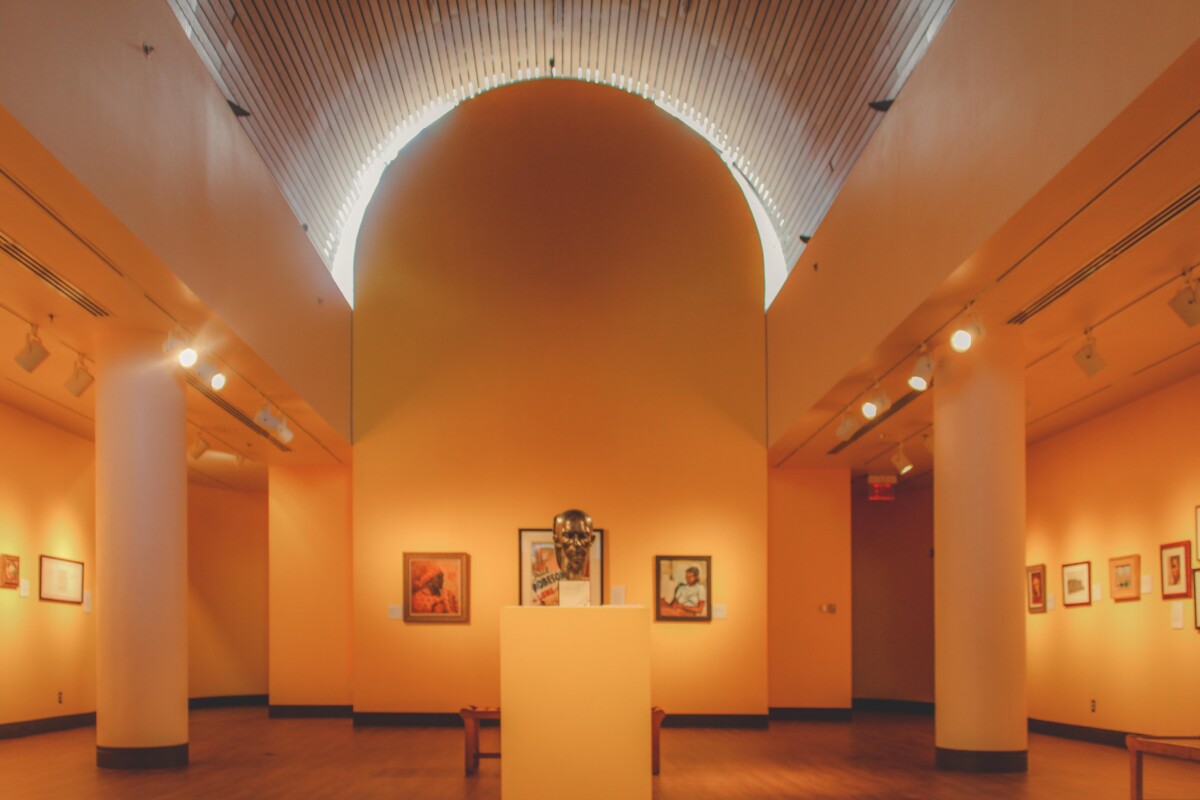 Fair Park in Dallas is usually known for one thing: The State Fair Of Texas. But there's another reason you should visit – The African American Museum, a storied maze of art exhibits. In bright halls, you'll find folk art and contemporary art amongst hundreds of artifacts, documents, and sculptures. It's a vast, open, airy space that can take a half-day (to a full-day) to slowly walk through and absorb. Many of the pieces here are startling, vocal, and emotional, the kind of works that make you stop in your tracks, that make you linger. It's a big museum, full of secrets of its own.
5 More Hidden Gems In Dallas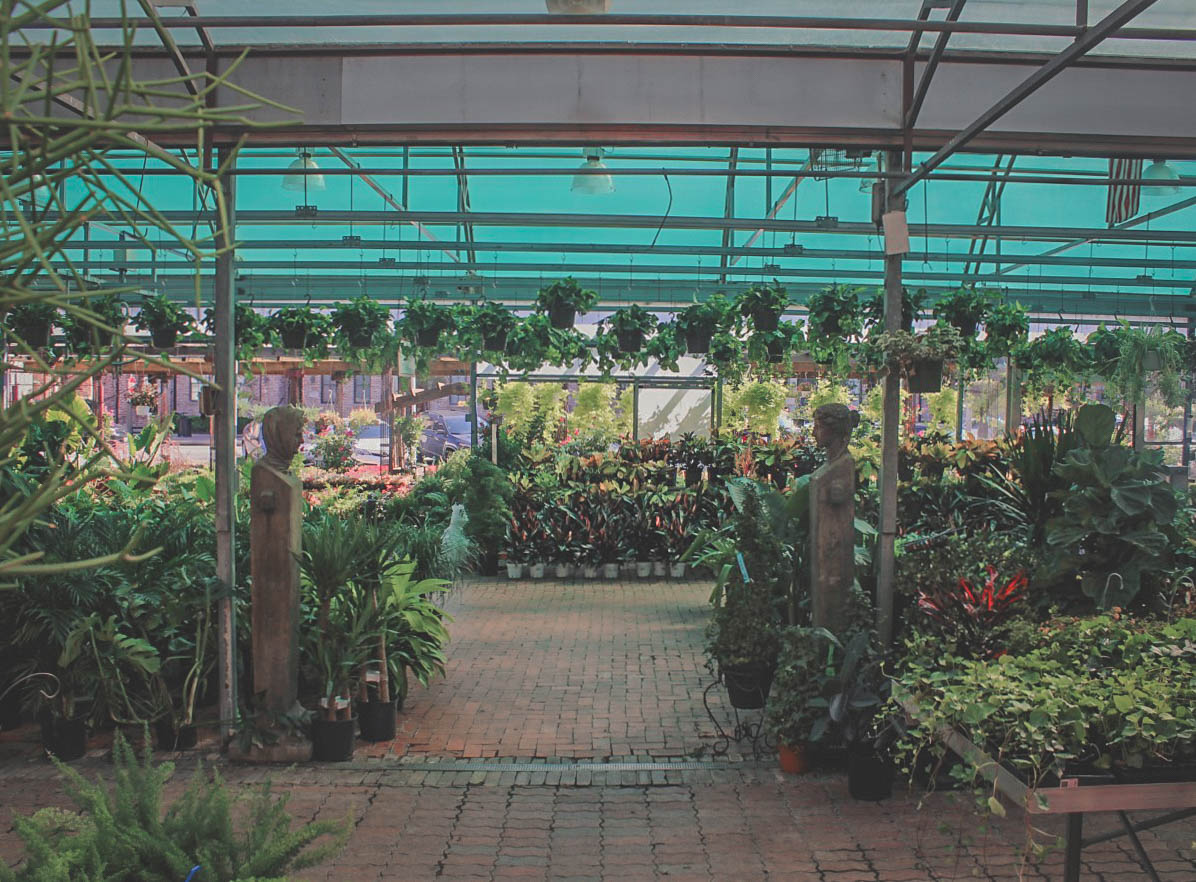 Here are a few more hidden gems in Dallas to check out if you're visiting for a longer period of time (or are a local looking for more things to do)!

Did you enjoy this list of hidden gems in Dallas, Texas? What are your favorite hidden gems in Dallas? Let me know in the comments below!