Blackjack oaks and prickly pear cacti stud the path. Lizards dart between open crevices. Buzzards fly in a tight circle overhead.
Visiting Hill Country is a classic pinch-me moment. Is it even possible for a place to be so pretty? I look down at the sweeping landscape dotted with swaths of green. Yes. Yes, it is.
I'm normally a huff-and-puff type of outdoor girl, but for some reason, hiking Enchanted Rock Natural Area feels different – surreal almost. The crisp breeze, warm weather, and stunning sceneries are welcoming. I imagine Mother Nature inviting me into her home with open arms and a bright smile.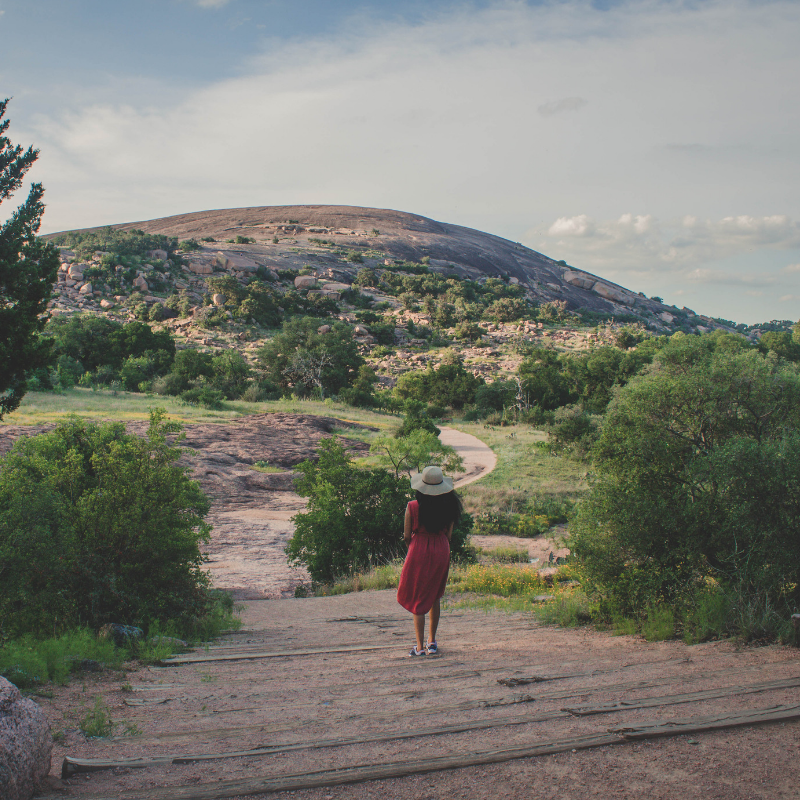 But despite the positive signals, my first step inside Loop Trail is shy and hesitant. I'm not quite sure what to expect. To me, Enchanted Rock is the place of legends. For a while, I was convinced it only existed in guidebooks.
But after a few minutes, I find my groove and start waltzing through the footpath (John Travolta would approve).
I ended up hiking most of the open trails at Enchanted Rock State Natural Area last Sunday, which completely destroyed my feet but led to some of the prettiest views I have ever seen in Texas (worth it).
Enchanted Rock State Natural Area, a popular Austin day trip, is more than a place of legends. It's a magical destination for beginner and advanced hikers alike.
Enchanted Rock General Info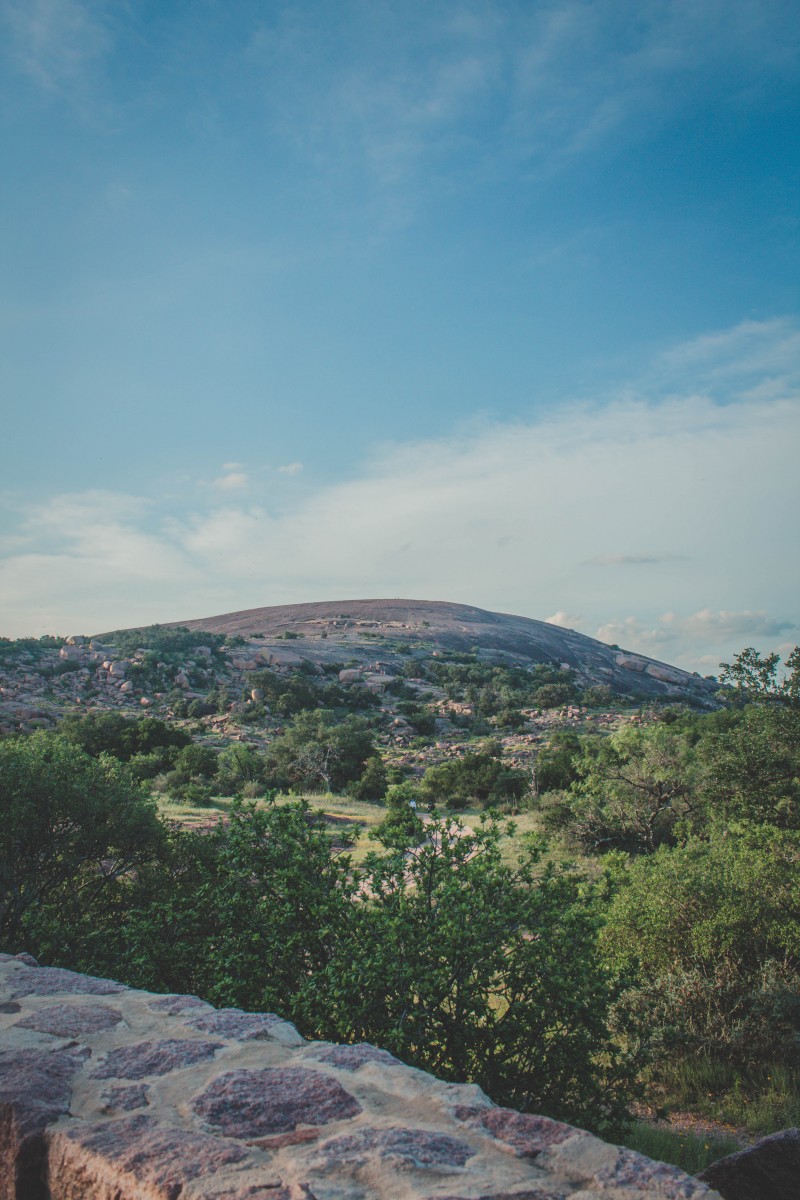 About
Over 1,640 acres, Enchanted Rock State Natural Area is comprised of a series of trails that gently wind through lush backdrops and rocky terrain. The most popular hike is Summit Trail, which leads to the top of Enchanted Rock, the second largest exfoliation dome in the United States. Magma-formed and erosion-curved, Enchanted Rock is a feat of geography that draws over a quarter million visitors each year.
Location & Accommodation
Late Saturday night, I arrived in Fredericksburg, a tourist-defined German-settled destination roughly 20 minutes from Enchanted Rock. The town is filled with country-style inns and cozy bed & breakfasts. Sunday morning, before heading out, I grabbed a quick drive-through snack from Hill Country Donuts & Kolaches, a rustic morning stop known for its quick service.
Best Time To Visit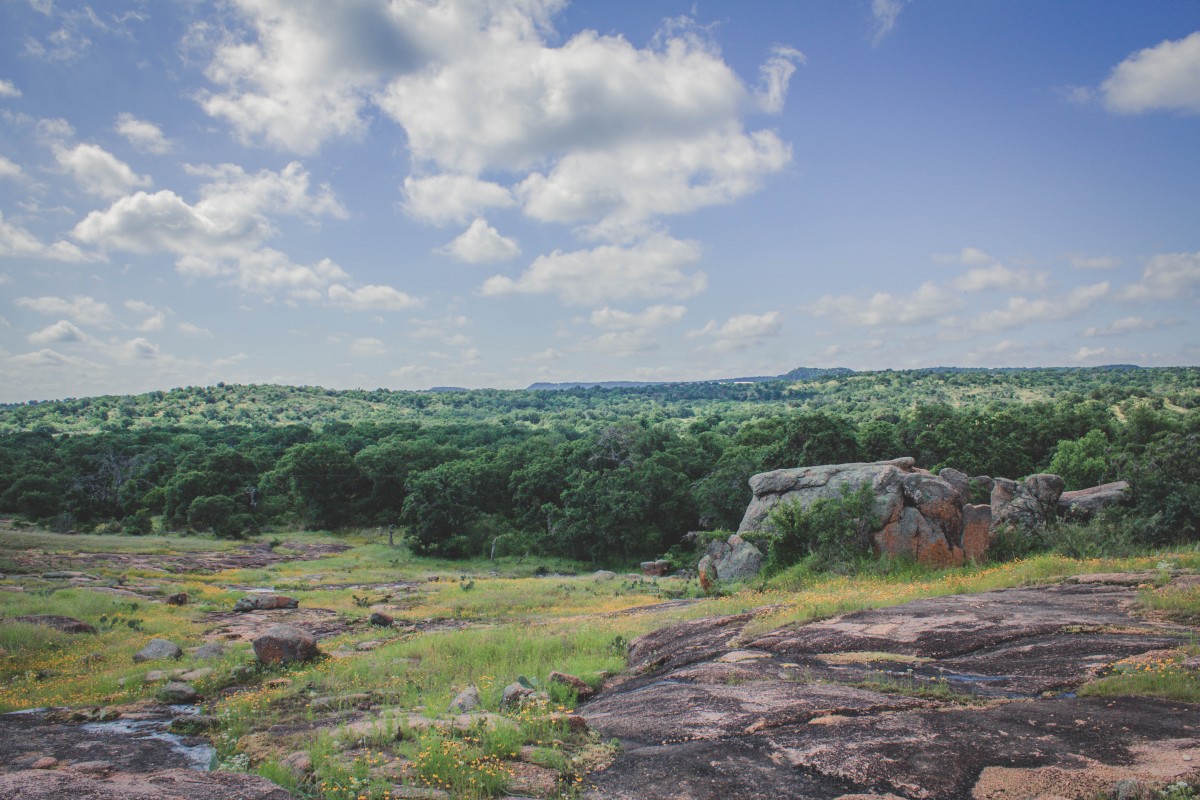 This was my fourth time visiting Hill Country, but my first time hiking Enchanted Rock State Natural Area. I actually tried to visit three other times within the past year. Unfortunately, as the reigning queen of procrastination, I wasn't able to get a spot. Enchanted Rock State Natural Area's parking lot is limited and when slots get full, you have to wait in line until one opens up. Waits can last up to 4 hours.
My latest trip coincided with Texas finals week so I was able to dart the crowds. The park was virtually empty. And the stillness carved a relaxing morning and evening.
Visit during shoulder season (May and September) non-holiday weekdays (though it's gorgeous year-round). And try to arrive by 8 AM.
If you're camping, make a reservation ahead of time by phone (512-389-8900).
Price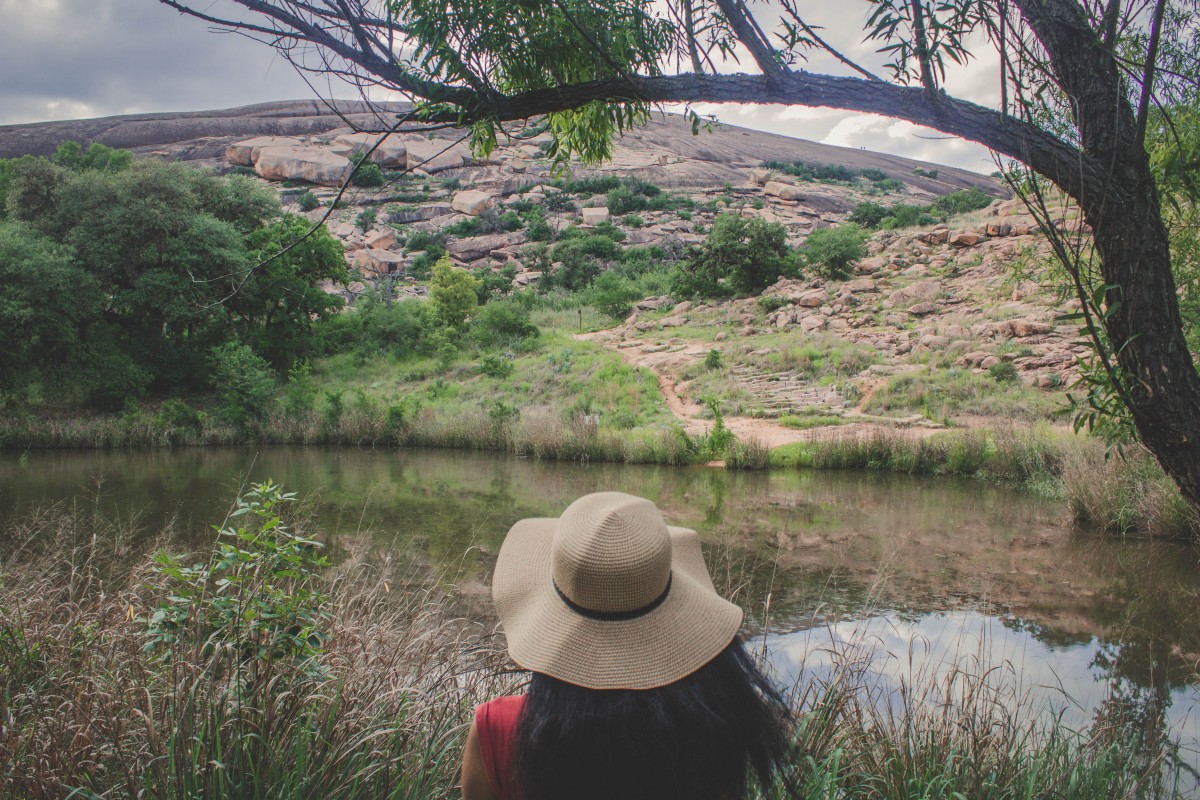 Entry is $7 per person for day use, which is fairly reasonable. But if you plan on hiking a lot in Texas, I highly recommend getting the Texas State Park Pass!
Difficulty
Summit Trail, the most popular hike, treads the line of moderate and moderately difficult. If you feel at ease with extremely steep stairs, it's a fun trek to the top. Coming down is more difficult (It's easy to slip so take your time and don't feel pressured to walk quickly. Go at a pace you feel comfortable with). The first half of Loop Trail (including Moss Lake Trail) is an easy, paved (albeit slightly gravely) path. Echo Canyon Trail, which involves quite of bit of advanced rock scrambling (I was not prepared for this at all), is straight-up intense.
Travel Tip: Print out this map before you go. There's no reception within the park. You can also pick one up from the visitor's center.
No matter the trail you choose, expect to see unparalleled views of central Texas. Enchanted Rock State Natural Area flashes a spotlight on Hill Country's most postcard-perfect qualities.
Hiking Enchanted Rock's Loop Trail
As I roll out of the car, I sling my backpack over my shoulders and toss on my hat. For the most part, the parking lot is empty.
In the opposite direction, boy scouts trudge through the wide curved road. There's an older couple also – holding hands, setting out an early picnic lunch at one of the benches.
We walk until we reach a half-closed gate. This is the start of Loop Trail, a low-traffic path in Enchanted Rock State Park.
As my feet slice through a clear-cut route, I find myself falling for the paintbrush strokes of wildflowers and stipples of cacti. Loop Trail's scenery feels like a National Geographic movie montage. Trees scribble over flat land. Eastern bluebirds hop across the grassy floor.
Even the rocks, a thread of light brown, pink-tinted under the morning sun, are stunning.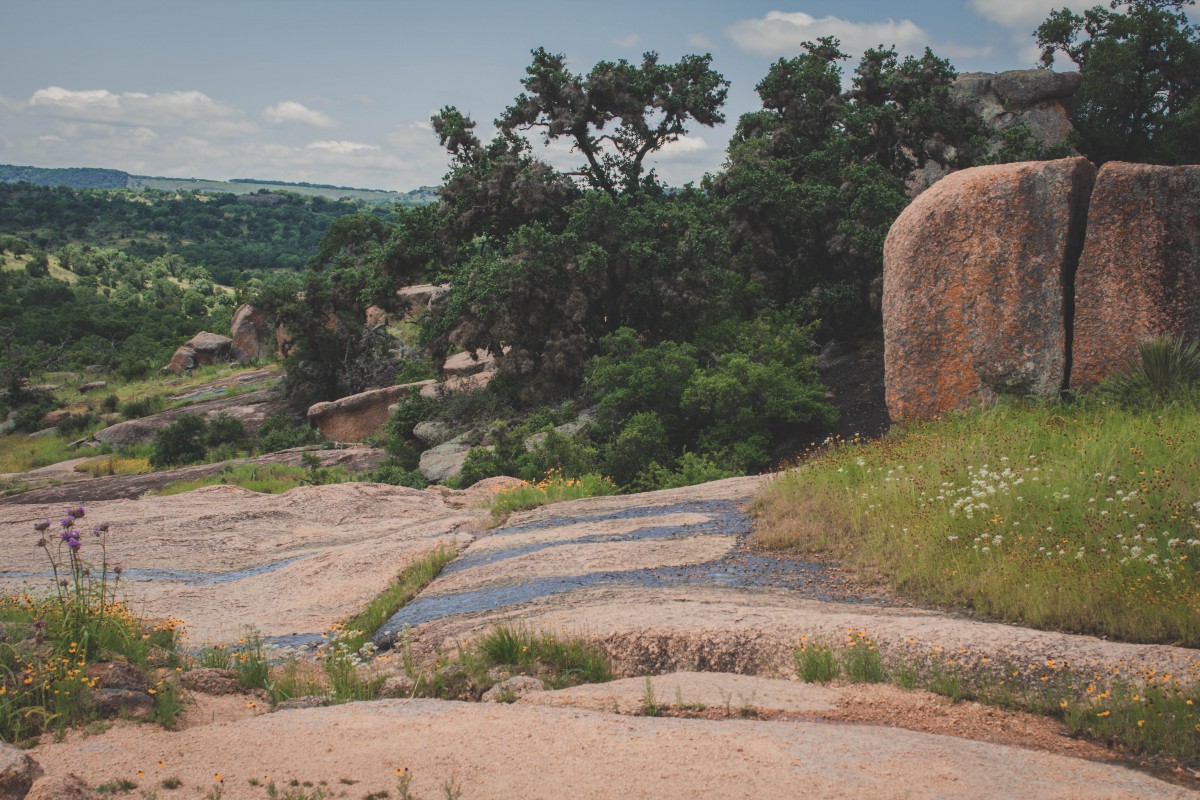 Dawn is cool, but Enchanted Rock is a cauldron by afternoon.
With stubby trees and open expanses of granite, shade is uncommon on the trails. So expect to drink more water than on a typical day hike.
Officially, Loop Trail is 4.25 miles, but it's easy to extend. Intersecting with Scenic View Trail, Moss Lake Trail, and Turkey Pass Trail, Loop Trail leads to quiet, secluded spots within Enchanted Rock State Natural Area.
The entirety of Loop Trail normally takes 2 to 3 hours to hike, but we're soaking in the moments, taking (most) every detour, and snapping hundreds of photos. For us, Loop Trail is a slow and relaxed five-hour jaunt.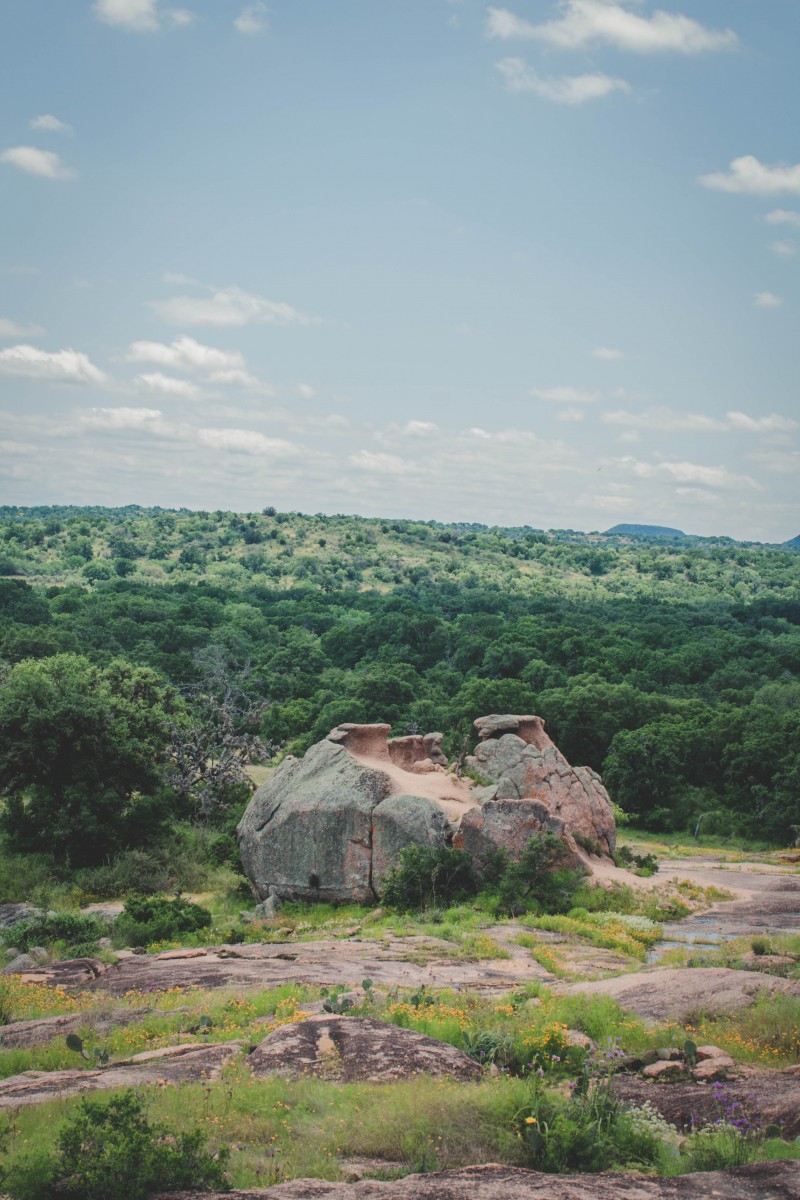 If you don't feel like doing the entire loop clockwise (which gets progressively narrower), start at the trailhead early evening and head up to the Scenic View Trail. Scenic View Trail, a breezy 0.09-mile walk, offers some of the best views of Hill Country. Picture a fairytale sunset, plucked straight out of Tangled. That's the scenic view overlook.
But right now, it's still morning. And we have miles to go before we sleep.
Travel Tip: Pack a large lunch and stick to Loop Trail the entire way (following whatever detour interests you).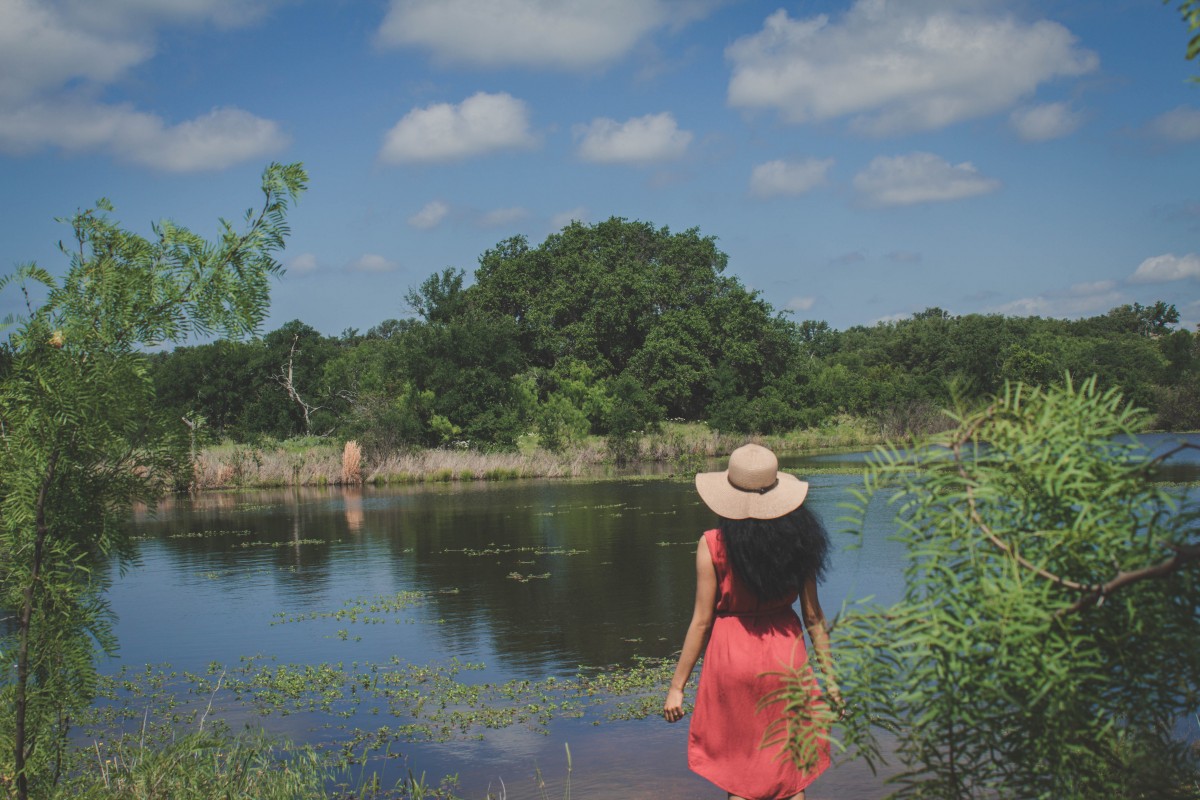 Blue waters. Lush banks. Shaded alcoves. Moss Lake is a popular fishing spot in Central Texas known for its bass and sunfish.
It's the kind of place I would have loved to bring my dad. As I walk along the gentle trail, I can easily picture him with a fishing rod, standing patiently at the foot of the lake as time ticks to a slower rhythm.
From Moss Lake Trail, Enchanted Rock looks like the world's biggest scoop of rocky road ice cream complete with marshmallow glazes of water.
Right here, right now, Enchanted Rock feels raw, untouched, and alien.
Travel Tip: Wear good walking shoes and socks. There are lots of fireants on Moss Lake Trail.
Enchanted Rock is a place of magic and mysticism. It's a place of ghost stories and supernatural tales.
It's a place that's spellbinding.
But this isn't the end of our story. In fact, it's only the start (read: we still have to hike Summit Trail).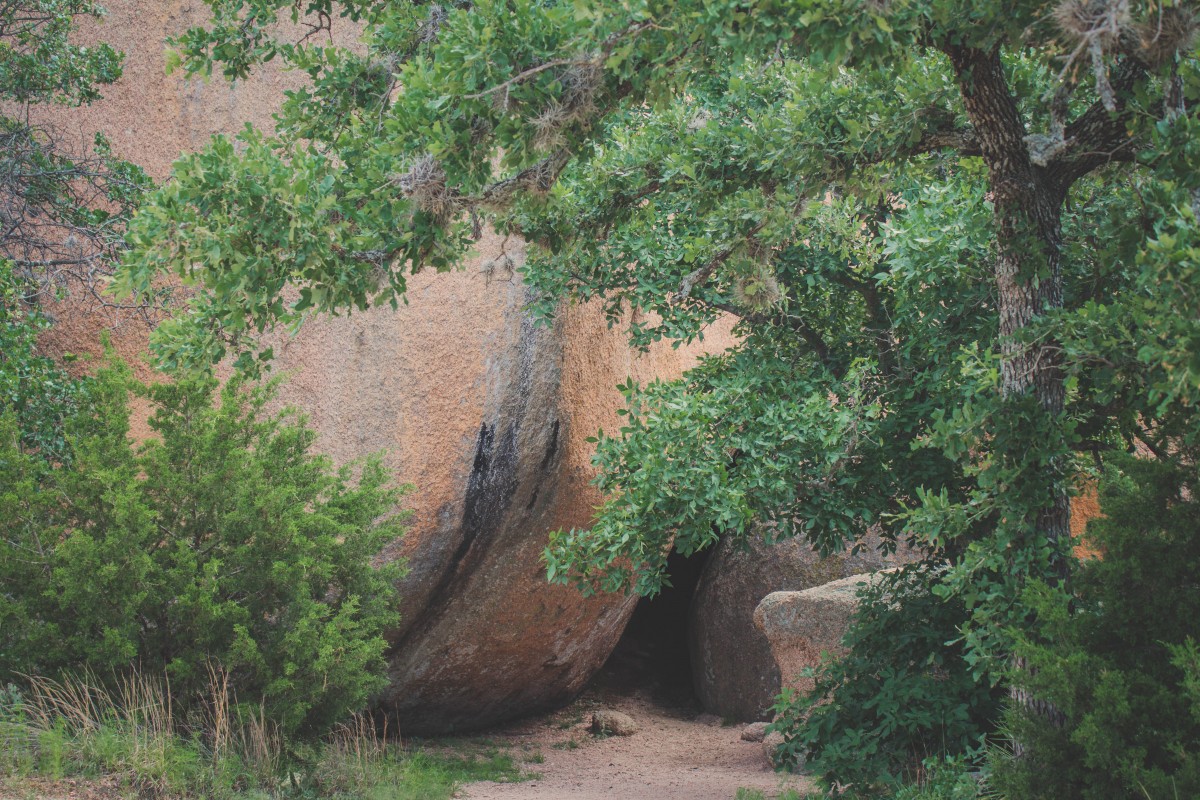 So as we slowly make our way through the rest of Loop Trail (including a few diversions to Frontside Trail, Buzzard's Roost Trail, and accidentally Turkey Pass Trail), here are some things to do at Enchanted Rock.
Things To Do At Enchanted Rock State Natural Area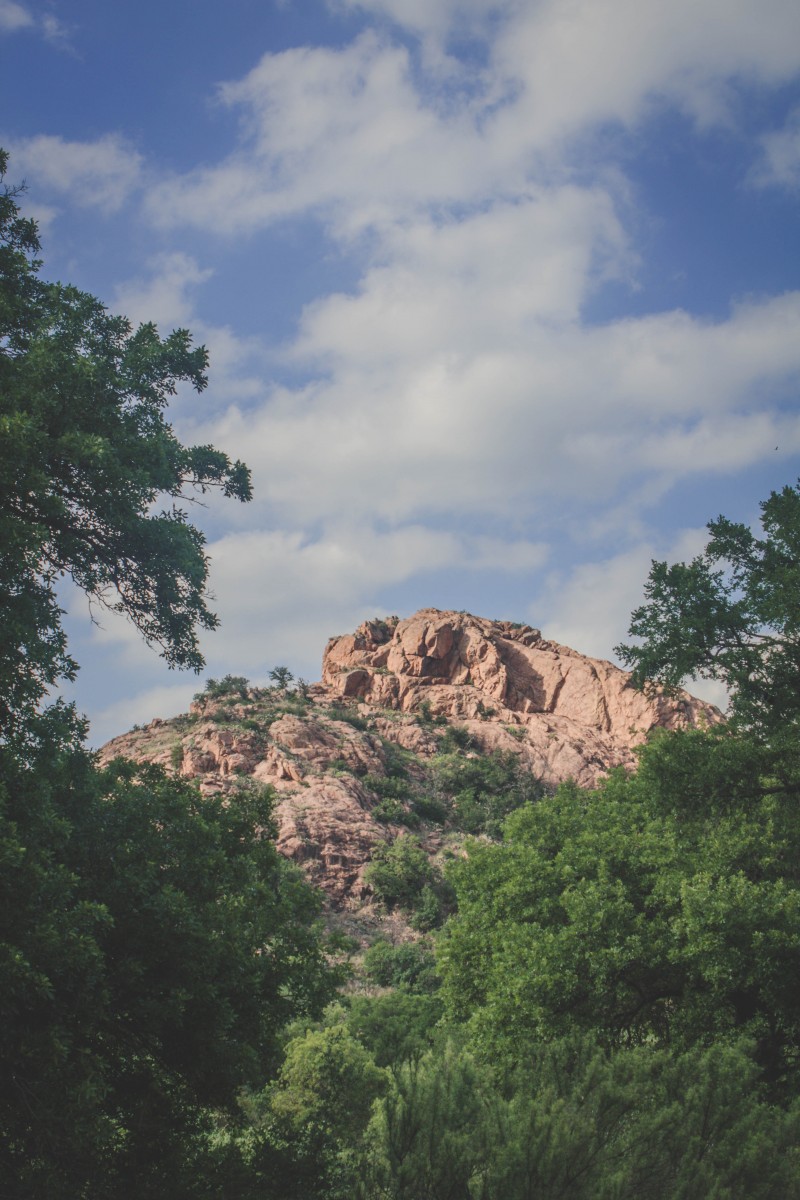 With the constant shifts in the landscape, colorful birds hidden in every bush, and fields of wildflowers, there's a magic in the air that ignites excitement.
Go Buzzard Watching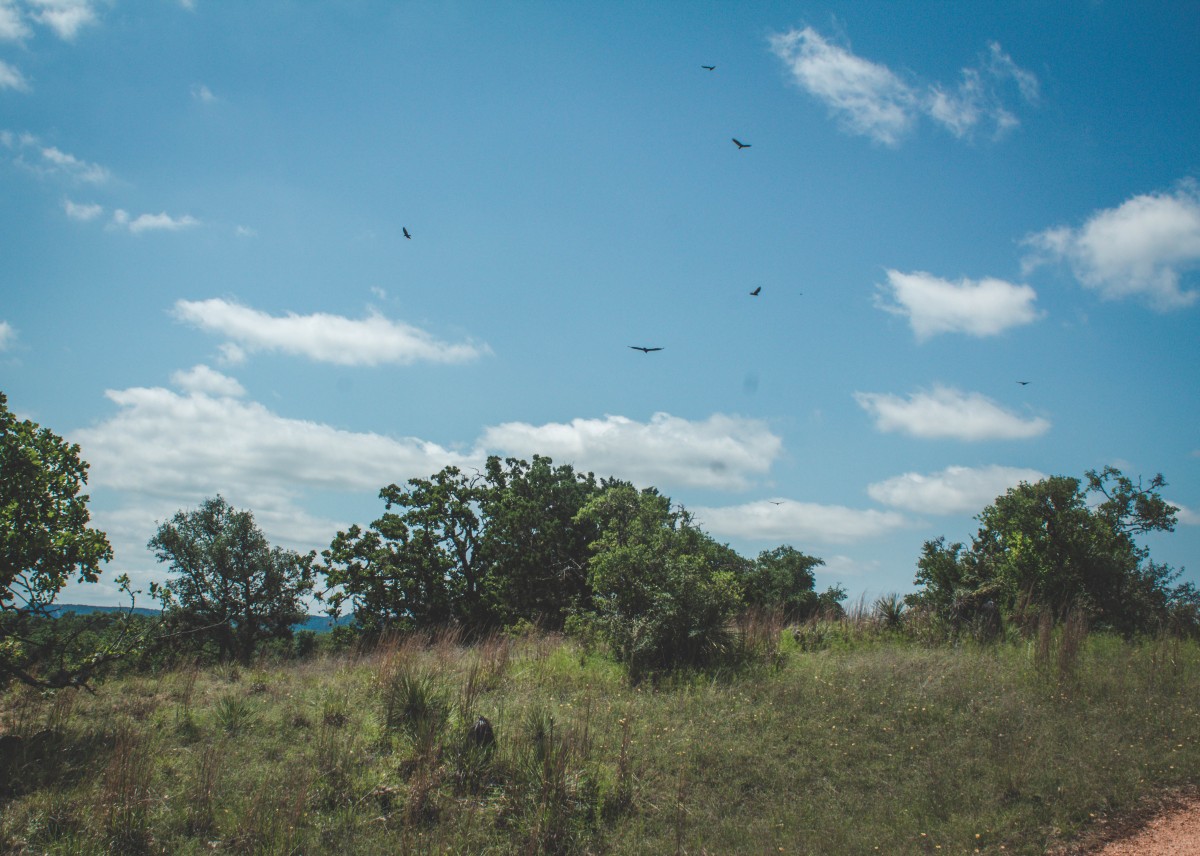 Seeing hundreds of turkey vultures at once is a crazily surreal experience. I've always been a fan of shy and misunderstood creatures like buzzards. And while they aren't known for being the prettiest birds, I think they're cute in a sweet, oddball sort of way.
On Buzzard's Roost Trail, it's easy to spot turkey vulture kettles.
Kettles are simply a mechanism for birds to stay cool, but in lore, they are associated with tales of heartless beasts circling in wait for an animal to die (which paints a horrible, grossly inaccurate image).
Bring your binoculars to get an up-close and personal look at these timid scavengers.
Don't Skip Out On The Lesser-Known Trails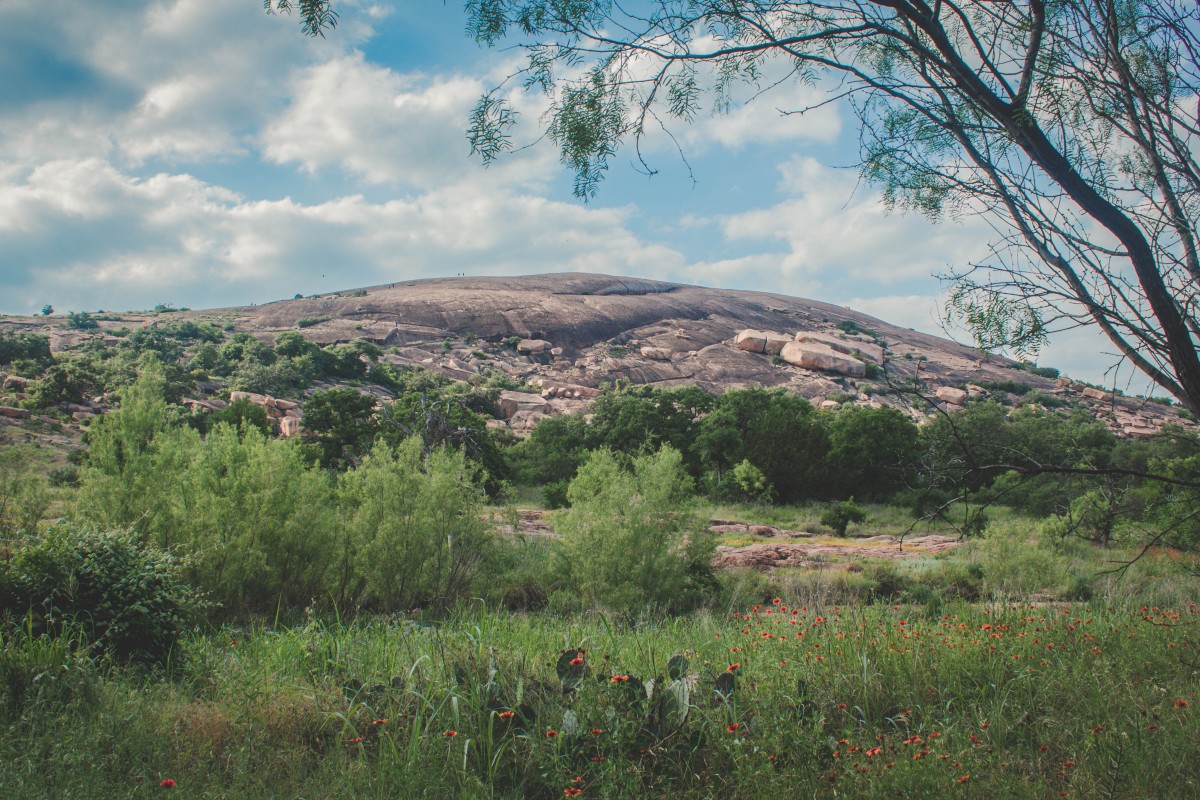 After spending a day hiking Enchanted Rock State Natural Area, I'll be honest, the offbeat small-path views – hidden creeks, swaths of yellow wildflowers, pops of red from prickly pear cacti fruit – stole my heart.
And as much as I love Summit Trail, Frontside Trail, Moss Lake Trail, and some of the connecting trails turned out to be my favorite vantage points.
Check Out Frog Pond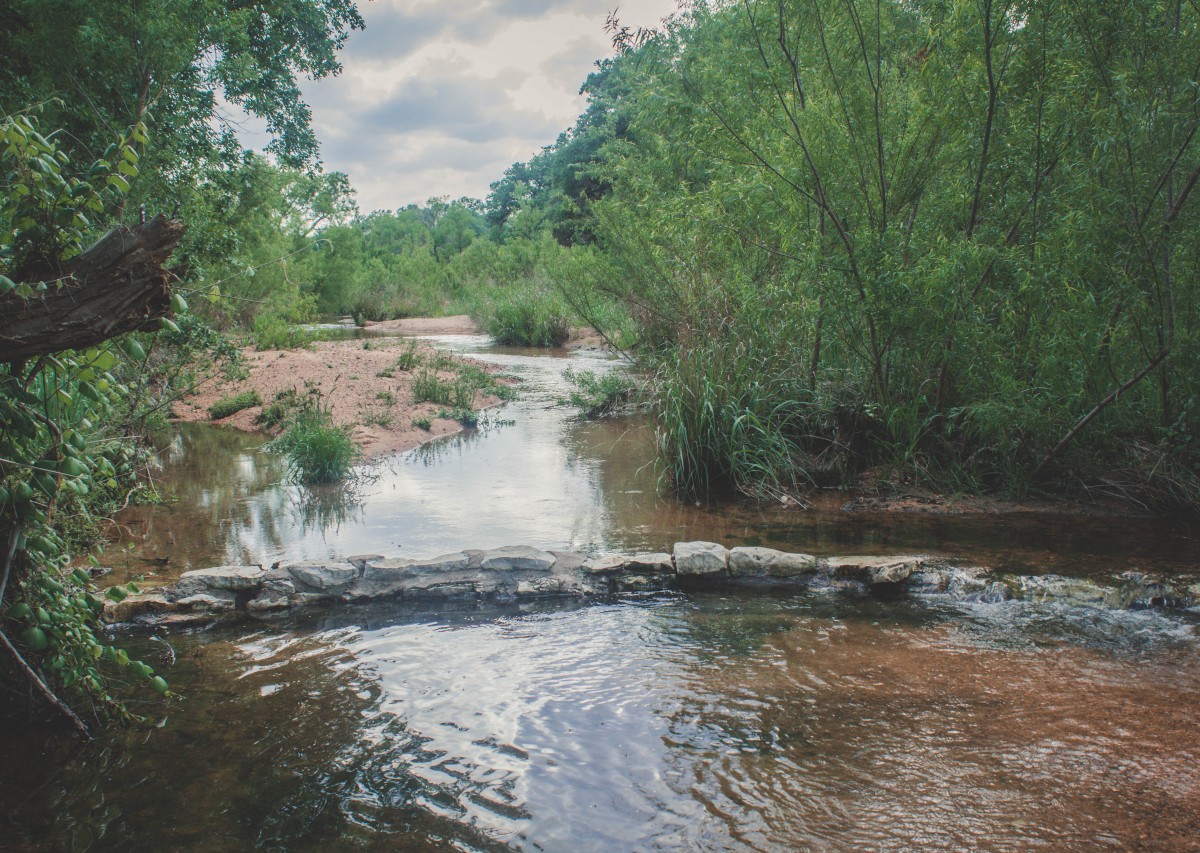 The journey to Frog Pond (counterclockwise from Loop Trail) is one of my favorite routes at Enchanted Rock State Natural Area. Narrow, cactus-lined, and walking-heavy, it's not the most popular trek in the park (note: this is a moderate hike). But one of the park rangers (seeing my camera gear) recommended I take a look and I can't even begin to describe how grateful I am for her suggestion.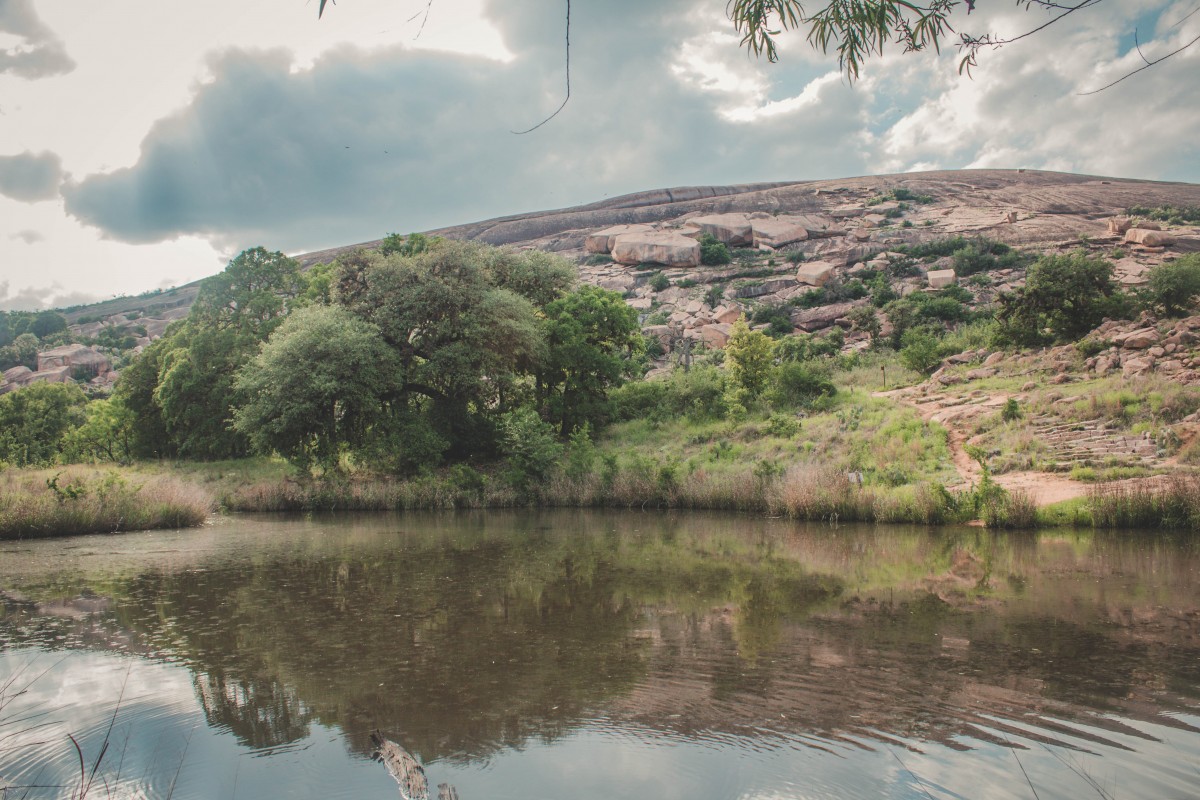 Frog Pond is all about dream-worthy mirror-lake style scenes. Enchanted Rock is clearly projected onto green-tinted water.
And when I first saw the pond, I completely forgot about my wet shoes (you have to cross a brook to get here), the tangle of low-hanging branches above the bridge, and the army of gnats guarding the water.
Yes, it's that mesmerizing.
If you're a photography buff, I highly recommend Frog Pond. But if you're just looking for pretty waterside views, Moss Lake is much larger and easier to access.
Rock Climb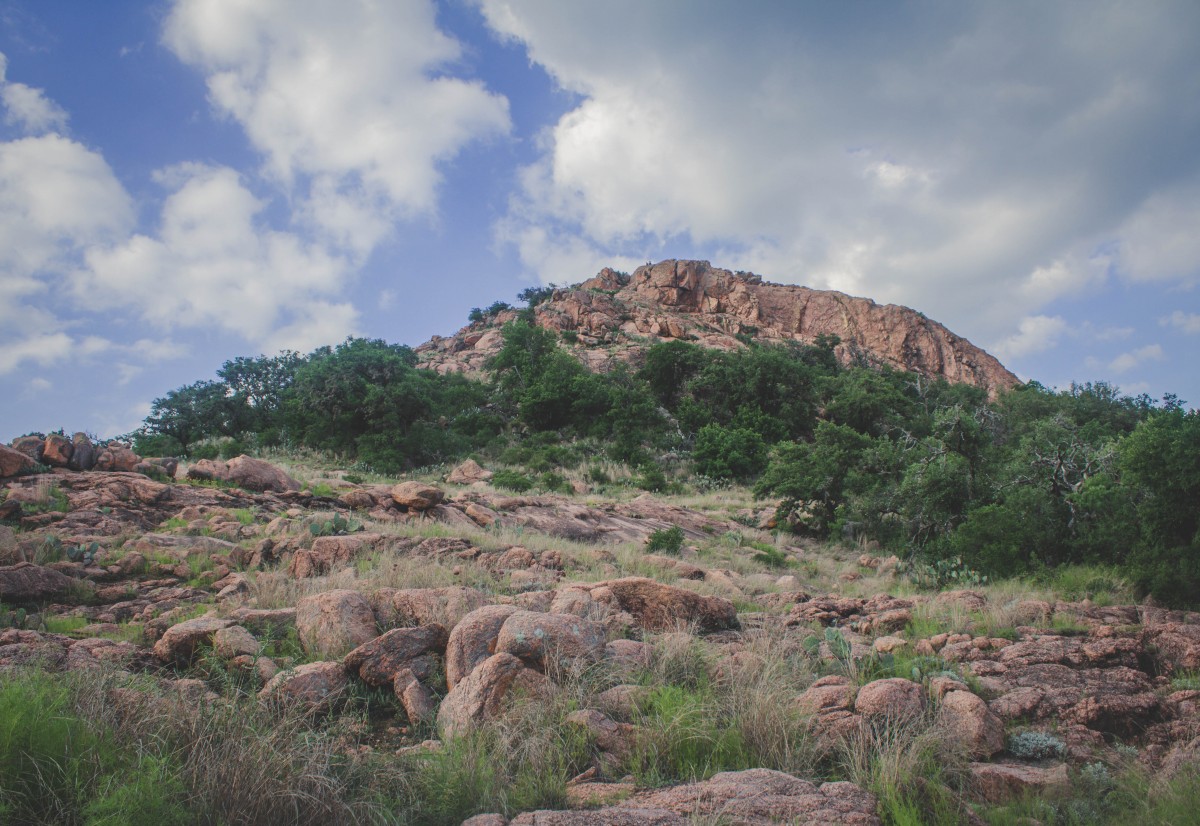 To preserve the environment, you can only clean climb at Enchanted Rock State Natural Area. I'm no rock climber (I can barely navigate the kid's section of my local indoor climbing center) so if this is something you're interested in, I'll leave a link to Texas Parks & Wildlife Department's official list of E-Rock climbing spots and climbing rules here.
Speaking of climbing, we skipped the most popular activity in Enchanted Rock State Natural Area – climbing Enchanted Rock!
Climbing Enchanted Rock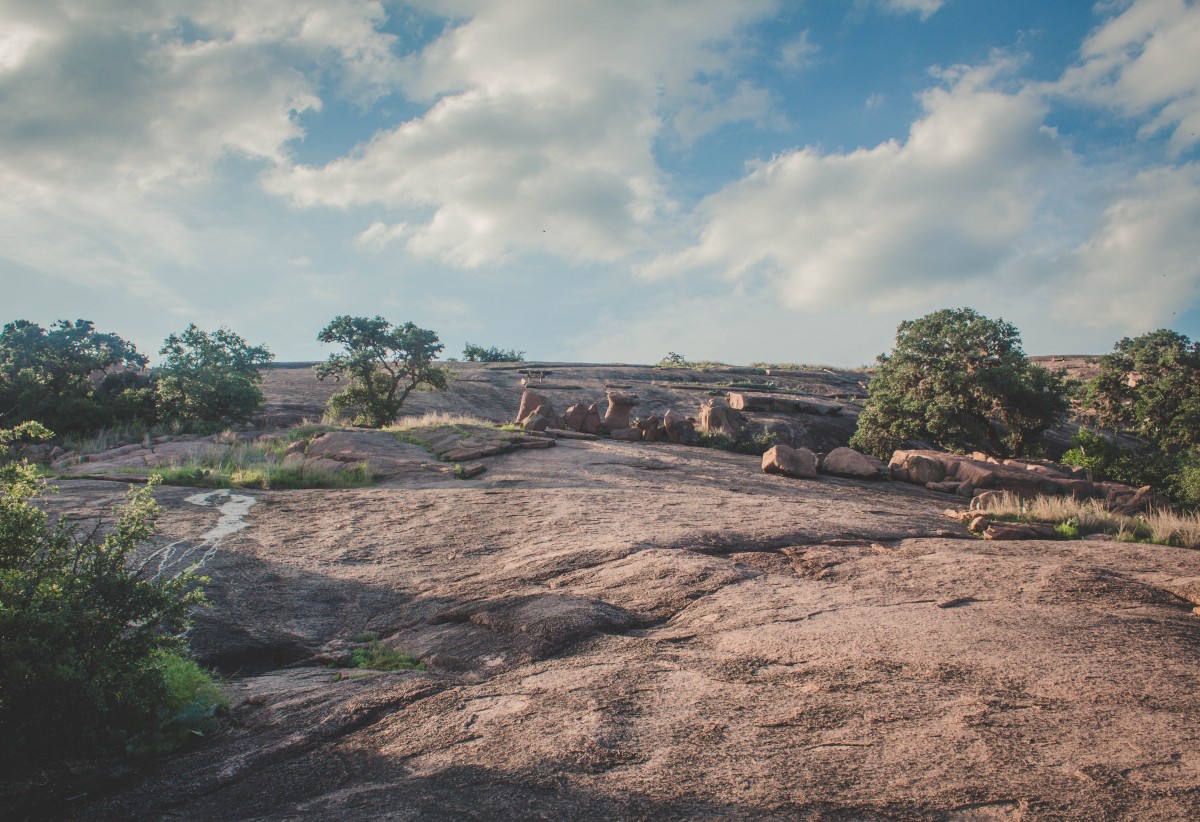 Early evening, we hit Summit Trail, the go-to hike at Enchanted Rock State Natural Area.
I wanted to wait until the weather was cooler to begin this trek (I can't imagine scrambling across a hot surface at peak temperature).
Flanked by a large set of wide stair-like rocks, the hike starts off deceptively simple. But after the official Summit Trail sign, the rocks blend into a curve-based challenge.
From here, you have two route choices (either way, you end up at the top).
We end up taking the steeper path (to the right).
Y'all, I can't stress this enough: hiking Enchanted Rock is much more difficult than it looks. And after rain, it's slippery (I lost my footing more than once). Wear shoes with a good grip and feel free to stop (or take a break) any time.
As we climb further and further up, we expect the top of Enchanted Rock to be an equally smooth mound. But embedded into the granite are tiny vernal pools – fragile micro-ecosystems complete with fingernail-length fairy shrimp.
Hiking Enchanted Rock takes roughly two hours (officially forty minutes each way). With each step, my breath gets shorter and sharper.
I'm seconds from huffing and puffing, but for some reason, it's not the hike but the views that take my breath away.
Hiking Enchanted Rock Natural Area feels different – surreal almost. And dare I say it? Enchanting.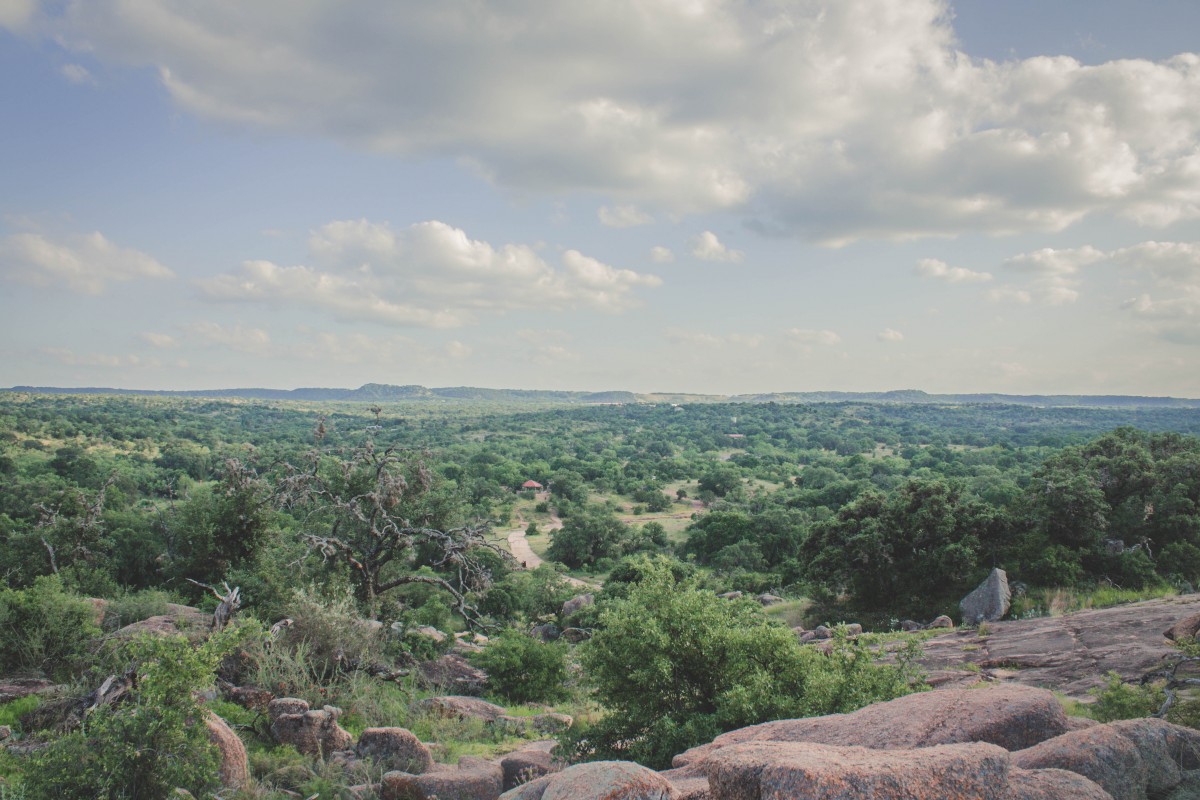 Did you enjoy this post on hiking Enchanted Rock State Natural Area? Have you ever visited? What are your Enchanted Rock hiking tips?