best hotels on The Strip in Vegas
Day or night, The Strip is the place to be in Vegas. It's a theme park-like block, extended two-ways, filled with celebrity-run restaurants, campy attractions, and delightfully over-the-top resorts. Almost all the hotels on The Strip play on an ambitious (and slightly tongue-in-cheek) city-specific theme: New York City, Luxor, Paris. Many also lean on Italy (why not?) for style and inspiration: Bellagio, Venetian, Caesar's Palace.
The Strip is a made-for-adults Epcot. Through live shows, museum exhibits, big rides, pool decks, and performances, this lively part of Vegas vanquishes boredom. You'll find yourself, slowly and perhaps unexpectedly, spending most of your visit here (especially if it's your first-time in the area).
From Wynn to NoMad, here are Passport To Eden's picks for the best hotels on The Strip in Las Vegas.
Disclosure: Heads up, this post contains some affiliate links, which means I may get a commission if you make a purchase. Don't feel pressured to buy anything. I still love that you're here, reading my content (side note: I'd probably suggest getting a coffee or tea first though because my blog posts tend to be long). To find out more, you can read our full affiliate disclosure right here.
Wynn
Wynn has all the hallmarks of the best Strip hotels: it's colorful and buoyant and glamorous. The hotel sits at the precipice of ostentatious, but it doesn't quite jump off into the world of Sin City garishness. And it's that teeter-tottering (that cool, classy hesitation) that makes Wynn one of the most stylish and sophisticated, yet authentically Vegas, hotels on The Strip. Wynn's rooms are spacious, polished, and functional. Each one is enhanced by subtle luxurious details: floor-to-ceiling windows (with sprawling views of Vegas and the rugged mountains beyond), smart shelving, and deep bathtubs.
The Venetian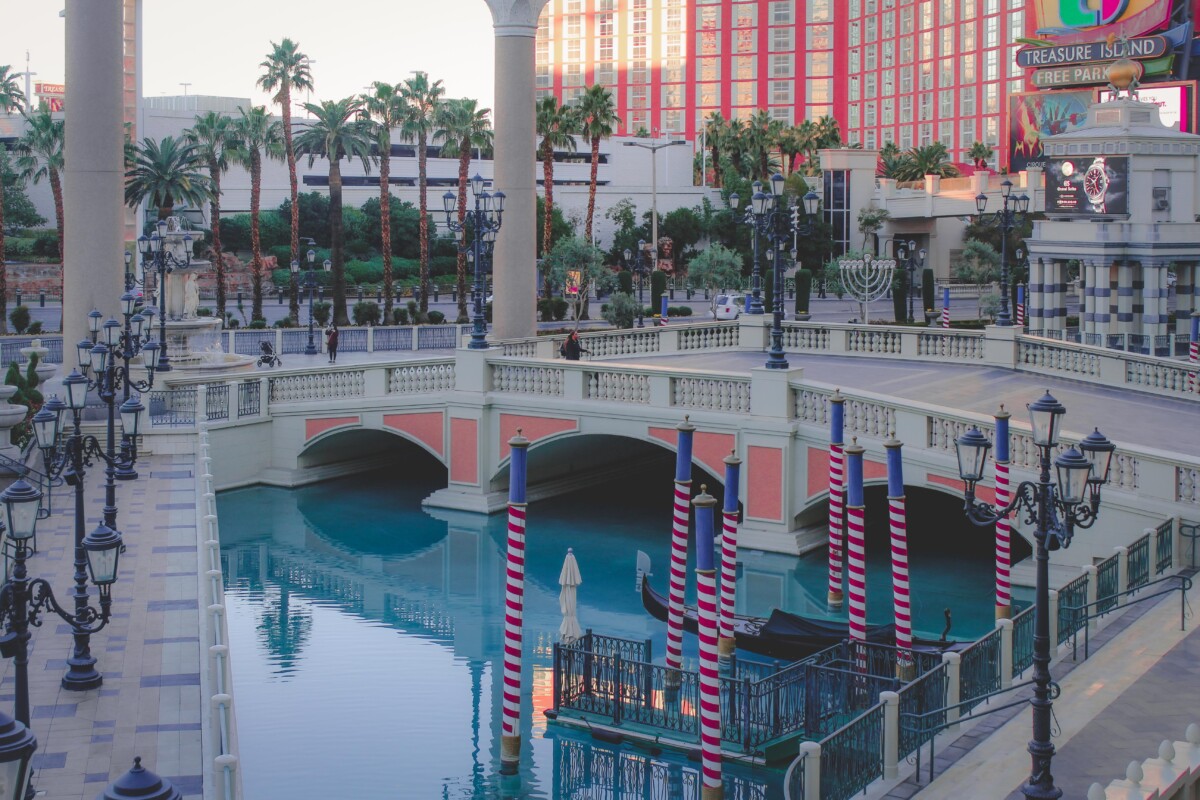 Since its 1999 opening, The Venetian has long-been one of the best hotels on The Strip in Vegas. It's a splashy place, known for its tangle of waterways. It's also decidedly sumptuous. Renaissance murals fresco a grand, arched ceiling. Acqua di Cristallo, a tall, translucent figurine, beckons visitors' attention. St. Mark's Square proves its worth as an eager, Vegas-showy rendition of the Venice original. The resort takes its rooms up-a-notch with a single, bold promise: every room is a suite. And the suites are nothing short of grand. You'll find partially walled-off bedroom chambers and sunken living rooms and full-sized bathrooms.
P.S. The gym (Canyon Ranch Spa + Fitness) at The Venetian is unmatched. There's even a forty foot climbing wall (enough said).
ARIA Resort
ARIA doesn't get as much foot traffic as some of the other hotels on The Strip in Vegas. After all, this sleek and sensually-curved building doesn't have a quirky, marketable theme that attracts hoards. Pass by ARIA, on any given day, and you might mistake it for a corporate building headquartered in Vegas. It certainly looks the part. But rest assured, this is one of the swankiest hotels on The Strip in Vegas. It's primely-located, swishly decorated, and superbly staffed. Service at ARIA is beyond professional and friendly. From check-in to check-out, you're made to feel welcome, pampered, and right-at-home. As an added bonus, ARIA's rooms triumphantly capture Vegas' sprawling, glittering landscape (pro tip: curl up in your bed at sunset and watch the mountains blush pink, the city lights blink on, and the Nevada sky slowly fade to black).
Caesar's Palace
One of the most famous hotels on The Strip in Vegas, Caesar's Palace (learn how to get Caesar's diamond in a day here) hearkens back to a bygone era: ancient Rome. Surprisingly enough, the hotel doesn't feel dated. There's an old-world charm to it, yes, but the hotel is also pleasantly modern when it counts (AKA check-in is a breeze). Rooms are clean, well-maintained, and offer standard levels of comfort. It's hard to tell this is one of the oldest hotels on The Strip in Vegas (Caesar's Palace opened in 1966 – can you believe it?).
P.S. This is where Monica, Chandler, Ross, Rachel, Phoebe, and Joey from Friends are seen staying in the One In Vegas episode of Friends!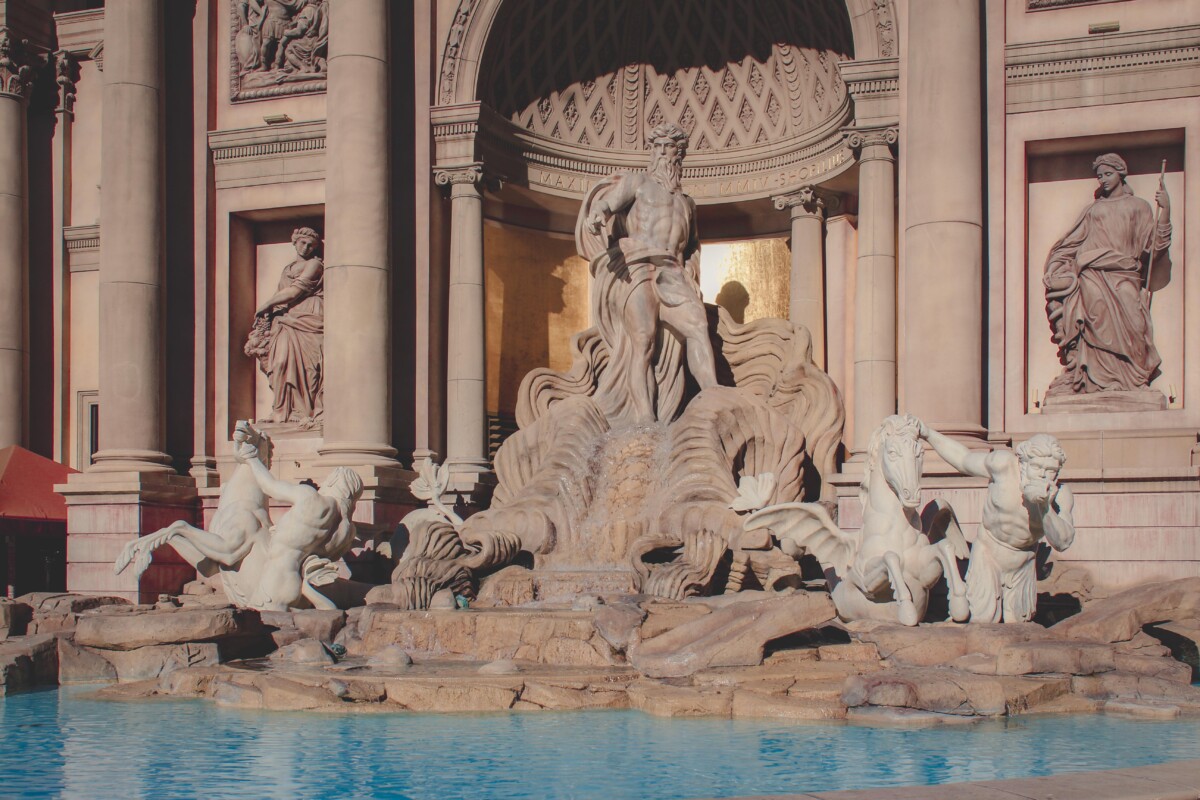 Four Seasons Hotel Las Vegas
Four Seasons is the crème de la crème of hotels on The Strip in Vegas. This hotel feels worlds apart from its Strip neighbors; it's seasoned and mature and comfortable in its un-Vegasness. Situated in the Mandalay Bay complex, Four Seasons stands out as one of the only non-gaming and non-smoking resorts in the area. Service is gracious and cordial and exactly what you'd expect from a Five Diamond resort. Rooms (which are quickly booked up by honeymooning couples) are a definite splurge. They're apartment-sized, marble-bathroomed, and fully-furnished. Each suite also comes with a stocked, private bar (from lemons to libations, you don't have to travel far for drinks). You'll also find comfy, plush robes that feel dangerously soft against your skin.
Bellagio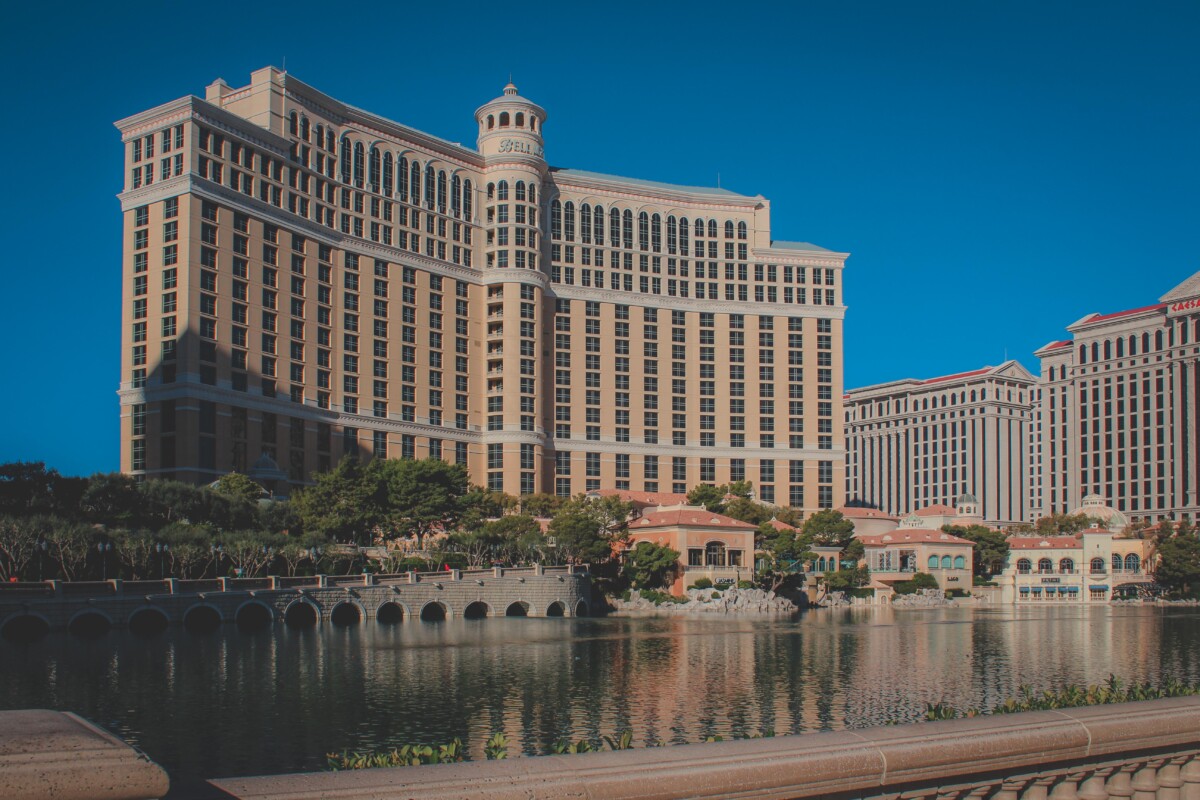 Regardless of whether or not you're interested in staying at The Bellagio, you (most likely) will visit this iconic hotel during your Vegas trip. The Bellagio is most known for its name-branded attractions: Bellagio Fountains, Bellagio Conservatory, Bellagio Pool. And it's these outside-the-suite experiences that do the legwork, bringing curious travelers into the resort's chic rooms. Opt for a Fountain View. You'll be enviously positioned,and granted window-side access to The Bellagio's dramatic, evening-to-midnight waterworks show.
The Cosmopolitan Of Las Vegas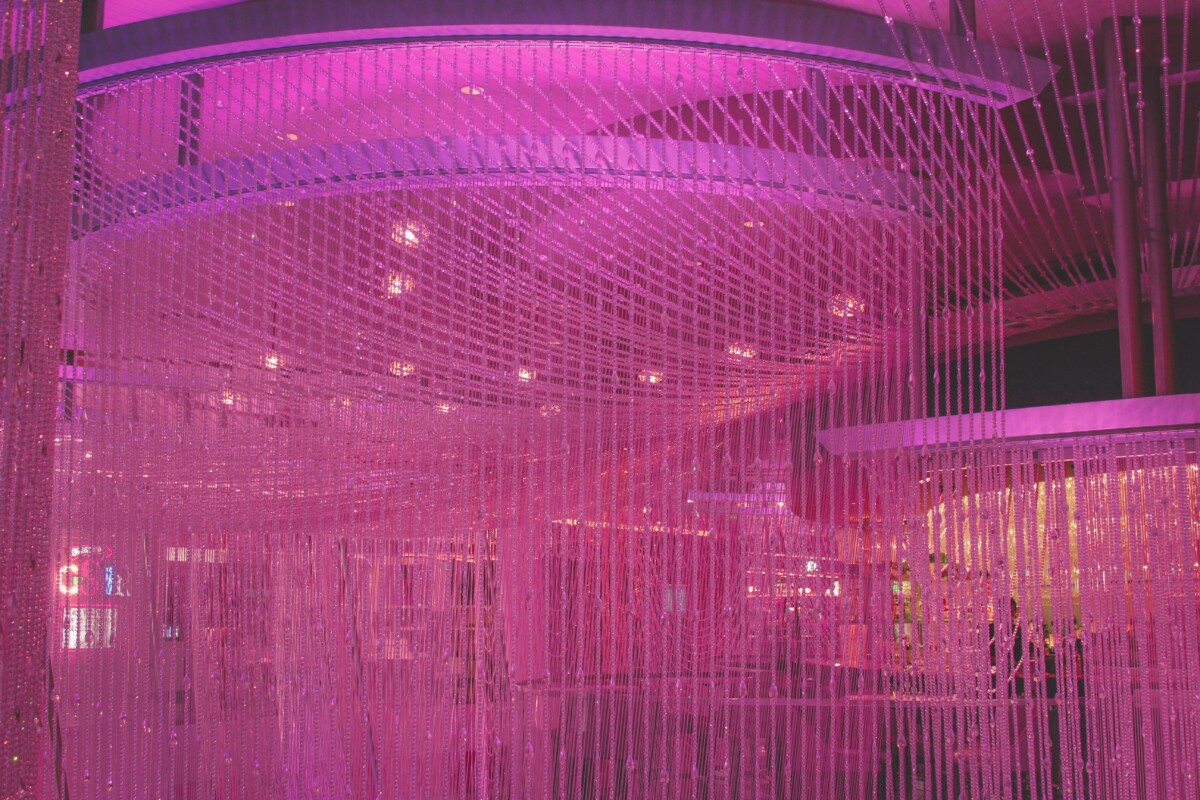 Cosmopolitan is a full-glam hotel. It's unabashedly flamboyant, at times bordering on Barbiecore. The Library in the Marquee doubles up as a hidden, cool-toned Tulum-esque nightclub. Rooms desaturate the pinks and violets that take Cosmopolitan by storm. You'll find edgier vibes here. And then there's the food, a wide-and-eclectic collection that should hold you for breakfast, lunch, and dinner. Seriously, the food served at The Cosmopolitan is some of the best you'll find on The Strip (Block 16 is where you'll want to be at noon). Speaking of The Strip, The Cosmopolitan is right smack in-the-middle of all the action and attractions. From here, you can quickly make your way to either the north or south side of The Strip.
NoMad Hotel
NoMad is a soulful hotel on The Strip in Vegas. It's tall, dark, and handsome – broody and effortlessly seductive in style. There's a library here too. Its deep wooden shelves, helixed stairs, and dripping chandeliers feel like a grown-up take on Belle's dreams. Rooms, designed by Jacques Garcia (the architect behind Château du Champ de Bataille's revamp), are hip, trendy, and contemporary. The suites are laced with custom furnishings and original art; it's more nuanced than traditional Vegas hotels but still very much in-vogue. If you're looking for hotels on The Strip that feel more homey and residential, NoMad is your best bet.

Did you find this hotels on The Strip in Vegas guide helpful? What are your favorite hotels on The Strip in Vegas? Where do you like to stay? Let me know in the comments below! As always, I love hearing from you.