Keys View Joshua Tree Travel Guide
Sunset at Keys View is dramatic: gold curtains drape a large, vast, almost endless stage; a spotlight falls on the Salton Sea; the San Jacinto Peak is costumed in saffron. The sun is the reluctant director, a master puppeteer of yellows and oranges and reds. I watch the colors play their parts; each one slowly stepping in, lingering, bowing out to night.
Although sunsets, in general, are immeasurable, I still find myself weighing this sunset, allowing my mind to toss around phrases like most magical and most perfect and most beautiful because superlatives just feel appropriate when describing Keys View.
Disclosure: Heads up, this post contains some affiliate links, which means I may get a commission if you make a purchase. Don't feel pressured to buy anything. I still love that you're here, reading my content (side note: I'd probably suggest getting a coffee or tea first though because my blog posts tend to be long). To find out more, you can read our full affiliate disclosure right here.
About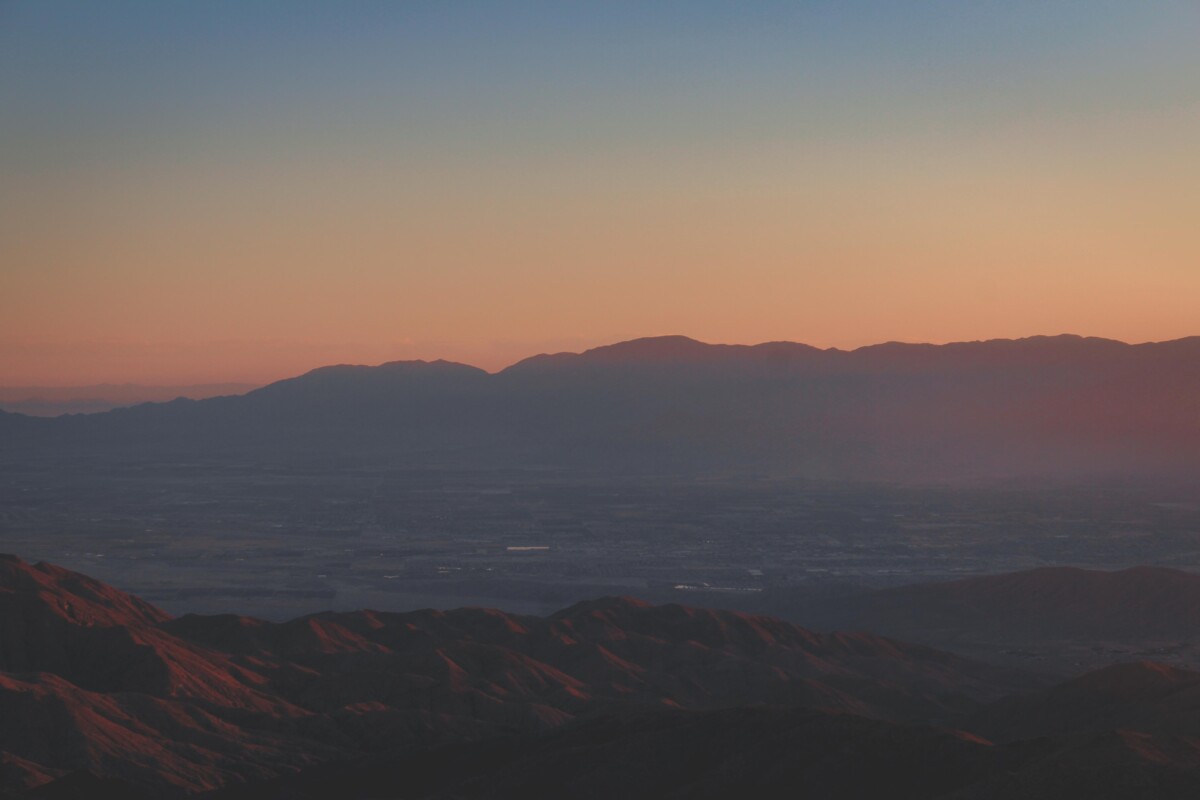 Keys View is a popular scenic overlook in Joshua Tree National Park. The views from here are gorgeous; they stretch far and wide, and sit below an an elevated stretch of the Little San Bernardino Mountains. From right to left, you can see San Gorgonio Mountain, Palm Springs shadowed below San Jacinto Peak, more of Coachella Valley backed by the Santa Rosa Mountains, and the Salton Sea. On a pure, clear, clean-air day, you should also be able to see a rugged hint of the Mexican borderlands, El Centinela.
When To Visit Keys View Joshua Tree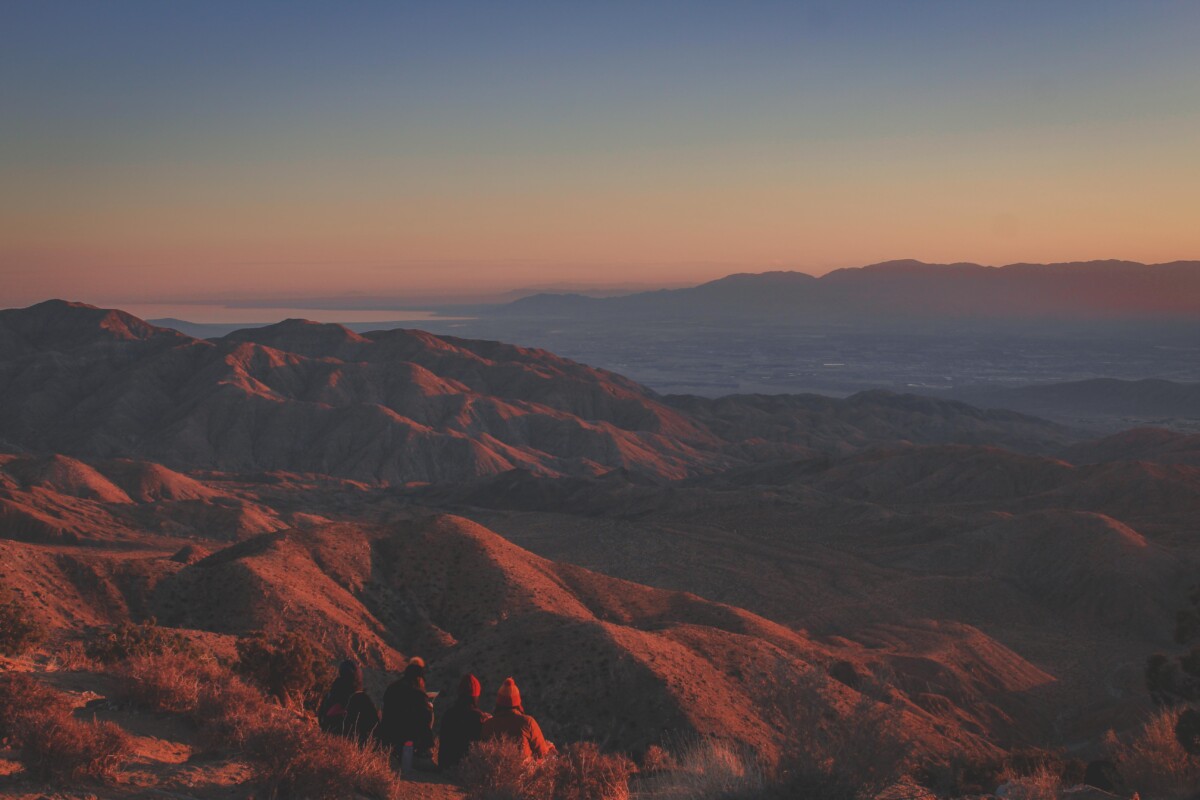 The best time to visit Keys View is between March to May and October to November. Joshua Tree National Park's sweltering temperatures loosen up during these months. Sunset also tends to be a less heated time to visit, so you could visit later in spring and the dead of winter as well (just be sure to bundle up).
What To Pack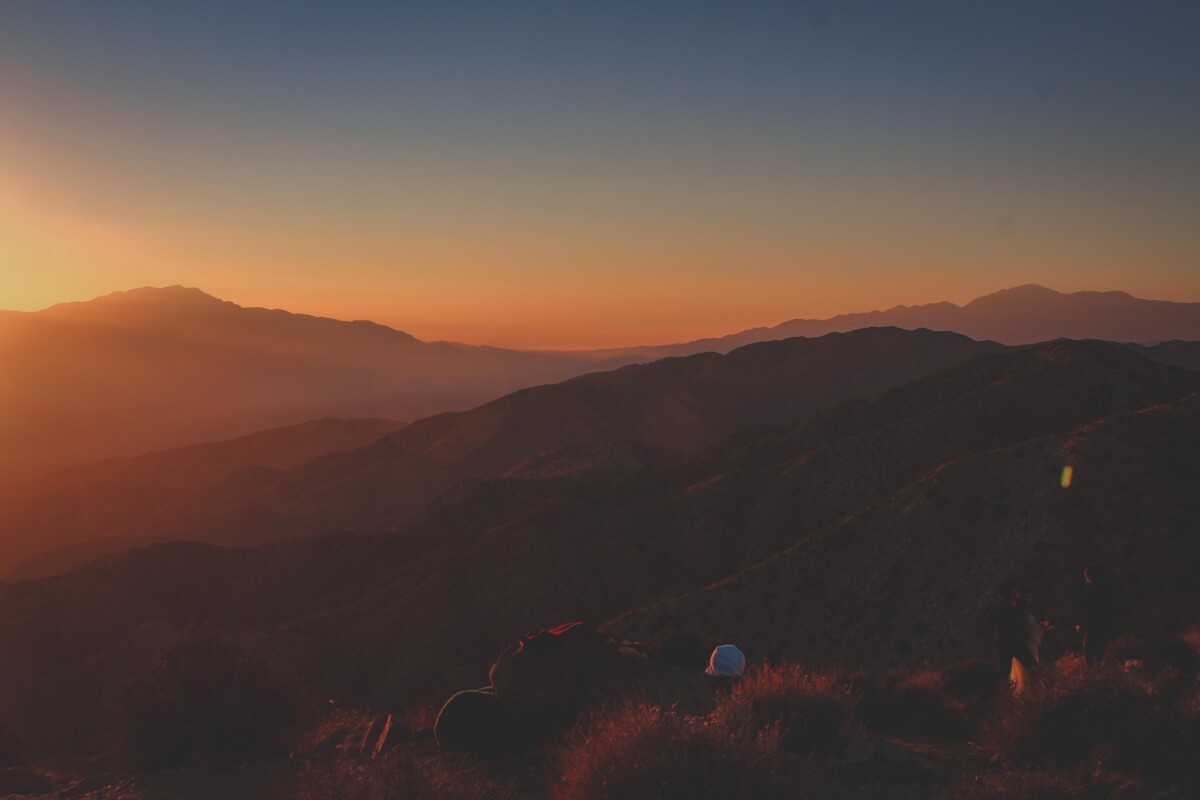 Here's the thing about Keys View: it gets crowded at sunset. Keys View's otherwise roomy, n-shaped parking lot fills fast. It seems too small around this time, and the line of cars often drips past the parking lot's limits. You'll want to arrive an hour early (at least to get to good parking). You'll also want to bring:
something to keep you entertained while waiting (for me, that was a book. You could also download a podcast to listen to offline – there isn't signal here)
snacks (I noticed lots of people with picnic baskets and hot cocoa and immediately regretted finishing all my snacks earlier that day)
A blanket and some pillows. Keep them in the trunk of your car. If you arrive early enough and are able to snag the spots at the crest of the Keys View parking lot, you can park in reverse and directly face the views. I noticed lots of couples pop open the trunks of their cars and enjoy the views right from their vehicles.
a sweater or jacket and some earmuffs. Dress for colder weather and wear layers. Keys View is a chillier part of Joshua Tree; it's also windy (so a sweater is always a good idea).
A camera (or your phone)! Trust me, you'll want to snap lots of photos.
Keys View Joshua Tree Hike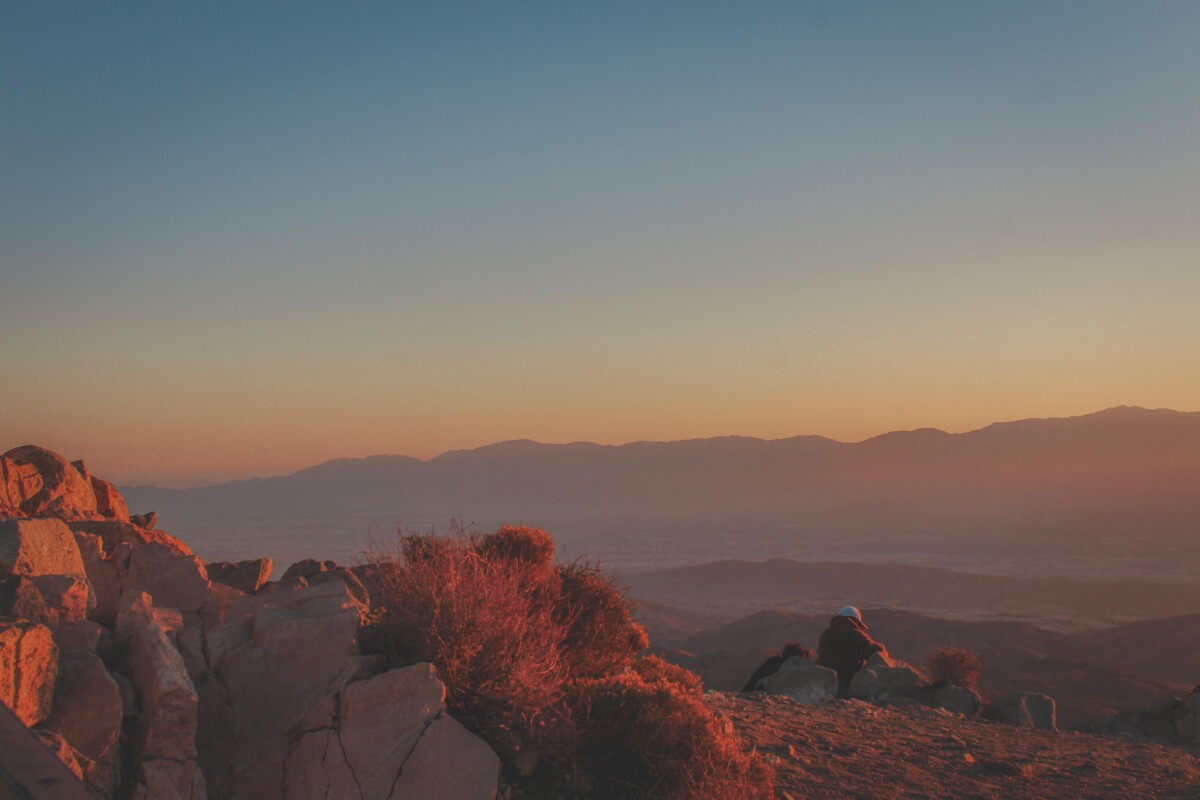 The hike itself is less than a fourth-of-a-mile, barely a hike at all and more of a casual stroll (you'd probably walk more during a grocery run). The route is easy, and if you're just looping, it takes less than ten minutes.
If you're looking for a more challenging hike, there's Inspiration Point. This is a roughly 1.8 mile, out-and-back trail near Keys View that requires a little more planning (I'd recommend using All Trails and reading this article and this article before hitting it).
Keys View Joshua Tree Sunset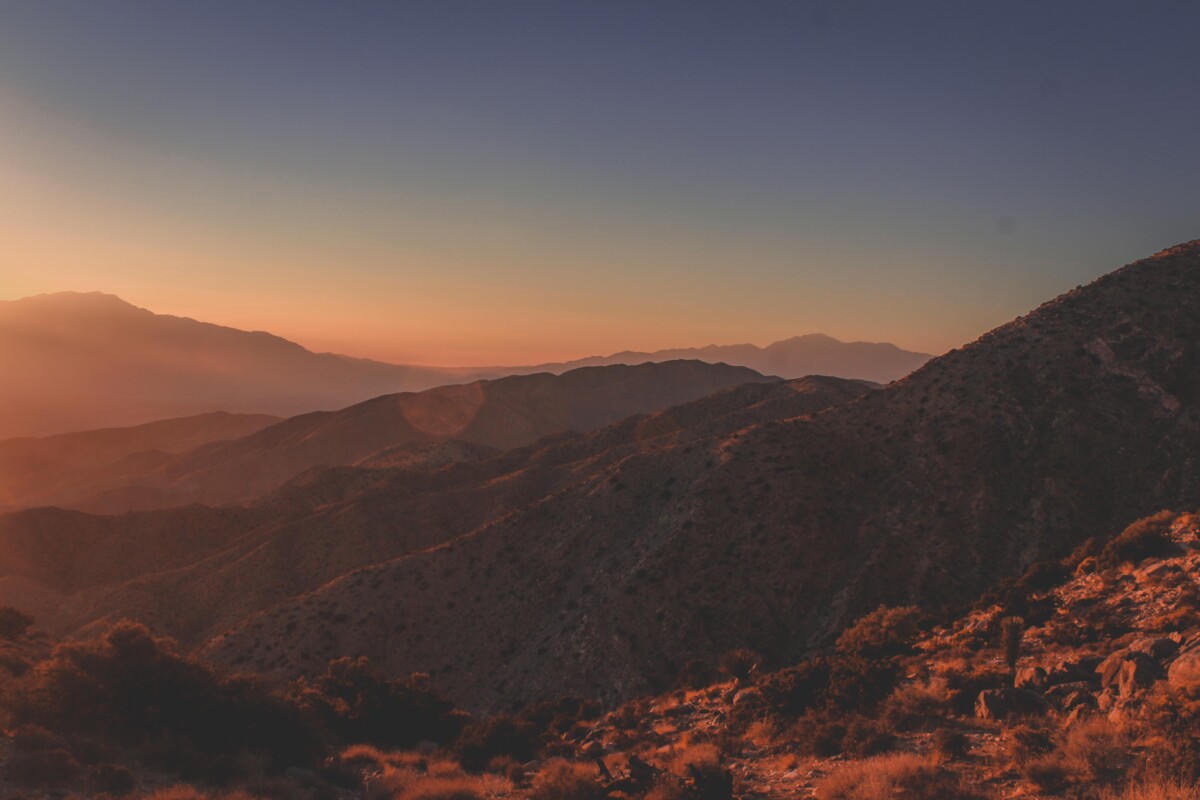 Sunset's most dazzling performance – the climax of the show – lasts around twenty minutes. I find myself in awe of the scene. Gentle slopes are blanketed in red. The Salton Sea is a little, white sliver in distance. The sky is cloudless, and drenched in warm tones. There's a sense of magic and perfection to this place. I mean, this place is worth driving out to. It's one of the most beautiful views I've ever seen.

Did you enjoy this guide to Keys View Joshua Tree? Have you ever been to Keys View? Let me know in the comments below!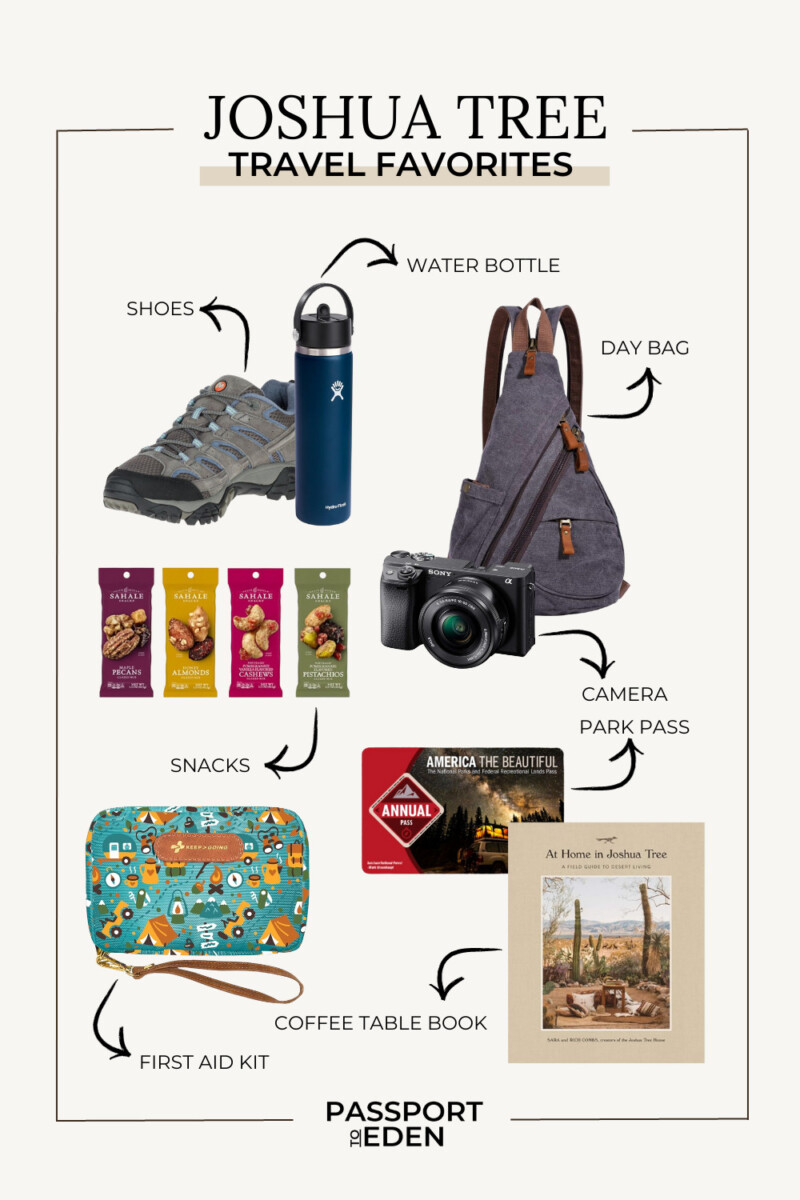 TRIP RESOURCES
---
🥾 Merrell Moab 2: these shoes got me through 50 hours of hiking at Joshua Tree National Park (I love the grip)
💧 Hydroflask: my favorite stainless steel water bottle (the water stays refreshingly cold even on hot days)
🥜 Sahale: a salty glazed nut mix perfect for day hikes (their pomegranate vanilla cashews have my heart and soul 😋)
🩹 KeepGoing: lightweight kid-friendly first aid kit (made by a family for families)
🎒 Sling Backpack: this comfy little crossbody canvas rucksack is my go-to day hiking bag
🎟️ America The Beautiful: annual pass that covers the entrance to over 2000 federally-managed recreation areas
📷 Sony Alpha a6400: the mirrorless camera I use to take blog photos (I like that this one has a flip-out screen)
📚 At Home In Joshua Tree: a beautiful gift for those who love the Mojave Desert