Little Havana restaurants in Miami
Little Havana restaurants know what Calle Ocho crowds look like: locals in pressed tees, tourists in sundresses, families pulling out phones for a photo here-there-everywhere, Miami first-timers (slightly hungover), Cuban food lovers who live in Allapattah and Brickell.
There's no use trying to please everyone. So our favorite restaurants on Calle Ocho don't. They boast Cuban pride, embrace the history of Little Havana, and do things their way.
Here are twelve unique Calle Ocho Little Havana restaurants to know about.
Travel Tip: Many Calle Ocho restaurants set a service charge. Not reflected in meal prices, this mandatory pre-tip fee (usually between 15 to 18%) is sometimes mentioned on menus in small text. Keep that in mind while budgeting for your trip!
Breakfast On Calle Ocho Little Havana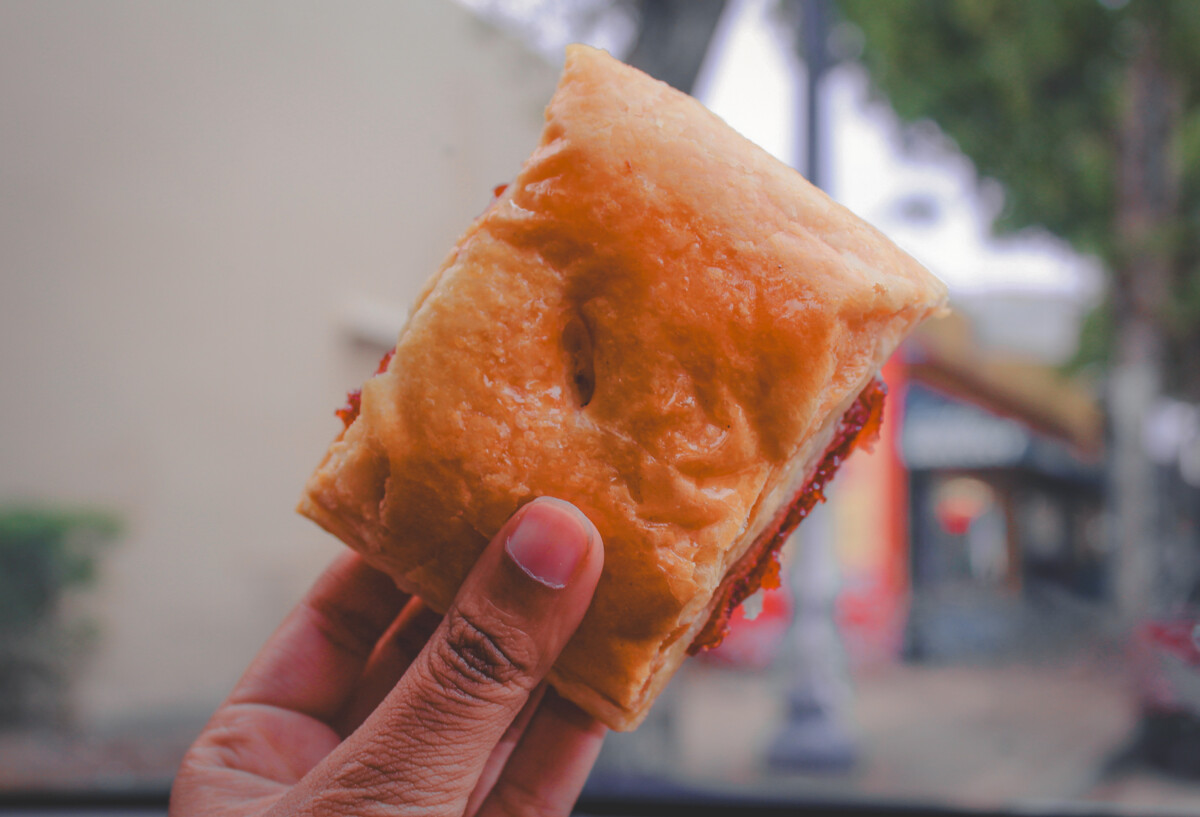 Arahi's Bakery
Versailles and La Carreta might be the poster children for Cuban breakfast in Little Havana, but there's another lesser-known spot that should be on your radar. Arahi's is a tiny, homey breakfast nook known for its pastelitos de guayaba – soft, sweet pastries with a gentle flake and thick imprint of guava jam.
Park on the side street (right outside) and enter Arahi's unfussy interior, stripped of frills. Rapid Spanish bounces off walls. If language is your barrier, jump over it to grab Arahi's cafe con leche and guava pastelito (we went with the tried-and-true nod, point, gracias method mixed with Google Translate).
El Rey De Las Fritas
Your first reaction to El Rey De Las Fritas' fritas will likely be, "Can my mouth even stretch to bite this?". Our verdict? It can't. There's no easy way to eat this burger, so go all in. Chomp down. Let beef patty juices stain your lips, sautéed onion perfume your breath, and crispy shoestring potatoes spill out of the buns onto the plate with each bite. El Rey De Las Fritas packs in crunch and flavor and – if you order it con queso – melted cheese.
La Colada Gourmet
La Colada Gourmet transfers the tradition of Cuban coffee to a busy, third-wave coffeehouse on Calle Ocho. Styrofoam cups are swapped for cute glasses. Pours are velvety smooth with sharp, precise layers. Latte art (usually courtesy of co-owner Juliette Borges) is bright and colorful and Cuba-proud. Spiked espresso is available, too, through drinks like Capablanca and Café Borracho.
Travel Tip: If you're looking for a simple, strong, no-frills cafe con leche, head to one of Little Havana's ventanitas instead. These little walk-up windows are all over the district (Versailles' ventanita being the most well-known) and have the best cafecitos and cubanos.
Calle Ocho Little Havana Restaurants For Lunch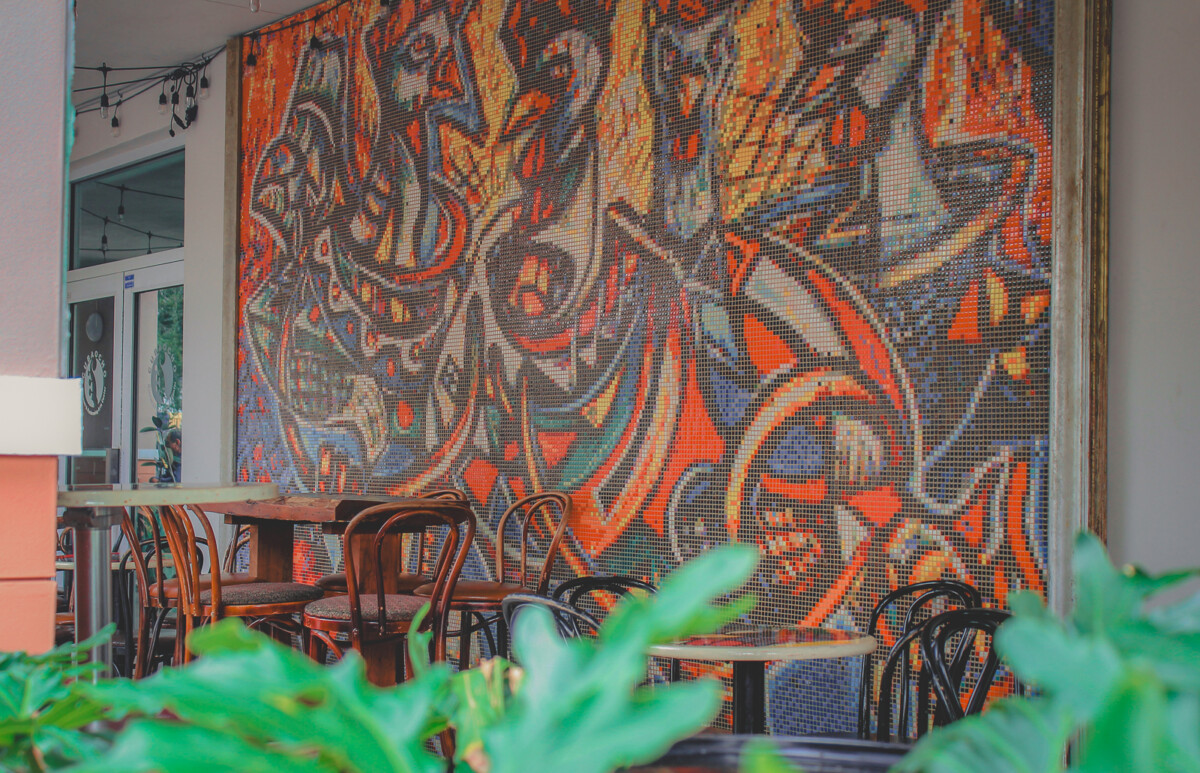 Lung Yai Thai Tapas
Many Little Havana restaurants have a quiet, nondescript, blink-and-you'll-miss-it feel. Lung Yai Thai Tapas does too, yet guests flood the spot. So the Calle Ocho restaurant shuffles visitors in and out quickly. It moves at a hurried pace. Your table only gets to order once (no ifs, buts, or modifications). Get it right the first time: fried mushrooms, duck noodle soup, and Khao Soi (with shrimp). Spice can be searing. Seating is tight. Sounds – clinking bottles of Singha beer, loose conversations, rickety chairs, shuffling wait staff – echo loudly. Prepare for a hyper-casual Southeast Asian experience that's earned a Michelin Guide Bib Gourmand.
Sanguich De Miami
Queue up for Sanguich, a bustling, fast-food restaurant in Little Havana known for its iconic Cuban Sandwiches. Think ham marinated for a week in brine and spices; Lechón paired on top. Mustard drizzled below tender meats; a duo of Swiss cheese slices rested above. Sanguich's Cuban Sandwiches are plancha-pressed and lard-glazed. They lean into the fattiness of the dish, as should you.
Old's Havana
Atmosphere draws visitors to Old's Havana. Live music swells inside. Stretches of headsail tarps, wooden cabanas, and open umbrellas shade a grassy courtyard. Service is pleasant and upbeat. Old's Havana is relaxed, casual, and friendly.
Good food is another reason to go. Imagine meat so tender, it can be fork cut; dense and flavorful black bean rice mounded on the side; and passion fruit mojitos refreshing enough to cool Miami heat.
Travel Tip: Two more Calle Ocho Little Havana restaurants to note are Cafe La Trova and Cubaocho Museum for drinks and music.
Best Places In Little Havana For Snacks & Dessert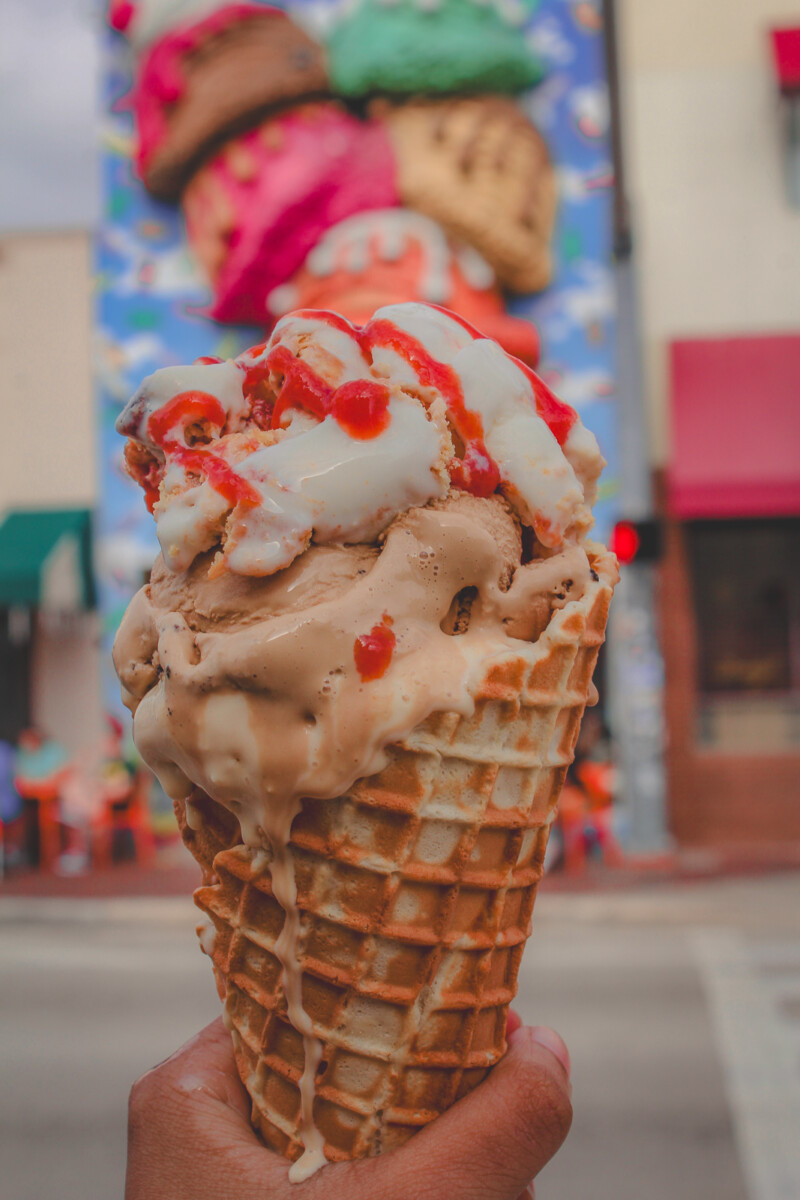 Azucar Ice Cream Company
Even on vibrant and colorful Calle Ocho, Azucar stands out with its bright blue facade and colossal ice cream cone installation. Our top picks for flavors? Abuela Maria (sweet from cut guava paste, smooth from cream cheese, texturally rich from softened Maria cookies) and Cafe con Leche (Cuban coffee's zing coupled with Oreo chunks).
P.S. Azucar's second location is in Bishop Arts District, one of our favorite neighborhoods in Dallas, Texas. See our top choices for restaurants in Bishop Arts District here.
Churromania
Little Havana might not be Churromania's only location, but there's a certain charm to visiting its Calle Ocho outpost on a cool Miami evening. Try their guava-filled-and-topped Big Mania Churro (you're in Little Havana, after all).
Los Pinarenos Fruteria
A sunny yellow fruit market with slanting trays of watermelons and pineapples, Los Pinarenos Fruteria feels like a splash of summer. The market smells like oranges and coconuts and mameys too. Order a coco frio (straight-from-a-coconut water) or a big cup of guarapo, machete-sliced sugar cane freshly juiced.
Calle Ocho Little Havana Restaurants For Dinner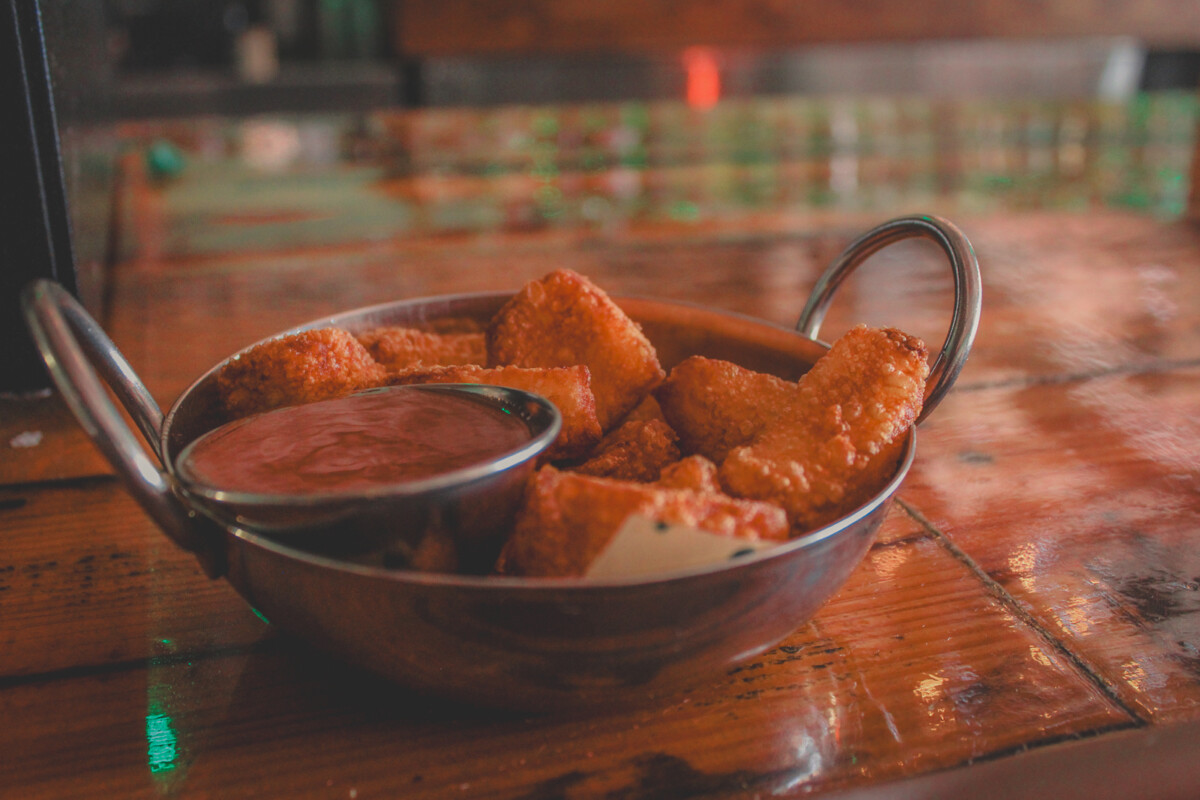 Ball & Chain
One of the most iconic Little Havana restaurants, Ball & Chain is a Calle Ocho institution with a gritty history worth reading about (we'll link the full story here). Today, it functions as a bar and club, live music coursing through its veins like Bacardi rum. Queso Frito is the appetizer to order – crisp squares of Dominican-inspired fried cheese served alongside sharp Cuban-style guava sauce. And Marquitos de Maduros, housemade, bacon-long plantain chips served bouquet style in a Moscow mule mug.
Travel Tip: Steps away, you'll find Union Beer, a tucked away bottle shop with a chill vibe, drinks on tap, local brews, and growlers.
El Toro Loco Churrascaria
El Toro Loco Churrascaria is one of the newest Little Havana restaurants to open on Calle Ocho. It's a Brazilian steakhouse, so a carnivorous mood is a prerequisite. Bring friends to split a Picada Wagyu platter with or self-splurge on the Wagyu tacos (tortilla-cupped beef cuts encased in fresh avocado and topped with pico de gallo).
Sala'o Cuban Restaurant And Bar
Another one of the liveliest Little Havana restaurants is Sala'o, a chic Cuban bar that awakens from its slumber at noon. The name pays homage to Hemingway's Old Man And The Sea (as does the theme). So lean towards Sala'o's salty, ocean-tipped offerings: oysters, Arroz Asopao de Mariscos, and Calamar en Salsa.

Did you find this Calle Ocho Little Havana restaurants guide helpful? What restaurants on Calle Ocho have you tried? Let me know in the comments below! As always, I love hearing from you!