I'm in a New York State of Mind. Yes, I'm quoting Billy Joel. Don't judge me. If you have never been to New York, it's a very special city. There are very few places in this world that are literally alive and have a life of their own and New York is one of them.
New York easily has the largest number of world-renowned landmarks – the Statue of Liberty, Empire State Building, Time Square, and Central Park. I could go on and on. This may be because of Hollywood's appropriate glamorization of New York (I can't blame them for wanting to set movies there).
Today, I'm going to be taking you to all my favorite places in Manhattan. Are you coming?
Disclosure: Heads up, this post contains some affiliate links, which means I may get a commission if you make a purchase. Don't feel pressured to buy anything. I still love that you're here, reading my content (side note: I'd probably suggest getting a coffee or tea first though because my blog posts tend to be long). To find out more, you can read our full affiliate disclosure right here.
Century 21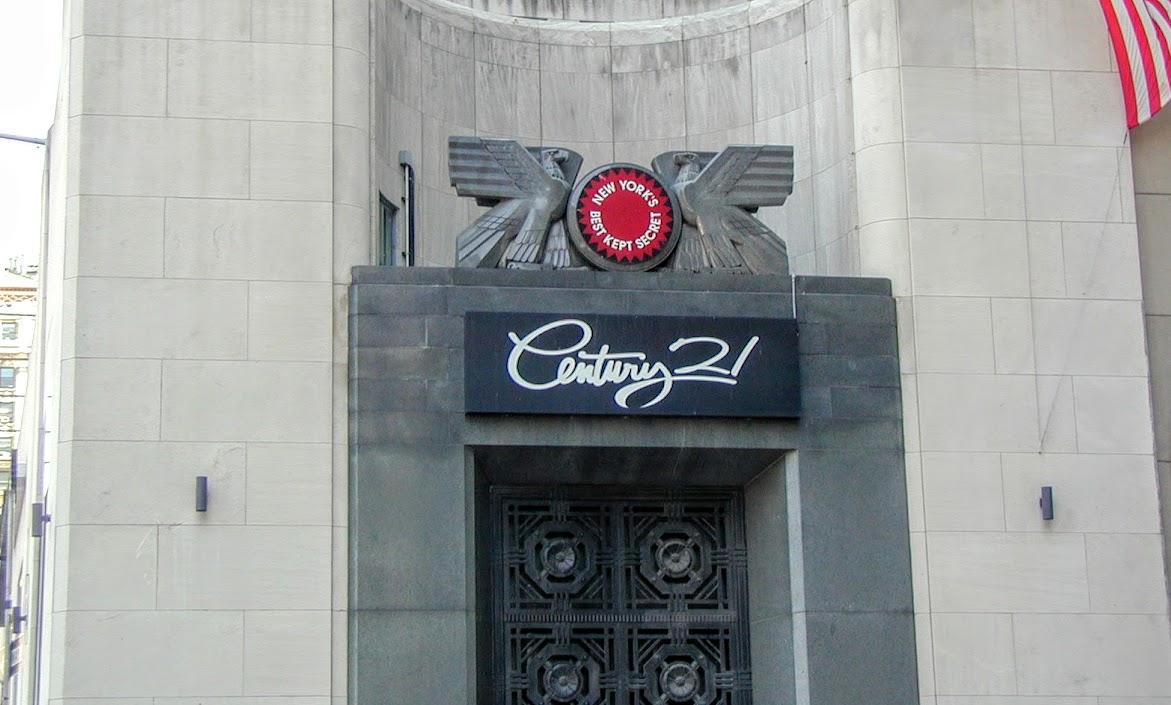 We're going to start off with a little shopping. Century 21 is a gem that is popular among locals and some well-informed tourists. The department store has a selection of all major brand names – like Marc Jacobs and Calvin Klein.
Century 21 has other smaller outlets, but the building in New York is the flagship store, so the size is incomparable. The best part is that all the prices are marked down, so you could potentially snag a Prada purse for 75% off.
I bet Rebecca Bloomwood would be obsessed with this store.
Travel Tip: Come on the weekdays during office hours if you can. Otherwise, be prepared to shuffle through a maddening rush.
Tiffany's
The second place we are visiting is Tiffany's. I visited Tiffany's much before I read Truman Capote's book or watched the movie starring Audrey Hepburn.
As a result, I didn't nibble a pastry and look longingly at the window, but I wish I did. If I could go back, I would probably do that and wear a little black dress as well.
The Tiffany flagship store is located right on the corner of Fifth Avenue and 57th street.
Here's the thing about Tiffany's and why I love it. It's rich and opulent and has a yummy blue theme, but it's accessible.
I can go in and feel like a million bucks and window shop to my heart's delight (if you do find something you like and you will, be prepared for some serious sticker shock).
Holly Golightly describes it the best, "jump in a cab and go to Tiffany's. Calms me down right away. The quietness and the proud look of it; nothing very bad could happen to you there."
Stone Street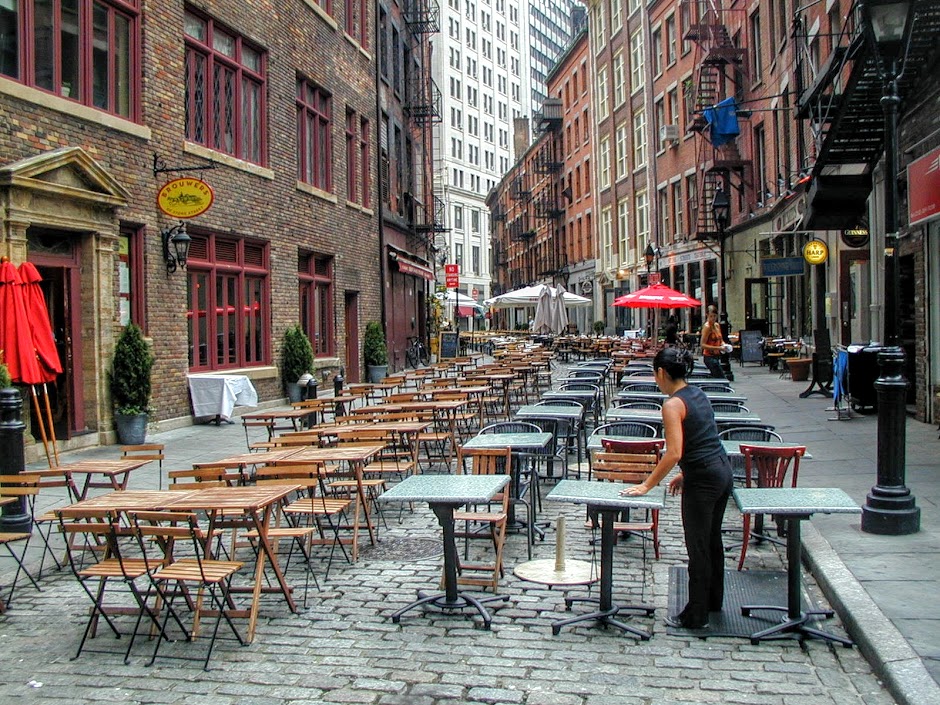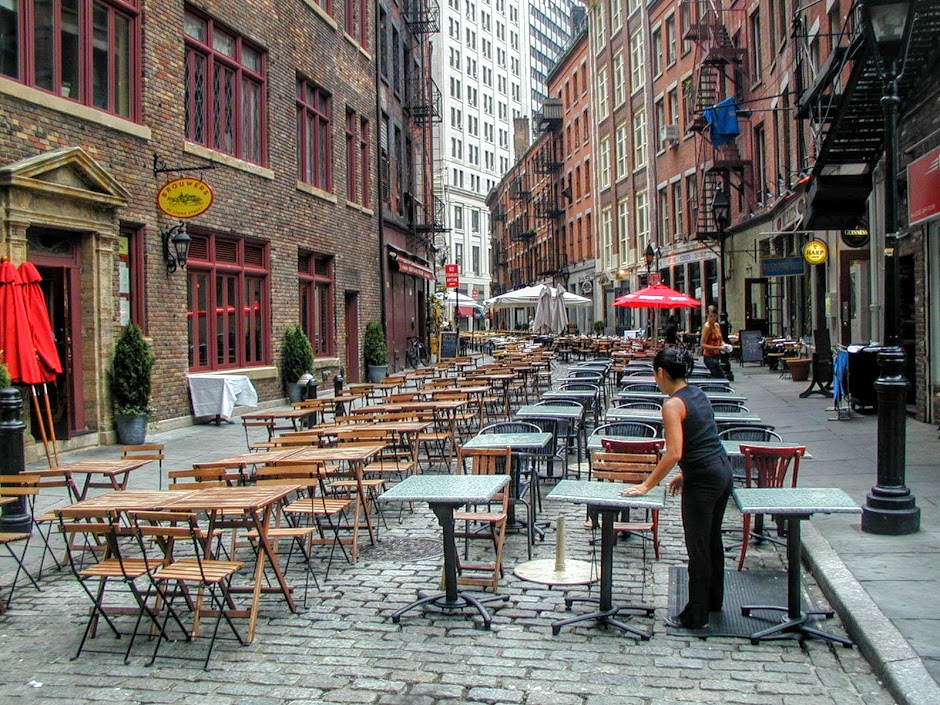 Now that we are done shopping and window shopping, let's go to Stone Street.
Stone Street is like taking a step back in time.
The cobblestone paths and car-free environment transport you to a world before the 1990s. The store-front signs look almost antique. The streetscape is lined with taverns and bars and there are long wooden benches outside the eateries, perfect for grabbing a bite and unwinding with friends or family.
If you're feeling a bit energetic, go on a bike ride.
This historical area, in the heart of the financial district, appears to be frozen in time.
Wall Street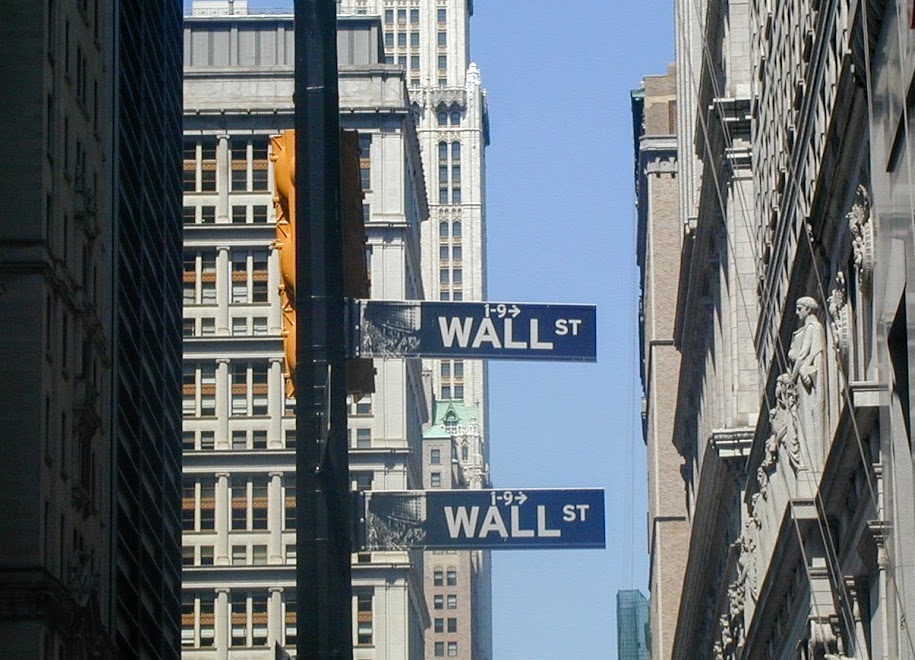 Next stop, Wall Street. Wall Street exudes power because it is a leading financial center.
If you are ready to brave and battle tourists, stroll down confidently because, right now, we are in the middle of a financial hub. Every major finance-related company is there.
New York Stock Exchange. Bank of America. Goldman Sachs.
The most popular tourist attraction in Wall Street is definitely the bull. The bronzed bull with its nostrils flared and aggressive, fighter-mode position is one of the most iconic Wall Street symbols. And with so many tourists, it's difficult to get a picture in front of the bull.
So you could try to look at the stock from the hindsight (I'm no stock broker or financial expert but this seems like an appropriate pun considering we are in Wall Street).
Right. I'm not sure if waiting out the crowds is better. But, I will say that it is a good alternative if you can get over the mild embarrassment.
As you can tell, you can get a decent shot from this angle without waiting in lines.
Trinity Church
So for our last place, we will be "heere at the wall".
If you are a National Treasure fan then you will know exactly what I'm referring to.
Trinity Church.
Trinity Church is a timeless mixture of history and architecture. Its Gothic peaks and medieval-like beauty are a fresh difference from typical New York skyscrapers. It stands as a reminder of the diversity and openness of New York.
Inside, our eyes are met with detailed stained glass paintings. The stillness and silence in the church form a meditative environment for pondering, praying, and releasing stress.
Trinity is an Episcopal Church, but the quietness, the calmness, and haunting beauty transcends religion and is worth a visit even if you don't consider yourself to be Episcopalian.
So what are your favorite places in Manhattan? Comment down below and tell me. As always, I would love to hear your opinions. And if you have been to any of the places I mentioned above, tell me about your experience as well.