Classic Omaha date ideas that never fail to impress.
We decided to make our last evening in Omaha a romantic one. Our first few days in town were spent level 10 freaking out about the snow. That night in February, Omaha was blanketed in a small layer of powder-white fluff, one-fourth a shoe deep (we measured).
And so we hopped, skipped, and jumped on the sloshy sidewalk every chance we got. Can you tell I've been living in Texas too long?
I learned quickly that frosty weather plus two Southerners meant sky laden Omaha date ideas were out of the question. It was so cold, my every half-breath let loose little puffs of clouds.
Instead, we decided to stick to the classics. Mostly because I can't hold hands when it's cold out. My fingers were glued to the deepest depths of my pockets. And there they remained. But coffee and dinner and a movie? That, I can do.
So without further ado, here are five twists on classic romantic date ideas in Omaha.
Dinner And A Movie At Dundee Theatre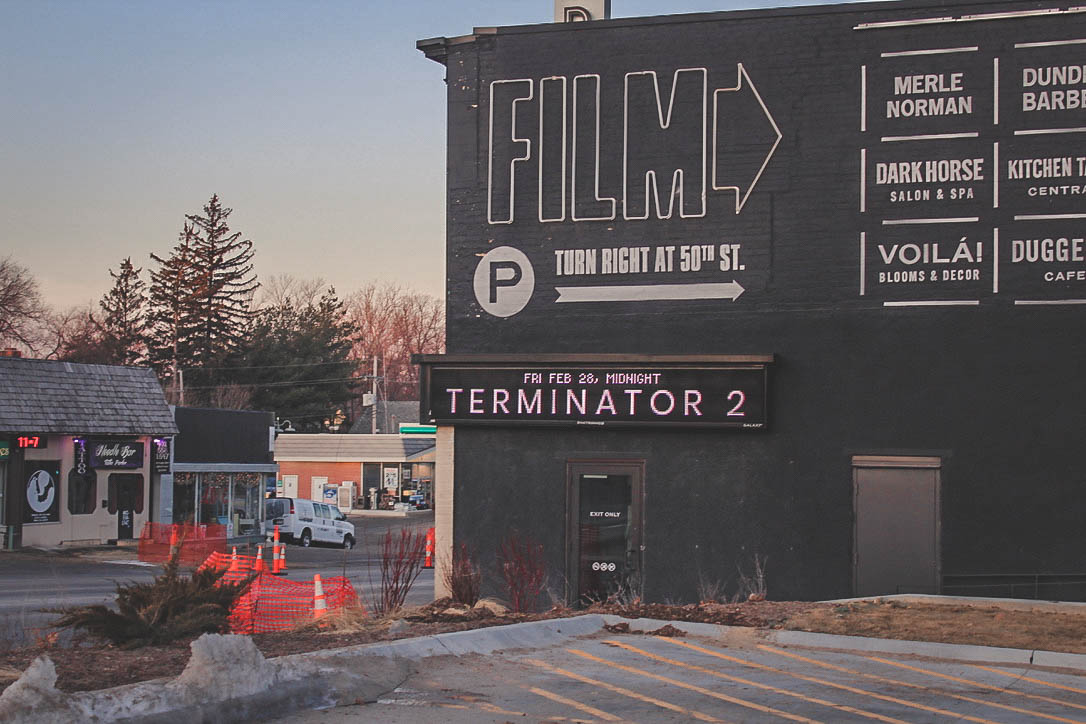 Our Airbnb host recommended Dundee Theatre, a historic venue located on Dodge Street. Dundee's roots trace back to the roaring 20s. Back then, it flashed Hollywood hits and blinked indie films.
In the 60s, The Sound Of Music ran for two years straight. And today, the black walls and iconic all-caps Dundee sign belong to Film Streams, an Omaha-area nonprofit.
Grab a light bite at Lola's, an AM cafe turned wine bar after hours. Pick your show and enjoy!
Switch up this Omaha date idea with:
Funny Bone: part of a comedy club chain known for its laugh-out-loud line-up
Omaha Playhouse: the largest community theatre in the United States with a seasonal series, including the highly-anticipated 2021 production of Murder On The Orient Express
Late Night Butter Brickle Run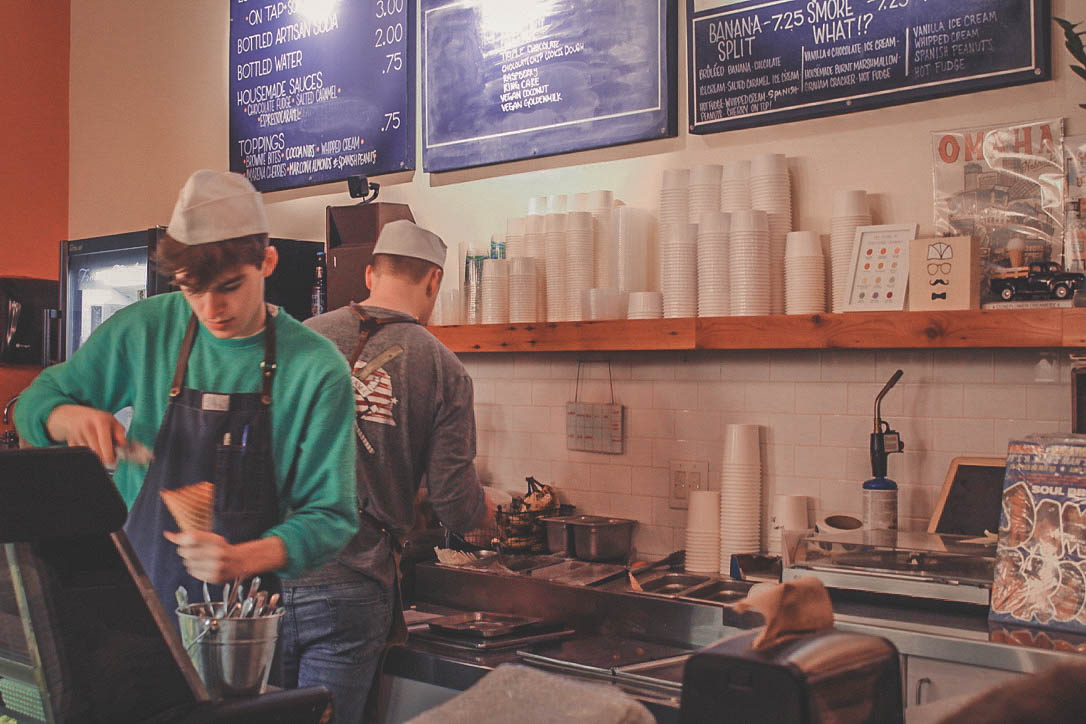 1920s Omaha also saw the invention of Butter Brickle. We came back from Omaha obsessed (like the sugar-definitely-went-to-our-heads obsessed) with Butter Brickle.
It's a creamy ice-cream spiked with caramelized toffee bits. It tastes like pure Irish butter sweetened and scooped onto a cone. The toffee adds a glassy crunch that melts immediately on the tongue. And it's why-isn't-this-sold-everywhere, I'm-officially-replacing-cookies-and-cream rave-worthy.
Nothing says love like a scoop of butter brickle. Trust me on this.
eCreamery sells brickle with a vanilla base. We recommend (the equally good) Coneflower, another ice-cream shop in Omaha. Coneflower is in the Blackstone District, a hub of late-night shops and restaurants.
The seating inside is sparse so you'll want to grab your cone to-go. But don't worry, you'll have plenty of time to strike up a conversation. The lines for Coneflower are l-o-n-g (even in the middle of winter).
Evening Bookworm Date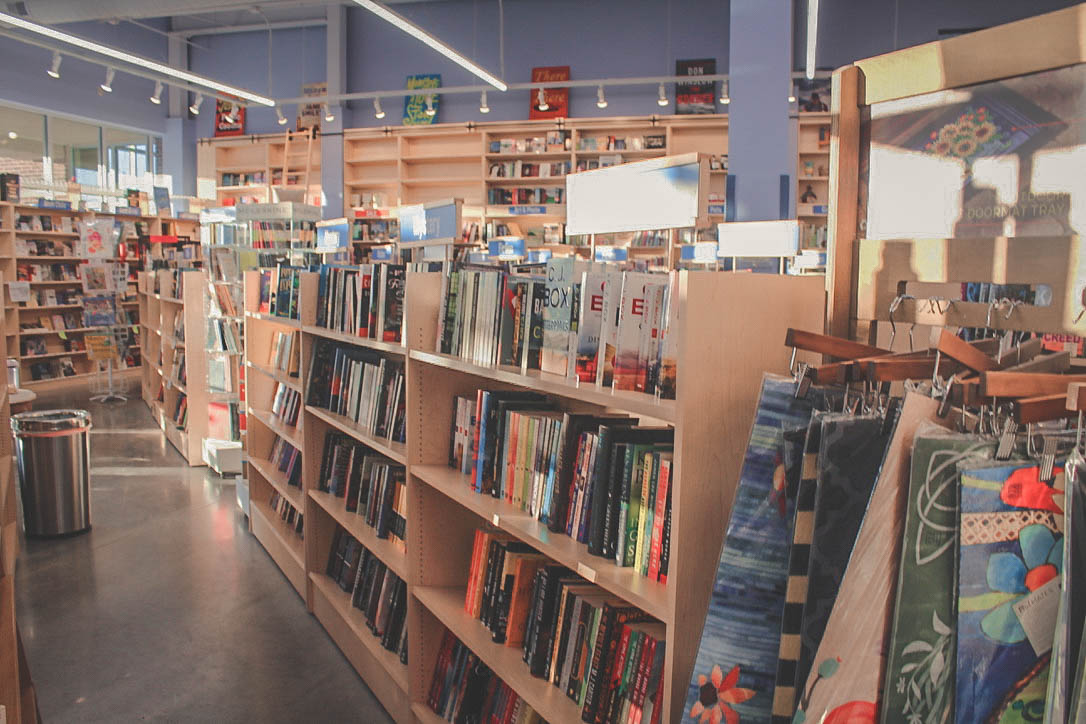 Having made it our mission to poke through a new bookstore in every city we visit, we knew we had to see at least one in Omaha.
To be fair, sappy romantic comedies set in downtown Omaha were a huge reason The Gateway To The West was high on my bucket list. Over the years, I'd built up an image of the city in my head (from cheesy love stories no less).
Bookstore dates are easy to enjoy, regardless of whether you're a book lover or not. They lead to spur of the moment "you read what exactly in high school" conversations. And they're a cute way to tap into your date's childhood.
For a unique Omaha date idea, hit up Jackson Street Booksellers, a musty big-windowed rare bookshop specializing in antique and vintage titles. Follow-up with a dose of nostalgia at The Bookworm, a 6000 square foot space home to a room of middle-grade and young-adult books.
Semi-Casual Dinner At Block 16 Date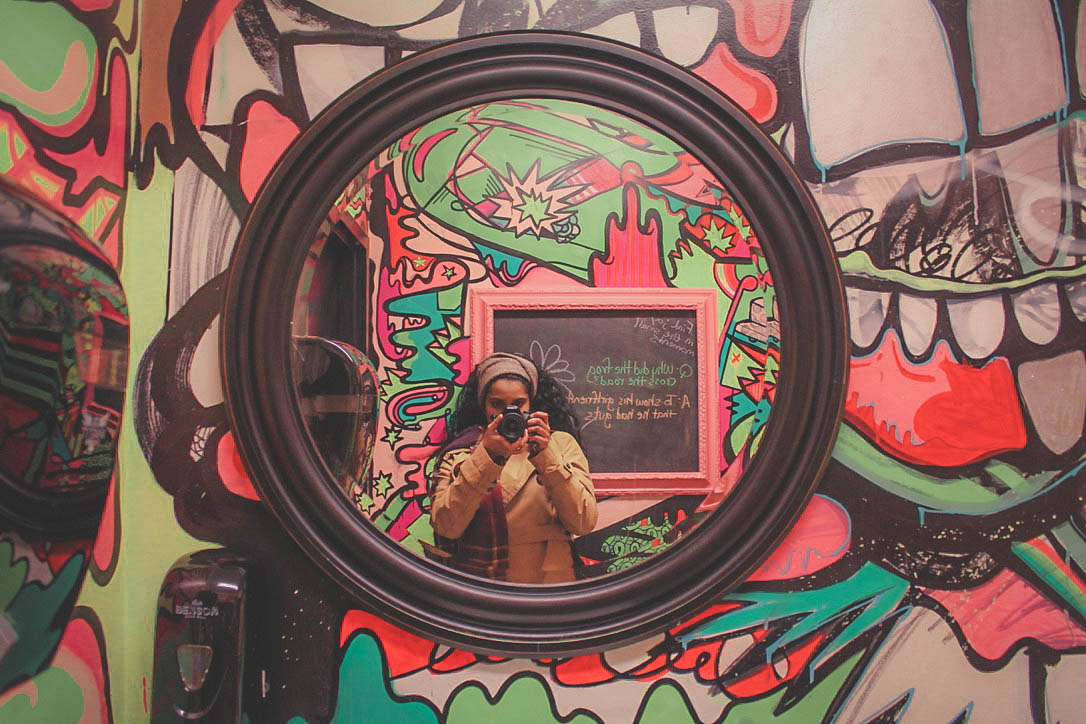 If Block 16 is good enough for Alton Brown, you can bet that it's good enough for a semi-casual Omaha date night. Block 16 is part of the city's rising farm-to-table movement. The menu is spearheaded by Jessica and Paul, two chefs who met at Metropolitan Community College's Culinary program.
Block 16's burger and fries flavors are risky but their creativity pays off. The Croque Garcon Burger came highly recommended by our cashier (it's her go-to). Cheese. A thick-cut patty. A sunny side up farm egg. Truffle mayo. Ciabatta. It works.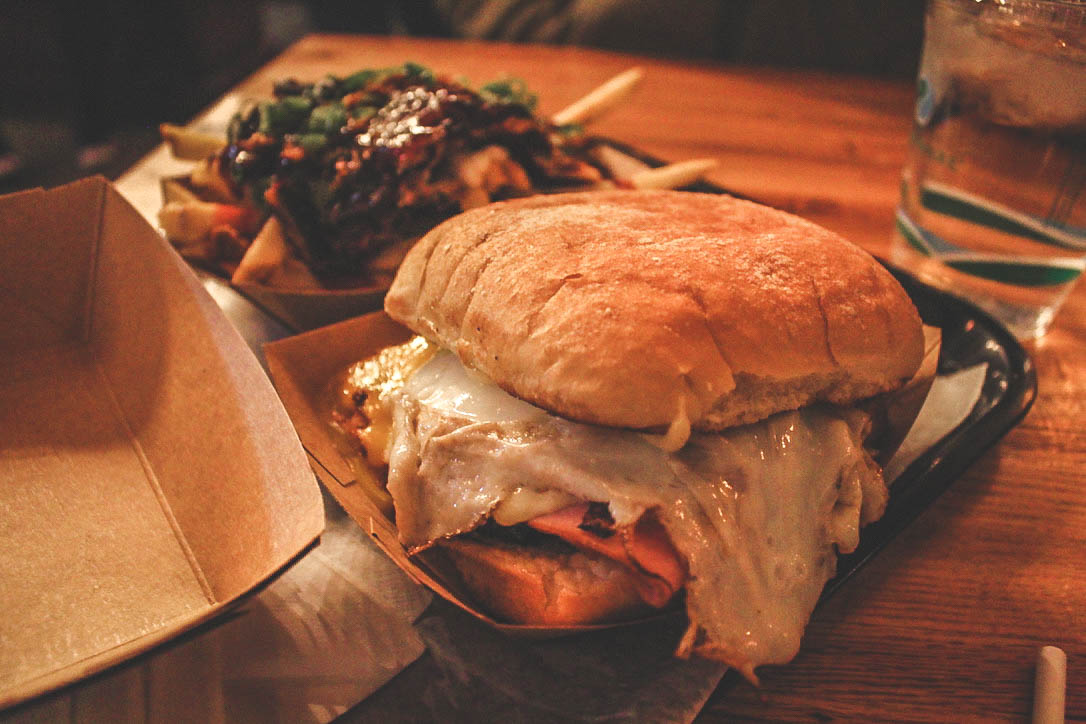 Inside, you'll see framed newspaper clippings with feature-length mentions of Block 16. This Omaha eatery is a media favorite. But it's hard not to see why. Block 16 is a clean, quick-service establishment. It's sophisticated but not unapproachable. I mean, even the restrooms were dressed up in funky wall-to-wall splatters of green and pink.
But by far, our favorite menu item was the Duck Duck Goose Fries. Tender duck confit and duck-fat mayo topped over crisp shareable potato strips finished with a handful of chopped green onions and a splattering of gooseberry gastrique.
Heads Up: Block 16 has plenty of vegan (and can-be-made vegan) options on the menu!
Block 16 has the kind of low-light, two-chair setup that's date inductive. It's unintentionally romantic (and you'll see lots of couples flitting in and out of the rooms).
Self-Guided Joslyn Art Museum Date
The Joslyn Art Museum hosts an impressive collection: Monet, Bouguereau, Degas, El Greco. And it's completely free to visit. If you're looking for a longer Omaha date idea, the kind where conversation lingers up and down stairs and in between halls, you'll want to stop by here.
The museum is big – multiple rooms, multiple floors. We recommend a self-guided tour to take it all in.
And I can't recommend this spot enough because an afternoon in the Joslyn Art Museum is one of the most affordable date ideas in Omaha. Dinner and a movie can add up, but museums like Joslyn scale down the budget whilst maintaining a classy date-night atmosphere.
Did you find this list of Omaha date ideas useful? Let us know in the comments below what your favorite romantic spots in Omaha are!