Here's how to spend one day in Phoenix, Arizona.
Phoenix is wrapped in a belt of heat. Even in winter, when the southern belly of cool air swells up just past the holidays, Phoenix is hot. Really hot.
I arrived in Phoenix in the early hours of the morning, before light had slipped between the cracks of dawn. The sky was dark. The streets were empty.
I landed in Sky Harbor (billed as America's friendliest airport) that morning. Amongst wide walls and easy-to-navigate paths was an on-site self-guided Airport Museum.
It was a quick stop by the rental car center (and oddly enough by the restrooms). Small cards scrunched up with text sat beside large pictures.
The next twelve hours would be jam-packed and crazy. But I wouldn't have spent it any other way!
So without further ado, here's my one day in Phoenix itinerary.
P.S. Phoenix and Scottsdale are neighboring cities so if you want to extend your trip, here's how I spent a weekend in Scottsdale.
Disclosure: Heads up, this post contains some affiliate links, which means I may get a commission if you make a purchase. Don't feel pressured to buy anything. I still love that you're here, reading my content (side note: I'd probably suggest getting a coffee or tea first though because my blog posts tend to be long). To find out more, you can read our full affiliate disclosure right here.
One Day In Phoenix Guide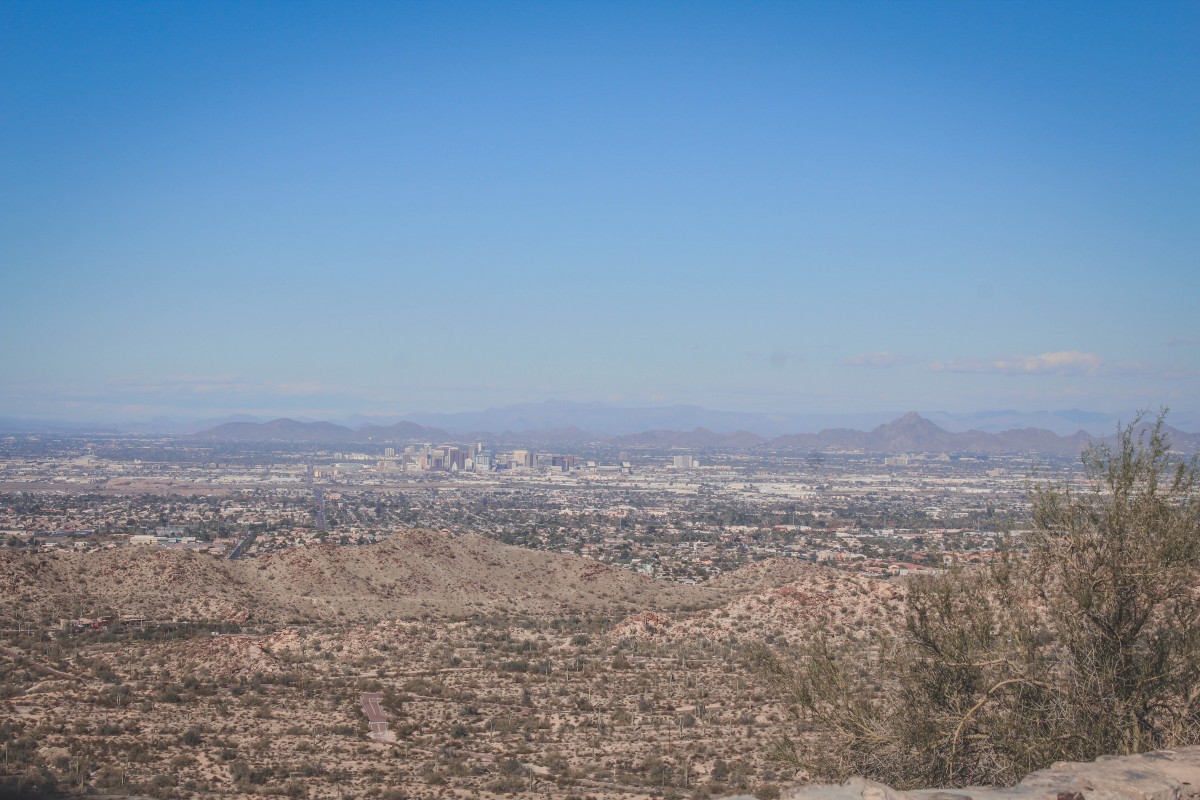 About
Phoenix is a sprawling city. Like its namesake, the metropolis rises out of a desert landscape, tall and commanding.
Building-high cactus squatting on front lawns. Heavy-windowed office spaces batting the heat. Phoenix is an attention-grabbing sight.
And the best parts of the city are in the places you'd least expect and most expect (so you can't go wrong either way).
Phoenix drops feathers of thrill throughout its 500-plus mile landscape.
Getting Around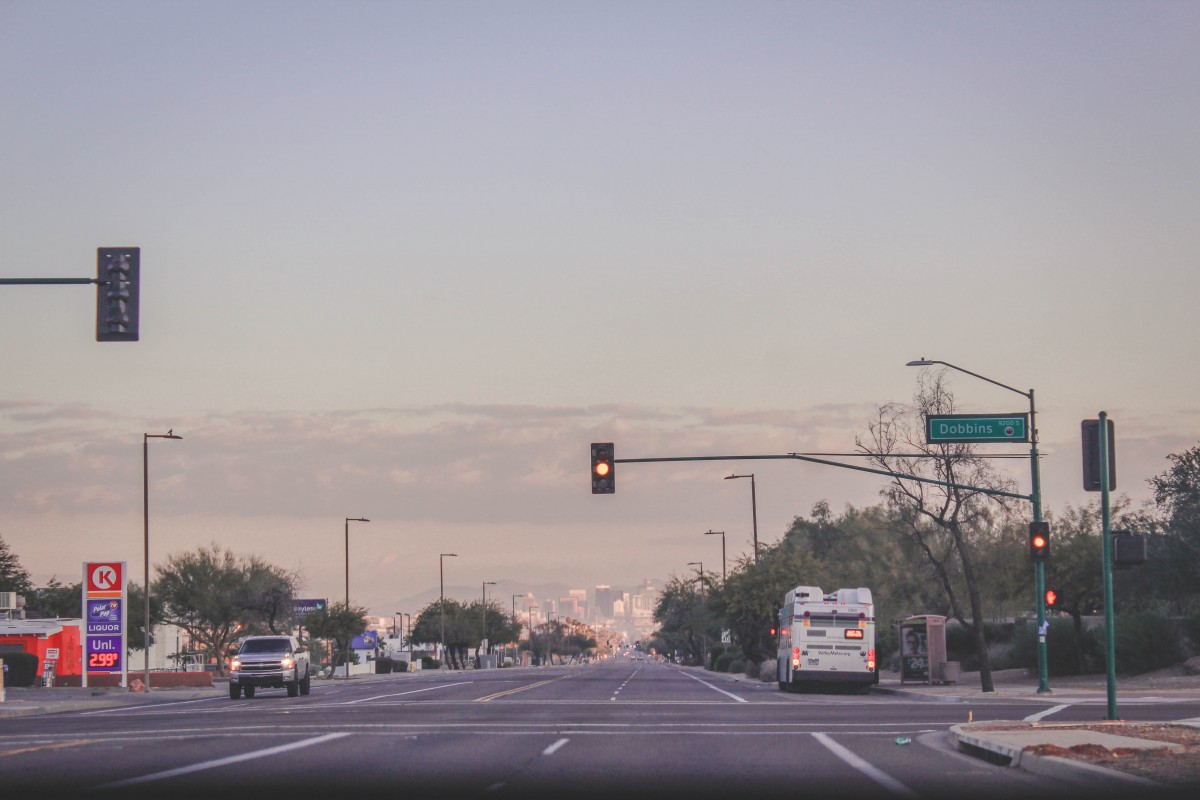 You'll need a car in Phoenix.
Although public transportation (Valley Metro Buses) is available, I opted to reserve a rental car from the airport (through Hertz with AAA discount along with Rakuten cash-back). At under $20 a day, it was a deal I couldn't refuse!
Where To Stay
From a budget-friendly hostel to Waldorf Astoria resort, Phoenix has a wide price range of options.
Here are Passport To Eden's top picks for where to stay:
FOUND:RE Phoenix – basic rooms in an industrialist-infused setting
Arizona Biltmore – a romantic, larger-than-life full-service hotel dressed to impress
The Camby – a well-located property with spacious beds and luxury touches
One Day In Phoenix Itinerary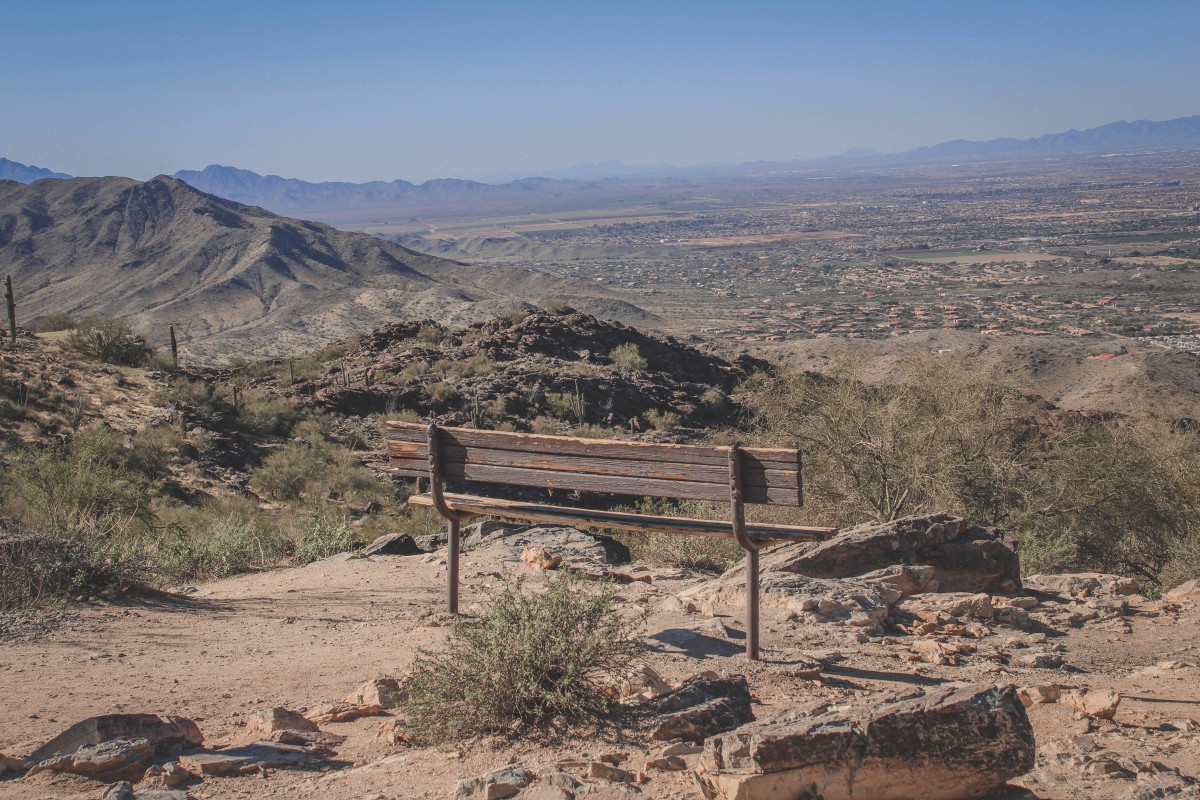 The sun forgot we kept a distance. It was here, inches from my face, pressed against my nose. Its rays fell on hard angles against my jaw.
Even from Dobbins Lookout, where the whiplash wind pinpricked my skin (and my cheeks were tinged with red), I felt a sense of warmth. So during my one day in Phoenix, I embraced the sun full-on – arms out, eyes towards the skies.
Hike Hole In The Rock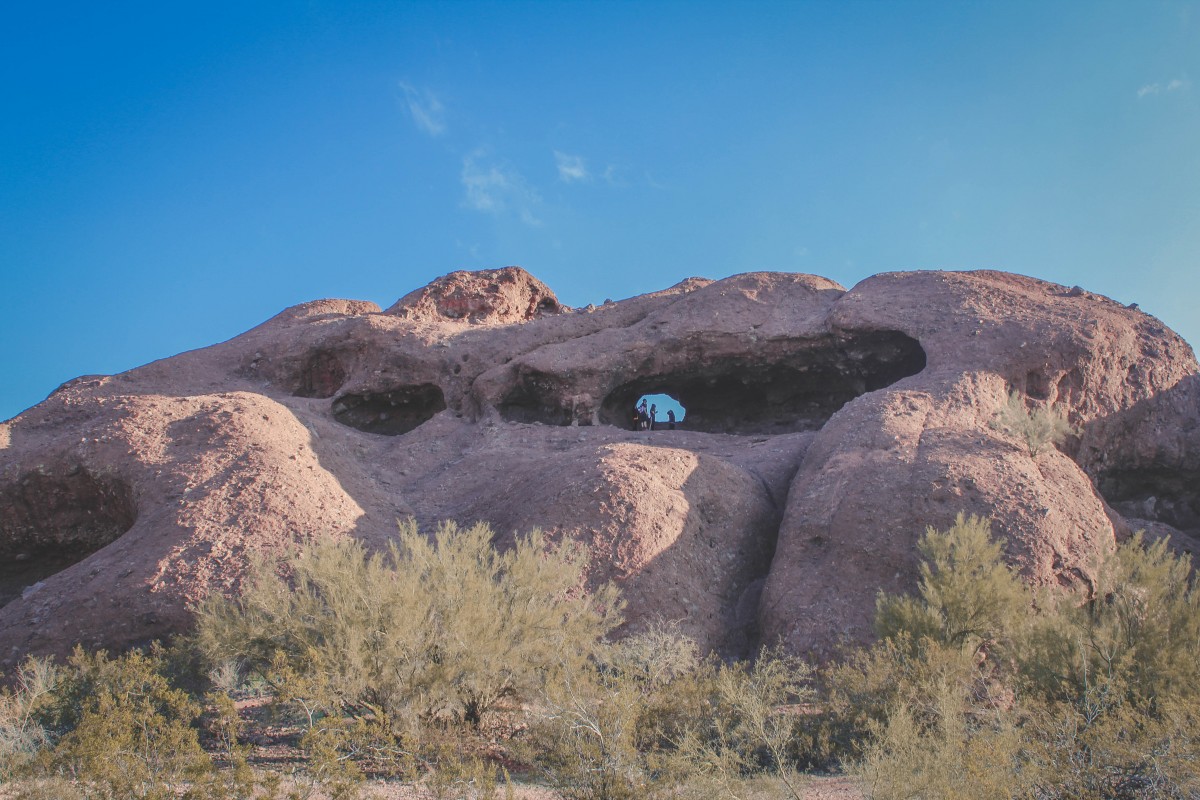 When morning struck, I hit Hole In The Rock, a natural mound in Papago Park. It's a small sandstone hill skirted by a 0.3-mile hike up to "the hole".
Just past sunrise, Hole In The Rock is more brown than red, edging a dull, flat color. But this is the perfect moment to visit (this moment right here. before the beehive crowds arrive).
The mound naturally waves in-and-out. It's all attractive curves. Behind, flat grass extends its long green fingers to shake hands with ant-sized buildings.
My legs followed a rock bed of stairs up to a crack in the sandstone. It's an easy hike overall (short and sweet). And the views are rewarding.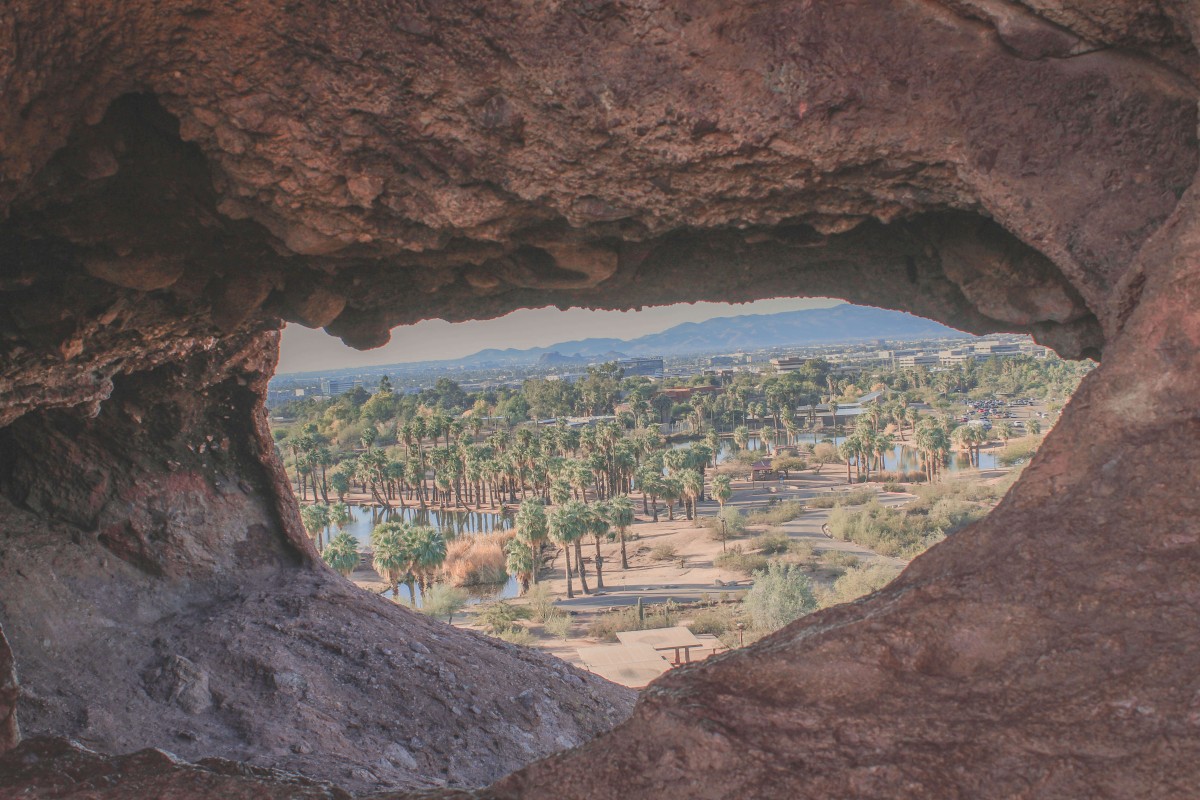 I entered the cool of the cavern and (in true dramatic Anshula fashion) let an audible gasp slip from the roof of my mouth.
From "the hole", you can see tiny lakes soften Papago Park's urban desert landscape. Palms are framed by sandstone. And in the distance, a skeleton of a mountain snakes behind tinges of green.
This is Hole In The Rock. And I had the view all to myself.
Brunch At Southern Rail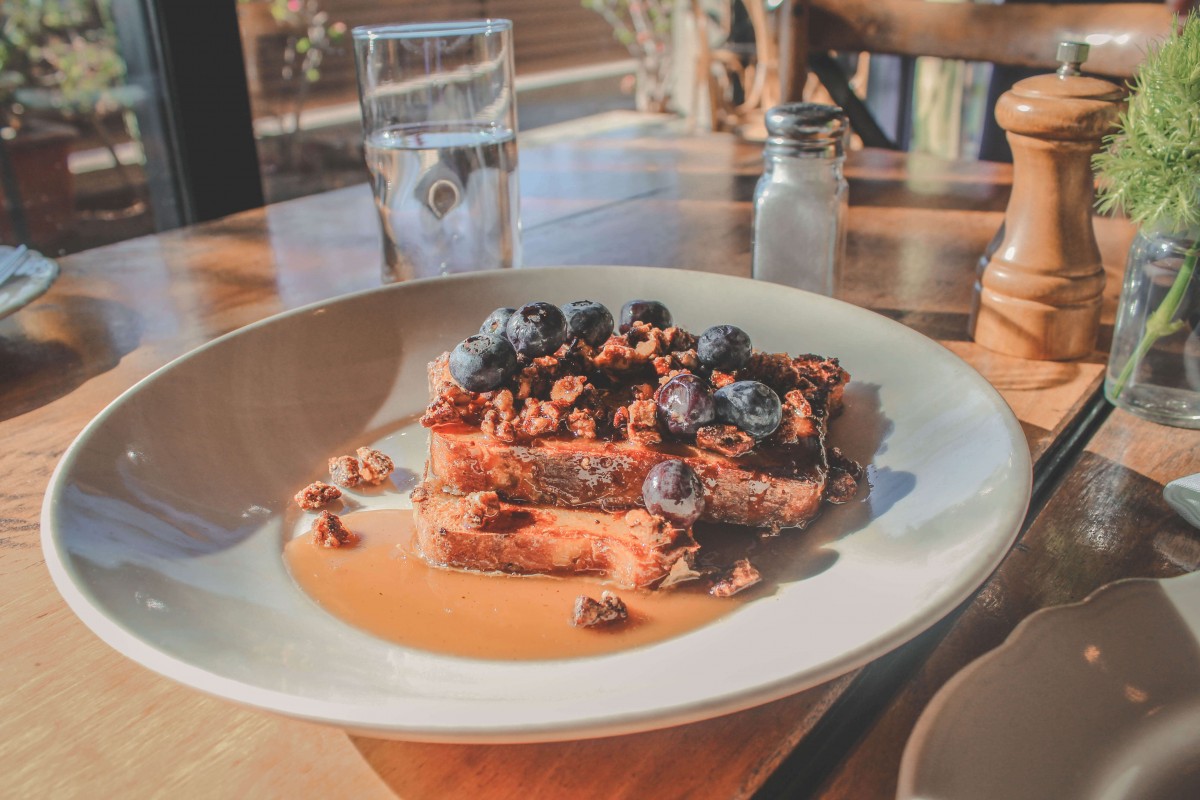 Brunch was at Southern Rail, a classy, upscale Southern-inspired restaurant that's all about the ambiance.
First up, bread pudding french toast ($13) sized for one, split by two.
Southern Rail's bread pudding tastes like fair food. It's light, airy, and crispy all at the same time. The candied pecans, drenched in a thick, viscous bourbon sauce, soften the dough and create a brunch-time special that's incredibly sweet and satisfying.
This is a guilty, don't-count-the-calories pleasure.
P.S. Next-door was Changing Hands, a Phoenix-area bookseller. Changing Hands is an Arizona mainstay, mixing new-and-gently used titles. The shop feels less like a maze and more like a journey, slowly unpacking and unwinding.
Drive Up To Dobbins Lookout At South Mountain Preserve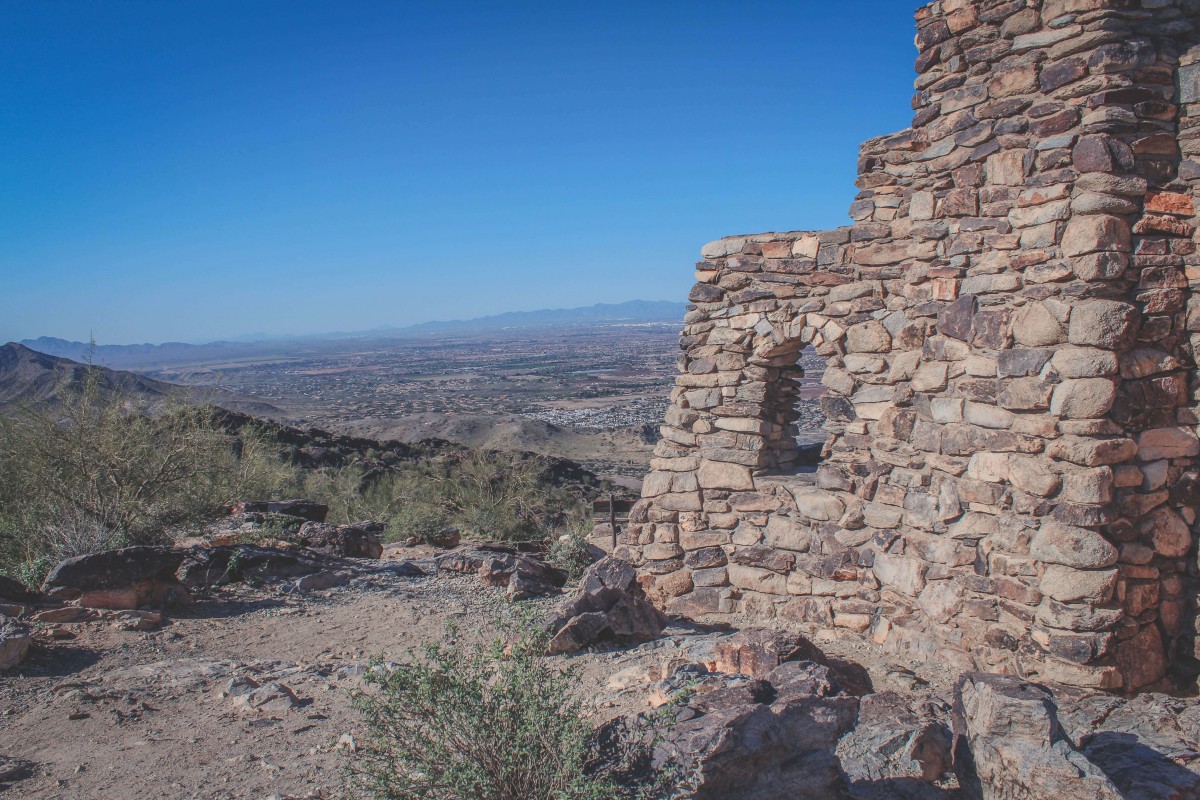 Dobbins Lookout is nestled on an edge of South Mountain Preserve. It's a small, stone structure (usually crowded around mid-day) with two large open-air ledges that overlook the city.
To arrive at Dobbins Lookout, you need to wind up a serpentine road (drive slow) that slithers its way up to one of the highest publically accessible points in Phoenix. It'll be cool at the top. The winds will slice against your skin (especially in the winter).
But against the blazing backdrop of Phoenix, Dobbins Lookout is a sip of summertime agua fresca.
On hotter days, bring a book to read. Prop your back against the interior windowed walls, let your legs slide out, and take in the views.
You won't regret it.
Coffee Stop At The Henry
After spending an hour at Dobbins Lookout, I knew I needed a pick-me-up. Enter The Henry.
The Henry is a lot of things. It's a neighborhood restaurant, a date-night stop, a decadent dining space, and a coffee bar.
Go if you're looking for a strong drink. Although I ordered a latte, I was given a slosh of dark, black liquid. It had a slightly gritty texture (I felt my eyes flick open a little wider as soon as the coffee reached my lips).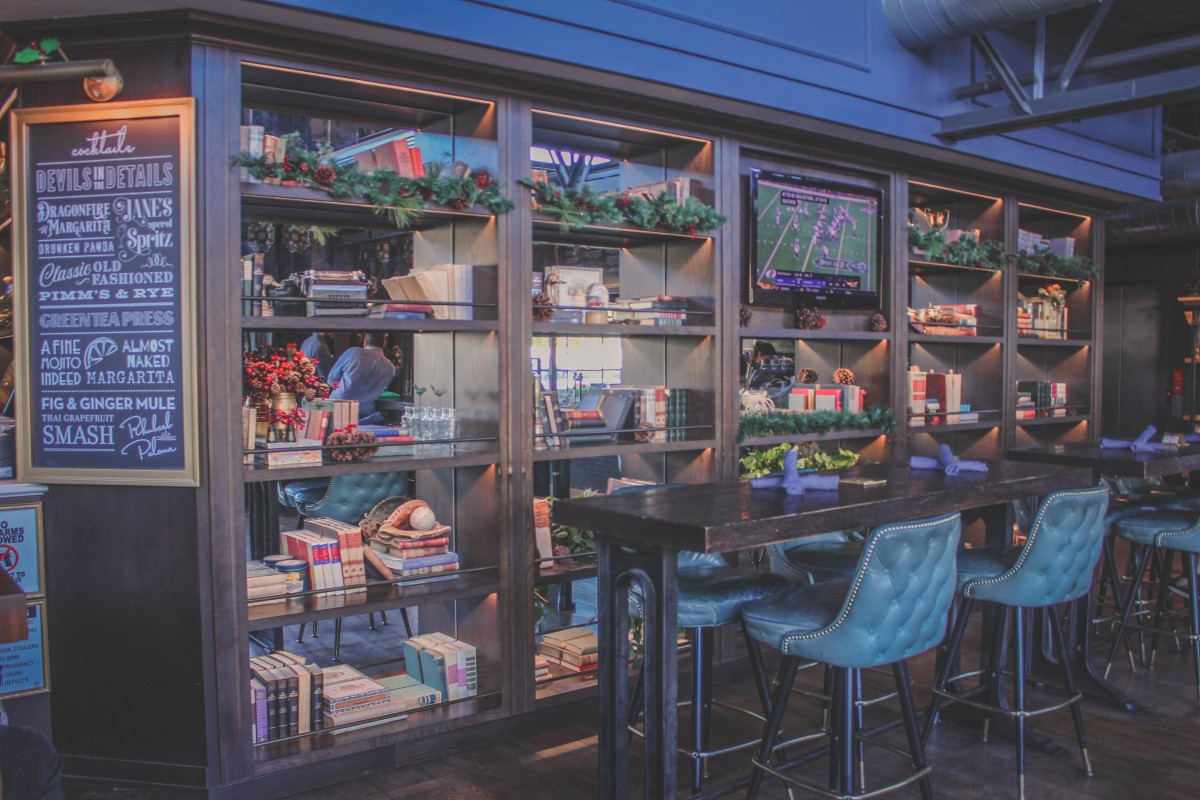 The cup was half-ice. And while I normally groan at the sight of more ice than coffee, The Henry got the ice overload ratio just right. The coffee-stained chunks, which melted quickly in the Phoenix heat, turned a drink too strong and into one that was Goldilocks right.
Spend An Afternoon At MIM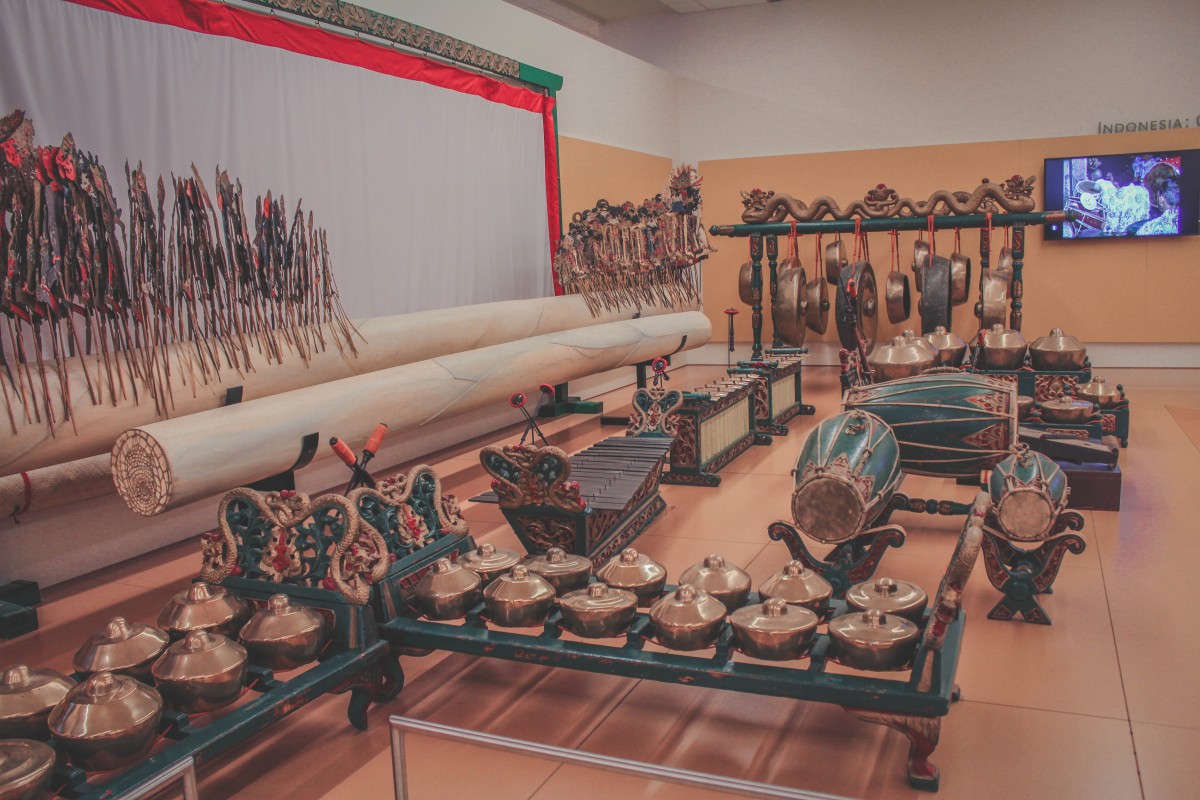 The Musical Instrument Museum (MIM) was my favorite museum in Phoenix. Visiting MIM felt like I was breaking apart my favorite song, verse by verse, line by line, note by note.
It's a place I fell whole-heartedly in love with (and during my next Phoenix getaway, I plan on spending the entire day here). MIM is an experience. Once you grab your tickets, you're given a pair of headphones (the audio will automatically start playing as you begin your self-guided tour so keep them on).
MIM takes you on a romp around the world. It's a music-filled one-way ticket to the beats of all nations. There are instruments from almost every country here. Think Eritrea, Mongolia, Iceland. And it's all presented in a way that feels full and lush and right.
At times, MIM felt like an art museum. Some of the instruments were so beautiful, detailed, and ornate, that I wondered if they were meant for display only. But as I stepped closer and heard the hollow sounds plug into my ears, I thought, of course not. Instruments are meant to be played.
Alternative museums in Phoenix:
Heard Museum: a non-profit museum focusing on Native American art
Arizona Science Center: hands-on-exhibits for kids that draw close to half-a-million annual visitors
Arizona Capitol Museum: detailed self-guided (or guided) tour of Arizona's history
Asian-Inspired Dinner At Clever Koi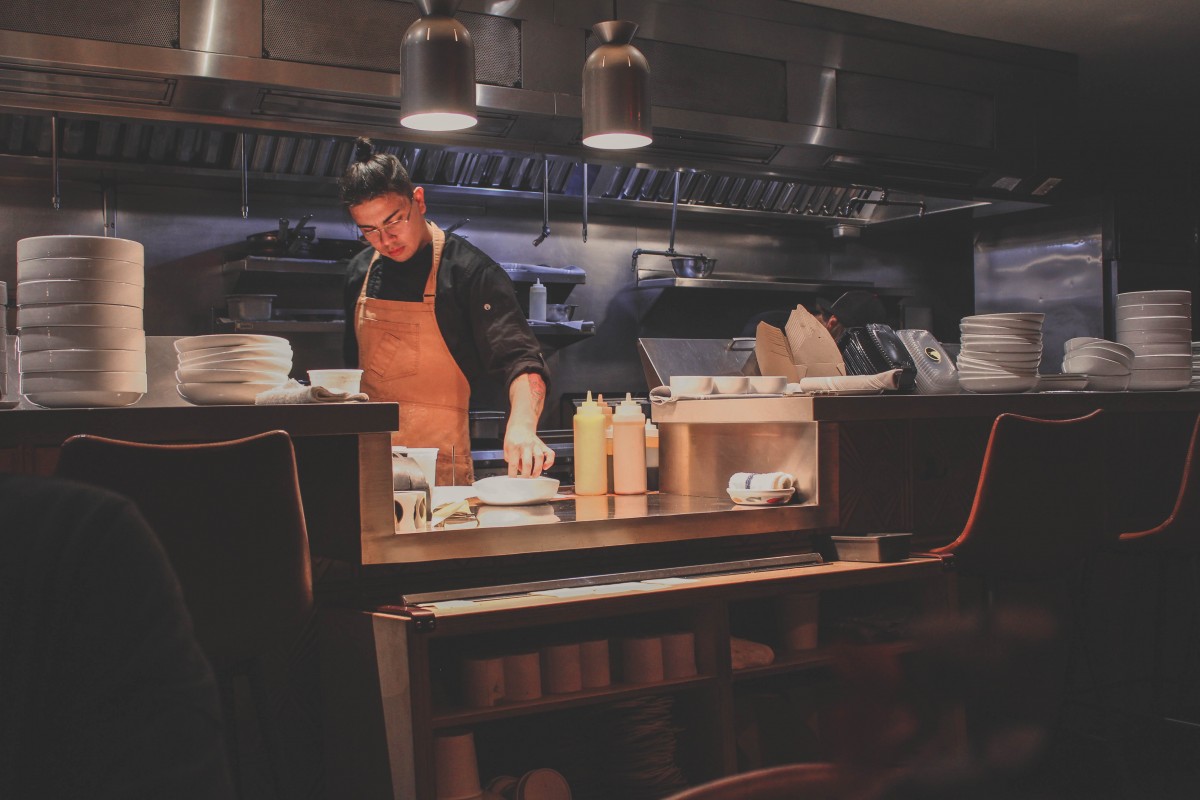 By dinnertime, I began craving ramen (the result of spending 90% of my time at MIM in the Asian music wing).
After flipping through dozens of listings online (y'all, Phoenix has loads of ramen options), I discovered Clever Koi, a trendy Asian-inspired kitchen. Clever Koi is a Phoenix-area chain.
It's a low-lit date-night style restaurant. And although it has a heavy bar scene, there's no scent of booze (after all, craft cocktails are their main game). Instead, there's a thick aroma of spice and broth.
We started off with the steamed pork buns (the 3 for $13 deal. One soft shell crab. One Korean hot chicken. One pork belly).
The crab crumbled under the slash of aioli sauce and cool cucumber slaw. It was hot and cool and fresh and fried all-at-once (definitely a menu item I would order again).
Next up, the ramen. The noodles were piled on top of fatty pork. The edges of the pork belly, decidedly thick and large-cut, were crisp and slowly eased their way into tender. The chicken-based broth, rich and creamy, held on its own.
Night At The Desert Botanical Garden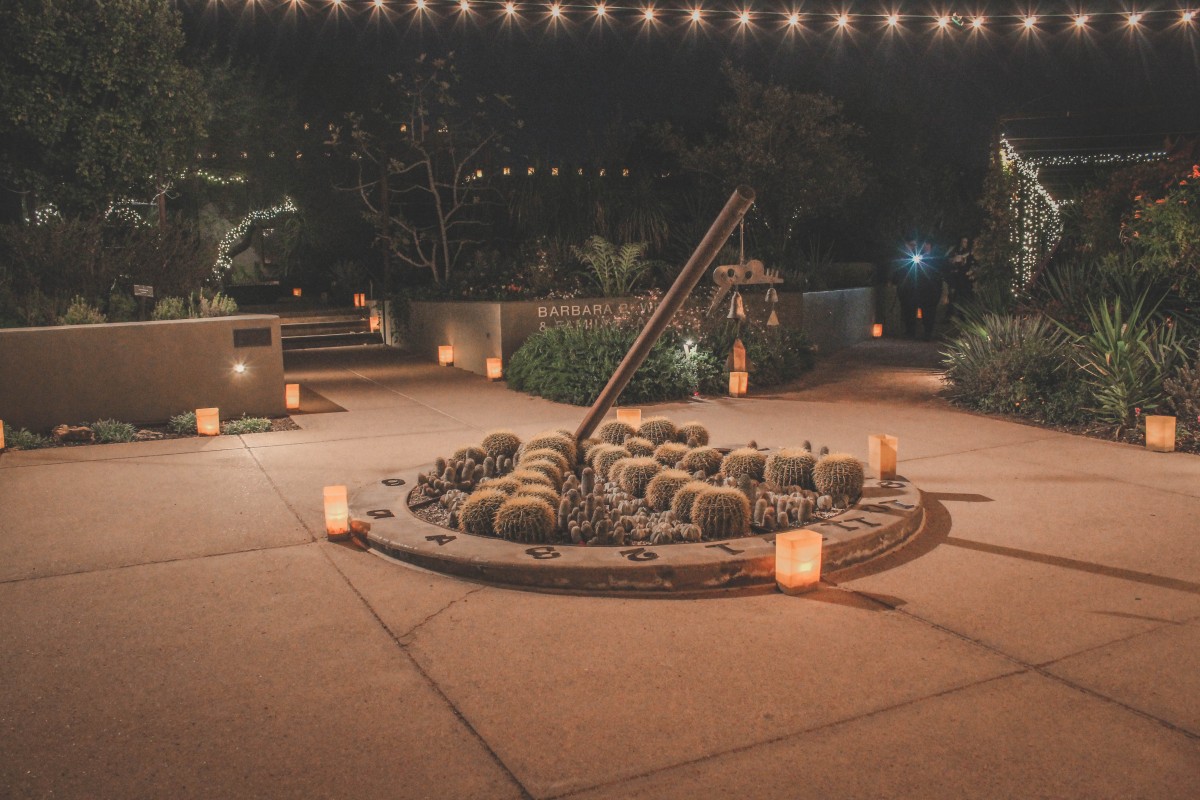 The Desert Botanical Garden is one of the few Phoenix attractions open late (until 8 PM). So when darkness drew its curtains across the clear Phoenix sky, I headed there, belly full.
After a heavy dinner at Clever Koi, I needed a walk.
Luckily, the Desert Botanical Garden is 140-acres (so I got to stroll quite a bit).
Tickets cost roughly $25 per person. And while I personally believe it should be half-price after sunset (considering you can't read any of the displays or information without a phone flashlight), it's not. So if the Phoenix Botanical Garden is on your bucket list, go in the morning.
Without full light, the cacti are hard to see. Their silhouettes seem to extend into the night.
In a way, it's beautiful. And as I walk around one of the bends, I notice a mound. Under the starlit darkness, I'm not sure if it's Hole In The Rock or not.
All I know is that we're here, back in the place where our one day in Phoenix started – Papago Park.
We've come full circle. And tomorrow, we leave for Scottsdale.
Did you enjoy this one day in Phoenix itinerary? Have you ever spent one day in Phoenix (or more)? Let me know in the comments below! As always, I love hearing from you.