our guide to the Opryland Hotel restaurants
It's late. You're tired. You've just heaved your bags into your room, pulled your shoes off, wriggled your toes, and sunk into your bed. You're hungry and you don't want to drive out for food (after all, you just arrived), so you pause and wonder what the best Gaylord Opryland hotel restaurants are like. You notice there's not one, not two, not three, but over a dozen places to eat here (all right inside the hotel).
It's overwhelming, I know. Most of the hotels I've checked into have a small, intimate selection of restaurants – a cozy place for breakfast and a suave dinner spot. If they're extra fancy, there's a bar too. But The Gaylord Opryland is different. Why have one place to eat when you can have over a dozen? Touché, Gaylord. Touché.
If you're visiting Nashville for the first time and have the chance (or energy), I highly recommend making your way to one of these further-out-of-the-way eateries for a proper meal: Butcher & Bee, Prince's Hot Chicken, Big Al's Deli. But if that's not an option and you want to rest, relax, and stay in the sphere of the Opryland hotel restaurants, I get it. This travel guide is for you.
Here's a run-down of some of the most popular places to eat in the Gaylord Opryland hotel.
The Falls Bar & Lounge
You come to The Falls for the views. The name promises atmosphere, and it delivers on that. You'll see Twin Falls spilling over a jungled ledge. You'll hear live music too – this is, after all, Music City. The Falls is a loud, echoey place. People pour in, reclining their backs into the curves of the seats. The food offerings are slim (there's really only snacks offered); the libations are liberal. Drinks come strong (really strong). You've been warned.
Cascades American Cafe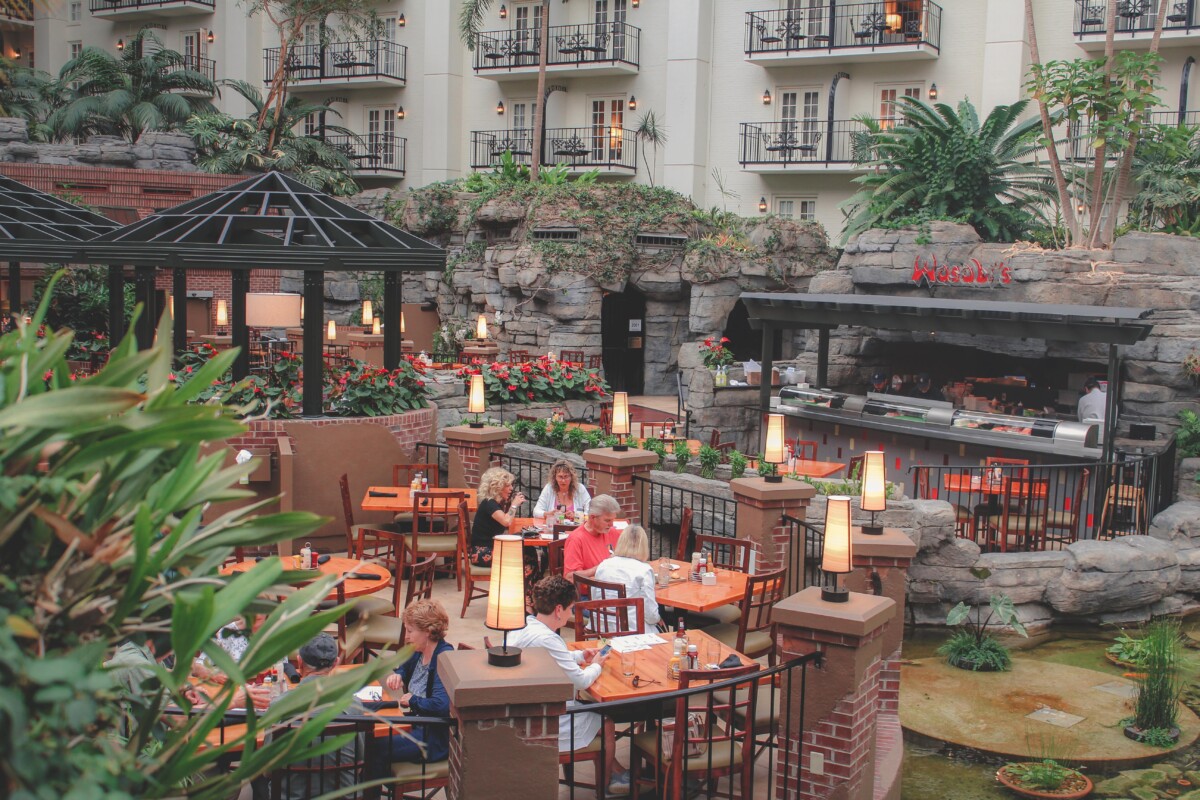 Like a lot of the Gaylord Opryland hotel restaurants, Cascades American Cafe offers great views. You'll be seated right in the atrium, at a cozy wooden table overlooking ridged stone enclaves, peeks of foliage, and skipping waters. Breakfast is a buffet featuring all the standard morning offerings: scrambled eggs, bacon, potatoes, oatmeal, grits, gravy, bagels, cereal. Lunch blinks out of all-you-can-eat mode; you'll find soups and sandwiches and simple entrees served instead. Dinner presents even more options: Duroc Pork Chop, Seared Ahi Tuna. Get the Pan Seared Salmon.
Old Hickory Steakhouse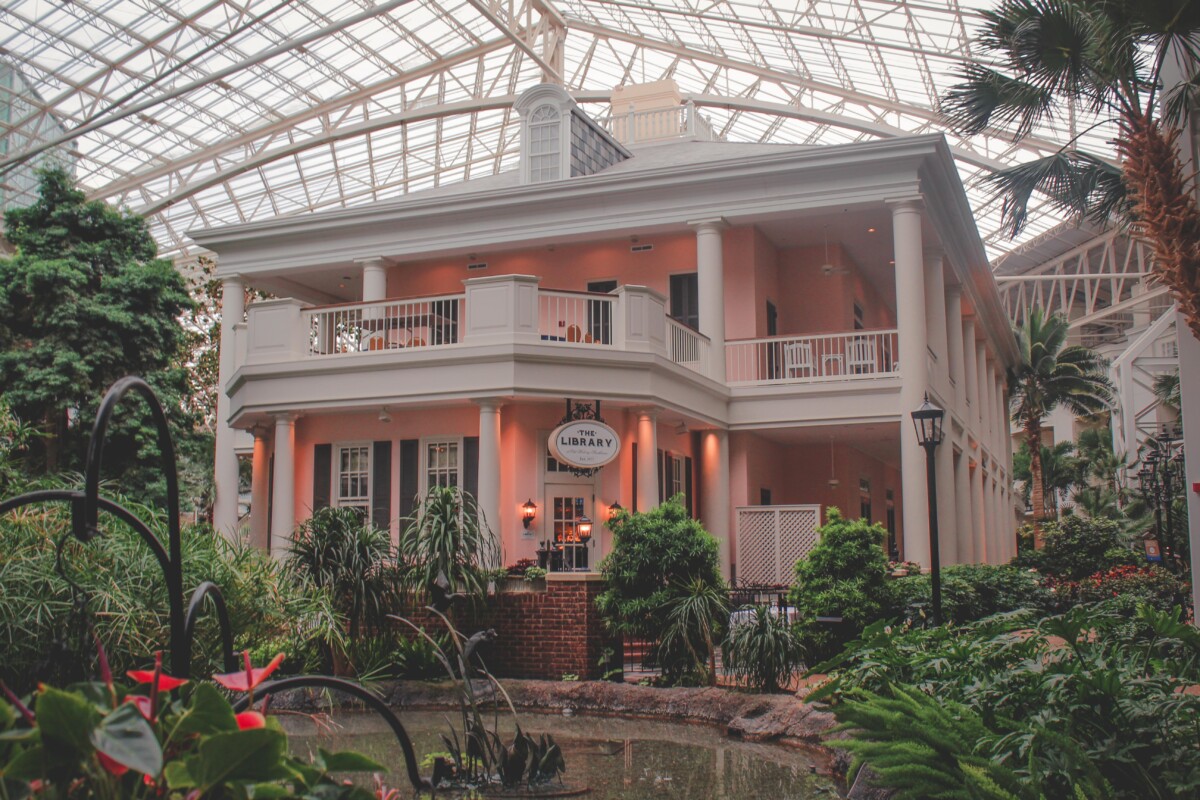 You don't go to Old Hickory Steakhouse by happenstance. It is not a place you simple walk into as you're strolling along the winding paths of The Gaylord Opryland. Old Hickory Steakhouse is a place you plan for; it is a place you prepare for. It is a place that demands to be taken seriously (and yes, it does demand. If you're not dressed formally, you will not be allowed in). Most of Old Hickory Steakhouse's clientele are business travelers booked into the antebellum-inspired building. If you're not paying on your dime, the steak is fantastic (feel free to run towards it and order some extra trimmings along the way).
Paisano's Pizzaria & Vino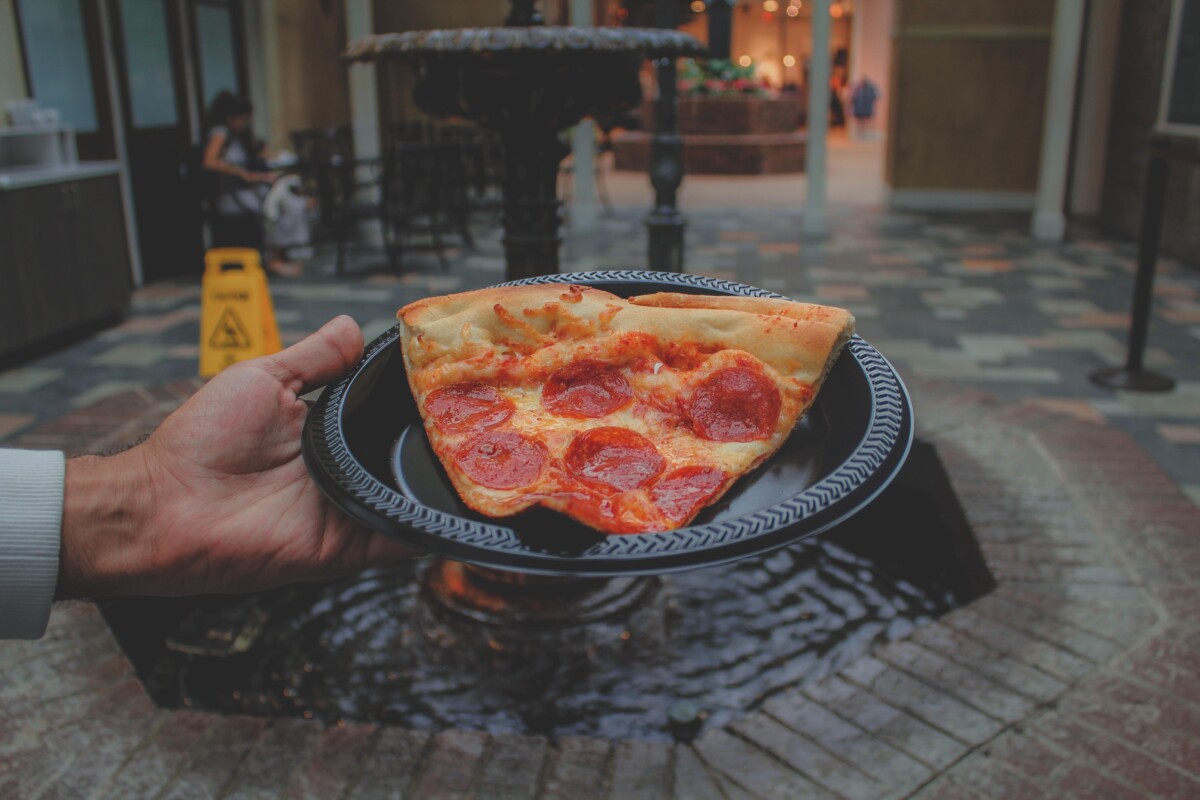 Finding cheap eats amongst the Gaylord Opryland restaurants is tough. Enter Paisano's Pizzaria & Vino, a simple pizza place that quickly hands out generously large (school lunch style) slices of pizza (Paisano's portions are so big, you could easily make a meal out of a single serving). It's worth visiting during off peak days and off-peak hours (less so during the heightened madness of holiday season), when you can quickly duck in and request a slice of pepperoni pizza to-go.
Stax Burgers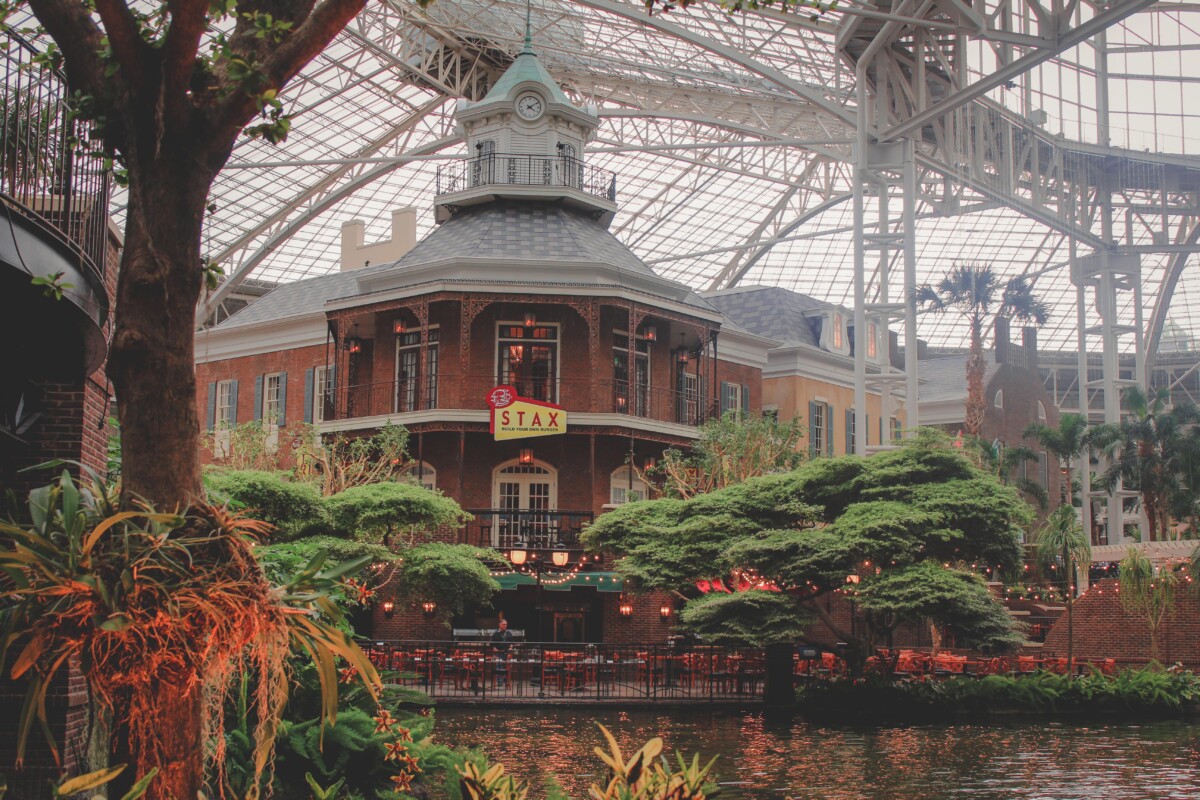 You've listened to speaker after speaker. You've networked. You've shaken hand after hand. You've smiled big and smiled bright. You don't have time for a full sit-down restaurant experience. There's more to do, more people to speak with, more folks to listen to. But there's also a part of you that just feels like resting, for a moment – one small moment. Stax Burgers lets you have that moment. The system at Stax is efficient. Stax is a make-your-own-burger joint that distributes sandwiches in no-time (add on a milkshake – it's worth it). Carry your burger to a small bench backdropped by lush foliage (there are plenty to choose from at the Gaylord Opryland), and enjoy your meal while it's still warm.
Jack Daniel's
Don't be fooled by the name, Jack Daniel's is one of the most family-friendly Gaylord Opryland hotel restaurants. The atmosphere is chill and relaxed. Service is casual, friendly, and unhurried. Hard booze only crafts the outer rim of Jack Daniel's Southern vibe. You can get other, more petite, drinks too: light margaritas, pretty mocktails. Regardless, order the brisket quesadillas. They're the best thing on the menu.
Decibels
Decibels is exclusive. Access is through SoundWaves, so unsurprisingly, Decibels is less swamped and less rushed than most Gaylord Opryland restaurants. And perhaps, that's what makes the menu and food here so good. Decibels' offerings are permanently summer-y. Think Coconut Shrimp (with orange chili sauce), Crab Cake sliders, and Tiki-inspired cocktails.
Bravo Gelato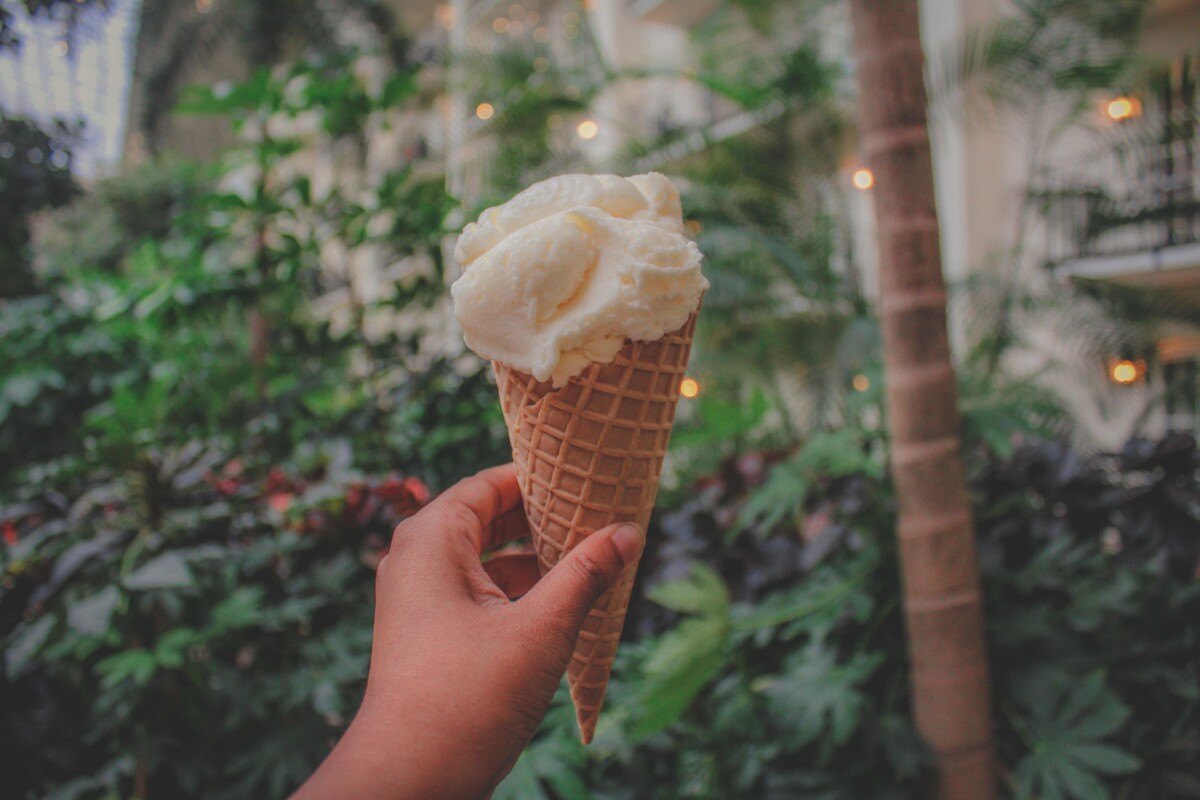 If you're craving something sweet, head straight to Bravo Gelato. Skip the fresh fruit (and yoghurts and cookies and any other dessert asides that may cause you to stray from the main menu). Stick with the ice-cream. There are plenty of flavors to choose from, from banana pudding to honey lavender. What Bravo Gelato makes best is in its name.
P.S. The gelato here melts quickly so I recommend enjoying it right in the Garden Conservatory!

Did you find this Gaylord Opryland hotel restaurants guide helpful? What Gaylord hotel restaurants have you tried? Let me know in the comments below! As always, I love hearing from you!