Somewhere, in the midst of packing for my summer Colorado trip, I gave up.
My giving up wasn't a tired "I'll finish it tomorrow" kind of giving up nor a light "I'm sure this is good enough" kind of giving up.
It was a full throttled, Instagrammable dresses flying, I have no idea what I'm doing, kind of giving up.
Calm, Anshula. Calm.
I was not calm.
I would like to say Colorado helped me reach my zen. The meditative mountain state delicately lifted me into a forest of tranquility.
I overpacked for this trip.
I also underpacked.
But somehow, when I was there, it didn't matter. A quick stop to a convenience store to pick up a few knick-knacks wasn't an issue.
Would I pack differently on my next trip there? Probably.
But Colorado had such a powerful positive vibe that I didn't feel bad.
In fact, after I returned from a road trip criss-crossing the state, I felt enlightened.
So if you are planning a trip to Colorado, don't stress. Sit back. Enjoy your time. And without further ado, here is the perfect light and easy packing list for Colorado summers.
Feel free to add on anything you want or remove anything from this list to adapt your travel needs.
Disclosure: Heads up, this post contains some affiliate links, which means I may get a commission if you make a purchase. Don't feel pressured to buy anything. I still love that you're here, reading my content (side note: I'd probably suggest getting a coffee or tea first though because my blog posts tend to be long). To find out more, you can read our full affiliate disclosure right here.
Colorado Summer Packing List Essentials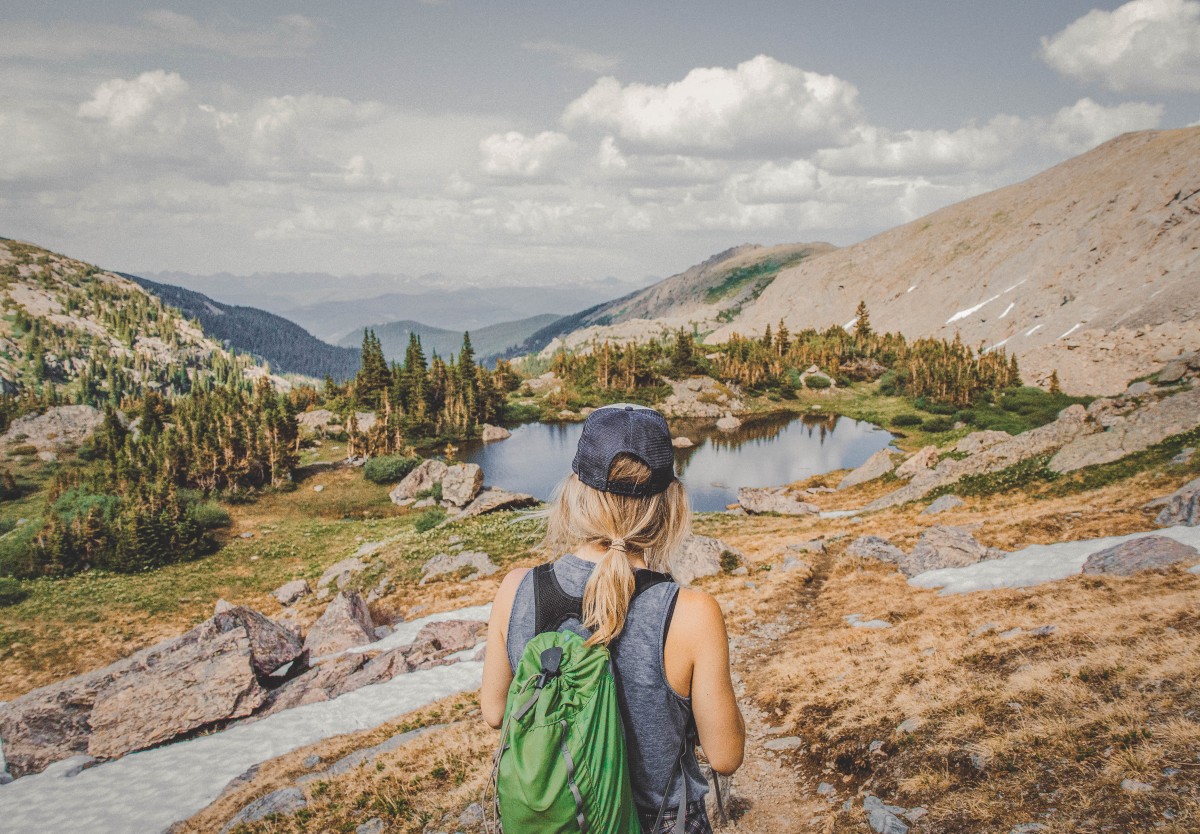 Here's the one item I really needed and blissfully forgot to pack: a good hiking backpack. I realized this the morning I hit Crater Lake trail (near Maroon Bells) when I saw everyone else and their bulging hiking backpacks (which immediately indicated to all the effortlessly dressed, geared-up hikers that I was a complete newbie to the Colorado summer hiking scene).
The hiking backpack I used was an old college backpack and it did not deliver in any way, shape, or form. But luckily, I've learned from my mistake. And since packing for my summer Colorado trip, I've tested a few day hiking bags.
My current favorite is this crossbody backpack (it looks really weird but the design actually contributes to the weight distribution). It's not expensive (in fact, it was only a few dollars more than my back-in-University backpack). The material is nice and durable. The straps are a little long. I have a fairly small frame (5′ 3.75") so I had to adjust them to the tightest level and they fit pretty well after that.
When I first ordered it, the backpack smelled like it arrived straight out of a factory so I set it on the patio for a day and let it air out. Odor gone.
It fits the essentials – water bottle, camera gear, extra clothes – which is what makes it so good for day hiking. I think for longer multi-day hikes, it's definitely not roomy enough.
P.S. If you're looking for a multi-day hiking backpack, I'd highly recommend going into an REI store and asking the staff (they are incredibly knowledgable and will help you find the perfect one suited for you).
Reusable Water Bottle
My partner gifted me a reusable water bottle from KOR last year and I instantly became obsessed with it. It's a clear bottle (so I knew exactly how much water I was drinking). It also has a filter (which was the most important part for me).
The KOR bottle isn't for everybody though. For one thing, if the filter fidgets out of place, it sounds loud, like a stomach rumbling. And it's plastic. It's BPA-free plastic (which means it's non-toxic) but it's plastic nonetheless.
I'm actually looking to swap mine out right now with a different water bottle. Several of my friends recommended HydroFlask and I just invested in one. It's a little pricier than what I'm comfortable with paying but it's also stainless steel so it keeps drinks cold (which was a problem with my KOR bottle. It didn't insulate so if I left it in the car for an hour, the water would taste tepid when I came back) and is dishwasher-safe.
P.S. I really love my Life Straw but I don't think it's necessary for a day hike. I packed it anyway, in the case of a multi-day hike. But that plan never commenced with the whole I-didn't-have-the-right-backpack, this-isn't-going-to-work-out situation.
Sunscreen
So sunscreen was the last thing I expected to pack for Colorado summers. I expected the mountains to be cool and shaded. But according to AMC Outdoor Magazine, "UV exposure increases by roughly 10% every 1,000 feet of elevation." So if you're planning on hiking the Rockies or even driving up Pikes Peak, sunscreen is absolutely necessary.
You will need a minimum of SPF 30 sunscreen (no less). There isn't a big difference between SPF 30 and SPF 50. I use an SPF 50 sunscreen not because of the level but because this is the only good brand I found on Amazon thus far that doesn't test on animals, is reef-safe (so I could use it elsewhere as well), and budget-friendly. It just so happens it's SPF 50.
You'll want to get shoes that work for both hiking and walking. When I initially visited Colorado in the summer, I packed a regular pair of sneakers that I bought for $15 and flip-flopped (pun intended. I'm sorry you had to read that) between sandals and walking shoes.
I don't recommend this at all. I hated lugging around several pairs of shoes everywhere. Then, I started using sneaker boots from Missguided, which I loved for a while (and what I originally recommended on this post). But for the past two-or-so years, I've been using these hiking shoes from Merrell (I use these as my everyday walking shoes as well). I loved them so much that I bought my mom a pair as well (and she loves them too). If you're looking for waterproof shoes though, I wouldn't recommend these (as these, and even Merrell's officially waterproof shoes, aren't waterproof).
Toiletries
The one thing I did pack correctly was toiletries! A blessing after years of trying to get it just right.
I have three tiny toiletry bags (I prefer the clear ones. This is the set I have. It's transparent, TSA-approved, and pink, which makes it easily identifiable.
Hotels usually provide most toiletries so I don't pack much. Here's what I include:
a toothbrush
toothpaste
a comb
a mini first-aid kit (this goes in a separate bag)
contact lenses
Packing All The Outfits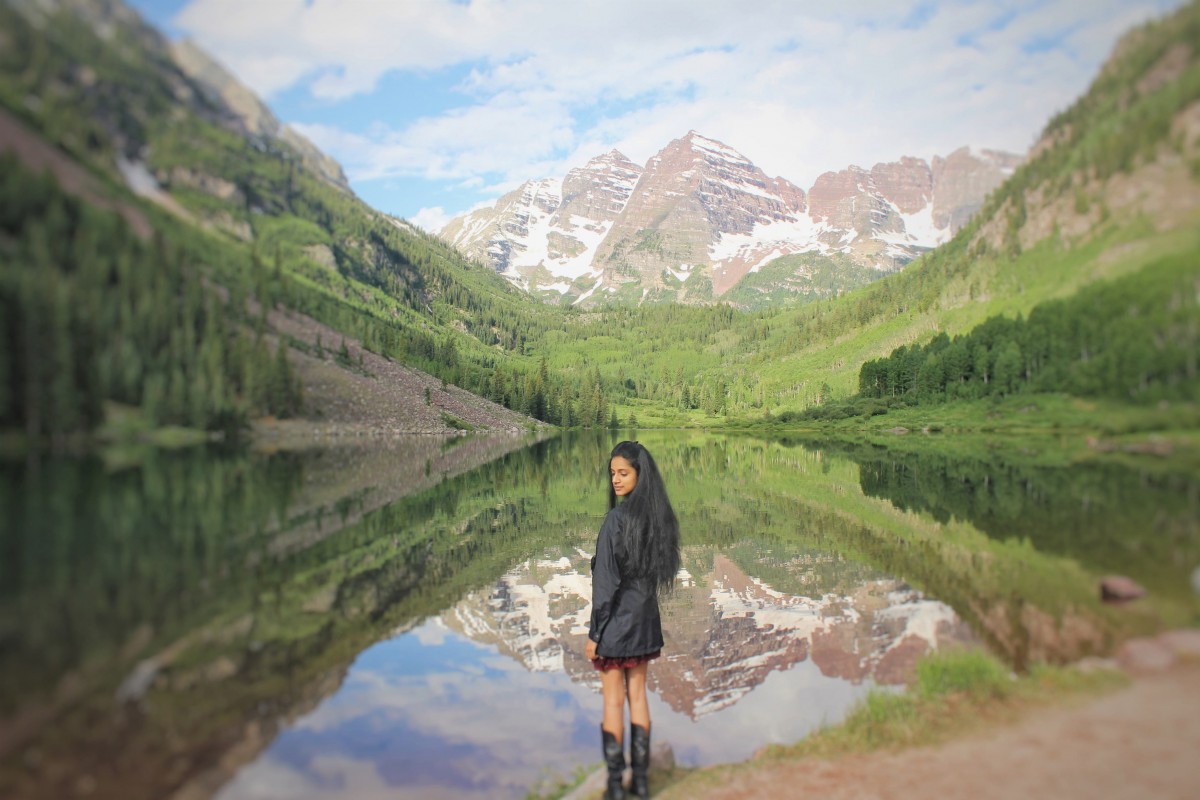 So before packing for Colorado summers, I discovered a clothing item (on Reddit, of course) that I knew would be perfect – a sweatershirt. To be honest, a sweatershirt sounds weird enough to be up there with the likes of plastic jeans, shoulderless winter jackets, and skinners (socks and shoes rolled into one. I don't even know why this exists).
But I promise sweatershirts are really practical for Colorado summers because they don't make you feel too hot or too cold. Sometimes, the temperature in Colorado jumps around (depends on elevation). And if you're going on a Colorado road trip (as I did), you don't want to be switching in and out of clothes all the time.
So I picked up this sweatershirt from H & M (in two colors) and it did the trick for the most part (the Continental Divide along Independence Pass was still freezing though. I needed a heavy-duty jacket for that). I simply wore mine with a pair of thick jeans.
Athletic Gear
Athletic gear is a must to pack for any Colorado summer trip. You'll want to go all-in for this.
The reason I'm shout-it-from-the-rooftops recommending athletic gear is because I chose to wear an outfit that looked cute in photos but was not practical at all. Now, when I'm hiking, I just wear a sports bra, some leggings, and a long athletic top and it feels so good.
Trying to walk around in a dress that falls past your ankles and has long draping sleeves just won't work in Colorado (at least if you want to see the sights or are planning long hikes). Take it from a girl who spent way too much time growing her Instagram this way. It's just not worth it.
I wear a lot of summer dresses and this is one of my favorites (you can actually see a bit of the red dress I linked in the photo above. I'm not sure why I kept the raincoat on. It wasn't raining. At all).
But I love this dress. It's great for walking around a city. The way the shoulder sleeves are cut make it breathe easily. And I love how flowy the skirt is (I wish it was cinched a little lower but that's just personal preference).
Jackets
You'll still find snow in Colorado in the summertime. It snows at the top of Pikes Peak! Bits of Independence pass were also snaked with snow. Parts of the Rockies had zig-zags of white.
It's a really pretty and unique sight. The snow is set between lush greenscapes and blooming flowers. And that juxtaposition is one of my favorite reasons to visit Colorado in the summer.
But as a result, you'll also need:
Miscellaneous Items To Add To Your Packing List For Colorado Summers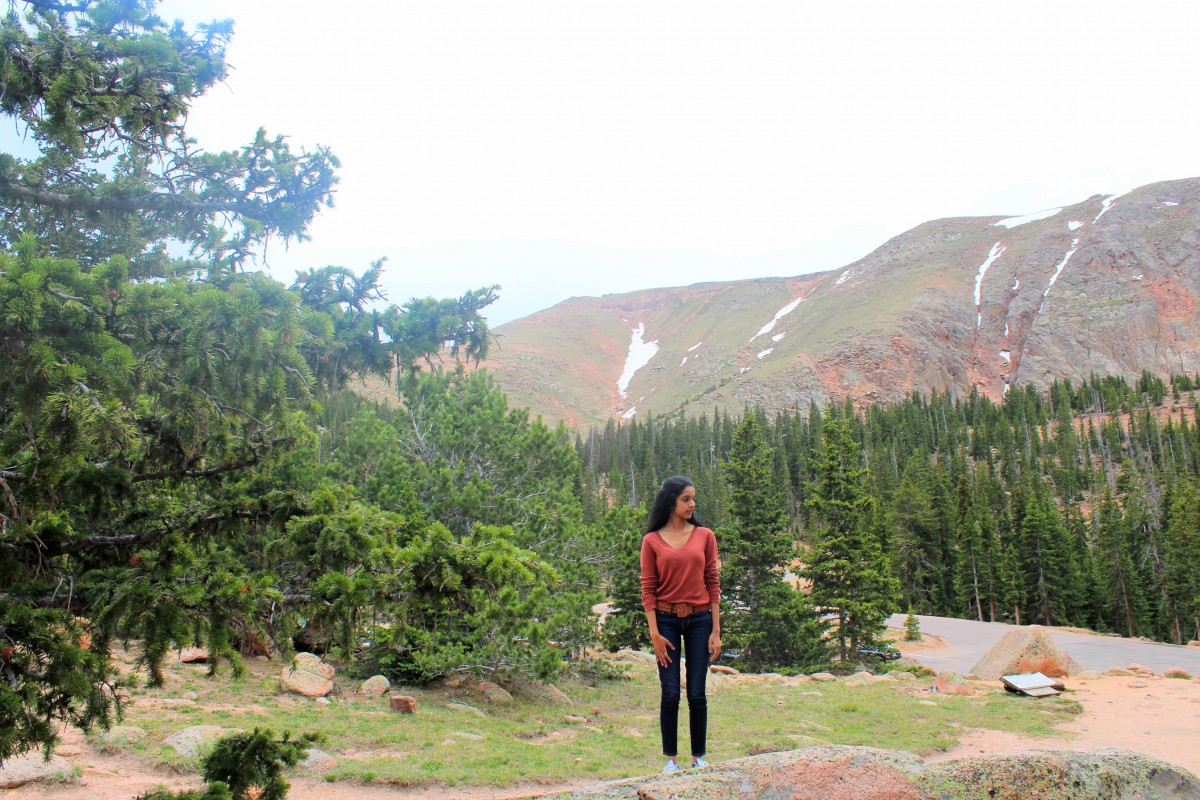 Hiking Survival Kit
Since I was day hiking, I didn't worry too much about making sure my hiking survival kit was thorough. I just packed the following:
a compass
a flashlight
a physical map (you can pack one beforehand or pick one up at any park visitor center when you arrive)
Hat
As much I like (and prefer) visors, I have to go with a baseball cap(because my hair gets so hot when I'm walking.
Wide brim hats protect you from the sun.
Side note: Pack a pair of sunglasses as well.
Chapstick
High altitudes make my lips try really quickly. This is the brand of chapstick I usually use, but you can bring whatever chapstick you have on hand.
Electronics
As a travel blogger, I carry way too many electronics. You definitely do not need this much gear while packing for your Colorado summer trip. But here are some ideas of electronics you might need:
laptop
laptop charger
phone
phone charger
flash drive
micro-SD converter
GoPro
headphones
DSLR camera
drone (a lot of areas in Colorado don't allow drone flying so you'll need to look into which areas do. If the drone is above 250 grams, you're subject to additional restrictions and fees, which is why I use the DJI Mavic Mini which clocks in at 249 grams. This is a cheap mini drone perfect for beginners).
And that was actually everything I packed for this trip. I usually see "pack with me" videos on YouTube and find them really helpful so I wanted to adapt the idea into a blog post. The result: a hopefully light and easy packing list for Colorado summers that you can use.
Did you enjoy this packing list for Colorado summer? Am I missing anything essential in the packing list? Would you pack differently? Let me know in the comments below! As always, I love hearing from you.