here are the best restaurants in Bentonville, Arkansas you need to know about
Bentonville's top restaurants are artsy. The city's palate is innovative, contemporary, and unafraid. If you're looking for New American cuisine, come to Bentonville. If you're looking for old American cuisine – reflavored, retextured, redesigned – come to Bentonville.
Situated in Northern Arkansas, under the leafy tarp of the Ozarks, Bentonville, at first glance, is Walmart as a town. It's a place that seems to have grown around a born-and-bred-here big buzz brand.
But Bentonville's restaurant scene has its own identity (as does the city). It's fiercely fresh and constantly comforting.
Here are our top choices for restaurants in Bentonville, Arkansas.
Best Breakfast Restaurants In Bentonville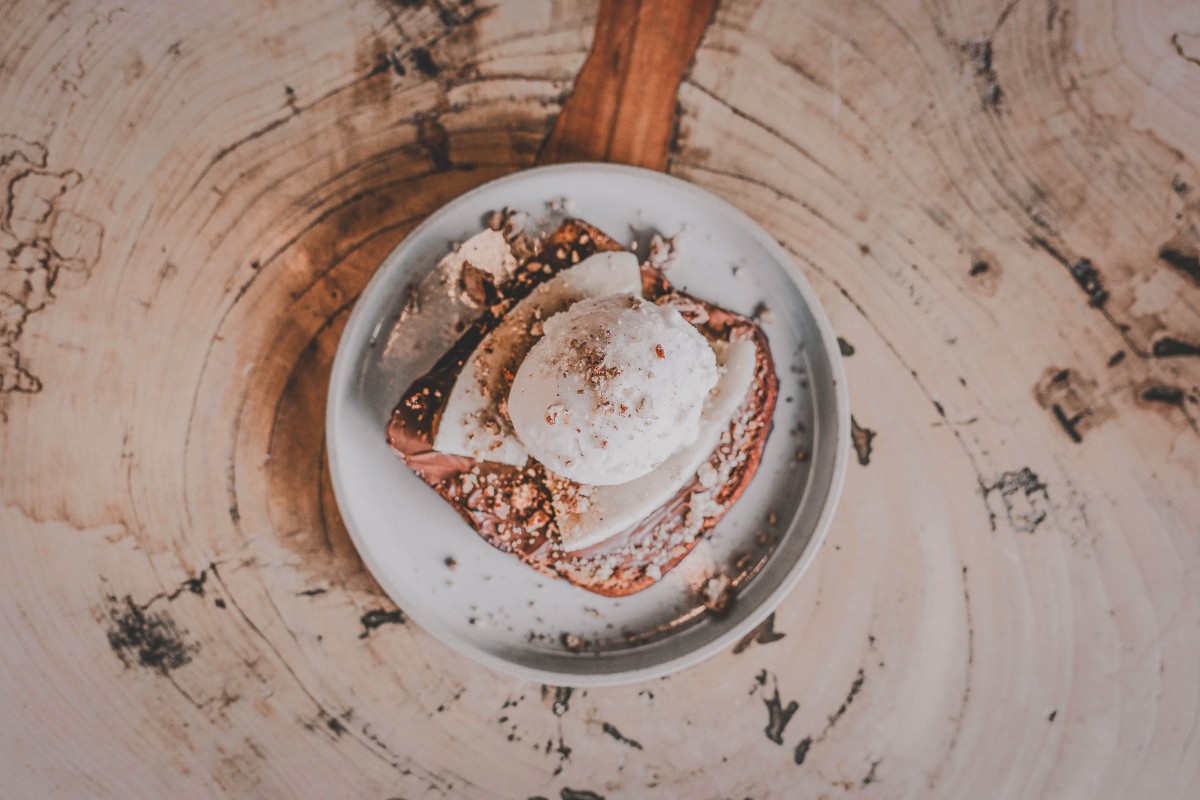 Crepes Paulette
Quintessentially quirky Crepes Paulette started off as a food truck enterprise driven by Bentonville local, Paula Jo Henry, and her French husband. The brick-and-mortar location came later, in 2016. And it serves French fare with an American twist.
Upside-down umbrellas. Tin-pot plants. Long booths. Crepes Paulette's interior is cute. But the crepes served are meant to be handheld so you'll want to take them with you as you walk around downtown. Order one savory (on gluten-free buckwheat) and one sweet (on wheat) to-go. Nutella is an easy favorite.
Onyx Coffee Lab
With a branded neon sign, beehive-countertops, and shingled lights, Onyx, a Northwest Arkansas cafe chain, is easily one of the chicest restaurants in Bentonville.
It's a splurge but worth it for coffee aficionados. Onyx's beans are sustainably sourced and roasted on-site. Their drinks come on strong so if you're looking for something a bit lighter, get a latte and sub oat milk for added flavor. Or opt for a mocha (Onyx tops their mochas with black salt – once you try it, you can never go back to regular mocha again). Breakfast options are limited but are just as good (and aesthetic) as the coffees served in-house.
Ozark Mountain Bagel Company
Ozark Mountain Bagel Company makes New York-style bagels. Said another way, they make good bagels – made from scratch, served fresh.
The menu is immense and portions are heaping. Here's what to order: Lox & Cream Cheese. It's a stuffed-up, slightly messy (but who cares?), and hardly shy of tomatoes and onions entree served between a soft-split bagel.
And the secret behind Ozark Mountain Company's bagels' rave-worthy chewiness? A pre-bake bath in boiling water. It does wonders for the texture.
Best Brunch Restaurants In Bentonville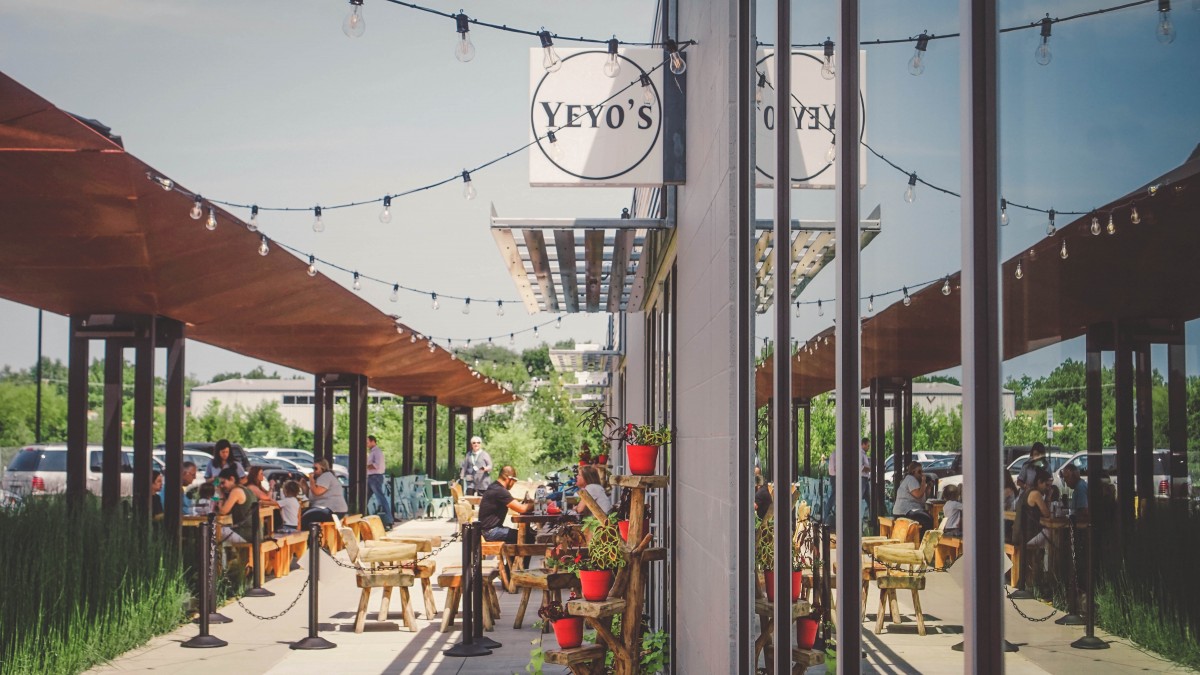 Eleven
Situated inside Crystal Bridges Museum Of American Art, high-ceiling, dramatically arched Eleven is one of the best restaurants in Bentonville for its views alone. The seats overlook the water-top curves of Moshe Safdie's architectural masterpiece.
Eleven's menu is usually elevated but it's recently sized down to a selection of sandwiches and salads. Get the BBQ Pulled Pork. It's filling, sweetened by brioche, and served with house-made potato chips.
Tusk & Trotter American Brasserie
The idea of an American brasserie is as much of an anomaly as Tusk & Trotter's menu – delicate pub fare. But it works. Tusk & Trotter is a brunch date destination. Dim lights. High-end food. Slow service.
You'll want to order a fruit-note whisky or the bang-for-the-buck Bloody Mary flight. Then on to the Charcuterie Board. It's listed as a starter but don't be fooled, this mix of cured meats, pickled veggies, and cheese is big enough for two. For dessert, Trot On Over (a dense pudding cake topped with bacon ice cream – yes, please).
Yeyo's
Yeyo's has all the hallmarks of one of the best Mexican restaurants in Bentonville. It's unfussy, family-run, and serves farm-to-table, made-from-scratch salsa fresco. The pico errs on the side of mild but is good nonetheless (I just prefer my tacos dressed h-o-t).
Yeyo's is a fast-casual eatery. Service is quick and the interior bears semblance to a cafeteria so if you get a chance, eat outside. Order the greasy-shelled mini Mexican Street Tacos – you get five with your choice of meat on each.
Best Dinner Restaurants In Bentonville
Bar Cleeta
Bar Cleeta, a classy establishment in downtown Bentonville, needs a mention. And after one look at the menu, you'll see why this spot is hyped as one of the best restaurants in Bentonville.
The offerings are creative. And the plating is beyond aesthetic. Here's what to order: Roasted Oysters as a snack (only if you like oysters, skip otherwise. It's good but not a conversion meal), Duck Rilette (can you tell I'm a fan of charcuterie?), and Roasted Octopus.
Preacher's Son
Within a stunning restored church is Preacher's Son, one of the best-known restaurants in Bentonville by tourists and locals alike. The church is a walk away from where Head Chef Matthew Cooper's father taught his sermons many moons ago. Hence, the name.
But it's the airy lightness of Preacher's Son that draws visitors by the dozens. The establishment uses only sustainably-sourced, locally-grown ingredients. And you can taste the difference. There isn't anything bad on the menu (which is outrageously expensive by the way. So if you're planning a visit, stow away a few hundred bucks and chuck it down to a once-in-a-lifetime experience).
The Hive
Inside the hip 21c Museum Hotel is a Bentonville restaurant that needs no introduction – The Hive.
The Hive is Bentonville in a nutshell. It specializes in regional Arkansas cooking – Southern to the core, dialed up in elegance.
Right when you walk in, you feel like you're in a beehive boutique. The art is good, at the cusp of real and unreal. It crafts the perfect atmosphere for a sit-down meal. The Hive's menu is also seasonal so expect a swarm of time-tuned flavors to wrap you up (but regardless of when you go, get the fries. You can thank me later).
Best Snacks & Dessert In Bentonville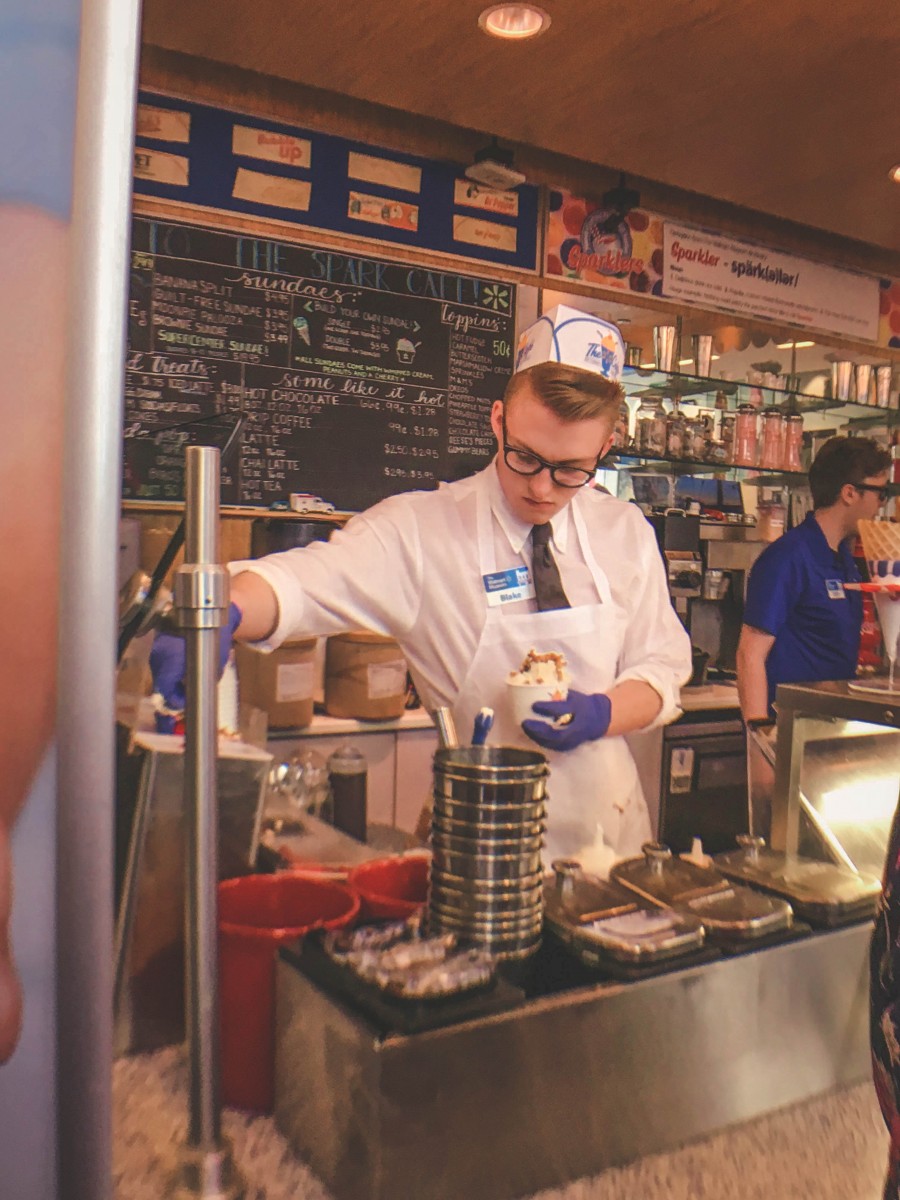 Gooseberry Handmade Pies
Gooseberry Pies is one of the most underrated bakeries in Bentonville. If you're ordering a full-pie (rhubarb, get the rhubarb), call ahead.
But if you're just planning to walk-in, make a pick, and go, a sampler pack of 5-inch mini-pies is a must.
Spark Café And Soda Fountain
I wasn't expecting a place this cute inside Bentonville's Walmart Museum but Spark Café defies expectations.
It's a quaint ice-creamery that feels like a true step back in time (think Pop Tate's Chock'lit Shoppe from Archie comics). Blue-and-white checkerboard tiles. Yellow diner chairs. A Coca Cola clock. It's all very 20th century. Even the staff are dressed, head-to-toe, as soda jerkers.
Cones are a dollar (less for a mini) too. Just saying.
Sweet Freedom Cheese
Sweet Freedom Cheese is a wine and cheese market in Bentonville. If you're slightly obsessed with cheese (I am, more than I'd like to admit), you'll want to bookmark this location.
This is the best place in Arkansas for an adult grilled cheese sandwich. And if you're looking for a Bentonville-based snack to split between two, order the cheeseboard (either Sweet Freedom or Build Your Own). No regrets.

Did you enjoy this list of restaurants in Bentonville, Arkansas? What are your favorite restaurants in Bentonville, Arkansas? Let me know in the comments below! As always, I love hearing from you.