twelve best restaurants in Indianapolis, Indiana
The best restaurants in Indianapolis dodge categorization. After all, Indianapolis restaurant-goers don't care whether food is homestyle or haute, as long as it tastes good. Flavor is what matters here.
So when I think of Indianapolis' restaurant scene, I think of a place that is impressively consistent, a place that has pulled from many cultures and added its own Midwestern spin, a place that cares about quality over quantity. These attitudes have allowed Indianapolis restaurants to soar and reach for the stars. Milktooth landed on Conde Nasté's list of best restaurants in the world. Goose The Market topped Bon Appétit's recommendations for best sandwich shops. Bluebeard frequents the ranks of James Beard Foundation nominees. And that's only just the beginning.
There's no shortage of good places to eat in Indianapolis, Indiana. Here are a few of our top picks.
Disclosure: Thanks to VisitIndy for helping cover some of the costs associated with creating this article. All thoughts and opinions are my own.
Best Breakfast In Indianapolis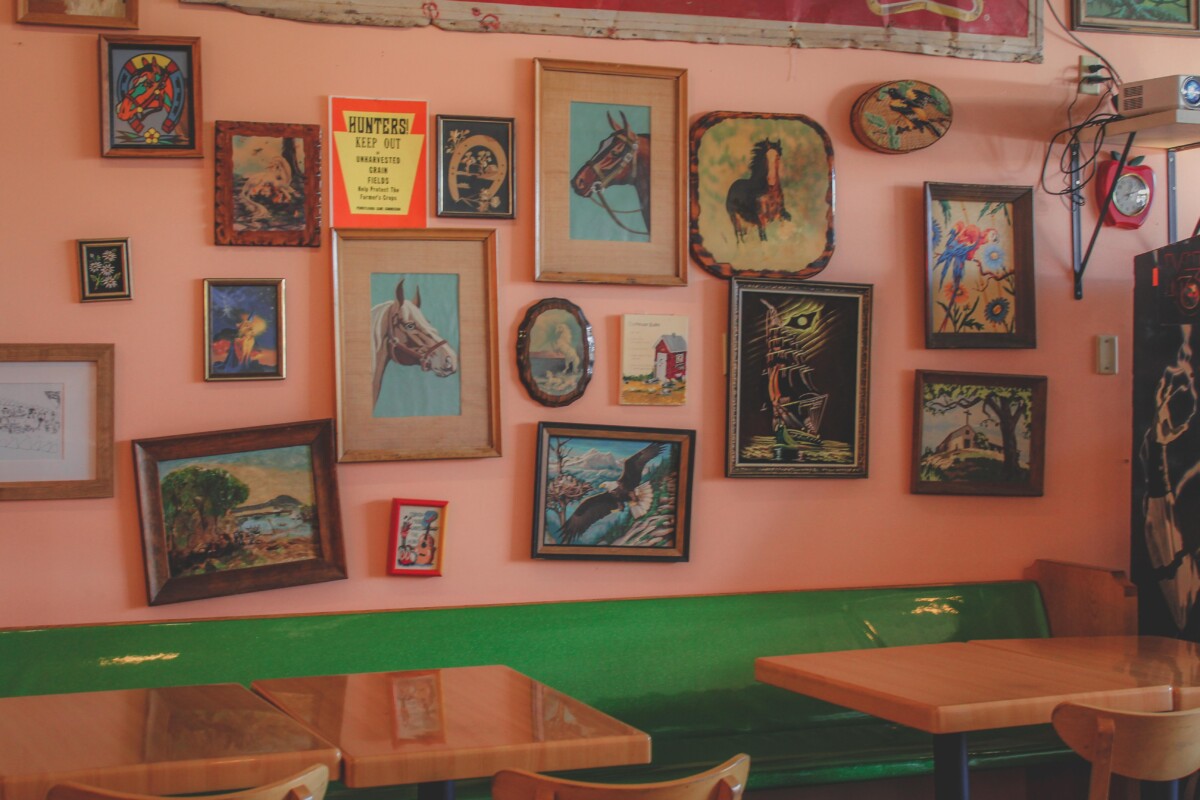 Cleo's Bodega & Cafe
On days when Indianapolis' crisp winter winds slow to a halt, head to Cleo's Bodega & Cafe for a cold morning smoothie. The bodega is one half of a long, mural-clad building, a modest grocery store with fresh produce and local sauces compressed into aisles. Through another door is Cleo's Cafe, a minimalist space with simple desks and chairs. A partially-shaded patio, facing a flat lawn and growing trees, stretches past its boundaries. Drinks lean towards berry blends and fruity fusions. Kale and spinach are sometimes thrown in too, along with super seeds. Get the Halle Berry or Westside.
Travel Tip: Cleo's Bodega & Cafe is a neighborhood spot that occassionally shifts hours. You'll find a sign posted outside their door with the current timings (it's not always reflected on Google or their website).
Just Judy's
I stumbled upon Just Judy's while reading an interview with one of my favorite local Indianapolis artists, Michael Alkemi Jordan (who painted the Mari Evans mural and Crispus Attucks Museum entrance mural). Just Judy's is a tightly packed, bustling morning cafe. You'll know who the regulars are immediately. You'll hear multiple generations of families chatting over a meal. Portions are big. Plates are served with a smile. The Veggie Omelette is a delightfully cheesy roll stuffed with a hearty helping of green peppers, mushrooms, and broccoli.
Love Handle
Ask about breakfast restaurants in Indianapolis and you'll hear the name Love Handle by the earful. Love Handle has a cult following. It's where you'll find impossibly tall biscuits, thick slabs of meat garnishing waffles, and gravy smothered fries. You can booze up your meal with a cold beer too. Love Handle's setting is nostalgic (with slanted gallery displays, salmon colored walls, and green booths), but it also has the acrid bite of alcohol.
Travel Tip: If you have the budget to splurge, I'd also recommend Cafe Patachou (a local chain that makes some of the best omelettes in Indianapolis) and Garden Table (a brightly lit, brick-backed brunch spot perfect for a weekend morning girlfriend getaway).
Best Restaurants In Indianapolis For Lunch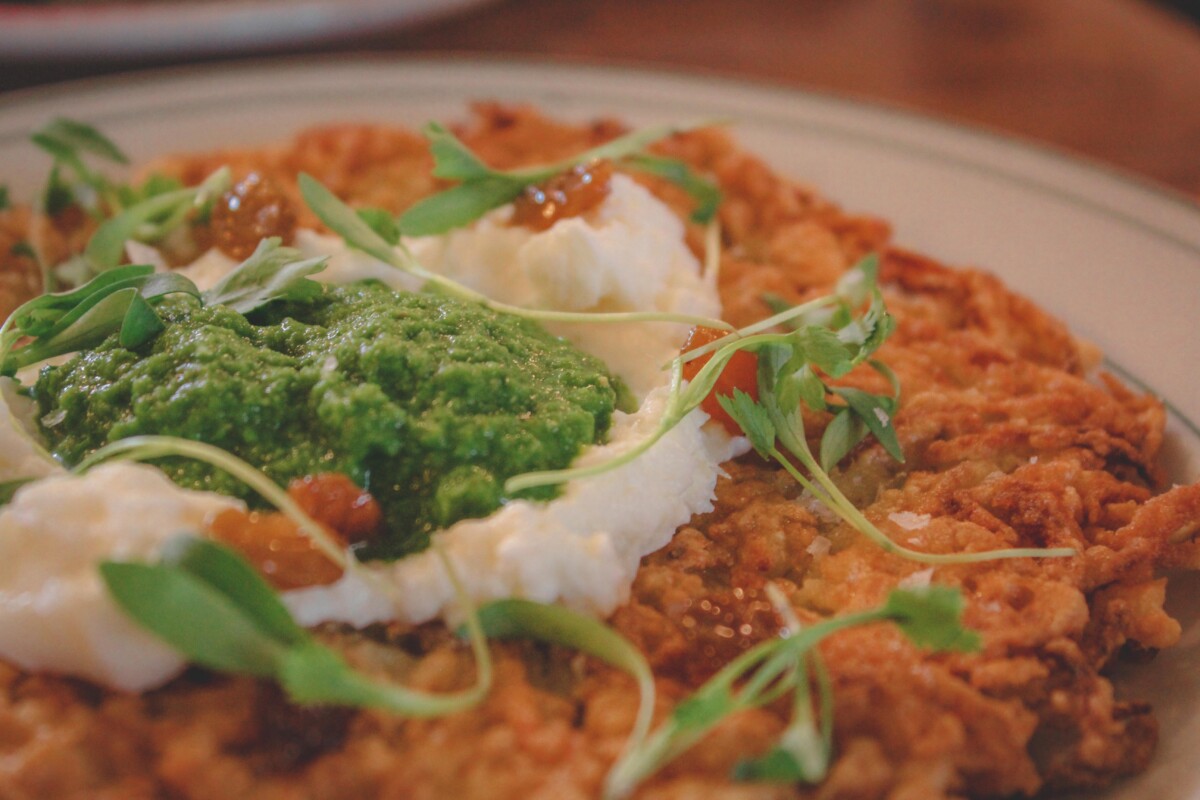 Goose The Market
Biting into Goose The Market's Batali is sure to perk up any day. The baguettes are thick and crispy. Inside are sheets of freshly sliced Italian cold cuts, dry meat blanketed in provolone and mayo. Peeks of romaine lettuce and pickled onion poke out through the sides. It's a sandwich that's heavy (perhaps even food-coma-inducing), but it's also balanced. You'll hit sweet and savory notes upon each mouthful. Paired with a soda, the Batali makes for the perfect noon-day meal.
There's more to try at Goose too – other sandwiches that have earned high praise. Order anything you'd like. There are no bad choices here. We're confident this is one of the best restaurants in Indianapolis.
Travel Tip: Poke through the butcher display and shelves while you wait for your to-go order. Or go downstairs and explore the wine cellar.
Milktooth
No list of restaurants in Indianapolis is complete without mention of Milktooth, a hyped-up brunch spot situated in a former garage. By early afternoon, Milktooth gets loud; its hollowed out curves are overwhelmed by a cacophony of conversations. Music blares overhead. Only a few notes slip through and hit the tables. Forks clack. Lips smack. There's only one right thing to do in a situation like this: concentrate on your meal.
Milktooth takes brunch seriously. Every dish bridges the gap between breakfast and lunch, not edging too much into the territory of one or the other. The dutch babies are a rite of passage. The latkes are the perfect small plate (heavenly crispy and paired with a faultless celery root remoulade). Grab your utensils from an emptied-out, bright yellow Cafe Bustelo can, and allow yourself to enjoy the uniqueness (and novelty) of each dish.
Yaso Jamaican Grill
Yaso Jamaican Grill is one of the most consistent restaurants in Indianapolis. Meat here is soft and tender, peppered in seasoning. Rice and peas run dry, but harmonize well with Yaso's sweet-tilting plantains and dense cabbage slaw. Portions are liberal and served in big takeout boxes filled to the brim. You can eat inside (by blue walls, windowside seats, or a bamboo divider) if you choose. Get the overnight-marinated jerk chicken and jerk shrimp.
Travel Tip: One of the best Mexican restaurants in Indianapolis is Tlaolli. Vegan options. Delicious tamales. You'll wish they were open more than Thursday through Saturday.
Best Restaurants In Indianapolis For Snacks & Dessert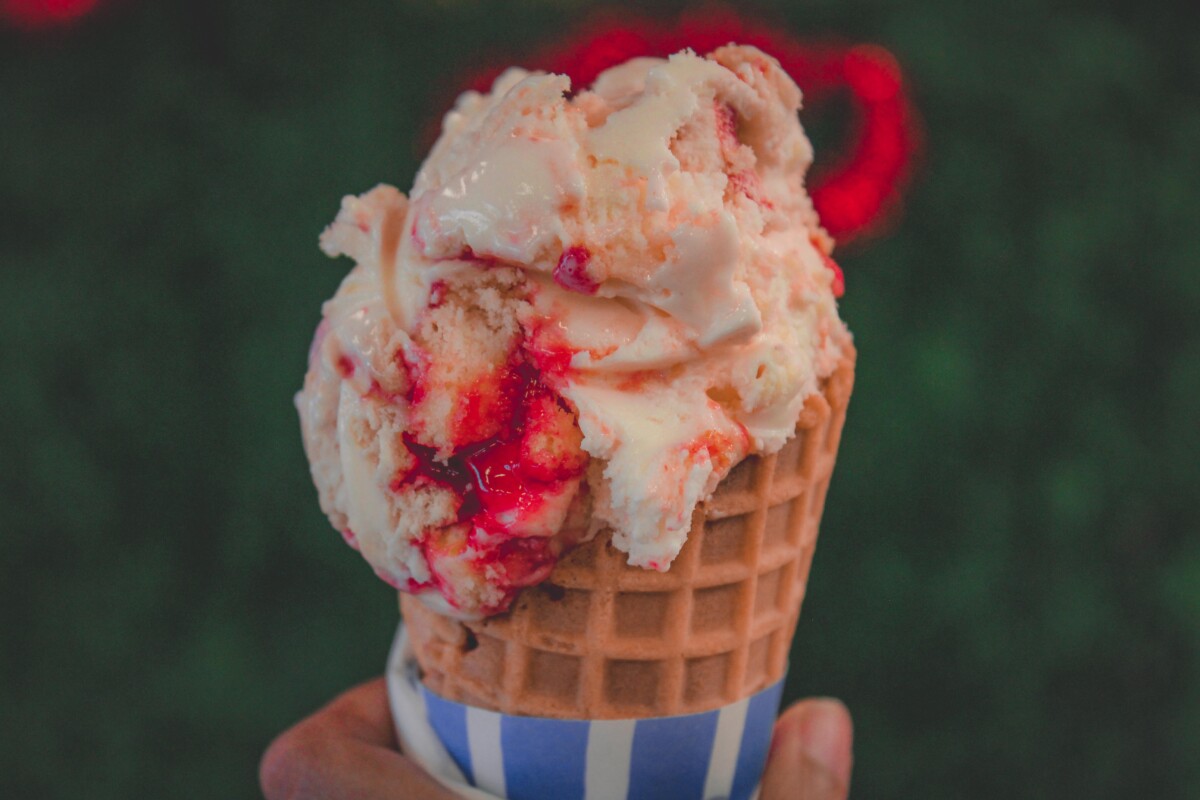 Modita
Modita might be known for its suave location, swanky interior, and Asian-inspired dinner menu, but there's another reason you should visit: their Yuzu Bar. Modita's Yuzu Bar has a sweet graham cracker underbelly; a thick layer of yuzu curd (with a crisp, sharply sweet, crystallized coating) jiggles on top. Berries (fresh and ginger macerated) are pooled onto the side. Each bite has a tang, a pierce. It's a dessert I'd save room for (but seriously, their entire dessert menu is worth trying).
Pana Donuts
Criminally soft donuts. Try the buttermilk. Enough said.
TeeJay's Sweet Tooth
Giant balls of ice-cream sandwiched between donuts? Yes, please (seriously, nothing sounds better). TeeJay's is one of the reigning kings of sweet treats in Indianapolis. Everything served is incredibly indulgent and extra (and we're living for it). Single scoops are offered too in a variety of seasonal flavors, most a sweet hodgepodge of cream and cake (yes, real cake) and syrup.
Best Restaurants In Indianapolis For Dinner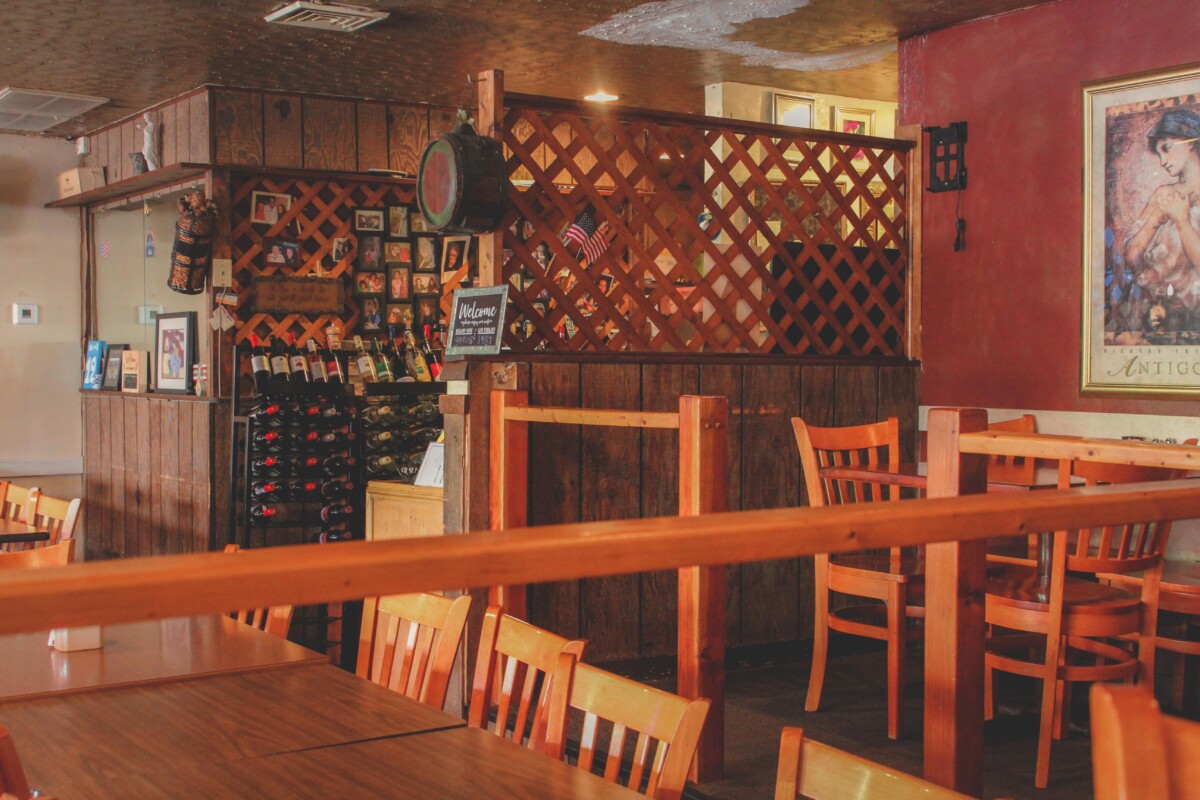 Bluebeard
It's no secret Abbi Merriss is one of the best chefs in the Midwest. So naturally, Bluebeard is one of the best restaurants in the Midwest. Bluebeard's menu is fiercely seasonal. Salads are so fresh, your heart will hammer with delight upon first bite (case in point: a man seated at a nearby table shoved a fistful of Endive into his mouth, called his brother, and said, "I'm at Bluebeard. It's damn good. Get over here.").
Bluebeard's menu shifts and sways daily. So it's updated. And it's re-printed (with minor tweaks and the occasional major change). The point? To keep farmers in focus, to poetically render their of-the-moment wins into meals. Try the Beet salad or opt for the Octopus. Save room for Bluebeard's light and airy bread pudding (trust me, it's worth it).
Greek Islands
Lunch at Greek Islands is a quiet affair but by the time dinner rolls around, crowds swarm in. Saganaki starts to slide onto table after table. The air crackles. Short flames warm the room. You'll heard the loud startle of "opa" over-and-over, the word recited with relentless enthusiasm. As more entrees fill wooden counters, the smell intensifies. Ripe tomatoes mingled with charred meat and the clean aroma of lemon. The food (especially, the gyro) is worth the build-up, making Greek Islands one of the best restaurants in Indianapolis for a late-night date night.
Bosphorus Istanbul Cafe
Bosphorus is overwhelming. The interior is as colorful, vibrant, and chaotic as a bazaar. No wall is left uncovered. Even the slightest gaps are filled in by photos, patterned cloths, and baubles. When you're led to your seat, you'll feel holed into this environment, immersed. You'll inhale savory spices. You'll wait for a big plate. Bosphorus' Stuffed Eggplant and Lamb Mediterranean are luscious; they're busy dishes with busy flavors that just work.
Travel Tip: Two more restaurants to try in Indianapolis are Livery (for the paella and upper level views) and Bodhi (for the gorgeously plated, trendy Thai dishes)!

What are your favorite restaurants in Indianapolis? Let me know in the comments below! This is by no means a comprehensive list and I love hearing about your experiences.