best restaurants in Joshua Tree
Here's what to expect in Joshua Tree: cozy cafes, underrated pizzerias, I-can't-believe-it's-vegan food. Joshua Tree has a lot of restaurant range for a tiny town, but there's a big clientele to capitalize on: hungry hikers.
After a long day on the trails, cooking food is the last thing on my mind. As filling as protein bars, granola, and dried fruit are on the go, sometimes it's nice to have a made-with-love meal.
Here's where you'll find just that. These are the best sit-down and takeout restaurants in (and near) Joshua Tree.
Editor's Note: The wait times at Joshua Tree restaurants are insane. Depending on the day, expect anything from a forty-minute to a two-hour wait. I know it's frustrating but please try to be understanding. Joshua Tree gets over 2 million visitors each year yet there are less than ten thousand year-long residents and fewer restaurants still. Many of the local businesses are doing the best they can. xx- Anshula
Best Breakfast In Joshua Tree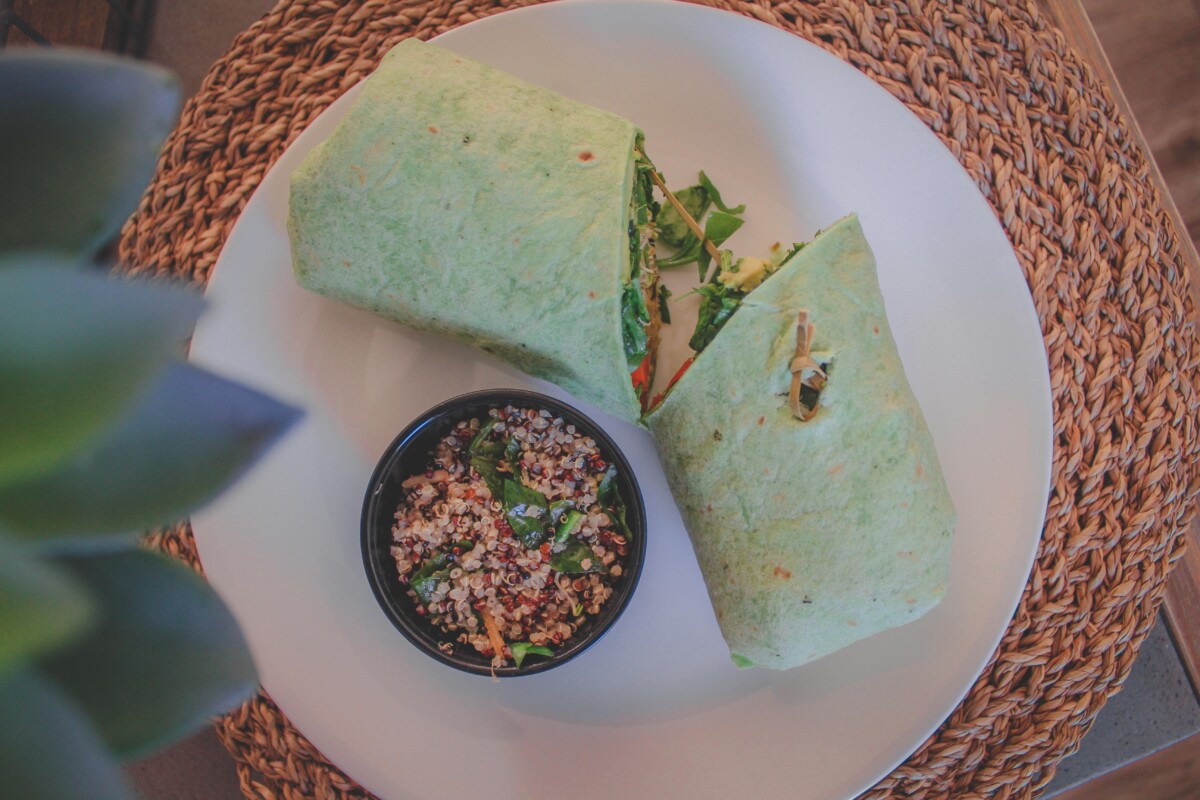 Crossroads Cafe
Doors open early at Crossroads Cafe, one of the most well-known breakfast restaurants in Joshua Tree. You'll want to arrive then (7 AM), before the inevitable let's-pick-up-a-meal-and-then-hike thought creeps into tourists' minds. Once you're seated, order the Homemade Corned Beef Hash – two eggs your way with corned beef (of course), green onions, and toast. Add on soft and dense banana bread and skin-on potato fries. It's a bit much for one (especially considering meals at Crossroads Cafe arrive handsomely plated) but leftovers can be packed up to-go.
Frontier Cafe
Frontier Cafe lives up to the Mojave Desert hype. Situated in Yucca Valley, twenty minutes out from Joshua Tree National Park, Frontier offers great drinks (seasonal lattes, made in-house lemonades, takes-you-down-to-the-South Arnold Palmers) and great food. Get the veg-forward Green Dream, an earthy combo sandwiched between slices of rye, or the Tuna Melt with Swiss cheese. And if you're staying in an off-grid cabin, know that this is one of the best restaurants in Joshua Tree to work out of. Take advantage of the Wi-Fi, library-style seats, and plush settee framed by books.
Natural Sisters Cafe
Christy Lopez's mission with Natural Sisters Cafe is to showcase "food made with kindness, focus, and love." And first impressions let us know she's achieved that goal. Natural Sisters Cafe offers comforting, wholesome food. The menu is meat-free but unrestrained. You'll find vegetarian everything – burgers, smoothies, biscuits and gravy, dessert. Get the soup du jour (not officially on the menu but if you ask, they'll let you know if one's available), Vegan Scram (have it while it's still hot), Curried Rice Wrap, and Carrot Cake (search for a pre-packaged slice in the fridge on your way in).
Best Restaurants In Joshua Tree For Lunch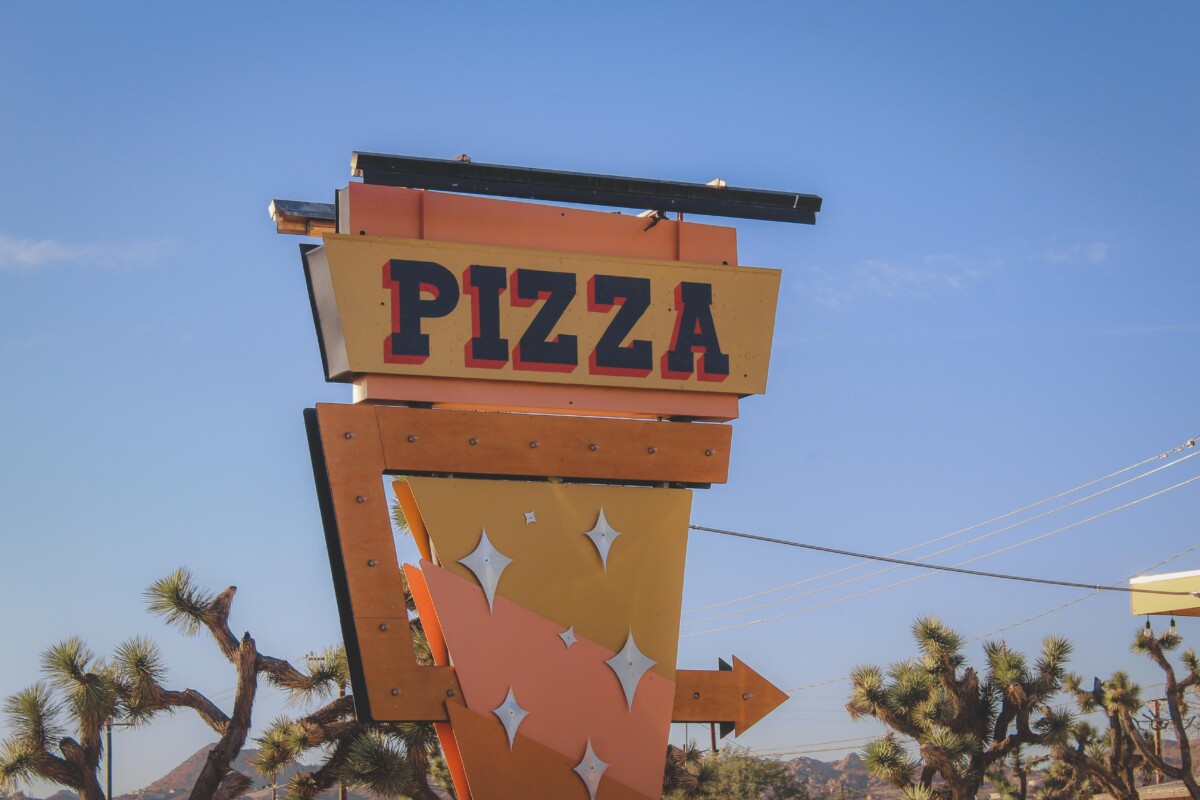 Algobertos
In a small, unassuming location between a front-faded foot massage parlor and a non-descript power tool store is Algobertos, a hole-in-the-wall Yucca Valley eatery dishing out cheap, filling Mexican food. Get the sauce-smothered Asada Fries and a duo of Al Pastor tacos.
La Copine
La Copine takes "located in the middle of nowhere" to a new level – literally. Situated in the High Desert, this out-of-the-way Yucca Valley hideaway is unexpectedly fierce and fresh. It's a brunch date establishment, roomy yet secluded. There's an intimacy to solitude and La Copine doubles down on that: the decor is stripped down and minimalist. It's still friendly, inclusive, chic and romantic but the focus here is food – high-end cuisine that's earned mentions in The New York Times and VOGUE (just saying).
Pie For The People
Pie For The People is the kind of Joshua Tree restaurant you pop into mid-afternoon on a lazy Sunday. Stroll in, do a crowd check, and if the lunchtime madness has dissipated (we're not even going to get started on the woes of dinner rush), order a specialty pizza to-go. After a wait (thirty-ish minutes), walk out with either a David Bowie or Life By Garlic Pizza. The pizzas are large, thin-crusted, and loaded with toppings. Expect to split the meal while binging Netflix with friends back home (and if you're here solo, one pizza can probably cover your next two meals).
Best Restaurants In Joshua Tree For Dinner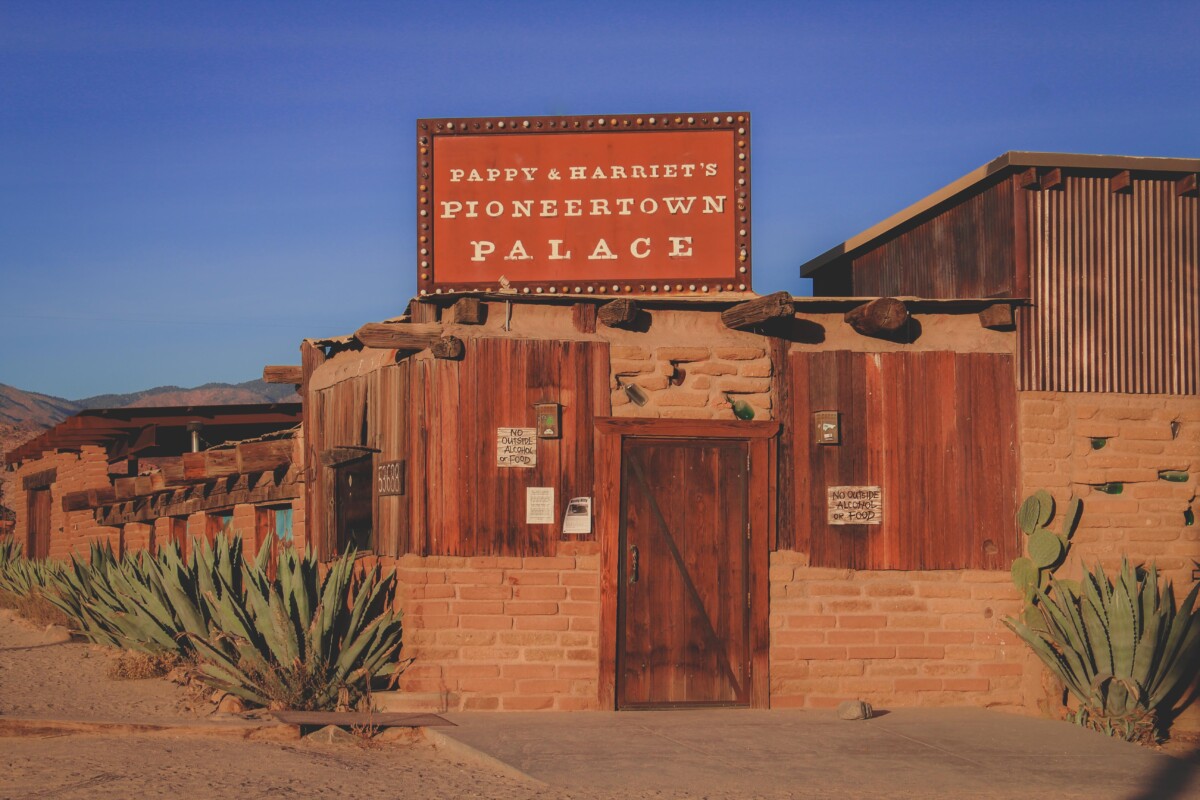 Pappy & Harriet's
No list of restaurants near Joshua Tree is complete without mention of Pappy & Harriet's, a longstanding Pioneertown institution. Pappy & Harriet's is a rustic outpost with old Western vibes. Between the din of plates and the heat of the tightly packed seats, you'll feel like you've entered a not-so-secret saloon. This desert diner 100% rides on atmosphere, but the food is good too (well, anything beef-related on the menu is).
Sam's Indian Food
Don't be fooled by the mural introducing Sam's Indian Food. The cheesy pizza angel wings (yes, really) don't do justice to the Indian fare here. Sam's serves decent, quick-service Indian food, the kind you find in Bawarchi (except sweeter). Open-after-dark restaurants in Joshua Tree are few and far between but Sam's is a reliable in-town option. Sometimes, a basmati bed and spicy curry are what you need to clear your senses after a long hike. Sam's offers just that.
Yucca Kabob
Perfumed by gently cooked onions and spiced meat, Yucca Kabob is a sensory experience. The aroma will hit you first and leave you hungry for a plate (or two). Order the Shawarma – bits of tender chicken or gyro (your choice) served alongside rice, salad, pita, and a standout garlic sauce. It's a well-balanced entree but if you're looking to further the flavors, add on an appetizer (we recommend the Baba Ghanoush).
Best Restaurants In Joshua Tree For Dessert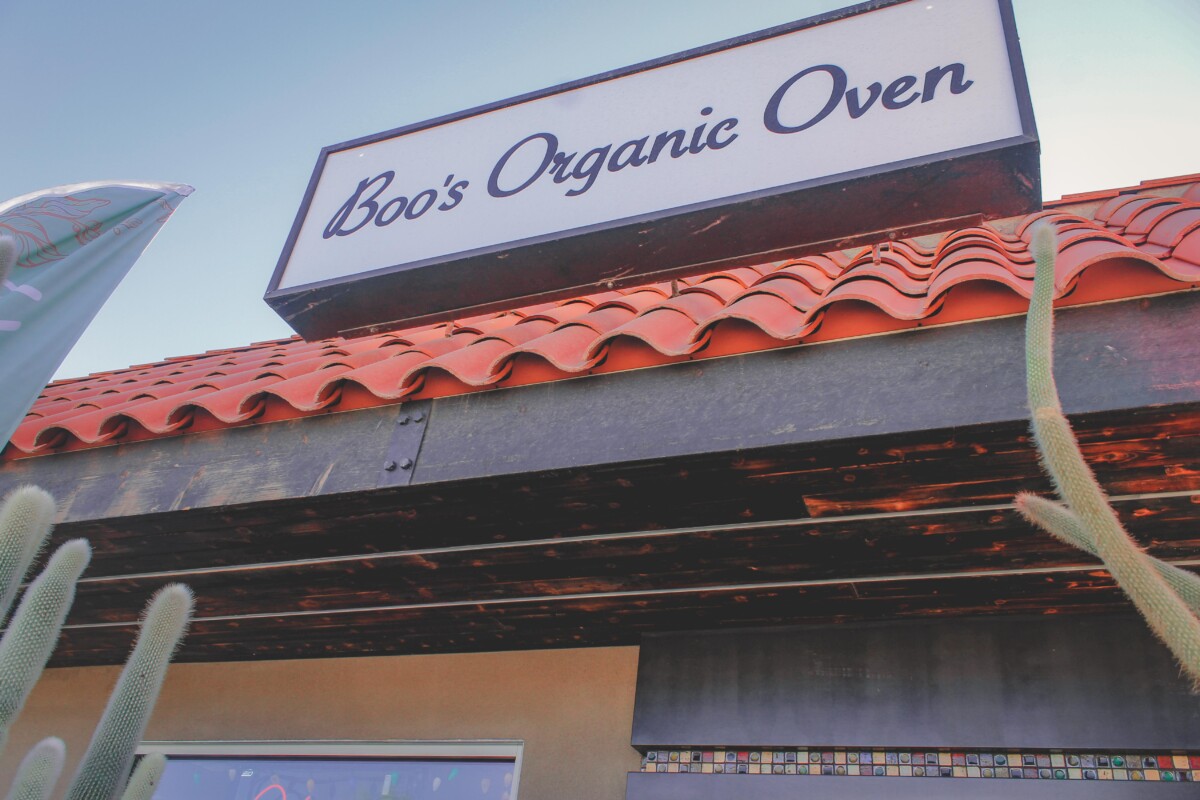 Boo's Organic Oven
Skip the coffee at Boo's Organic Oven and instead, direct your attention to the pies and the spanakopita. This is what Boo's makes best. Boo's is a quiet, little nook in Joshua Tree focused on artisan, small-batch bakes. You'll find Instagram-worthy succulent cupcakes (seriously, how is possible for cupcakes to look so cute?) and cookies, but the pies (especially the chicken pot pie) are what you'll be writing home about – generously filled, flaky crust (come early because they sell out fast).
Campbell Hill Bakery
Campbell Hill Bakery is one of the best all-around restaurants in Joshua Tree. You can go for breakfast or lunch (get the turkey avocado sandwich) and still be impressed. But we've included Campbell Hill in the dessert section for one reason and one reason alone: the cinammon sugar brioche, a bake that will leave you singing "this is what dreams are made of" as you drive down Twentynine Palms Highway.
Roadrunner Grab & Go
Takeout in Joshua Tree doesn't get much easier than Roadrunner Grab & Go, an in-then-out convenience store stocked up on sandwiches, salads, and burritos (veggie options available). It's a popular tourist spot, considering it's en-route to Joshua Tree National Park, but a good last-minute stop if you need to top off your picnic basket. Do not leave without trying the salted chocolate chip almond butter cookies (vegan junk food for the win).

What are your favorite restaurants in Joshua Tree? Let me know in the comments below! This is by no means a comprehensive list and I love hearing about your experiences.