best restaurants in Palm Springs
The best restaurants in Palm Springs are a lot like the best coffee shops in Palm Springs. They're stylish and vibrant and memorable. You'll find to-the-point meals served in vogue rooms, the kind of rooms you'll still be thinking about long after sunset swims in the pool, days in the spa, and strolls downtown.
Palm Springs' best restaurants offer a firework of flavors. You'll find dishes that surprise and dishes that impress.
Here are our top picks for the best restaurants in Palm Springs!
Best Places To Eat Breakfast In Palm Springs
Cheeky's
Cheeky's doesn't take itself too seriously. It's loose. It's relaxed. You'll see that in the decor (little white monkeys hanging on long, white ropes), in the logo (a hot pink monkey clamoring over a blocky letter Y), in the guru-esque quote outside ("perhaps the writing on the walls shouldn't exist, neither should the walls"). Cheeky's is chill. It's a laid-back, first-come-first-serve establishment with friendly service. We recommend their iconic Bacon Flight, a creative sampler platter featuring five strips of bacon (there's bacon. need we say more?).
FARM!
Slip into Southern France at Farm (stylized FARM!), a Provençal brunch spot. Although the interior is that loveable chic, country farmhouse-style, you'll want to sit outside. Farm's exterior is an ooh-la-la blend of European influences. It's a bit Spanish, a bit French. Step into the sun, settle into a rustic French bistro chair, under a red-capped umbrella, in a bougainvillea bounded (and oh so delightfully green) space. If you're looking for the best patio restaurants in Palm Springs, this is the place to go for breakfast.
L'Atelier Cafe
True-to-Paris L'Atelier Cafe is a charming little hideaway. Croissants. French toast. Fruit tarts. L'Atelier's menu offers lighter fare than most Palm Springs restaurants. The cafe itself is a wormhole. Each bite sends you further and further down Paris' cobblestoned streets. You'll feel lost, immersed, and a little disoriented once you finish your meal.
Best Restaurants In Palm Springs For Lunch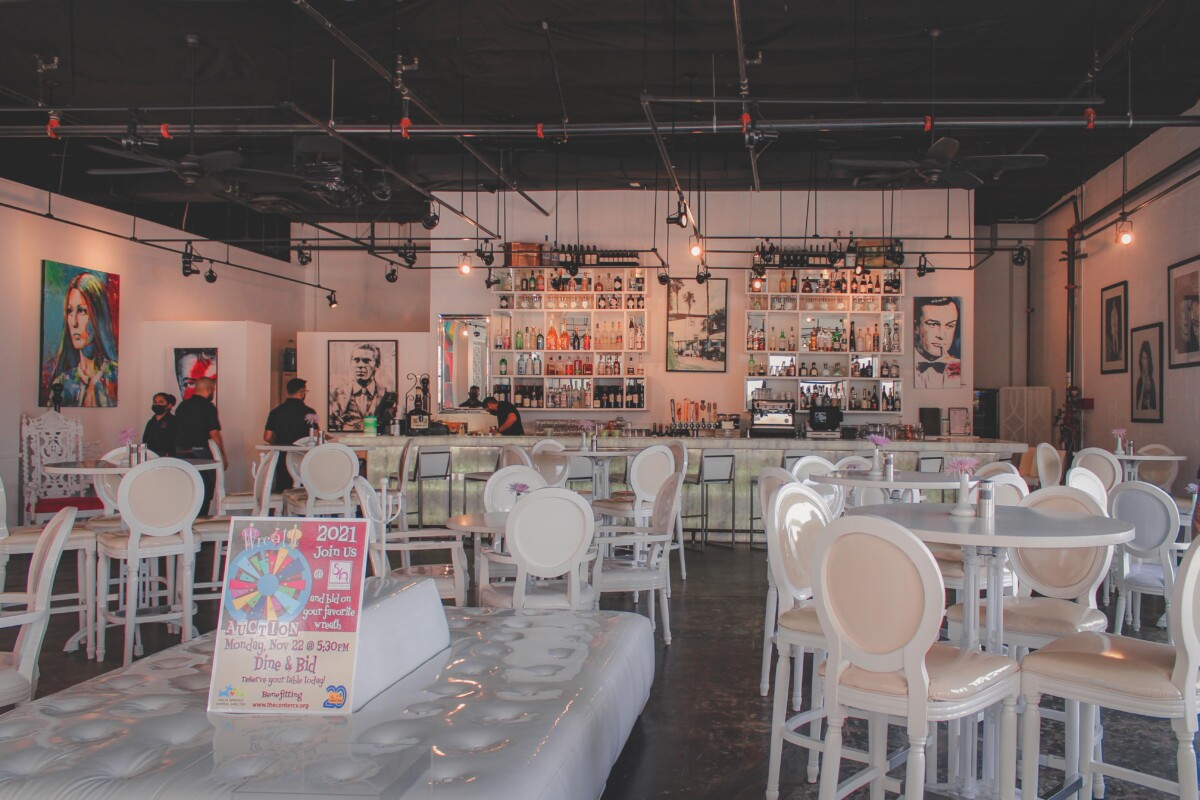 Eight4Nine
Palm Springs' top restaurants know how to create a rich, inviting atmosphere. Eight4Nine is no different. Although its dining chairs and dining tables and sleek, liquor-backed counter say otherwise, Eight4Nine still resembles an art gallery. With black-and-white and full-color portraits, this bar's walls talk. There are stories here that, under the warm noon light, are easy to see. The food is just as good as the ambiance. We recommend the oil-veiled Clam And Crab Chowder and one of the house salads or sandwiches.
Lulu California Bistro
Quirky and colorful Lulu California Bistro is a family-friendly romp. It's a vibrant, kitschy, unpretentious restaurant in Palm Springs. Lulu's will immediately put you at ease. And although the food is hit-or-miss, it's still one of the most accommodating restaurants in Palm Springs. Lulu California Bistro is home to an entire vegetarian-vegan menu (get the Quinoa Stuffed Acorn Squash), a surprisingly large number of gluten-free options, and a dog-friendly patio!
Sherman's Deli
An NYC-inspired landmark that's been operating for over fifty years, Sherman's Deli is worth a stop for cheaper (and just as filling) eats. You might have heard the name before on Guy Fieri's ever-popular Food Network series, Diners, Drive-Ins, and Dives.
Order the New York Style Hot Pastrami (you can thank us later). It's the kind of big-mouth sandwich you'll want to come back for. And if you happen to be Jewish, note that Sherman's sticks to Kosher food.
Best Restaurants In Palm Springs For Dinner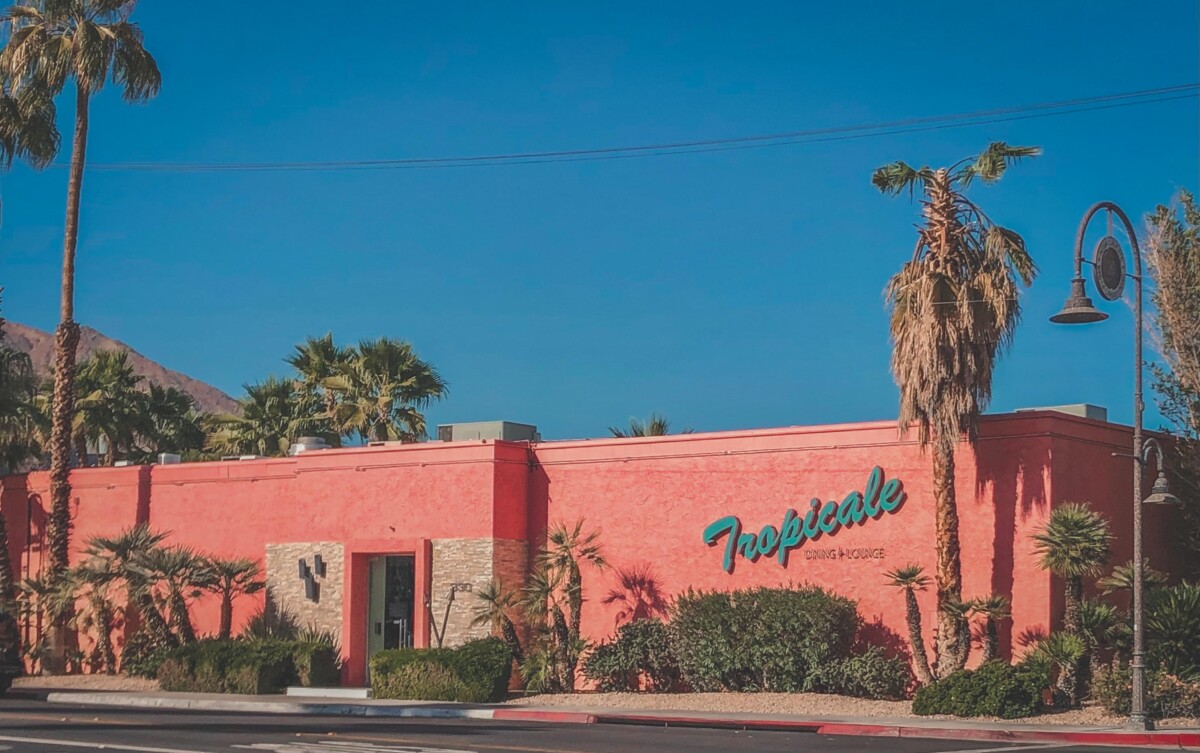 Boozehounds
When it comes to pet-friendly restaurants in Palm Springs, Boozehounds feels like an answered prayer. With a big atrium, patio, and cabana, this California-comfort spot masterfully skirts around stuffy pet-prohibiting policies (you'll see more dogs at Boozehounds than in 101 Dalmations – just saying).
And Boozehounds isn't just dog-friendly, it's dog-themed to boot. From the hallway to the restrooms are lit-up signage: "do it doggie style", "you dirty dog". It's a place where, in the words of Boozehounds themselves, dogs bring their humans. In addition to a human menu, you'll receive a dog menu (how cute is that?). And if you don't own a dog and just want an endorphin boost, grab a drink right outside and soak in the San Jacinto sunset.
Tropicale
Tropicale is a think-pink diner with a neon twinge. Equal parts trendy and nostalgic, this Palm Springs restaurant feels like pure fun after the sun. Tropicale's spread isn't streamlined. There's no core theme. You'll find everything from pizzas to curries. And it's that menu range that constantly catches the eye of big groups. Tropicale's diversity of options and bounties of booze (bring on the martinis) mean even the fussiest eater can happily find something to nosh on.
Le Vallauris
French cuisine and Palm Springs isn't a combo you think would be common, but Le Vallauris is more proof that it is and that it works. With slow, attentive service and a prix-fixe menu, Le Vallauris has all the hallmarks of a fine-dining establishment. Reservations are a must. Come if you're looking for a luxurious, indulgent, and well-plotted meal, the kind that drips in at a rush-free pace between idle chatter. Le Vallauris allows you to be cognizant of every minute, every bite, every flavor.
Best Places To Eat Dessert In Palm Springs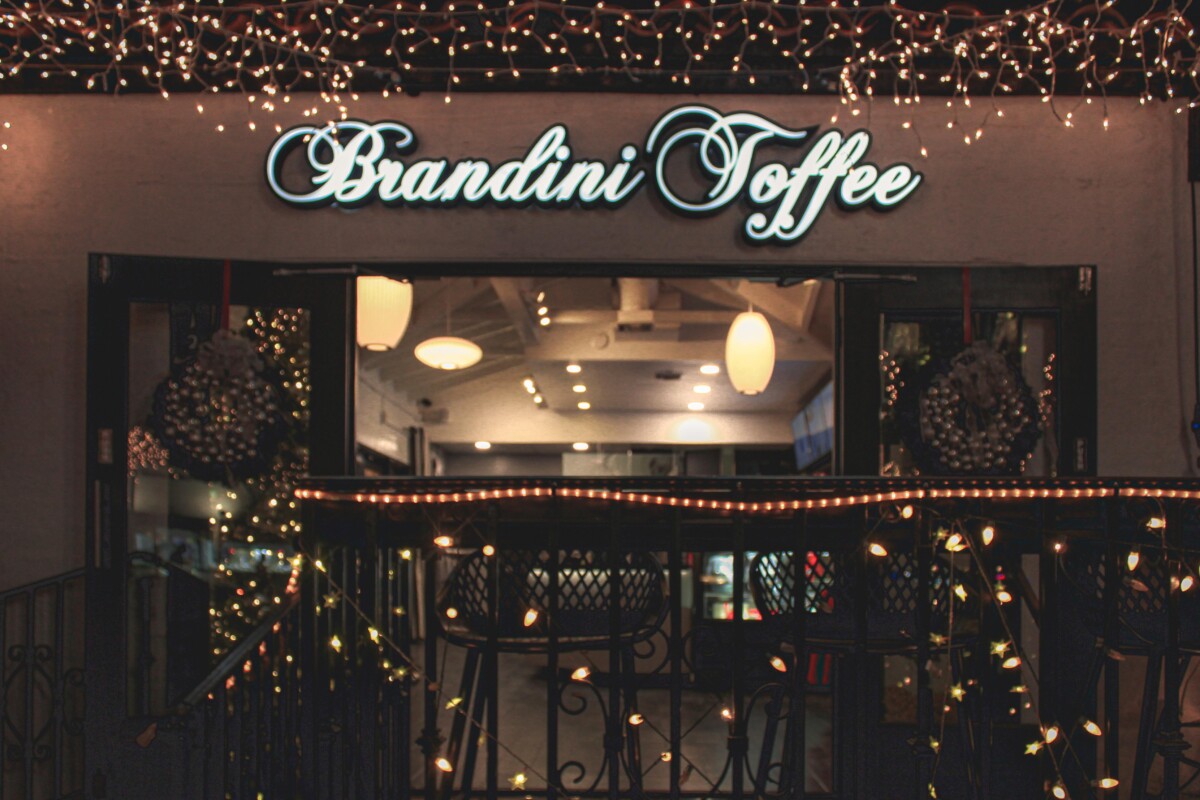 Brandini Toffee
Brandini ruined toffee for us. Unfortunately, we haven't had toffee since visiting Palm Springs because our standards have changed. They're too high now and no matter how hard we try, we struggle to slip out of the comparative mindset: "it isn't Brandini".
Let the samples lure you in. And if you like brownies, get Brandini's warm, fudgy, one-feels-like-too-much-but-let's-have-another-anyway toffee brownies. The boutique also sells thick, creamy toffee milkshakes (skip the date shake you were thinking of getting, try this instead), toffee-dusted ice cream bars, and small-batch toffee popcorn.
Great Shakes
Great Shakes' drinks are large, Instagram-worthy, and satisfying. The store itself, deeply aqua, looks like a 50s malt shop set. It's a newer establishment though that's been on Palm Canyon Drive for just under a decade. Great Shakes' drinks are made with premium ice cream, the kind that's free of artificial ingredients and corn syrup. And each container is topped with a cutely crafted, bite-sized donut right on the rim!
Kreem
Kreem makes artisan ice cream in-house. It's a must for any vegan dessert lovers traveling through Palm Springs. Kreem's vegan-friendly menu has earned it a fan-following, and for good reason. Decadent vegan desserts are hard to come by, but Kreem's use of coconut milk changes that. The menu constantly rotates so go in and ask for a recommendation (don't worry, the staff is nice).
More Palm Springs Restaurants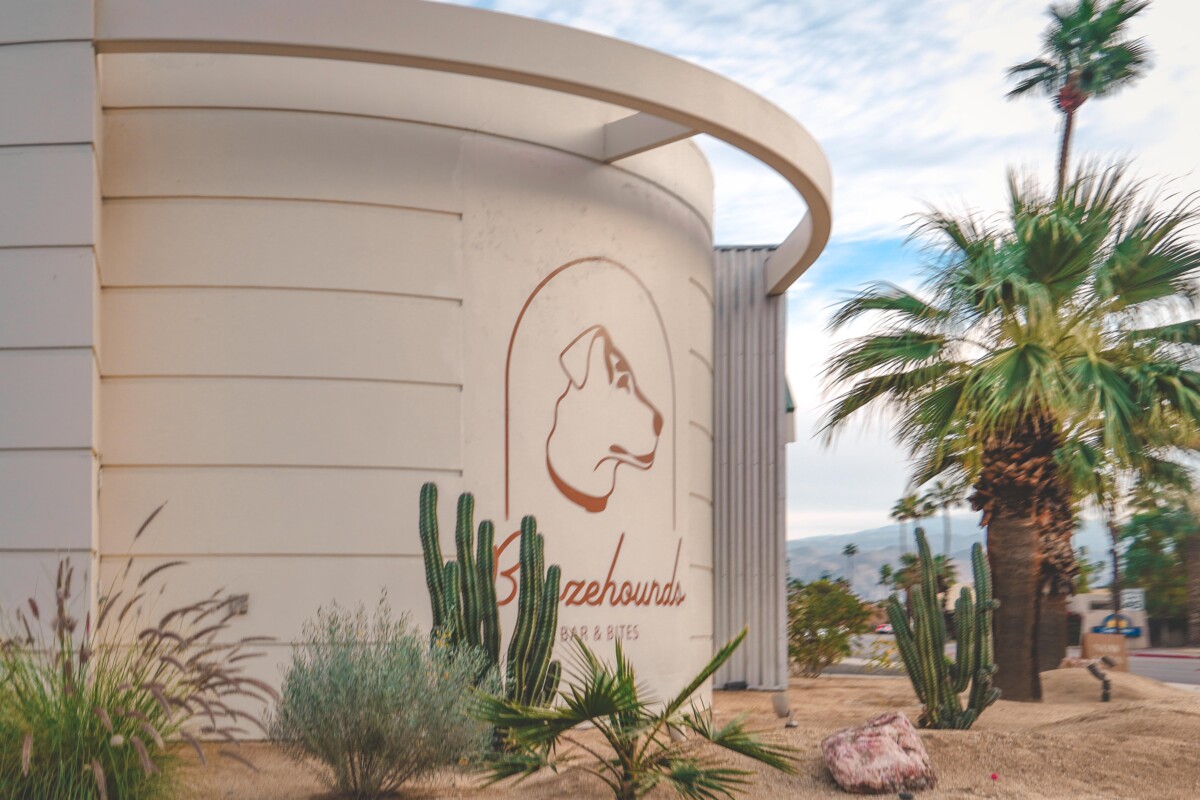 Birba: a Bachelorette-bash Italian restaurant with a chic, tree-touched patio.
Sandfish: swish and stylish sushi spot right on Palm Canyon Drive
Rooster And The Pig: this busy restaurant in Palm Springs is known for its sweet potato noodles and modern takes on Vietnamese-fare
Townie Bagels: a quick service, boiled bagel joint dishing out light, no-nonsense breakfasts

What are your favorite restaurants in Palm Springs? Let me know in the comments below! This is by no means a comprehensive list and I love hearing about your experiences.