best restaurants in Santana Row
No matter what meal (and price range) you are looking for, you'll find everything from casual to fine dining choices amongst the best restaurants in Santana Row. While some dress to the nines, others come to Santana Row, straight from the gym or the office, to eat.
There are over twenty restaurants in Santana Row, and with so many to choose from, we've whittled down the options to a dozen unique places to try. Here are Passport To Eden's top picks for the best restaurants in Santana Row!
Editor's Note: Most restaurants in Santana Row open in the afternoon (around 11:30 AM) and close later in the day (past 8:00 PM). Although you can find noon brunch offerings, Santana Row's overall restaurant scene is definitely best enjoyed during lunch and dinner hours!
Best Breakfast In Santana Row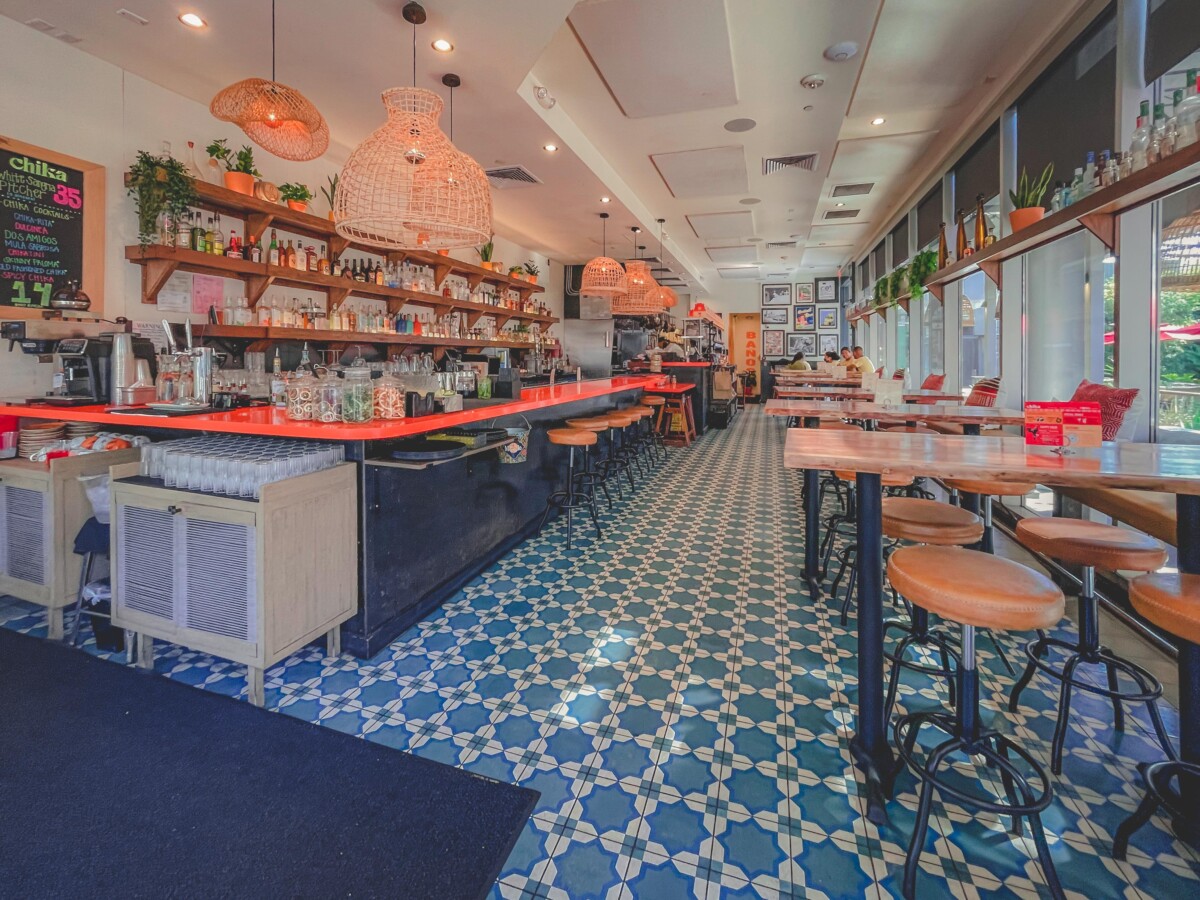 Chika
From the teal tile flooring to the beautiful printed framed pictures hanging on the back wall past the bar, Chika is one of the most vibrantly-colored restaurants in Santana Row. This self-described gourmet Mexican Rosticeria serves breakfast, lunch, and dinner from open to close seven days a week. Their most popular dish is also one of their simplest – chicken and waffles lightly sprinkled with powdered sugar and paired with rich butter and maple syrup.
Left Bank Brasserie
Located in the center of the plaza, Left Bank Brasserie is one of the most popular restaurants in Santana Row. On a typical weekend morning, you'll see mimosas lined up on the tables of this French eatery. Accompany your mimosa with the following: a skirt steak with green peppercorn sauce, two sunny side up eggs, fruit, and country potatoes.
P.S. Left Bank also features an impressive full-scale bar with a categorized drink menu, so you might want to stick around into the early afternoon hours for another round of drinks!
Meso Modern Mediterranean
Meso Modern Mediterranean might seem like an odd place for breakfast in Santana Row…until you glance at their breakfast menu. You'll truly feel like you've been whisked away to another country after trying one of their unique weekend brunch items. From Brunch Naan (braised lamb with sunny side up eggs, herbed labneh, arugula salad) to DuckN'Waffle (a generous piece of confit fried duck atop a waffle), there's nothing like one of these delectable entrees to trick you into thinking you somehow took a flight but don't remember it.
Best Restaurants In Santana Row For Lunch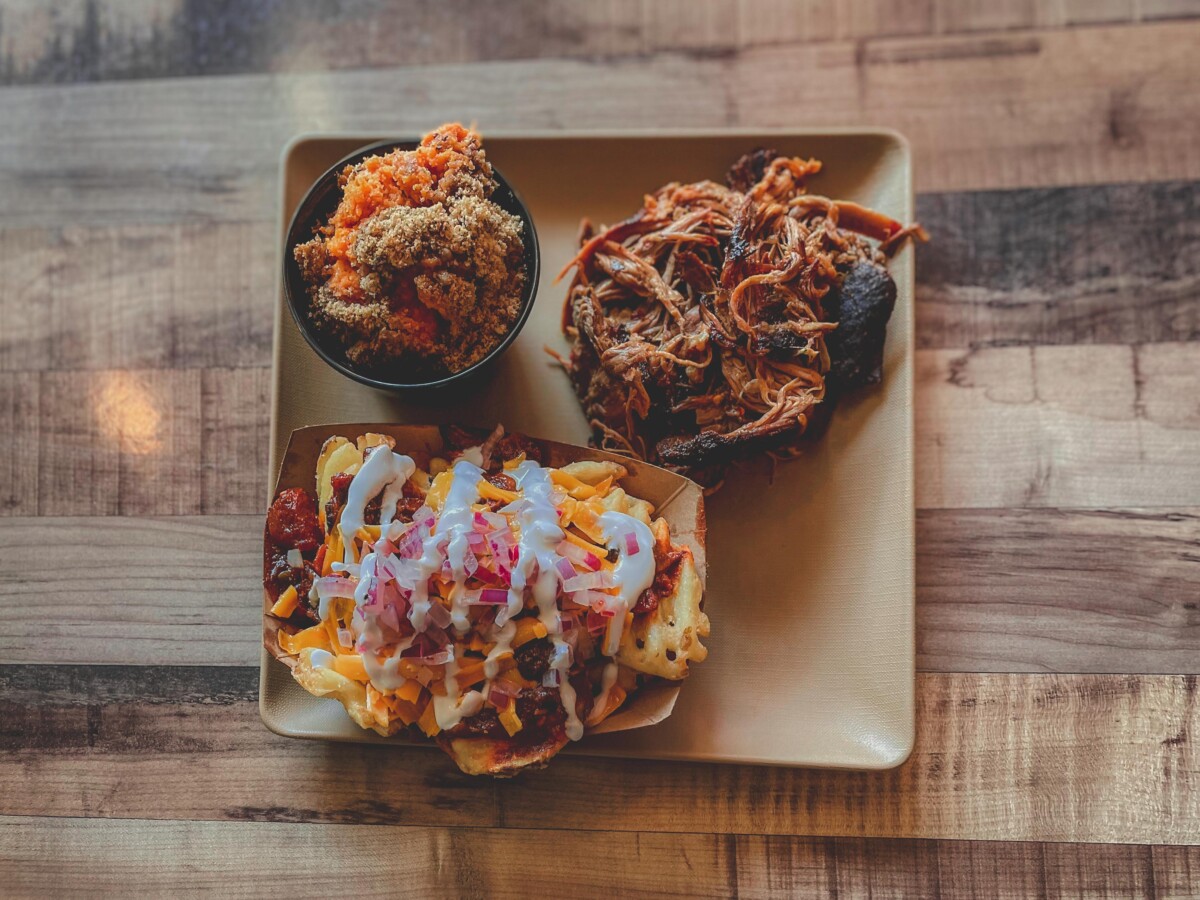 Sauced BBQ
Growing up I loved reading choose your own adventure books, and SaucedBBQ is choose your own adventure for your tastebuds. Your adventure starts with how you order; a plate or a sandwich will get you one side, a combo will score you two. My favorite? The Chili Cheese Fries topped with brisket chili (YUM), sharp cheddar, red onion, and sour cream.
One of Sauced's most requested entrees is their pulled pork. Try it with one of their four signature BBQ sauces: Pig Candy (sweet and tangy), Georgia Gold (tangy mustard), Tin Roof (Kansas City Style), or HOT (and they mean HOT!) Tin Roof. Note: sauce isn't always needed. The brisket is so perfectly seasoned, it practically melts in your mouth.
Pizza Antica
Pizza Antica is the obvious choice for pizza in Santana Row. From traditional Margherita (with mozzarella and fresh basil) to zesty Summer Pepper (featuring spicy tomato sauce, pancetta and pecorino), you'll find (and can make) many pizza variations.
This Santana Row restaurant gets busy during standard lunch and dinner hours. While they don't take reservations, you can call 30 minutes ahead to have your name added to their wait list.
Ozuma
Ozuma is Japanese contemporary cuisine where the simplicity is in the décor, not the food. Neutral-colored walls with lots of white lighting allow customers to focus on the star of the show, which is offered in 3 main styles: sushi, robata, and isakaya. If you're a fan of classic rolls, try the Ozuma with unigi, cucumber, snow crab roll (topped with tuna sashimi, avocado, unagi sauce, and spicy aioli) or the Honcho roll featuring shrimp tempura, snow crab, spicy tuna roll (topped with salmon sashimi, avocado spicy aioli and unagi sauce).
Best Restaurants In Santana Row For Dinner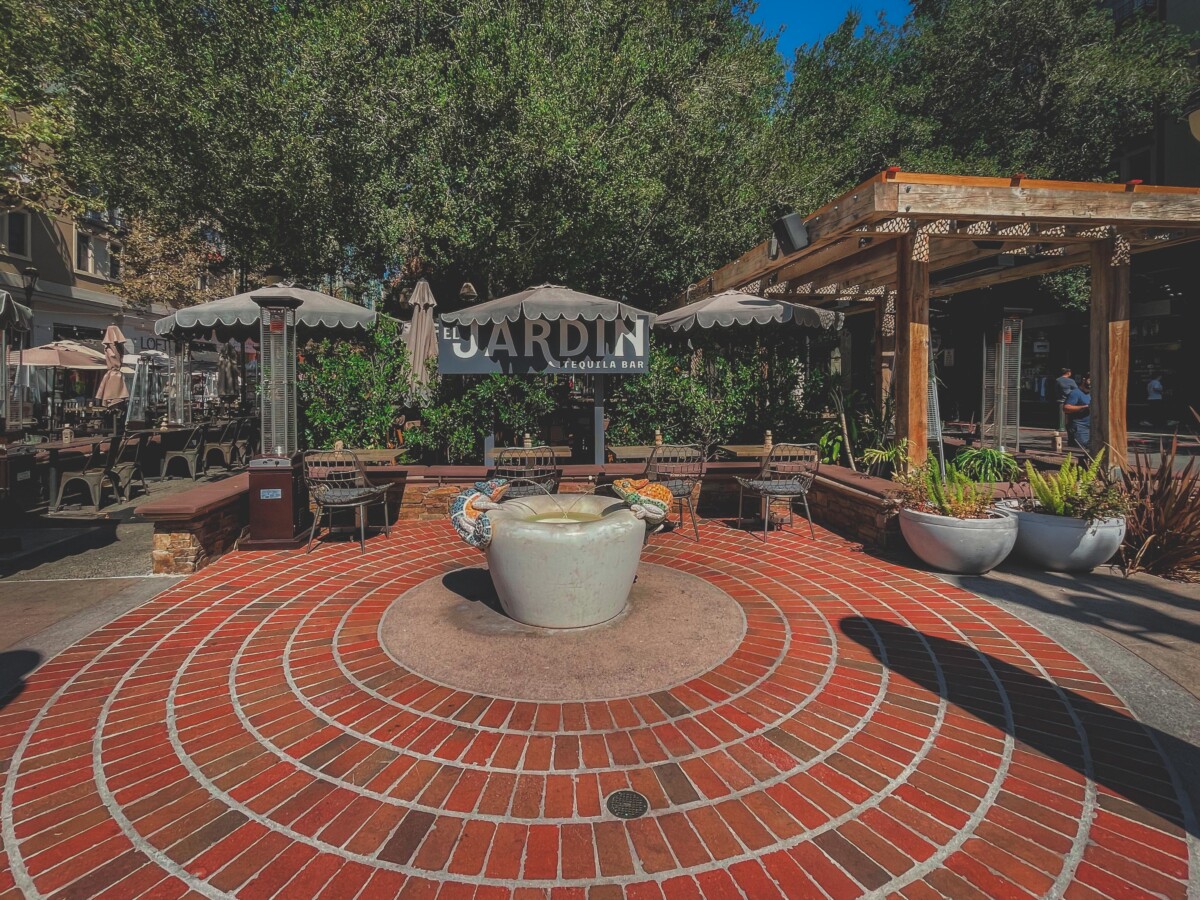 El Jardin
In Spanish El Jardin means the garden, so it makes sense how El Jardin Tequila Bar, an outdoor-only Santana Row restaurant surrounded by beautiful lush greenery, got its name. Not only is El Jardin a tequila bar, but its menu also features a wide selection of traditional Mexican dishes. The Flautas De Pollo were the best chicken flautas I've tasted; the Quesadilla Nortena was a simple cheese quesadilla but somehow also the largest and fluffiest quesadilla I've ever had; and the Tamal De Elote, a corn tamale topped with green tomatillo salsa, cheese and crema fresca was perfection.
This is one of the best restaurants in Santana Row for groups who want to hit a bar that offers great food for lunch or dinner. El Jardin has several options where small and larger groups can choose from the Jardin Parrillada or the Jardin Platter. As an added bonus, the peaceful outdoor ambience, complete with hanging lights nestled within the trees and live music on Sunday and Monday evenings, is also perfect for a romantic date night.
LB Steak
LB Steak is the place to go if you want to impress a first date, spouse, or business clients. This is one of the most romantic Santana Row restaurants and also one of the priciest Santana Row restaurants. From the dark colors of the main dining area to the cow hide on the furniture, this fine dining steakhouse is truly in a league of its own. Their prime angus steaks are USDA certified, hand cut in their butcher shop, and served with their homemade wagyu butter. Choose from New York strip, filet mignon, or boneless ribeye. Or, going back to that romantic vibe, two can share the tomahawk rib eye!
Oveja Negra
It's easy to see why Oveja Negra, one of the most secluded restaurants in Santana Row, recently received the Open Table 2022 award for Diner's Choice. No matter whether you select cuisine from its land, sea, or garden menu, your palette won't be disappointed. There are lots of choices to select from, but their signature dish is the Braised Beef Cheeks (potato puree, chanterelle mushrooms, finished off with a red wine reduction).
Best Restaurants In Santana Row For Dessert & Snacks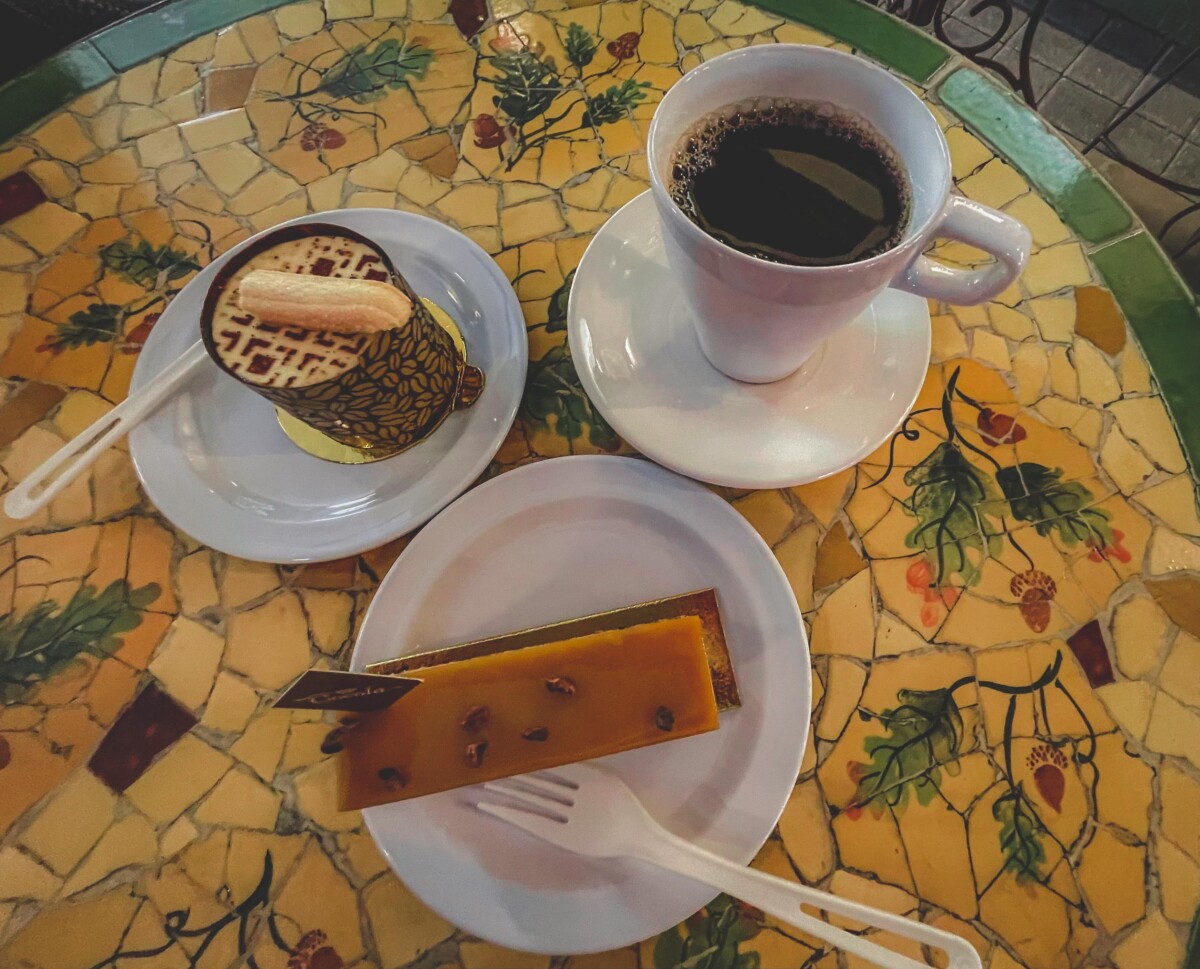 Cocola Bakery
Situated in the center of Santana Row, Cocola Bakery, from the outside, may appear like a Parisian coffee shop. Mosaic tile bistro tables and chairs surround the outdoor space. Inside, a large lit-up screen with more than 15 coffee and hot chocolate choices (banana hot chocolate is a thing!?) sits high on the wall just underneath the ceiling. It won't take long for your eyes to shift to the glass displays of more than 25 sweet delicacies, all in a rainbow of vibrant colors.
Smitten
On hot days in San Jose, there is almost nothing better than lining up at this popular ice cream kiosk where ice cream is churned fresh daily. On the day I visited, Smitten's distinctive seasonal offerings included Cinnamon Toast, Chocolate Ganache and Pumpkin Pecan Pie. With your cool treat in-hand, sit outside at one of Smitten's tables or in the nearby courtyard on one of many benches to settle in and enjoy an afternoon (or evening).
Maggiano's
Situated in one of the quieter courtyards within Santana Row, Maggiano's serves standard restaurant desserts, but also features more unique delicacies such as Gigi's butter cake covered in brown butter glaze. Also a favorite are Vera's lemon cookies topped with lemon frosting, which you can order separately (pro tip: they are complimentary when celebrating a birthday).
More Restaurants In Santana Row
If you're still looking for more restaurants in Santana Row to check out, here are some more unique places to eat in Santana Row:
Cielo: Valencia Hotel's rooftop bar overlooking stunning views of Silicon Valley, very romantic
Rosie Mc'Cann's Irish Pub: weekend brunch, weekday dinner, most crowded after dark Fridays through Sundays for its nightclub vibe
Vintage Wine Bar: chill atmosphere with outdoor patio seating and string lighting, small bites and sandwiches, wine flights and cocktails, great for groups and date nights

Did you find this list of Santana Row restaurants helpful? What are your favorite restaurants in Santana Row? Let us know in the comments below! As always, we love hearing from you.