twelve best restaurants in Solvang, California
Solvang is a city Californians gravitate to, thanks in no small part to its Danish heritage. Danish immigrants have been part of Solvang's story for over a century, so naturally, many of Solvang's must-try restaurants are, well, Danish.
But there's more to Solvang's restaurant scene than just Danish cuisine. This Santa Ynez Valley town is a willing tourist gateway, so you'll find stereotypical American classics (burgers, pizza, nachos) and unique Michelin Guide plates served just steps from each other.
Here are our top picks for the best restaurants in Solvang, California.
Best Coffee In Solvang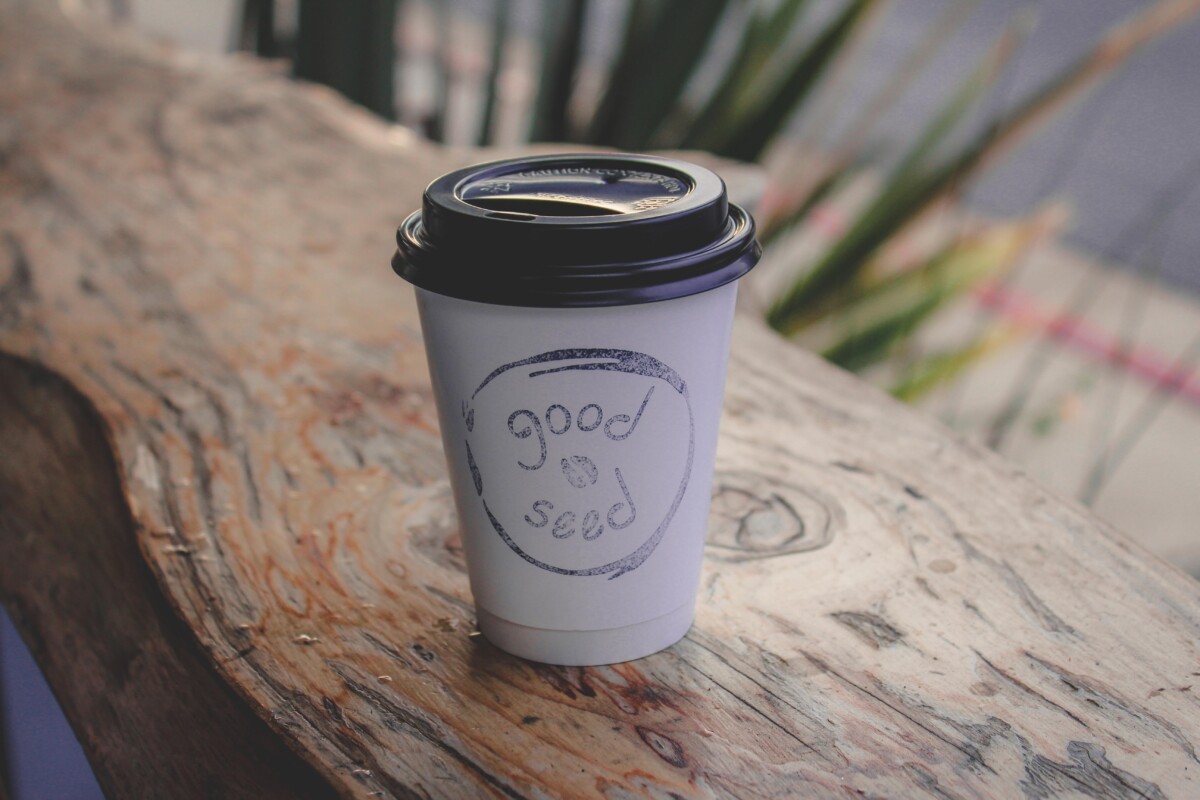 Good Seed
Blank walls. Empty floors. White coffered ceilings. Good Seed is a simple, open-concept cafe textured with just enough rustic elements (earth-toned seats, a natural rug, free-shaped wood boards) to feel boho. Pick up their house espresso or Instagram-worthy superfood latte (don't knock it till you try it) to-go.
Solvang Restaurant
Solvang Restaurant is where you go for aebleskiver, small Danish-style pancake-like wads. Sheathed in powdered sugar and raspberry jam, Solvang Restaurant's aebleskiver tend to run sweet. Order a plate with a side of coffee (they serve you a standard mug of black coffee, but it tastes so good alongside a trio of ball-shaped Danish snacks).
The Coffee House
The Coffee House is the kind of place you casually stroll into for a morning pick-me-up. Parts of The Coffee House feel done-up and formal; parts of The Coffee House feel like a warm, welcoming living room space. It's the kind of place that's equally easy to work out of and relax into. Order any of their flavored lattes. Treat yourself to a fresh-baked pastry too.
Travel Tip: The Coffee House has a children's play area. If you're visiting with young kids, know that The Coffee House has an interactive chalkboard wall and an assortment of toys for them to play with!
Best Breakfast In Solvang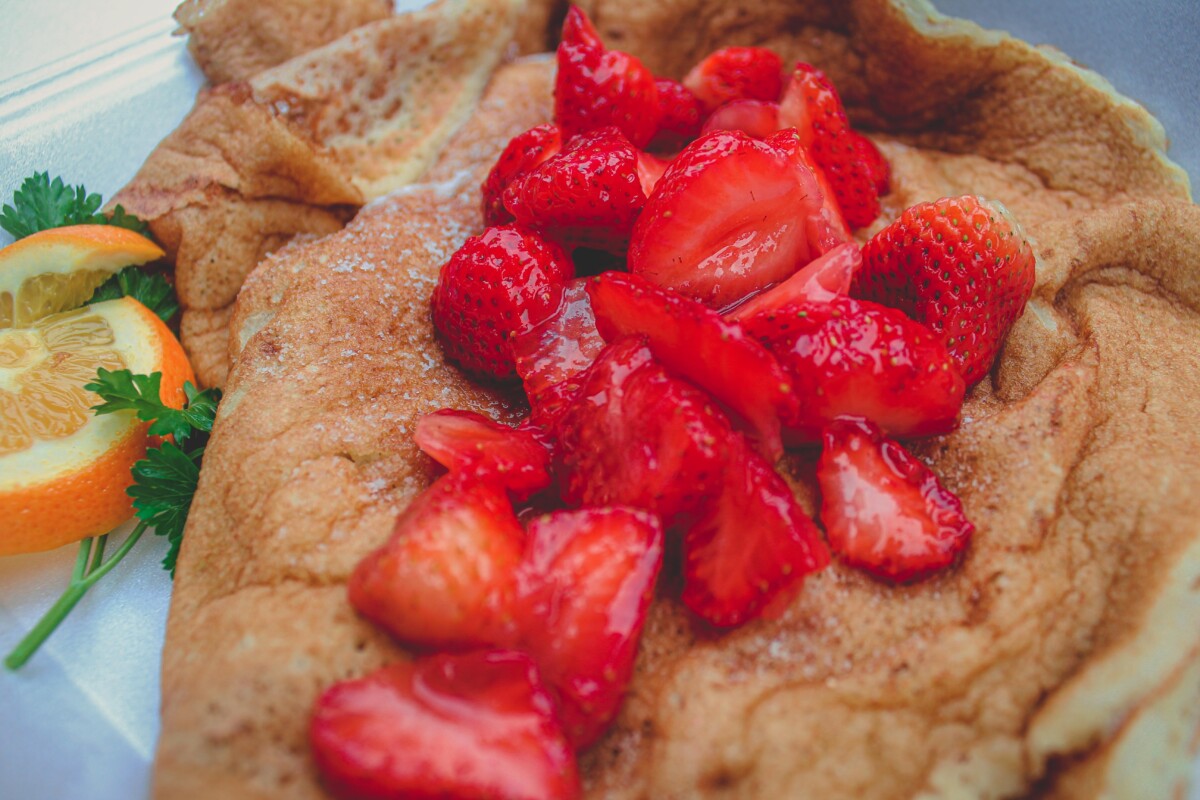 Brekkies
Brekkies launched with the intention of being one of the best breakfast restaurants in Solvang, and it absolutely is. Spearheaded by Aaron Petersen, a Solvang-area entrepreneur with a Midas-touch (he owns CHOMP Burgers, Fries, And Shakes and co-owns The Coffee House too), Brekkies' strikes gold with its berry-capped Belgian waffles, nutella-coated banana pancakes, and gravy-smothered tater tots.
Paula's Pancake House
Quaint, cute Paula's Pancake House has a lot of Solvang-style charm. Christmas red floors. Cafe curtains. An L-shaped diner counter. This local cafe is one of the most popular breakfast restaurants in Solvang. Go at opening because Paula's (despite the ample indoor and outdoor seating) fills up fast (and lines get l-o-n-g). Stick to Paula's Special, two delectably soft, crepe-thin Danish pancakes topped with fresh strawberries and dollops of whipped cream.
Peasants Feast
Peasants Feast is a bit of a misnomer. This easygoing veg-leaning cafe is on the more luxurious-end (heck, caviar is on the menu). And plates, whilst generous, are still sized for one. That being said, Peasants Feast makes good, community-centered meals well-worth its Bib Gourmand status. Ingredients are plucked-from-the-ground fresh and decidedly seasonal. Opt for their creamy Cauliflower Soup, innovative Mushroom "Cappuccino", or Solvang Hot Chicken (crispy buttermilk fried chicken sandwiched between two airy, domed brioche buns).
Best Restaurants In Solvang For Lunch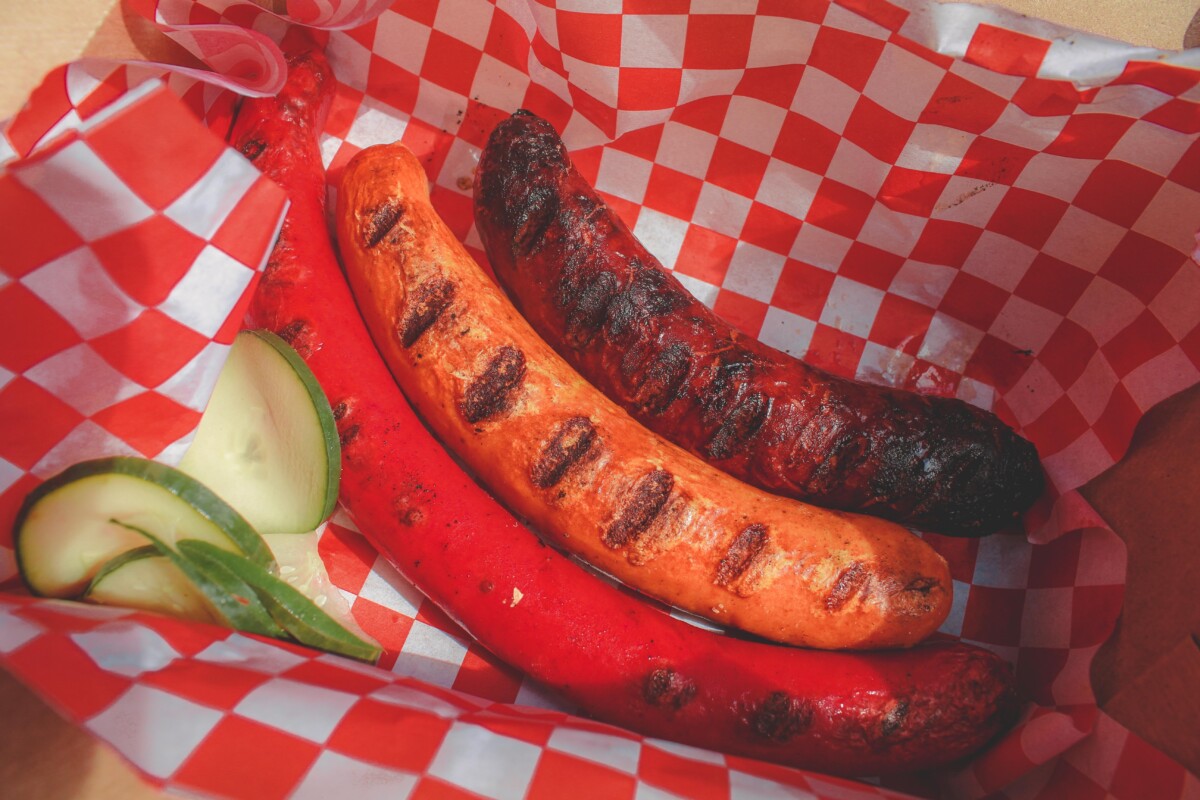 Copenhagen Sausage Garden
Copenhagen Sausage Garden is the kind of place you'll want to spend an hour in. Food doesn't take long to reach your table (this is a fairly quick-service restaurant, after all), but the atmosphere is so relaxed, so chill, so un-Solvang-like in its busyness, you'll want to stay and soak it up. Go with a group of friends. Order the sausage sampler. Then give yourself permission to go crazy at the condiment station. Copenhagen Sausage Garden's range of dipping sauces (no extra cost, just pump whatever you want at their small picnic-sized outdoor counter) is what makes this one of the best restaurants in Solvang.
P.S. Add-on a pretzel (it's huge and well worth-it).
Don Nacho's Cafe
Nachos might not be the first thing that come to mind when you think of restaurants in Solvang. But in a world of kitsch-driven Danish food, sometimes it's nice to give your palate a break. Enter Don Nacho's Cafe, a hole-in-the-wall Cal-Mex eatery with a lot of family-driven charm. Despite it's size (seriously, Don Nacho's is tiny and easy-to-miss), this cafe packs in a lot of atmosphere: rainbow-colored chairs, splashes of geometric wallpaper, a cute white-picket-fenced indoor patio. Get the Nachos Supreme, a shareable-sized, sour cream loaded dish that is sure to satisfy.
Mad & Vin
Sleek, polished Mad & Vin makes for the perfect brunch date spot. It's intimate and trendy but not in-your-face pretentious. There's a casual air to Mad & Vin (perhaps from its Scandi-style seats, bulbous pendant lights, and glitzy M+V signage) that makes it more approachable than most other upscale brunch restaurants in Solvang. Order anything. You're in good hands. Mad & Vin takes its Santa Ynez Valley inspired menu seriously; each dish focuses on presentation, flavor, and texture. Reservations are a must (you can book here).
Travel Tip: Mad & Vin's brunch is weekend-only so if you can't make it then, slip this recommendation into your Solvang dinner plans.
Best Restaurants In Solvang For Dinner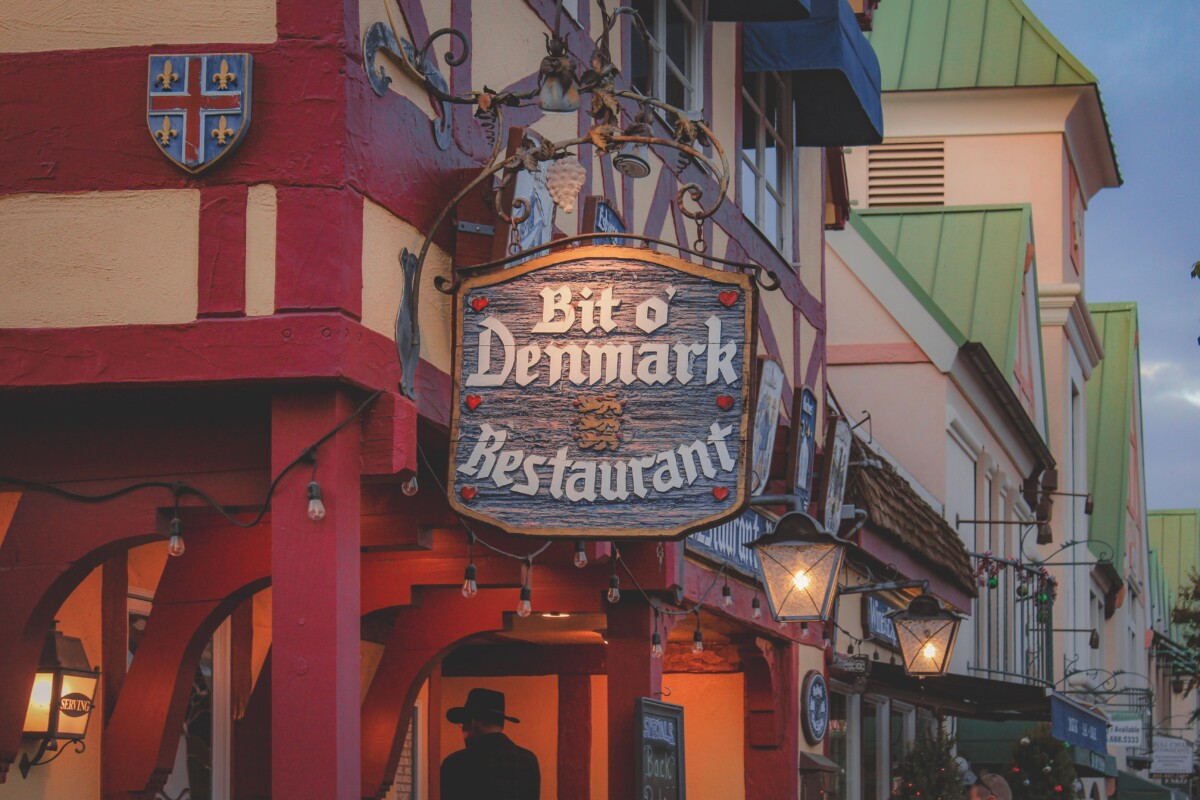 Bit O'Denmark Restaurant
One of the oldest restaurants in Solvang, Bit O'Denmark's history dates back to the early 20th century (when it was originally a schoolhouse). The landmark restaurant came decades later, and it's been a Solvang staple ever since. Our opinion? Bit O'Denmark definitely benefits from the belief that "when in Solvang, you must try Danish food." The menu here caters to that. Despite the overall clangy, tourist-driven atmosphere, we still recommend visiting at least once (especially if this is your first time in Solvang) for their Danish dinner entrees, each of which is served with soft, tangy red cabbage and roasted (or mashed) potatoes.
First & Oak
Situated in the luxurious Mirabelle Inn, First & Oak is yet another Michelin Guide restaurant in Solvang. Plates are designed to be flavor-forward expressions of seasonality. Textures are toyed with; fine-dining classics are stripped down and reconstructed Santa Ynez style. Wines soften each course (and yes, you will want to go for the Five Course Tasting Menu). First & Oak is a splurge worthy of a special date-night, a long-awaited reunion, or an intimate proposal (make reservations here).
Sear Steakhouse
If you're looking for a low-lit, upscale Solvang dinner spot that delivers on the meats, book a seat at Sear Steakhouse. Sear is attentive; quality of service and quality of food is prized. So go for an anniversary dinner (insider secret: they usually bring out a complimentary Brownie ala Mode when you do). Start with the Wild Blue Crab Cakes, Roasted Bone Marrow, or Pacific Oysters. Follow up with either the Jidori Chicken or Beef Wellington (though, to be honest, straying from Sear's menu highlights is not a bad idea either).

Did you visit any of these restaurants in Solvang? What are your favorite restaurants in Solvang? Let me know in the comments below!