Salmon Ruins is the gateway to one of New Mexico's most underrated cities – Farmington.
It's a Chacoan site, dating back to 1089 CE. Comprised of the remains of a kiva and three-story pueblo, Salmon Ruins has been a hub of historic discovery since the late 1900s.
I visited a while ago (on a cold winter day when the breeze was sharp), but I'll never forget my first trip to the area.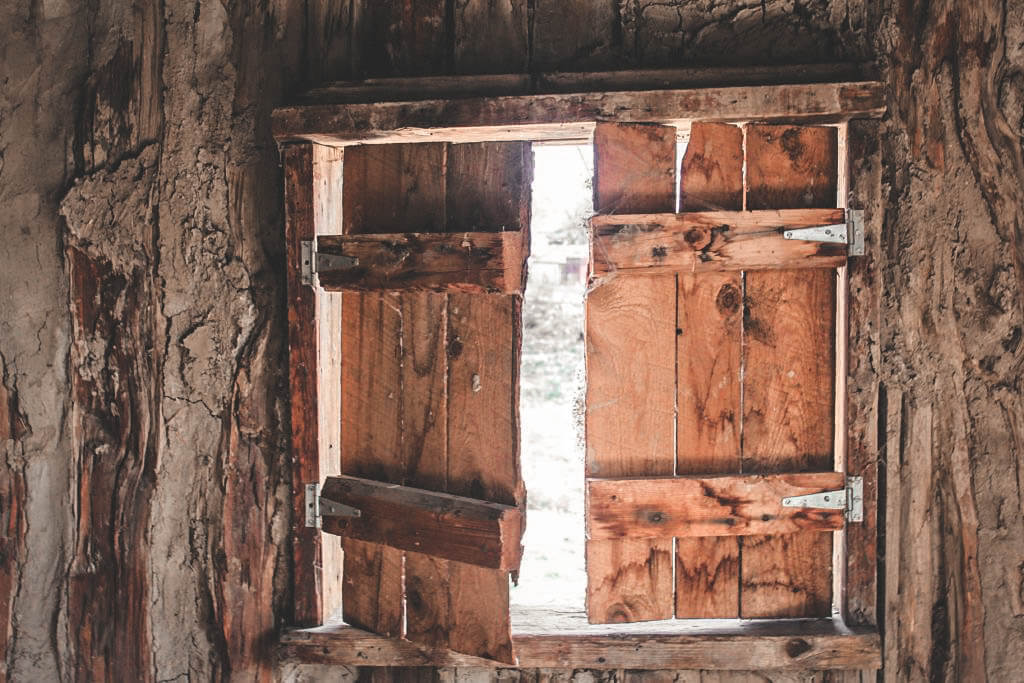 I was traveling along Highway 64 with the windows rolled down. At some point, the barren landscape, with rolling hills and sudden rugged drops, flattened to a level plain. The buildings (one-story homes – the wooden kind with old-world character) melded together into a tidy path.
Then, I saw the sign I was looking for – a big brown board that read Salmon Ruins.
Quick side note: I happily called the site salmon, like the fish, during the entirety of my visit until the kind staff informed me otherwise. Whoops!
I was about halfway through Bloomfield on the way to Farmington. And from here, Salmon Ruins looked like nothing more than a school library nestled on a big mound.
But beyond the enclosed space was well over a few acres of archaeological discoveries.
If you're planning on visiting Salmon Ruins, here are 7 reasons you should visit (along with a few travel tips).
Salmon Ruins Is Never Crowded
Farmington, a large how-is-this-under-the-radar city roughly in the center of northwestern New Mexico, isn't on most travelers' itineraries. It's a hop-off stop on some road trips (you know, the kind of place where you stretch your legs, grab some food, and sigh slightly as you re-enter the car because you've been driving for 8 hours non-stop).
As a result, Salmon Ruins doesn't get too many visitors.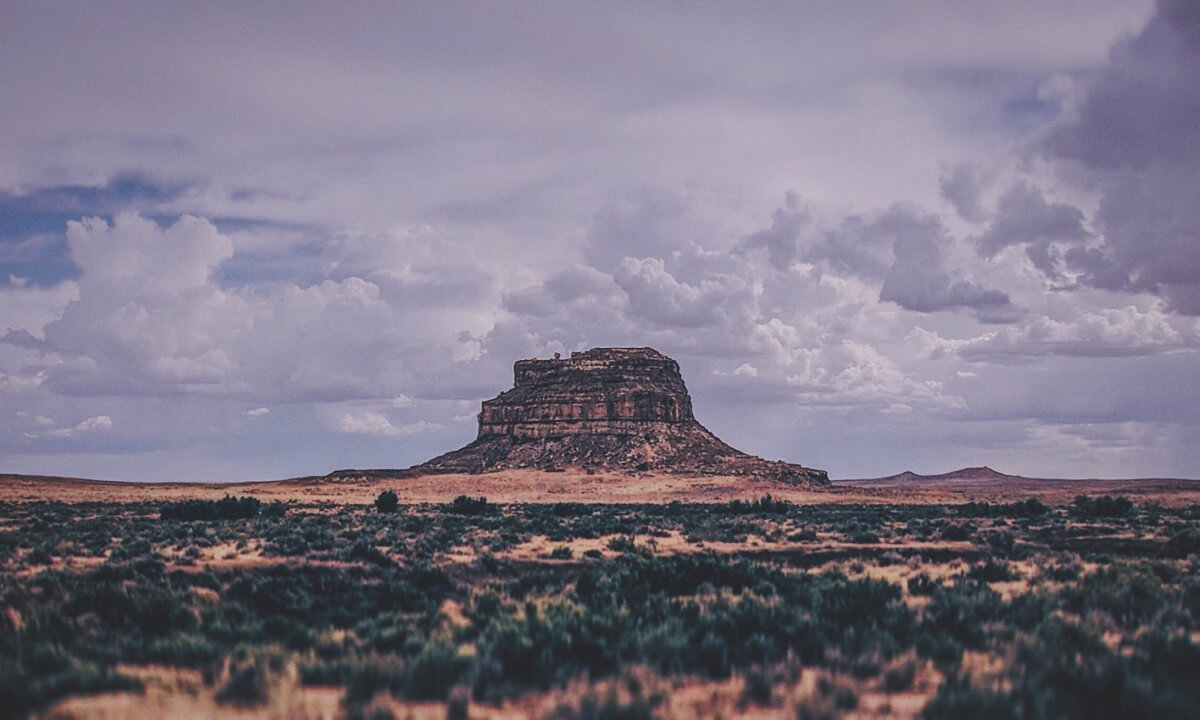 If you're in the area, try to visit Chaco Culture (an hour away), a National Park and UNESCO World Heritage Site, home to Chetro Ketl, a giant ancestral Pueblo site lapped by rugged bare-bones land. Chaco Culture is the main site. And Salmon Ruins is an outlier, a settlement established by the people of Chaco Canyon.
I personally loved having Salmon Ruins all to myself. After a few days exploring some of the bigger tourist highlights in New Mexico, it felt good to be here (don't get me wrong, I love a good tourist site but standing in long lines can be tiresome. Salmon Ruins was the perfect breath of fresh air).
It's Every History Buff's Dream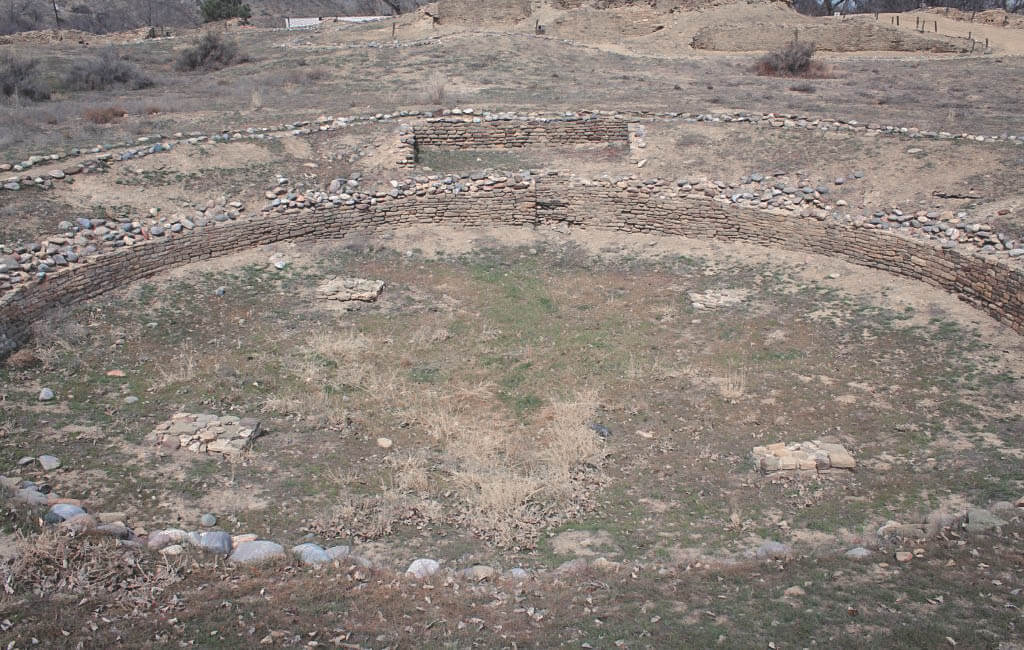 There's almost 1000 years of history at Salmon Ruins.
It's crazy and wild in a mind-blowing, your-inner-nerd-is-going-to-freak-out sort of way.
Built on the bank of the San Juan County River, Salmon Ruins is the largest outlier colony established outside of Chaco Canyon.
History Of Salmon Ruins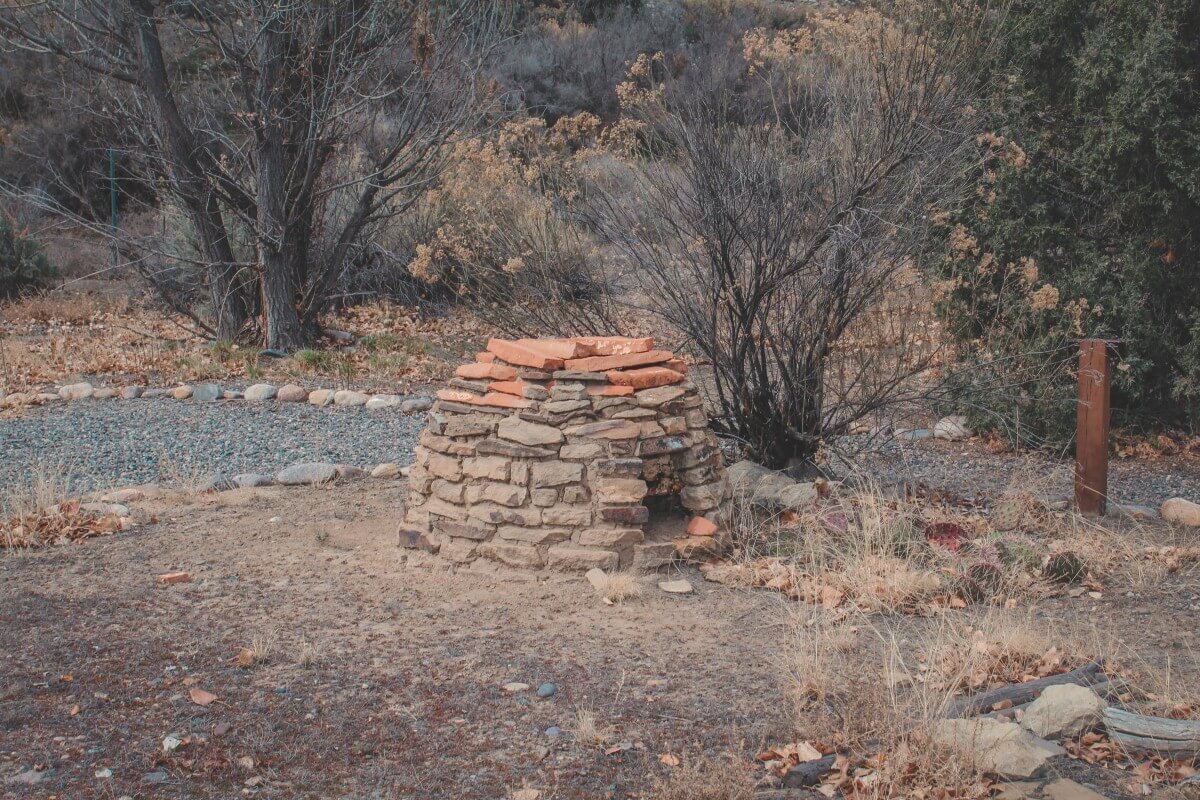 Once upon a time (in 1064 AD), a tiny settlement, by a big river, was established.
One day, the people of this settlement thought that the big river might flood the area (just a theory). So after two decades, they moved to the nearby Aztec Pueblo [source].
In 1160 AD, a hodgepodge of groups found their way to that abandoned site. They occupied and reoccupied the Pueblo.
By 1250, the second big group (San Juan) also left. And after that – crickets. Silence.
The silence ended with the voice of homesteaders in the late 1800s. The Salmon family, particularly George Salmon, claimed Salmon Ruins (hence the name).
After San Juan County purchased the area in the mid-1960s, the pueblo went through a crazy excavation period. And the artifacts found are still held on-site (cue end of history lesson).
What You'll See At Salmon Ruins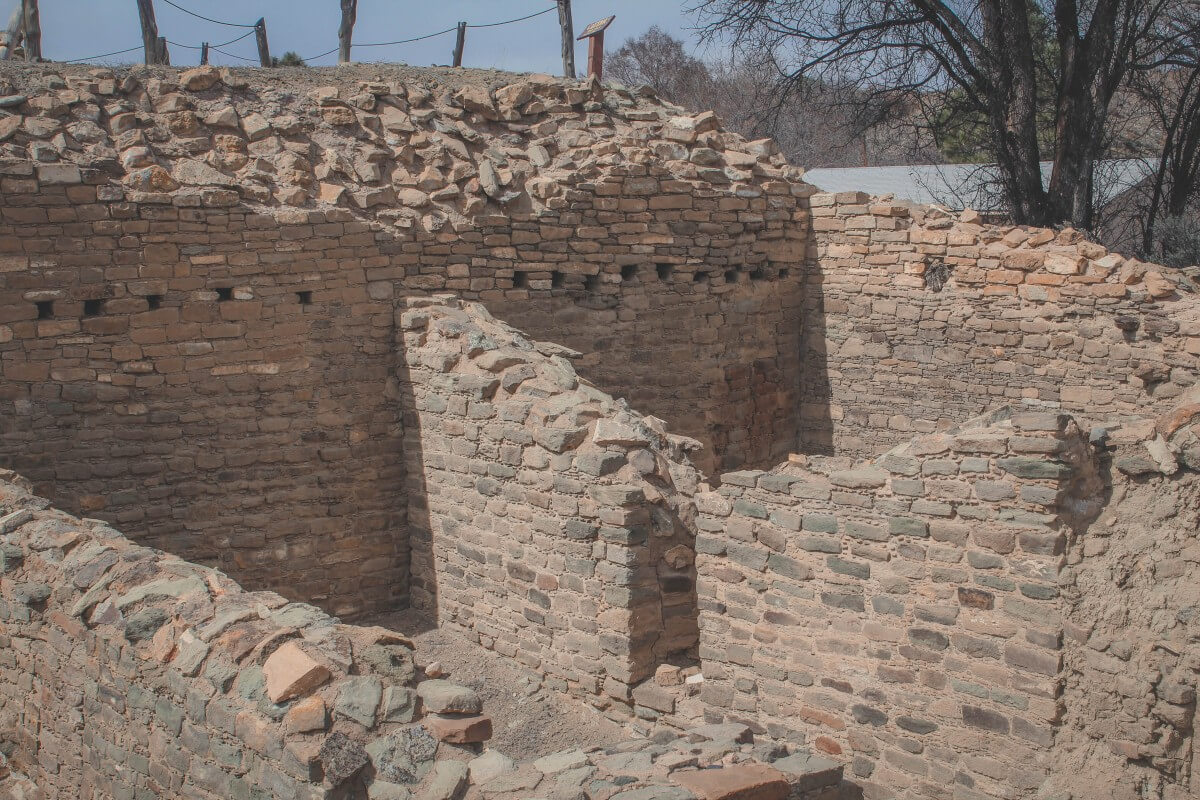 The story of a once-thriving community is told, today, in stone.
Stone everywhere. Stone half dug up. Stone half-baked in. Stone that's lightly colored and stone that's dark and deep.
The stones are laid out into groups, pushed up from the ground.
That day, I wound through the stony maze. My breath formed little clouds as the cold whipped in-and-out.
There were relics of the first (Chaco) occupation and the second (San Juan) occupation.
And as I walked from post to post, the nuanced difference between the architectural styles of the two groups became clearer and clearer.
Some areas were defined by more circular structures and others, by sturdy parallel bodies of stone bricks.
The first floor was well-preserved. I could feel the very breath of that excavated layer. But the others, in that multi-story space, were rubbles of memories.
Plus, There's An Ancient Observatory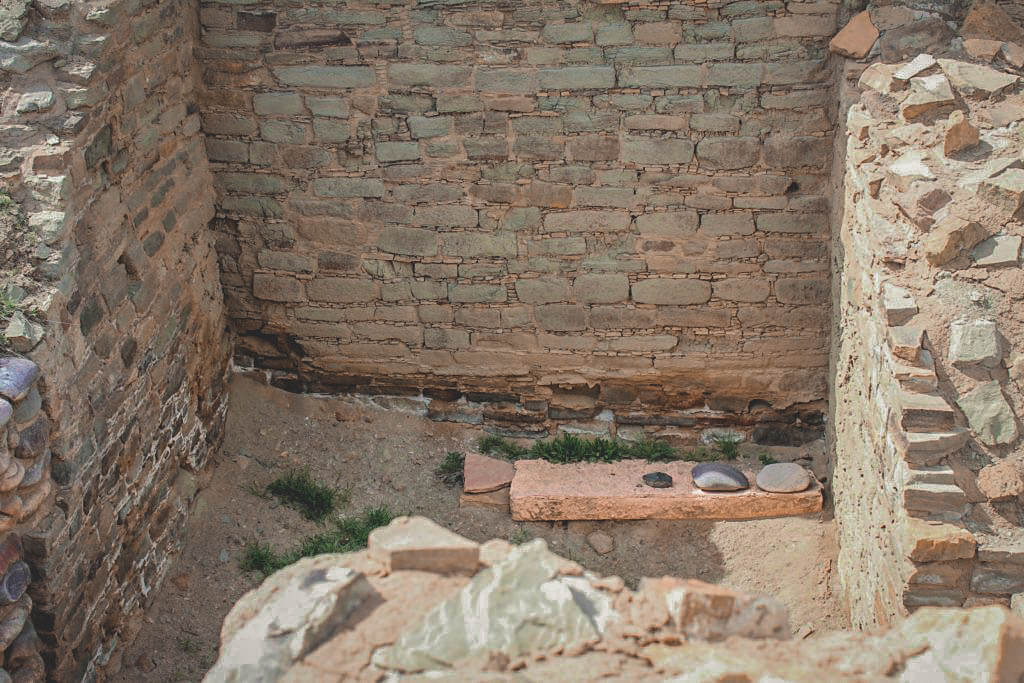 As I continued walking, my guide, Nancy (note that Salmon Ruins tours are normally self-guided), pointed out a spot that I would have otherwise missed.
Salmon Ruins is home to a rare discovery – an ancient observatory.
It's an unassuming little place, a room with a slab that holds two rocks.
During the summer solstice, the natural sunlight forms a direct path on the white rock. The rest of the observatory is dimmed in shade.
Travel Tip: If your trip falls in line with the summer solstice, call (505-632-2013) and check if they have any watch events!
The precision and accuracy with which the Chaco people studied the solar system is unbelievable (I mean, I'm still in disbelief). Crazy, huh?
And Not To Worry, Mathematicians Will Enjoy Salmon Ruins Too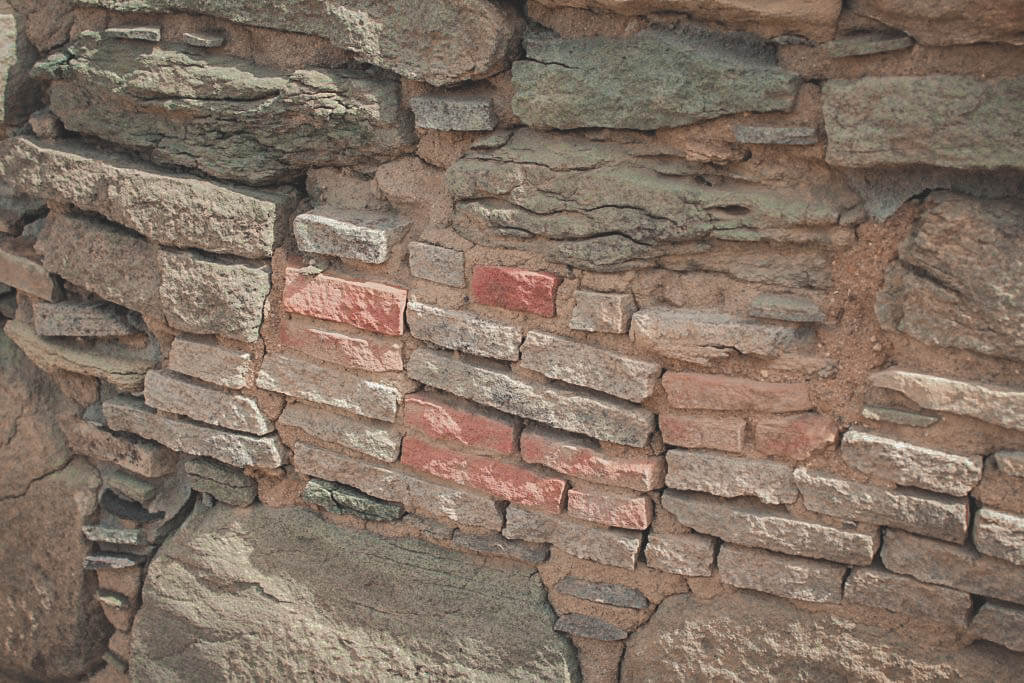 There's a cluster of red stones that's even easier to miss than the ancient observatory (so keep a lookout for it).
The cluster, it turns out, bisects the entire scope of the ruins. It also serves as a location marker for the chief religious kiva on the opposite side. How amazing is that?
The Chaco people were not only incredible astronomers but also incredible mathematicians!
The Salmon Ruins Museum. Enough Said.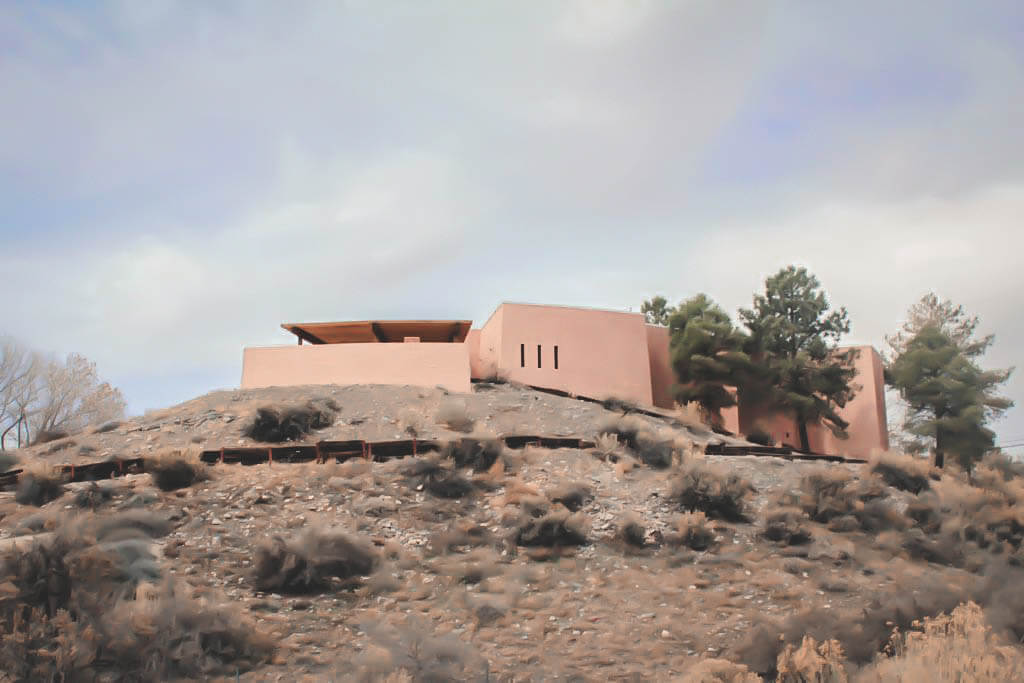 After exploring, I circled around the excavation site and headed back up the incline (p.s. there's a handicap accessible slope if needed).
I wanted to save the museum for last because the building wasn't just a myriad of artifacts anymore. It was something different, something bigger, something incredible.
Each panel in the Salmon Ruins museum had unique findings (most from the ruins themselves, but a few are from nearby areas).
I recognized the names of places I saw outside. As I ambled past well-crafted pottery and brightly colored rugs, the story of Salmon Ruins tied together.
Or Relax At Heritage Park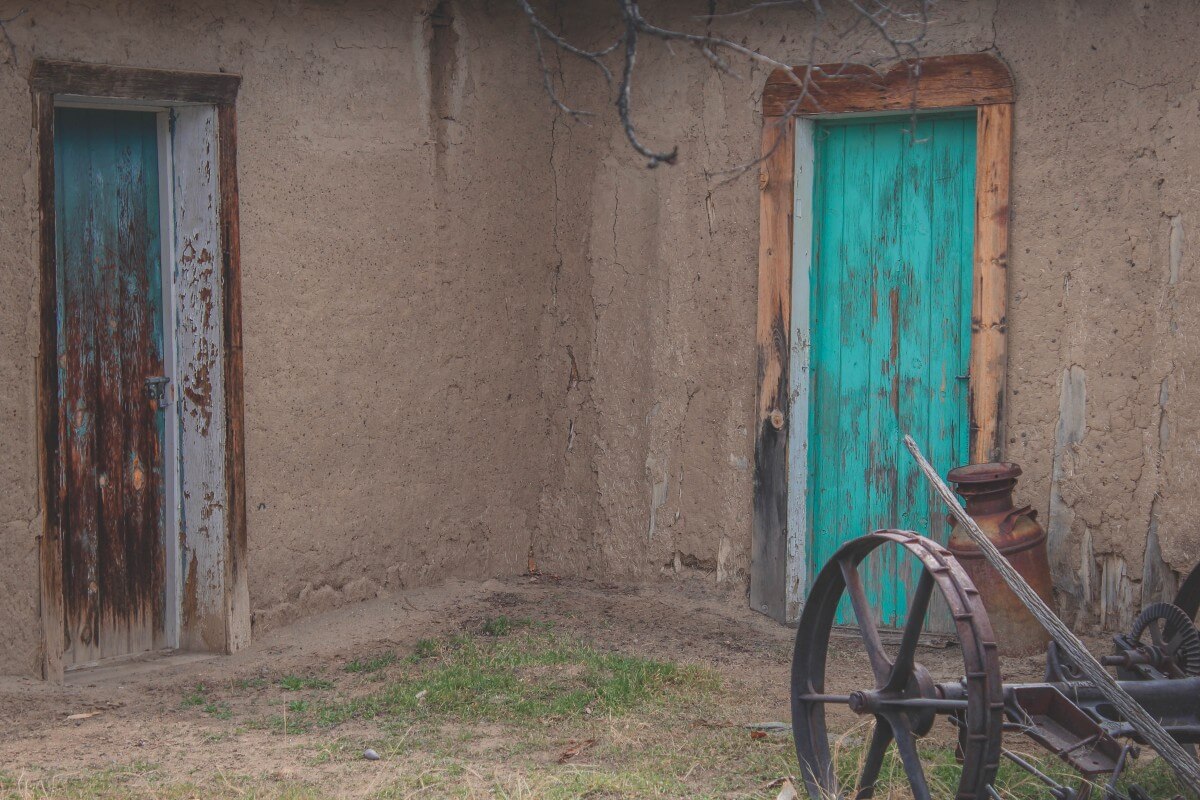 If you want to extend your trip, check out Heritage Park.
Heritage Park is an interactive spot, complete with picnic tables and replicas of tipis, hogans, a trading post, and a sweatlodge.
You can walk into them if you'd like. I probably would have spent more time there had I not discovered the library (y'all know me – I'll be where the books are).
Visit The Niche Salmon Ruins Library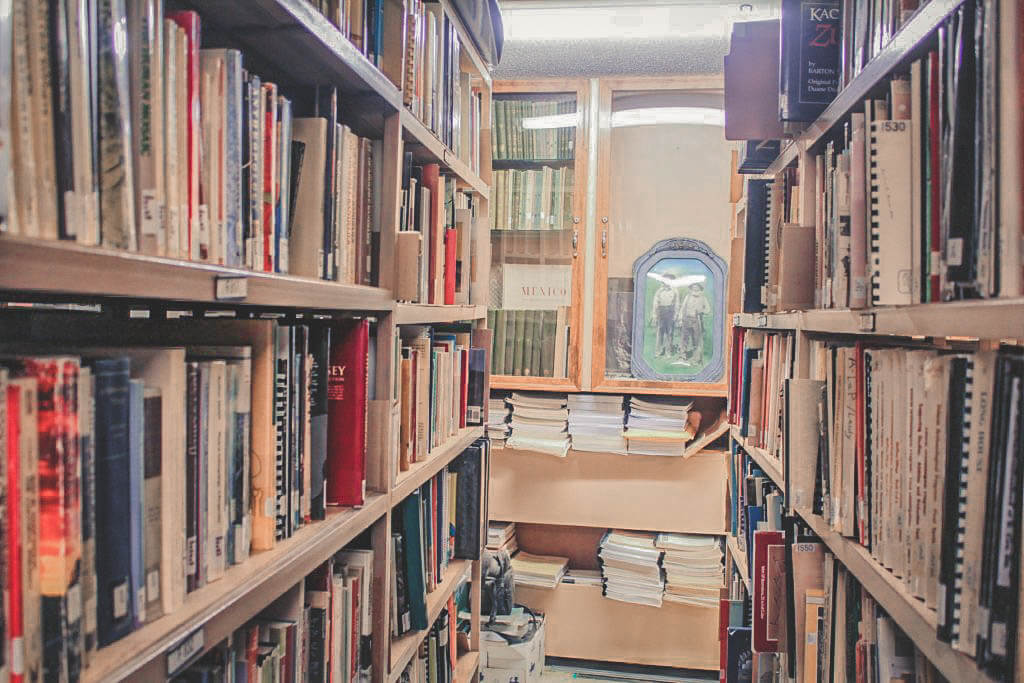 Real talk: The Salmon Ruins Library is one of the coolest libraries I've ever been to. And it's not because it's architecturally stunning or aesthetically pleasing – it's because it's a huge niche collection.
The room has papers scattered on the tables, shoved between the shelves, strewn along the floor.
The Salmon Ruins Library, at first glance, seems like absolute chaos, but instead, it's a methodically mad research library. And it contains the most extensive collection of Native American books that I've ever seen (there are over 17000 titles here).
Finally, Go To Salmon Ruins Because You'll Feel Like Indiana Jones In Real Life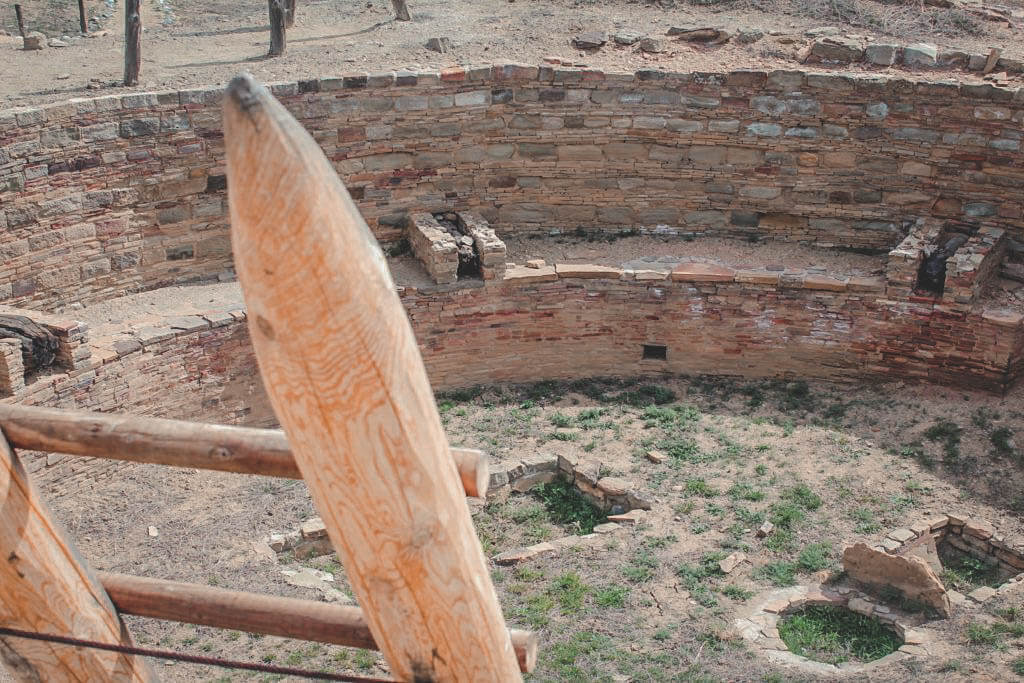 While at Salmon Ruins, I felt like Indiana Jones.
I've always had the itch to see a real archeological dig – to find something that no one has ever found before (the latter didn't happen but the first did and that's more than enough).
So when I revisited the kiva, my smile was huge.
I stood still, took a deep breath, and closed my eyes. I closed my eyes and listened to the stories of the past.
Did you enjoy this Salmon Ruins travel guide? Have you ever visited Salmon Ruins? Let me know in the comments below! As always, I'd love to hear from you.