The drive from Santa Fe to Taos (or Taos to Santa Fe, should you choose) is short. But when it comes to New Mexico's High Road and Low Road, it's the journey that matters in the end.
The Low Road is the direct route – a highway that, for the most part, trails along the Rio Grande River. The High Road, a curve of small art-based towns, is lengthier.
Today, I want us to get a feel for each pinprick along NM 503 and NM 68. A straight cut from Santa Fe to Taos is only two hours, but we'll extend our trip for as long as possible (side note: I never want to leave New Mexico).
This is the story of our Santa Fe to Taos drive.
Stop 1: Grab Some Iconik Coffee In Santa Fe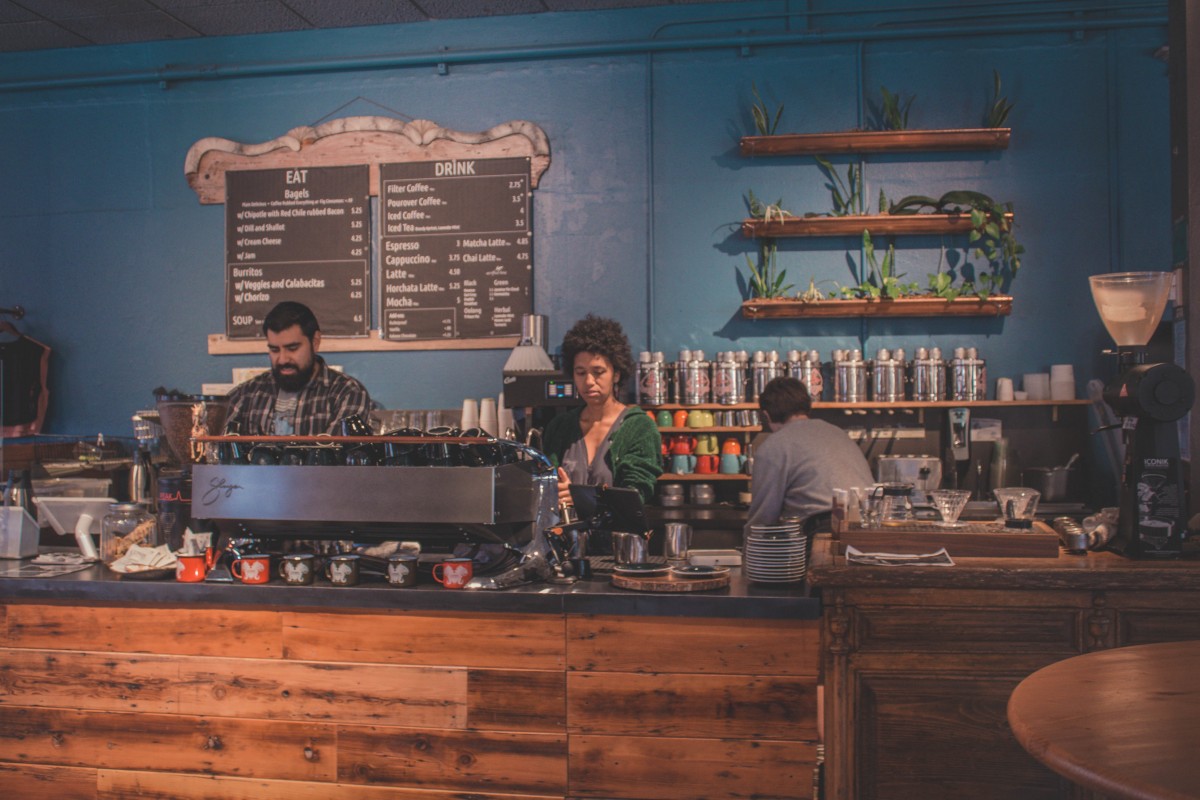 From yoga mornings to kombucha nights, Santa Fe's been an on-trend hippie town for as long as I can remember.
Collected Works, a locally-owned boutique bookstore, is a little different. A mix of modern and boho, Collected Works stocks up on everything from popular titles to indie comics (and of course, Southwestern travel guides).
It's a store that nibbles on trends. So if you're looking for a no-frills pick-me-up en-route to Taos, this is the place. And if you like something with a bit of kick (me – all the way), they've got that too (horchata latte. enough said).
The coffee served here is Iconik Roasters, a third-wave brand that knows how to grind a specialty mix. And the drinks here are good – really good. You'll have to trust me on that.
Travel Tip: If you're feeling hungry, order the Chipotle With Red Chile And Bacon Bagel. You can never go wrong with chile in New Mexico.
Stop 2: Explore Plaza De Española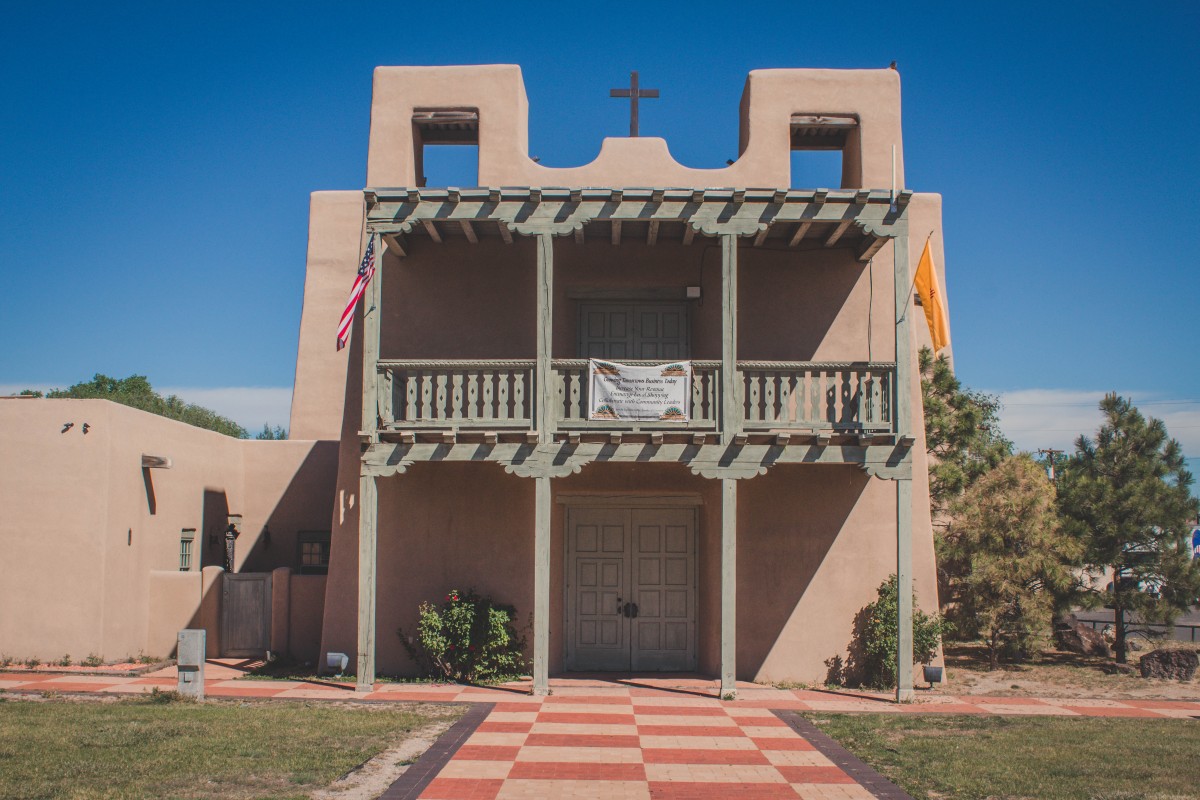 When we arrive in Española, a small town roughly 30 minutes north of Santa Fe, we're greeted by a historic square.
Misión Museum y Convento, a replica of a 16th-century Spanish church, lies along checkerboard sidewalks. Inside, past an adjoining quarter, the heavy New Mexico sun beats down on knee-high flower bushes, a thick stone fountain, and green-tinted columns.
The museum is part of Plaza de Española, a stretch of historic sights. It's a quick stop, but one you'll fall in love with in a heartbeat.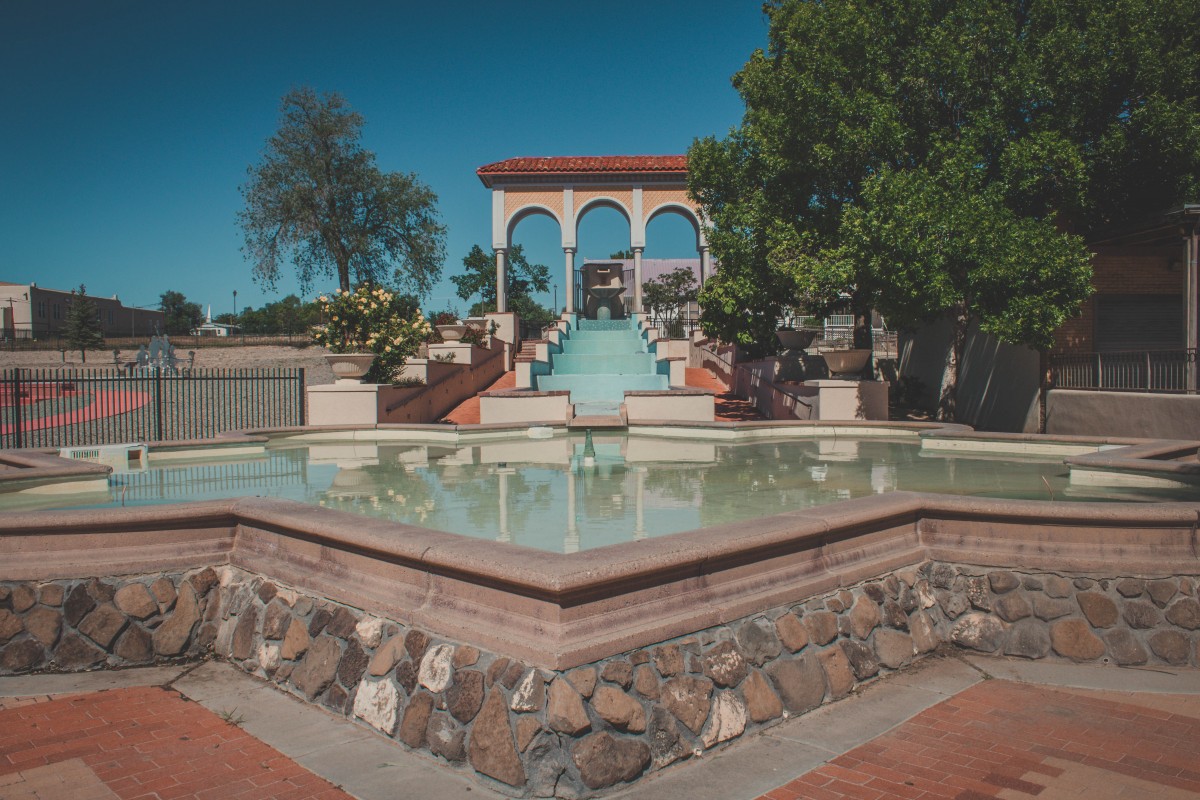 New Mexico's High Road and Low Road start (and end, if you're traveling from Taos to Santa Fe) in Española. Gas is a tough find along both paths (virtually non-existent on the Low Road) so stock up here.
From Española, the scenic loop continues for roughly 100 miles.
Mini Santa Fe to Taos Drive Packing List:
One Portable Can Of Gas (5 gallons recommended). Check.
Offline Map. Check.
Water. Check.
Snacks (there aren't many restaurants along the way). Check.
Camera. Check.
Walking Shoes. Check.
During our last hour in town, we explore the fringes of the Bond Museum, Veterans Memorial, and Iglesia De La Santa Cruz de la Cañada before heading out to Chimayó (we're taking the High Road first). With vivid street art and romantic bed and breakfasts, Española is an easy town to come back to.
So we will.
Stop 3: Visit El Santuario De Chimayó
El Santuario de Chimayó is a pilgrimage site. Over a quarter-million people, each year, trek to this big spot in this big New Mexico town to see this big church.
El Santuario de Chimayó is a beautiful tan building, sculpted from fat slabs of adobe. Like most old churches in New Mexico, it's minimal and bordered by rough cuts of wood.
The main draw is the miracle dirt, which many say have healing powers. But El Santuario de Chimayó is so much more than that. It's a place wrapped in a history dating back centuries.
Located on the same grounds is Santo Niño Chapel, a low-lit prayer room (named after Santo Niño de Atocha). As your feet cross the stone floor, you'll notice children's shoes left within the art-filled hall.
Legend has it, Santo Niño roams the grounds of Santuario de Chimayó at night. The shoes are gifts for him.
Travel Tip: Chimayó is peppered with several gorgeous art galleries (most are right off the highway).
Stop 4: Catch A Glimpse Of Señora Del Rosario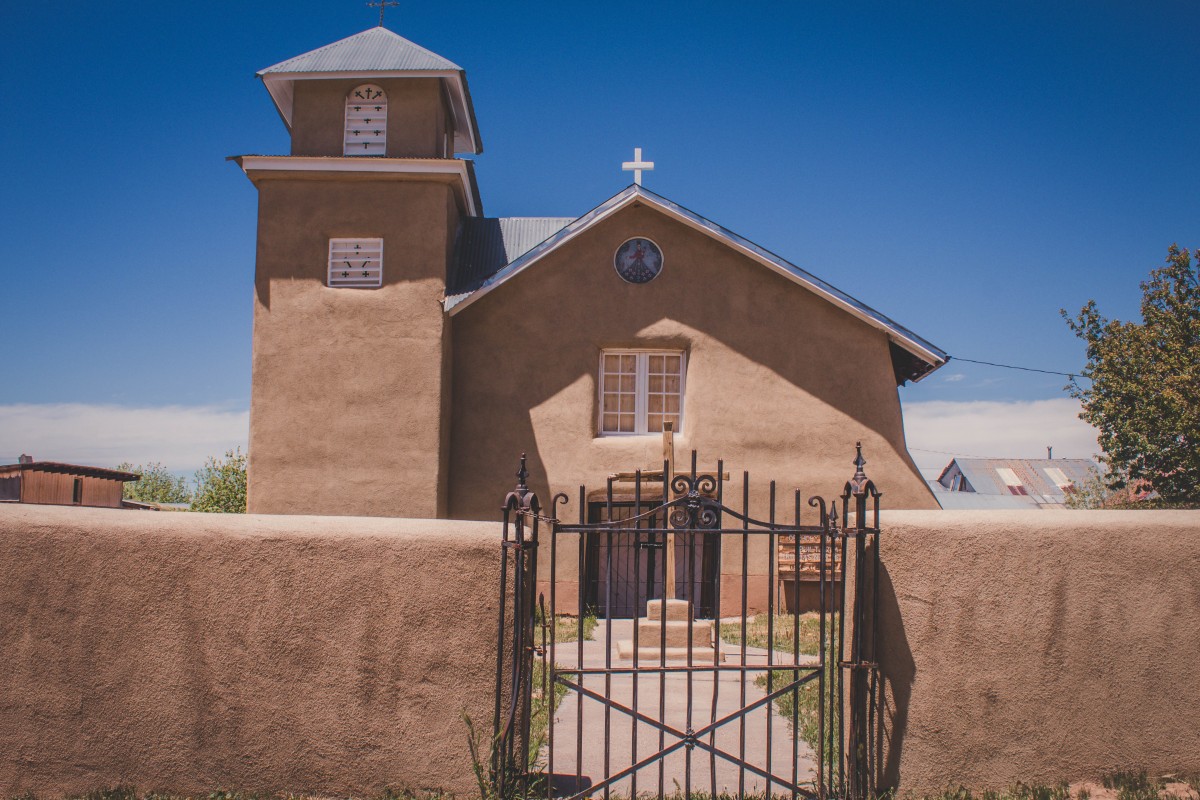 Señora del Rosario is known for its santeros.
It's a short church with a long history. Closed most of the year (save for a few Sundays in the summer) and hidden behind a general store, Señora del Rosario is a blink-and-you'll-miss-it attraction in Truchas.
But it still needs to be on your Santa Fe to Taos itinerary.
After catching a drive-by glimpse of the church, wind out of the gravel alley and back onto the highway. Just a few steps ahead is an observation point.
And below is a landscape too pretty for words.
In Truchas, you can get a clean, undisturbed view of the snow-capped Truchas Peaks, a remote group of mountains in the Sangre de Cristo range. Homes lay flat along a bell curve of hills at the base of the crags.
It's beautiful. And majestic.
Stop 5: Set Foot Inside San José De Garcia Mission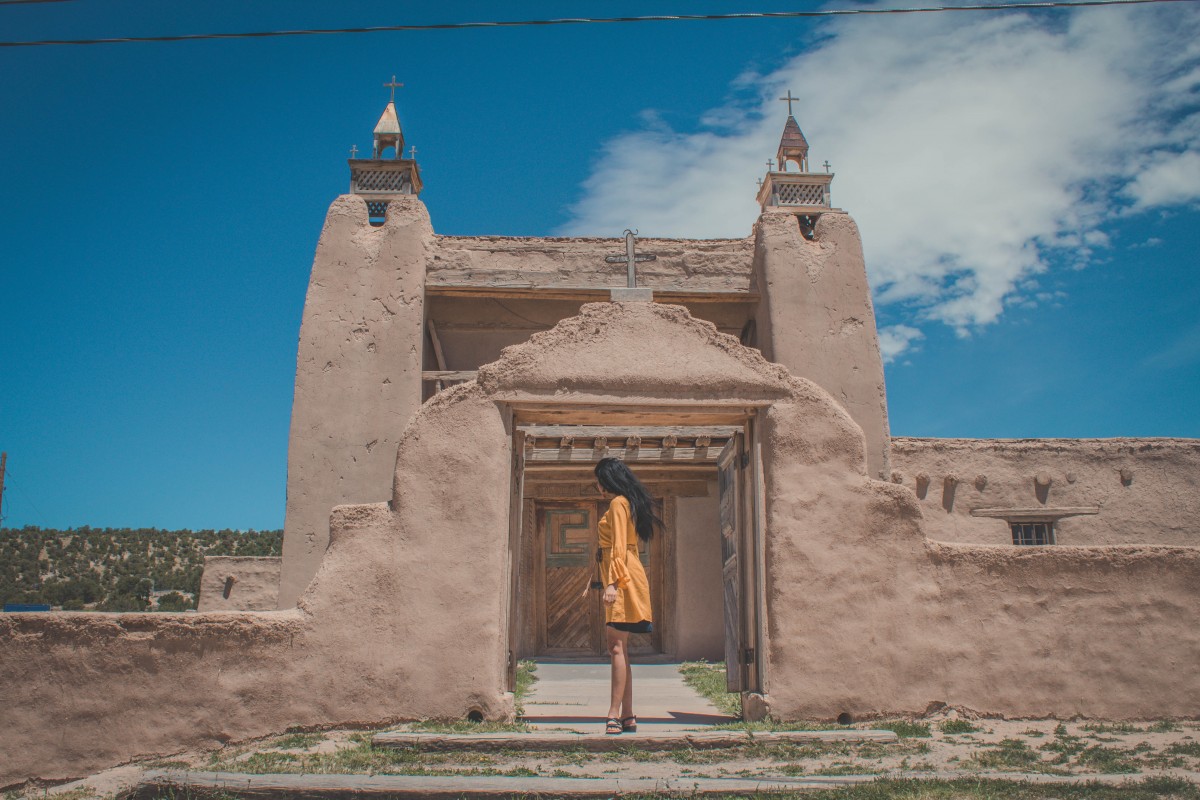 Trampas is a little village in Northern New Mexico. The town is isolated and less-trodden. Most cars zip by San José de Garcia Mission, a sun-baked adobe structure just off the highway.
San José de Garcia is a survivor. The church has barely been renovated since its 18th-century origin. And while a few slices of the outdoor walls are worn and cracked, the structure is sound and thick.
Trampas is the half-way point between Santa Fe and Taos so this is the perfect point to stop and stretch your legs.
Stop 6: Stroll Through Ranchos De Taos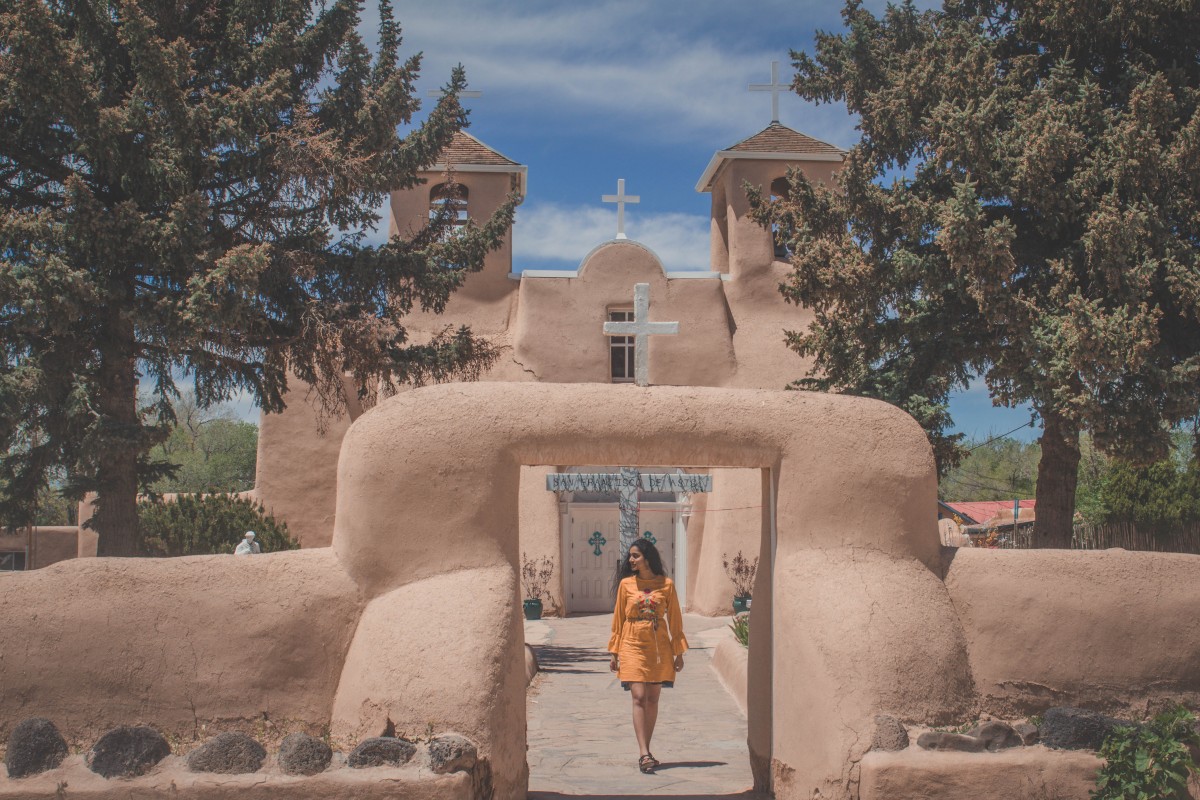 Dotted with local gift shops and fine art galleries (my personal favorite is Chimayo Trading Del Norte), Ranchos de Taos is a lively town just south of Taos proper.
Grab lunch within the borders of this former Spanish settlement. I spent a day here and wasn't disappointed by any of the eateries (I'm biased towards all New Mexican foods but y'all, the restaurants here are g-o-o-d).
Stop 7: Start Your Taos Trip At The Taos Pueblo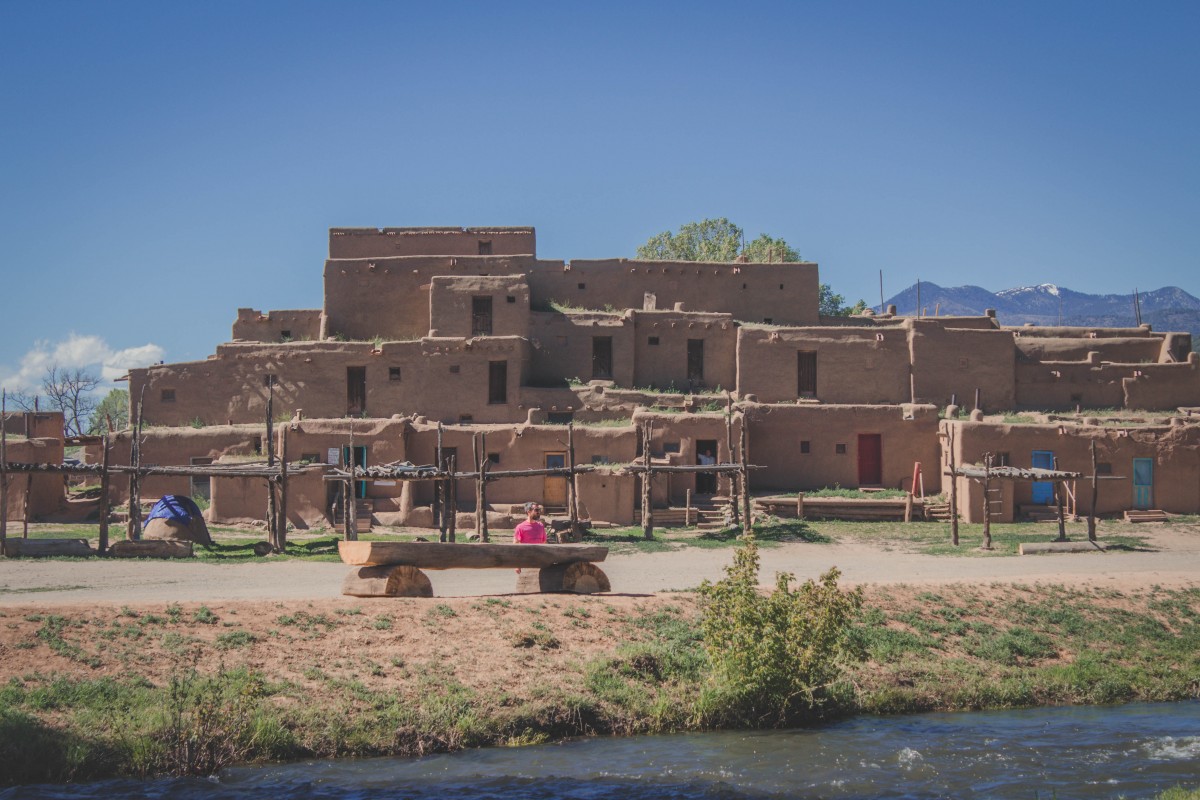 Taos Pueblo, a UNESCO World Heritage Site, is an ancient community just a mile north of Taos.
Beyond the main guided tour (admission is $16 per person), Taos Pueblo feels like a mish-mash between a historic destination and a commercial district. Every open door leads to an active shop.
Inside the Pueblo are narrow alleyways and staggered dwellings.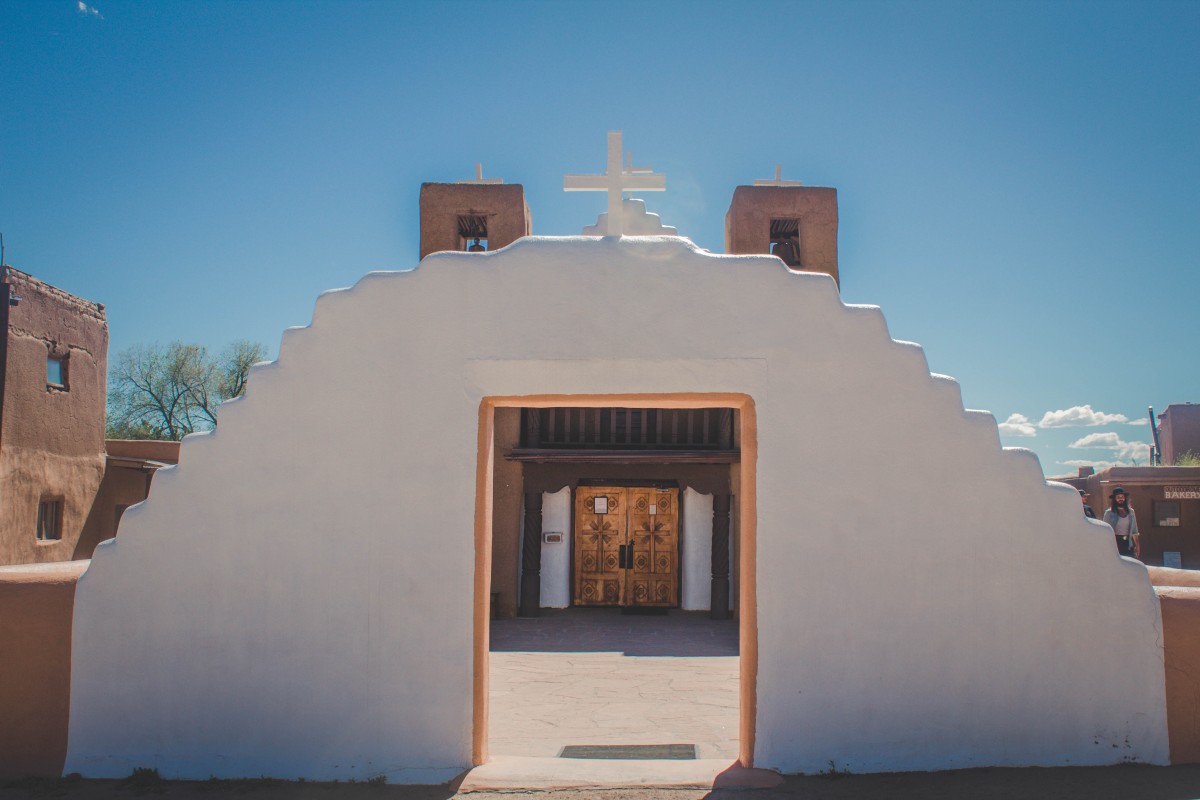 And although most areas are restricted, the architecture – especially the on-site church – is incredibly unique. St. Jerome Church embodies Taos Pueblo's complex religion (one that bends on the side of Catholicism but is mixed with old-world Native traditions)
Stop 8: Stretch Your Legs At The Rio Grande Gorge Bridge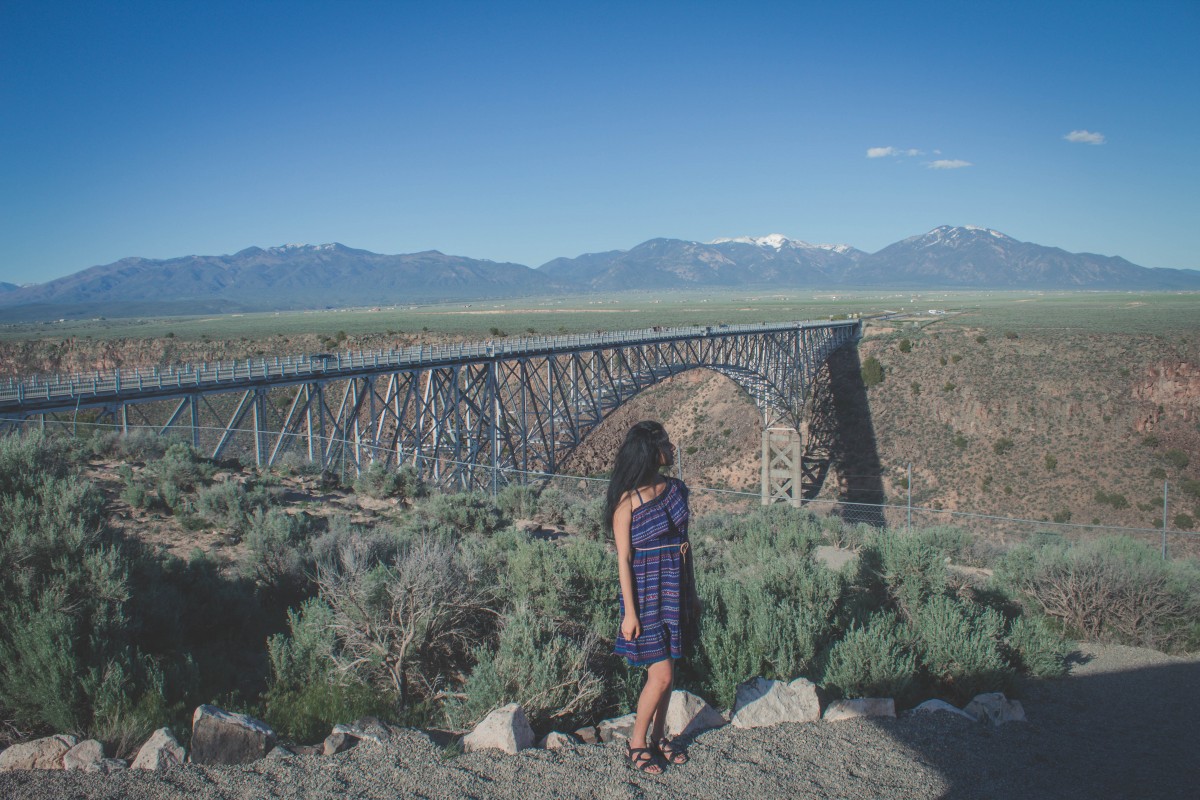 I fell in love with the Low Road between Taos and Santa Fe. I mean, the path follows the Rio Grande River. What more can I ask for in life?
And then there's the Rio Grande Gorge Bridge – wow, just wow.
If you're heading back to Santa Fe from Taos, take a small detour here. The Rio Grande Gorge Bridge is the tenth highest bridge in the United States (cue my fear of heights).
We park alongside the highway and start walking towards a low-fenced cliff.
A lady excitedly shuffles past us. "Did you see the rams?" she asks, grinning. I shake my head. She points in the opposite direction.
I cock my head back. Just a few steps from our car is a flock of bighorn sheep! They idly graze on the brush for several moments before lazily moving away to the top of the mound.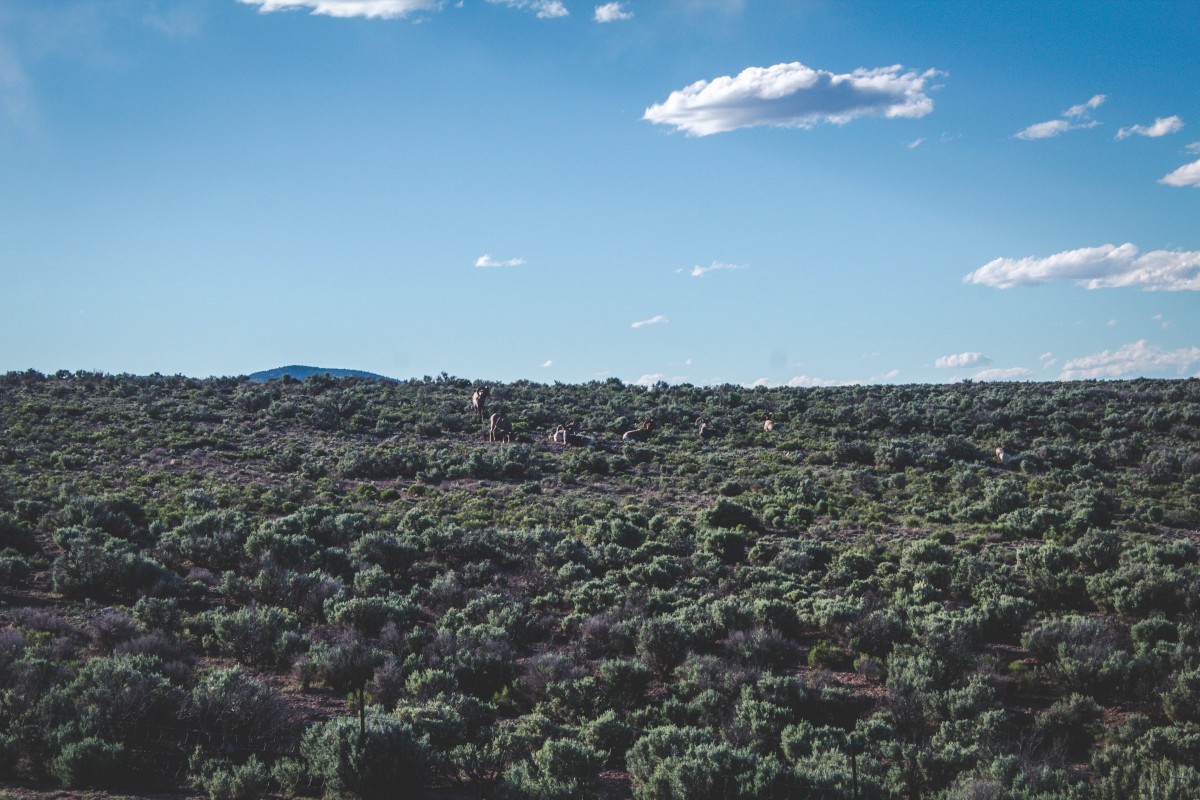 Stop 8: Catch The Views From The Taos Junction Campground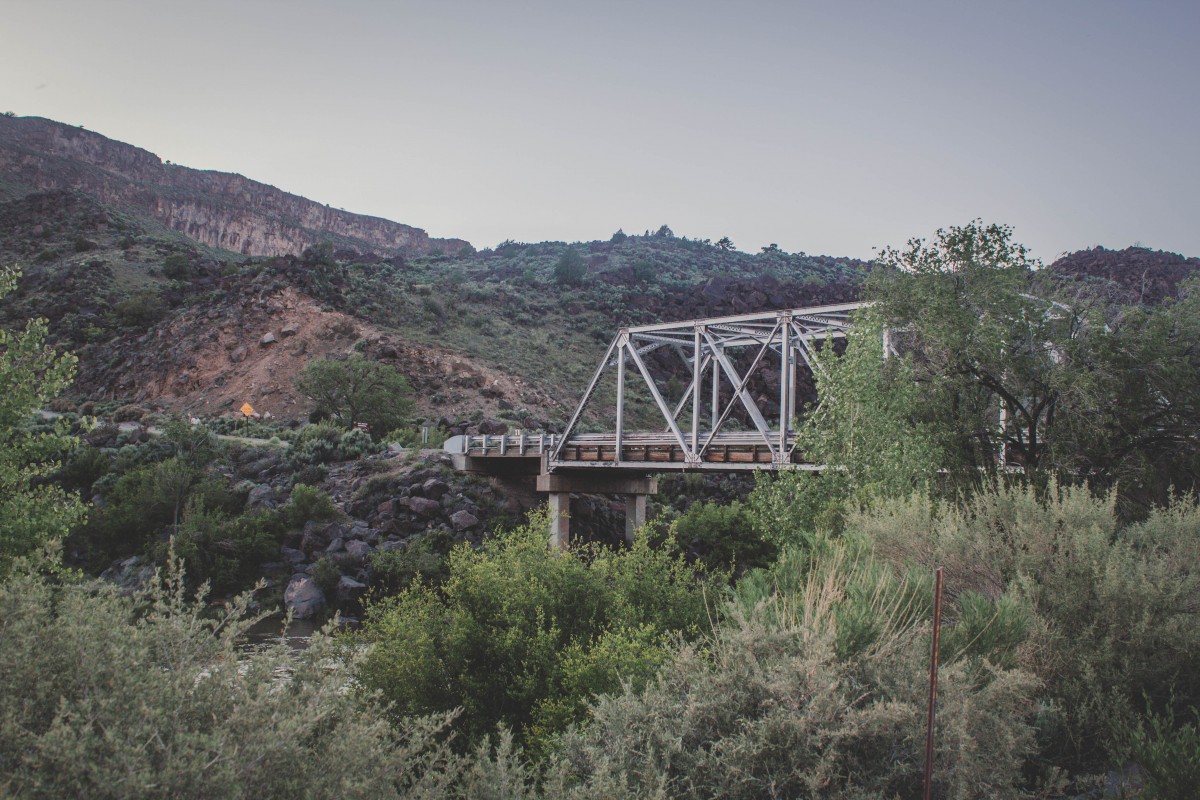 The Low Road is all about the views – some scarier than others.
Several miles out on the lonely highway, there's a small stretch that switches to a narrow dirt path (it's safe but brace yourself).
Eventually, you'll make your way to Taos Junction Campground, a hub of campervans, motorcycles, and RVs. Although I didn't stay the night, the campground turned out to be my favorite lookout point.
The Rio Grande River is so close, you can reach your hands towards it. The water here is a sharp blue, cool to touch.
Up ahead, a small crowd of people wafts along the stream.
From the Rio Grande Gorge Bridge, the river is dramatic. But from Taos Junction Campground, it looks gentle. Two stories. One road.
Stop 9: Pay A Visit To The Classical Gas Museum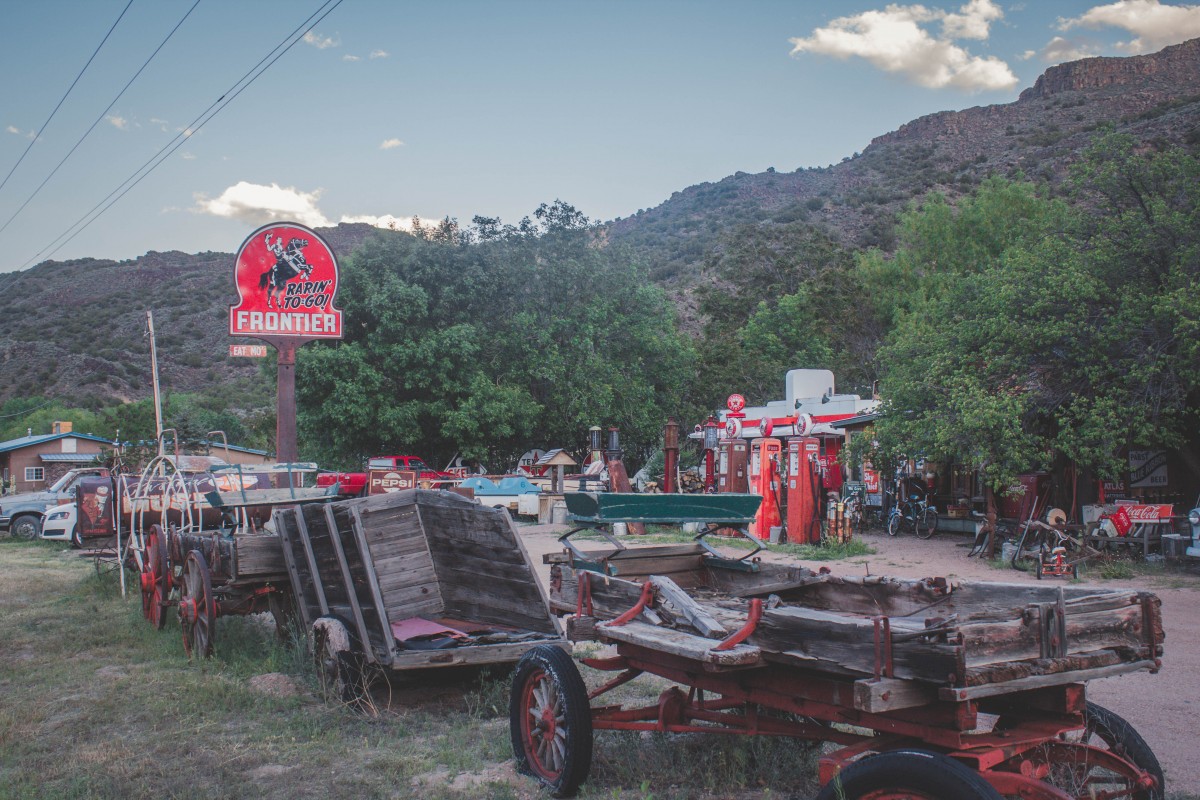 There aren't many big-ticket attractions along the Low Road, save for one iconic museum – the Classical Gas Museum in Embudo.
It's a quirky stop, filled with light-up road signs and all-things-gas. A neon-tinted curation of vintage memorabilia, the Classical Gas Museum is one of those funky, I've-got-to-go-here road trip stops.
From Embudo, it's a short drive back to Española.
And in a blink, our Santa Fe to Taos (well, this time – Taos to Santa) drive is over.
Bonus List Of 3 More Santa Fe To Taos Drive Stops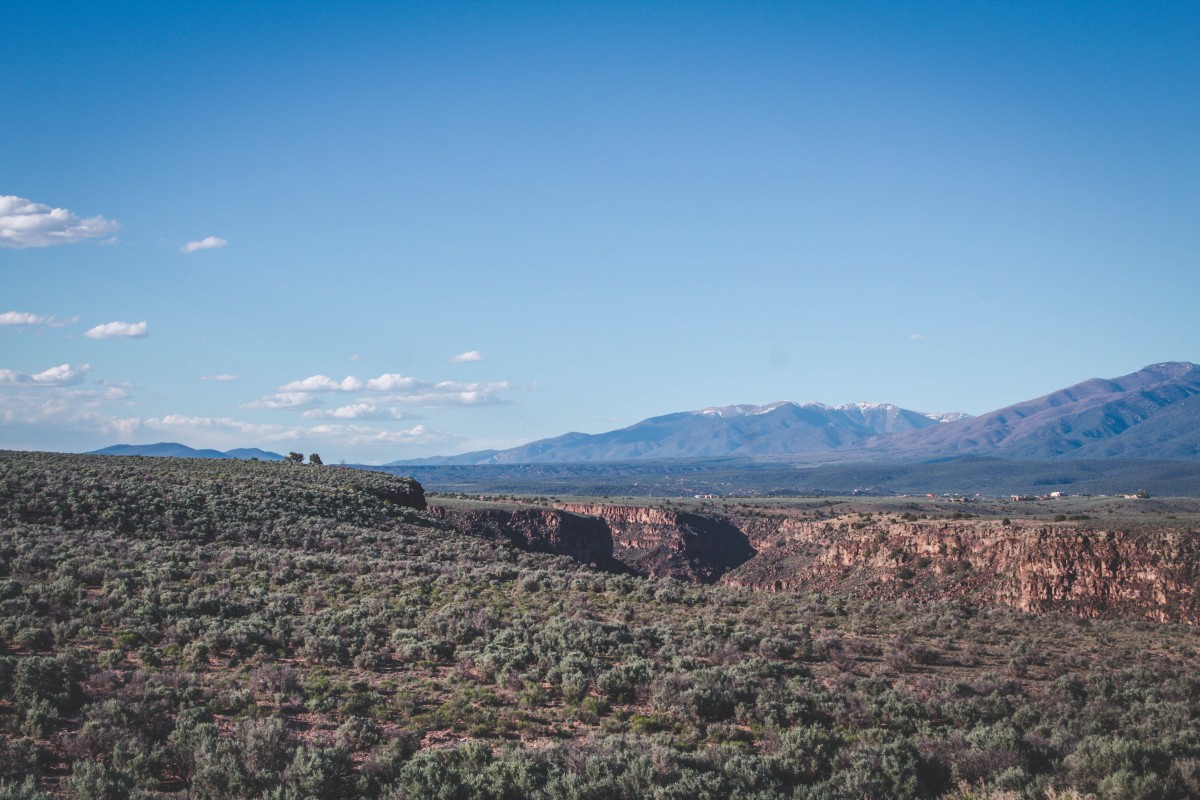 If you're looking to shake up your Santa Fe to Taos road trip itinerary, I completely understand. Here are a few of my favorite alternative stops:
San Juan Catholic Church: Located along the Low Road, in Ohkay Owingeh, San Juan Catholic Church is known for its salmon-colored parish.
Cordova: An old wood-working town located along the High Road. I tried to visit during my Santa Fe to Taos road trip but didn't get to explore much. At the time, several of the stores were boarded up.
Dixon: Dixon (on the Low Road) is all about gorgeous wineries set against a mountain backdrop (try Vivác Winery or La Chiripada Winery).
Did you enjoy this Santa Fe to Taos itinerary? Did you find it useful? Have you been on the High Road or Low Road? Let me know in the comments below!