"Is the Skirvin Hotel really haunted?" I ask, shivering slightly as a blast of wind whips through downtown Oklahoma City. I fumble through my tote, searching for a light jacket.
Our luggage click-clicks behind us as we push through a set of revolving doors. Silence follows.
"We'll see," you say, winking.
The Skirvin Hilton Hotel has a reputation for being haunted. It's a story told by N.B.A basketball players time and again – phantom pains, spooky creaks, creepy cries. It's the legend of Effie, a housekeeper, W.B. Skirvin's short-term love interest, and her descent to insanity.
But as we walk into the Skirvin Hotel, all our fears are dispelled. The hotel is more swish than haunted, old-world luxurious drawn-out by patterned carpets, plush seats, and ornate lighting.
If there really was an apparition at the Skirvin Hilton, it would more Casper The Friendly Ghost and less Stephen King novel worthy specter. The Skirvin Hilton Hotel is lively, energetic, and upbeat. It's the kind of place where a ghost would dance not wail.
Travel Tip: Find out current rates for booking here. The hotel feels like luxury but sits at an affordable price.
Disclosure: Heads up, this post contains some affiliate links, which means I may get a commission if you make a purchase. Don't feel pressured to buy anything. I still love that you're here, reading my content (side note: I'd probably suggest getting a coffee or tea first though because my blog posts tend to be long). To find out more, you can read our full affiliate disclosure right here.
The Room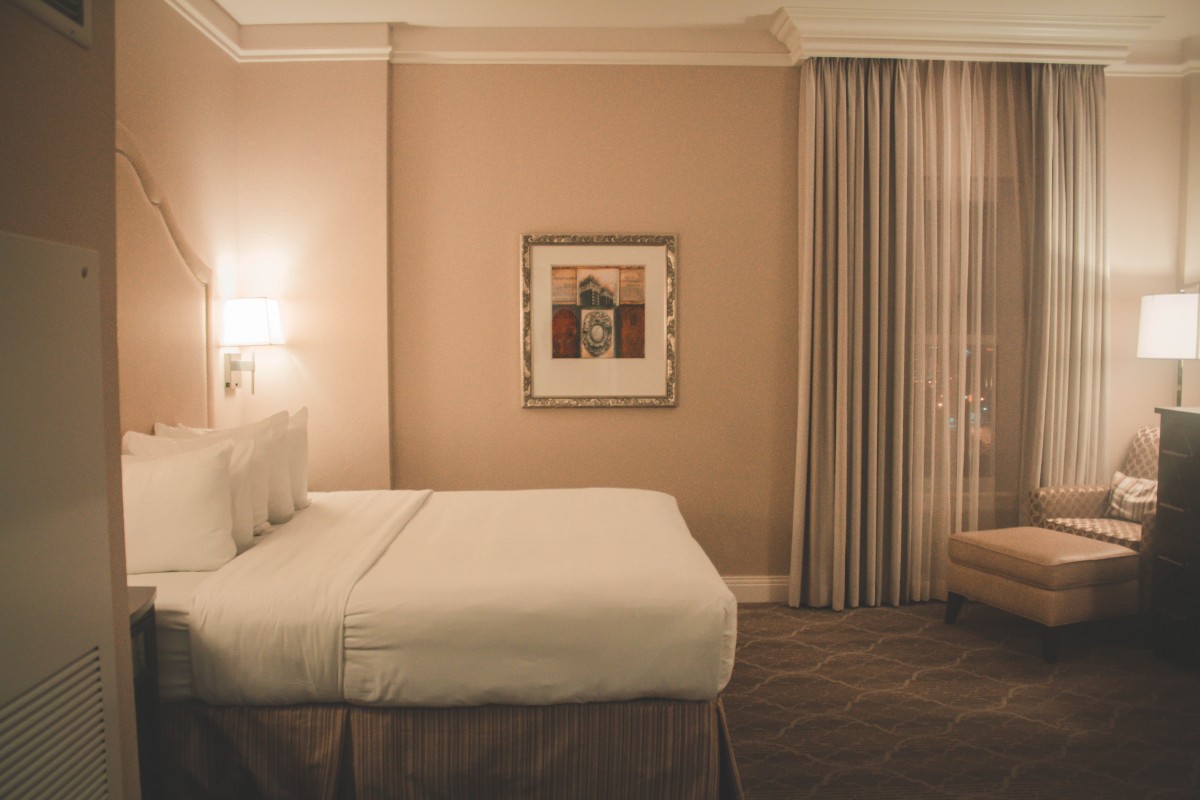 After a friendly chat at reception, we rush towards the elevators.
It's late, well-past eleven. But since our room is on the twelfth floor, I'm way too excited to take in the views (read: brace yourself for intense squealing) so I skip (y'all, I wish I was joking) towards the curtains and look outside. OKC is beautiful. The landscape is lit up by blues and oranges. Late-night lights bring the city to life under the moonlight.
Just before we pull the fabric together, we hear a crackle followed by a jet of sparks. Fireworks color an inky black sky. You slip into the couch and watch the show. Spills of light spiral and waterfall above flat rooftops.
The bursts flow into a staccato and the sound is more welcoming than disturbing. We just arrived in OKC with a bang – literally.
The room, itself, is more than comfortable with fluffy pillows, a giant working desk (which I loved), and wide-screen television.
I step into the bathroom, which is long and spacious. The aged drawers, shadowy beige wallpaper, and tinted window all make a normally mundane area feel slightly gothic.
And as I slip on a black dress in the dark-toned space, I finally understand the root of all the ghost stories. The Skirvin Hilton is a classic old hotel – charming but low-lit.
It's a place with character.
Amenities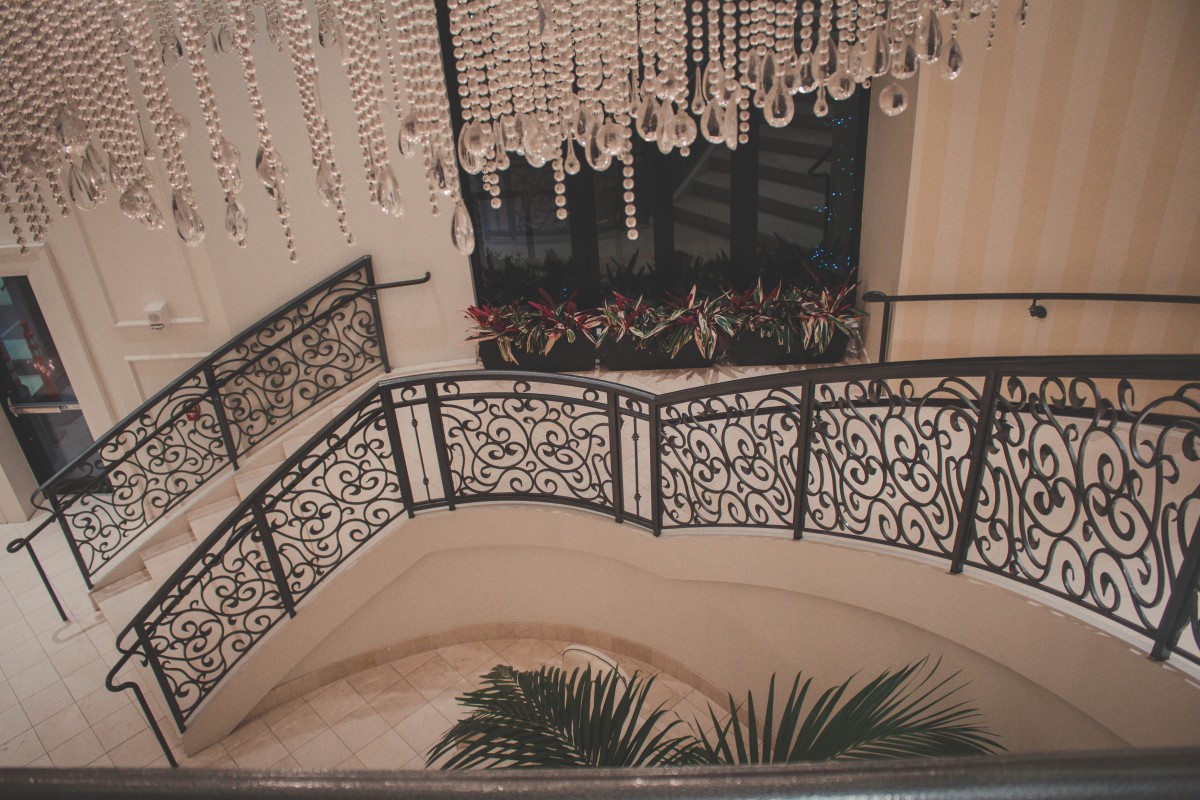 1 AM hotel explorations aren't commonplace in my travel dictionary, but just this once, I'm making an exception (no regrets).
The moment we walked into the Skirvin Hilton, I fell head-over-heels for the details. And now, as we're venturing down to the basement, an entertainment hub complete with a pool and gym, my excitement levels bubble.
We shift in and out between the floors and quickly find our favorite. With grand ballrooms and spacious conference rooms, the second floor of the Skirvin Hilton switches from historic to regal.
In the wee hours of the morning, we are able to drink in all the history alone. Golden curtains, light fixtures that spider down into beads, bold carpeting – everything here is opulent.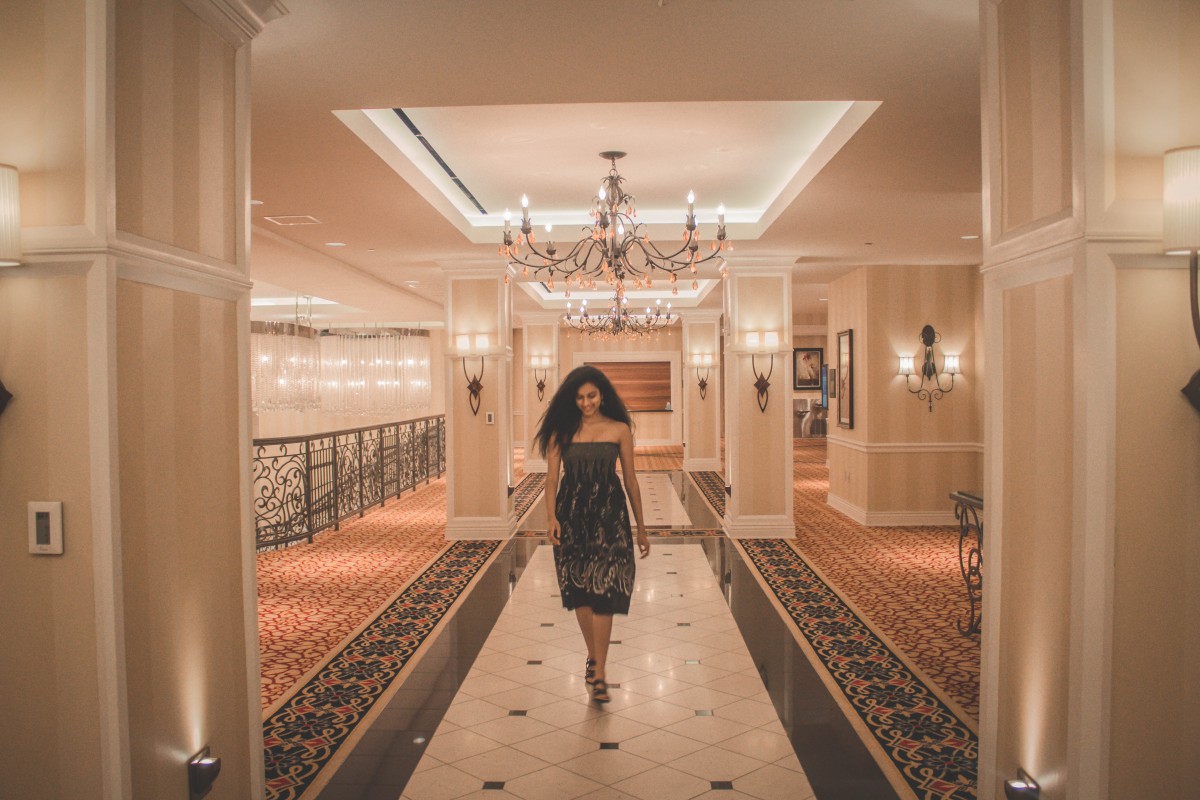 Food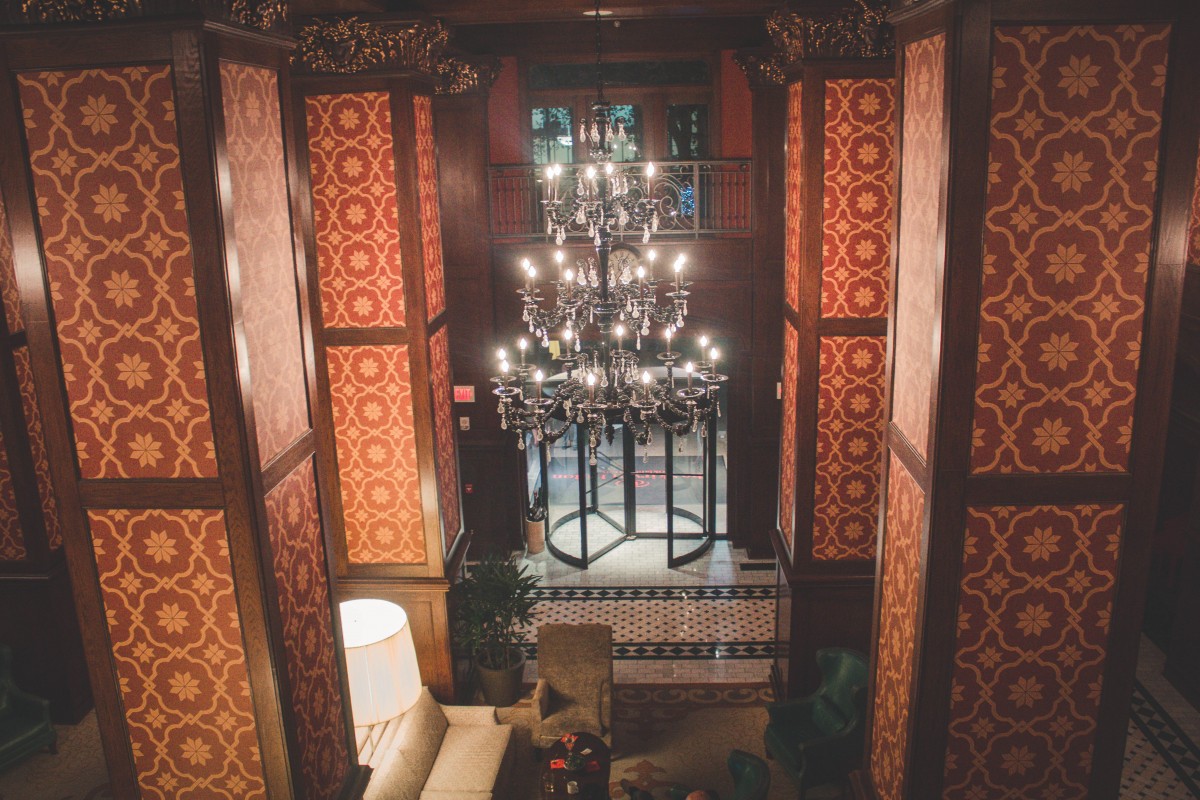 Even though I'm itching to eat in Bricktown, the tourist-heavy but oh-so-worth-it restaurant and shopping district in OKC, I have to admit, Skirvin's in-house menu looks amazing.
Most of the dishes are meat-heavy (think juicy steak, fresh seafood, and flavor-packed chicken), but Skirvin Hilton also happily embraces OKC's vegan evolution. Y'all, I was completely blown away by OKC's vegan food scene. I have a sneaking suspicion that within the next few years, the city will be like Los Angeles in terms of vegetarian-friendly delights (and I'm not complaining).
Artist In Residence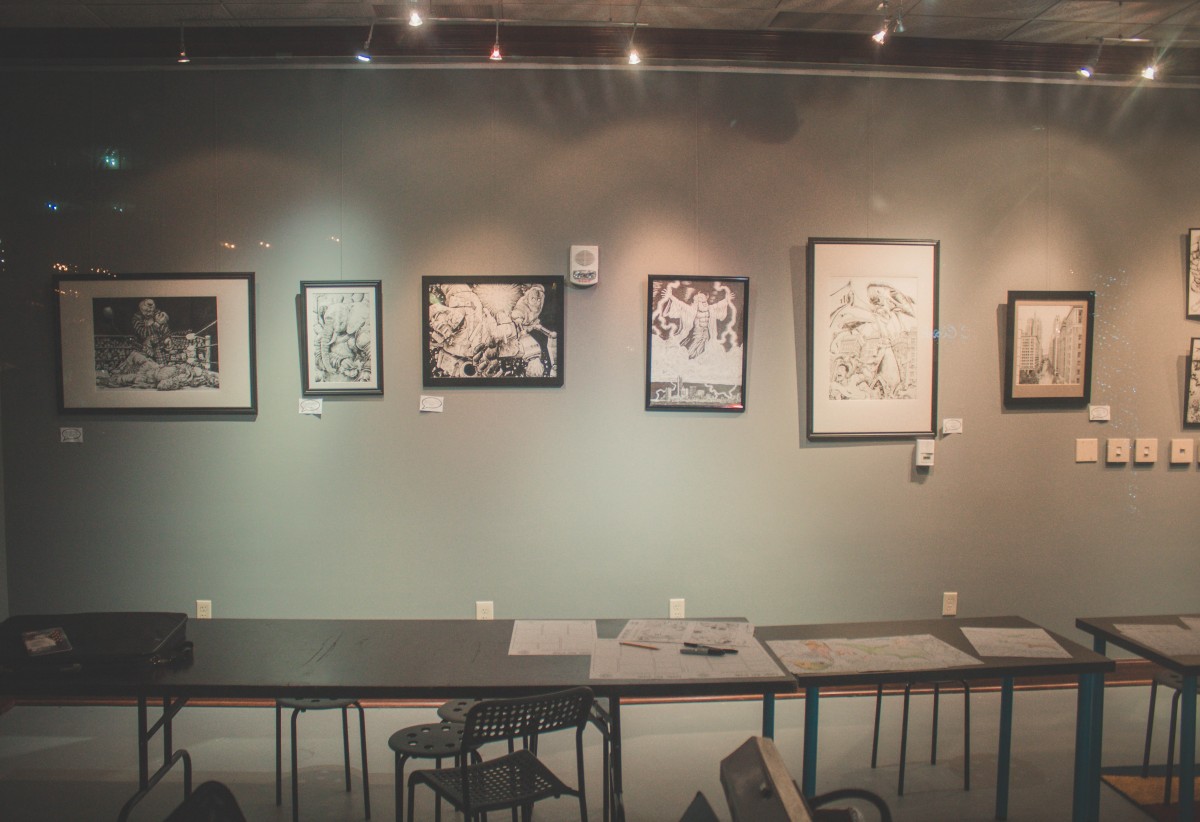 After grabbing some fruit-infused water from the lobby, we stroll around the exterior of the hotel.
OKC takes the arts seriously. You can see it in the murals, the musicals, and the street performances. And Skirvin Hilton lifts OKC's love of the arts to a whole new level.
The Skirvin Hilton Hotel has an Artist In Residence program, where they host a rotating set of popular artists in a bright, window-paneled studio space.
I immediately fell in love with the concept. It's such a unique way to engage with local artists during your hotel stay. At the time of our visit, Jerry Bennet resides in the space. His ink illustrations are just as lively and animated as the hotel and really capture the spirit of OKC.
Is The Skirvin Hotel Haunted?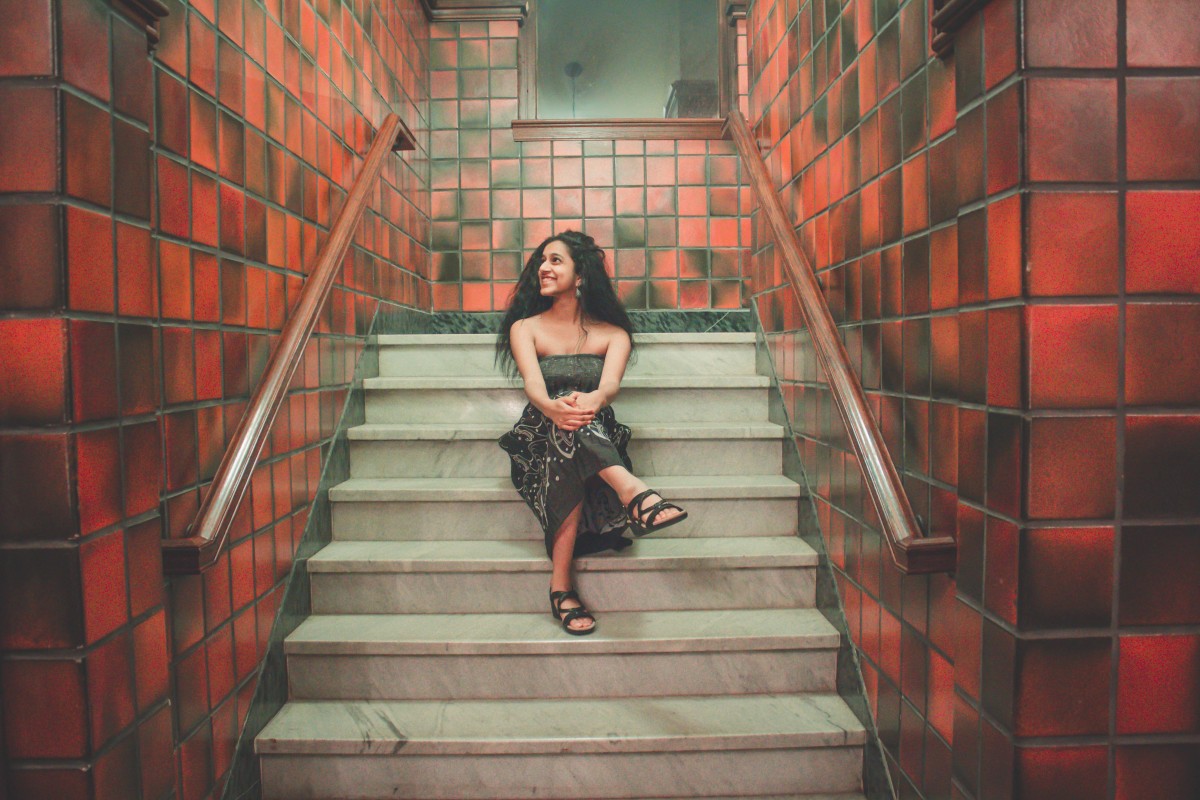 We find our way back to the second floor of the Skirvin Hilton.
We climb up the stairs, past blood red tiled walls and find ourselves in the midst of chairs and tables. The view below is stunning. Deep, dark wood elevates the lobby. We walk to the left, past cornerstones of smirking gargoyles. At night (or in our case, ridiculously early in the morning), the conferences rooms are dark, boxes have spilled over, and the whole space looks….anything but spooky.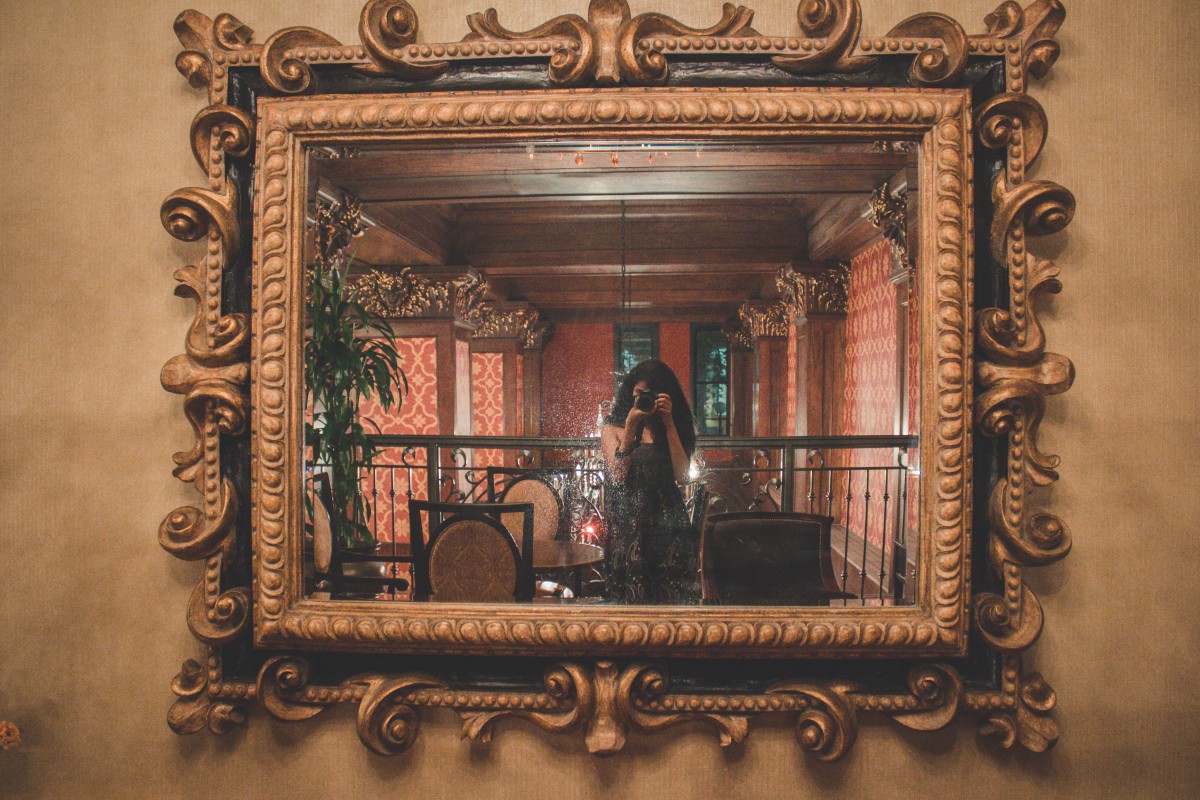 For a self-proclaimed scaredy-cat (y'all, I can barely get through a Tim Burton movie), I feel completely at peace at the Skirvin Hilton. I'm starting to doubt that the hotel is haunted.
A cold breeze whips through the hall. This time, inside the hotel. We're far from any windows. Most of the doors are closed.
I look at you, furrowing my eyebrows. Maybe, the N.B.A basketball players were onto something.
Is the Skirvin Hotel haunted?
You shrug…who knows? (*wink*)
Related Story: Suite Experience: The Hotel Where Ducks Have A Better Room Than The Guests
Did you enjoy this post on the Skirvin Hilton Hotel? Do you believe the Skirvin Hotel is haunted? Let me know in the comments below!
Disclaimer: I stayed at the Skirvin Hilton Hotel courtesy of VisitOKC. All thoughts and opinions are my own.