Look around the room and tell me if it seems familiar. I'm not referring to the decor or the architecture but the sense of the room. You inch around and glance up and down at the walls and the layout. "My grandma's house," you tell me and shrug your shoulders slightly. I laugh and smile. Guess again. "I'm supposed to know this, right?" you ask me. Maybe. If you've seen the movie. And the movie was cringe-worthy enough to remember (not because it was gruesome but the forced slapstick comedy didn't suit my personal tastes). Then it hits you slowly. Something about this room itches familiarity. Words start to string together. Ridiculous 6. Adam Sandler. I jump up with excitement. Yes! This was indeed the set for Ridiculous 6.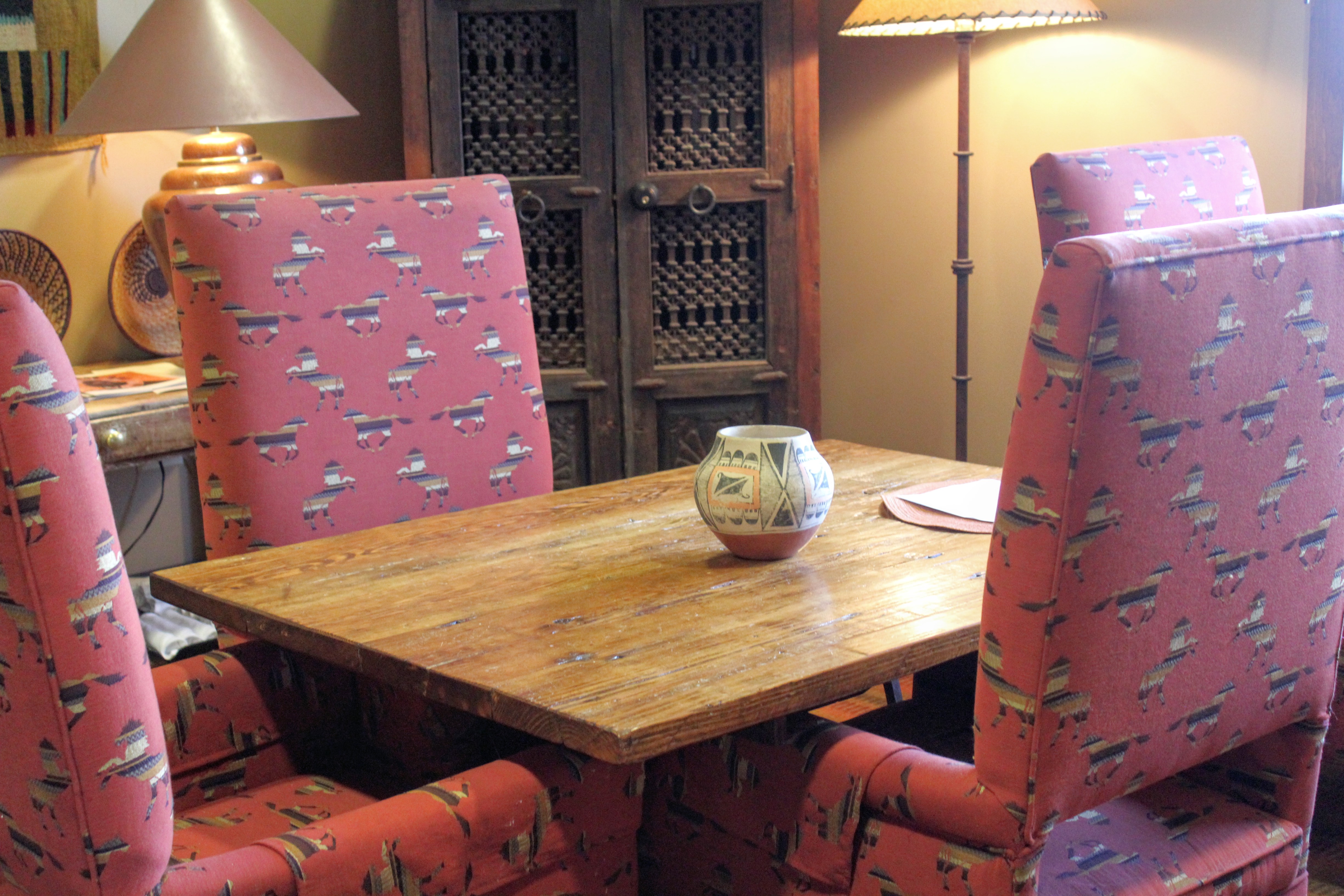 But why did I bring you here? Well, the set is just one small part of Hotel Santa Fe Hacienda & Spa and we are going to be taking a little tour around the rest.
Service
We'll start by checking in. The service at Hotel Santa Fe Hacienda and Spa goes beyond cordial and borders into friendly. There isn't as much of a distance between the staff and the guest as you would expect and we find this to be a pleasant surprise. You get a key card with a Native American pattern on it, which is a nice touch with an ode to the hotel's origins. Hotel Santa Fe Hacienda and Spa is the only Native American owned hotel in the city and thus, the Native American culture is prevalent in every fine detail.  
Room
The room is a two part suite. From outside, you can see a partial view of a teepee. The low flute music resounding in the lobby seeps in, building on the Native American vibe. The room is also filled with artwork and let me tell you, filled is an understatement. Don't believe me? Just watch the video below and count how many works of art appear in the room. On a side note, the Hotel Santa Fe Hacienda & Spa is actually very eco-friendly and runs 100% on Solar power. That's right – 100%. Isn't that amazing? 
Amaya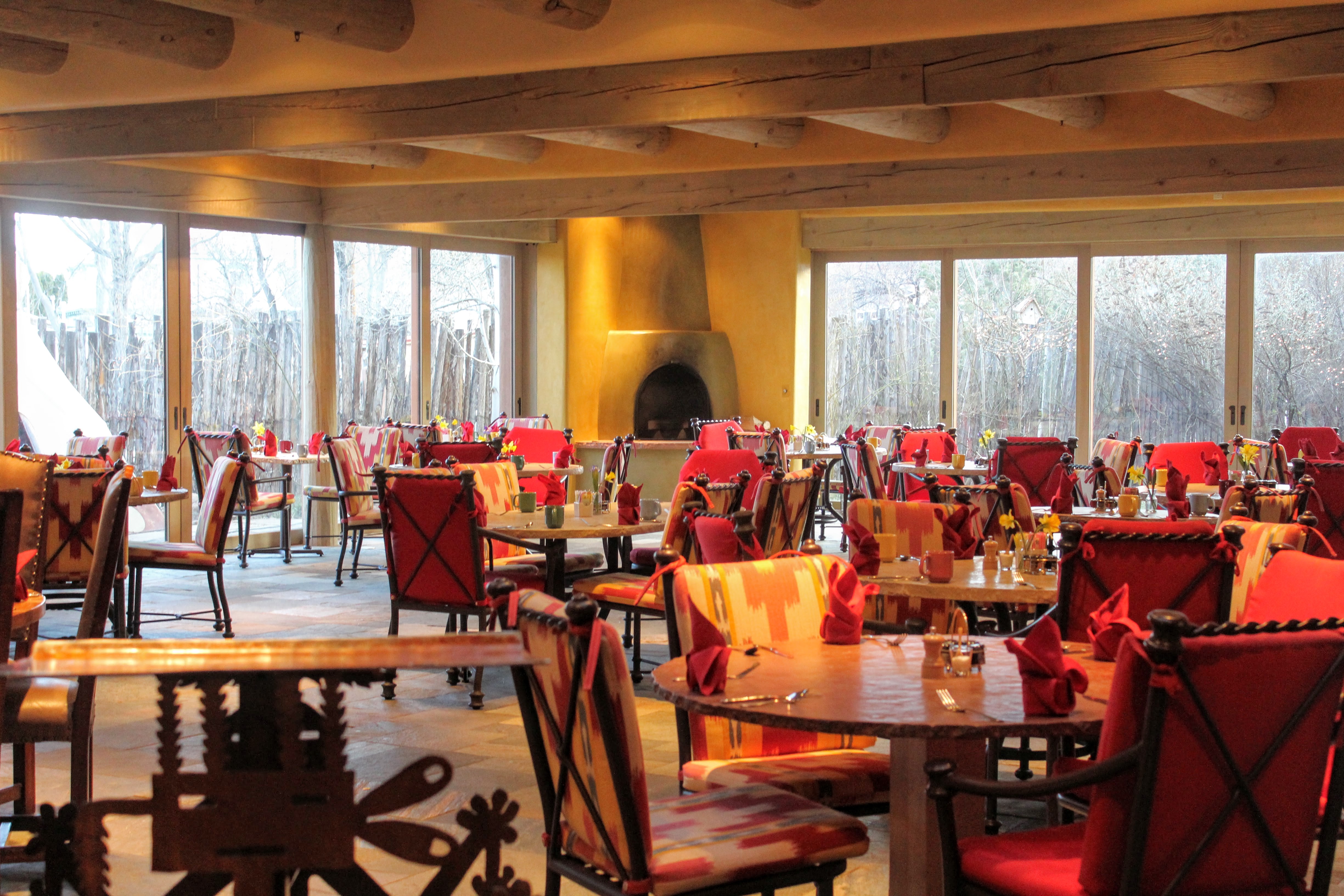 The Hotel Santa Fe Hacienda and Spa serves a hefty breakfast at their on-site restaurant. We grab a plate and make our way around the continental breakfast line, selecting some croissants and orange juice. There is even a selection of fresh fruit that you can garnish with creamy housemade cheese. If we are feeling hungry later on, maybe we can check out the dinner menu at Amaya as well. The dishes are guaranteed to have local influences and a blend of fresh ingredients. Amaya is part indoor restaurant but extends into an outdoor patio. Since it is slightly cold right now (but then again, coming from Texas, I find anything below 75 degrees cold), we can sit near the warm, toasty fireplace.
Activities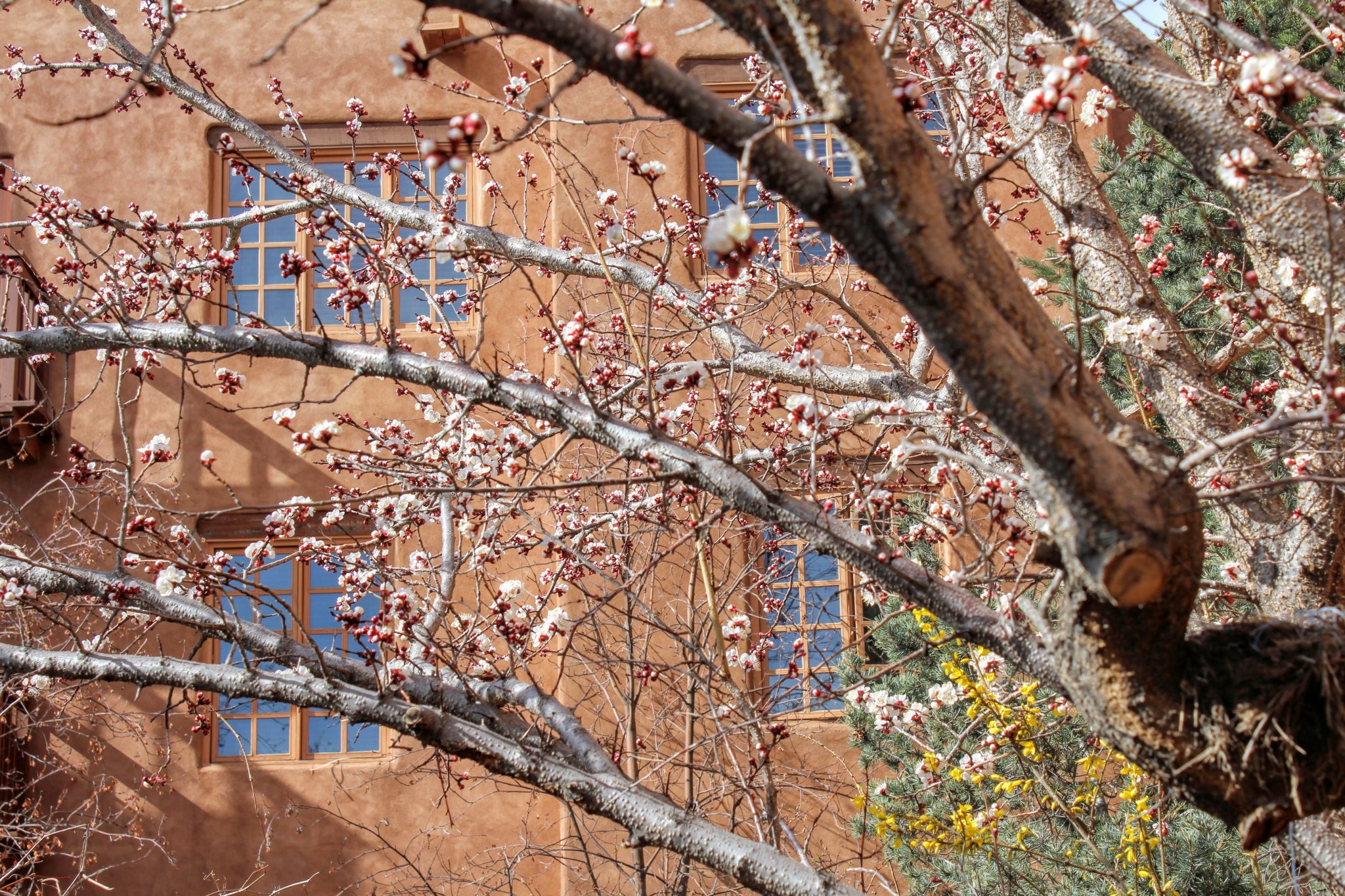 Since we have a little time left, let's start exploring. The first thing we do is walk into the Hacienda, which is the adjacent building to the main hotel. There is a vast selection, around a seven figure digit's worth, of art. The Hacienda bridges the gap between hotel and museum. We maze in and out of the halls, searching for pieces that catch our attention. Afterwards, it's time to relax. We can either sink into the pool and hot tub or head out for a spa treatment. The Hotel Santa Fe Hacienda & Spa offers a wide variety of packages, but the Santa Fe Indulgence sounds the sweetest (quite literally). You get a brown sugar scrub and chocolate mineral mask followed by a full body massage. After a tiring day of exploring, it's the perfect way to rejuvenate. We could also go to the gym, but I'm more than ready to hit those duvet covers back in the room. Santa Fe Hotel & Hacienda has a fitness center armed with all the basic necessities. But the highlight? Sunrise yoga sessions are offered seasonally, so we'll be sure to take advantage of that later on.
Transportation
Tell me, would you like to take a tour of the Railyard District? It is right outside and everything from shops to restaurants are within walking distance from the hotel. If we need transportation out farther, this boutique hotel has got us covered, with shuttle buses (ahem, purple cars). These vehicles will have us out and about to explore the rest of Santa Fe in no time. Are you coming? Let's eat, breathe, and dream this unique city
Travel Tip: You can learn more about Hotel Santa Fe Hacienda & Spa (including rates and availability) here. 
Room Rates: $150+/night
Location: 1501 Paseo De Peralta, Santa Fe, NM 87501
Call For Reservation: (505) 982-1200
Disclaimer: Passport to Eden was invited to stay at the Hotel Santa Fe Hacienda & Spa as part of a press trip with the Santa Fe Tourism Board. P2E was under no obligation to write this article whatsoever. I just thought it would be fun to play the role of tour guide.