40 tea quotes every tea lover can relate to
It's hard to imagine my life without tea (and to be honest, I don't want to). Tea's natural earthiness roots me in reality. It keeps me grounded in moments of peace and calm. For me, tea is a liquid stress ball. When I allow its lightness to wash over me, I feel free and unrestrained.
Although I mention tea a lot on the blog, I still find it hard to describe just how much I love this drink in words. Enter these tea quotes. Some of these tea quotes are light-hearted and others are deeply profound. Most of these tea quotes are by authors I love, but they all capture tea in a soft light.
Without further ado, here are forty tea quotes every tea lover can relate to.
40 Tea Quotes Every Tea Lover Can Relate To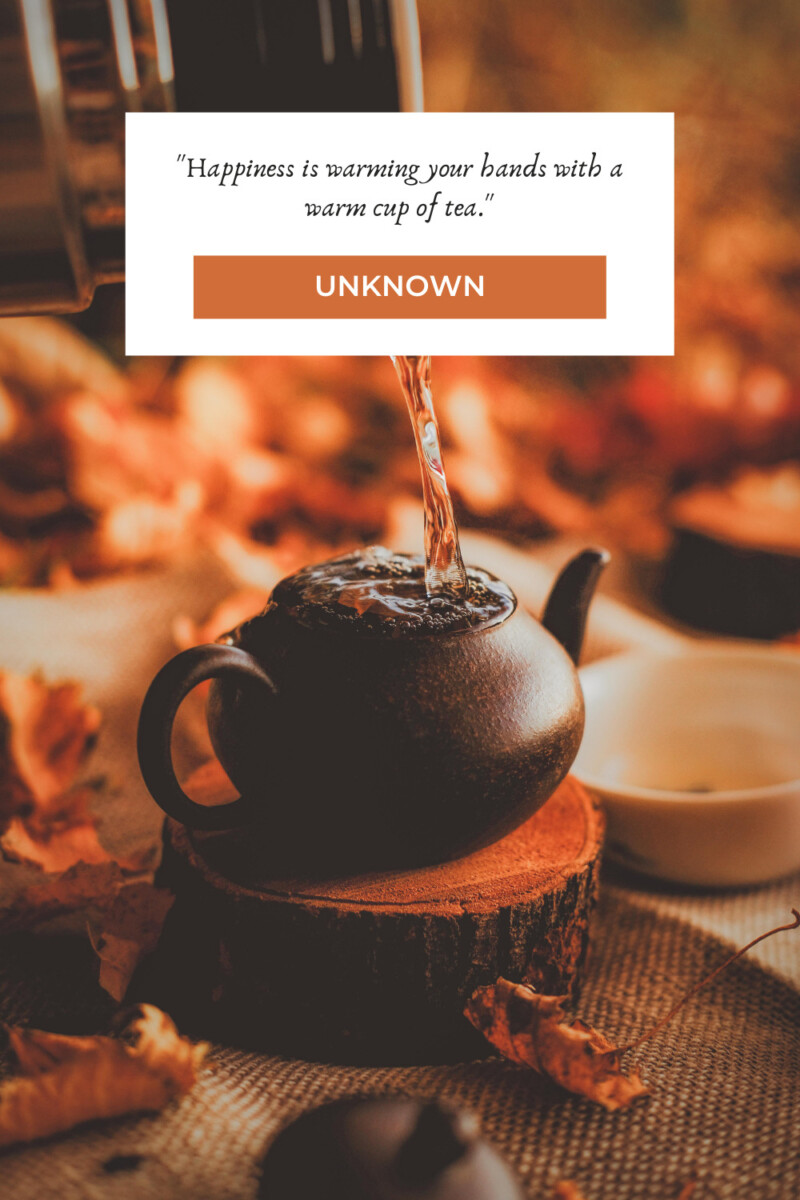 "Happiness is warming your hands with a warm cup of tea." – Unknown
"I waited and then sniffed the teapot before pouring, using the sieve to catch any leaves. The tea had turned the perfect shade of very pale green, and I flushed with happiness to see it. That was my tea; my hands had harvested the leaves and spread them onto drying racks back home." – Hillary Manton Lodge
"I take a few quick sips. 'This is really good." And I mean it. I have never tasted tea like this. It is smooth, pungent, and instantly addicting.'" – Amy Tan
"I sip again, the tea warming my tongue with comfort and flavor. I get why Brits look forward to this ritual every afternoon. 'I swear you can taste the land it came from, all the plants around it.'" – Laura Taylor Namey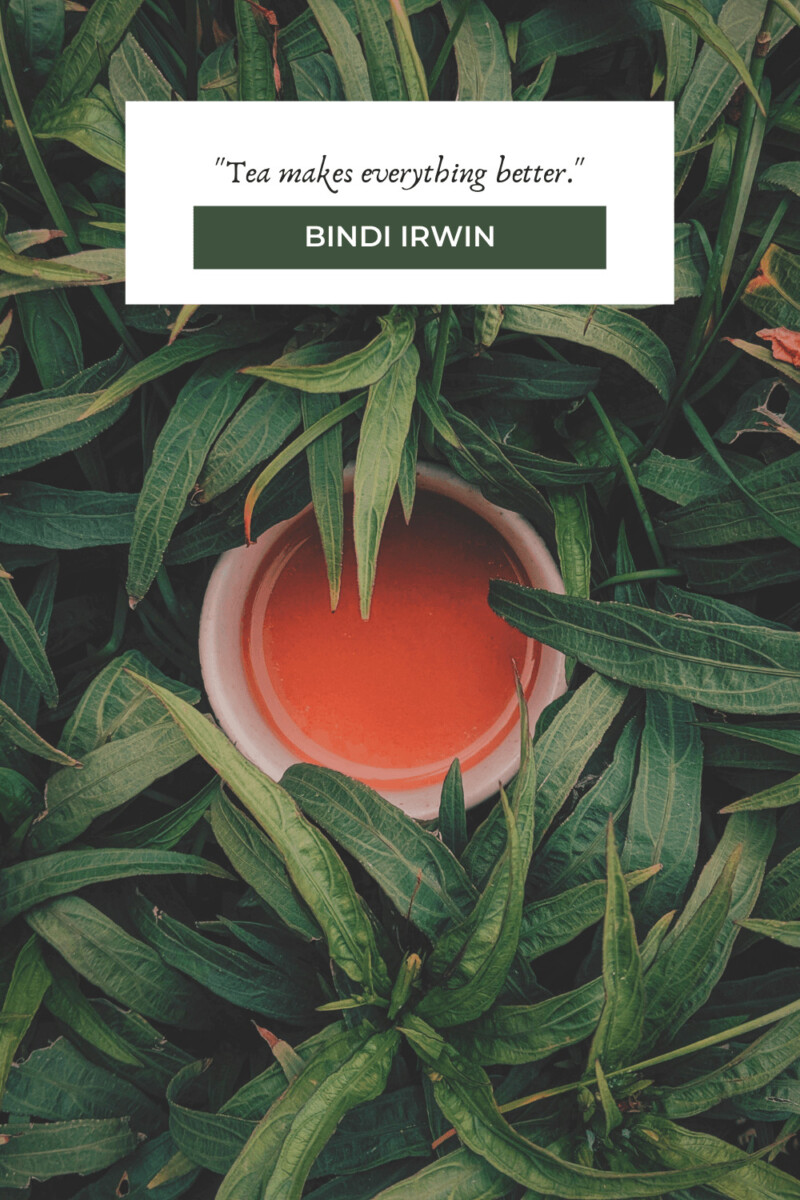 "I was learning, even in my brief time in England, that a cup of tea almost always helped. I didn't know whether it was the caffeine, the warmth, or the simple fact of having someone else do something kind, but a soothing cup of tea in Harriet Dalrymple's cottage was fast becoming my lifeline to sanity." – Beth Pattillo
"Tea makes everything better." – Bindi Irwin
"Making tea is a ritual that stops the world from falling in on you." – Jonathan Stroud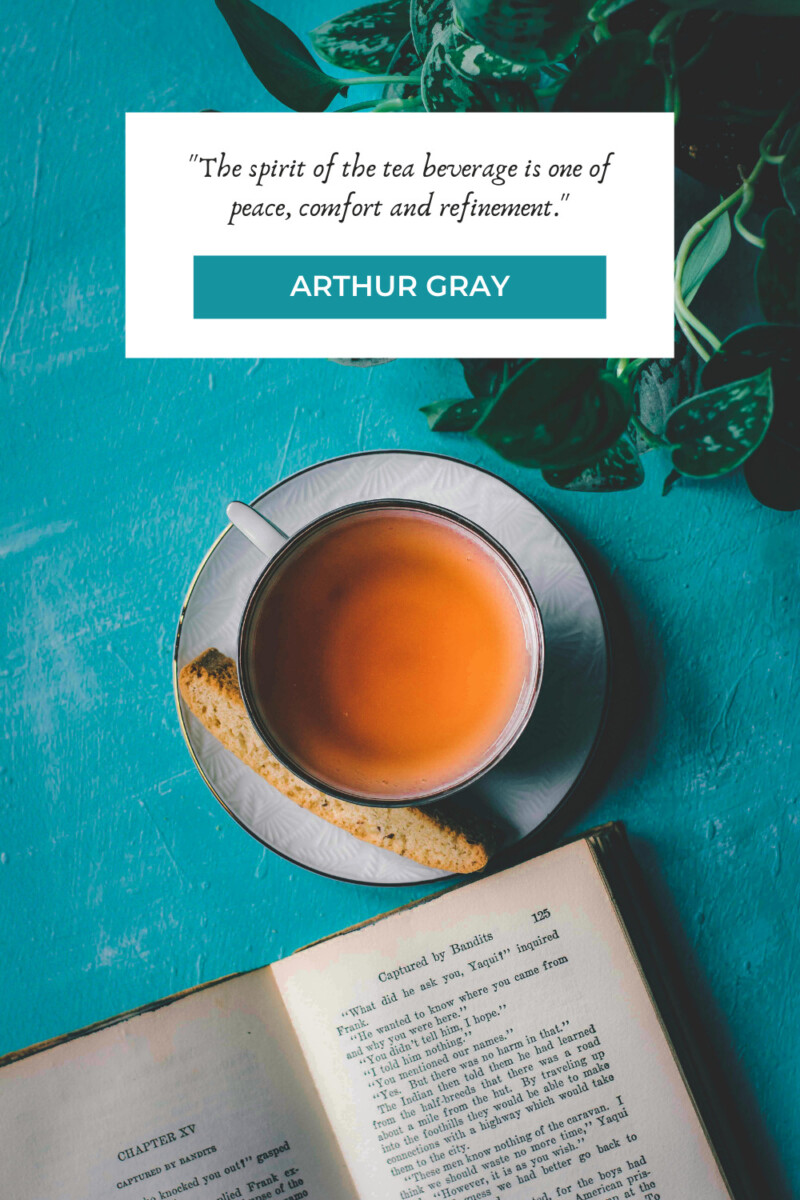 "Tea should be taken in solitude." – C.S. Lewis
"The spirit of the tea beverage is one of peace, comfort and refinement." – Arthur Gray
"If you are cold, tea will warm you. If you are too heated, it will cool you. If you are depressed, it will cheer you. If you are excited, it will calm you." – William Ewart Gladstone
"As far as her mom was concerned, tea fixed everything. Have a cold? Have some tea. Broken bones? There's a tea for that too. Somewhere in her mother's pantry, Laurel suspected, was a box of tea that said, 'In case of Armageddon, steep three to five minutes'." – Aprilynne Pike
"Tea is her answer to everything. I once broke my arm and she tried to give me Lapsang Souchong." – Gail Carriger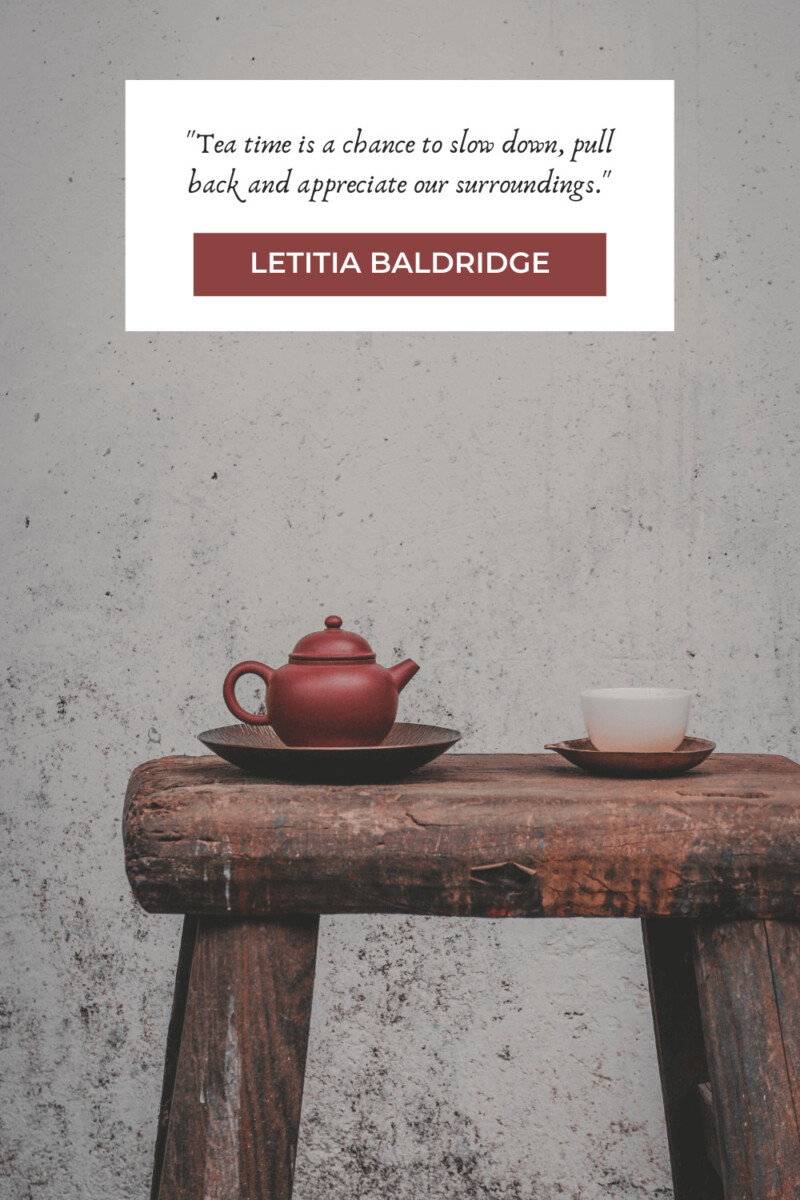 "A crisis pauses during tea." – Terri Guillemets

"I like the pause that tea allows." – Waris Ahluwalia

"Tea has a manner of setting the world right." – John Larison

"Tea time is a chance to slow down, pull back and appreciate our surroundings." – Letitia Baldridge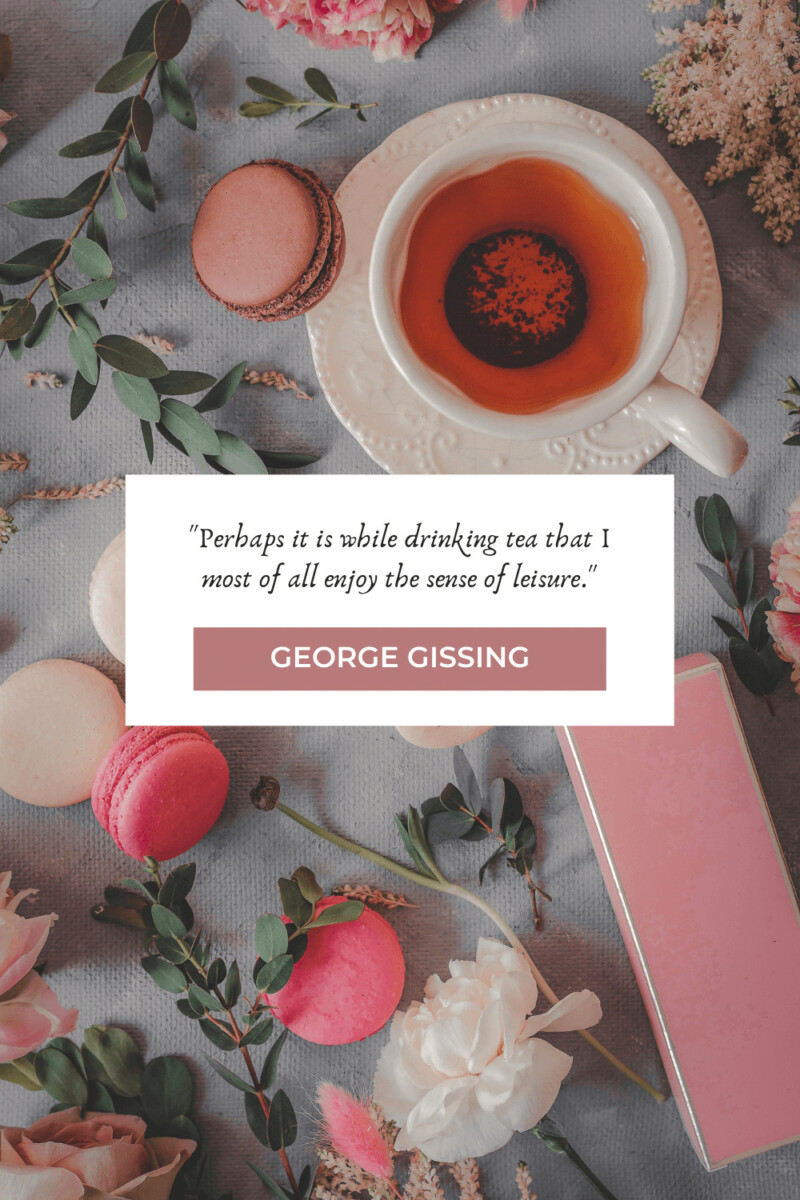 "Perhaps it is while drinking tea that I most of all enjoy the sense of leisure." – George Gissing

"I expect I shall feel better after tea." – P.G. Wodehouse

"Where there's tea there's hope." – Arthur Wing Pinero

"Tea is balm for the soul, don't you agree?" – P. L. Travers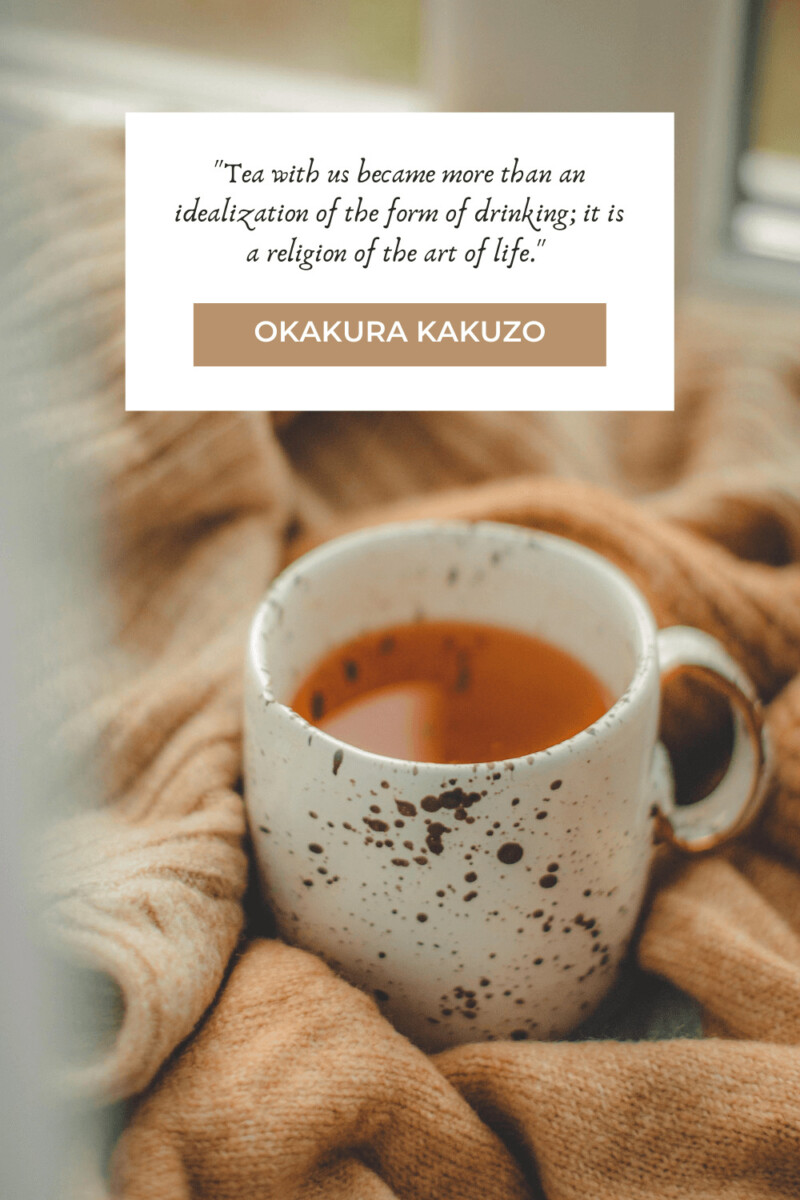 "Some people will tell you there is a great deal of poetry and fine sentiment in a chest of tea." – Ralph Waldo Emerson

"Tea with us became more than an idealization of the form of drinking; it is a religion of the art of life." – Okakura Kakuz

ō
"When tea becomes ritual, it takes place at the heart of our ability to see greatness in small things." – Muriel Barbery

"If man has no tea in him, he is incapable of understanding truth and beauty." – Japanese Proverb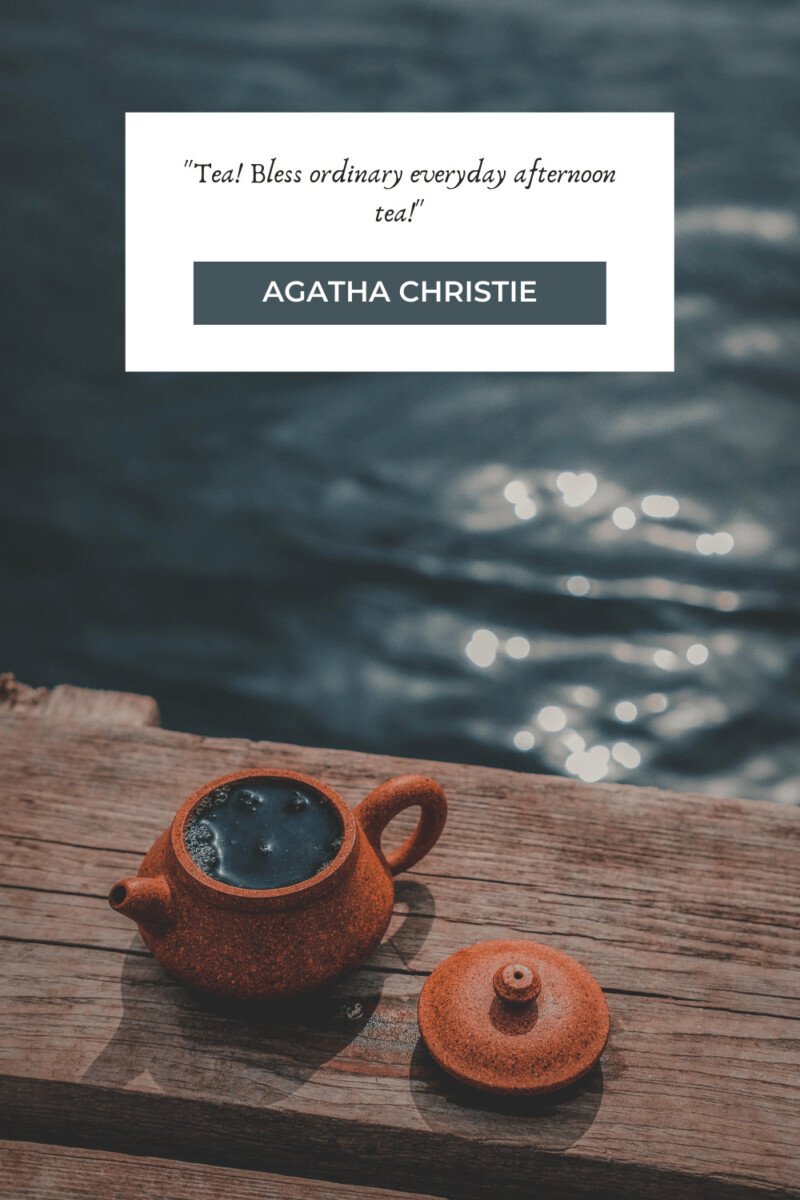 "Thank God for tea! What would the world do without tea! How did it exist? I am glad I was not born before tea." – Sydney Smith

"Wouldn't it be dreadful to live in a country where they didn't have tea?" – Noel Coward
"Tea! Bless ordinary everyday afternoon tea!" – Agatha Christie
"I am so fond of tea that I could write a whole dissertation on its virtues. It comforts and enlivens without the risks attendant on spirituous liquors. Gentle herb! Let the florid grape yield to thee. Thy soft influence is a more safe inspirer of social joy." – James Boswell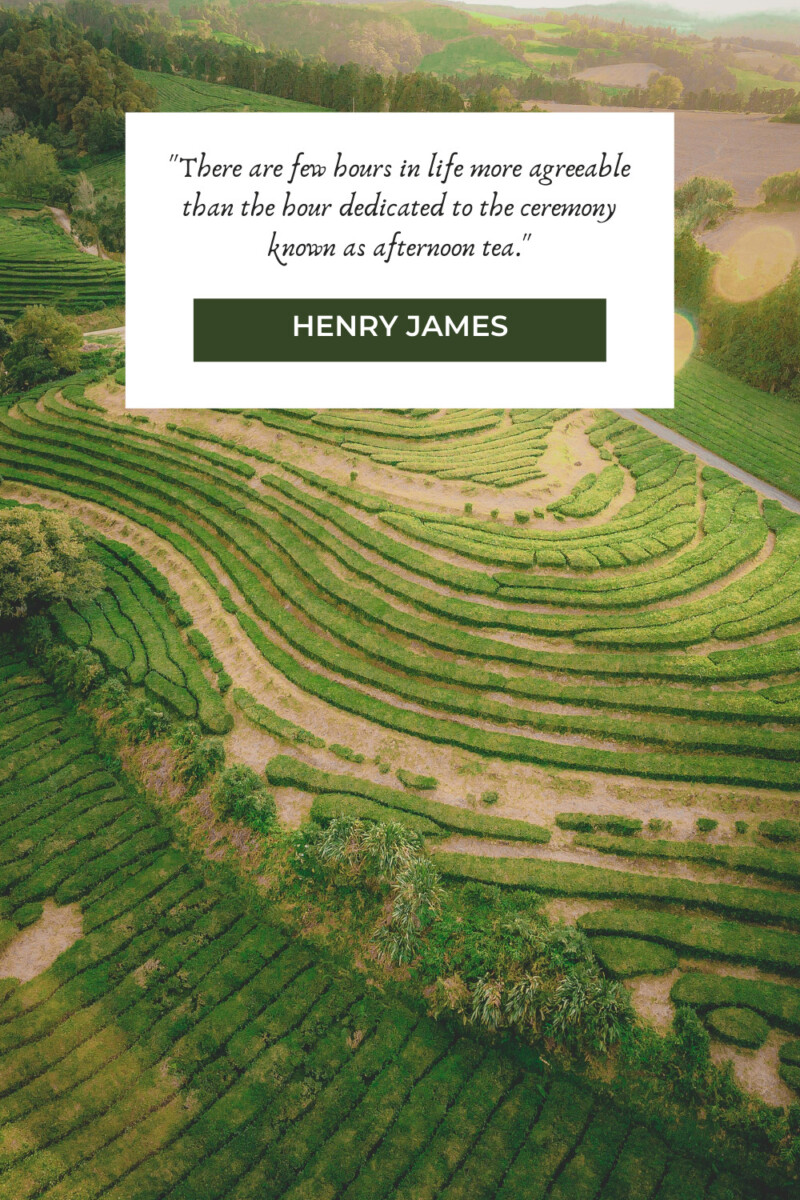 "There are few hours in life more agreeable than the hour dedicated to the ceremony known as afternoon tea." – Henry James

"Tea is one of the main stays of civilization in this country." – George Orwell

"At Christmas, tea is compulsory. Relatives are optional." – Robert Godden
"Yes, that's it! Said the Hatter with a sigh, it's always tea time." – Lewis Carroll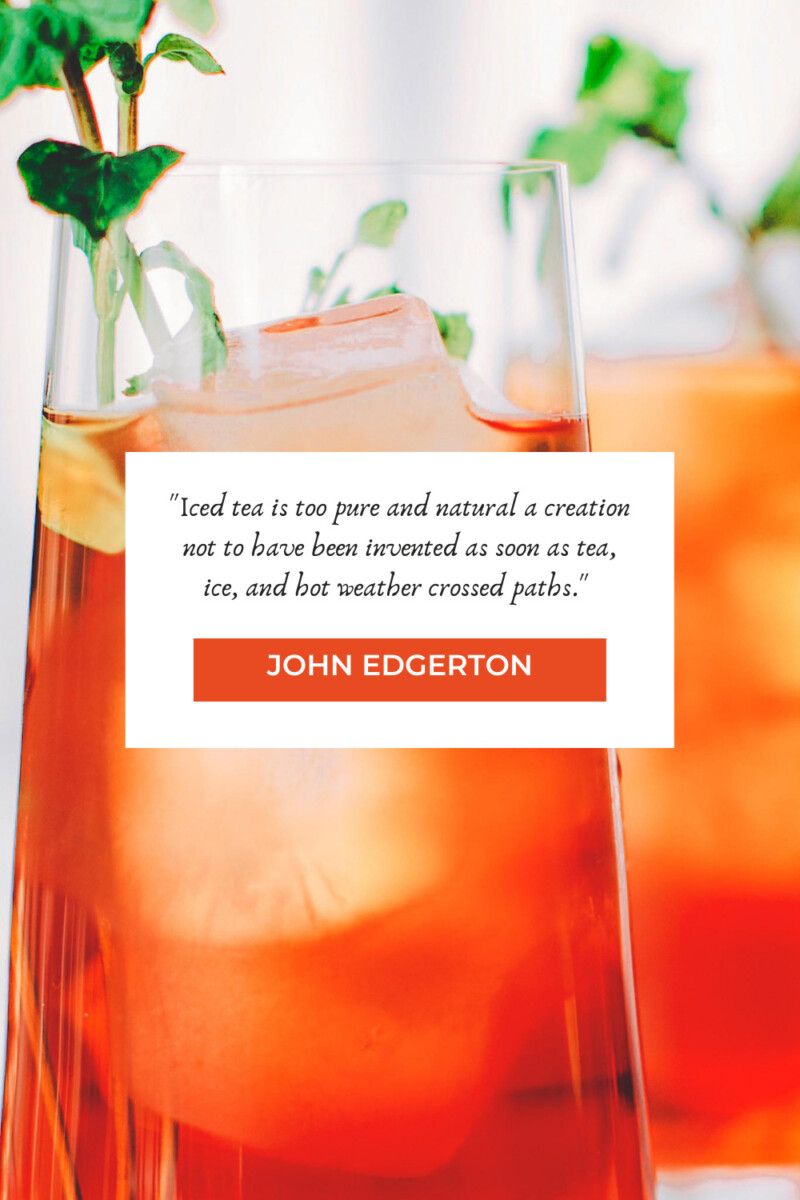 "Unlike water or wine or even Coca-Cola, sweet tea means something. It is a tell, a tradition. Sweet tea isn't a drink, really. It's culture in a glass." – Allison Glock

"Iced tea is too pure and natural a creation not to have been invented as soon as tea, ice, and hot weather crossed paths." – John Edgerton

"A Proper Tea is very much nicer than a Very Nearly Tea, which is one you forget about afterwards." – A.A. Milne

"Tea. I find that both settles the stomach and concentrates the mind. Wonderful drink, tea." – Cassandra Clare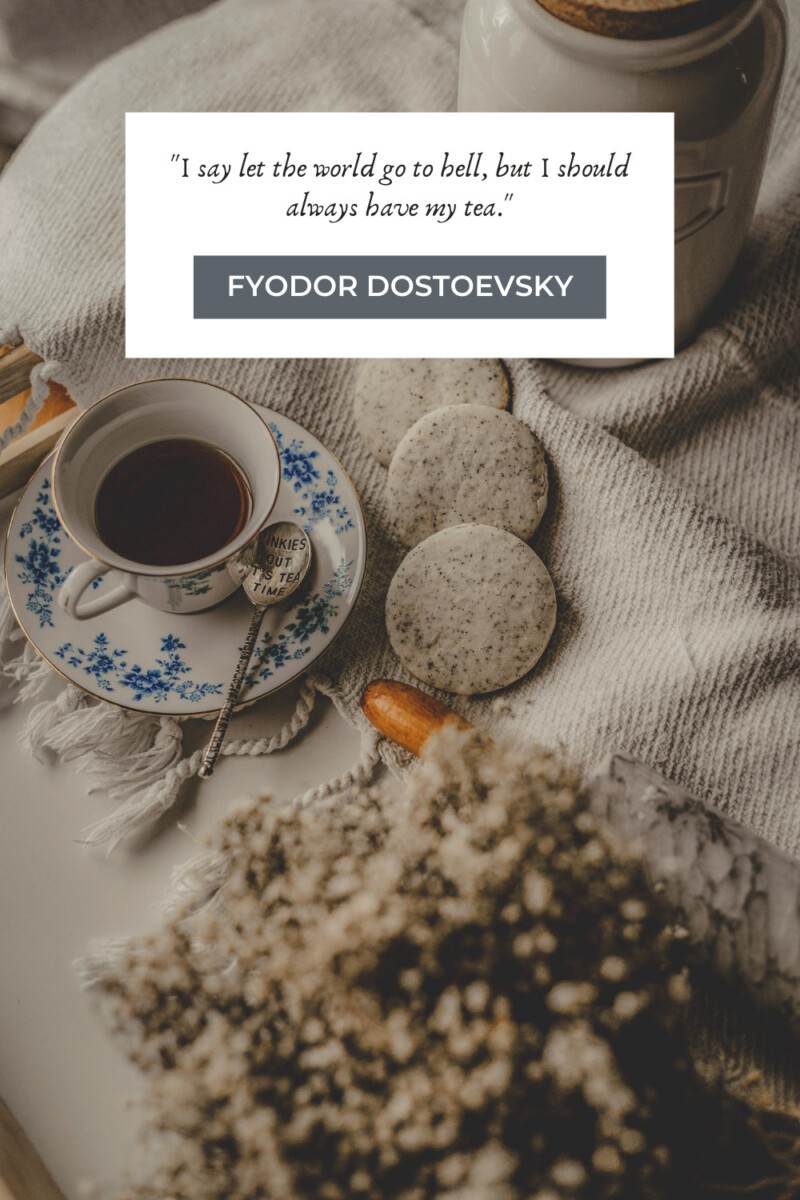 "My dear, if you could give me a cup of tea to clear my muddle of a head, I should better understand your affairs." – Charles Dickens
"I am sort of a tea addict. I structure my day by cups of tea." – S.T. Joshi
"I say let the world go to hell, but I should always have my tea." – Fyodor Dostoevsky
"A cup of tea would restore my normality." – Douglas Adams

Did you find this list of tea quotes useful? You can use them as Instagram captions (or any social media captions). Let me know what your favorite tea quotes are!