Teddy Bear Park is the prologue to one of Dallas' prettiest spots. Lakeside Park is a fairytale story – a tale punctuated by galleries of trees, lily pads, and trails that wind through Turtle Creek. It's a slow-moving fable, narrated through seasons.
Here's what you need to know about Teddy Bear Park.
Disclosure: Heads up, this post contains some affiliate links, which means I may get a commission if you make a purchase. Don't feel pressured to buy anything. I still love that you're here, reading my content (side note: I'd probably suggest getting a coffee or tea first though because my blog posts tend to be long). To find out more, you can read our full affiliate disclosure right here.
Teddy Bear Park Address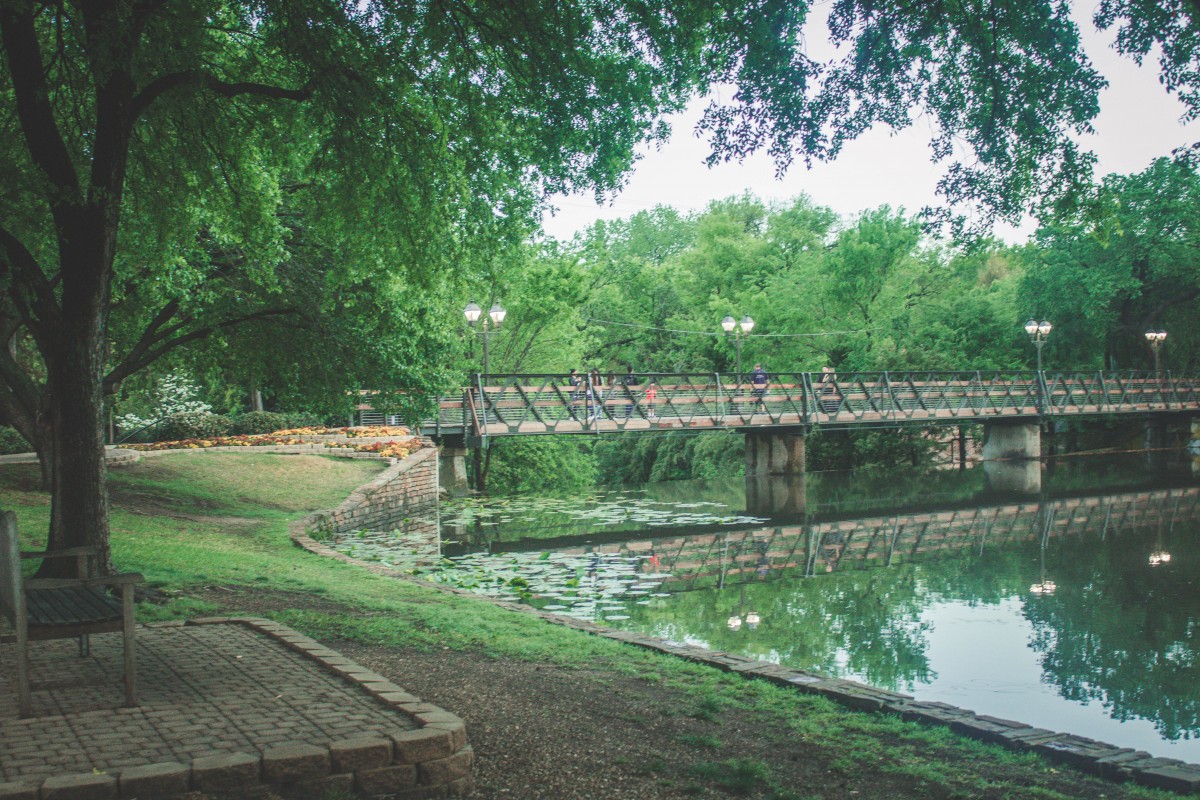 The official address of Teddy Bear Park is 4585-4657 Lakeside Dr, Dallas, TX 75205 (alternatively you can type in Teddy Bear Statues in Lakeside Park on Google Maps to get here).
Where To Park Near Teddy Bear Park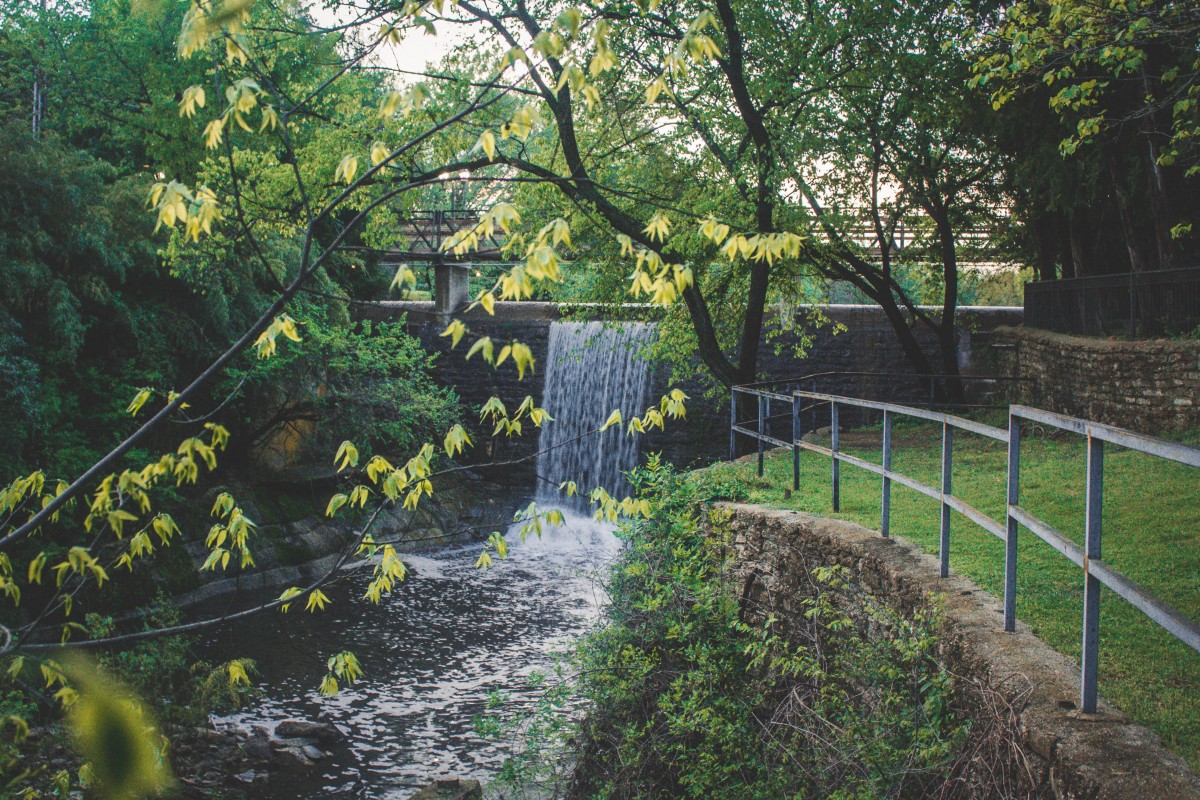 Park street side and step onto a grassy stretch of green. Teddy Bear Park is located on a curve of Exall Lake, just past a spit of a bridge straddling a calm riparian bank and a free-flowing waterfall.
What Is Teddy Bear Park?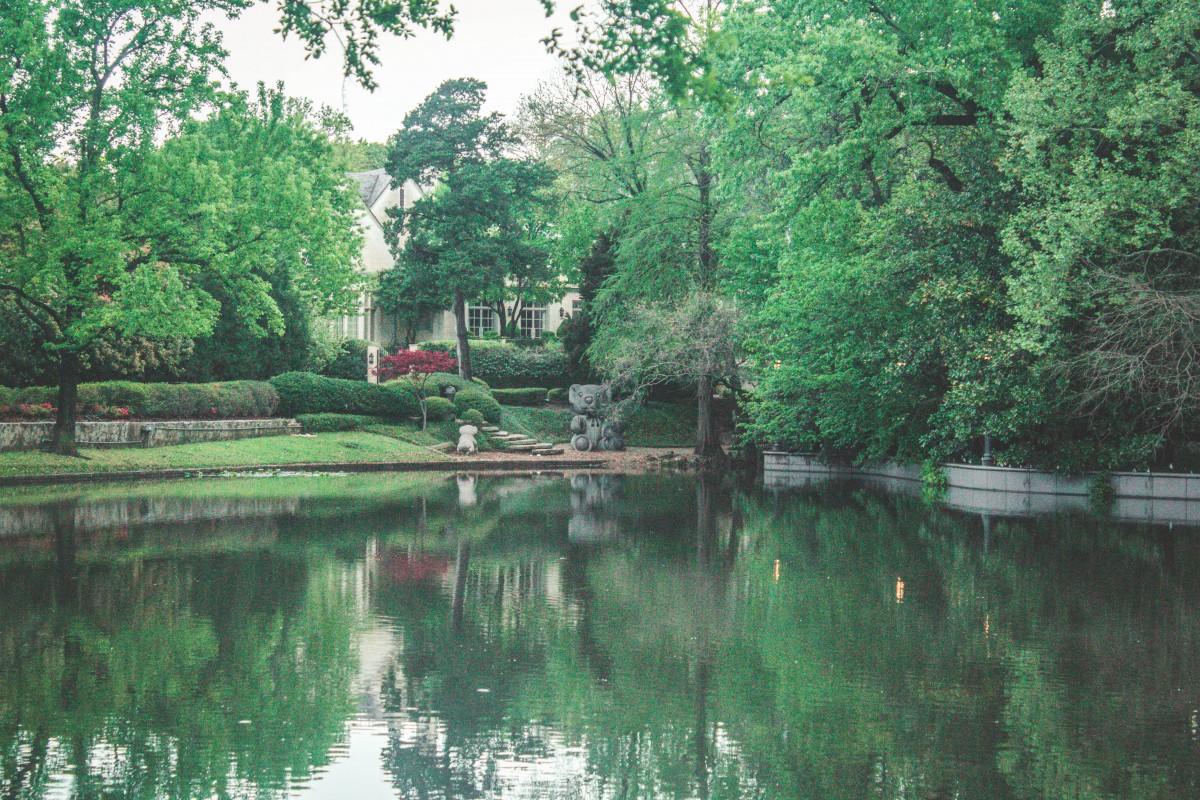 Within seconds, you'll see a family of doe-eyed teddy bears living peacefully in a dirt lot curtained by high-cut hedges.
Travel Tip: Before you enter the bridge, walk left onto a connecting trail. The best waterfall vantage point is at the crook of the guardrails.
This is Teddy Bear Park. And it's just as cute as it sounds.
History Of Teddy Bear Park Dallas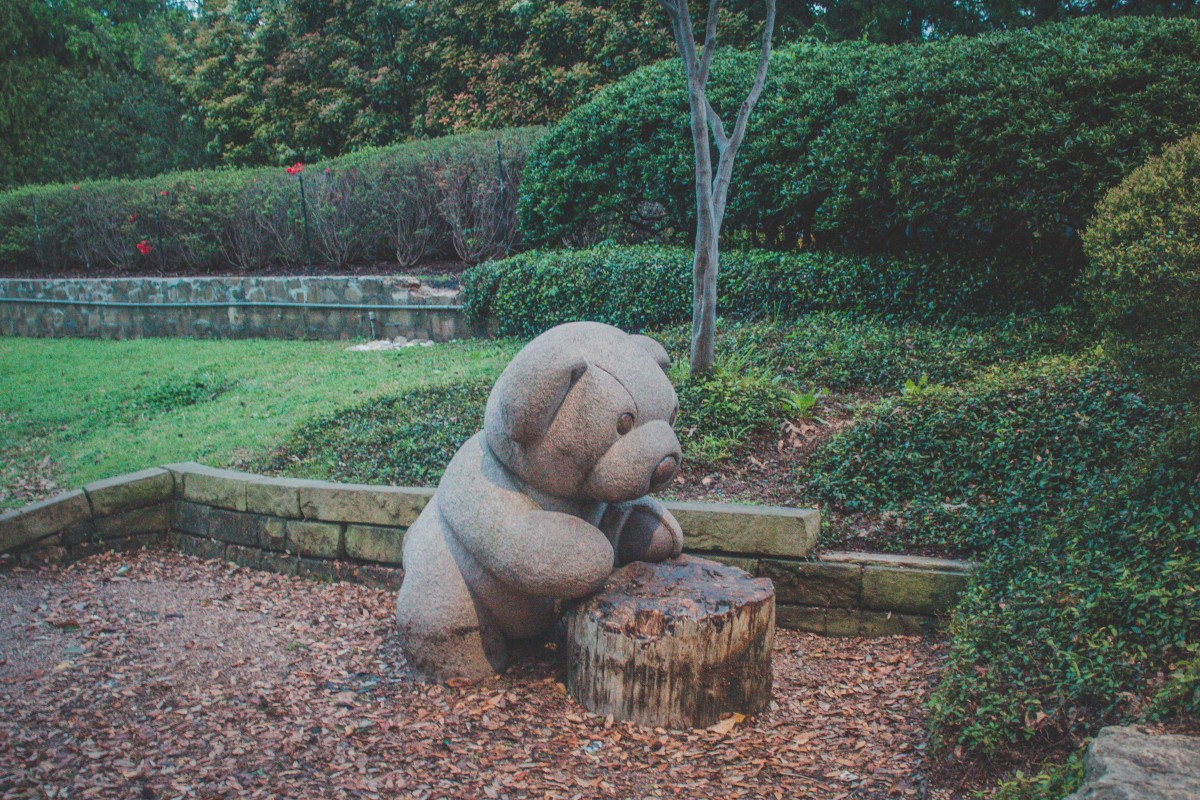 Year-end in North Texas usually feels like a lipstick touch of spring.
But in 1995, DFW faced an unusually cold Christmas. The temperature, in the mid-30s, neared a classic winter chill. There was no rain, no sleet, no snow.
On December 25th, the Harlon Crow family melted a dreary morning with a cheery donation – whimsical teddy bear statues in Highland Park. Crow is a son of Dallas. He has a smile that always seems mischevious. He's a philanthropist and eccentric real estate developer, who took after his father, Trammell Crow, the same Crow who laid a nest of Asian art (The Crow Collection) in downtown.
The bears have been a centerpiece ever since.
What To Expect At Teddy Bear Park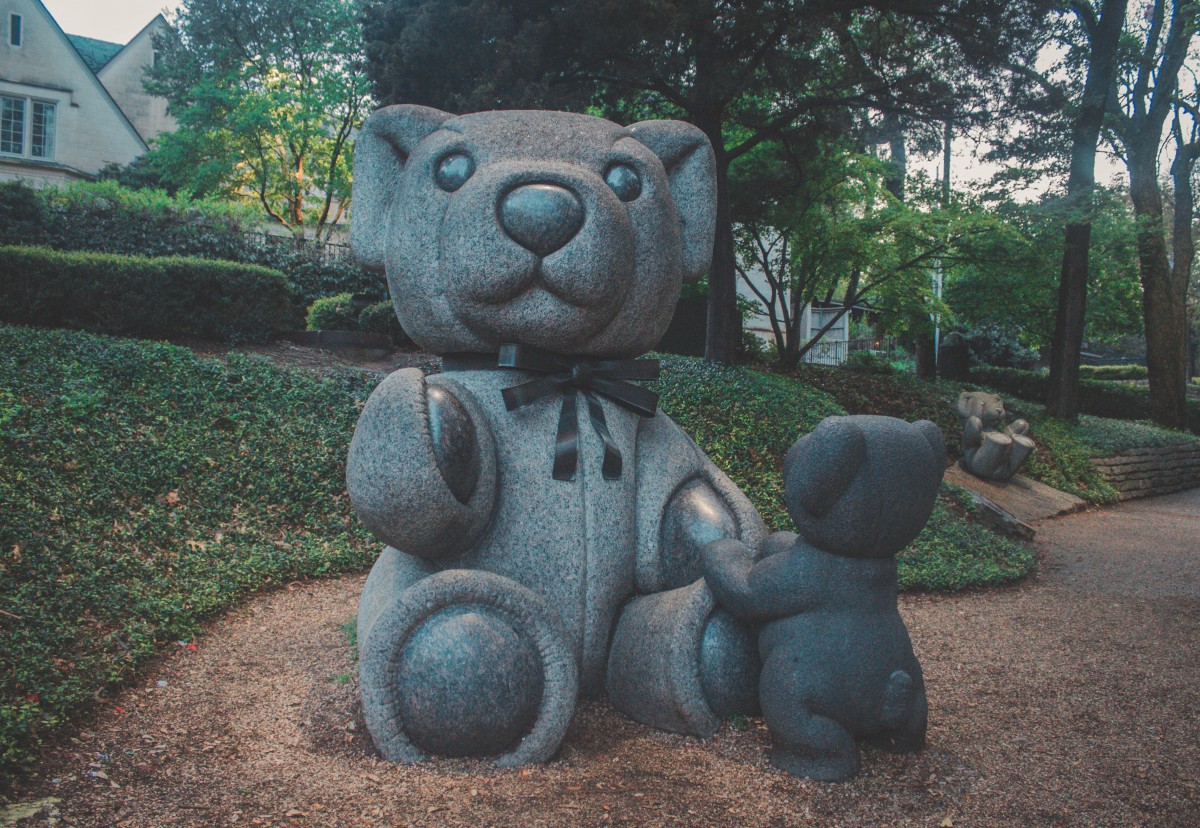 In the evening, Teddy Bear Park feels like the start of a children's novel.
As the sun sinks in the distance, Turtle Creek turns to pages colored pink and orange.
Here's what to expect at Teddy Bear Park:
The 8 foot tall Mama Bear, bow intact, stares at a blush sky. Although a footpath gently meanders behind her, she looks ahead, bright-eyed.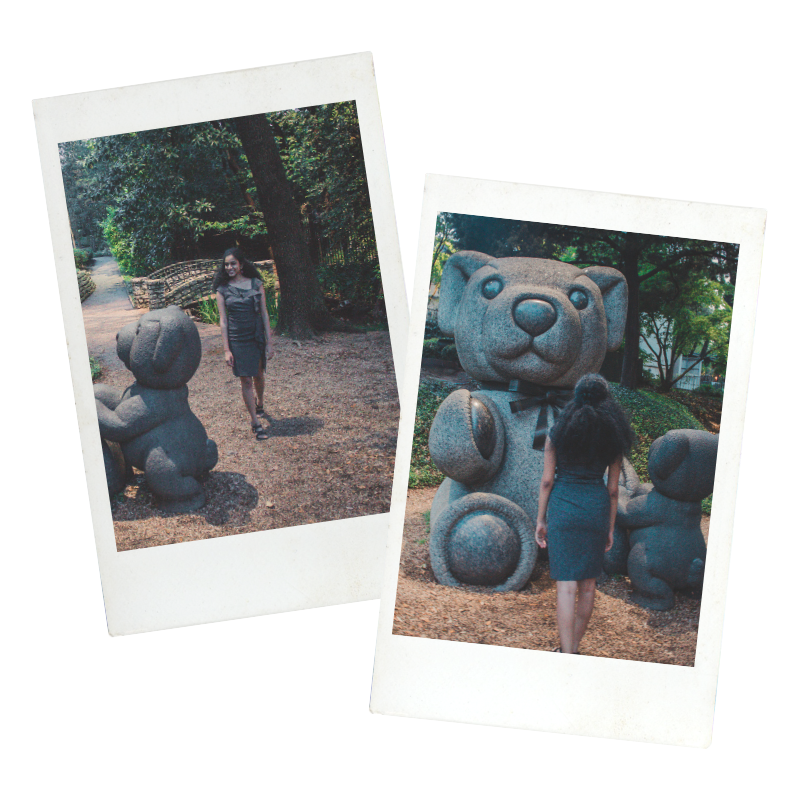 As we spread out our mini picnic blanket, we're joined by three cubs.
One cub presses onto Mama Bear's foot, another rests its paws on a clean-cut slice of bark, and the third smiles softly as it slides down a slope.
Teddy Bear Park, for the most part, is still a Dallas secret. It's usually quiet, hidden behind thick, leaf-studded branches. It sits at the edge of Gatsby homes and lux 20th-century architecture.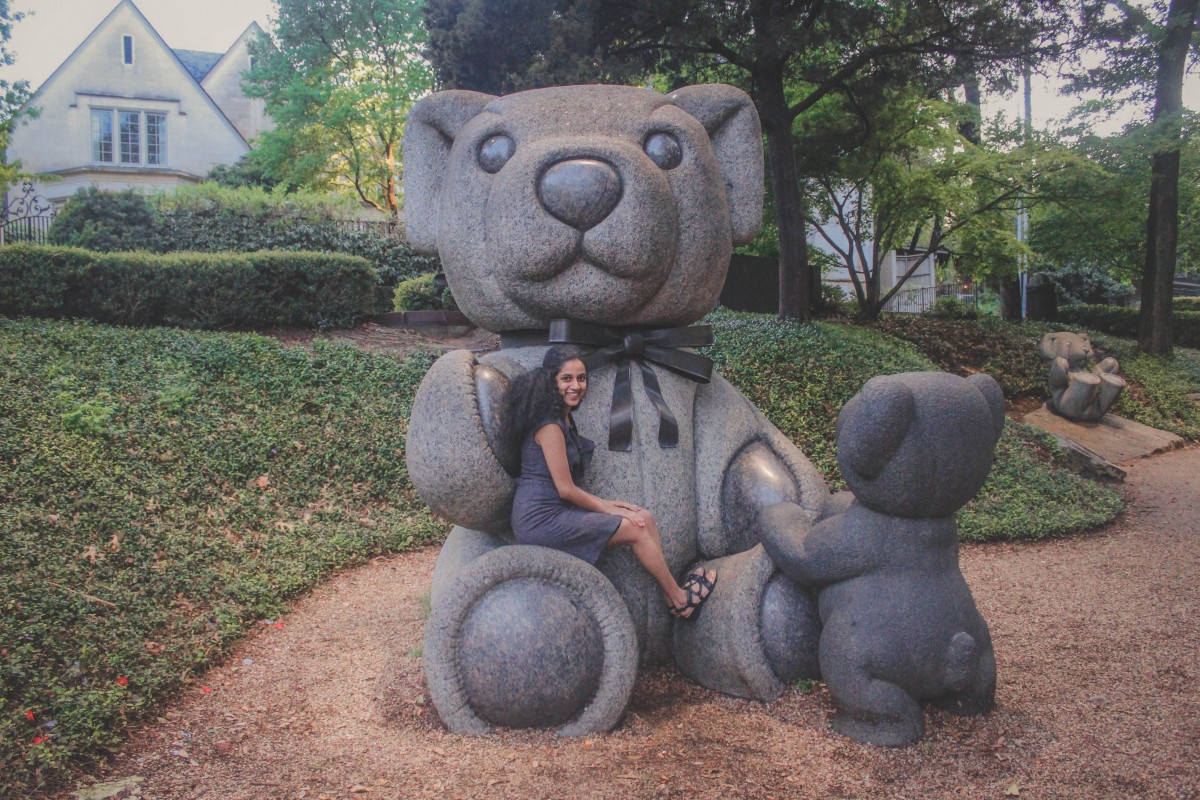 It's in the center of rich greenery that steals our eyes – rolling banks, sharp unreal hues.
As we walk back, we pass Exall Lake again. It's softly lit. And the landscape is hazily reflected on the water.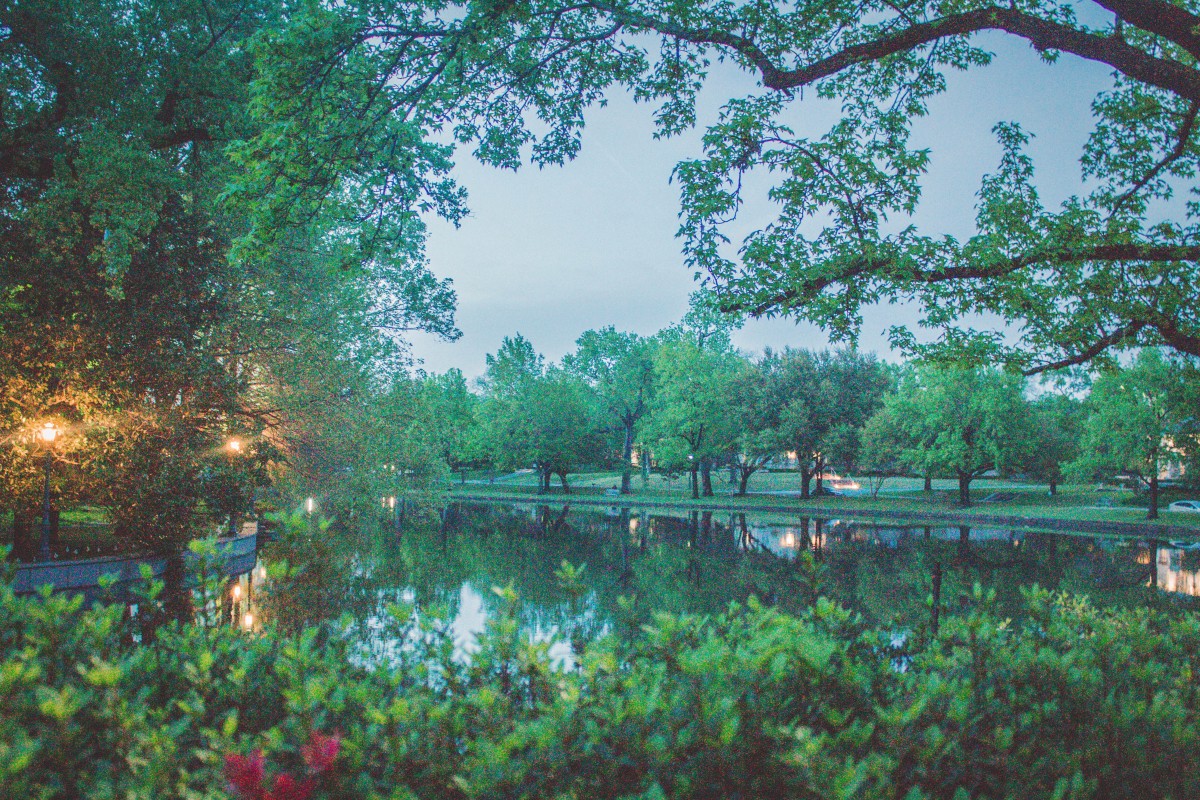 In the distance, we see Mama Bear and wave goodbye. Somedays, I wonder if she just might wave back.

Did you enjoy this travel guide to Teddy Bear Park in Dallas? Have you ever been to Teddy Bear Park in Dallas? Let me know in the comments below!