staying at The Candler Hotel Atlanta review
I have to tell you about the vault. It's there. It's real. It's not a rumor. This is where the Coca-Cola formula was locked up for over two decades. This right here, this room where thin metal bars grasp the ceiling. This underground space, floors and floors below where I'm staying. This place, near the kitchen, where the sounds of pots and pans aren't dampened and suppressed, where the full force of By George's staff can be heard, is where I'm standing.
Every year, millions of travelers make their way to The World Of Coca-Cola to get a close(ish) look at the iconic soft drink's most well-guarded secret. But in the early 20th century, the hit formula was kept elsewhere, a place less touristy, a place less visited: the basement of The Candler Building (now The Candler Hotel).
About The Candler Hotel Atlanta
three hours earlier
As we hauled our suitcases out of our car, I glanced at the clouds. They drooped down, blurring the hard lines of The Candler's roof into the fog. Opaque slips of rain shrouded much of the hotel's exterior details. But I could still see a few lower levels of The Candler's Beaux-Arts facade adorned in lion motifs and elaborate reliefs. First impressions inside? The Candler is glitzy. Large Tiffany chandeliers. Flashy gold elevators. Ornate columns. This is one of the most glamorous accommodations I've ever set my eyes on.
The hotel itself is just a mile away from some of Atlanta's biggest attractions: Georgia Aquarium, Centennial Olympic Park, National Center For Civil And Human Rights. It's a convenient location, but without a pool or rooftop (signature features of many other Atlanta boutiques), you'll want to check in for one reason alone: the history.
History Of The Candler Hotel
History is what keeps you coming back to The Candler. Every time you check in, you'll notice new details, new corners, new nooks that you "just" missed the last time. There's a lot to see. The building was constructed in 1904 (on the site of a former First Methodist Church). It was the product of Asa Candler, a politician most well-known for founding Coca-Cola. The Atlanta Candler wasn't the only eponymous building that was constructed. There were others in New York and Kansas and Maryland. But Atlanta's was still special. It's one of the oldest steel skyscrapers in the U.S., and at the time it was built, it was the tallest structure in Atlanta.
Central Bank & Trust Corporation was housed here during The Candler's early days. So was Coca-Cola. You'll still see evidence of that time: ornate Cutler mail chutes, stretches of original flooring, figures carved into busy walls. Today, QR codes are smartly placed throughout the hotel (and across floors). Scan them and your phone will pop up information about Candler's roots.
Checking In
I arrived at The Candler promptly at 4:00 PM. Valet parked our car ($45 per night). Check-in was afterwards and felt easy and comfortable. The Candler is a four diamond star hotel, and its rating shows. Little touch-ups. Genuinely heartfelt and warm service. Upon check-in, I was handed a black-and-white news-style welcome letter, which provided a brief run-down of The Candler's history and what to expect during our stay.
Then, it was time to head up to our room (which somehow, by some stroke of luck, was upgraded to a suite – I'm still not sure how this happened but I'm glad it did).
The Candler Hotel Rooms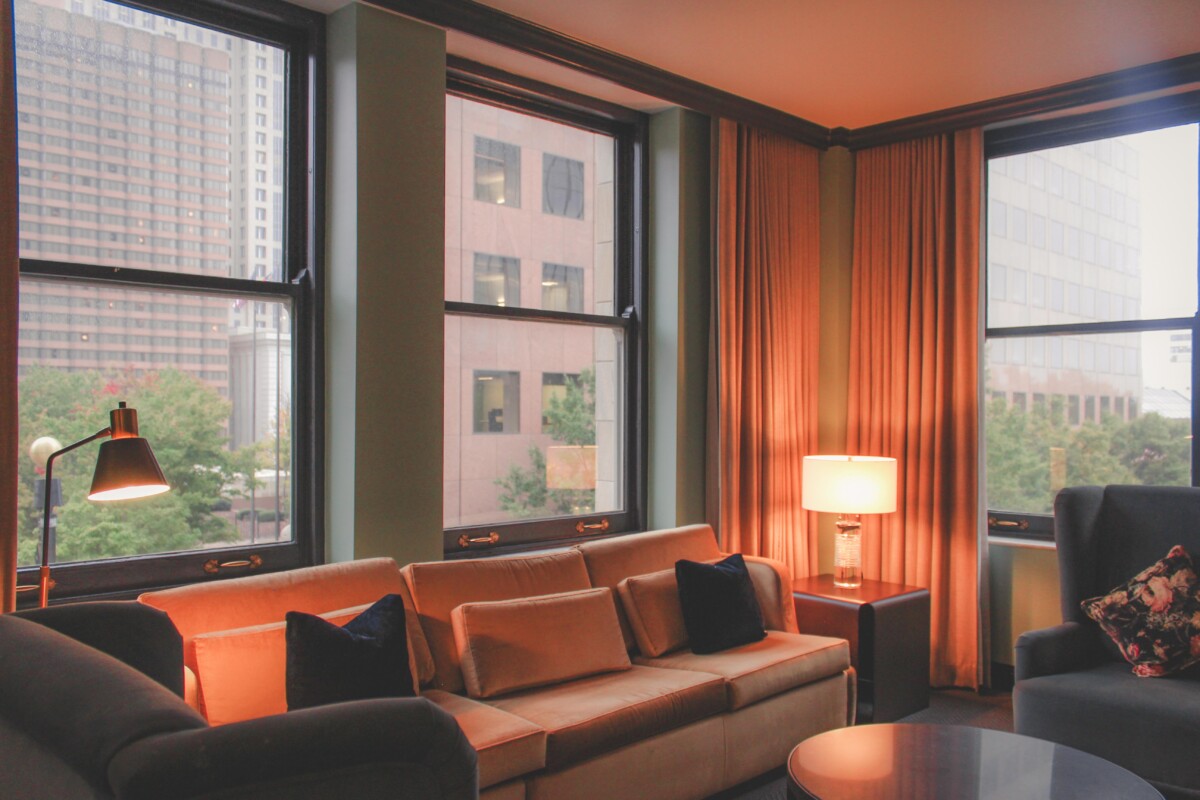 Candler's suites are stylishly laid out, with all the trimmings of a good pre-furnished luxury apartment (sans kitchen). Comfortable seating. A cozy breakfast nook. A decadent coffee station. A place to relax, prop up your legs, and watch TV.
The suite was dim when I entered, but once I pulled back the curtains, it brightened up. Light streamed in and poured onto the tables and pillows and stands. There were so many windows (how many windows can a room have?). And each one ran a view of Atlanta's cityscape. I watched cars zip along Peachtree Street, and caught glimpses of commuters crossing sidewalks en-route to office.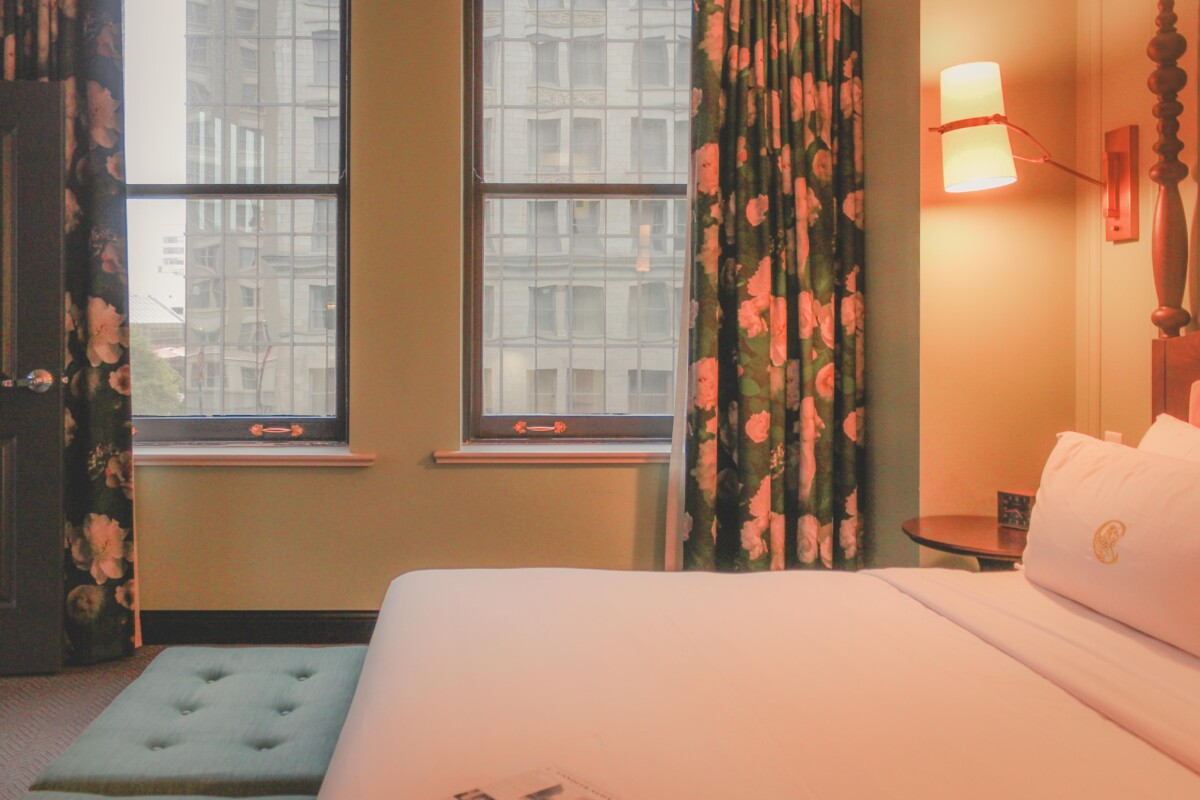 After people-watching, I grabbed my suitcase and stashed it in the bedroom closet. Candler's bedrooms are sharply designed and decadent. The beds are made for sleeping. They're easy to lie in, with cloud-soft pillows and fresh white sheets backdropped by jungle green magnolia-ed curtains. There's a TV in the bedroom too (seriously, this hotel will make a potato out of me).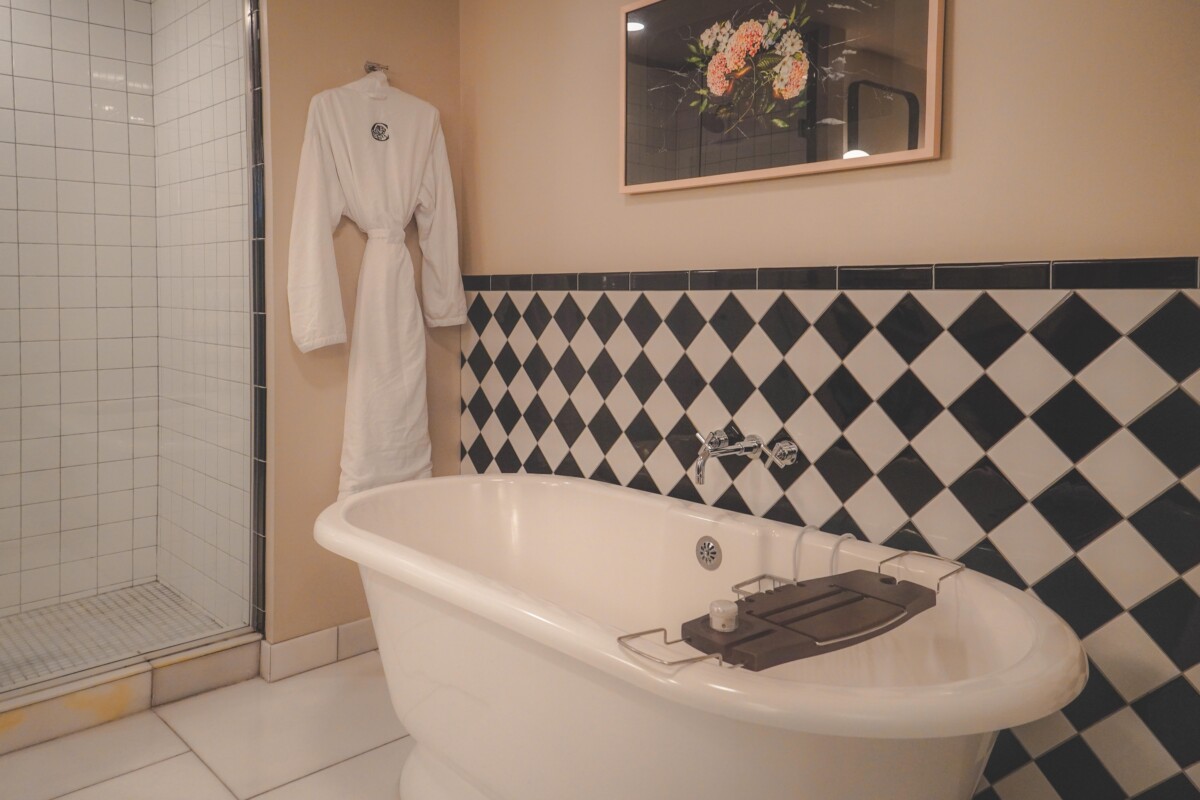 The design feels intentional. It's meant to get you to loosen up. You can tell this hotel is big on self-care from the capaciousness of the bathroom alone. A large, delightfully deep tub is the proud centerpiece. Atop its rim is a bath salt laden caddy. Bring a book, run the water for a bit, and plan to spend some time just resting and relaxing here. Afterwards, slip on The-Candler logo-embroidered hotel robe. Candler's robes are sensuously soft and skin-hugging; they feel light and dangerously comfortable and will warm you right up.
Amenities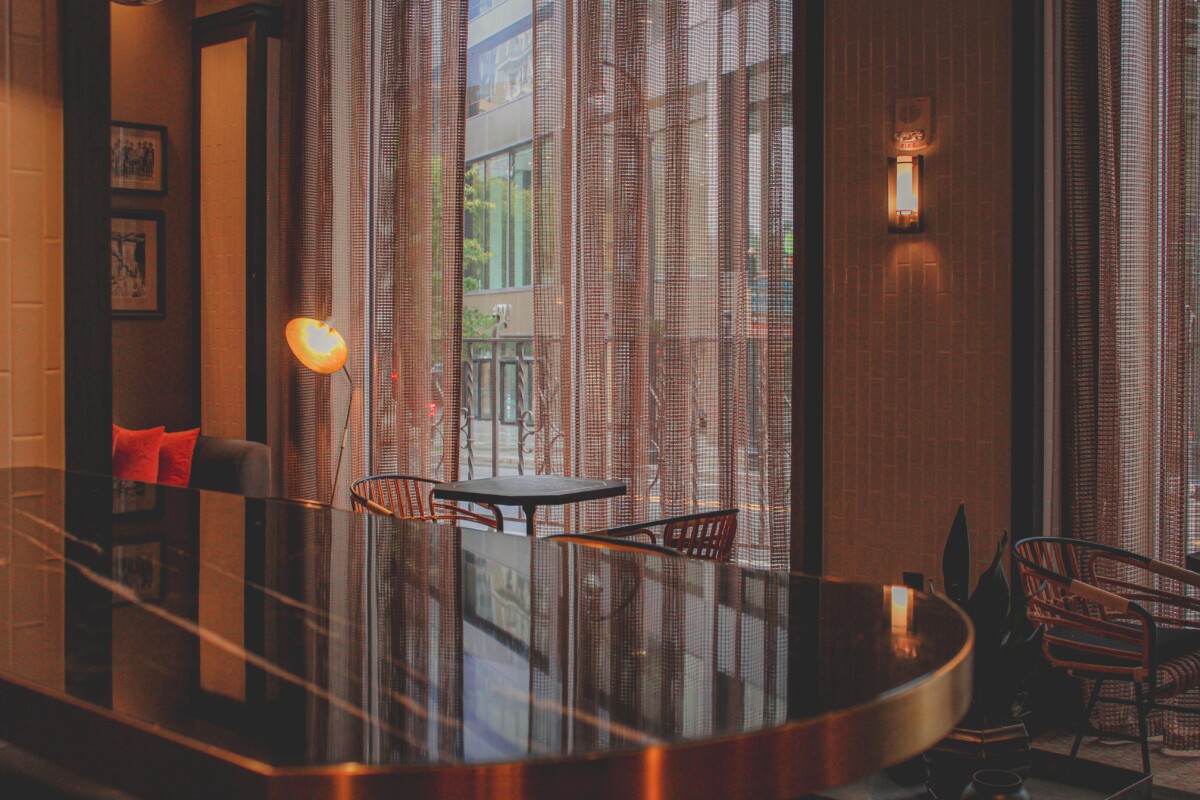 Downstairs, at the reception and concierge desk, I asked for an insider tour.
Tours are usually offered on Fridays. But even though it was a Sunday, Candler's staff kindly accommodated and gave us a one-on-one walk-through of the property. There were so many details that I missed at check-in that I came to love and appreciate through our tour guide's storytelling.
Candler's history tour is one of the most unique amenities the hotel offers (if you're checking-in, it's a must). You'll wind through marbled halls and stop by photos of Asa Candler and get the low-down on the reliefs that shape the grand staircase. You'll pass through backdoors, see the vault, and even push open a secret panel (that offers an alternate exit to the building).
Once our tour wrapped up, we hit the fitness center, another one of Candler's most-loved features. The hero equipment? Peloton bikes. There's more too: a rowing machine, yoga mats, kettlebells.
Travel Tip: Keep your eyes peeled for The Candler's cute champagne cart where you can pick up a fresh peach (a nod to Georgia's official state fruit) cocktail.
By George: The Candler Hotel Atlanta Restaurant
By George is the perfect upscale spot – posh and dapper, luxurious and sharp. I went on Sunday, a time when By George is emptier, quieter, more hushed and attentive. Crowds come (and advance recommendations are much needed) on Fridays and Saturdays, when music swells through the floors.
Brunch is By George's specialty: contemporary American dishes, grown-up drinks. But as this was a date night, I went for dinner. And after sampling the menu, here are my top tips. Start off with By George's Crab Cake. It's firm, creamy, indulgent, and portioned with a side of ruffage. For a hearty entree, opt for the Grilled Lamb Chops, a delightfully tender, asparagus-topped plate made more flavorsome by mint chimichurri. If you're visiting for brunch, ask for the pastry basket (it's worth it).
Is The Candler Hotel Worth Staying At?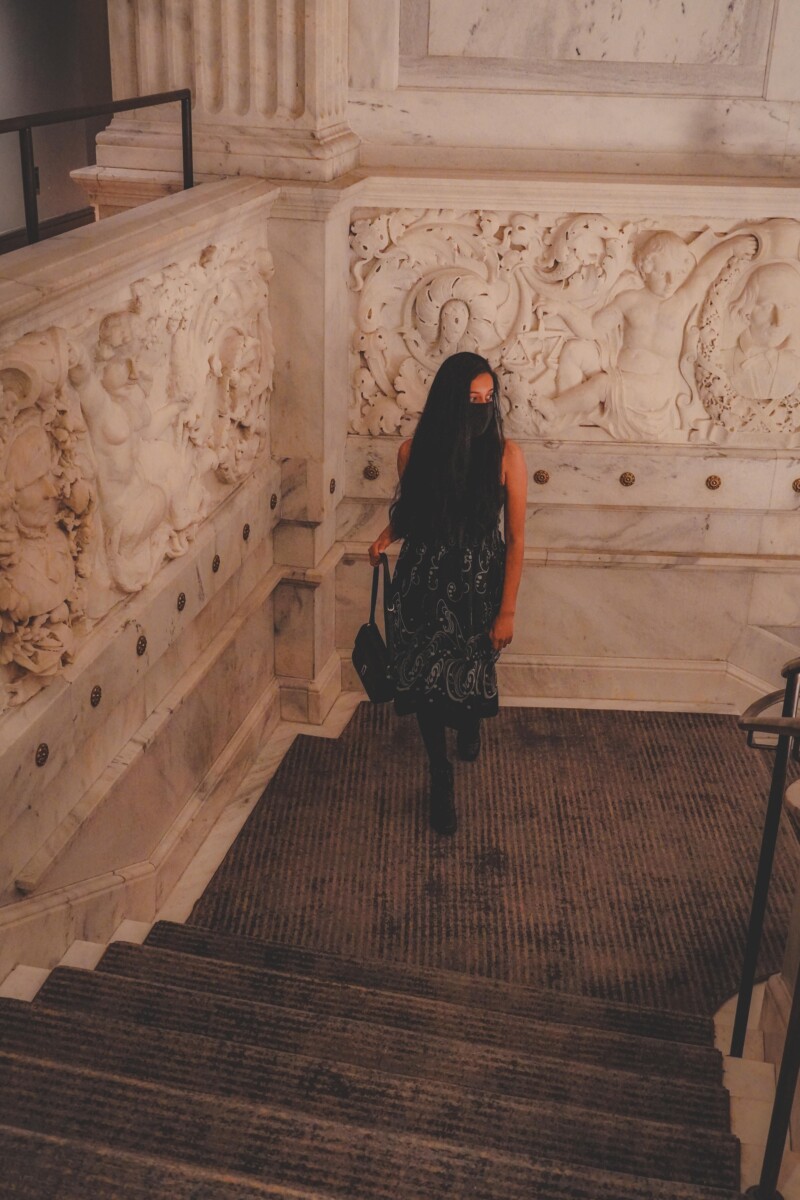 Yes! Absolutely. The Candler is our current favorite historic hotel in Atlanta. Hilton's boutique experience takes a service-first approach. The suites are dreamily sized and accoutered with everything you would need for a short Atlanta getaway. The Candler is the kind of hotel you can explore endlessly, but it's also well-located (so feel free to drive out and see the city beyond).

Did you find this Candler Hotel Atlanta review helpful? What was your experience at The Candler like? Let me know in the comments below! As always, I love hearing from you.