The Fort Worth Stockyards National Historic District is a scrap of an old-western "cowtown" with a few modern trimmings. And as a cowboy-obsessed, film fanatic (better summarized as: I like John Wayne), I have decided to share with you fifteen fun things to do at the Fort Worth Stockyards.
Pose For A Picture With A Cowboy
He looks like the kind of man who has no name. Tall. Grizzly. Mysterious. With his index finger and thumb, he pinches the reins. It's a slow movement – natural, effortless. He does it unknowingly, while adjusting the saddle to seat his stocky frame. On cue, his horse, a brown stallion, trots forward, nose buckled down. His horse's steps are slow and effortless as well, languid almost, as it paces the central lane of the Fort Worth Stockyards.
"Anshula, I think you've watched too many Western movies," you say, stifling a laugh at my enthusiasm.
I know. I have. But there is something about the frame – yellow-tinted, a cast of cattle in the background, and a lone-star hero riding forth that reminds me of the classic films. Though, the cowboys, here, look more Woody from Toy Story than Clint Eastwood – shouldering a kinder, approachable look instead of a rough-riding, stony-eyed, drifter.
The cowboys sit on their saddles, backs bent a little – enough to look raw yet authoritative. Their hats cast shadows over their faces so we can barely hear the low sounds that escape beneath their batwing beards.
A tiny cluck.
Giddy-up.
Arre!
Watch The Cattle Drive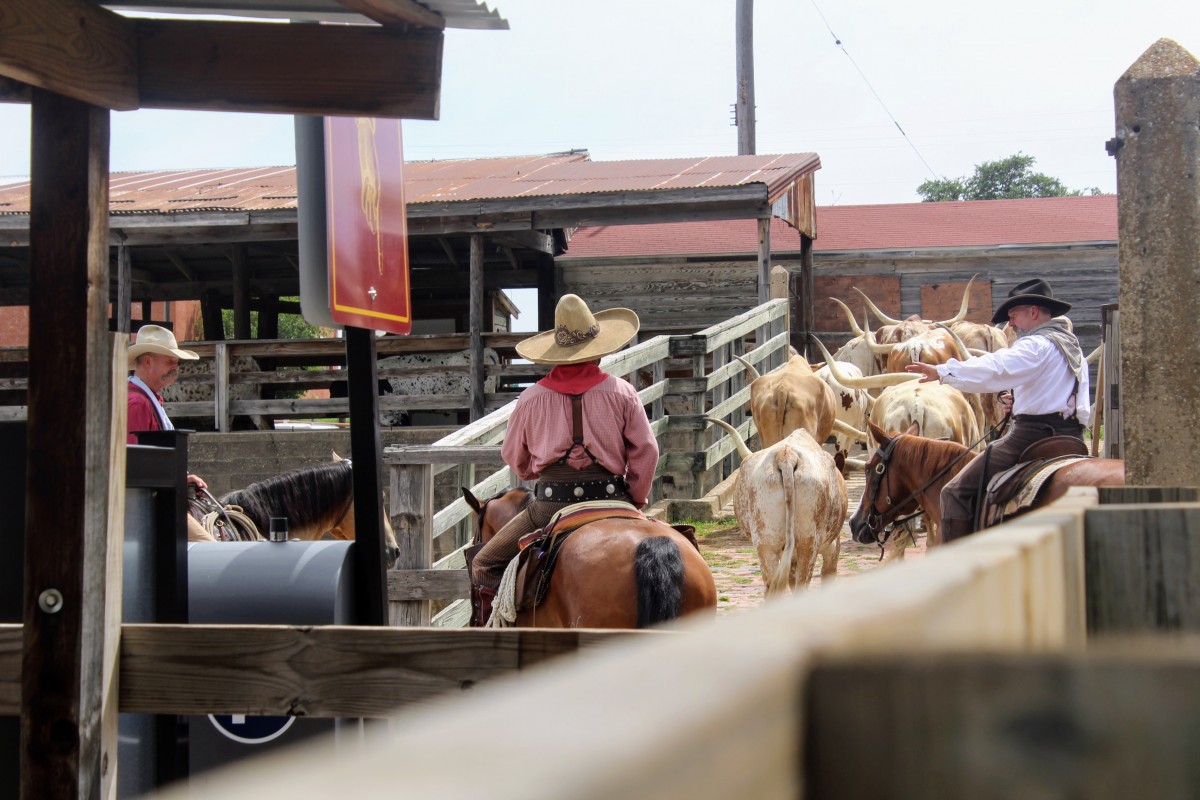 We follow our mystery cowboy along E. Exchange Avenue. As he steals the main scene, we blend in with the crowds shifting around for the show. Everyday, at 11:30 and 4:00, the Fort Worth Stockyards Station holds a cattle drive. Brown and white speckled livestock, flashing 1.8 meter horns (5 ft. 9 inches, crazily enough) trod behind the cowboys. Texas Longhorns – the iconic animals of Texas – parade down the street, as they are herded into their pens.
Grab A Bite To Eat At Stockyards Station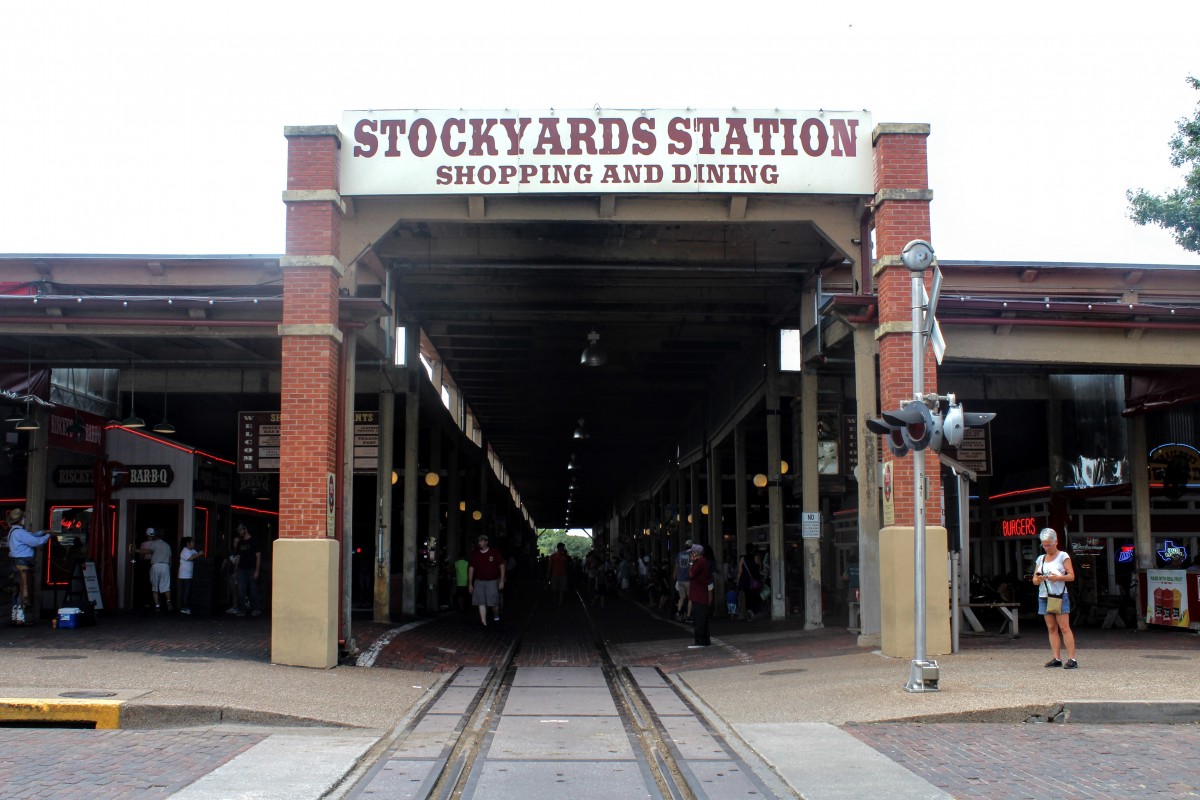 Our cowboy disappears out of frame, along with the cattle.
"So, what now?" you ask. We've already crossed off one of the most quintessential things to do at the Fort Worth Stockyards. What else is there?
I perk my nose up, as the smoky scent of barbecue wafts through the air.
"Do you want to get something to eat?" Typical, Anshula – when bored, search for food.
We turn towards Stockyards Station. In the broad daylight, Stockyards Station is a tunnel of black. Dim bulbs cast a soft hue over 25 stores and restaurants. There isn't much bustle here. The crowds have died down, leaving only light chatter.
Watch A Free Show By Legends Of Texas
A loud bang rents the silence.
A single gunshot.
No one is running. No one is screaming. Something is wrong.
We head inside. People have their hands clamped over their ears. Another crackle shatters the space.
What in the world is going on?
"Well," a loud drawl shouts. "I'm done."
We breathe a sigh of relief. A play. Right after the weekend cattle drive, Legends of Texas presents a realistic, old-western gunfight re-enactment, tucked away in the corner of Stockyards Stations.
Shop For A Classic Lone Star Cowboy Hat
I let you watch as I step into a store to escape the deafening bangs – Barbara's Custom Hats.
When in Texas, you have to buy at least one cowboy hat. And boots. Really nice boots. Am I right?
Visit The Stockyards Museum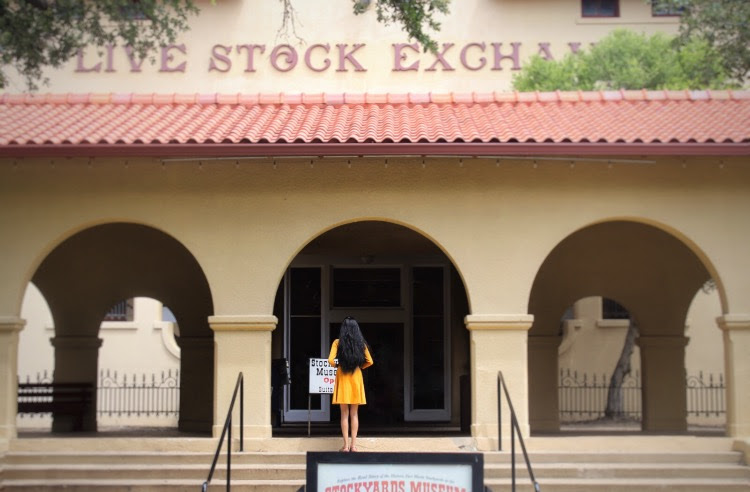 The Fort Worth Stockyards Museum is for those who love odds and ends. Black and white photoscapes of cowboys. A bad-luck wedding dress (I think I'll stick to David's Bridal). A light bulb that has been burning for over 100 years. The admission fee is $2.00 per person, which is well-worth the price, even if you are just visiting to dodge the heat.
Visit The Cowboy Hall Of Fame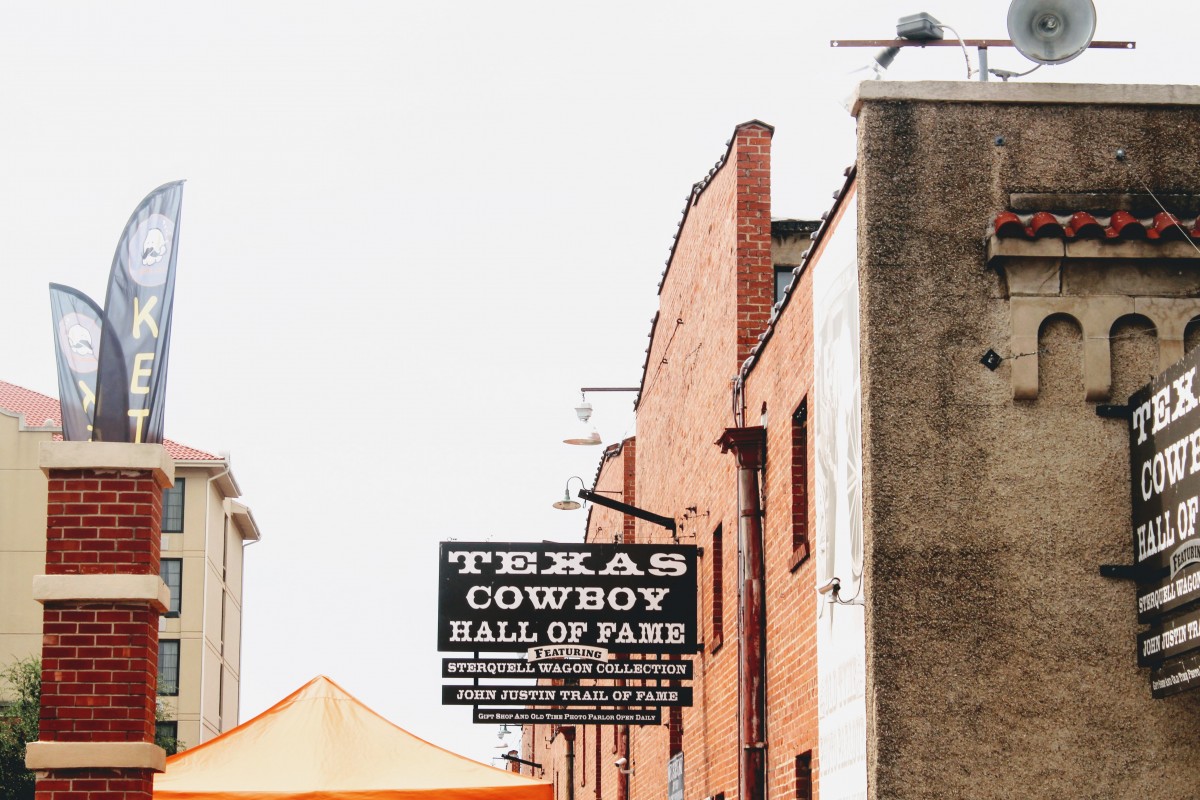 To get the low-down on local history, we head to the Texas Cowboy Hall Of Fame, a compact museum that has an excellent exhibit on the Chisholm Trail, the late 1800s cattle drive trail from Kansas to Texas (that stopped by Fort Worth).
At $6.00 per person, this museum feeds all the history we need to put our trip into perspective. I mean, how did we go from horse-drawn carriages to modern-day vehicles? How does a cattle drive really work? What were cowboys actually like? Wandering around the Stockyards opened doors of questions and this comprehensive museum does an excellent job of closing them.
Catch A Live Concert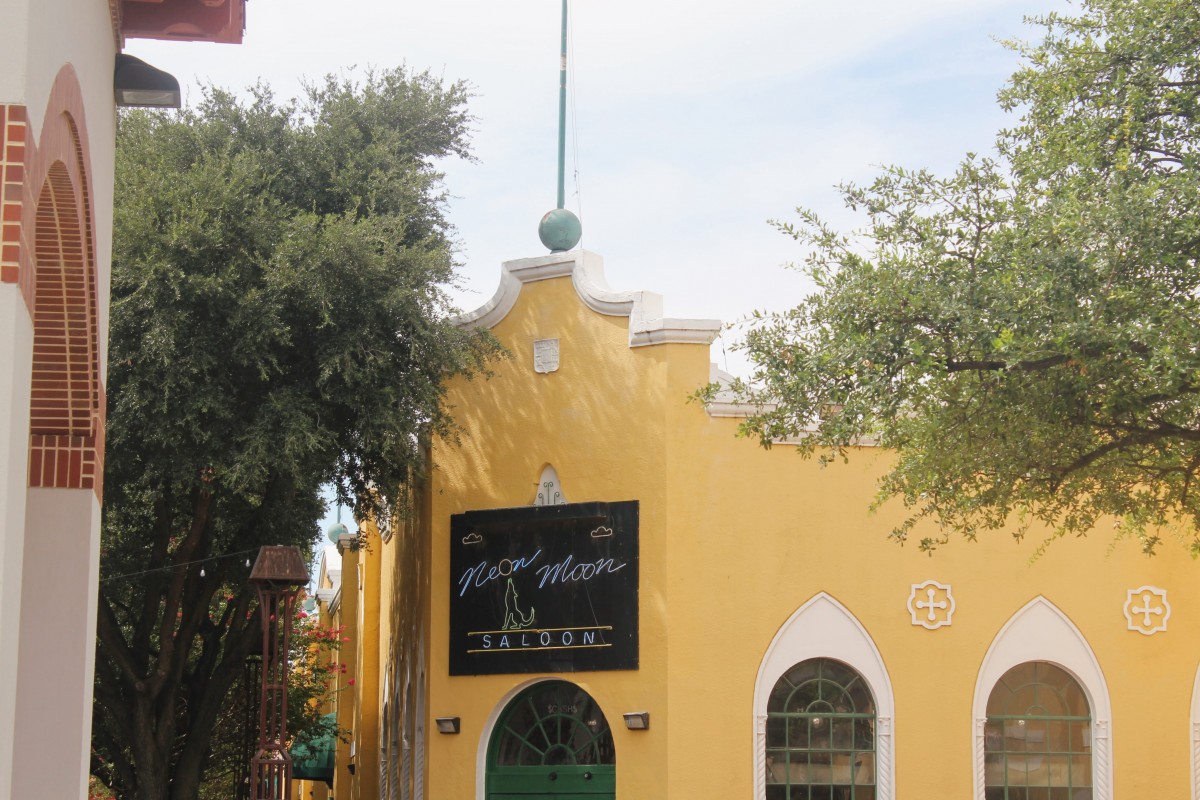 I'm not a nightclub person. I'll be the first to admit that. When I dance, I look like a rusty robot in need of oiling.
But, I do love music – country being no exception. Billy Bob's Honky Tonk (yes, that is the actual title) has an amazing series of live concerts. Big country names boom through here frequently. While it is a dancehall, Billy Bob's crosses a more family friendly vibe than some of the other night-clubs in the Stockyards.
Learn To Dance
And – oohhh, they have dance lessons. Maybe, I should sign up. I might finally learn the country two-step.
But I digress, Billy Bob's is part of the essential Stockyards experience. This wouldn't be a complete list of the top things to do at the Fort Worth Stockyards if I didn't give Billy Bob's a shout-out. After all, flitting between old and new is what the Fort Worth Stockyards is all about.
Stroll The Grounds
As we exit Billy Bob's, we decide to stroll the grounds. This is perhaps one of the best things to do at the Fort Worth Stockyards – walk and see what you can discover. As we cross the street, I notice a figure dart around the corner – the kind of figure without a name. Tall. Grizzly. Mysterious. The cowboy we saw earlier? Perhaps.
I don't know. I can't say for certain.
But with cattle drives, gunfights, and lone-star cowboys, I can say that the Fort Worth Stockyards cultivates an old Western sense of adventure.
Fort Worth Stockyards: 130 E Exchange Ave, Fort Worth, TX 76164, 9AM – 5PM, FREE (though parking is $10 and some exhibits cost money), Website
Bonus List Of 5 Things To Do At The Fort Worth Stockyards With Kids
And you thought I was done with the post…
How cute. Most of the things I listed in this post, I consider fun regardless of age. Now, I'm going to introduce you to all the top five things to do at the Fort Worth Stockyards with kids (most of these are a little pricier, which is why I added them to this section). Are you ready?
Carriage Ride: Take a stagecoach ride around the Fort Worth Stockyards over the weekend (less than $15.00/person – cash only).
Cowtown Cattlepen Maze: Sit at the observation deck and watch kids race through a giant maze ($6.00/person).
Horseback Rides: Great for anyone above five who wants a memorable ten minute experience ($20.00/person per 10 minutes).
Ride a Mechanical Bull: How long can you last on the mechanical bull? I couldn't last very long. Twenty seconds. Maybe less. Probably less. ($6.00/person)
Visit the Petting Zoo: Lots of really cute baby animals at this weekend-only attraction ($2.00/person).
Like this post? Pin Me!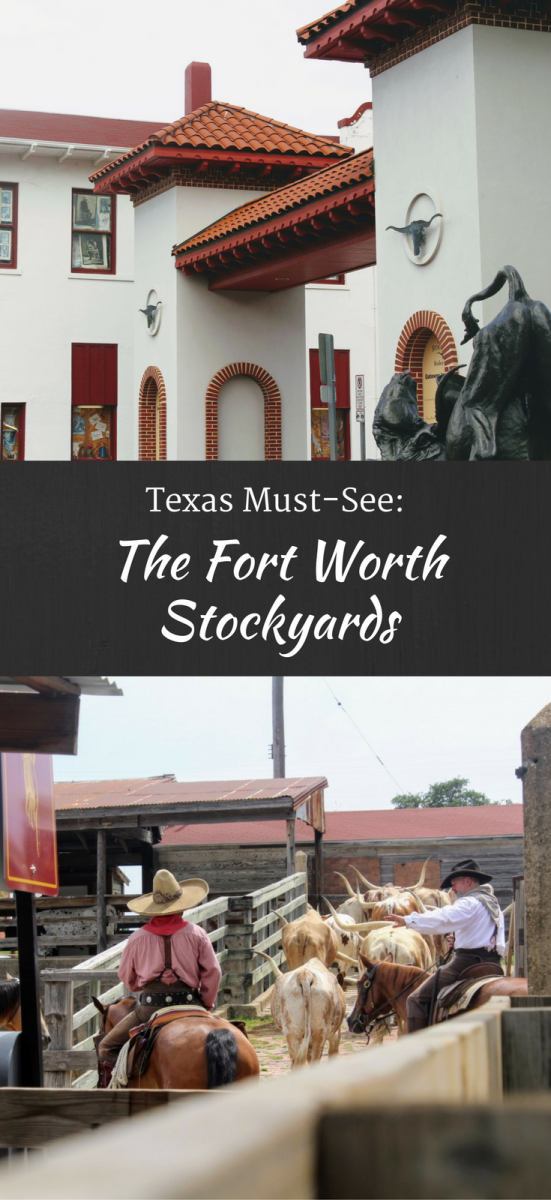 Did you enjoy this list of fun things to do at the Fort Worth Stockyards? Do you like the Old West? Have you ever been to the Stockyards? Let me know in the comments below. I love hearing from you!