best things to do in Indianapolis, Indiana
On Monday, Indianapolis is quiet. The sun is warm; the air is cold. Shadows of shutterless homes loom past trees. Under the covers of porticos are soft lights and empty egg chairs. For some reason, I expected Indianapolis to be busier (I blame the Indy 500 for this). This lack of cars zooming, cycles hurtling, and people dashing is unexpected – when really, it shouldn't be.
Although Indianapolis is home to the Racing Capital Of The World, there are a dozen other reasons to visit: award-winning restaurants, cozy cafes, exhibit reimaginings, giant murals. The former home of Benjamin Harris, the 23rd President of the United States, is here. So is the largest children's museum in North America.
Indianapolis is a place of surprises, of maze-like galleries and literary landmarks. It is a circle of dense buildings and local businesses. And the sharp blue waters of White River cut through it all.
So if you're planning a Midwestern getaway (or simply seeking out more local places to visit), here's a list of things to do in Indianapolis, Indiana. Pack comfortable shoes. You'll be walking a lot.
Disclosure: Thanks to VisitIndy for helping cover the costs associated with creating this article. All thoughts and opinions are my own.
Things To Do In Indianapolis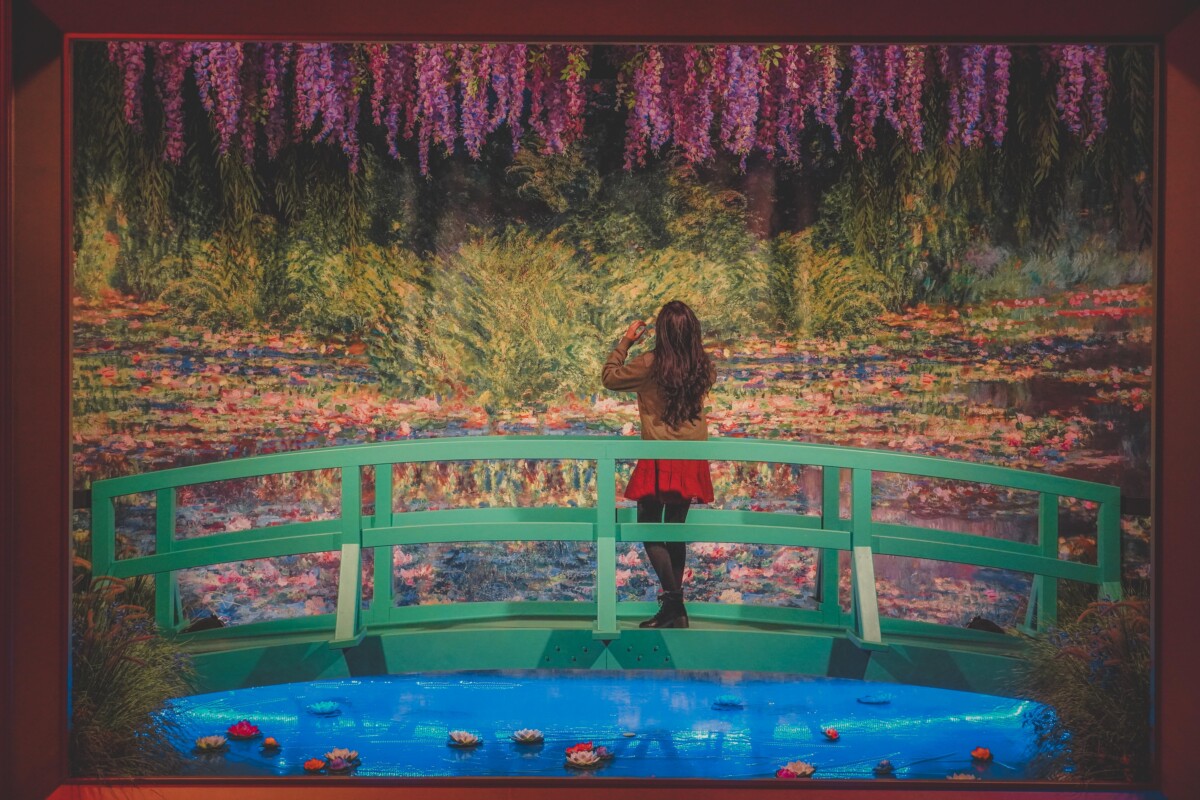 Start your Indy trip at Newfields on Michigan Road. Newfields feels endless, like you can walk and walk and walk and never quite reach the end of it. And perhaps, that's true.
Indianapolis' art museum is beast-like in its sizing. It is unabashedly big – floors and floors tall, multiple galleries deep. There's a hip cafe and an ultra-hip beer garden. The campus extends beyond that too, to gentle meadows and a lake.
It's here you'll find Virginia B. Fairbanks Art & Nature Park, home of Bench Around The Lake and Free Basket (described in John Green's bestseller, The Fault In Our Stars, as a "basketball court filled with huge blue and red steel arcs that imagined the path of a bouncing ball").
Newfields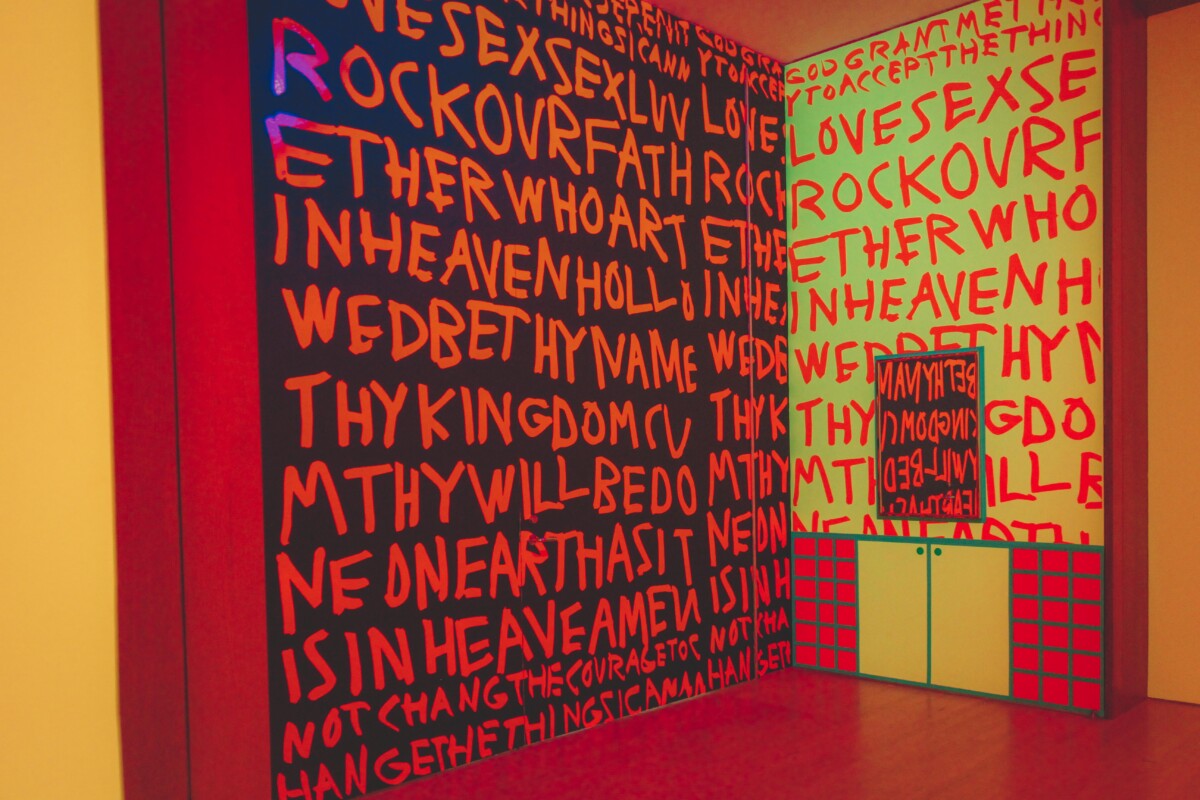 Unsurprisingly, Newfields can not be seen in one day. If you try, you'll be overwhelmed. You need to segment this museum, take it in slowly, visit and re-visit. Start in the Asian and African art galleries (third floor) and work your way down. Don't be afraid to get lost, to wind your way through the rooms and freely explore. Just be sure to give your feet a break at Clowes Pavilion, an airy nook with an immersive LED-ceiling.
Tech-driven displays have made their mark in Newfields (evidence: the entire fourth floor, better known as LUME, is made up of synchronized screens projecting Monet, Manet, and Renoir). And it's this willingness to modernize a museum setting that makes Newfields one of the best things to do in Indianapolis.
Travel Tip: If you're visiting Newfields on a weekend, stop by Black Wordschoolers, Natalie Pipkin's cool, converted book bus parked right outside every Sunday!
Eiteljorg Museum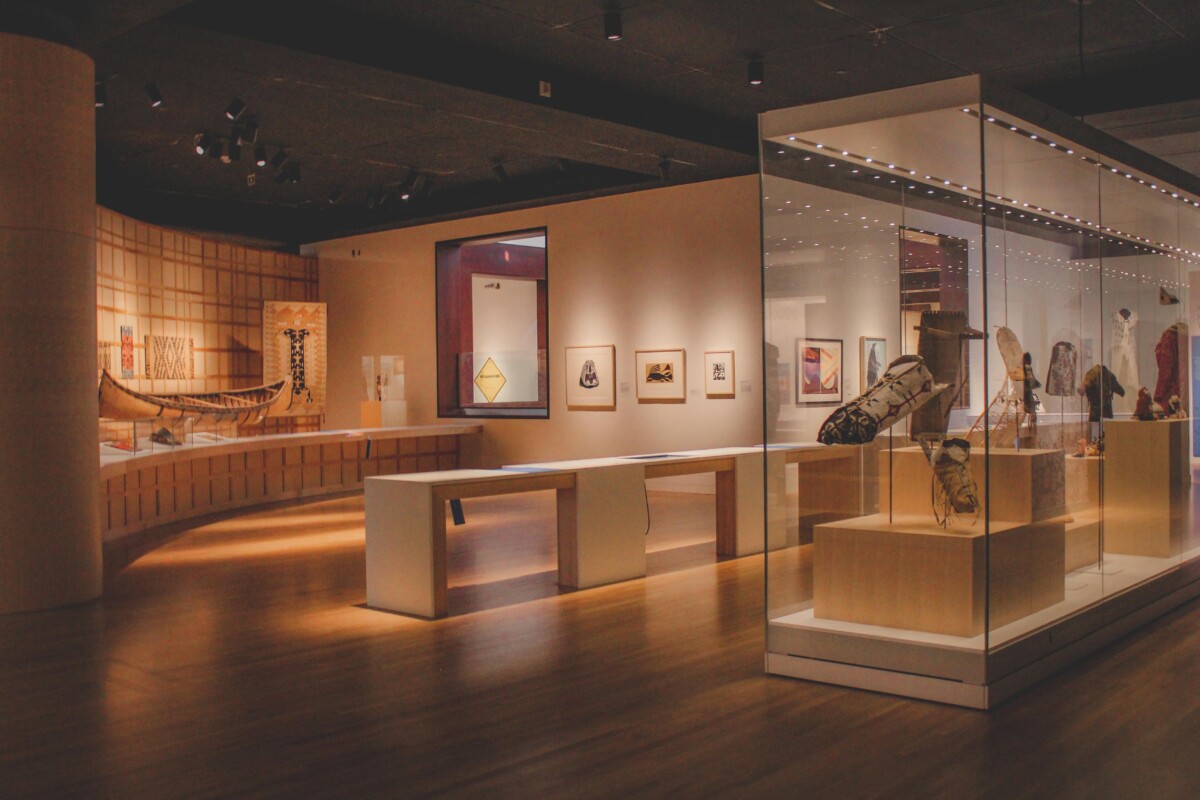 Another top place to see in Indianapolis? Eiteljorg (for Expressions Of Life: Native Art In North America). Through Expressions Of Life, Western-focused Eiteljorg moves away from colonialist thinking. This series of galleries begins and ends with a land acknowledgment. Expressions celebrates the richness and diversity of Native cultures. It highlights shared experiences, but it also takes great care to present Native art as non-monolithic.
You'll see Hannah Claus' shimmering cascade of river images (water song: peemitanaahkwahki sakaahkweelo), Harry Fonseca's storybook-like acrylic (Coyote and Snow), and unrecorded Ojibwe artists' expert basket weavings. Expressions Of Life is unafraid of hard truths and challenging stereotypes.
Crispus Attucks Museum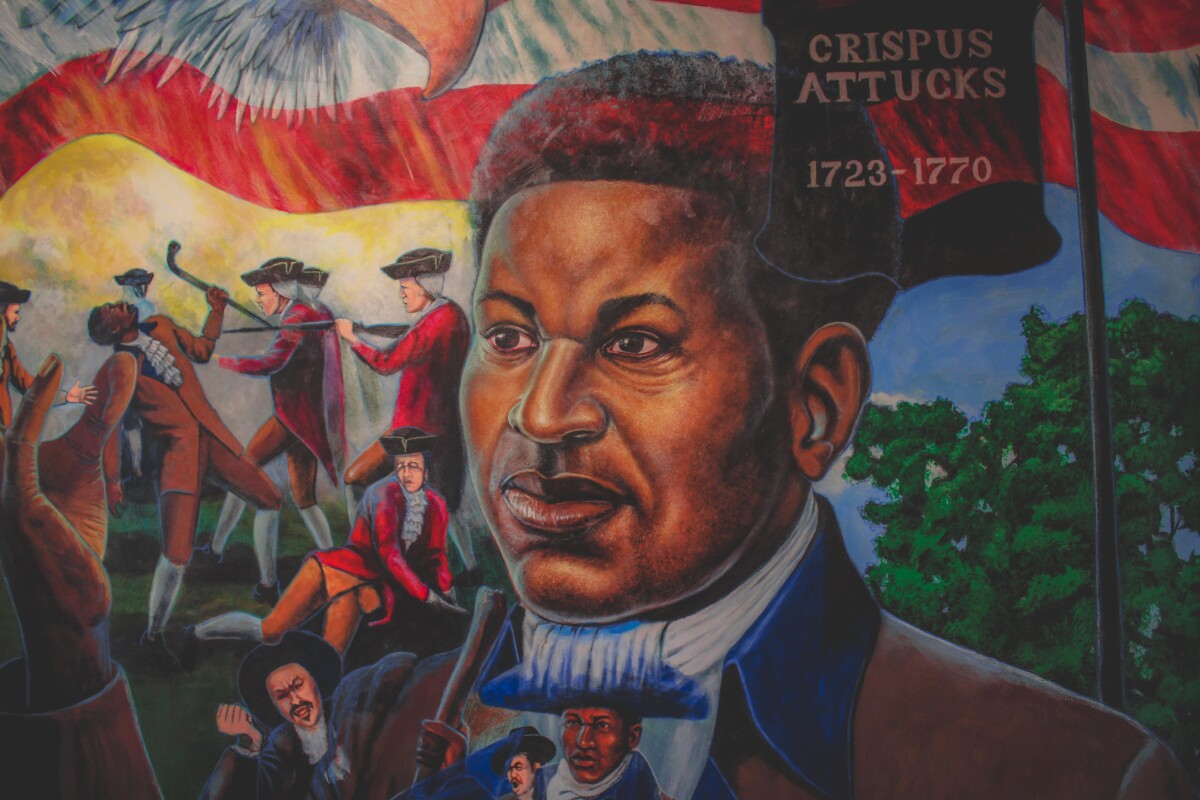 It's no secret Crispus Attucks is one of the best museums in Indianapolis. It's grown a lot since its early days. Tabletop displays have blossomed into winding clusters of exhibits, exhibits about the Tuskegee Airmen, the life and legacies of former students, and local Jazz legends.
The museum is a celebration of Black culture. It is a place that highlights Black joy and Black achievements. You'll see yearbook photos expanded into then-and-nows: the students of Crispus Attucks High School went on (and continue to go on) to become doctors, nurses, teachers, and athletes. On display is a DVD copy of Attucks: The School That Opened A City (Ted Green's Emmy-award-winning documentary centered around Crispus Attucks High School); a long, detailed list of Black Miracles (patents by Black inventors and scientists that affect our everyday lives); the symbolic meanings of Ghana's Kente cloth and Côte D'Ivoire's Adinkra cloth. You'll see a photo of the Boston Massacre Monument (where Crispus Attucks' name is etched), a copy of Oscar Robertson's memoir The Big O: My Life, My Times, My Game (Robertson graduated from Crispus Attucks High School), and a Crispus Attucks bust.
Canvassing the wall leading into Crispus Attucks Museum is Michael Alkemi Jordan's vibrant mural honoring Crispus Attucks, the Revolutionary War hero.
Travel Tip: This museum is open to the public by appointment only. To make an appointment, call 317-409-5281 (or 317-226-2432).
Giant Murals Tour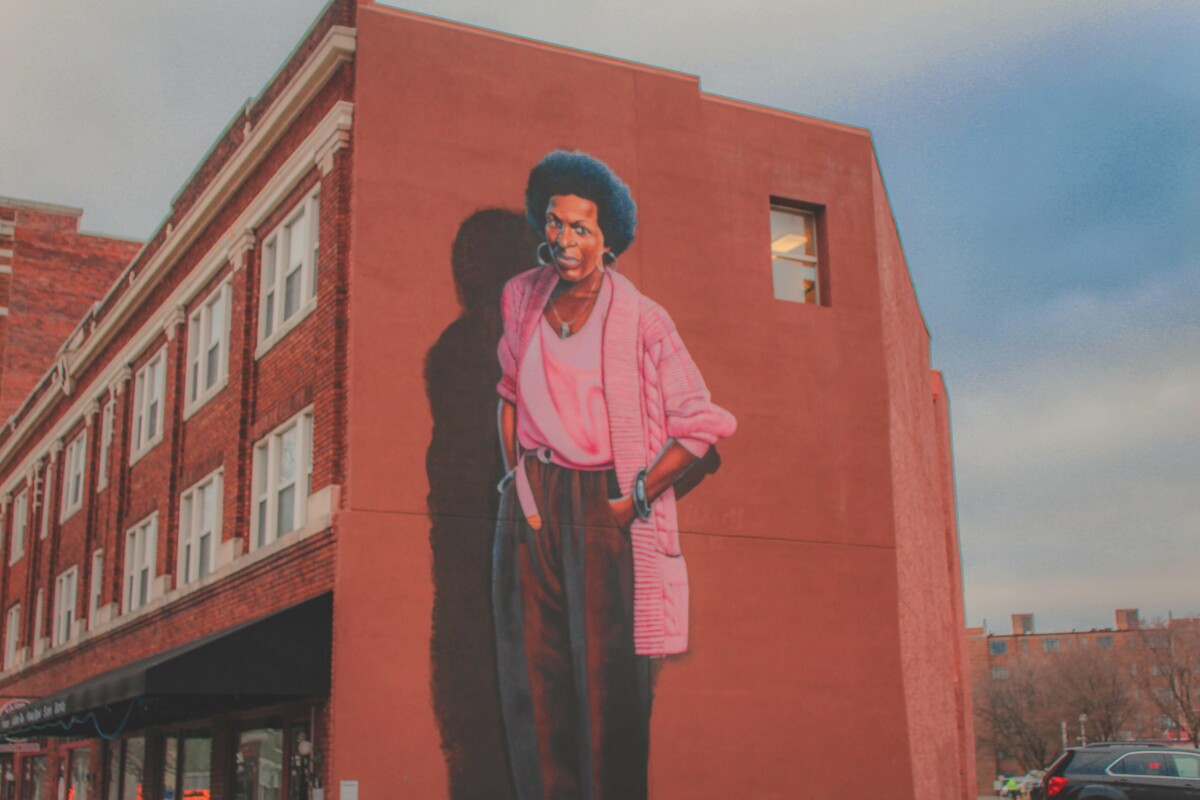 Jordan's also the artist behind the Mari Evans mural in Indianapolis. Evans penned the powerful poem, I Am A Black Woman. She was one with the Black Arts Movement. She wrote children's books and piercing, critical nonfiction. She adapted Zora Neal Hurston's Their Eyes Were Watching God into a play in 1979. Evans was a woman who did it all, who was larger than life. And she still stands tall, immortalized through a thirty-plus foot high mural, part of a quad of giant figures coloring Indianapolis' buildings.
The rest of the murals were painted by Pamela Bliss, and depict Reggie Miller, Eva Mozes Kor, and Kurt Vonnegut. Here's how to see them all.
Kurt Vonnegut Museum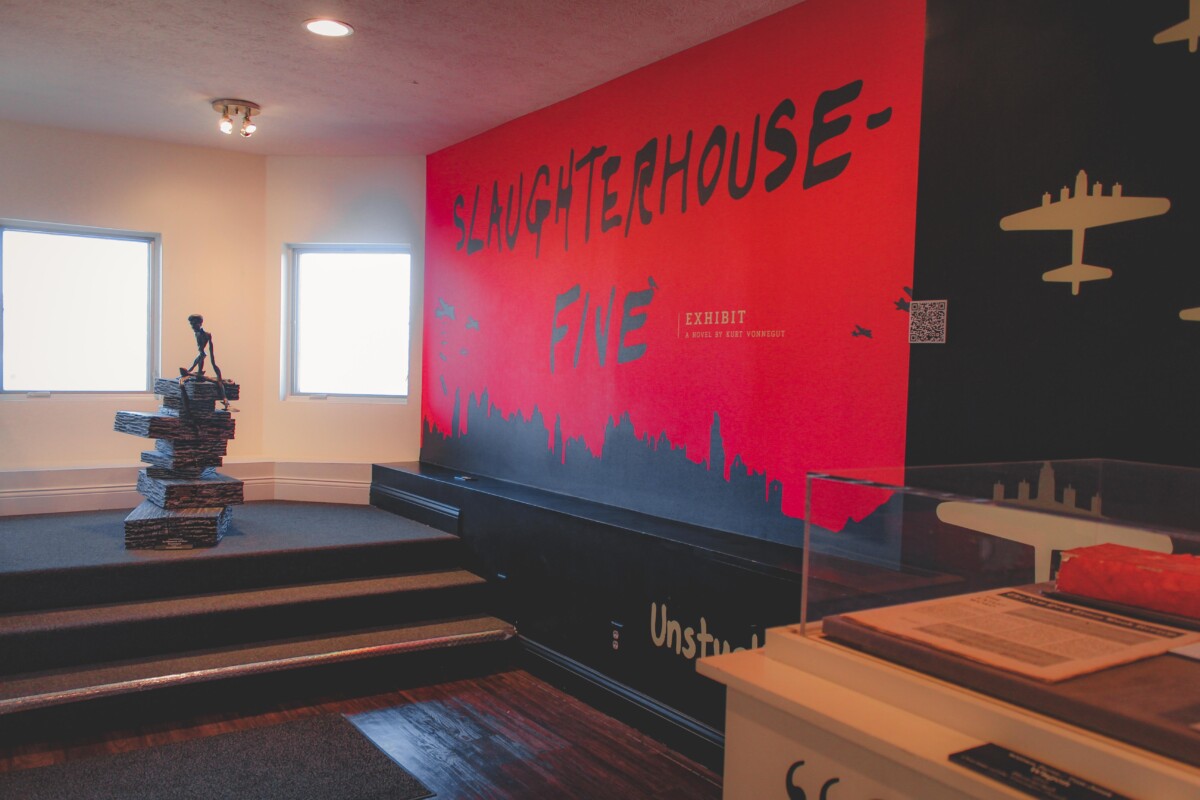 Kurt Vonnegut is a name that's impossible to avoid in Indianapolis. Restaurants reference him (I mean, who can resist a Breakfast Of Champions insert?). Shops tack on and sell Vonnegutian phrases. The bones of Indiana, some of its older buildings, are tied to Vonnegut's father, Kurt Vonnegut Sr.
Vonnegut is a writer best known for his dark comedies and satirical works. He's published over a dozen novels: Cat's Cradle, Player Piano, Jailbird. He's famous for his short, quippy sentences. He's most regarded for his anti-war ideologies. And he was born in Indianapolis, Indiana.
So if you're a fan of Vonnegut, run, don't walk to the Vonnegut Museum on Indiana Avenue. Slaughter House Five has its own exhibit, complete with Billy Pilgrim's War Chest. On display too are snippets of Vonnegut's writing: a copy of his 1966 review of The Random House Dictionary, book forwards, and paragraph-long letters. Plan to laugh and read (and repeat).
Travel Tip: The Kurt Vonnegut Museum offers free admission the first Monday of every month!
James Whitcomb Riley Museum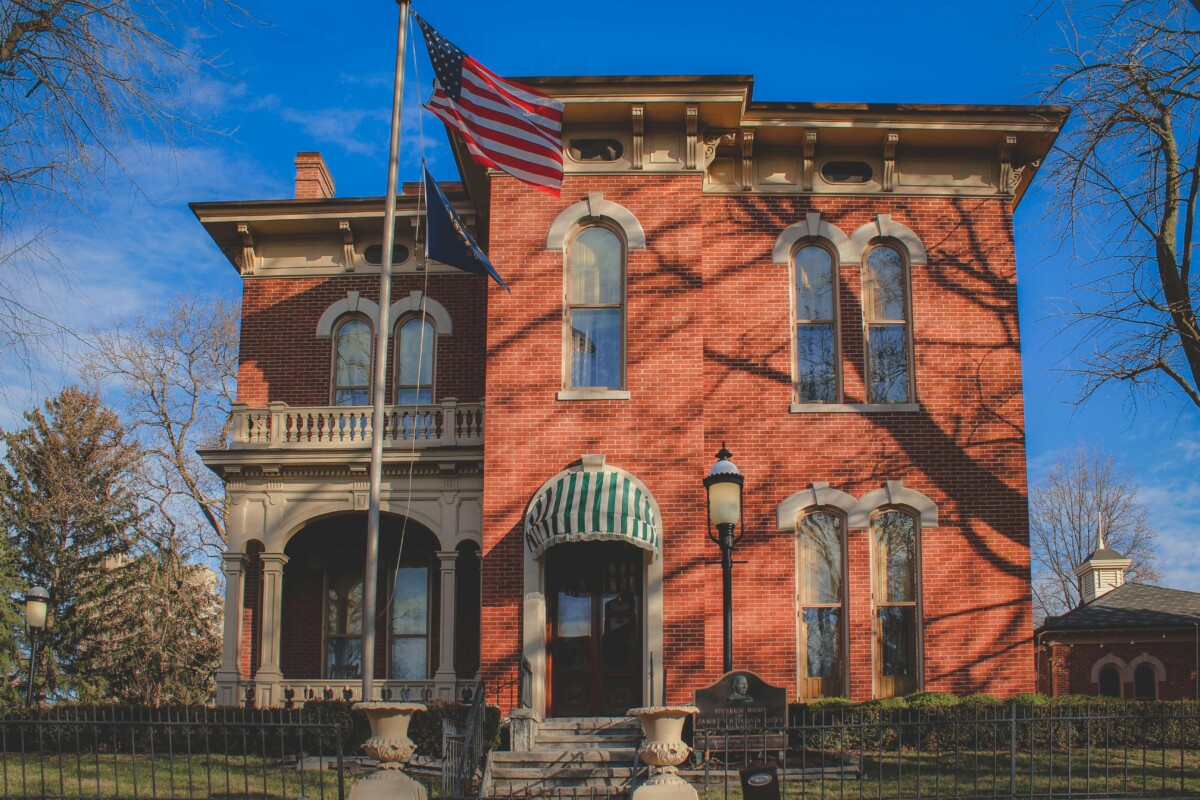 For literary lovers in Indianapolis, there's a lot to choose from – Pogue's Run from John Green's Turtles All The Way Down, downtown's Arts Garden and Mass Ave's Sub Zero from Leah Johnson's You Should See Me In A Crown, to name a few spots. Those who grew up hearing Little Orphant Annie and The Raggedy Man should also head to the James Whitcomb Riley Museum, a charming brick Italianate building and former residence of the famed Hoosier poet. Elements of Riley's time here are preserved (his writing desk!), and you can catch a glimpse of the space through a guided tour (reservations required).
Center For Black Literature And Culture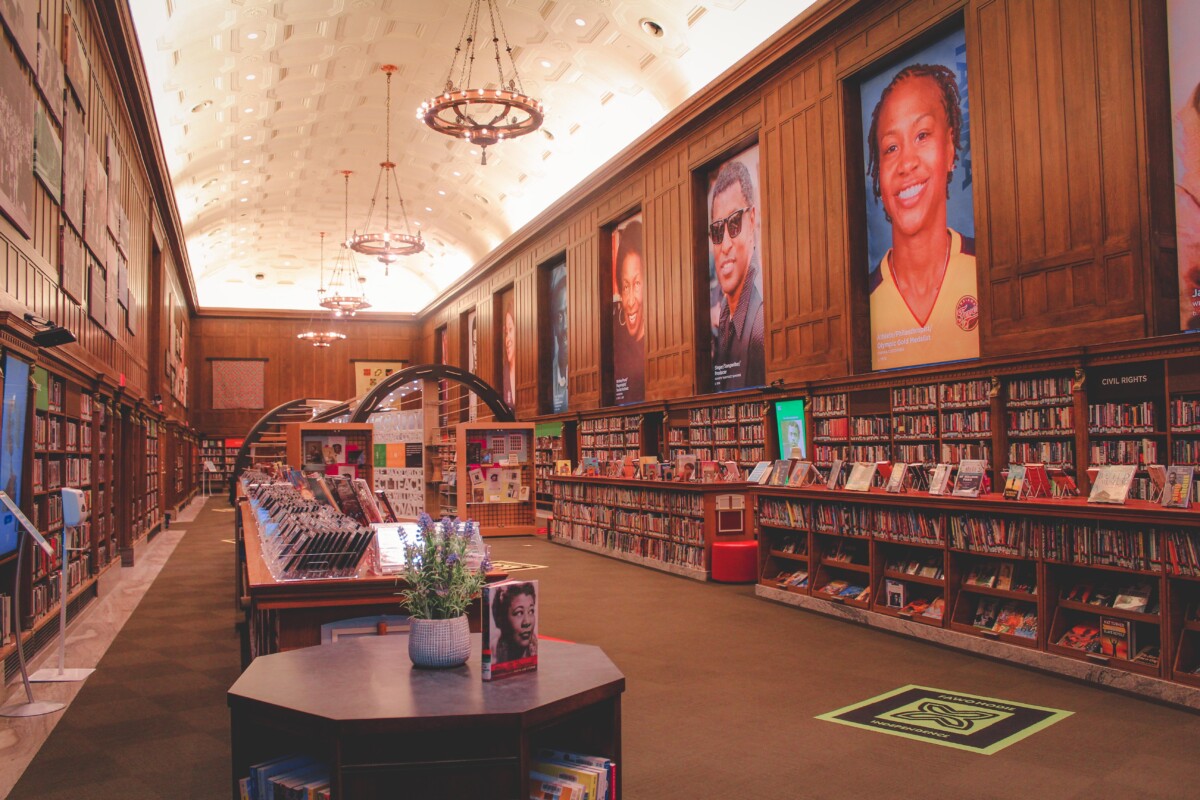 The R.B. Annis West Reading Room is a long, grand hall with an arched ceiling, wood-toned walls, and dark brown shelves. Big window shades drawn down (boasting larger-than-life figures) are spaced along one wall. Books fill up the shelves below. There are so many books here (this is a library, after all).
Indianapolis Public Library's Center For Black Literature And Culture is an encyclopedic space containing over 20,000 resources (print titles, digital works, audiobooks). You'll amble past kiosks where you can tap photographs and hear interviews. You'll walk through a Talking Drum and hear rhythmic beats. You'll see names of incredible writers: Ta-Nehisi Coates (read The Water Dancer), Zora Neale Hurston (Barracoon, Their Eyes Were Watching God), August Wilson (side note: Gem Of The Ocean is one of my favorite plays. If it is ever performed at your local theatre, I urge you to watch it). The Center For Black Literature feels like hallowed ground celebrating the literature and heritage of African diaspora artists and activists.
Indiana State Capitol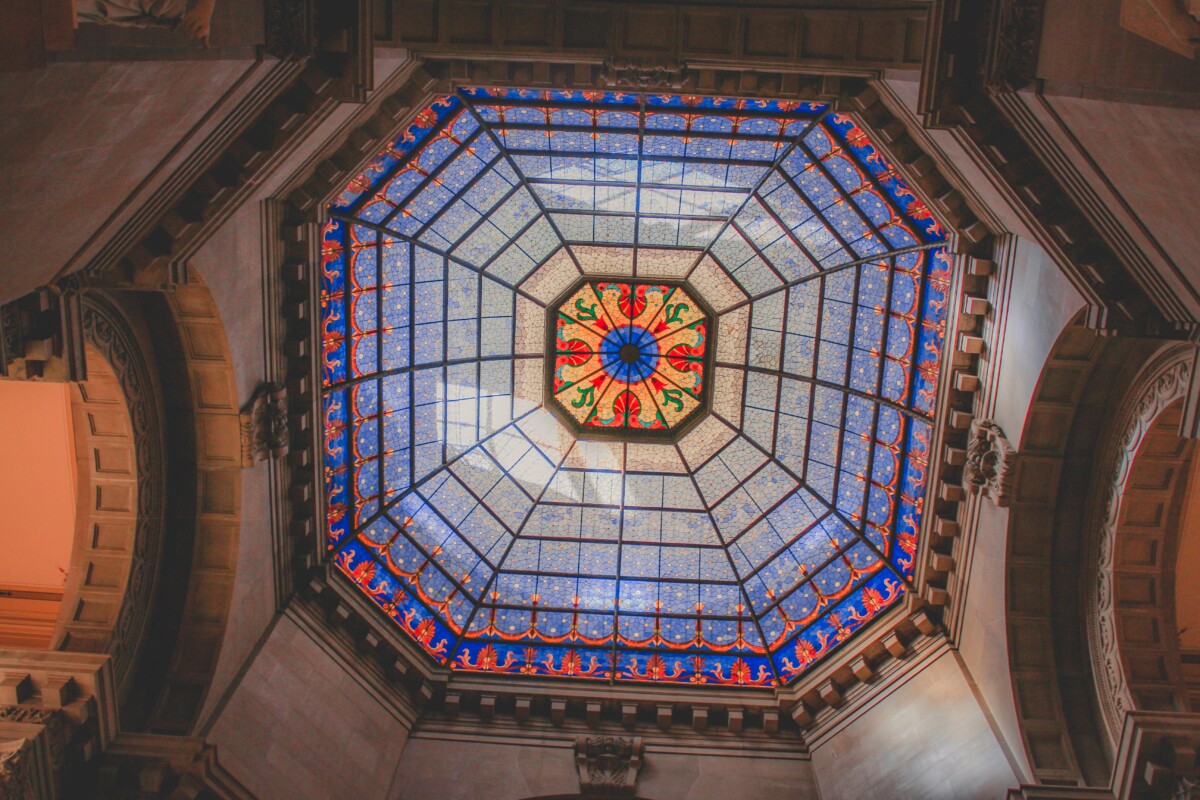 As you'd expect from a capitol building, the Indiana Statehouse is palatial, opulent, and ambitiously designed. You'll learn about the building's history as well as Indiana's (fun fact: Indianapolis was not Indiana's first state capital. Corydon was). You'll sit in the seats of state representatives and senators as you wind through General Assembly rooms. You'll hear stories about Indiana's justices. You'll see how neatly Indiana's state government structure falls in line with the federal government's. A lot of information is packed into this forty-minute-long tour (here's a list of the official timings), making a visit to the Indiana Statehouse one of the most popular things to do in Indianapolis.
Travel Tip: Visit on a Saturday at 12 PM for a guided tour that's less rushed! Parking is also easier to find around this time.
Canal Walk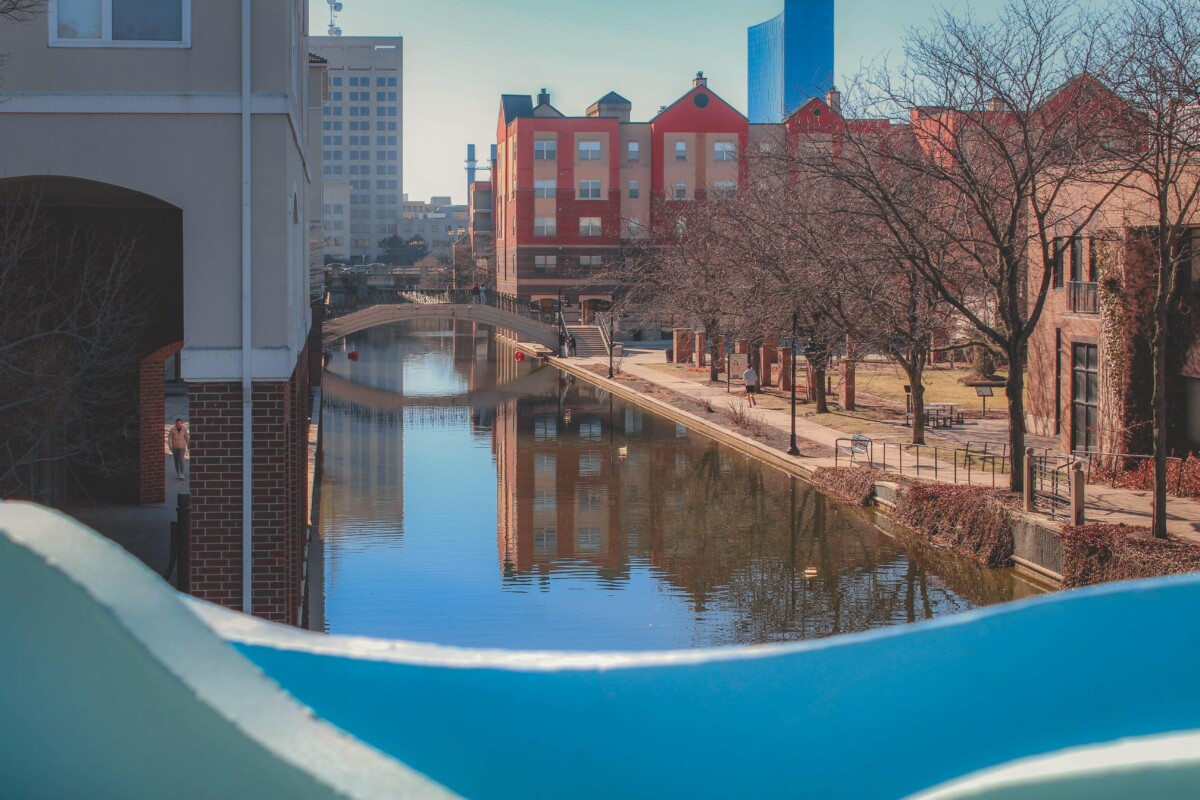 Step down onto a flat sidewalk for this three mile loop. Situated just below street level, the Indiana Canal Walk is secluded, a private(ish) place to walk and jog. Buildings and trees are reflected on the creases of water, their edges and canopies blurring into streaks of blue. It's a low-intensity trail, a peaceful place for a morning stroll. For the best experience, I'd recommend visiting the part of the canal that cuts close to the Eiteljorg Museum, NCAA Hall Of Champions, and White River State Park.
White River State Park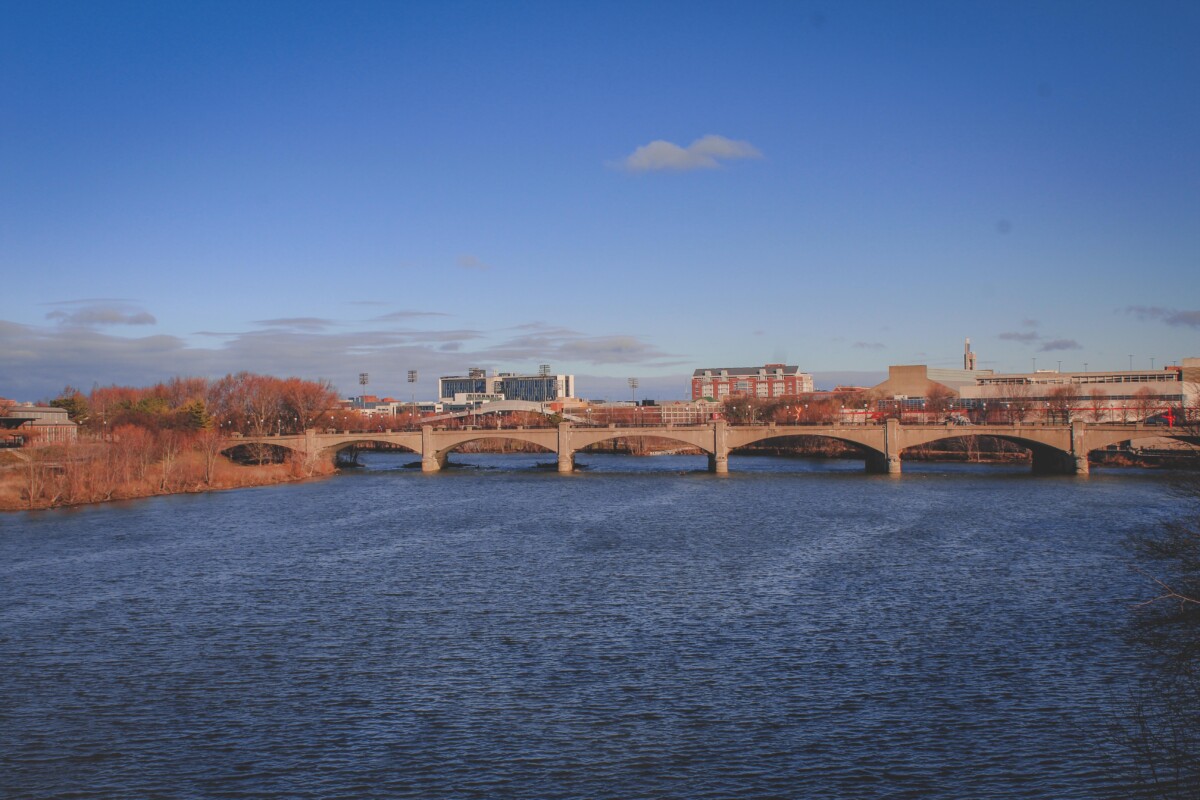 One of the most beautiful and scenic places to see in Indianapolis is White River State Park. Even though the name White River State Park conjures up visuals of day-long hikes and paddling rough, frothy waters, the park is more akin to Forest Park in St. Louis, Balboa Park in San Diego, and Central Park in New York. It's a tame, landscaped urban getaway along the banks of White River, better known for its cultural institutions: Indianapolis Zoo, Indiana State Museum, Eiteljorg, TCU Amphitheatre. Sure, you can walk and bike (and plenty of people do), but that's not the focus. The focus is fun: taking in the views as you stroll along pedestrian-only Old Washington Street Bridge, poring through the carvings on the River Promenade, watching a movie at the IMAX theatre (inside the Indiana State Museum), catching a baseball game at Victory Field.
Soldiers And Sailors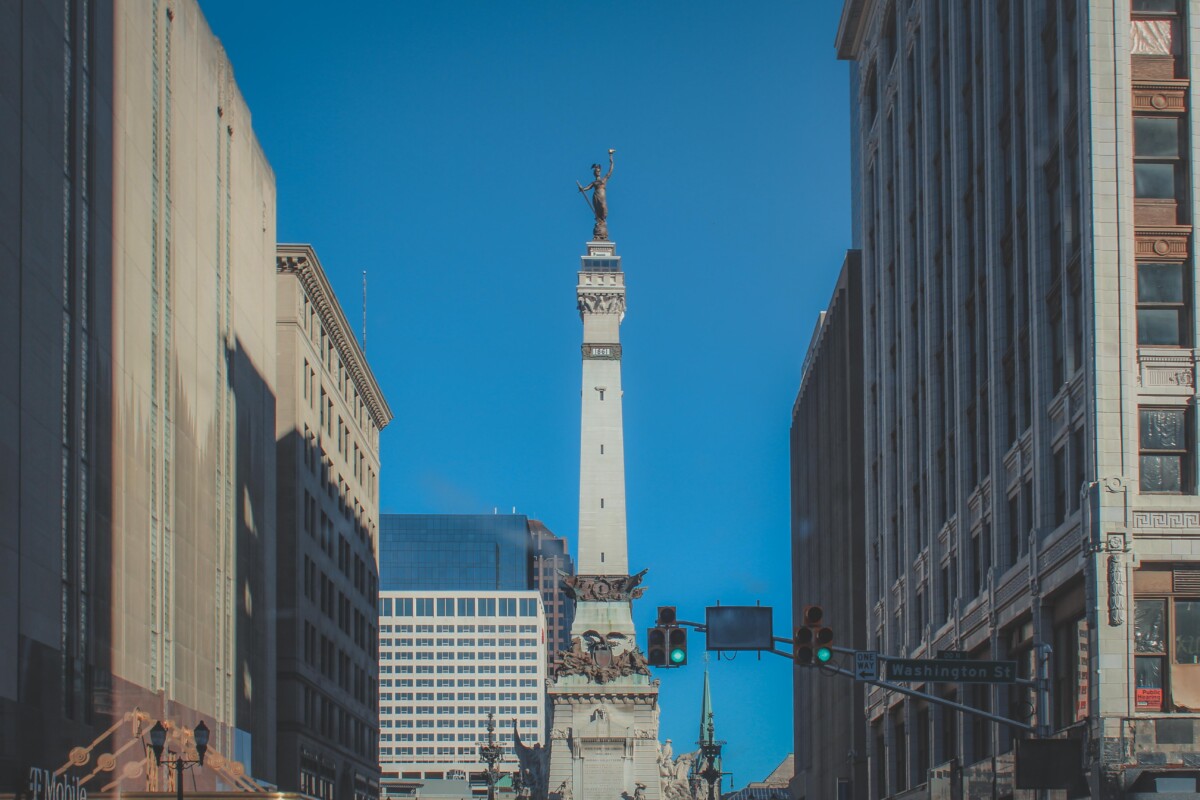 About a mile away from White River State Park is Soldiers And Sailors, a quintessential sight to see in Indianapolis. Soldiers And Sailors juts out of the center of downtown Indianapolis. Victory crowns a gray limestone obelisk. Just past the base, water cascades into two clear pools of water. You can climb 330 steps to the observation area at the top (or take the elevator). You'll see sprawling, exhaustive views of Circle City.
"I've always thought downtown Indianapolis was sort of magical, which I know is a ridiculously Midwestern thing of me to say. But it's true."

Leah Johnson (From You Should See Me In A Crown)
You'll spot the statehouse's teal dome and the Indiana War Memorial & Museum's staggered steps. You'll see how claustrophobically tight some of the buildings are, how the grids of windows close you in. From here, you'll realize how big Indianapolis is, how impossible it is to see it all in just a few days.
Travel Tip: If you get a chance, be sure to stop by the Indiana War Memorial & Museum. The museum honors veterans and covers local military history!
Ruins At Holliday Park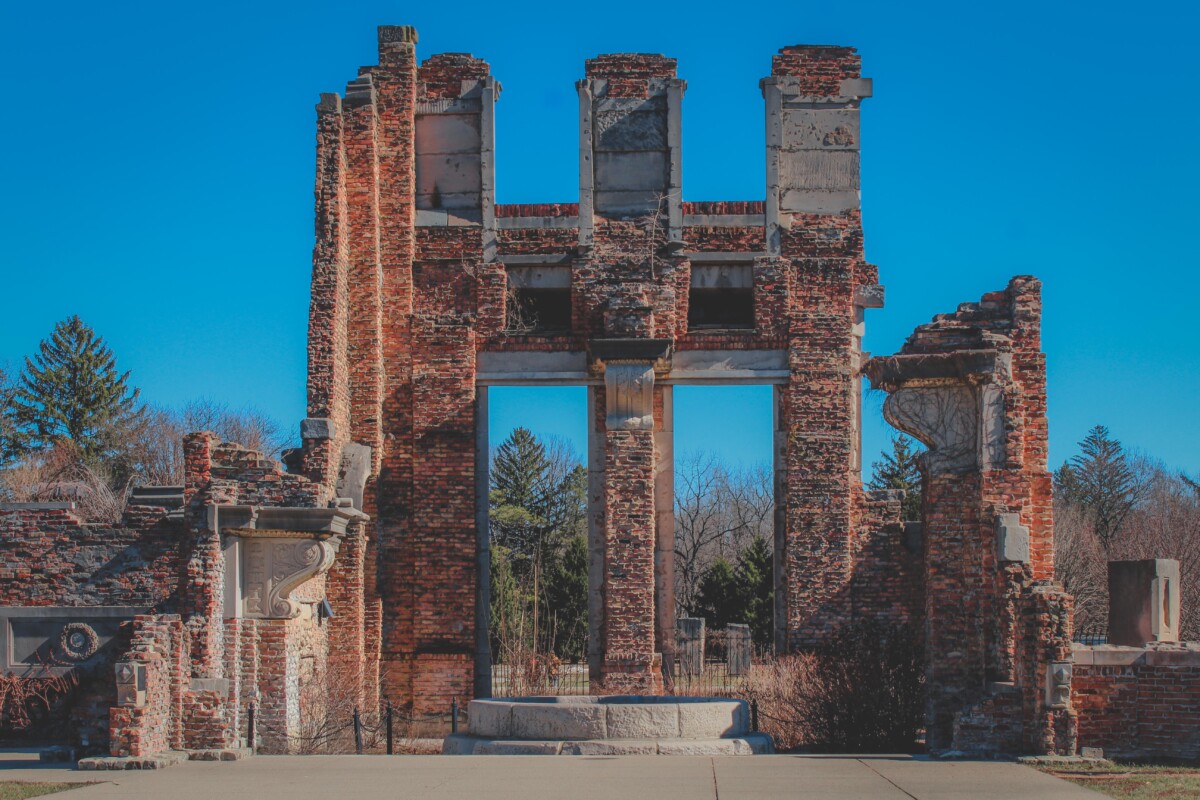 Holliday Park is one of Indianapolis' best-kept secrets. It's a place of playgrounds and trails, babbling brooks and tangles of roots. The ruins are the entry to it all. They look ancient – time worn and sun bruised (spoiler alert: they're not). Cobwebs net corners. Greek columns circle a decrepit facade like lights around an altar. Three stone bodies, hunched over and kneeling, seem to hold it all up; they are remnants of a Manhattan art installation known as the Races Of Man. Holliday Park's Ruins have a dark academia edge: creepers cling to bricks, headless busts emerge from weeds, a fountain is cuffed by shrubs.
Holcomb Gardens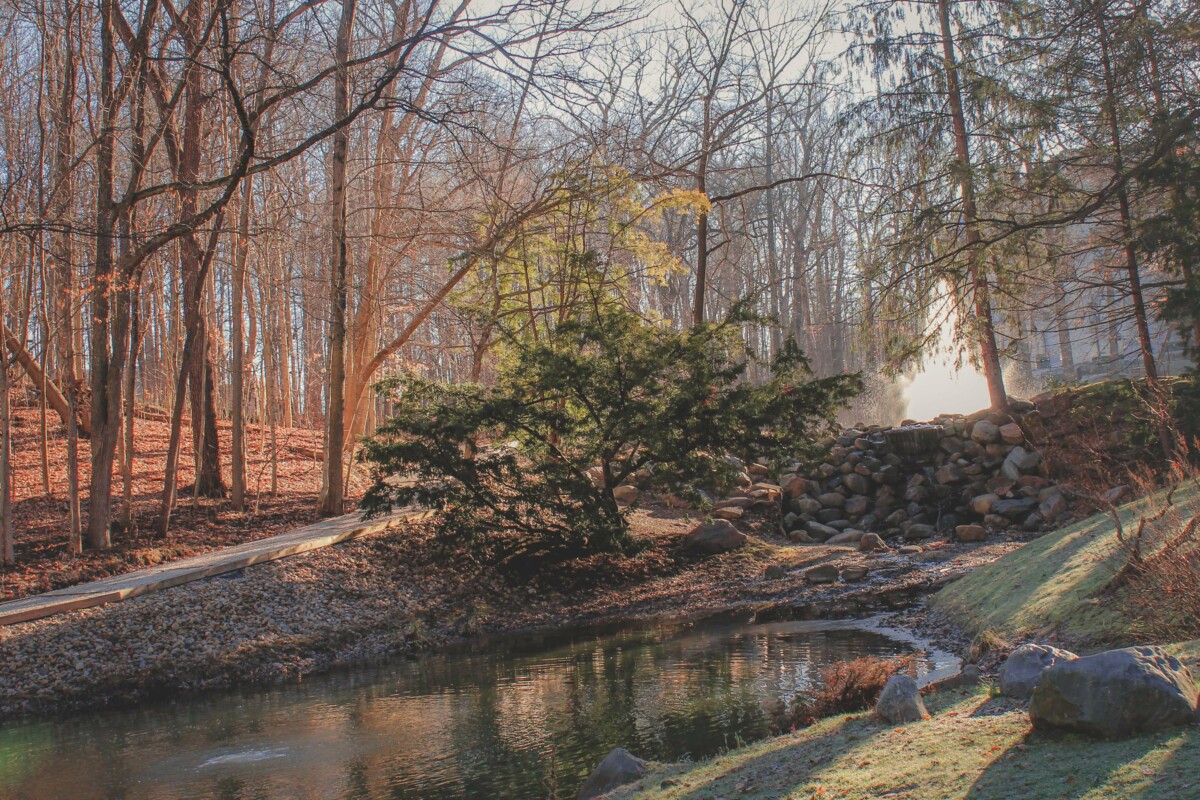 Tucked away in Butler University's campus, Holcomb Gardens is oft-missed. But it shouldn't be. With tall trees, a small pond, and a fountain, Holcomb Gardens is a pretty little place for a springtime stroll. You'll hear bells chime on the hour, every hour. You'll pass through a scenic woodland. Go here for a quick escape.
Indianapolis Food Halls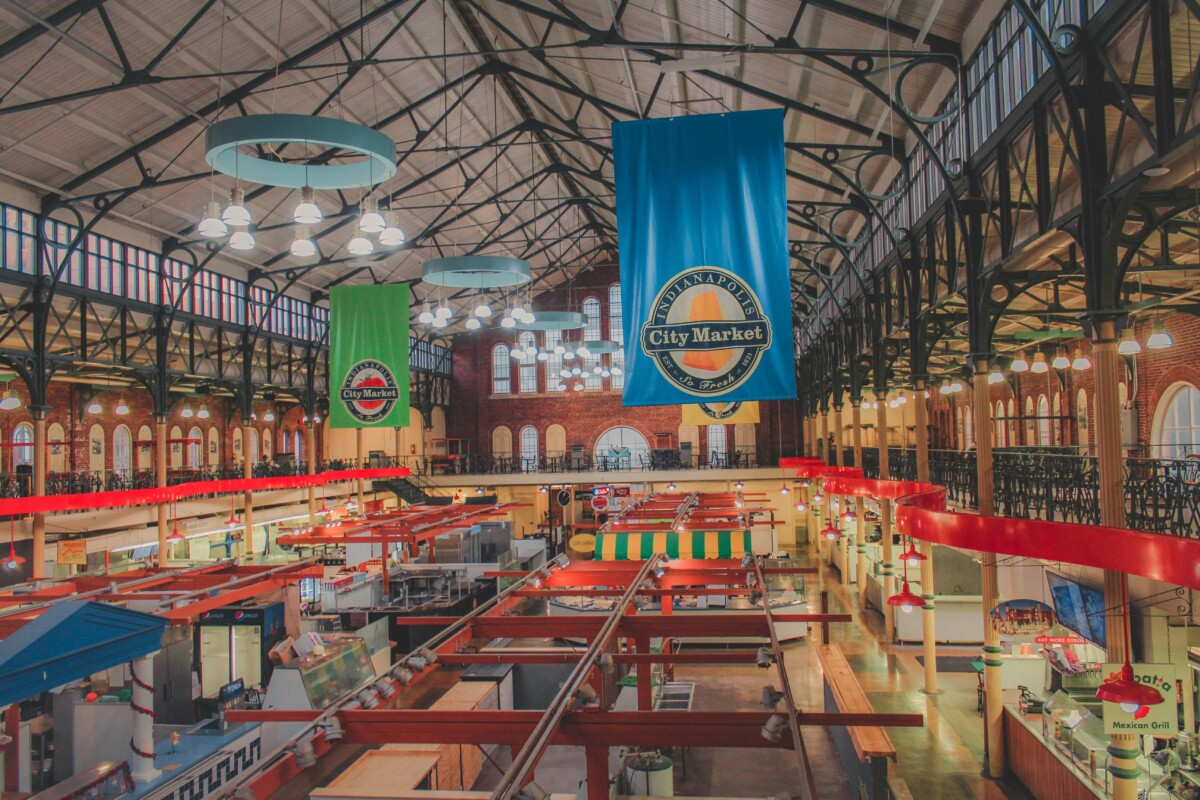 If you're feeling hungry, head to one of Indianapolis' trio of food halls. You could easily make a day of it. Grab a coffee and light bite from the stalls of City Market, a beautiful, old, 19th century brick building revamped into a bustling lunchtime destination. Green wrought iron staircases lead up to a floor lined with bistro tables and Parisian-style chairs. From here, you can see the flags of City Market dangle down; the tops of kitchens are exposed and the scents of bread and meat waft upwards. Along the walls are Justin Brown's cubist maps of Indianapolis.
Another food hall to check out? AMP. From a barber shop to an arepa bar, AMP is a place of hustling businesses. You'll find everything from burgers to boba here. Go for the events. AMP's spaciousness and stage make it unique.
Finally, wind down your food hall hop at The Garage, the beating heart of vendors in Indianapolis. There's a big lineup here, featuring bowls of ramen, cuban sandwiches, gyros to-go, Pakistani-Indian fusion finds, poke, fish and chips, flower-finished cocktails, beer on tap, canned kombucha. Whatever food you desire, you'll find it here.
Bottleworks District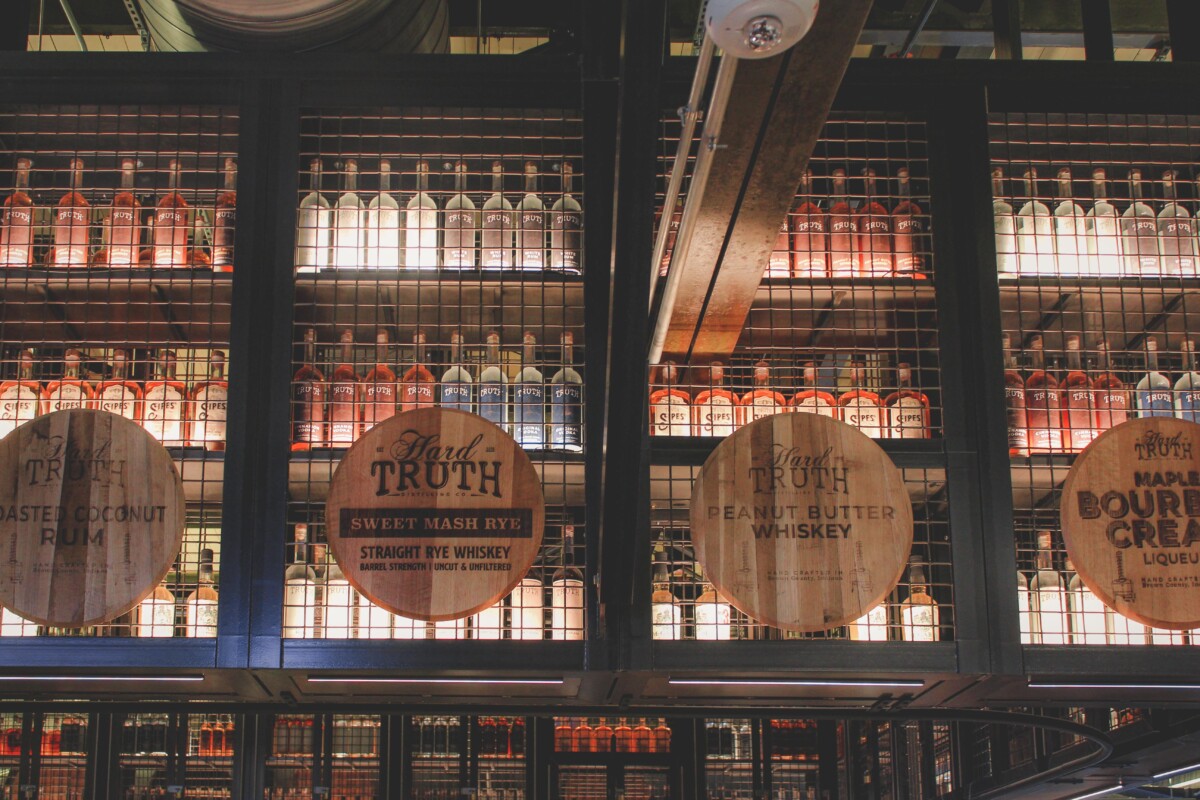 The Garage is located in Indianapolis' Bottleworks District. On the thermometer of trendy, the Bottleworks District is feverishly hot. It's the kind of entertainment hub you'll find yourself coming back to weekend after weekend. Living Room Theater offers matinee and evening shows. Woodhouse Day Spa has a salt cave [source]. Chic and classy Bottleworks Hotel is one of the best boutique accommodations in Indy (this is where I stayed during my trip and oh my goodness, I can't recommend it enough. Treat yourself. It's worth the splurge).
Indianapolis Cultural Trail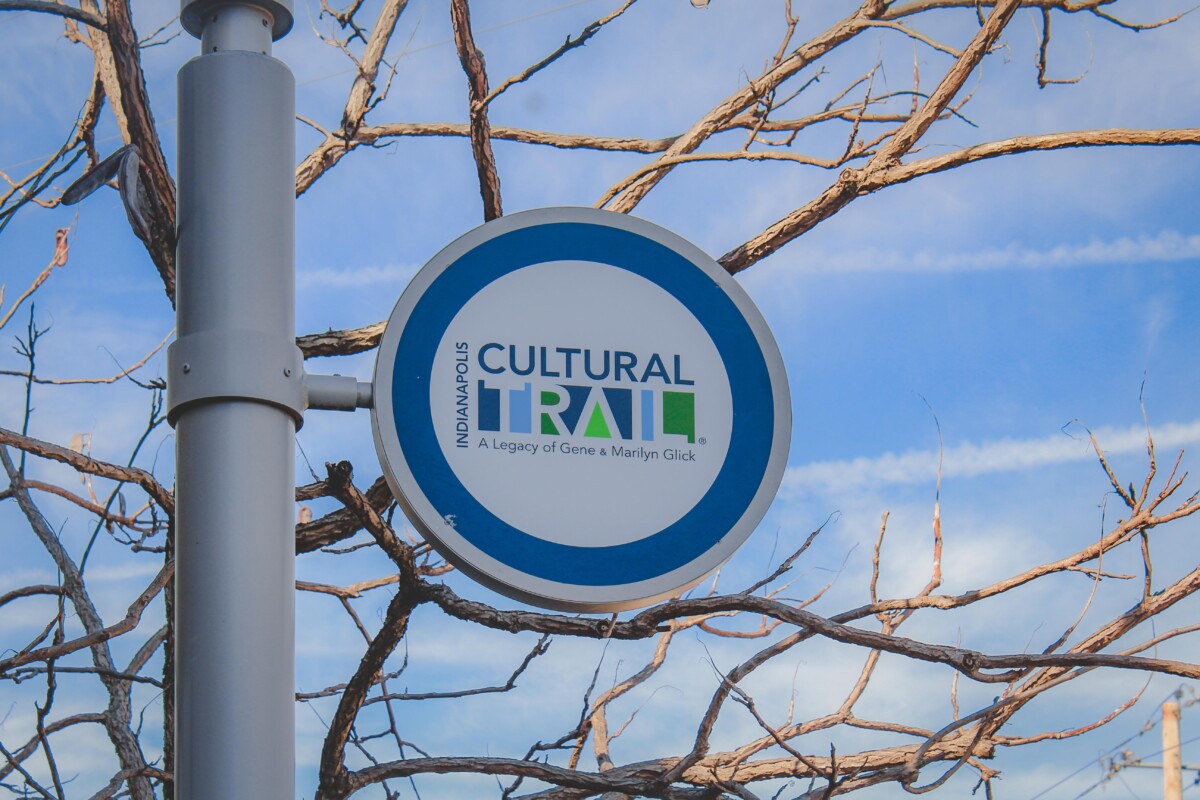 On of my favorite aspects of Indianapolis is its walkability (and cyclability). As a tourist, I love the idea of a trail that connects districts (that way you don't have to constantly repark your car). Through Indianapolis' Cultural Trail, you can go from Mass Ave to Fountain Square. You can catch a glimpse of cool art installations like Sean Derry's Chatham Passage and Jamie Pawlus' snarky Care/Don't Care pedestrian signal. If you're looking for a pedal-intensive break, know that riding along the Cultural Trail is one of the best things to do in Indianapolis!
Travel Tip: If you didn't bring a cycle, don't worry! You can rent one from a Pacer's Bikeshare kiosk. Indianapolis' Cultural Trail website includes all the kiosk locations on their online map (along with nearby attractions).
Landmark For Peace Memorial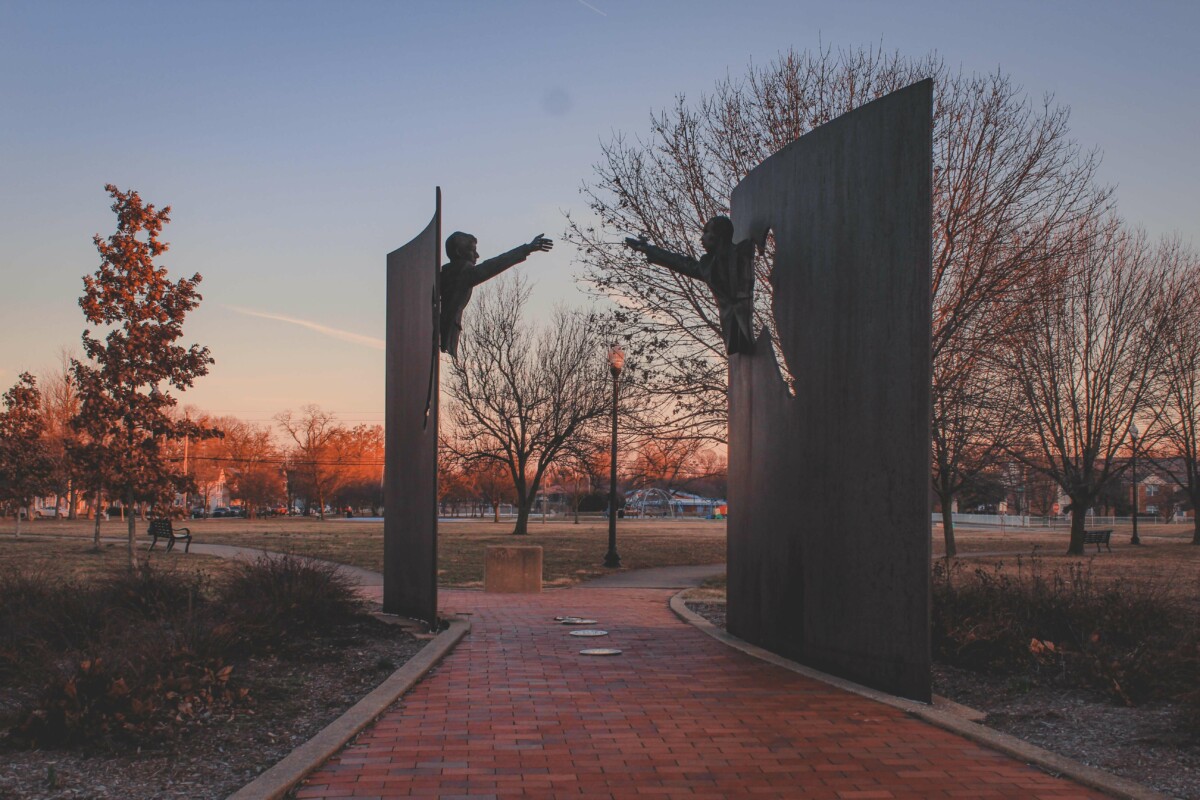 Indianapolis' Landmark For Peace Memorial is haunting. In a small park along a smaller brick stretch, on two curved steel slabs, are the bronze sculptures of Kennedy and King, their hands reaching out towards each other, their fingers never quite touching.
In 1968, Robert Kennedy went to Indianapolis for campaigning. It was supposed to be a day of promotion and politicking. But when he learned that Martin Luther King had been assassinated in Memphis, Kennedy ditched his plans. Kennedy wasn't supposed to address MLK's death. He was told not to. But he made an impromptu speech anyway, and it become one of the most powerful American speeches of the 20th century.
Pain and rage over King's death erupted in many other cities around the United States, but Indianapolis remained quiet. There seemed to be a sort of healing, which is frequently attributed to Robert Kennedy's speech. The Landmark For Peace Memorial is set where Kennedy made that speech. Visit to remember King.
Garfield Park Conservatory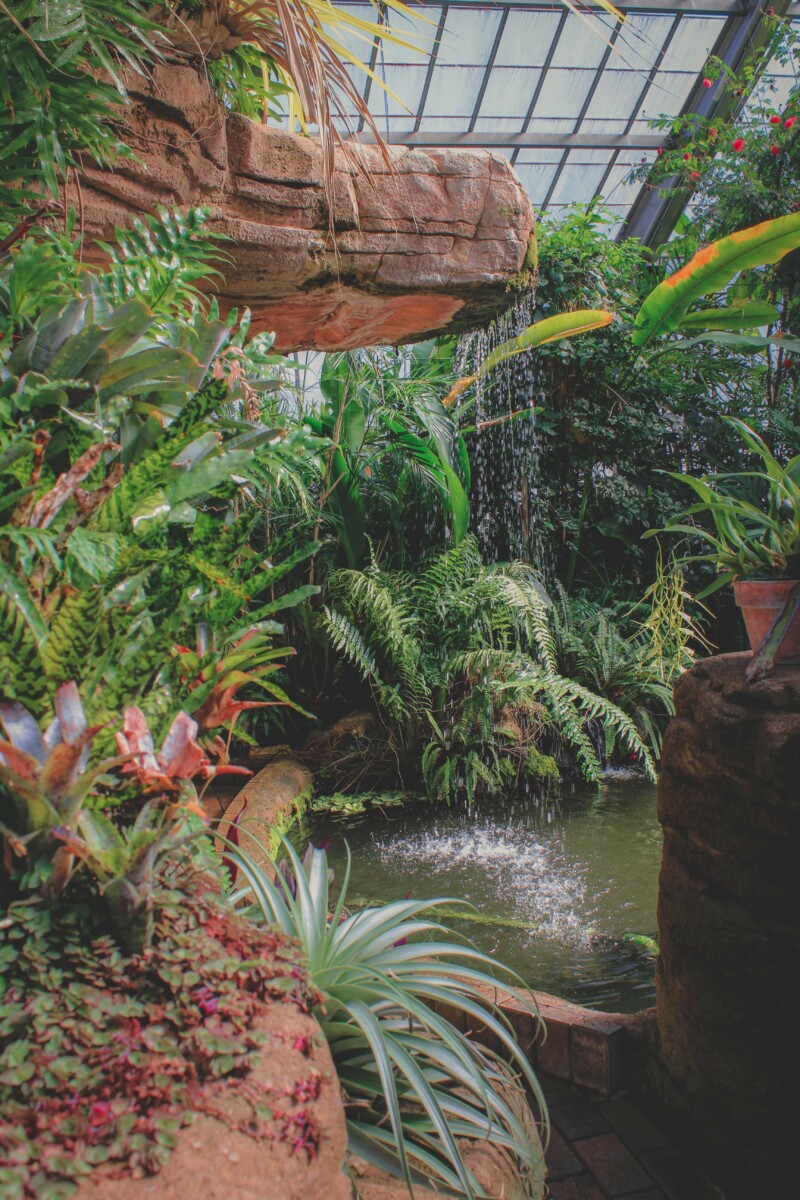 In the deep throes of winter, when the cold casts a harsh spell over Indianapolis, head to Garfield Park Conservatory. Garfield Park Conservatory is permanently summery. It is a warm oasis, a jungle-like greenhouse with thick, leafy tropicals curling over the rims of pathways. The interior is a labyrinth of ponds and plants. You'll wind past small statues and delicate flowers. You'll see koi swim quietly, and hear the soft rush of a waterfall. You'll feel your body move into calm, meditative, zen state. Garfield Park Conservatory soothes stress.
The Children's Museum Of Indianapolis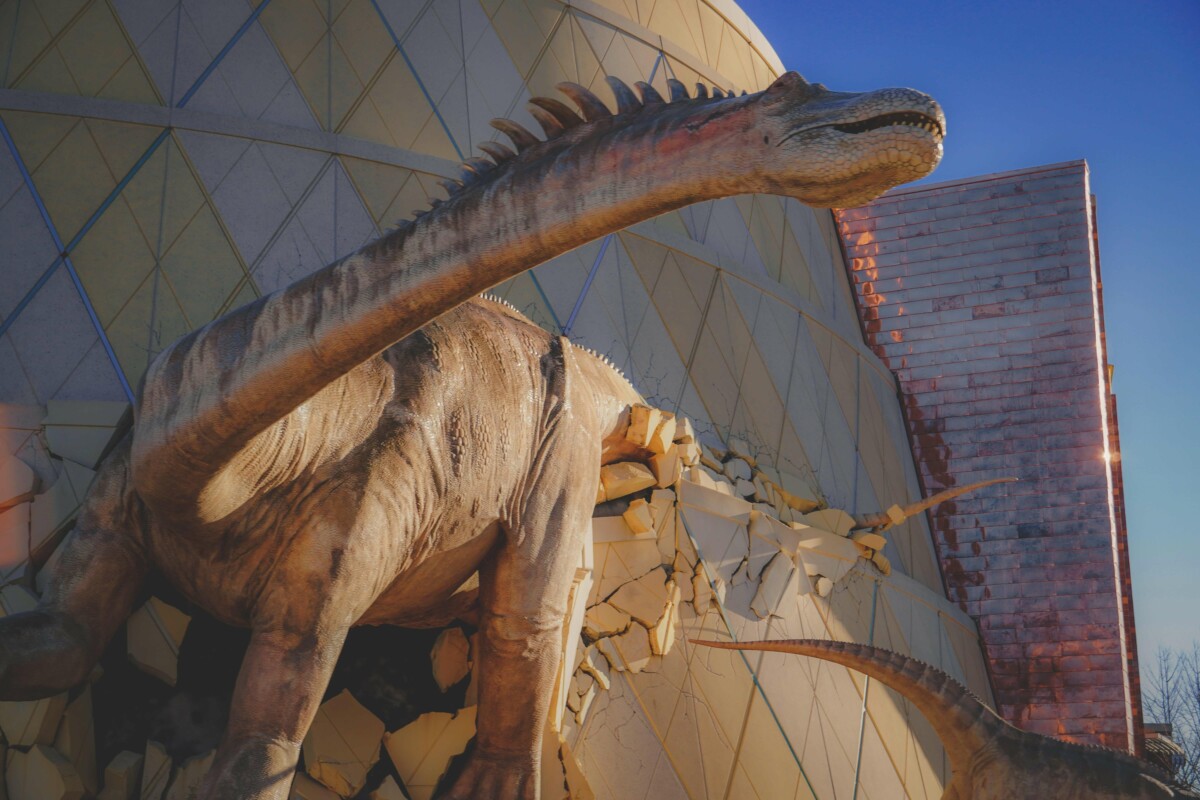 There's a building in Indianapolis that will immediately catch your attention. It will startle you as you drive. You'll see a dinosaur peering into a glass building and another breaking out from a curved edifice like a scene from Jurassic Park. The dinosaurs have a sense of movement to them; they seem alive. And they make the perfect introduction to the Children's Museum Of Indianapolis. This is one of the best children's museums in the world. Each exhibit is immersive and as detailed as an escape room. Kids will have a chance to stroll through Greece, step into the International Space Station, and stand by terra cotta warriors. They'll learn history and science, watch live performances and ride a carousel.
Travel Tip: On the first Thursday of every month, between 4-8 PM, admission drops to $6 per person.
Indiana State Museum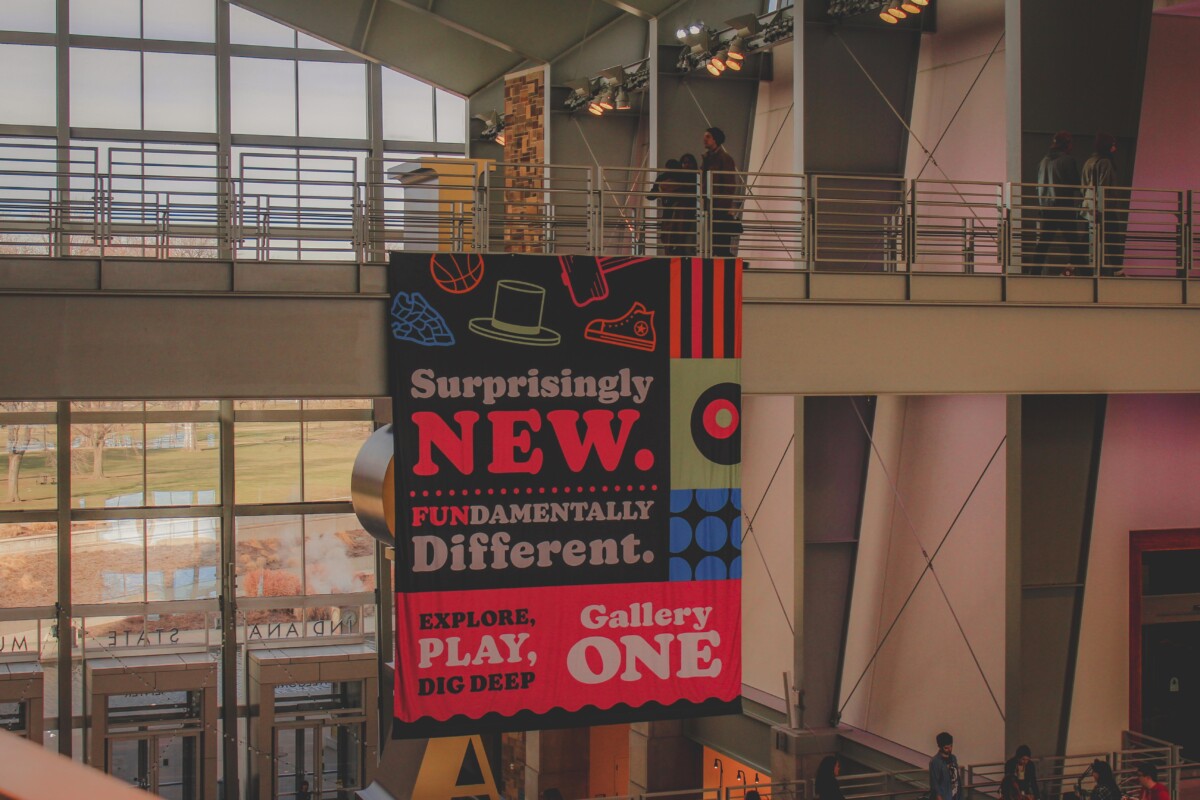 If you're looking for more things to do in Indianapolis with kids, head straight to the Indiana State Museum. Go for the events, from chemistry of slime experiments to basics of beekeeping lectures (see a full calendar here). Many of the exhibits are temporary and are in constant rotation. There's also a huge IMAX theater (the screen is whopping six stories high, making it the largest movie screen in all of Indiana).
Indiana Medical History Museum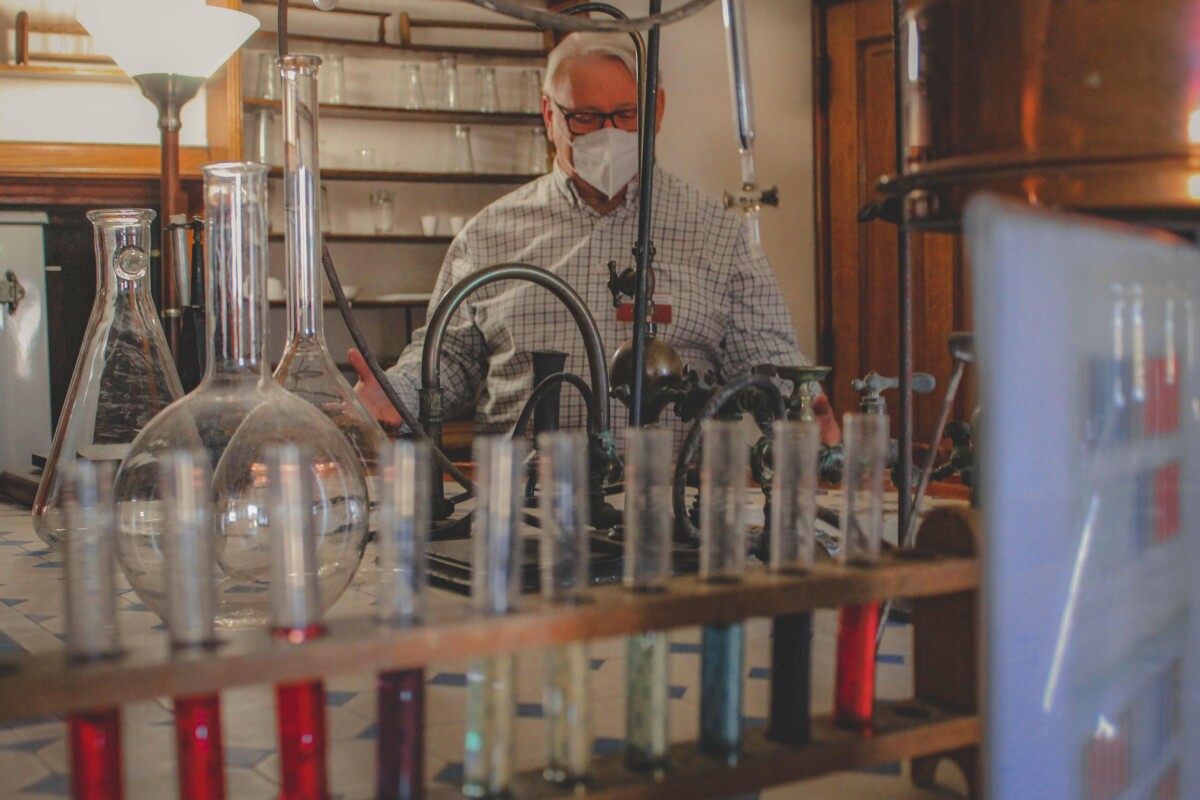 The Indiana Medical History Museum is not for the squeamish. Your gathering point for the tour is a closed room filled with jars and jars of sliced brains (brined in graying and yellowing liquids). When my mind registered what was in the jars (it took a bit), my body stiffened. My hands felt cold and clammy. My eyes darted away. My tour group stared at the flasks with morbid interest. I heard the words "cool" and "interesting" and "hey, look at this!" thrown around. These were doctors and nurses, aspiring medical students or parents of ones. I felt very much out of place.
If you're interested in medical history (and not easily creeped out), the Indiana Medical History Museum is one of the best places to visit in Indianapolis. You'll be taken upstairs to an old library and chem lab. You'll learn about the building's role as Indiana's Hospital For The Insane. You'll see a structure that's preserved history like a time capsule and come out grateful for the advancements we've made in medicine. Feel free to ask questions while on the tour, the guides are happy to answer them.
Indianapolis Motor Speedway Museum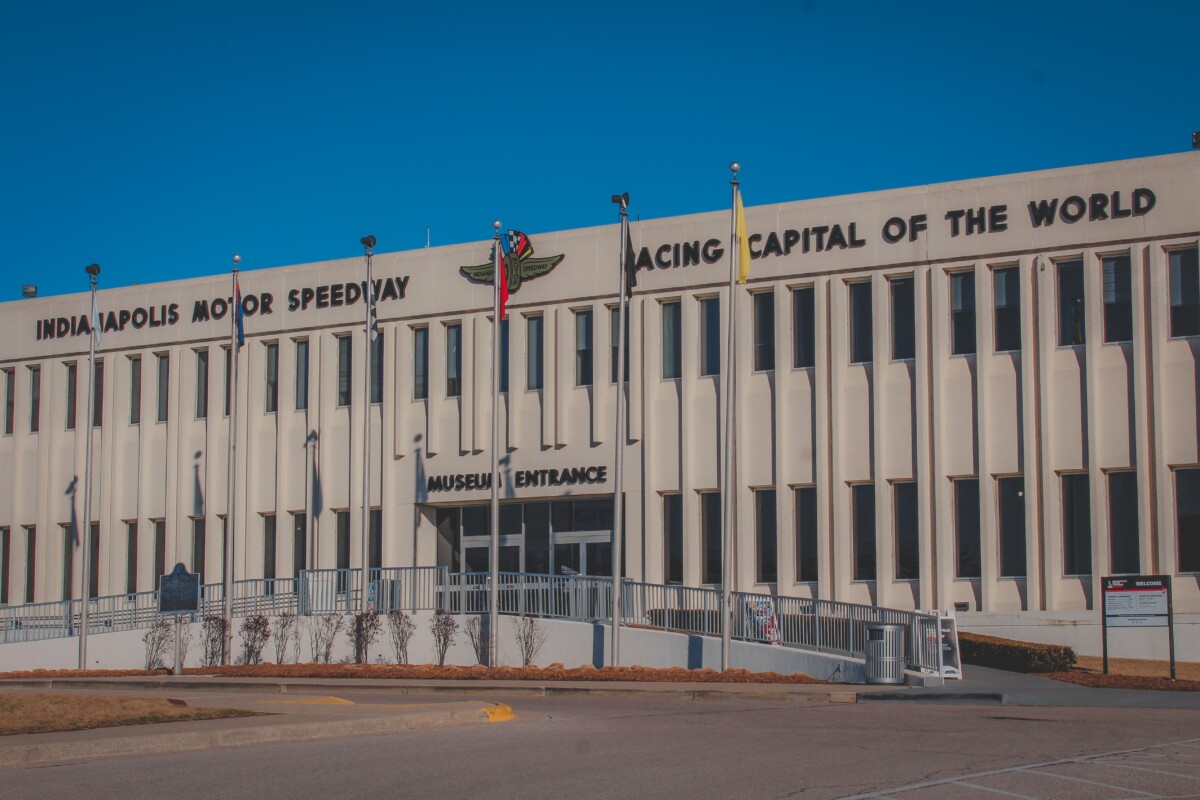 No list of things to do in Indianapolis is complete without mention of the Indianapolis Motor Speedway Museum. Situated within the bounds of the Indianapolis Motor Speedway oval, the Indianapolis Motor Speedway Museum is a gallery of winning cars, all glossy, clean, and pristine. There are more exhibits too, like Traditions (I feel like a lot of the ones mentioned, from moshing at Snake Pit Music Festival to kneeling and kissing bricks, belong in Atlas Obscura).
Speaking of kissing bricks, go for the Kiss The Bricks tour, a bus excursion that does one lap around the track (and yes, at the end, you get to kiss the bricks).
Shopping In Indianapolis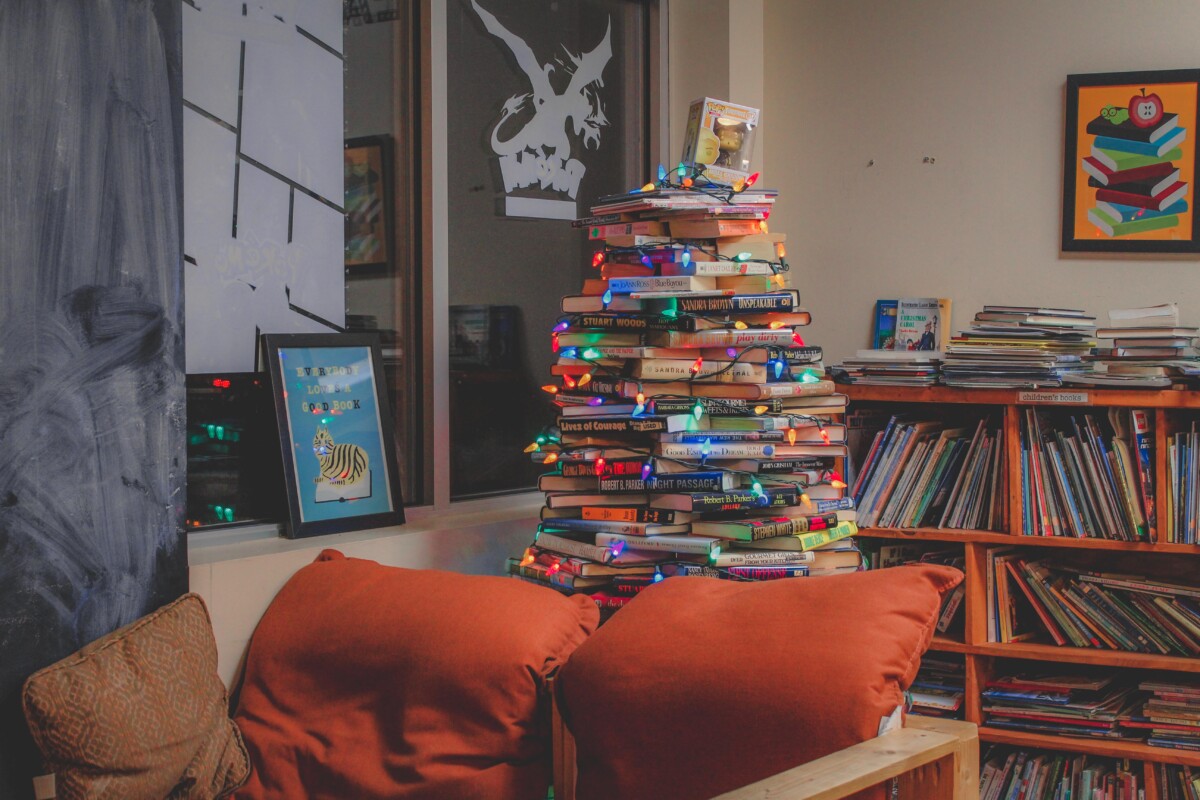 To me, shopping in Indianapolis looks like a bookstore crawl. But since I've mentioned my favorite bookstores in Indianapolis on Passport To Eden before, I want to highlight a few non-bookish places to see.
Here's where to shop in Indianapolis:
Homespun: chic lifestyle boutique filled with well-designed home goods and cute art prints
Yellow Door Ceramics: Felissa King and Amanda Pennington's studio offering private pottery lessons and date night classes
Be The Boutique: if you're a hostess looking to throw a garden party, run towards this shop
Runaway Diva: trendy, unique fashion store with impeccable personalized service
Where To Eat In Indianapolis
Our Top Pick – Bosphorus
If you arrive at Bosphorus past sunset, be prepared to wait to sample the dishes. Bosphorous' line is usually long and identifiable; it stretches past the front door, spilling onto the porch and stairs. The interior is a firework of colors. Bosphorus is a place of warm lights and bright, sizzling dishes. Lean into the vegetarian portion of the menu. Allow yourself to gravitate towards the words eggplant and zucchini. Bosphorus knows how to transform these veggies into soft, savory, and succulent meals.
Other Indianapolis Favorites:
Livery: go for the rooftop experience. stay for the paella and empanadas.
Bluebeard: the menu changes just a bit everyday (so no two dining experiences will ever be the same). many of the cocktails are named after Vonnegut books (my literary-loving heart is full). pair one with a salad.
Goose The Market: best sandwiches in Indianapolis. enough said.

Did you find this post about Indianapolis attractions helpful? What are your favorite things to do in Indianapolis? I'm constantly looking for new places to visit (and this post is by no means comprehensive). As always, I love hearing your thoughts and recommendations!