From stepping into an old-world delta town to eating tacos that beat Austin classics, there are so many underrated things to do in Jackson, Mississippi.
I arrived in Jackson on a Friday afternoon, sweat-soaked and tired. My arms curved in, my legs curled up, and I stumbled out of the car with the same ragged hunch as a 21st-century caveman.
I'm not painting this picture in hopes of getting cast in a Geico commercial (do y'all remember those ads? I feel like it's been so long ago). I just want you to have a snapshot of how I felt because when I saw Jackson for the first time, my exhaustion vanished on cue. I could practically feel it dissipate into the thin, crisp air.
You see, Jackson's the kind of place that commands stand-up-tall style attention. But it's also the kind of city that relaxes you, that let's you breathe while time freezes.
I had such a deep, personal connection with Jackson, Mississippi. As my dad pointed out, "it looks a little like Kingston, Jamaica." In other words, Jackson, to me, looks a little like home.
So without further ado, here are my top things to do in Jackson in 48 hours.
Day 1: Historic Things To Do In Jackson, Mississippi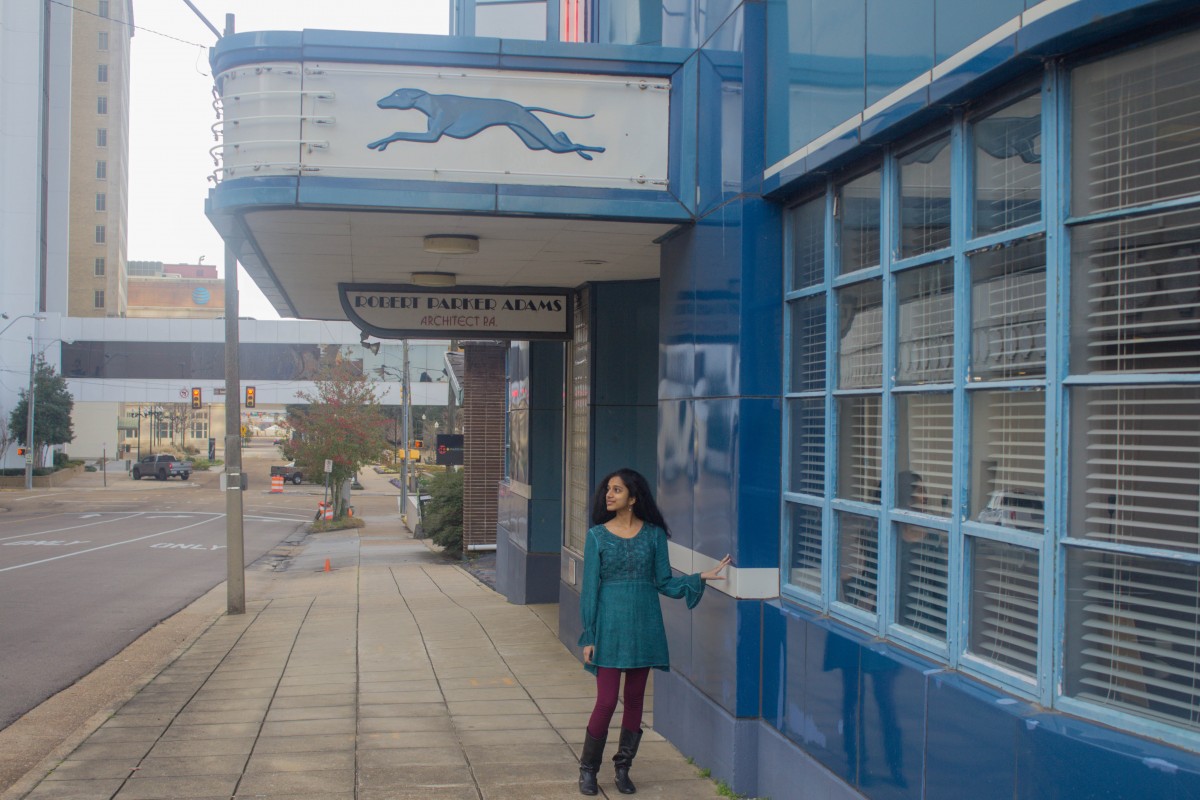 Feel History Come Alive At The Greyhound Bus Station
"I think that's the one, over there," you say, pointing to a bright blue building swimming in a sea of brown facades.
"Robert Parker Adams Architectural Firm," I read. The doors are closed, the windows shut.
This is the historic Greyhound Bus Station, a landmark site in Jackson, Mississippi. As I walk towards the building, I feel history locked in pages become unlocked in person.
Being in the same place as the Freedom Riders is an empowering moment.
Once upon a time, Civil Rights activists challenged the Supreme Court's lack of enforcement of desegregation in public buses in the South. And one of the stops was here, in Jackson, Mississippi.
And now that I'm here too, I feel like I should be strong. I should be strong because so many people exuded unthinkable amounts of strength during the Civil Rights Movement.
The historic Greyhound Bus Station is a place that makes you appreciate bravery, courage, and fighting for what you believe in.
Walk Through The Smith Robertson Museum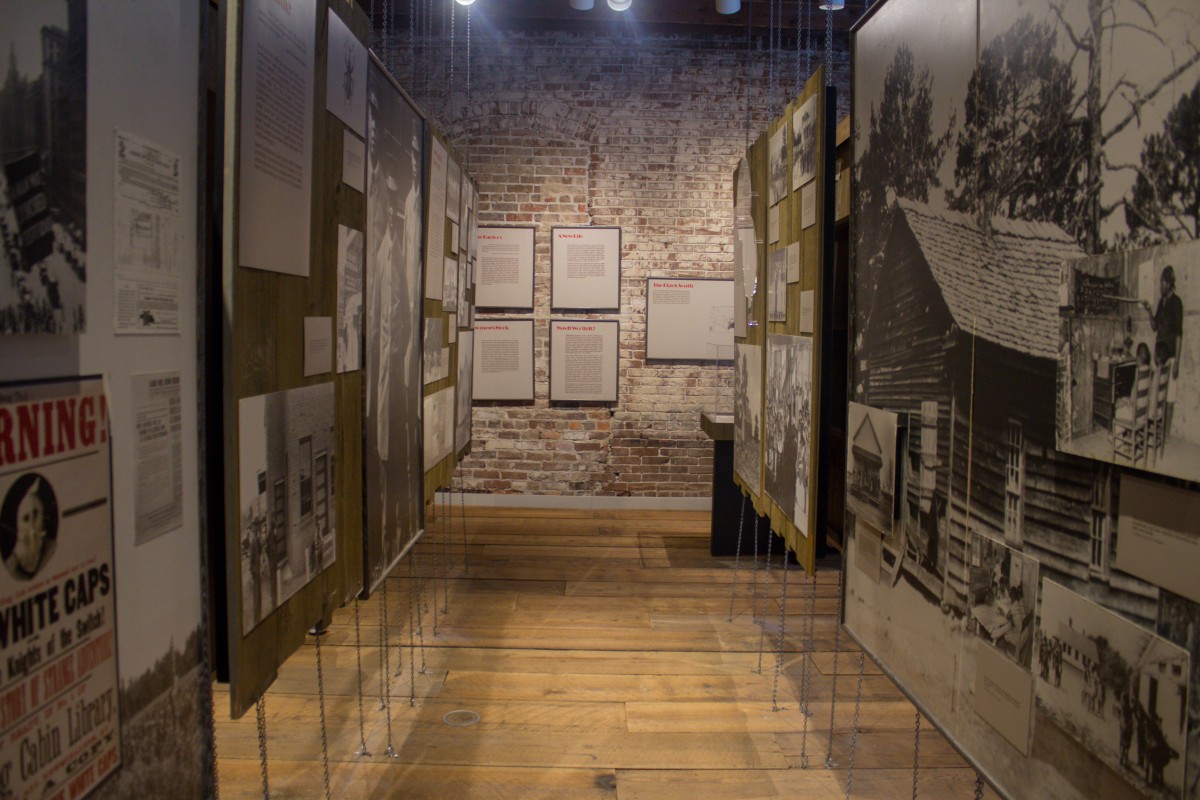 The Smith Robertson Museum takes the shape of a two-layer story. Enclosed within its long walls is a former schoolhouse, the first black public school in Jackson, and overlaid on worn, exposed brick are the exhibits.
Before we explore the museum, I have a quick confession to make: I'm a huge fan of Richard Wright. So when I say the Smith Robertson Museum is my favorite museum in Jackson, Mississippi, I am completely biased (#NoShame).
Walking through the school where Richard Wright studied is a hazy dream for me. I flit from placard to placard silently fangirling because a huge part of Wright's journey is held in this small space.
Visit Medgar Evers Home Museum
Before visiting Jackson, I only knew Medgar Evers through the eyes of The Help.
A kind, compassionate man with a voice that impacted many, Evers was the Martin Luther King Jr. of Mississippi. Almost every museum in Jackson pays tribute to him. And to really understand his life, you need to see his home.
Evers was shot in the driveway of his house at age 37. His death shocked Jackson but also pushed residents to be more courageous, to be more like him.
I'll admit, the tour is heavy and emotional. But it's also moving and easily one of the top things to do in Jackson, Mississippi.
Tour Eudora Welty's House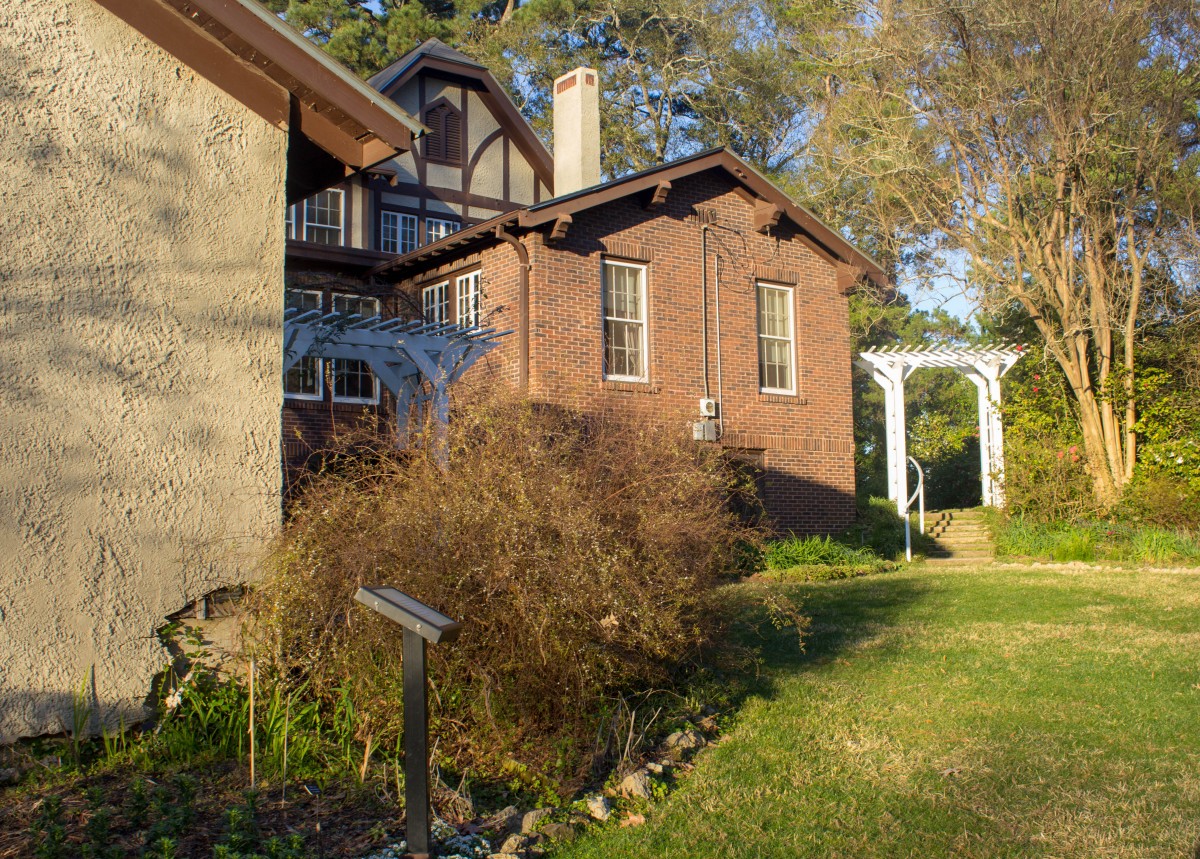 At three o'clock, the afternoon sun beats down on a quiet cottage home.
Eudora Welty's house is a bibliophile's dream. Even the external architecture has a Stratford-upon-Avon touch.
The tour itself, tailored to a small audience, makes you feel like Welty, the famous Southern author, is your friend.
If you're a writer or a reader (there are over 5000 books here), a slow-paced trip to Eudora Welty's house should be at the top of your Jackson bucket list.
Photoshoot At Misssissippi's "New" Capitol Building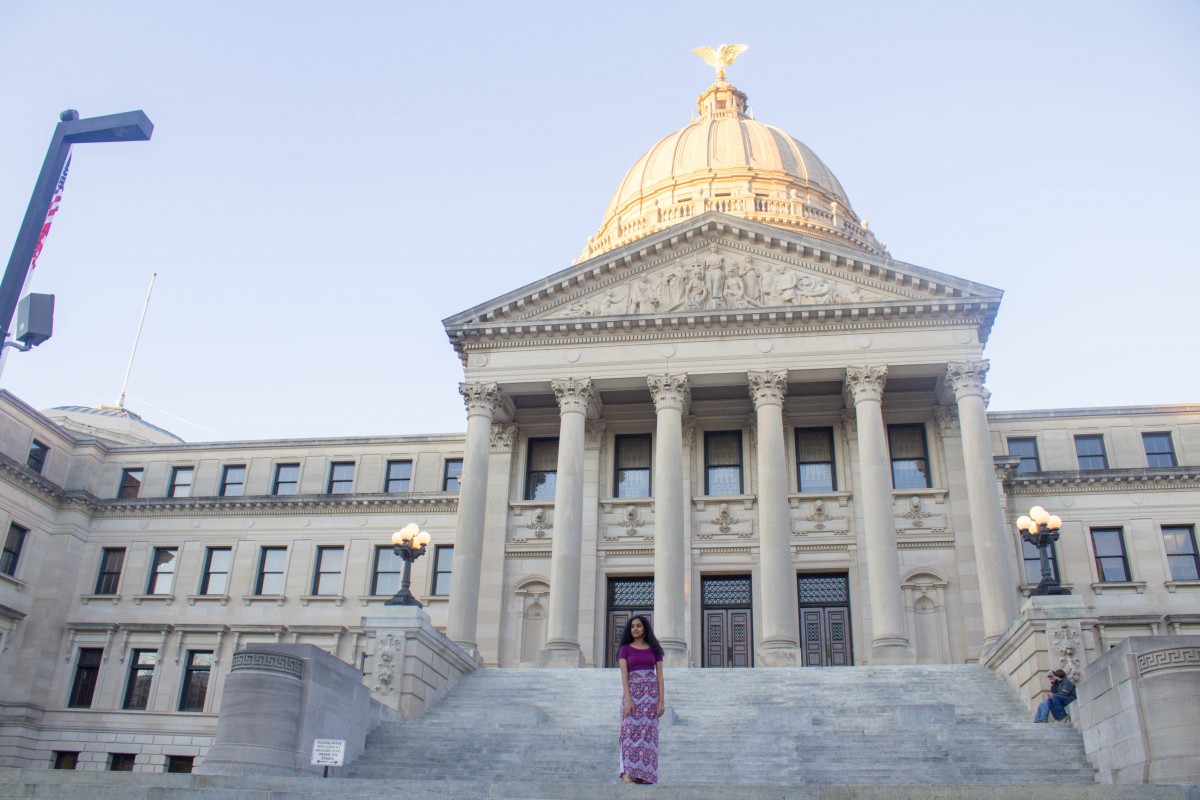 If I had to describe the "New" Capitol in one word, it would be: grand. This detailed, ornate, and intricate building easily steals the spotlight in Jackson.
An architectural supermodel, the "New" Capitol rocks all its curves and edges (there are no bad angles here). As for me, on the other hand, I'll eventually find the right pose…
Travel Tip: There's also an Old Capitol Building in Jackson, Mississippi that's now accessible as a museum!
Devour Comeback Sauce At Mayflower Cafe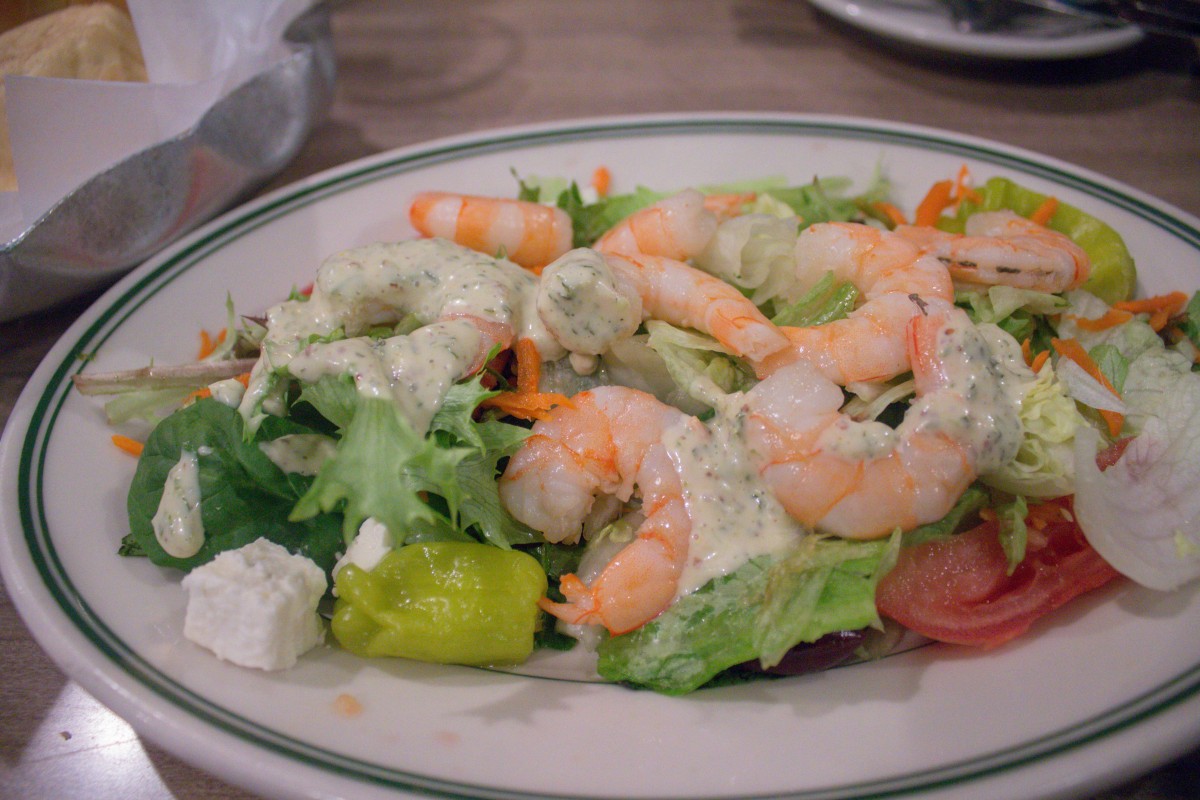 The tourist buzz of Jackson, Mississippi, Mayflower Cafe is always alive with sound: the clang of dishes, the heavy dinner chatter, the smack of forks against the tables. And while I normally stray away from tourist-populated restaurants, I heard so much about Mayflower Cafe that I felt compelled to visit.
Mayflower Cafe isn't a hole-in-the-wall joint. It's popular. It's overpriced. And at first, I didn't think the restaurant was anything to rave about. Then I tried the comeback sauce.
Enough said.
In all honesty, the comeback sauce made me want to…well, comeback (pun intended) to Mayflower again and again and again.
Mayflower's comeback sauce is a crossroads concoction, a bit spicy, a bit tangy, a bit sweet. Mississippi remoulade is my one true love. I need nothing else in life.
Check Into An Upscale Hotel In Jackson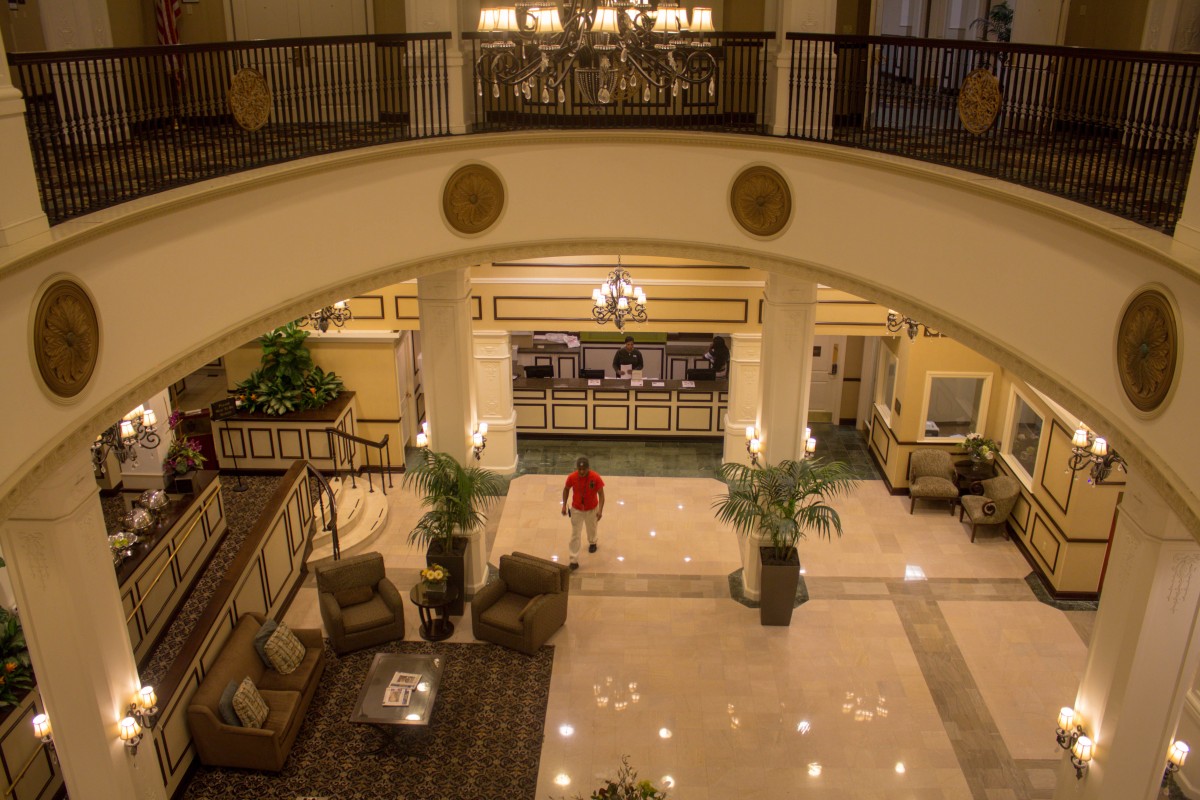 After eating my heart out (AKA dunking my food in an entire bottle of comeback sauce), I wobble back to the hotel.
I check into the Hilton Garden Inn Downtown, which I know, doesn't sound posh or luxurious. But this hotel is actually a Mississippi landmark, the site of the former Edwards Hotel.
The original hotel (AKA the "Confederate House"), built by a confederate major, was destroyed during the Civil War and later rebuilt, renovated, and sold.
Side Note: If you want a more music-oriented tour of Jackson, check into the Westin. It's set in the heart of the performing arts district.
One of the things that I truly appreciate about Jackson, Mississippi is that unlike some Southern cities (*cough* Dallas, I love you but seriously… *cough*), Jackson doesn't try to hide its past.
The Confederate history isn't buried but shown: it's shown as being thorny and disgusting. It's shown for what it was.
Day 2: Fun Things To Do In Jackson, Mississippi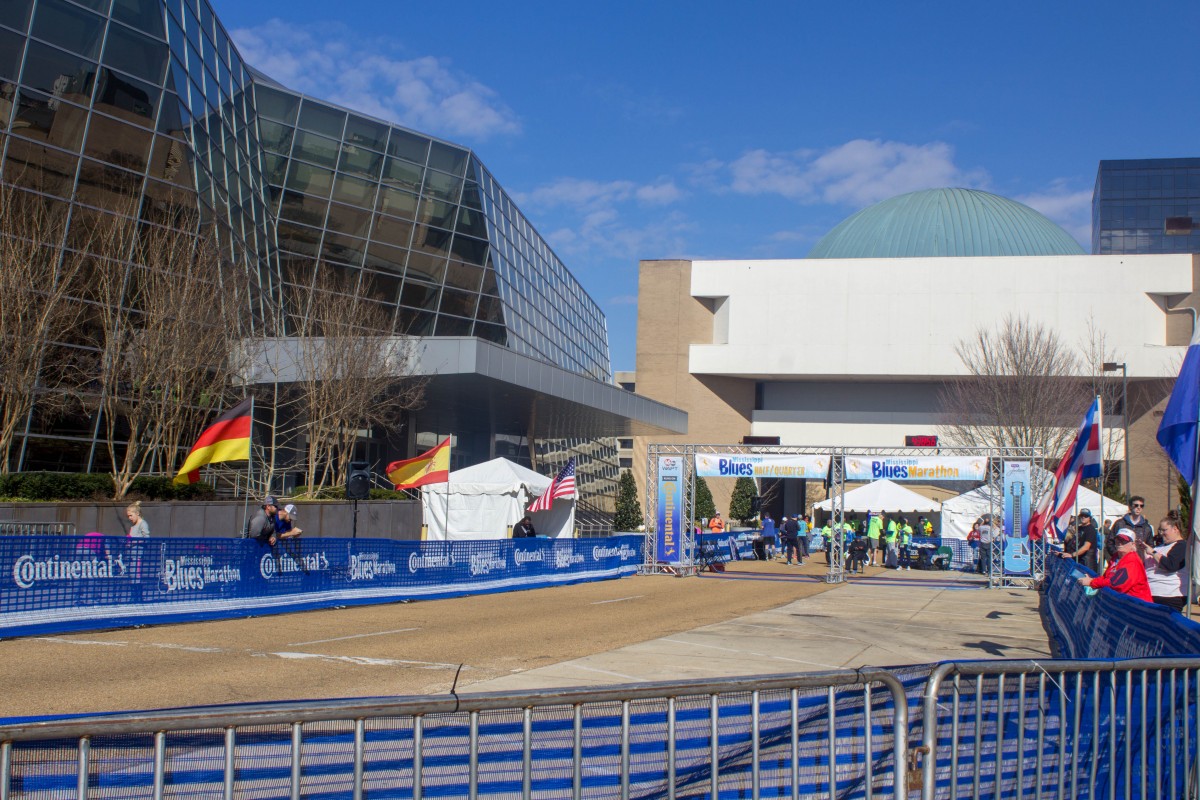 Run In The Mississippi Blues Marathon
In the morning, I slowly pull myself out of the soft hotel bed and trudge towards the window (y'all, I am not a morning person).
In the distance, past the railroad tracks, past the train station, past the thick of buildings, are dots of people, streamlining a path.
Probably some high school cross-country team, I think, shaking my head. Morning people, I think.
As I walk outside, I see more runners. A man sporting a kilt and neon leggings flies past.
"Go Scotland," someone shouts. "Whoooh!"
Morning people, I think.
In the hotel lobby, I fix myself a cup of tea and force myself to wake up. As I enter the directions for Brent's Drugs, I notice a poster for the Mississippi Blues Marathon.
A half marathon, Mississippi Blues celebrates Jackson's runners (but people from around the world attend). It's a close to full-day event, peppered with live music.
Jackson's positivity increases ten-fold during the Blues Marathon. Everyone's smiling. Everyone's laughing. And Jackson feels so alive.
I already have my calendar marked for the next event: February 29, 2020. I'm not running (I can barely run a mile), but to me, this is the perfect time to return to Mississippi.
Grab A Malt At Brent's Drugs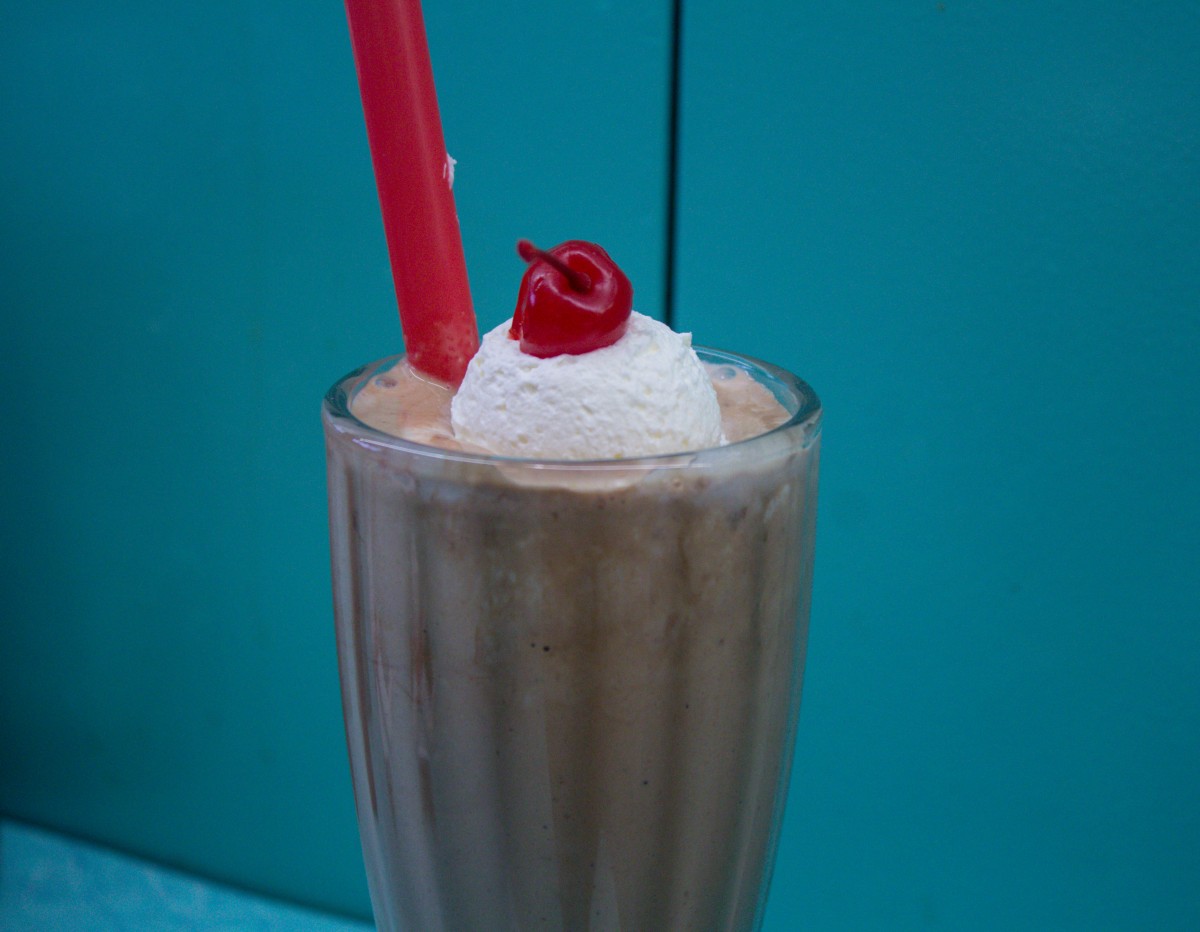 Brent's Drugs is our next stop.
When I first stepped into Brent's Drugs, an old-fashioned diner in Jackson (you may remember it from The Help), a chocolate malt was the first thing I ordered.
You see, when I was younger, I used to binge Archie comics. Jughead was my favorite character (Dilton next) so naturally, I've always wanted to order a chocolate malt at Pop Tate's.
Let's just say, the rest is history. Seriously, I fell in love with Brent's Drugs. From serving perfectly-spiced chicken and biscuit to sweet giant pancakes, this restaurant has a mouthwatering selection of breakfast digs.
Travel Tip: There's a hidden speakeasy in the back of Brent's Drugs called the Apothecary (*wink*).
See A Replica Of An Old Mississippi Small Town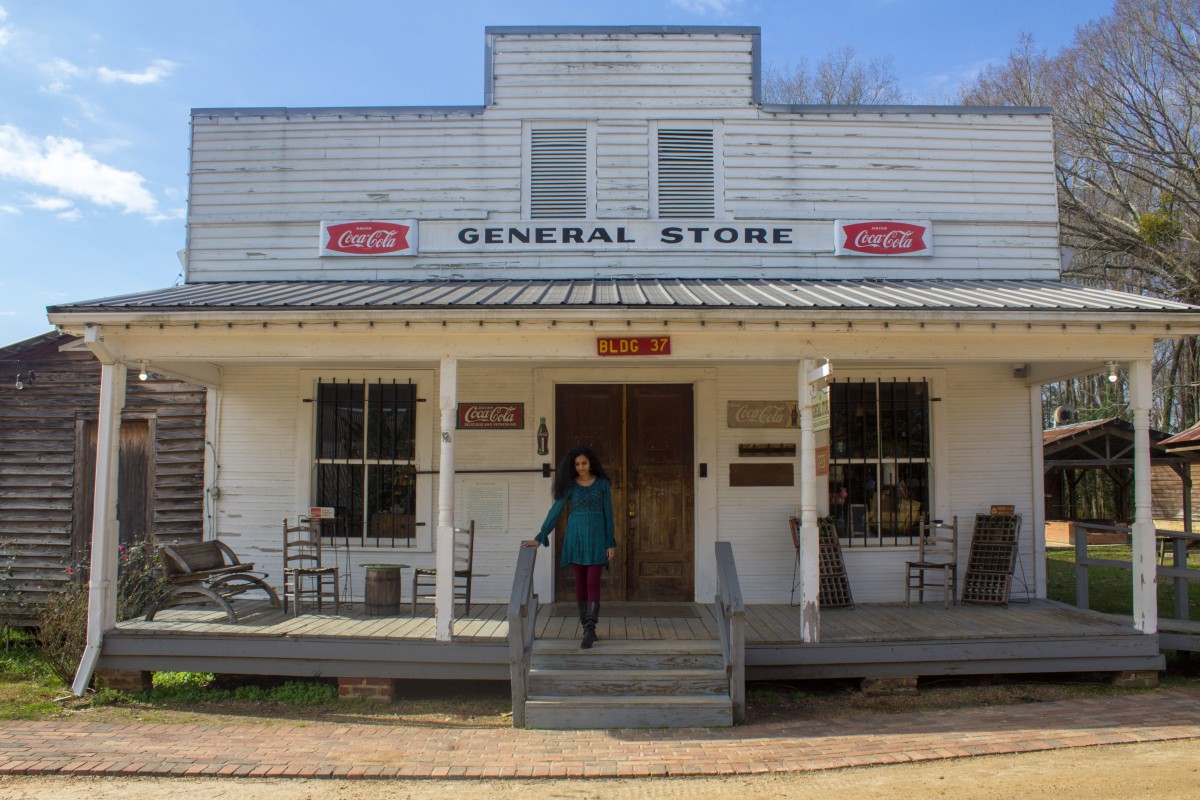 Green acres is the place for me, farm livin' is the life for me…
If you know the rest of the lyrics (or what song I'm referencing), we can officially be best friends forever. But on that note (pun unabashedly intended), the old Mississippi town at the Agriculture And Forestry Museum in Jackson reminded me so much of Hooterville.
That's the beauty of Jackson – the city takes you back in time to all your favorite books and shows of yesteryear. It's a completely surreal experience.
Spend An Hour At The Mississippi Art Museum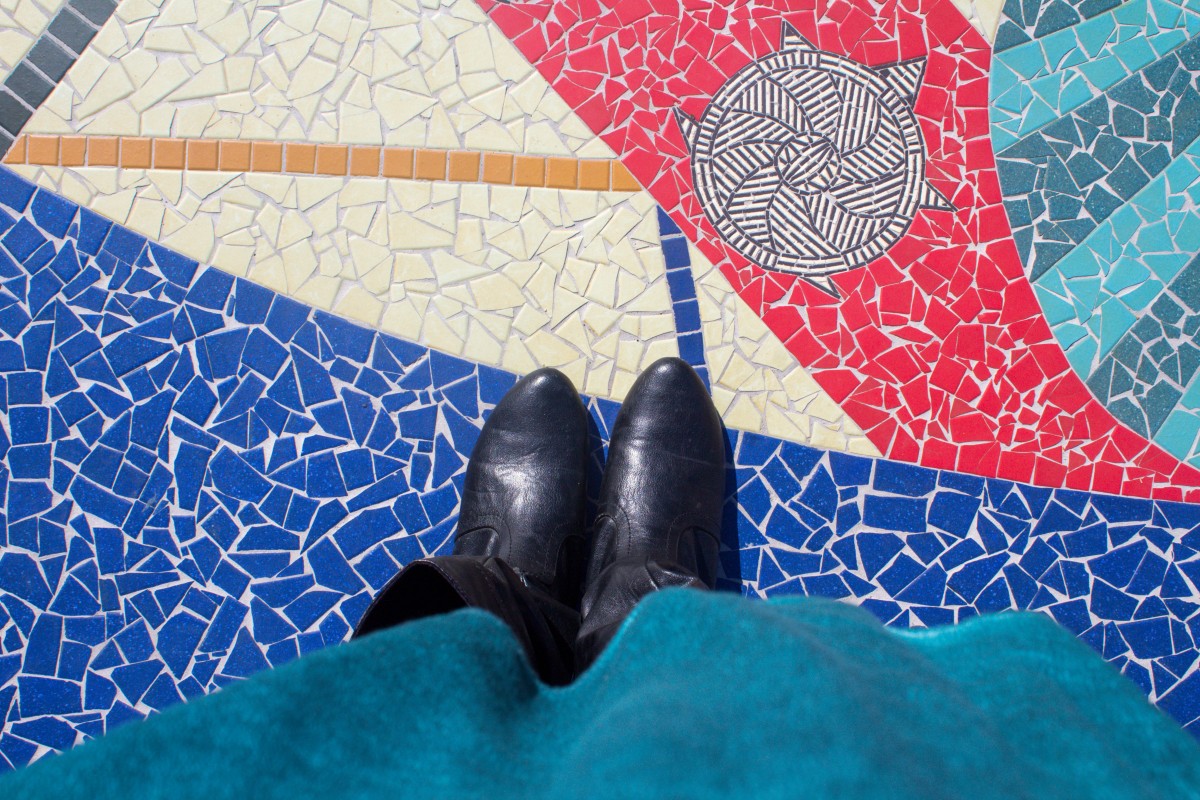 I originally added the Mississippi Art Museum to my list of Jackson date ideas.
I loop around the exterior, my feet sliding past mosaic tiles. Outside, blues beats ring as runners sprint towards the finish line.
"You can do this! Go! Go! Go!" someone shouts.
"Go Mississippi," another yells. "Go Jackson!"
I'm strolling through the garden, working my way through the flowers. Jackson, Mississippi is beautiful.
Go Jackson, I think. Go Jackson!
Hang Out At Cultivation Food Hall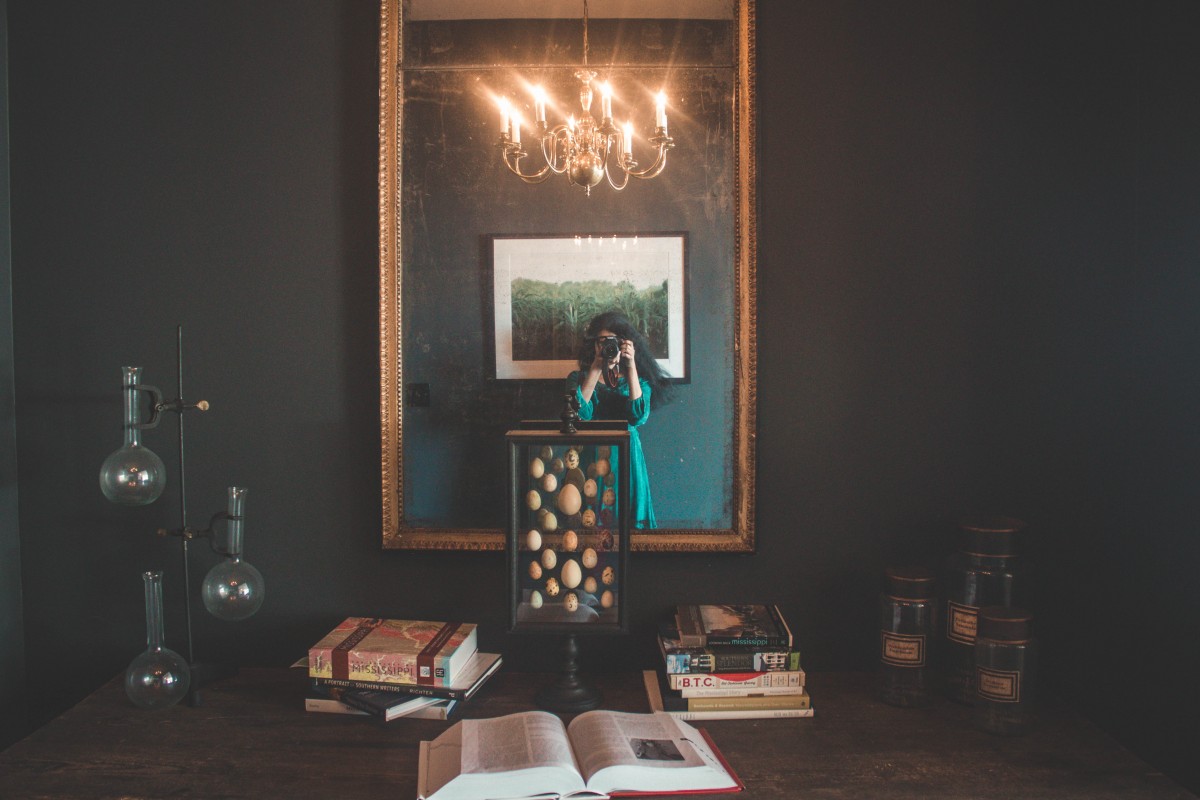 Cultivation Food Hall just opened mid-January in Jackson and I'm so glad we get a chance to visit today.
Food halls are becoming more popular in the United States, especially in urban areas, but I've never been to one as diverse as Cultivation.
Perfect for a cozy date night dinner, quiet study session, or loud family gathering, Cultivation Food Hall's ridiculously aesthetic interior design somehow accommodates for everything. From good ol' soul food (like shrimp and grits) to millennial-approved avocado toast, Cultivation Food Hall serves up a bit of everything.
It's one of the top foodie things to do in Jackson, Mississippi.
Stroll Through The Museum Of Mississippi History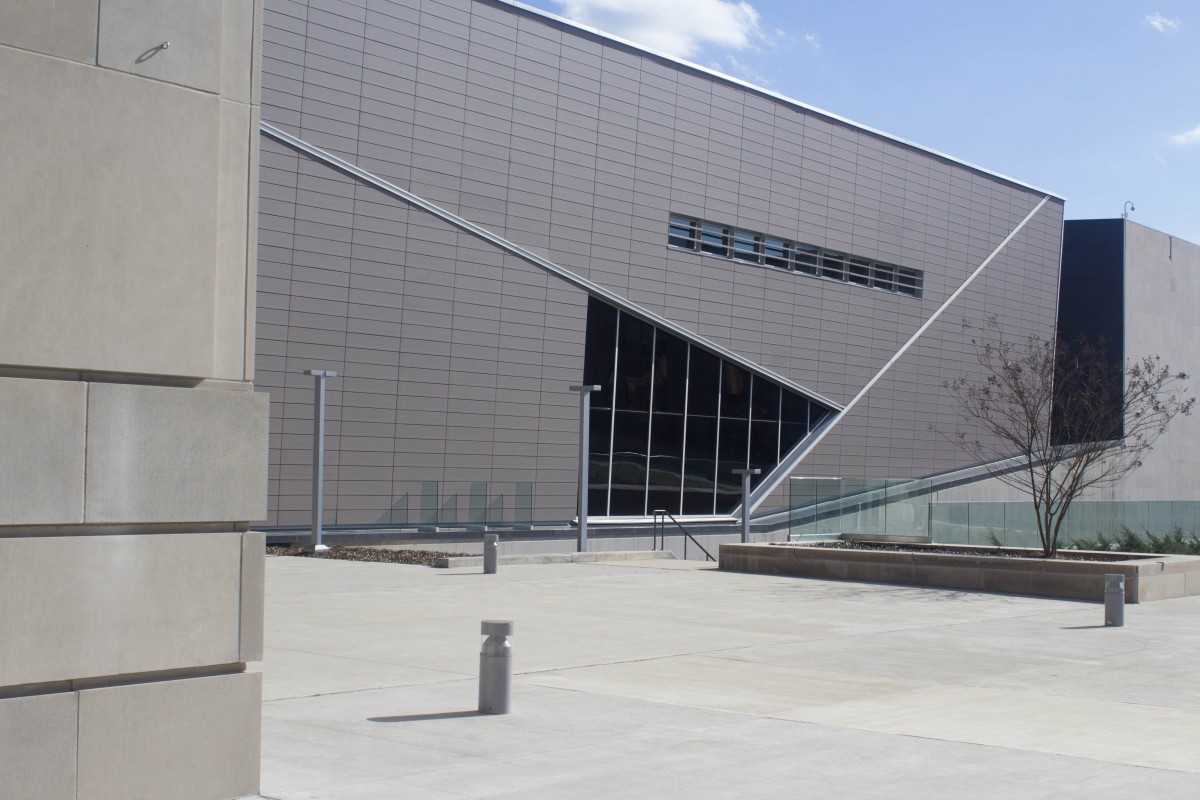 The Museum of Mississippi History doesn't shy away from honesty. Like most museums in Jackson, it's text-heavy.
It's a hard style to pin down, but Jackson does it right. Each placard is a narrative, a story that weaves through centuries.
The Museum of Mississippi History can't be finished in one sitting. It's the kind of place that you need to come back to again and again and again.
Visit The Mississippi Civil Rights Museum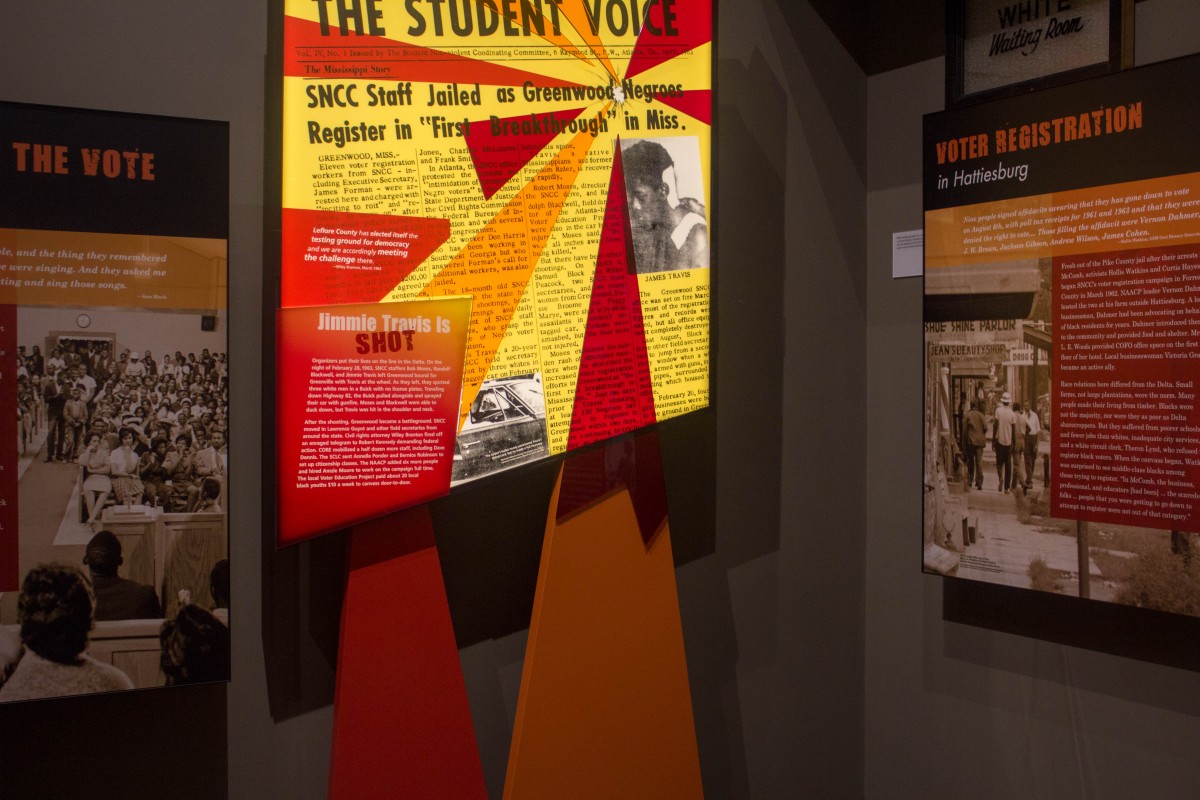 Located in the same building as the Museum of History, the Mississippi Civil Rights Museum, a local favorite, is nothing short of intense.
From the colors to the displays to the step-activated speakers, everything culminates into one heavy experience.
The museum raises awareness about the history of brutality in Mississippi. As I walk through and read the displays – read the stories – I feel like someone is swinging a giant hammer into my stomach again and again. The museum is gut-wrenching.
But it's one of the top things to in Jackson (if not number one) because understanding pure hate can only better help us understand love and compassion.
Grab A Drink At Cathead Distillery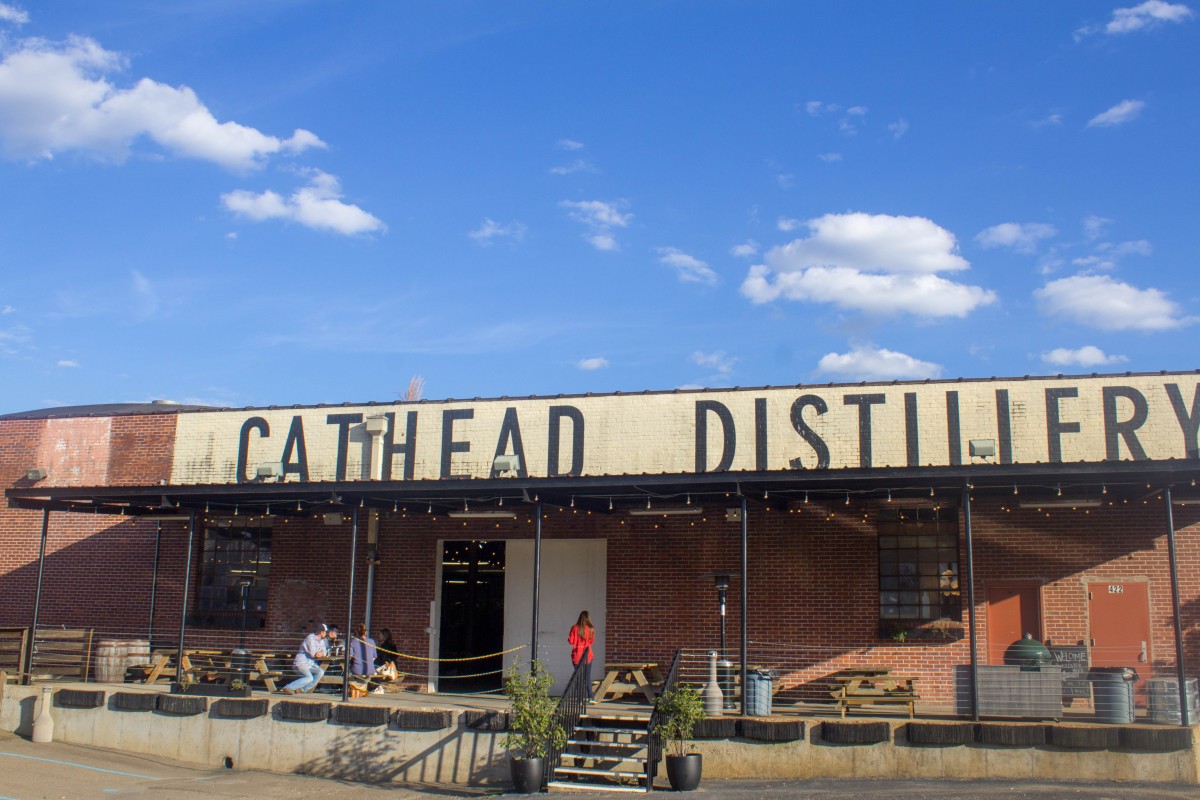 A suave low-lit building, Cathead is the oldest distillery in Mississippi. Since I'm under 21 (*sigh, someday*), I admit, I skipped out on a tour.
But I heard so much about Cathead while I was in Jackson that I ended up putting it on this list anyways.
If you want to sample Southern vodka and eat up a side of history, I've heard Cathead is the place to go. For a distillery, it's surprisingly family-friendly, with food trucks and open lawns to picnic in.
Have The Best Tacos In Jackson At Babalu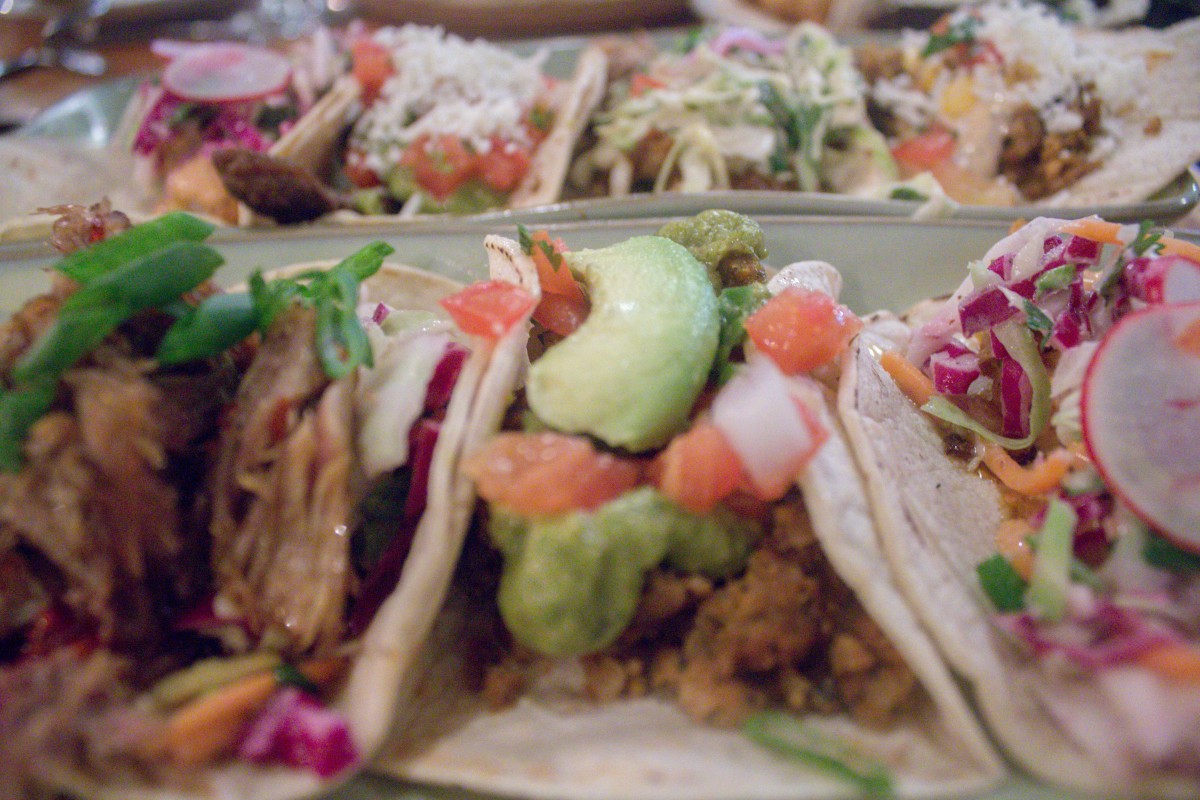 Having lived in Texas for the past five years, I have high expectations for tacos.
And Babalu met all of them.
Each taco is a work of art. Every bite is a mix of carefully manipulated textures. The taste is controlled.
Babalu's tacos are bright and cheery, a mix of green and red and violet. I have a smile as big as a rainbow when I see the plate.
My favorite: the fish taco. The fish, soft but not soggy, melts into the radish and cilantro when you take a bite. And the comeback sauce – well, I've already admitted that I've sold my soul to comeback sauce.
And let me just say, the crispy pork belly taco is heaven. With BBQ sauce, peanut slaw, and a sprinkle of cotija, this packed taco is a savory delight.
Read A Book At Lemuria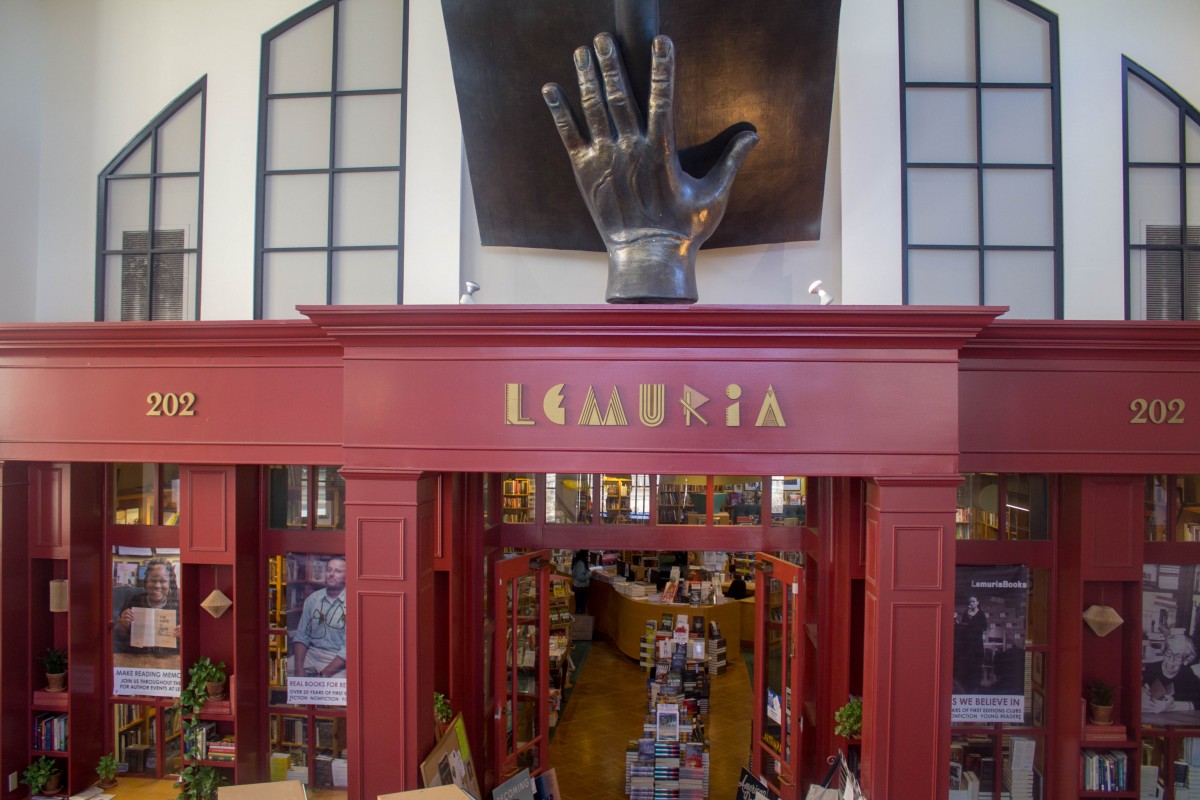 I've mentioned Lemuria four – no, five – times now. I should be sorry, but I'm not.
Lemuria made me fall in love with reading again. And I know I've said this many times, but a place that has the power to do that needs to be mentioned a hundred times (well, that's my justification for annoying you).
A quiet bookstore in Jackson, Mississippi, Lemuria is colorful inside and out. Stacks of curated books sit inside museum-style. The store, warm and cozy, has a stand-out selection.
With petite displays dedicated to Jackson authors, Lemuria knows how to honor the literary tradition of Jackson, Mississippi with grace and charm.
Day 3: Drive-By Things To Do In Jackson, Mississippi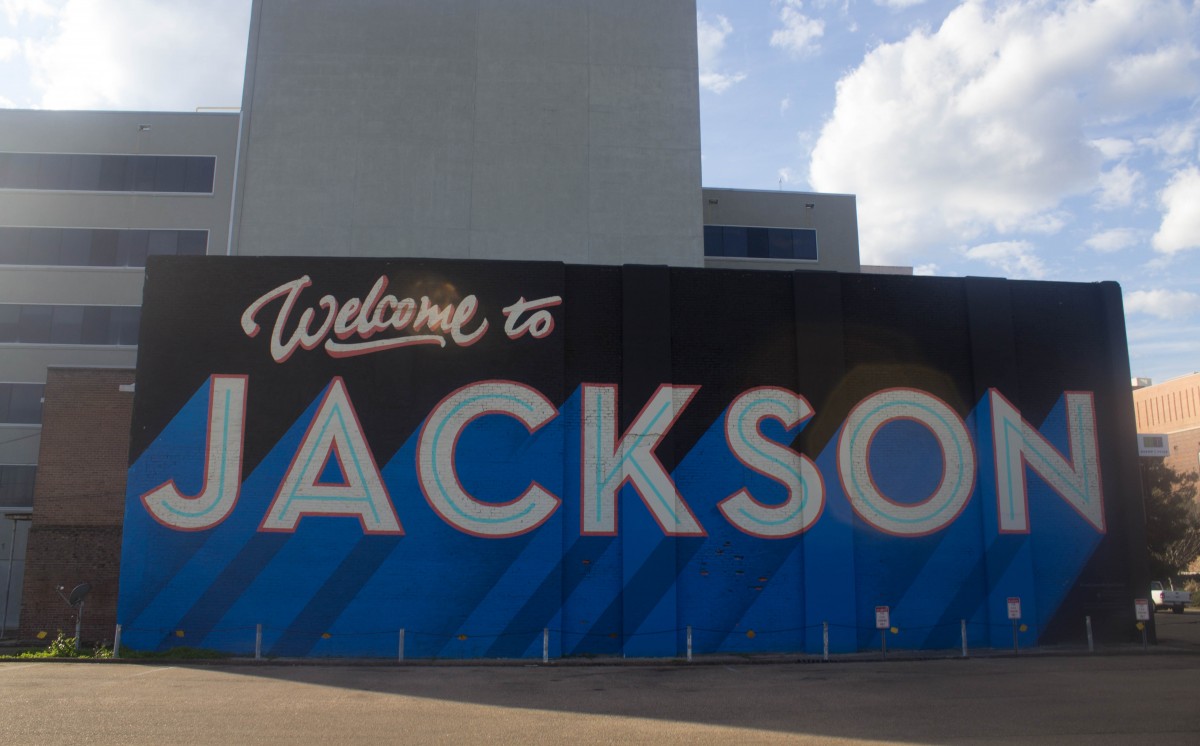 Pose In Front Of The Welcome To Jackson Sign
I know it's a little late for an introduction (especially considering we're leaving today) but welcome to Jackson, Mississippi (*smiles sheepishly*)!
Jackson stole my heart during my trip to Mississippi. It's a city that challenges you in so many different levels.
And let me just say, I love this place. If you're a museum lover, the museums in Jackson have an incredible ability to bite at your emotions. If you're a foodie, there's nothing like soul food. God bless.
And if you love shopping, I passed by so many charming Southern-style boutiques that were too cute for words. Let's just say, after today, I may be secretly planning on moving to Jackson….
Take A Street Art Tour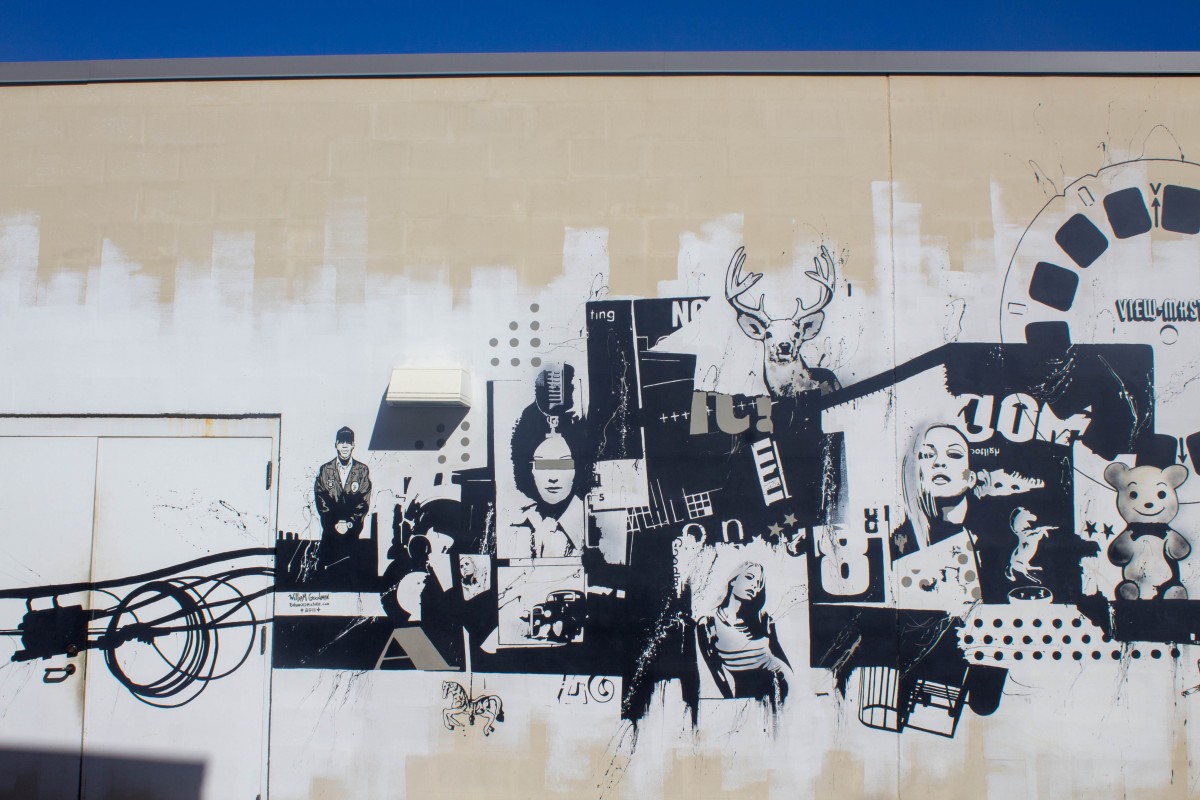 The Welcome to Jackson sign isn't the only street art in downtown Jackson. Jackson is a city that thrives on arts.
As we drive out, we see a leprechaun painted on the side of a wall, a pin-up sketch planked next to a grocery store, and my personal favorite, a gold heart with the word Jackson written neatly inside.
Jackson, Mississippi truly has a golden heart.
When I check out of the hotel, a panhandler, carrying a Bible, asks the valet parking attendant if he has any money.
"I don't have any money," the parking attendant says. "I'm just a parking attendant."
"Well, I'll pray for you," the panhandler says.
"I'll pray for you too."
The panhandler tips his hat and hobbles off. "And if I get some money today, I'll give it to you."
Jackson, Mississippi truly has a golden heart.
Take A Day Trip To The Delta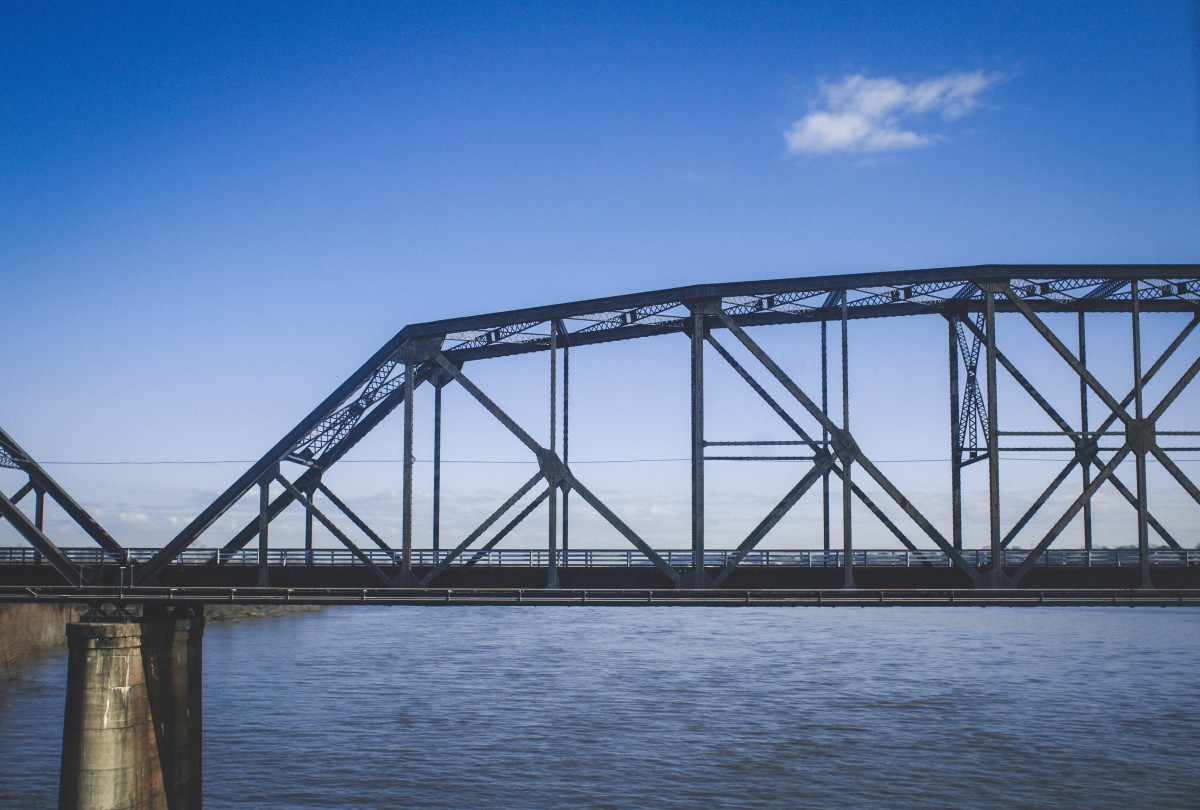 Driving out of Mississippi into Lousiana, we pass by the Mississippi River. Strange to say, I've never seen the Mississippi River in Mississippi. Every time I got a taste of it was in Tennessee or Missouri.
The delta is an easy day trip from Jackson.
En-route to the GRAMMY Museum in Cleveland, I find myself humming.
Hit the road Jack and don't you come back
No more, no more, no more, no more
Hit the road Jack and don't you come back
No more
I cut myself off. I haven't finished seeing Jackson, Mississippi. 48 hours isn't enough. What was I thinking? I need to go back.
I turn the car around, the Mississippi River flowing behind me.

Did you enjoy this list of things to do in Jackson Mississippi? Did you find it helpful? What would you do in 48 hours? Let me know in the comments below!
Disclosure: My trip to Jackson was sponsored by VisitJackson, but all thoughts and opinions are my own. Thank you for supporting my comeback sauce addiction.