top things to do in Joshua Tree
We arrived in Joshua Tree late one evening. It was November. The sky blushed pink, and beneath its rosy, reddened face, rows of Joshua Trees darkened down to silhouettes.
Commercial buildings blinked out of view. The lights did too as we drove on up towards our Airbnb, a still and silent residence facing the Mojave Desert. As I looked out the window, I smiled. Joshua Trees are incredibly wholesome. They're cute, almost comical, with shaggy trunks and pom-pom-like tips.
That night, I fell into a dreamless sleep. Little did I know, long after our trip, the coming memories of sunrise hikes, mid-day climbs, and boho-based shopping sprees would continue to stir in my mind.
Joshua Tree – the town, the surrounding hamlets, and the national park – is one of my favorite places in the United States. It's everything you've already heard: wondrous, magical, unique. The landscape, equal parts bizarre and barren, is spellbinding. You'll feel as though the oddly shaped rocks and whimsical yuccas have tumbled straight out of the pages of a Dr. Seuss book.
There's a lot to do near Joshua Tree. This travel guide features forty favorites. It's split into two parts: twenty things to do near Joshua Tree the town and twenty things to do in Joshua Tree National Park.
Without further ado, here's our ultimate guide to things to do in Joshua Tree, California!
P.S. We also have a separate guide to the best restaurants in Joshua Tree here.
Editor's Note: Many of the most popular things to do in Joshua Tree are closed on Tuesdays and Wednesdays. If you're planning a week-long trip to Joshua Tree, we recommend visiting the National Park on weekdays (if you can) and saving the shops and local attractions for the weekend.
Joshua Tree Coffee Company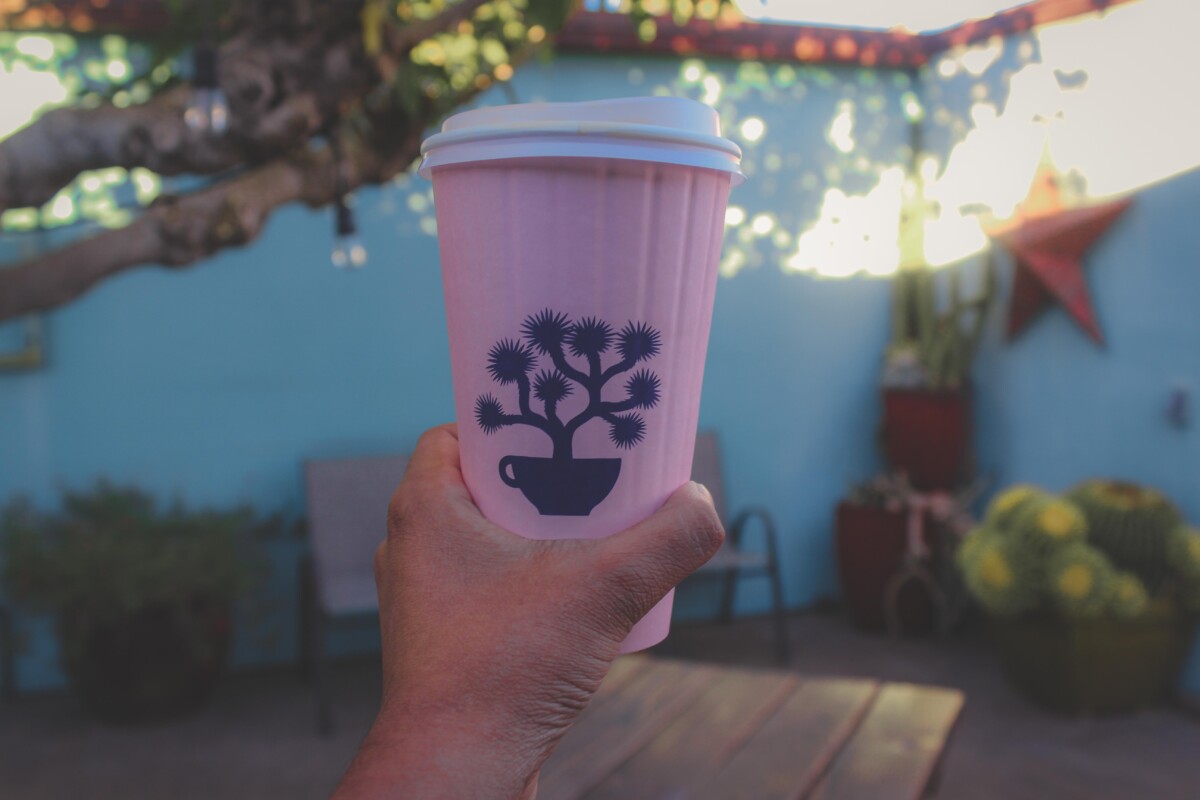 Joshua Tree Coffee Company makes strong pick-me-ups: espresso shots, nitro cold brews, iced lattes. You'll feel your body waking up well before your first sip. Getting to this small, outdoor coffee stand requires squeezing between two buildings. The alleyway's walls are intensely blue, the kind of blue that's ocean-like, that makes you forget you're in the high desert for one disorienting second. The energy of the staff, skittering in and out of the back door, heaving big boxes, is palpable. Joshua Tree Coffee Company is a busy place. Drinks take a while to make but are worth it for the caffeine-obsessed (which, I have to admit, I am).
Beauty Bubble Salon
Less than a minute's drive from Joshua Tree Coffee Company is Beauty Bubble Salon, a colorful collection owned by Jeff Hafler, Mojave Desert's very own hairstorian. Home to a dense and eccentric amalgamation of hair-aphernalia, Beauty Bubble Salon is a tourable museum Thursdays through Sundays. The other half of the week, it takes on a new function and doubles up as a parlor. You'll find a team of talented stylists available for hair cuts and hair coloring (appointments can be made by calling 760-366-9000).
World Famous Crochet Museum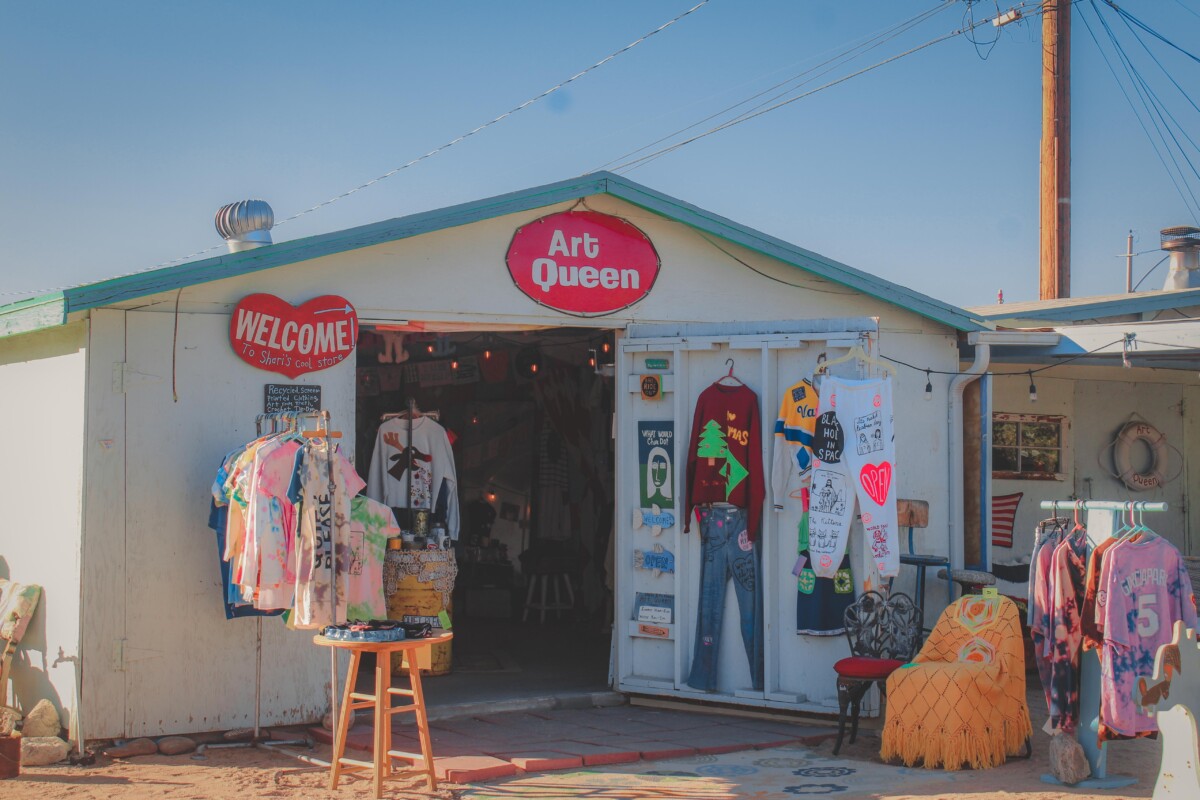 The Art Queen lies atop patterned and mosaiced grounds. Both a shop and a complex, The Art Queen is hard to describe. Narrowed down to one word, it's funky. But it's also artsy, unconventional, and rebellious.
The store's founder is Shari Elf, who is also the brain and heart behind one of the most well-known things to do in Joshua Tree: The World Famous Crochet Museum.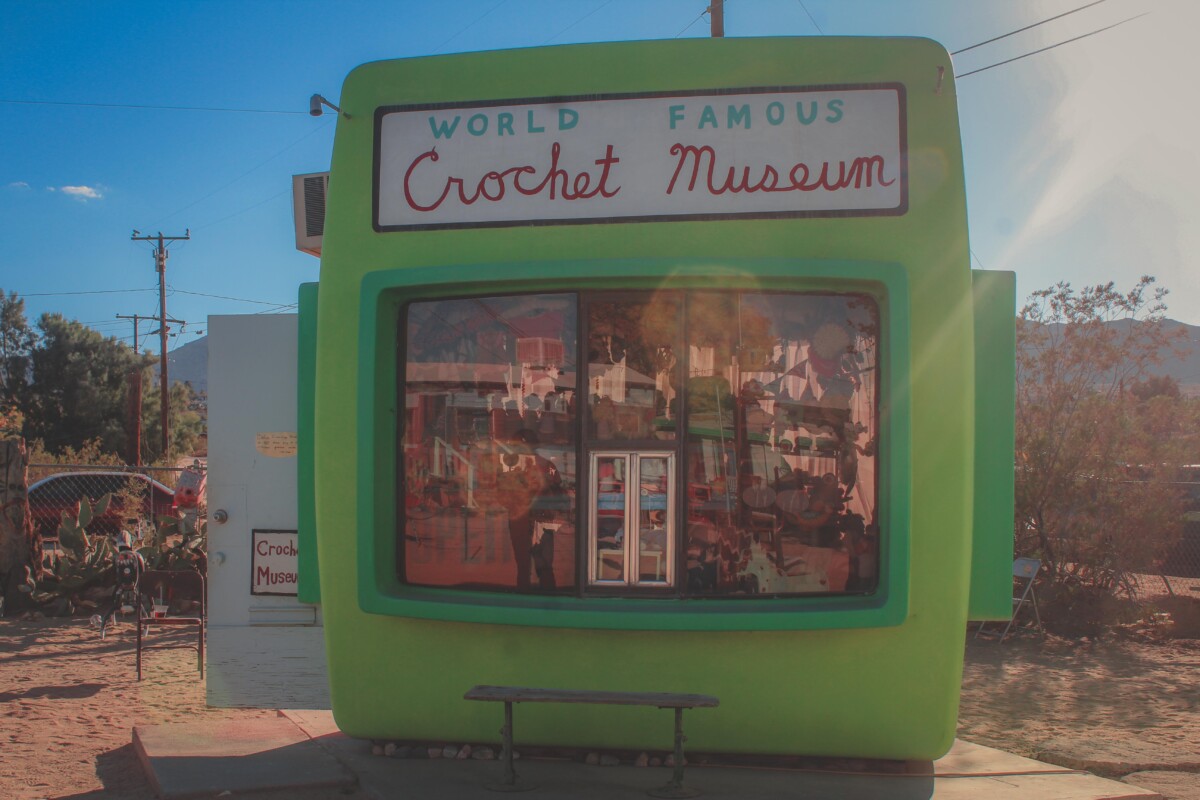 Walking into The World Famous Crochet Museum is like squeezing into a desert rat's nest. The room is crammed, ceiling to floor, with a hoard of crochet creations and amigurumi. Many of the fluffy creatures have big, animated, watchful eyes. They take in the world slowly, baking and cooling under the Mojave heat.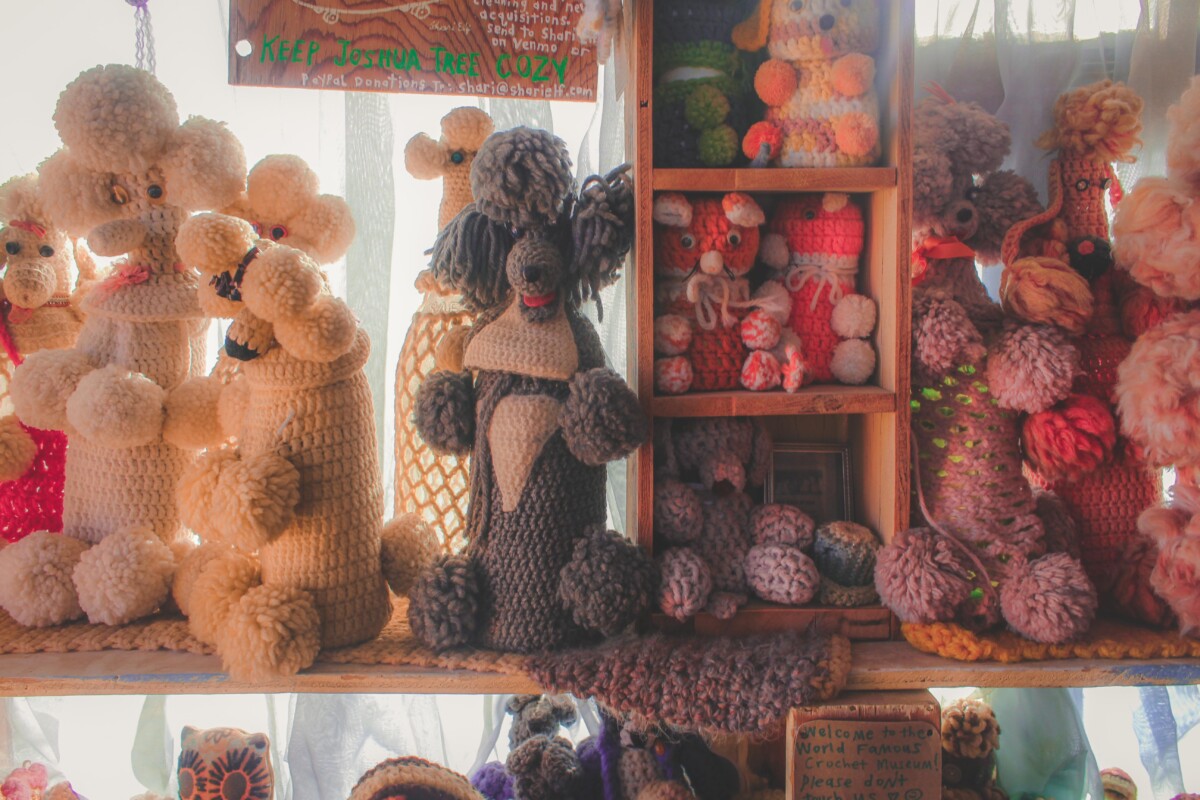 It's hard to believe this tiny walk-in, pop-out-the-same-way stop used to be a drive-through photo kiosk. Kiosks like Fotomat were popular in the sixties but slowly fell into a state of abandonment and disrepair after a boom in digital camera purchases. Elf filled in the hollowness of one particular stand with the gentle and nostalgic warmth of crochet. Enter The World Famous Crochet Museum.
Sun Alley Shops
Sun Alley Shops, positioned just a few steps away from The World Famous Crochet Museum, is more proof that many of the top things to do in Joshua Tree are clustered together.
It's a small settlement of indie stores along Twentynine Palms Highway. You'll find everything here from paisley outfits to soothing body oils. If you're a bookstore lover, check out Sci-Fi-focused Space Cowboy Books first (random side note: I have the Kacey Musgraves song of the same name running through my head right now. please tell me I'm not the only one).
Joshua Tree Farmers Market
Joshua Tree Farmers Market is the kind of secret you have to let out. It's less frequented than most other Joshua Tree attractions but it's just as amiable. Every Saturday, you'll find white-capped tents shading fresh produce, cans of pickles, and spiced sea salts. There's more too: Joshua Tree Coffee Company's signature blends in bags, rainbow-colored flower bouquets, Mediterranean meals.
Noah Purifoy Outdoor Desert Art Museum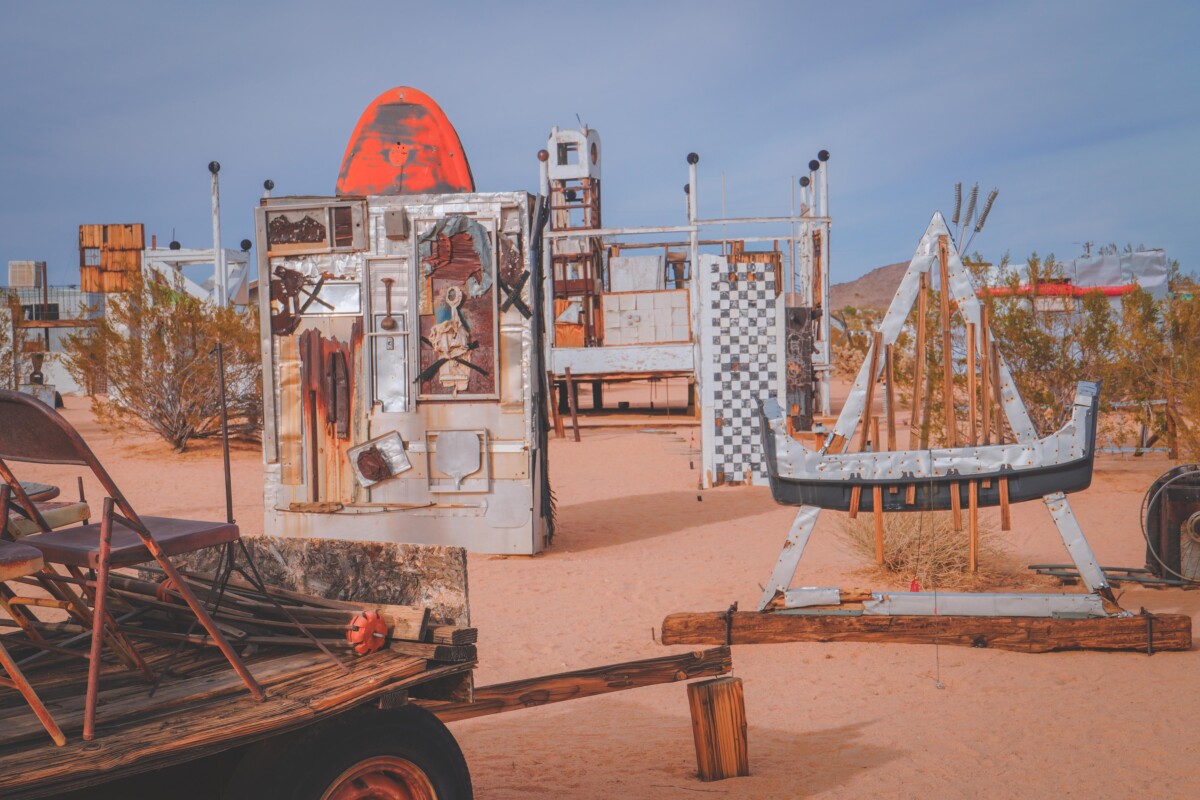 If there's one thing I learned while staying in Joshua Tree, it's this: this town has a habit of turning weird into wonderful. And Noah Purifoy Outdoor Desert Art Museum is the in-between; it's weird and wonderful. Just past a sparse road on sandy, shallow grounds are sculptures assembled from discarded materials.
From afar, it looks like a trash heap. Closer still, it looks like a junk yard. Up-close-and-personal, you realize it's madly genius. The assemblage is more expressive than interpretative. Each title says a lot without needing to say much.
It's strange to be able to view art with such intimacy, to see it out there in the dry desert heat, upright and exposed. But that's part of the museum's intrigue. You get to openly see Noah Purifoy's art and how nature has slowly nurtured it.
Glass Outhouse Art Gallery
Situated around twenty minutes from Joshua Tree, Glass Outhouse Art Gallery is one of those quirky, only-in-the-Mojave-Desert attractions that you come to expect over time. The non-profit, which highlights unknown artists, is run by Laurel Siedl. Yes, there is a functioning glass outhouse (the privacy trick: a one-way mirror). There's also a gingerbread-house-like chapel with cream-colored sides and a toffee-toned roof. Inside, a glowy, sun-struck cross draws eyes. You'll see slips of light seeping through it, buttering the pews.
Sky Village Swap Meet
Raise your hand if you've watched Halloweentown. Do you remember Gort from Kalabar's Revenge? Gort's messy cottage spilled out onto dozens of lopsided tables is how I picture Sky Village Swap Meet. There's a LOT of stuff. If you're looking for jewels in junk and treasure in trash, this is the place to be.
Sky Village Outdoor Marketplace (known for hosting a Saturday and Sunday only Swap Meet) is all about finding potential in castoff pieces. And even if you don't love thrifting, there's still much to see: quaint shops at the village, a recreation of Bob Carr's Crystal Cave, country cookin' at the cafe.
Hoof & The Horn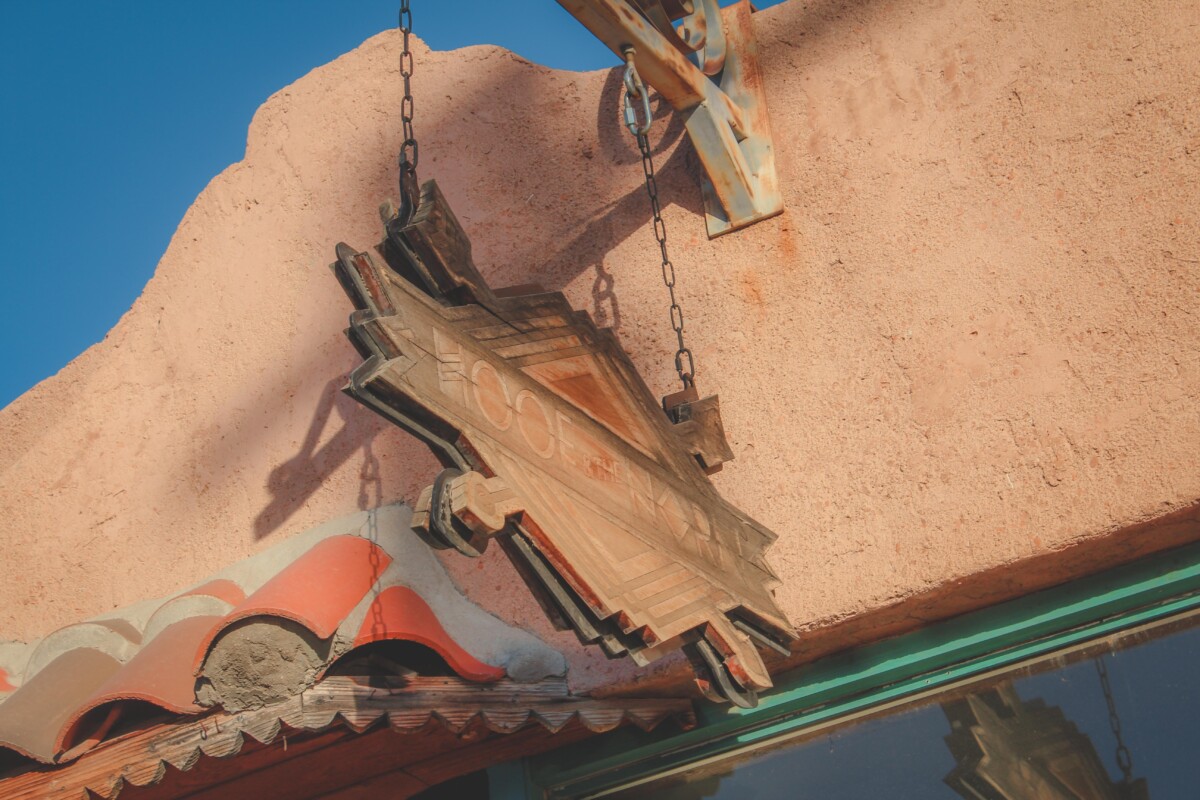 Hoof & The Horn takes its curation seriously. It's a careful mix of Western wear and stationary, Joshua Tree posters and pins, scented candles and wide-brimmed hats. The interior matches the outside desert vibes, and many of the items come in desert colors: soft tans, rusty yellows, earthy oranges, cholla greens.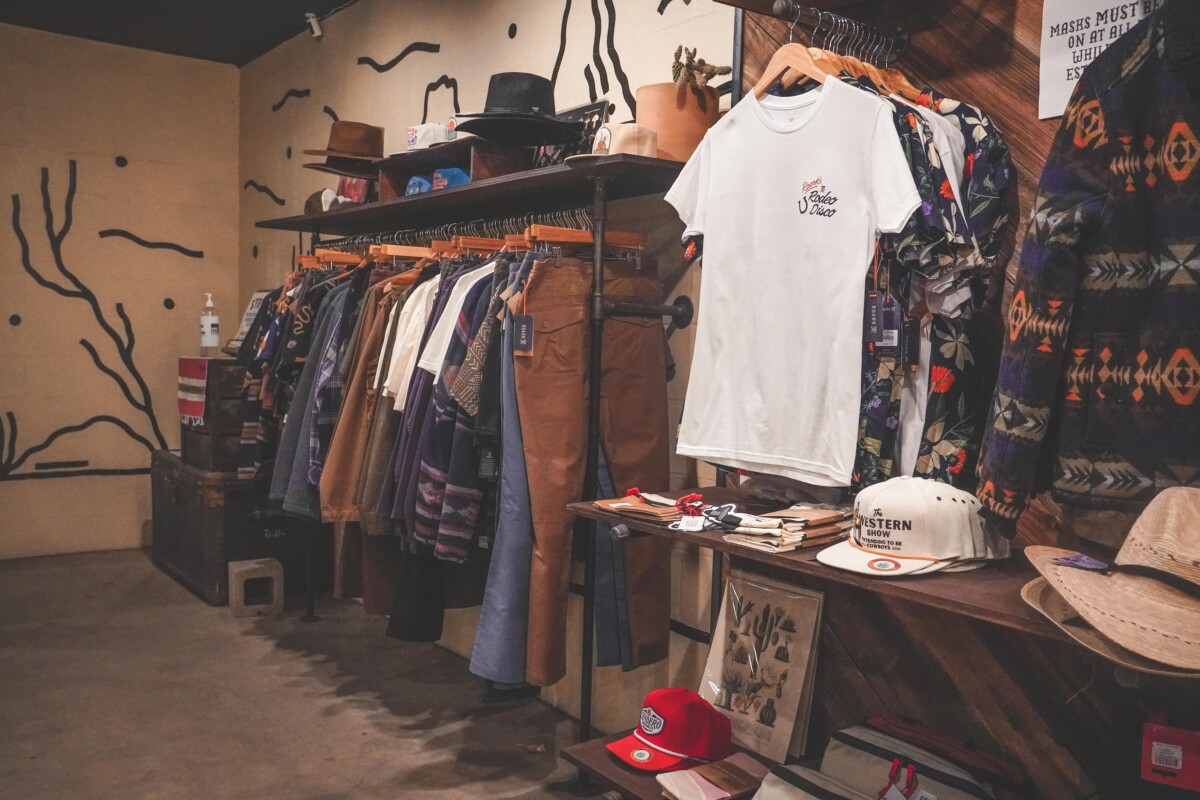 There was a lot I wanted to take home. But after much deliberation (and restraint), I settled on a trio of items: two sunset-colored sticker sets and a simple, textured notebook (which has since become my reading journal).
Hoof & The Horn is an aesthetic lifestyle boutique. So if you're looking to schlep home gifts for all your friends and family, go here (trust me, you'll find something for everyone).
Acme 5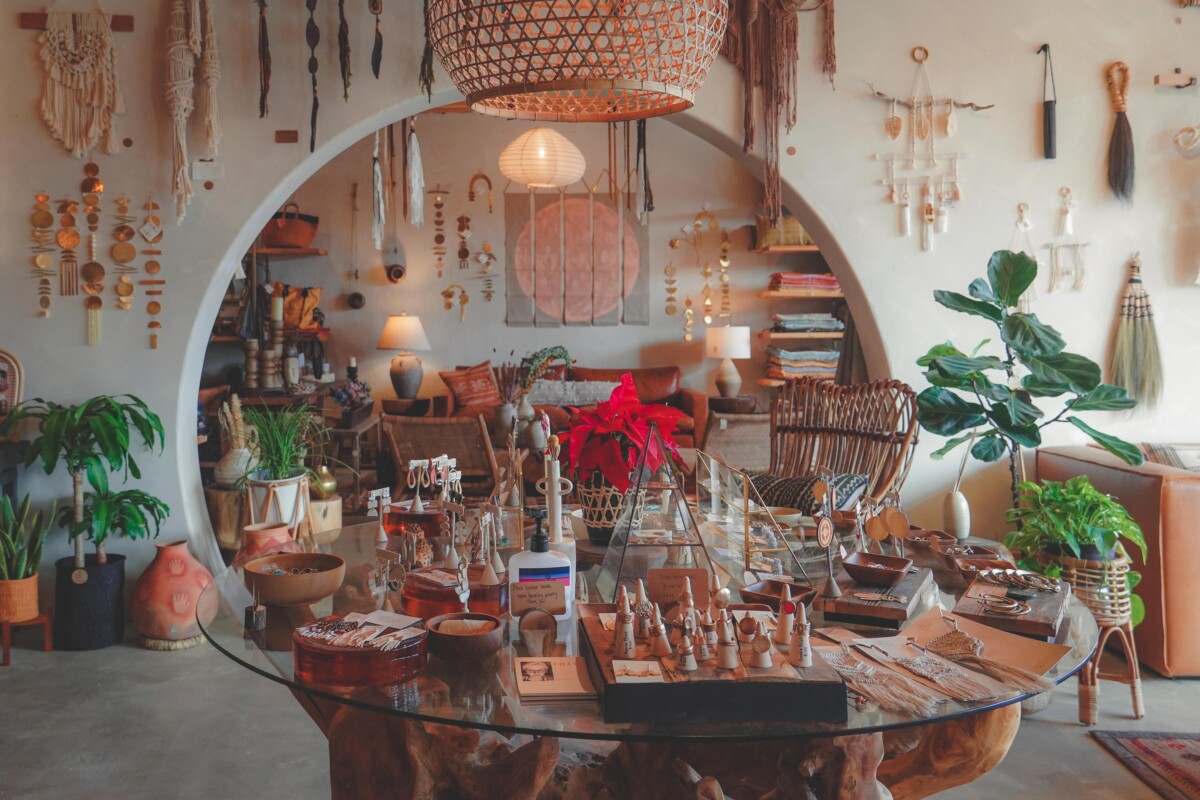 When I first walked into Acme 5, I felt a little dazed. The set-up was perfect, almost too perfect. It had this airy, dream-like quality that reminded me of a design magazine spread.
Unsurprisingly, Acme 5 is the brainchild of Anton Goss, an Emmy-award-winning production and set designer whose credits include The Voice, The Ellen DeGeneres Show, and The Bachelor. Today, Acme 5's Yucca Valley interior is preserved by store manager, Stephanie Geny. It's a furniture shop at heart so almost everything inside is up for sale, including the chic odds-and-ends accenting Acme's wide tables and wicker chairs.
The End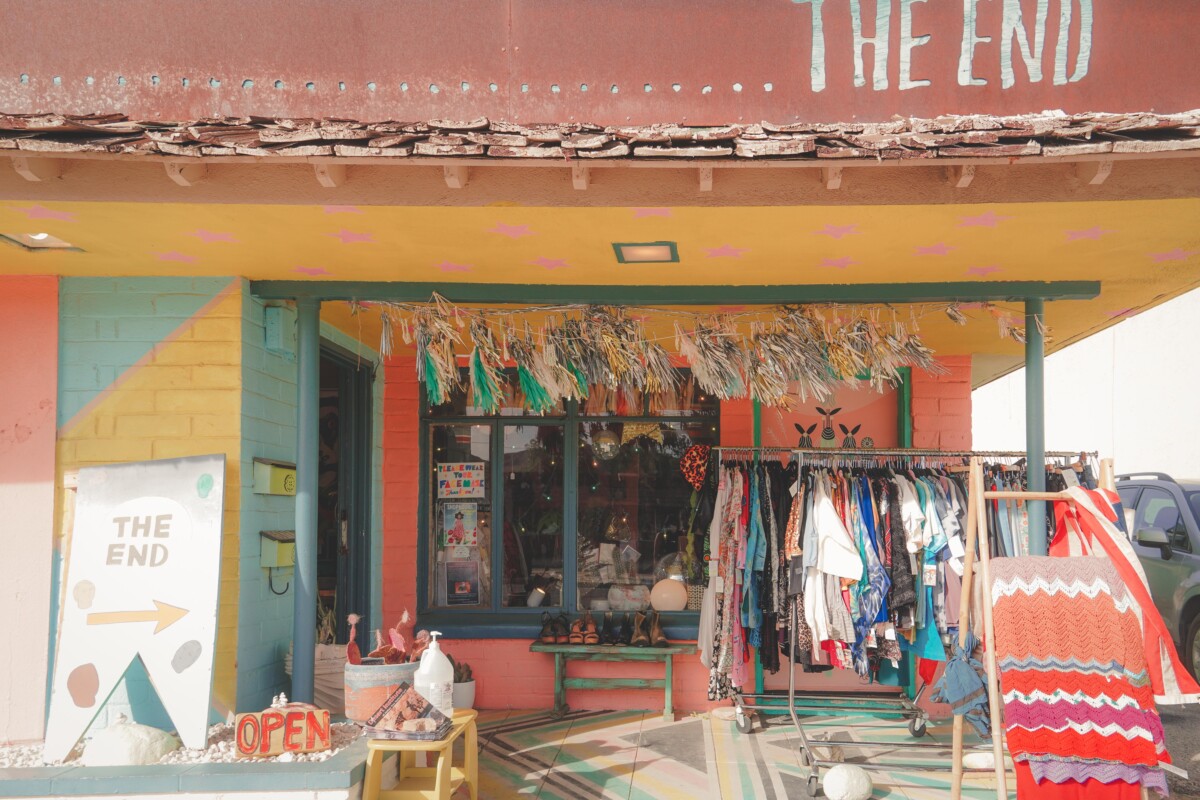 It's hard to miss The End. As you're driving along Twentynine Palms Highway, you'll see a shop that's loudly and proudly colorful. The colors are so intensely happy and unabashedly vibrant, you feel beckoned to come inside.
Under the roof is a more mellow display – a vintage dreamhouse with pleasantly loose-fitting dresses up on racks. You'll also find pocket-sized plants and local art for sale. The End is hands-down one of the cutest little shops in Yucca Valley.
Desert Christ Park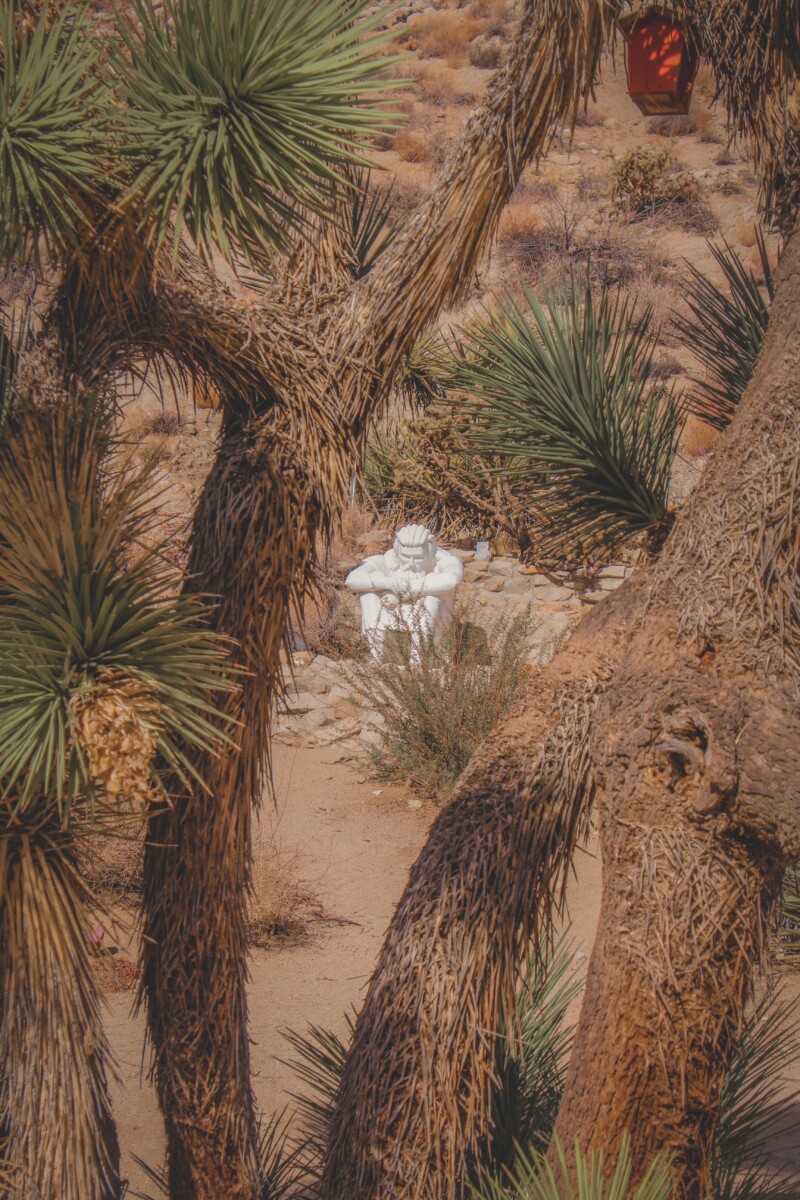 When Joshua Tree National Park gets crowded, there's still one place in the California Desert that reminds me how solitary the Mojave can be: Desert Christ Park. Desert Christ Park offers sweeping views of Yucca Valley. It's a place that's quiet, reflective, and meditative.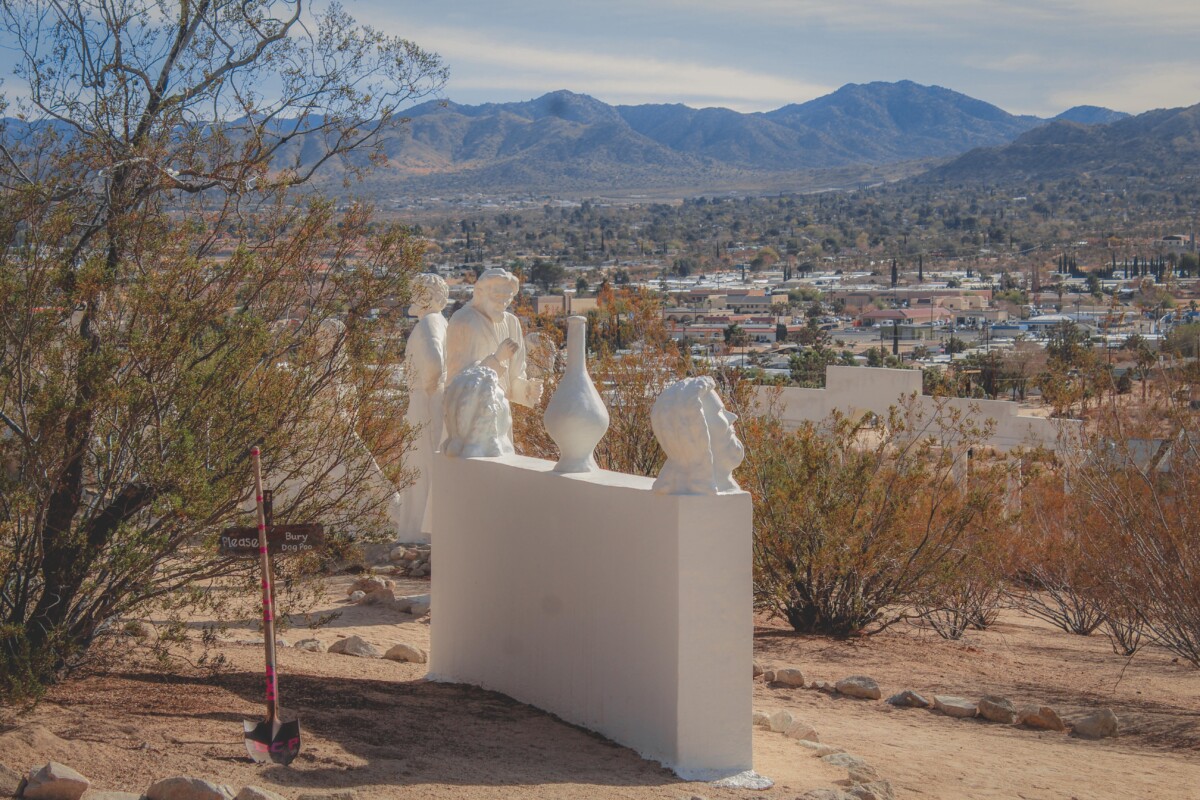 The sculptures stand tall, well over twice my height, and are nestled into the desert landscape. You'll see the apostles, Mary, and Jesus' Sermon On The Mount depicted. There's a weighty Last Supper Bas Relief too.
The park was formed by happenstance. Eddie Garver, an engineer-cum-sculptor, originally put in a request to add a Christ statue to The Grand Canyon. Due to issues with separation of church and state, Garver was denied. The statue, which then came to be called "The Unwanted Christ", eventually made its way to the land of oddballs and outcasts: the California Desert.
Moon Wind Trading Co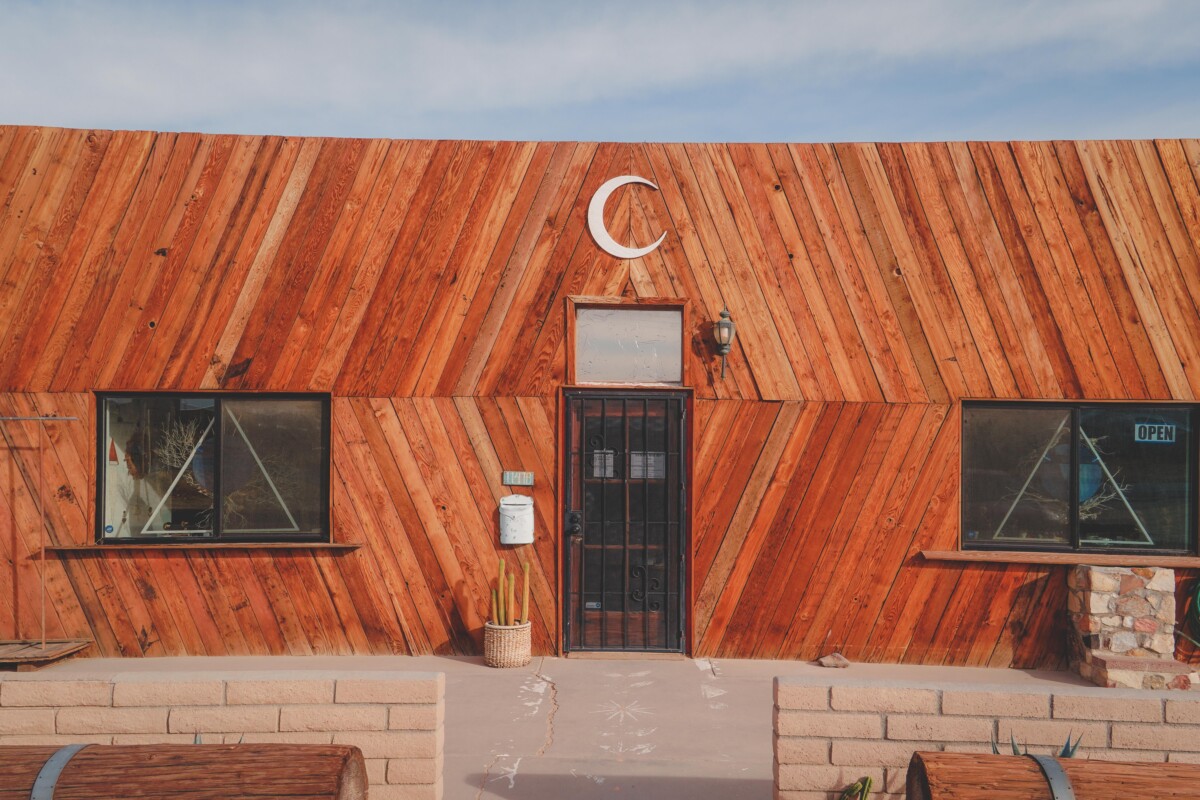 Macamre coasters. Giant hoop earrings. Floral facial tonics. Moon Wind Trading Company is yet another curated space in the High Desert (can you tell I'm obsessed with desert lifestyle boutiques?). Moon Wind is a bit further away, a good twenty-minute drive from Joshua Tree the town. It's got witchy vibes. Crystals and tarot live above an open floor and slabs of rugs.
Giant Rock
The Giant Rock in Landers is exactly what you think it is: a giant rock. But giant is a misnomer. This is one heck of a bulky, out-in-the-middle-of-nowhere rock. It's seven stories high (think Hilton Double Tree tall). And it's intimidating.
Giant Rock is said to be the largest free-standing boulder in the world. I had a hard time confirming that claim, but honestly, I can believe it. It's situated near The Integraton, a kooky, white, dome-like building known for its sound baths and resounding acoustics.
Travel Tip: Getting to Giant Rock is a whole ordeal (or adventure, if you prefer to call it that). You'll have to drive onto a rough, dirty road (does it even qualify as a road?). An ATV is highly recommended. Fair warning, this area is also a bit of snakefest (a big nope, nope, nope for me).
Pioneertown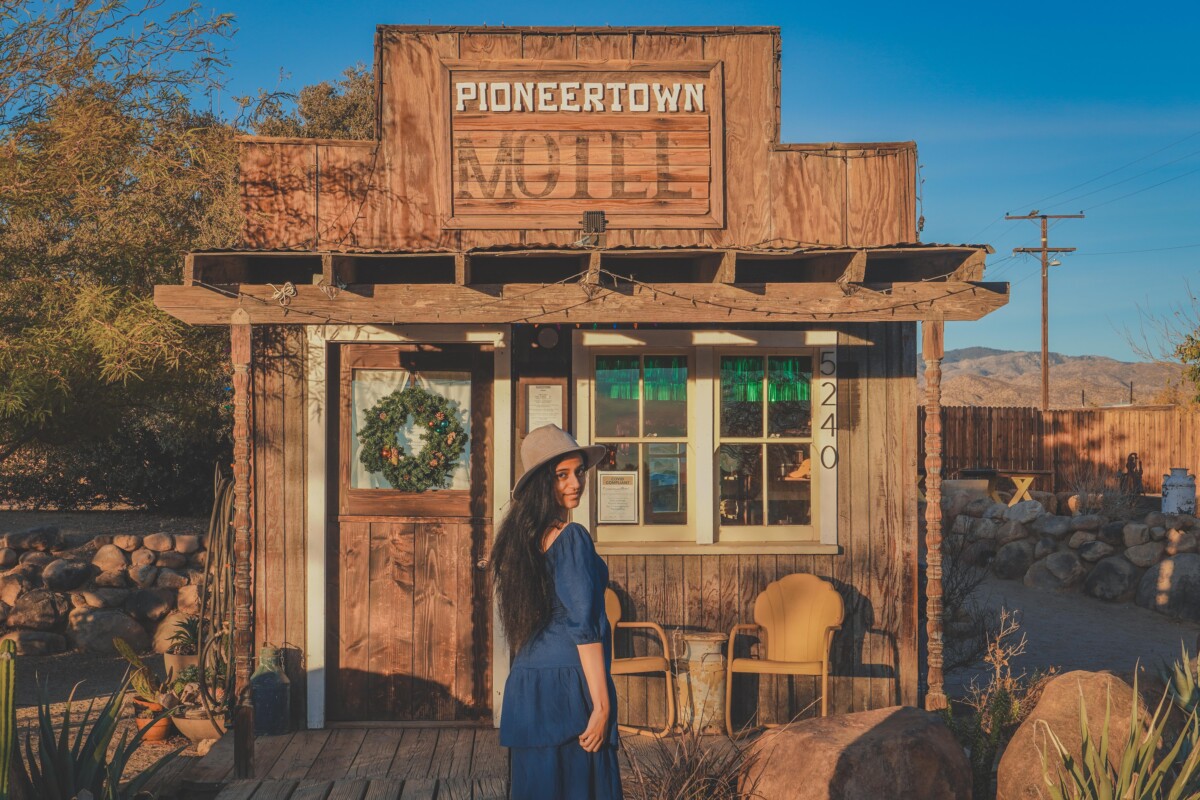 Pioneertown is the kind of place that satisfies all your Western fantasies (well, it satisfied all my Western fantasies). Coming from Texas, I wondered how a place so John-Wayne-movie-like, so Stockyards-like ended up near Joshua Tree.
Turns out, Pioneertown used to be a film set. It was built to be a 19th-century-themed living production piece. Over time, it became a popular tourist attraction. And it's still an active movie (and music video) backdrop, pounding on, past its prime.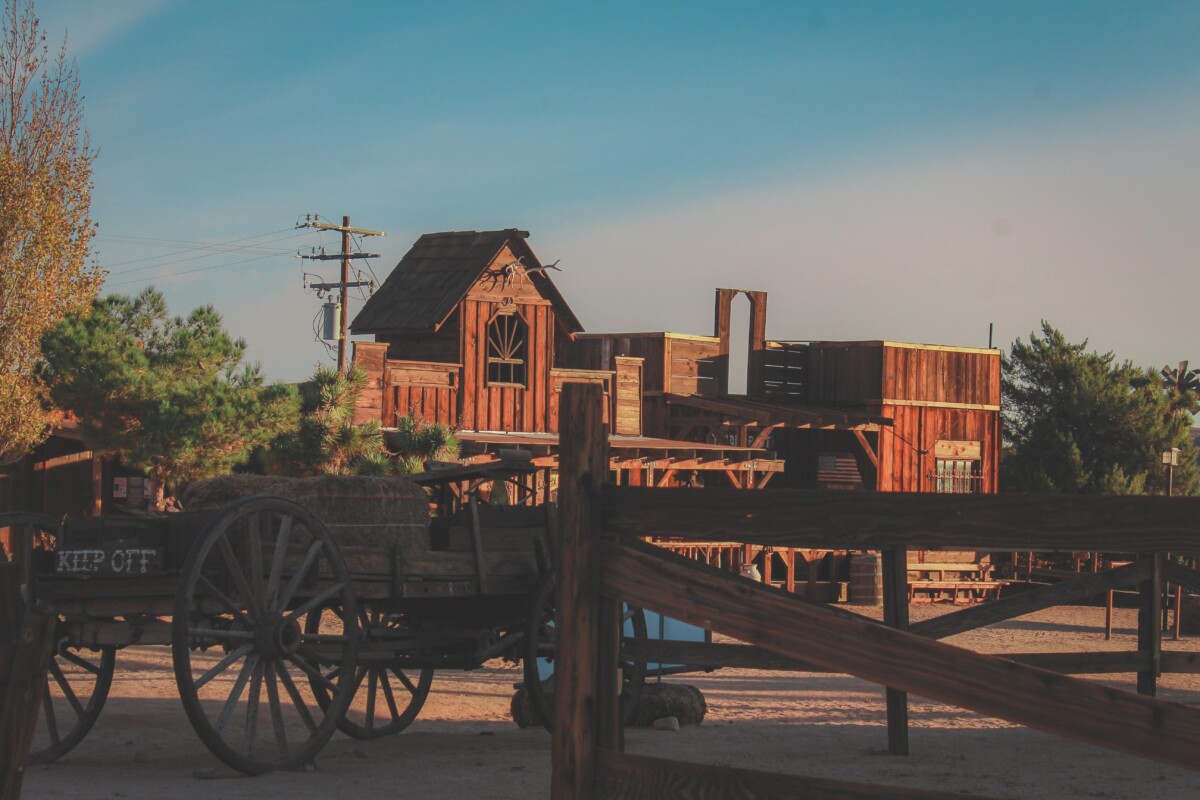 Where To Go Shopping In Pioneertown:
Mane Street Stampede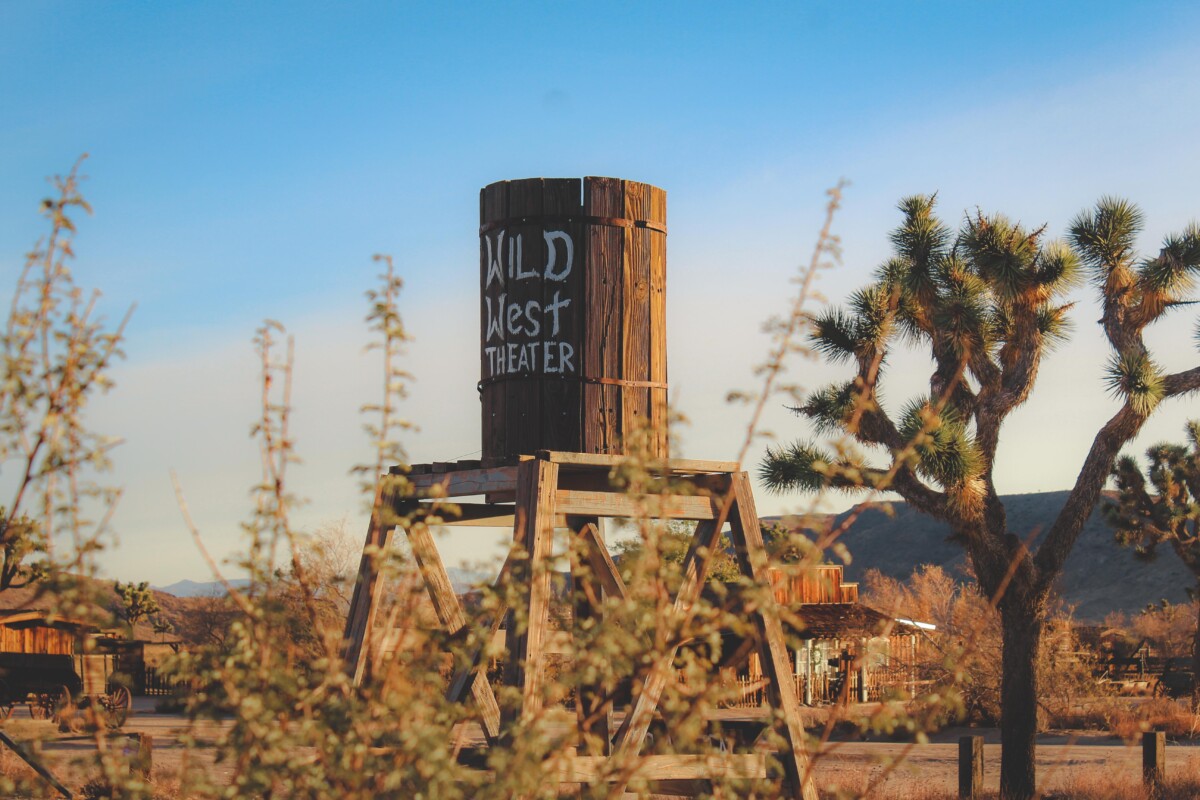 Mane Street Stampede fits right into Pioneertown. It's a boisterous weekend show that takes place every second and fourth Saturday, October to June, just past high noon. Above dust-settled grounds, costumed actors lasso in the spirit of the West through singalongs, skits, and sound-softened shootouts. The show itself is free to watch and any additional donations are given to local charities like the Hi-Desert's Boys & Girls Club.
Pappy & Harriet's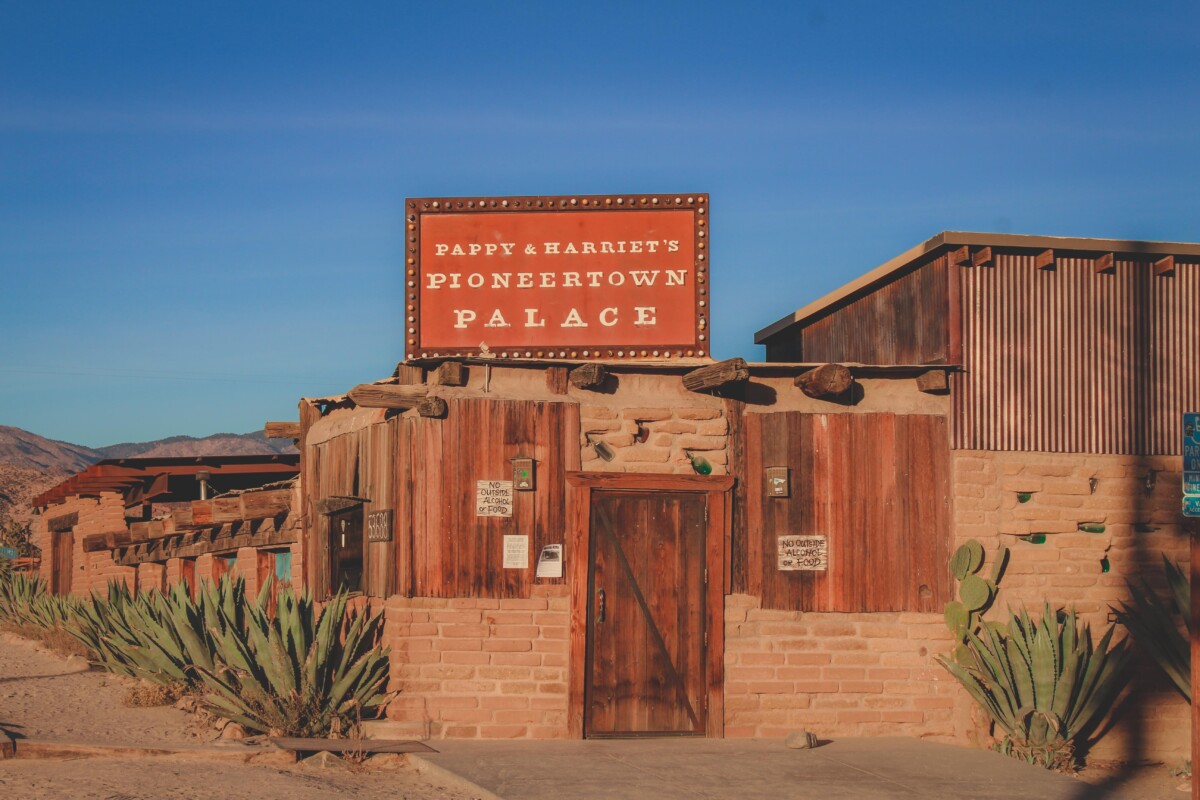 Enter Pappy & Harriet's well before sundown. Even then, you'll find yourself waiting for an hour or four. By the time my partner and I were seated, the sun had already started to settle. The sky was darker, deeper, and bluer. We were led to a small table, right by a wall, crammed amongst excited diners, curled posters, glaringly large antlers, and rows and rows of old license plates.
Pappy & Harriet's is a busy place: mentally, physically, emotionally. I've often heard it described as "an experience". Perhaps, that's the best way to put it. When our devilishly tender steak arrived and I took the first bite, I can only describe that taste as an experience. When the seats for two, a little distance from us, were filled in by a mousy-haired woman, who looked oddly like Dakota Johnson, and a baseball-capped man, who looked oddly like Chris Martin, I can only describe the curious "could it be? no, it's not" thoughts battering my head as an experience. When the shuffling on stage hushed and an ethereal voice, paired with soft guitar strums, bubbled across the tabletops, singing "I will blossom in your sail," I can only describe that feeling of sitting there – steak-full, face-turned, indie song in my ears – as an experience.
Cabot's Pueblo Museum
About thirty minutes out of Joshua Tree is Desert Hot Springs, a land now synonymous with chakras and cleansings, massages and yoga. As hard as it is was for me to believe, there are indeed hot springs here, this far into the sun-suckered desert. In 1914, the mineral waters that gave Desert Hot Springs its fame were re-discovered by Cabot Yerxa, a man who had a wisp of a beard and a wisp of hair after finishing his magnum opus (his home, now Cabot's Pueblo Museum).
Cabot's Pueblo Museum is a homestead made from reclaimed materials. You'll want to slowly amble around the house and grounds, lingering on a few notable stops: a former lapidary workshop, a forty-something foot tall statue carved from a fallen redwood tree, a well-house, and of course, Yerxa's iconic home.
Joshua Tree Visitor Center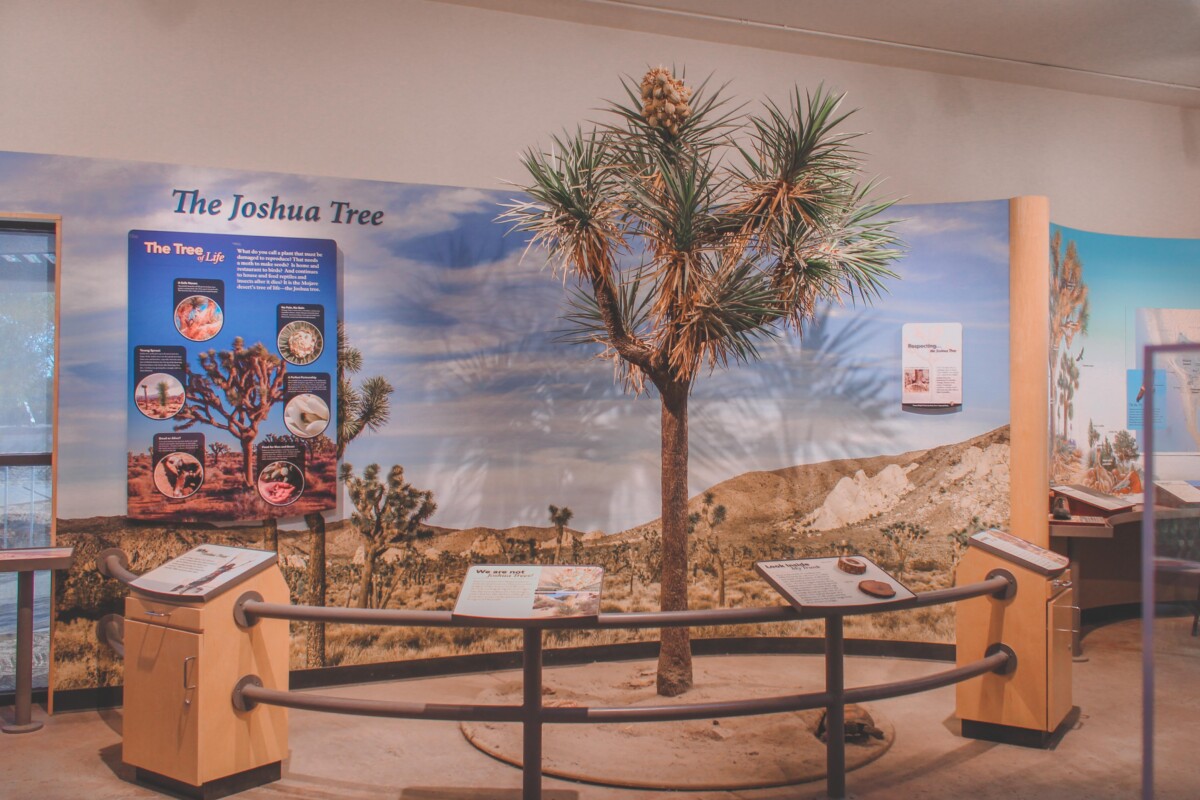 I didn't expect much from Joshua Tree Visitor Center. I thought it would be a place to buy gifts, a place to pick up a National Park Pass, a place to ask for hiking directions. And while it is all of those things, Joshua Tree Visitor Center is also much more. It's a deeply informative collection of vibrant, colorful, text-filled displays.
And it's the smaller facts printed on placards, the ones you find outside a guidebook, that enhance the National Park experience. You'll learn the story of giant Shasta ground sloths that roamed the lands decem millennium ago. You'll learn about the gentle relationship between pronuba moths and Joshua Trees. You'll learn how the park is slowly and not-so-subtly changing (summary: leave no trace, please don't touch the Joshua Trees, drive slowly and carefully). It doesn't take long to see the exhibit, which is only a few strides long, but you'll come out of the experience knowing more and appreciating more.
Hi-Desert Nature Museum
On days when you have young, eager, hyper kids in tow and you want a moment (just one moment) to breathe, head to the Hi-Desert Nature Museum. It's hard to be disappointed by the Hi Desert Nature Museum. It's free. It's indoors. There are shelves of books, lines of art, displays of minerals, stacks of barbed wires, an interactive touch screen exhibit, a natural history wing, a mini zoo, and a little themed room just for kids.
Rock Climbing
I leaned my body against the hood of our car. "Do you know where we're going next?" I asked. Vyas shook his head. We pored over a map, pointing here and there.
As we chatted, a young man sauntered out from behind a pile of boulders. We heard the click-click of his car as he strode towards the parking lot, humming. He smiled a big, beaming smile. "Rocks are fun this morning," he said, still humming, still smiling.
"Fun?" Vyas asked. "Is it easy?"
The man laughed. It was a pleasant, full-bodied laugh, the kind of laugh that isn't unkind but lets you feel like every teacher who told you "there are no such things as stupid questions" was lying. "There are bits that are challenging," the man admitted. "But it's fun."
His promise lingered in the air. Vyas and I exchanged glances. And at that moment, we knew this was what we were doing next – right then, right there.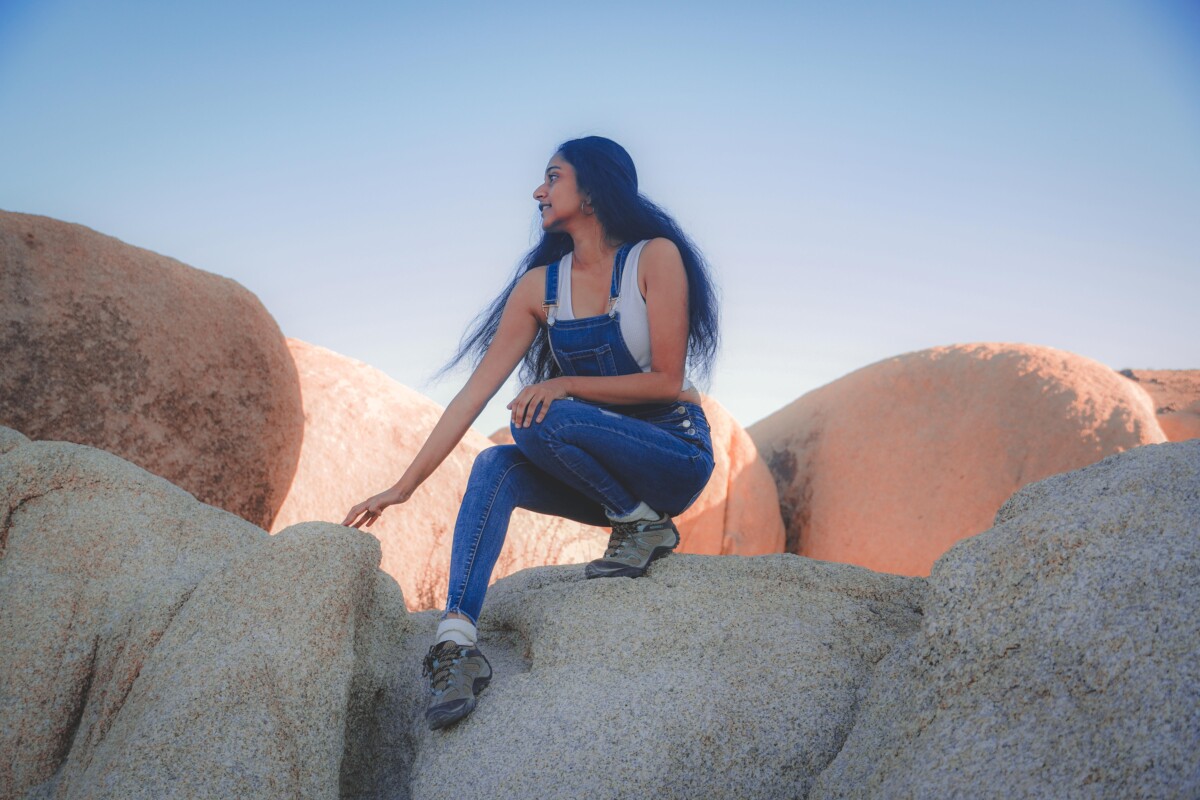 Joshua Tree National Park offers different levels of rock climbing. There are rocks you can scramble on, opportunities for bouldering, and places to clean climb. If you're new to rock climbing, check out Joshua Tree Climbing School for outdoor climbing lessons. There are other highly-rated guided services too: Stone Adventures, Cliffhanger Guides, California Climbing School. I also highly recommend Mojave Guides, a locally-run, AMGA-accredited company!
If you don't feel up for rock climbing, you can also find a cozy spot, settle down, and watch other rock climbers do their thing. You'll feel your heart rise in your chest. Oh-my-goodness, don't fall, don't fall, don't fall. You'll pray a thousand silent prayers. And when they make it to the top, you'll smile a big, beaming smile, like you're on top of the world too.
My favorite resources about rock climbing in Joshua Tree:
Geology Tour Road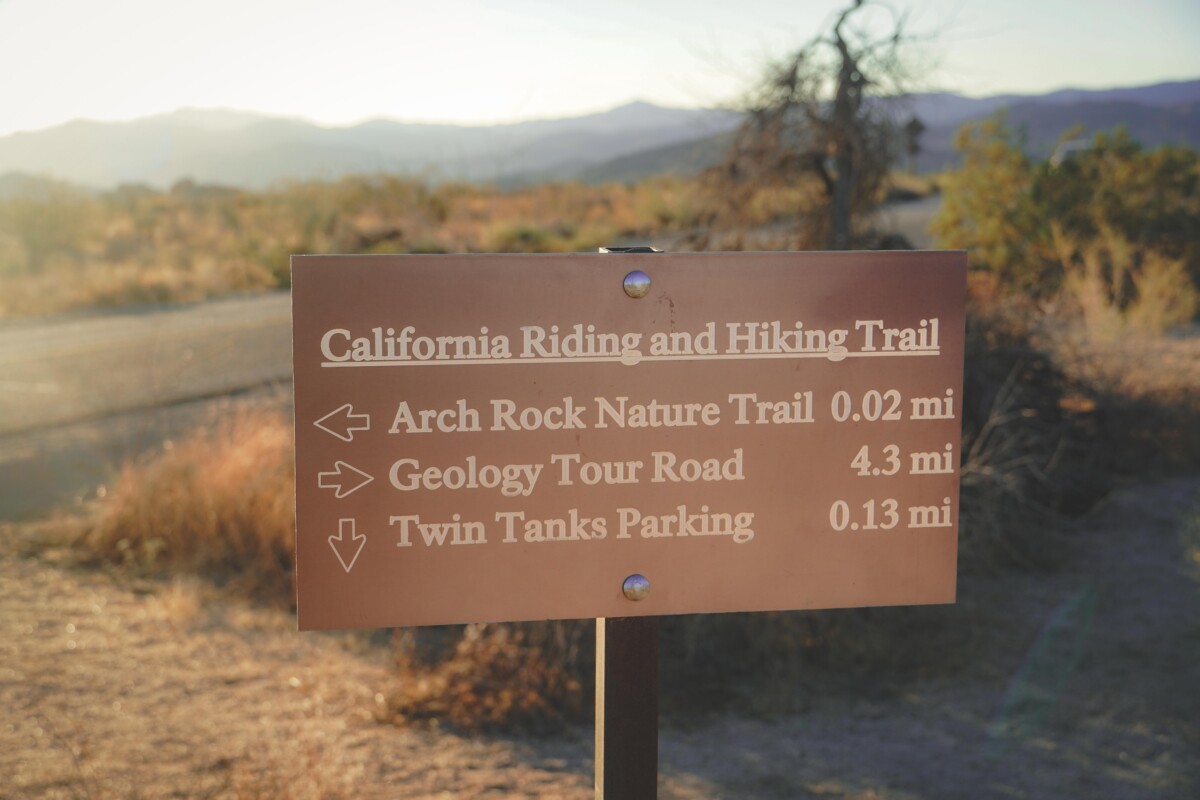 Here are the prerequisites for Geology Tour Road: a 4WD or an AWD for the first bit (a High-Clearance 4WD is definitely needed later on), lots of water, a cool weather day, and a headful of patience. Armed with all that, my partner and I still didn't feel comfortable riding through the full eighteen-mile stretch of Geology Tour Road. We went down a few miles, freaked out (what if one of our tires popped? what if all our tires popped?), and promptly came back.
The road was sandy and ratty. Later on, it was bumpy and rocky (and unless you're looking for a full-blown off-road adventure, skip Berdoo Canyon. It's savage).
Not many vehicles venture onto Geology Tour Road. Maybe that's because you'll see the same sights you see throughout Joshua Tree National Park, just in a rougher, tougher environment. I went for the views but stayed (until my panic attack, that is) for the solitude, the isolation, and that feeling of it's-just-me-and-Joshua-Tree.
Hiking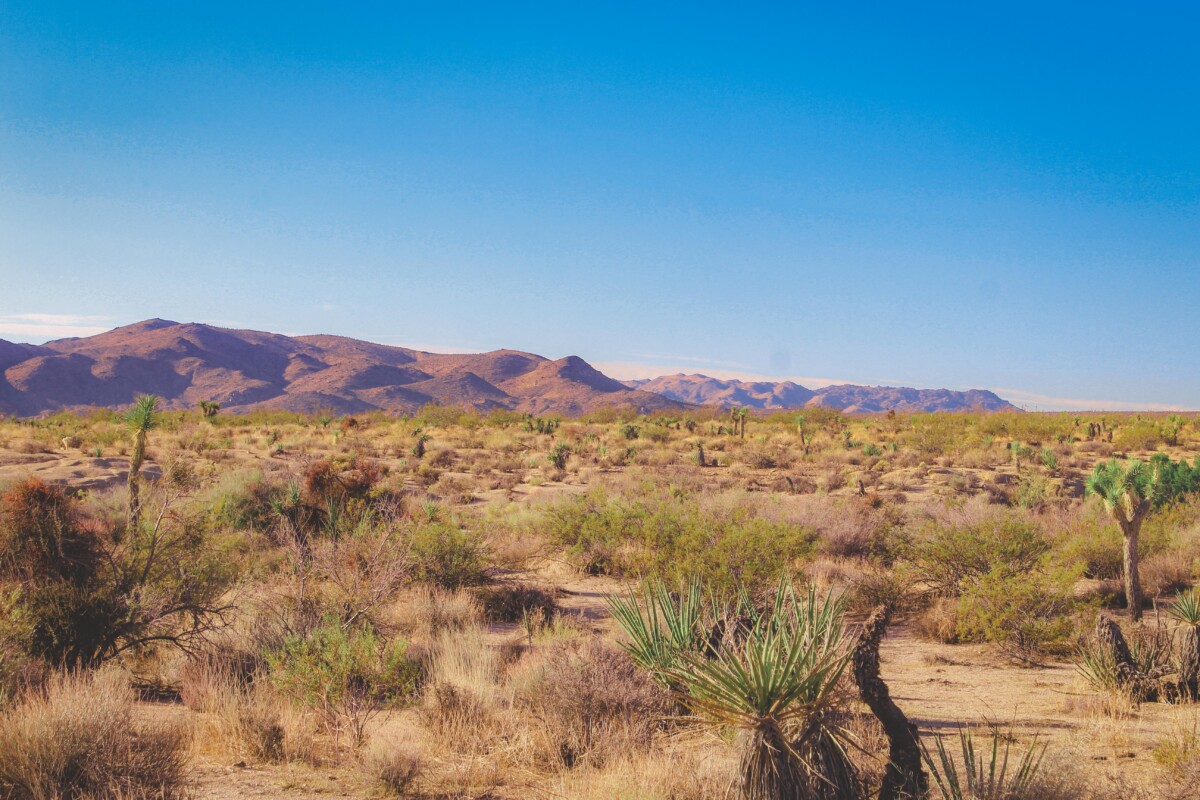 It goes without saying that hiking is one of the best things to do in Joshua Tree. When in Joshua Tree, you hike. No ifs, buts, or maybes.
October to May is the best time to visit Joshua Tree National Park. And by that, I mean it's the best time to hike in Joshua Tree National Park. The cooler temperatures are more manageable. Summer in Joshua Tree is dangerously hot, the kind of hot that makes you think "this was a very bad idea" whenever you venture out (and you would be right).
Hike when it's cooler, when the temperatures aren't climbing up exponentially. Hike where there are other hikers. Hike with a friend. Hike safely. There are lots of trails to choose from in Joshua Tree, some more difficult than others. Pick one that you're comfortable with.
I have a full Joshua Tree hiking guide on the blog, featuring twelve of the best hikes in Joshua Tree. If you're strapped for time, here's a shortlist of my favorites: Cap Rock Trail (wheelchair accessible), Barker Dam Trail, Split Rock Trail.
And there are other interesting, lesser-known paths: short and sweet Bajada Nature Loop, cacti-studded Panorama Loop (do this hike clockwise for the best views or counter-clockwise for a gradual elevation change), and pets-allowed Oasis Of Mara.
Joshua Tree National Park Scenic Drive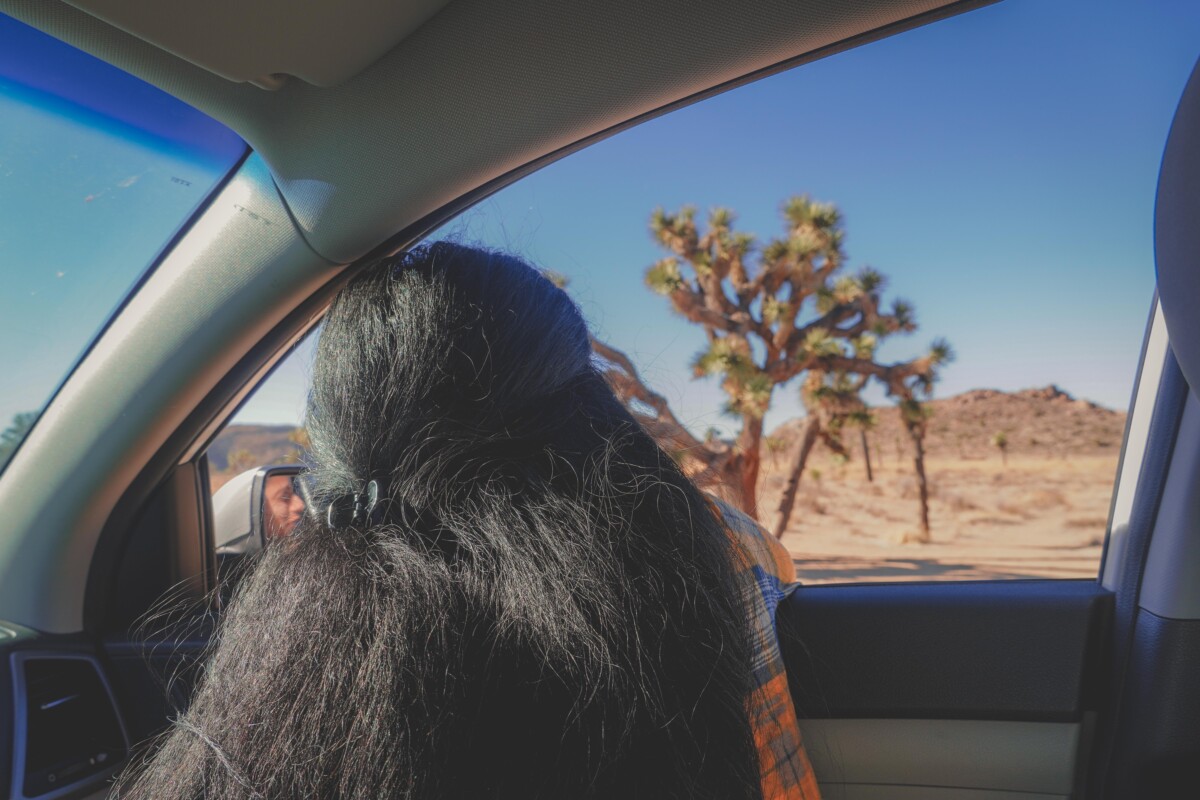 Three weeks after moving to Joshua Tree the town, we took our first full drive through Joshua Tree National Park. We had driven through the park before in fragments, broken shards of desert views sliding in and out as we scrambled from hike to hike.
But this was different.
Joshua Tree's Scenic Drive stretches from the West Entrance to a little past Cottonwood Visitor Center. The first half is undoubtedly exciting. You'll see sketches of Joshua Trees and angles of boulders, blank spaces filled in by junipers and scrub oaks and yuccas. And when The Mojave draws towards The Colorado Desert, the landscape shifts. Joshua Trees evaporate from view; big boulders melt down into flat lands. The road feels more open. Canvases of dry desert are stretched thin between two distant ranges: Pinto and Hexie.
Few visitors drive this far down. And many that do are disappointed by the Colorado Desert, by its lack of Joshua Trees, by its lack of boulders, by its flatlands, by its untouchable mountains. They're disappointed by the length of it, by the breadth of it. The change from the West Entrance to this new, different halfway point feels like a stab in the chest, a betrayal of the park's namesake, a betrayal of expectations.
And yet, there are those moments – the moment you walk through a golden field of Cholla Cactus, the moment you drive past a forest-like thicket of Ocotillo, the moment you hike down to a tract of puffy cottonwoods. Those moments are the Colorado Desert you will take back with you.
Cholla Cactus Garden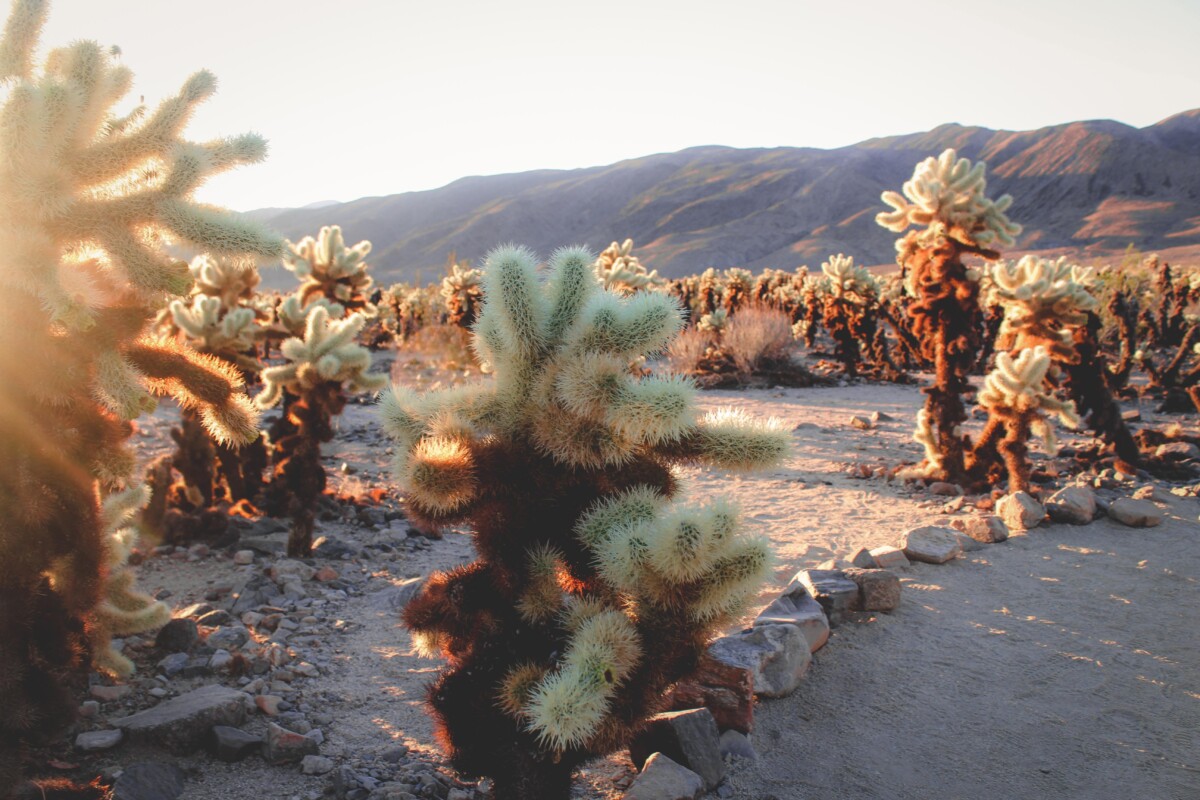 Shrapnels of light pierce Cholla Cactus Garden, a ten-acre space where short and clumpy, squeamishly green and yellow Cholla reign. Even though Cholla Cacti look soft at this hour, like their thorns aren't thorns at all but pelts of fur, they're sharp and dangerous. As you walk through the flat fourth-of-a-mile path, broken up by two leveled boardwalks, you'll be elbow-length from the cholla. You'll bristle at their closeness; you'll move a little sideways to avoid their graze. You'll look down at the trail where a few clumps have spilled over and dexterously avoid them because you need to, to avoid the pain. As cute as Cholla look (and they look so cute. in fact, the common name for this type of cholla is teddybear cholla), they're a reminder of the sting of the desert. But they're also a reminder of its resilience. Woven into a few cholla cacti are womb-like nests. Birds – cactus wrens – have made a home in the harshness.
Travel Tip: Pack some tweezers before visiting Cholla Cactus Garden! Balls of cholla thorns break off easily in the wind and sometimes land on the trail. They don't look like they prick deeply but they do. The best course of action is to avoid them, but just in case, bring a tweezer or two.
Ocotillo Patch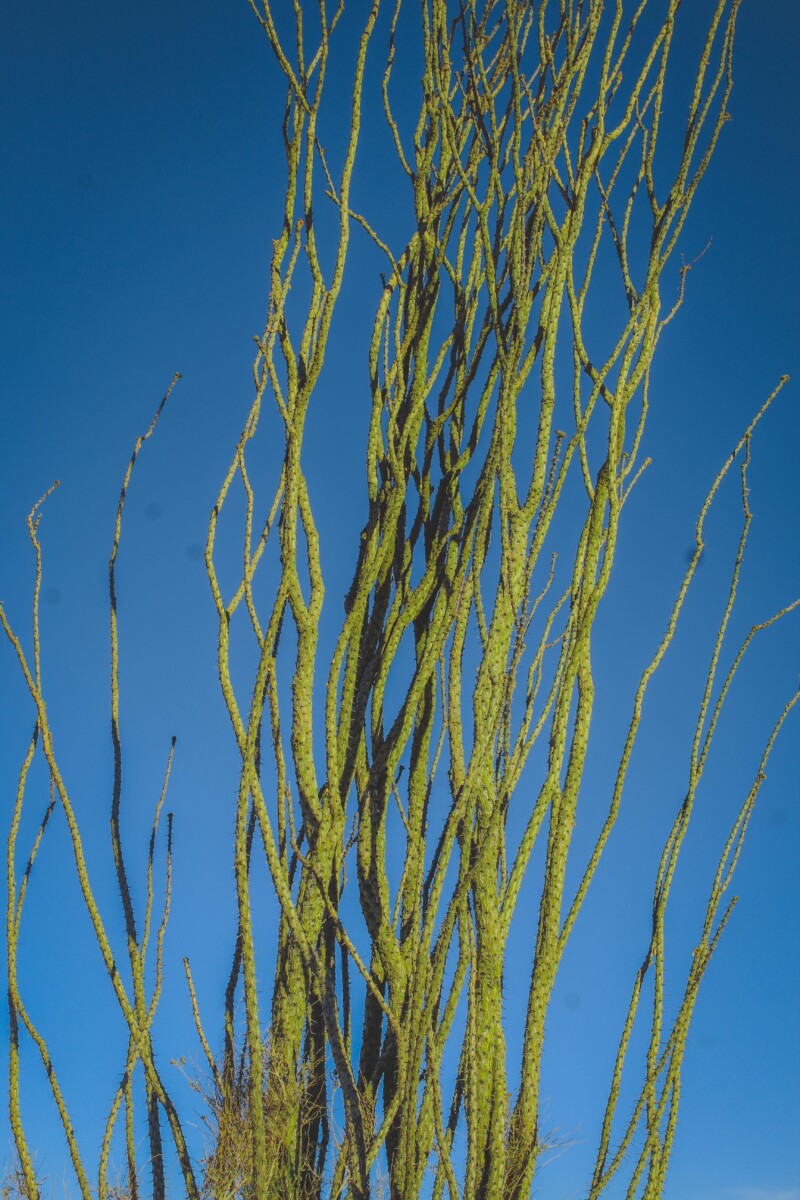 Welcome to the California desert, where Joshua Trees are not really trees and Ocotillo are not really cacti.
Ocotillo plants are in a permanent identity crisis. They're deciduous shrubs like blueberries that never got the memo. So when you park in the scenic pull-off known as Ocotillo Patch, don't look down at the sprawling alluvial fan below, look up. Ocotillo are tall and thin and lanky. They're tree-sized, Frankenstein-inspired clusters of sticks. And in spring, somewhere between March to June, delicate red flowers pop up at the top, making Ocotillo Patch one of the best places to see in Joshua Tree.
See The Cottonwoods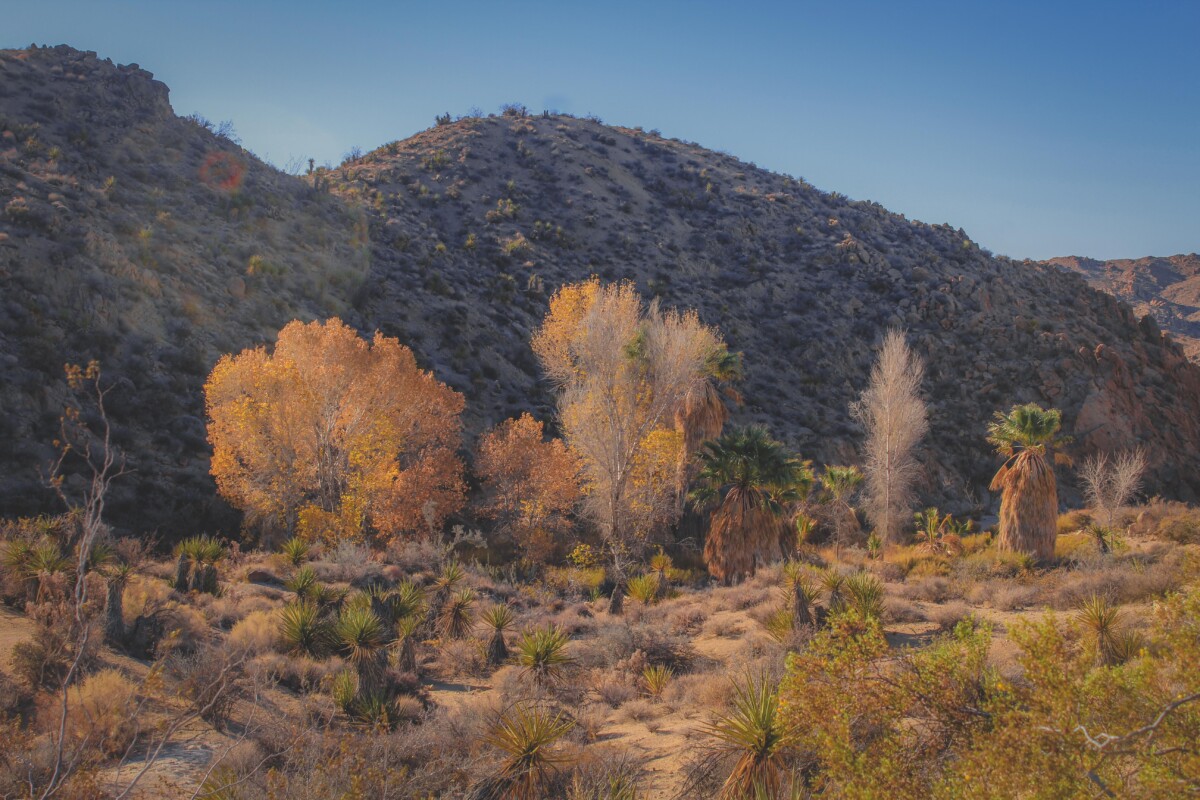 If you're looking for Joshua Tree attractions that are a little different and a little unexpected, head to Cottonwood Spring. Cottonwood Spring is truly an oasis. It's a short walk – a small descent, nothing more – from Cottonwood Spring parking lot.
The landscape beyond is set up like a postcard. Fall colors weren't something I expected to see in Joshua Tree National Park, but this was where we found them. Big cottonwood trees were wrapped in a ball of tangerine hues. Each one was crowded paparazzi-style by stout palms. Hints of gold and green snuck in here and there. I held in my breath because wow, this place, this place.
Although shaded Cottonwood Spring is a destination unto itself, nearby hikes include Mastadon Peak and Lost Palms Oasis. Like many hikes in Joshua Tree, these trails are best tried in the early hours of the morning, before the sun kicks in.
Skull Rock
When I started writing this post, I knew I had to include taking a picture with Skull Rock as one of the top things to do in Joshua Tree National Park. After all, Skull Rock is a popular attraction. You'll see flocks of tourists whenever you visit, no matter the time of day. I understand the allure. Skull Rock is easy-to-visit. Simply park roadside, walk up to a small dusting of a path across from Skull Rock Trail, and there it is. No work, high reward.
Skull Rock is intense. It commands attention. Its eyes are hollow, broken, gone. Its nose is twisted, sinister, forlorn. Its forehead leans forward, ominously large. And between a tentacled spill of rocks, Skull Rock looks hideously villainous.
See The Rock Formations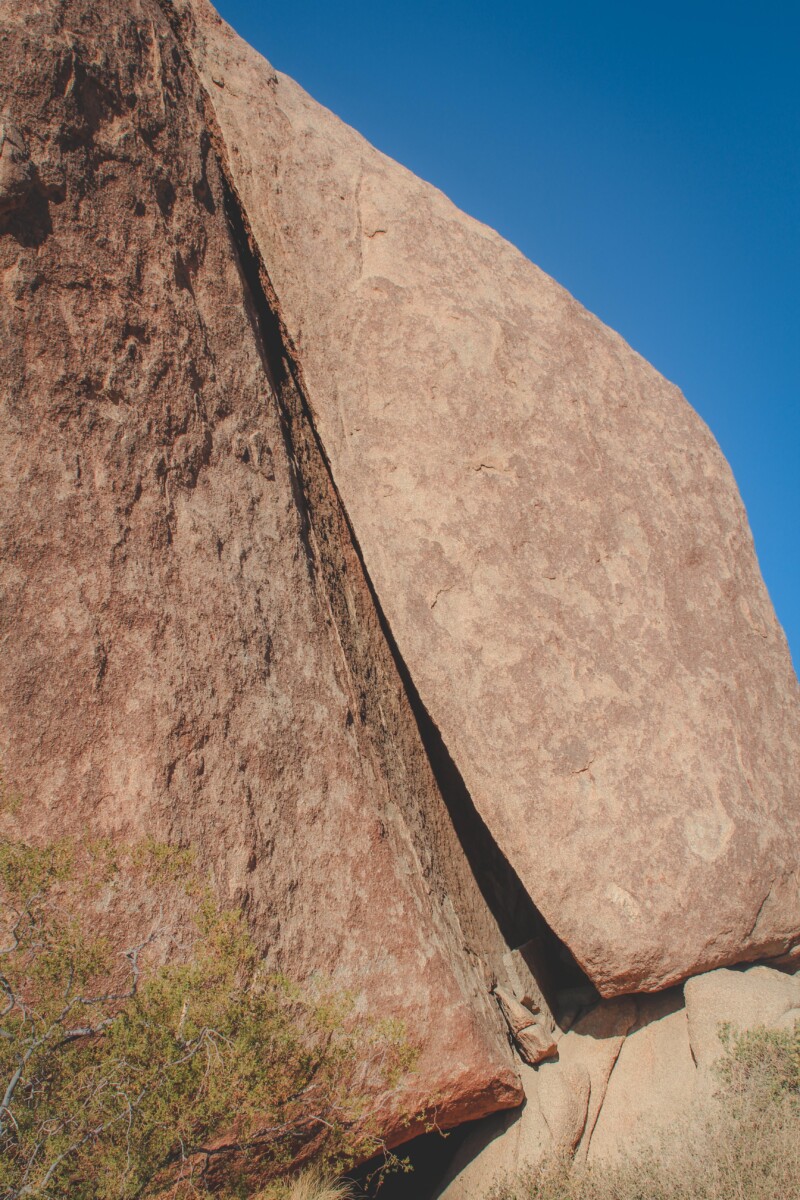 And Skull Rock isn't the only unique rock formation in Joshua Tree masterminded by Mother Earth. There's more to see: Heart Rock, Face Rock, Split Rock.
As your feet move to the rhythm of the trails – up, down, up, down – you'll see rocks that look like open palms and rocks that look like an elephant's trunk. I mean, there are even rocks that look like a mega-sized burrito and rocks that look like a giant needle two seconds away from falling down.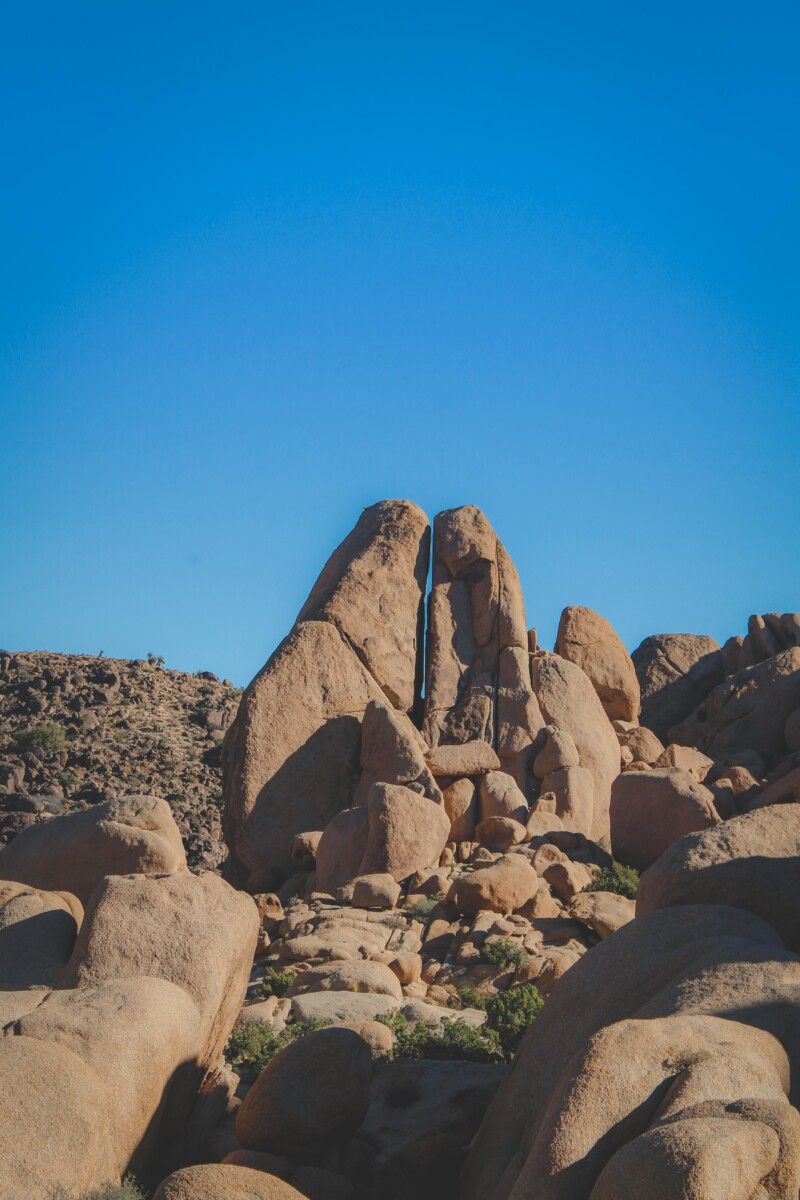 Most of these rocks won't have a name. You'll name them in your mind. You'll name them with your friends. You'll project an image onto them, and you'll add that image to your memory of Joshua Tree National Park.
Hall Of Horrors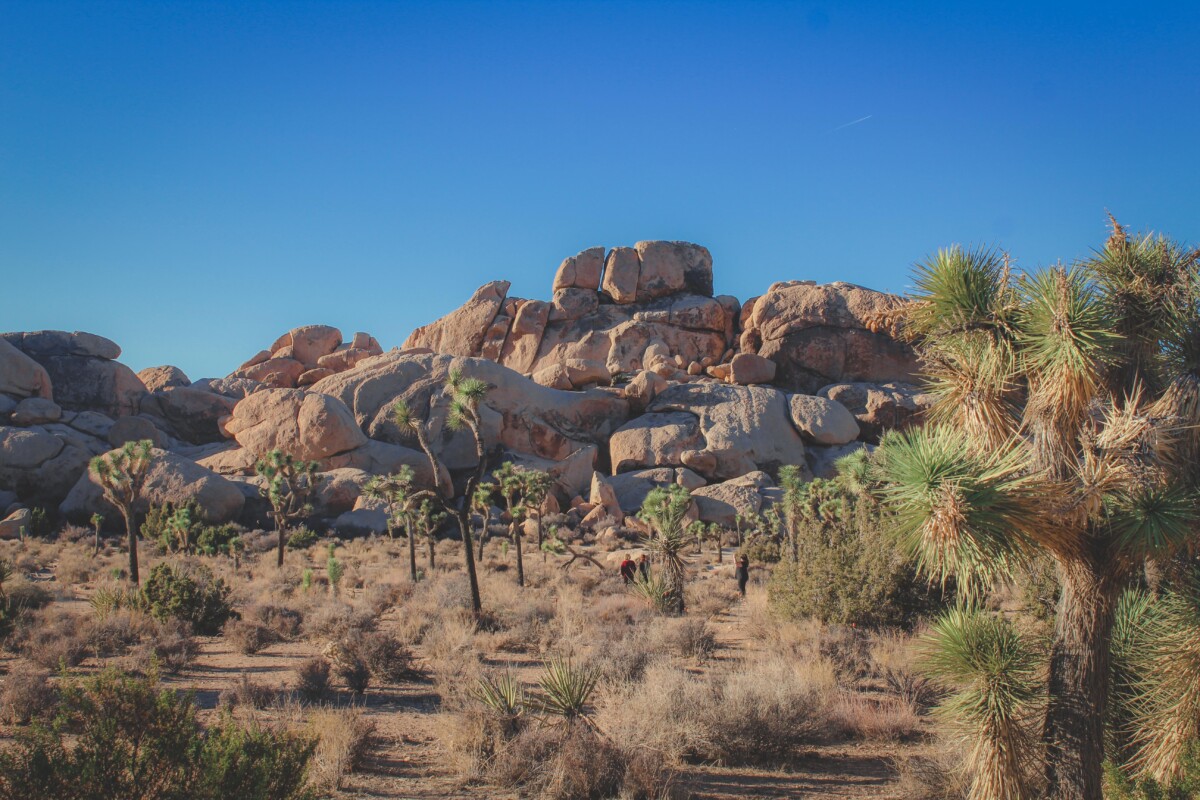 If you're wondering what to do next in Joshua Tree, drive down to Hall Of Horrors. The name is more intimidating than the place. I expected a dim, dark landscape that would raise every hair on my head, but Hall Of Horrors (well, the hike at least) did nothing of the sort.
Fronted by Joshua Trees, Hall Of Horrors is better known for its slot canyons. There are a few scar-thin, rock-bracketed furrows here that you can visit, though they are surprisingly tough to find. To get your bearings, go to AllTrails and look through the comments for directions (if you don't have an AllTrails account, copy the set of directions you want to use to a notes app for later reference).
Go Birdwatching
As evidenced by the video above, you don't have to try hard to see birds in Joshua Tree!
There's something incredibly sweet and wholesome about birding in Joshua Tree. It's an underrated activity and the perfect, solitary desert escape. I was surprised by how many birds Vyas and I were able to spot on hikes and drives: cactus wrens perched on cholla, rock wrens balanced on broken grounds, mourning doves who peered down with big, inquisitive eyes.
If you're up for a challenge, grab a pair of binoculars and stay on the lookout for desert-plumed Le Conte's Thrashers and speckled Greater Roadrunners (side note: The Cornell Lab has a really interesting write-up on these birds).
See The Wildlife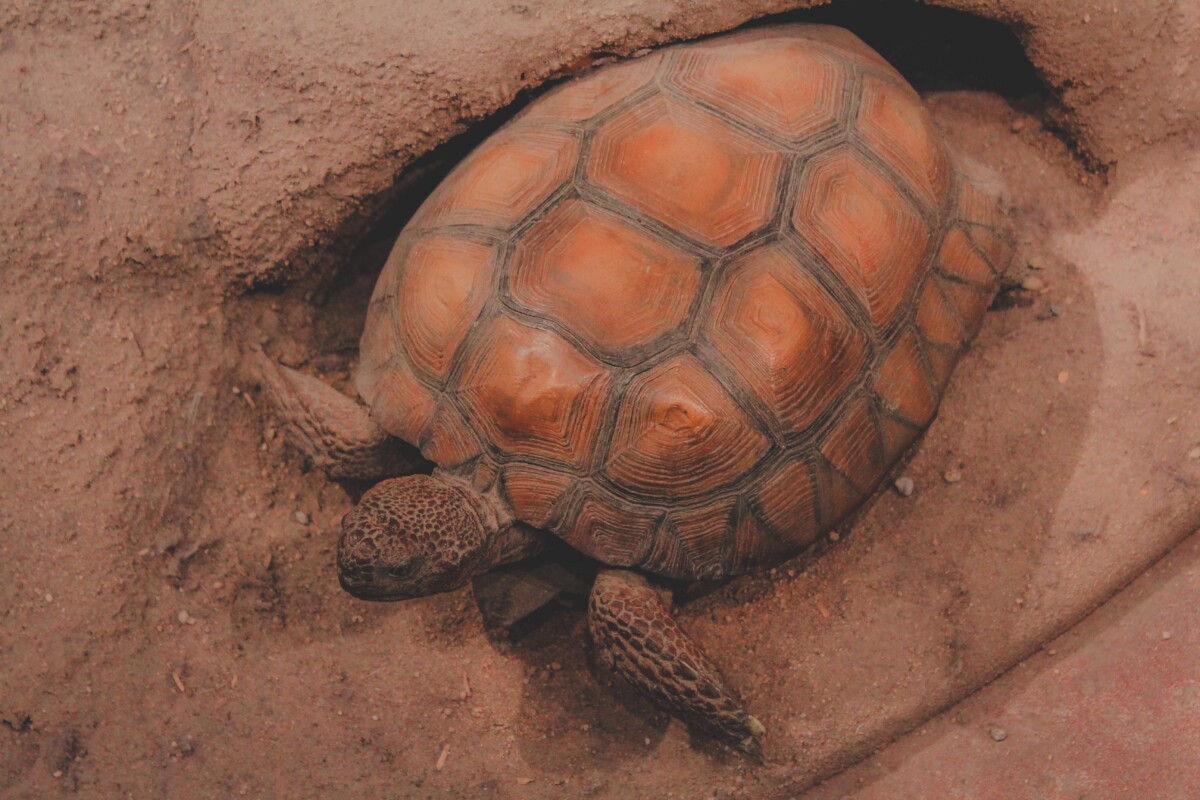 We had a lot of luck early-on seeing birds at Joshua Tree National Park and not so much luck seeing wildlife. But I don't want that to dissuade you from trying to sight animals during your Joshua Tree National Park trip! This is one of the most memorable things to do in Joshua Tree.
On our last weekend in the California Desert, our fate changed. We saw a small creature dash across the road. It was just before dawn, the sky still inky black.
"Was that a cat or a rabbit?" Vyas asked.
"Neither. It was definitely a dog," I said confidently.
"That was not a dog. Its ears are too pointy."
"But ran like a dog."
"It's too small to be a dog."
"Have you seen a Chihuahua?"
In a rare moment (hence why I'm recording this), I was right. The creature wasn't a cat; it was a desert kit fox (which according to NPS is the "smallest and rarest member of the dog family"). A desert kit fox is just one of over fifty types of mammals that call Joshua Tree home. Most of the mammals you'll see are white-tailed squirrels that scamper around picnic benches. On active days, you might see rabbits and mice (although we didn't catch sight of any, we noticed lots of holes and burrows in the wash). And if you're lucky enough, you might observe slow and sweet desert tortoises gently making their way across flatlands.
P.S. Take note of wildlife from a distance. Don't try to get closer (or go off-road) to take a picture. This is a safe space for many animals and we don't want to scare them! Be careful while driving. Unfortunately, many desert tortoises are killed each year by hurried drivers.
Travel Tip: Venomous animals reside here too: rattlesnakes, black widow spiders, scorpions (this is wildlife I'd rather not see, thank you very much). Pay attention to where you're placing your hands and arms and feet and legs while hiking and climbing.
Keys Ranch Tour
Keys Ranch is one of the most popular guided tours in Joshua Tree. You'll need to reserve a ticket ahead of time (I recommend at least forty days in advance if you're planning on visiting on a weekend and two weeks in advance if you're planning on visiting on a weekday. If there's still no availability, don't worry. Think of booking a Keys Ranch Tour like registering for college classes. Sometimes, a class just opens up. Snag it when it does).
Keys Ranch is one of the most interesting areas in Joshua Tree. A far cry from the romanticization of the Old West, this is a well-structured Joshua Tree attraction. The 1.5 hour tour spins the story of Bill Keyes and Frances Lawton, who moved out to the hot and not-so-happening Mojave Desert over a century ago. There's a lot of unique history packed into the tale, which is usually recited in the fall and spring months.
Picnic In The Park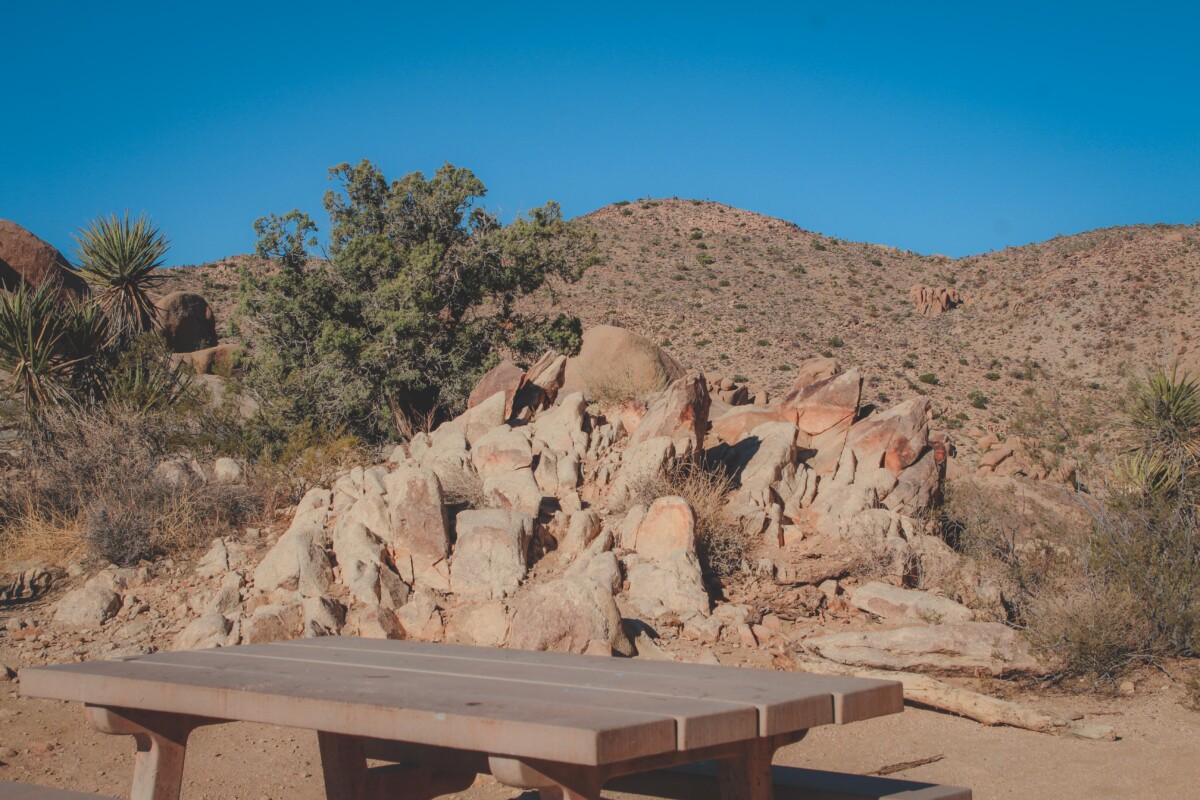 One of the most meaningful things to do in Joshua Tree is a simple picnic in the park. Sure, you could try all the unique restaurants in Joshua Tree, but there's something warm and inviting about laying out plates on a large table and sharing a meal with family. You'll laugh and reminisce about the morning, the hikes, the views, the rocks, the stumbles, and everything in-between. You'll be inches from the parking lot, your voice carrying over to hikers entering-and-exiting the trails. You'll face the boulders and yuccas and Joshua Trees, because these desert views are what you came for.
Joshua Tree National Park has eight picnic areas. Our favorite spots were easy-access Split Rock Picnic Area, scenic Hidden Valley Picnic Area, and amenity-filled Quail Springs Picnic Area.
Camping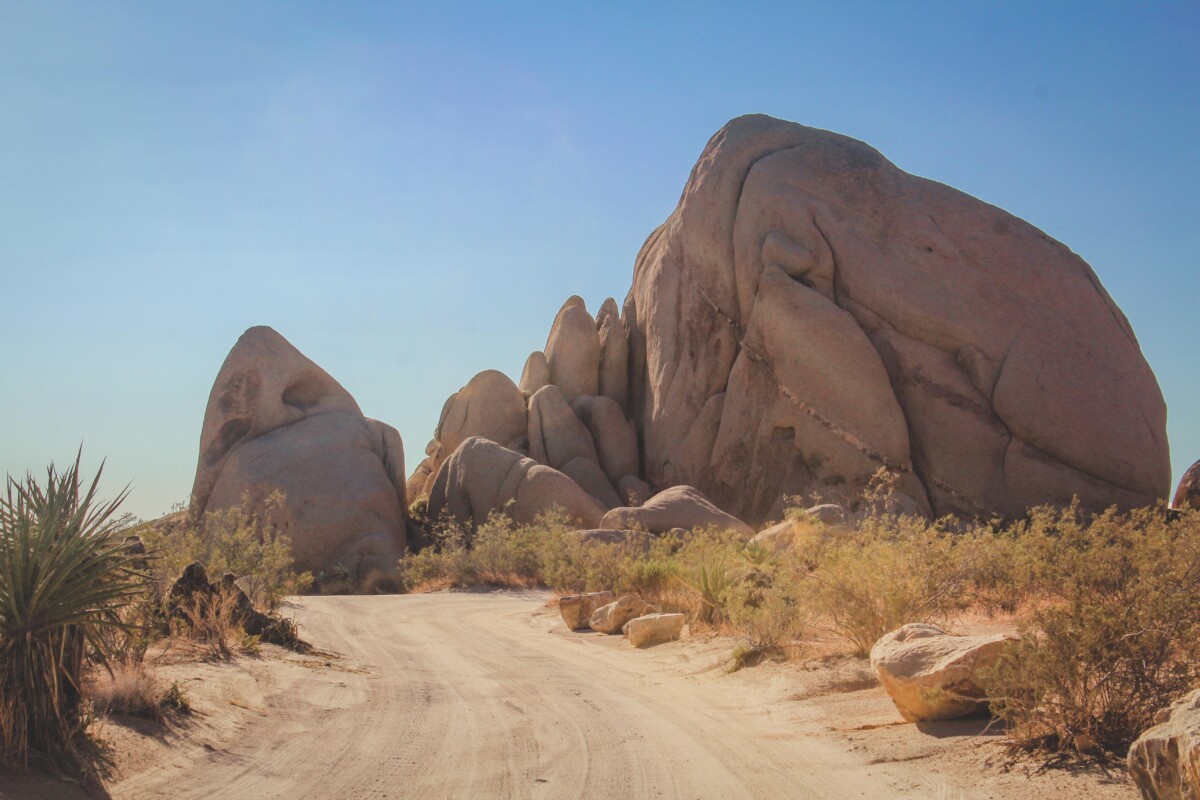 Camping is one of the most popular things to do in Joshua Tree and for good reason. There are over 500 campsites available in Joshua Tree. Most need a reservation. You can book in advance (this is the official booking link) or check for a same-day reservation. I highly recommend booking months in advance for Friday or Saturday camp spots. You can check the calendar a week in advance for weekday slots. Tip: Fall and Spring availability runs out faster than summer availability.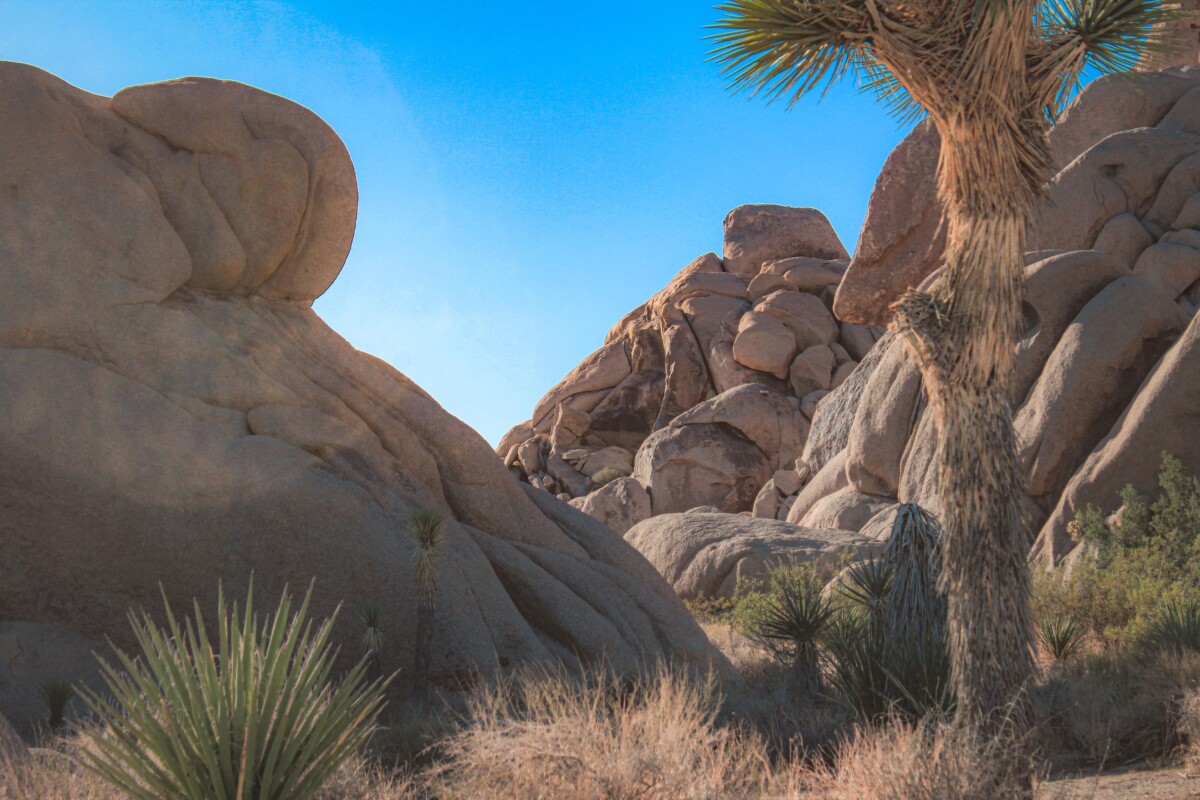 My favorite resources about camping in Joshua Tree:
Barker Dam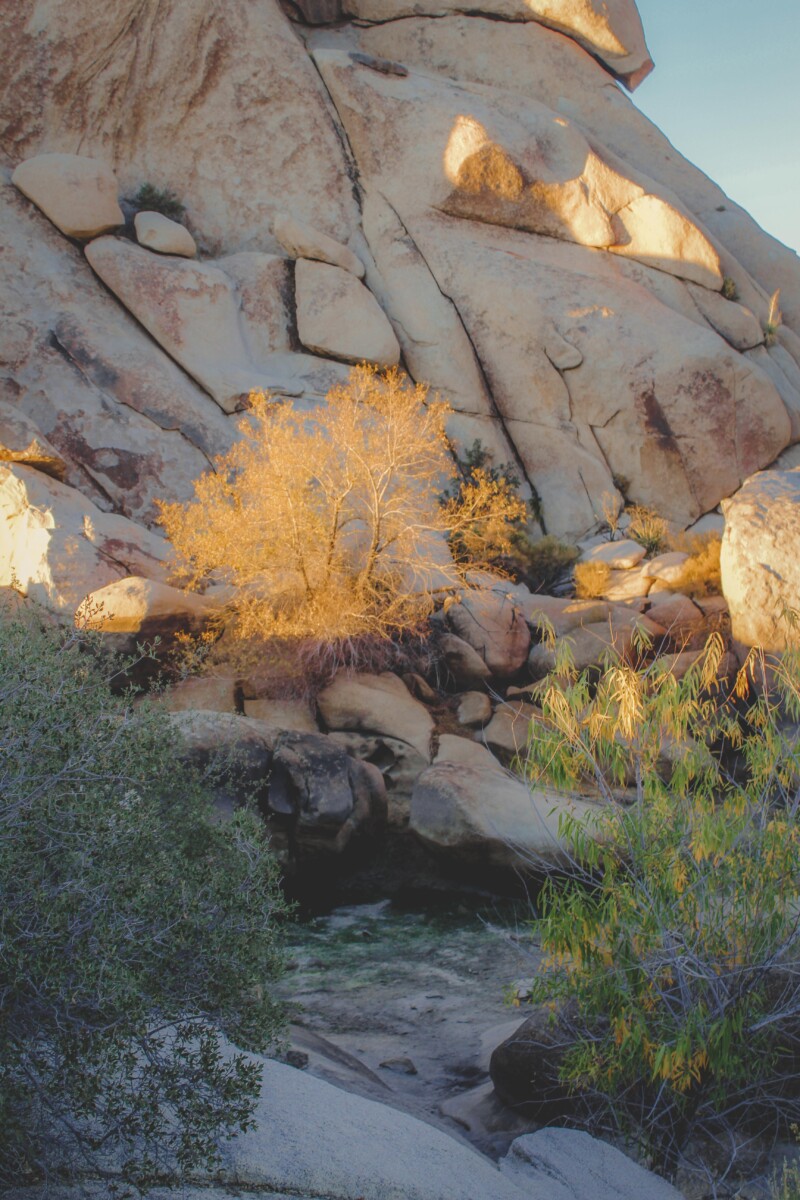 Barker Dam lures you in with visuals of water. On postcards, Barker Dam looks like a mirage, a glittering blue landscape reflecting big boulders and desert shrubs. This area is home to ducks, one signpost says.
But I don't want to mislead you. Chances are, when you go, there might not be water at all. The desert landscape might appear tired and exhausted and thirsty for rain. That's how it looked when we visited. Strangely enough, I wasn't disappointed by the views. Barker Dam still turned out to be one of my favorite hikes in Joshua Tree. The trail isn't too hard, and there are just enough placards and rocky up-steps to keep the pace interesting.
Travel Tip: Keep a lookout for petroglyphs near the end of the trail. They're easy to miss but also one of the most unique aspects of Barker Dam.
Wall Street Mill
A flat, compact 2.2 mile path loops around Wall Street Mill, a former gold processing unit. Go for the history, to see the rust and dust of the ruins. Under a fiery flush of sun, abandoned artifacts rot and decay. Some are streaked dark brown; a few are slashed in age-tealed copper. It's strange and sobering to peel away the desert discoloration and imagine the ruins unweathered, to try to picture people living here during the Depression. The idea seems so distant, so far-off. And yet it's not even been a hundred years.
Desert Queen Mine
Another historic site in Joshua Tree, Desert Queen Mine usually falls by the wayside on most Mojave Desert itineraries. The trail isn't well-marked. The land is arid. At the end is a fenced-off underground mine. If you've tried all the other things to do in Joshua Tree listed in this post (and hiked all these hikes), scout out Desert Queen Mine on an odd, cool morning.
Sunset At Keys View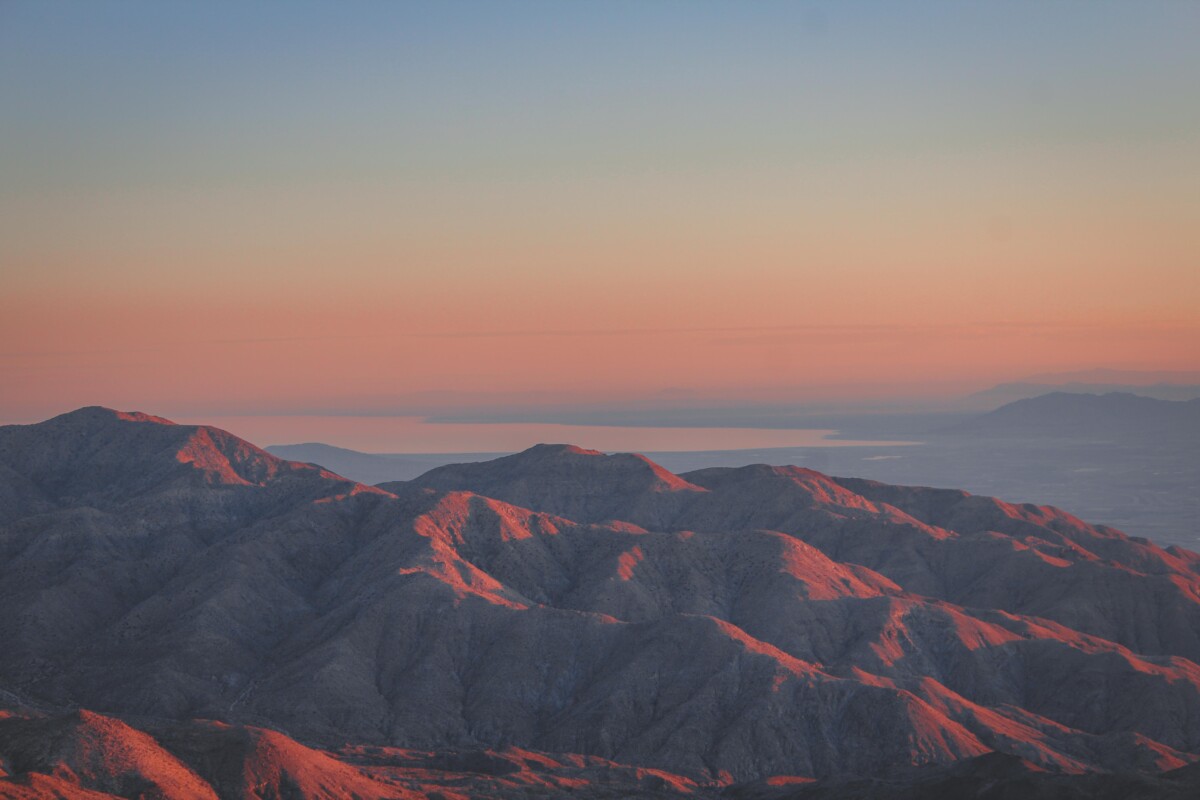 If sunset at Keys View is on your Joshua Tree bucket list, good. If it isn't, add it. A phantasmagoric blend of soft reds and creamy oranges and pale blues reach down and down and down to touch an endless landscape.
Located at the top of a tiny wave of Little San Bernardino Mountains, the path to Keys View is more of a stroll than a hike. From up here, you can see the calm, cool surface of the Salton Sea; its climate change cuts concealed by distance. To the right are the humble Santa Rosa Mountains and the lofty San Jacinto Peak. Plan to spend at least an hour sunset gazing, and then it's time to see the stars.
Practice Your Astrophotography
It seemed like there were millions of stars dotting the sky. I tried to focus my camera on one. Snap. I looked at the picture and laughed.
"How bad is it?" Vyas asked.
I shook my head. Really bad, I wanted to say. Really bad. I should have read this guide beforehand. The photo was grainy, a mess of black that cloaked the light. None of the stars showed up right. I tried again.
In the summer, it's said you can see the milky way in Joshua Tree. In the winter, you can see bright-white constellations. Orion. Gemini. Taurus. Night drags a whole new universe in frame. It's everything you've already heard: wondrous, magical, unique.

Did you find this list of things to do in Joshua Tree helpful? What are your favorite Joshua Tree attractions? Let me know in the comments below!